Simple Buffalo Brussels Sprouts recipe turn basic oven roasted Brussels sprouts into a spicy, flavorful, vegetarian and gluten free side dish or appetizer.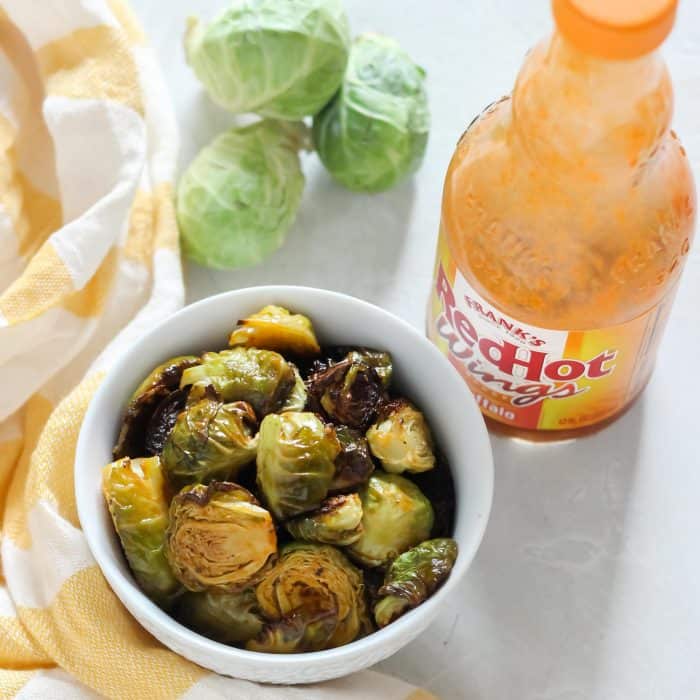 About Buffalo Brussels Sprouts
Buffalo Brussels sprouts recipe is a recipe you didn't know you needed until now. They are so flavorful and delicious that I will eat an entire pound in one sitting.
Buffalo Brussels Sprouts are roasted Brussels sprouts that are covered in a butter-buffalo wing sauce, and they are delicious! Basically, you roast Brussels Sprouts and cover them in a sauce made from buffalo wing sauce (like the kind you use to make Buffalo Chicken Dip or Buffalo Chicken Salad).
The sauce is simple and really elevates the taste of the roasted green cruciferous veggie, and they will become your new favorite side dish or appetizer.
Funny enough I used to strongly dislike Brussels sprouts, probably because my dad loved them boiled, and that was my only way to try them. However, once I tasted roasted Brussels sprouts, my life changed.
This recipe is so easy to make that you will want to start serving these baked spicy Brussels Sprouts every chance you get.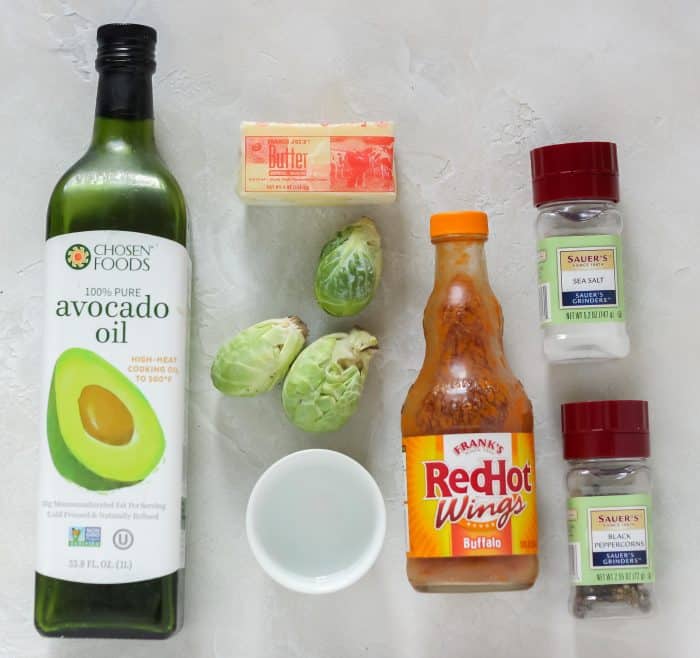 Ingredients
Oil: Avocado oil, olive oil, and peanut oil will work here to roast the Brussels sprouts. I tried roasting them without oil (because they were on parchment paper and wouldn't stick), but I found that they were not as crispy in the end.
Brussels Sprouts: Use fresh Brussels sprouts that are whole or pre-chopped. Halve them or quarter them depending on how you like your Brussels sprouts. You can also shred them if you are serving them as a side dish. Halving them will be easier if serving them with toothpicks as an appetizer.
Butter: The butter is necessary to add richness to the sauce. The recipe I based this off of from Allrecipes, uses 3 tablespoons but I felt like made them too rich and a little greasy. Instead of using that much butter, I cut it to one tablespoon and added two tablespoons of water to make sure this was enough to cover all the Brussels sprouts.
Buffalo Sauce: Make sure that you use buffalo wing sauce and not hot pepper sauce. There is a difference even though they are typically sold next to each other in the store.
Salt & pepper: You only need a pinch of salt and pepper, and honestly, it's optional if you forget to use them. The buffalo wing sauce is quite high in sodium, so feel free to cut out the salt if desired.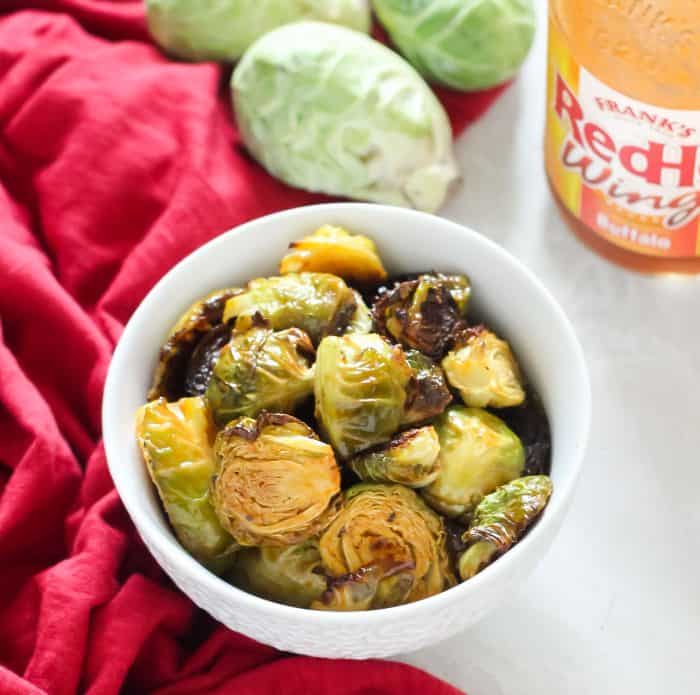 Cost of Recipe
avocado oil 2 teaspoons: $0.22
Brussels sprouts 1 pound: $1.99
butter 1 tablespoon: $0.11
buffalo sauce 3 tablespoons: $0.72
salt ⅛ teaspoon: $0.03
pepper ⅛ teaspoon: $0.01
TOTAL COST: $3.08 (Based on San Diego Sprouts 2019) or $0.77/serving
How to Make Buffalo Brussels Sprouts
You basically roast the Brussels sprouts and make a sauce while they are roasting. Then cover in sauce and bake a few more minutes, and enjoy!
Halve the Brussels sprouts and toss with oil on a baking sheet.

Line the baking sheet with a silicone mat, parchment, or foil for easier cleanup.

Bake in a preheated oven.
Make the sauce, and drizzle over the roasted Brussels sprouts.
Stir the sauce into the Brussels sprouts.
Roast the Brussels sprouts for a little bit longer until they are crispy.
Remove from oven, and enjoy!

Great as a side dish or appetizer.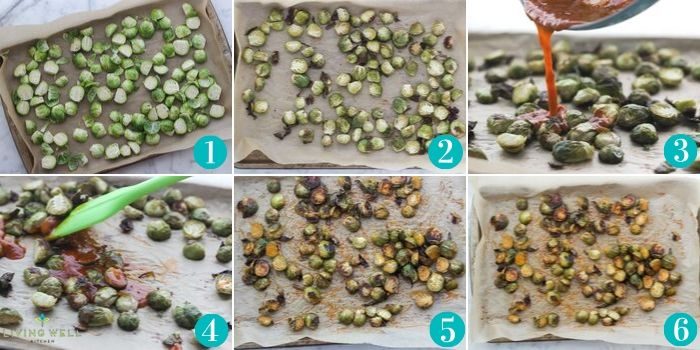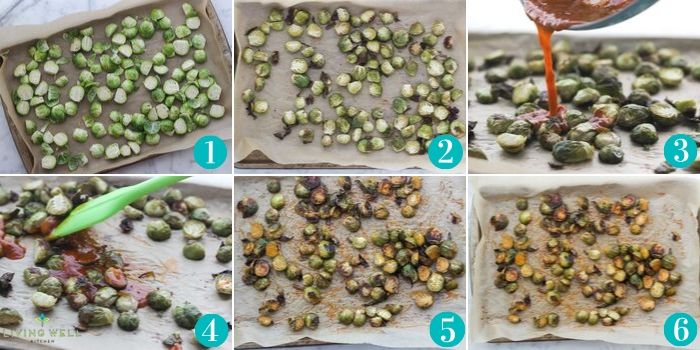 Recipe Tips
Variations
Ingredient Options
Because there are only a few ingredients, there aren't too many substitutions that can be made.
How to Make Allergy Friendly
This is gluten free, egg free, and vegetarian. It does have dairy in the butter as well as in the buffalo wing sauce (which is typically made with butter or other dairy product). Depending on the buffalo wing sauce you buy, it can be soy free.
If you can find a dairy free buffalo wing sauce and use dairy free butter, then this can also be dairy free and vegan.
Flavor Substitutions
To make these spicier, you can use a spicy or hot buffalo wing sauce. Also, feel free to add more black pepper, or add in a few dashes of hot pepper sauce when stirring together the buffalo wing sauce, water, and butter.
Alternative Prep & Cooking
If you do not want to use a stovetop, you can melt the butter in a medium microwave-safe bowl in the microwave on 50% power in 20 second intervals. Once melted, stir water and buffalo sauce into the butter, and heat for 30 seconds on 50% power. Stir and heat for another 30 seconds. Then stir into the roasted Brussels sprouts as directed in the recipe.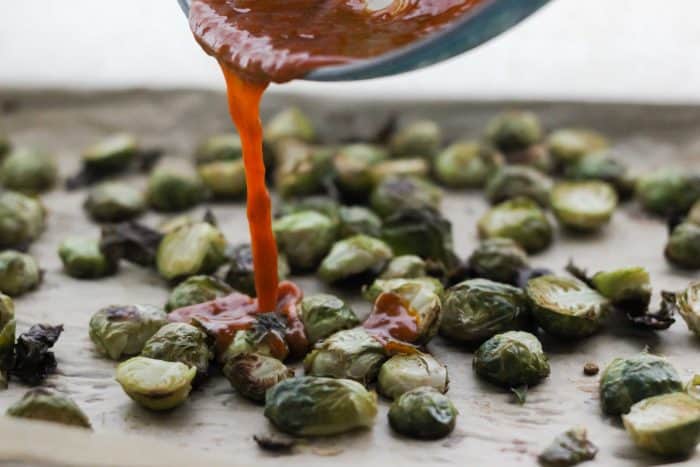 Make Ahead Ideas
To make this ahead of time, you can chop the Brussels sprouts in advance and keep in the fridge for up to 24 hours.
It might be possible to roast the Brussels sprouts in advance; then cover in sauce and bake when ready to serve. However, I have not tried this.
Storage Suggestions
If you have leftovers, you can store them in a glass or plastic airtight container in the refrigerator for up to 4 days. I don't recommend freezing them because the texture will likely change when defrosted.
To reheat, you can place on a baking sheet and reheat in a 300°F oven until warm, about 15 minutes.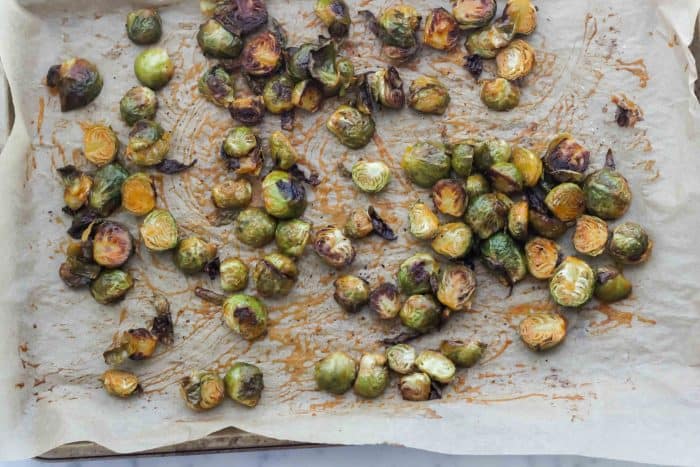 Frequently Asked Questions
Do you need to use oil when roasting the Brussels sprouts?
I tried them without oil and with oil, and I found that they were much better when roasted with oil. The sauce seemed to stick to the Brussels sprouts a little better; plus, they got crispier in the oven.
Can you make this with already roasted Brussels sprouts?
Yep, just add the sauce and roast and extra 10 minutes!
Nutrition Benefits
Brussels sprouts are high in fiber which helps digestion, Vitamin K to aid in blood clotting, Vitamin C for immune boosting, folate for converting carbohydrates into energy, and manganese which helps in bone formation. They also have anti-inflammatory benefits as well as cancer-fighting properties.
The buffalo wing sauce is high in sodium, so if that is a concern, I would not recommend this recipe. However, it is full of flavor and a great way to add excitement to veggies.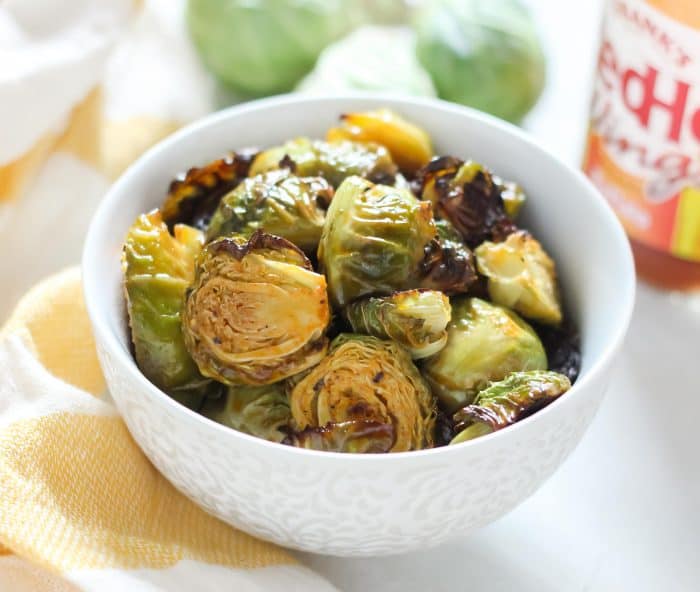 What to serve with this dish
These Buffalo Brussels Sprouts are great served as a side for Roasted Chicken and a carbohydrate like quinoa or rice. Or you can roast potatoes on another baking sheet while the Brussels sprouts are cooking.
Another option is to serve these as an appetizer. If you decide to do this, I would be careful to only halve the Brussels sprouts when cutting. Then serve with toothpicks and a bowl of ranch or blue cheese dressing.
Final Thoughts
Every time I make these Buffalo Brussels Sprouts, I find myself eating the entire batch and needing to double or triple the recipe when serving others. They are spicy and crispy and delicious, and if you are looking to add more exciting veggie recipes to your table, these are what you need!
MORE RECIPES YOU'LL LOVE
Looking for ideas to use up that bottle of buffalo wing sauce you have? Here are some of my favorite ideas:
For more Brussels Sprouts recipes, try these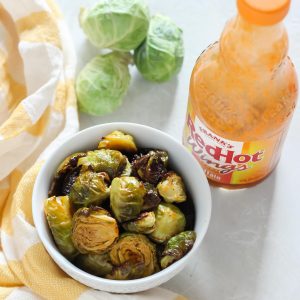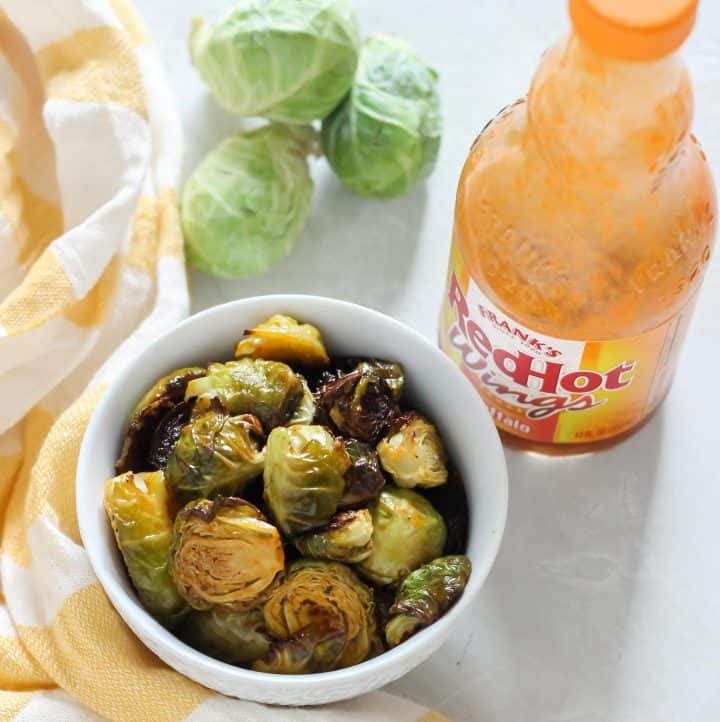 Buffalo Brussels Sprouts
Simple Buffalo Brussels Sprouts recipe turn regular Brussels sprouts into a spicy, flavorful side dish or appetizer
Print
Rate
Total Cost:
$3.08 || $0.77/serving
Ingredients
1

pound

brussels sprouts

1

tablespoon

oil

avocado or olive oil

1

tablespoon

butter

3

tablespoon

buffalo wing sauce

2

tablespoon

water

⅛

teaspoon

black pepper

optional

⅛

teaspoon

salt

optional
Instructions
Preheat the oven to 400°F. Line a baking sheet with a silicone baking liner, parchment, or foil for easier cleanup.

Toss Brussels sprouts with oil on the baking sheet. Spread in a single layer, and transfer to the oven.

Meanwhile, melt the butter in a small saucepan. Add buffalo wing sauce and water, and whisk together. Cook for 5 minutes.

When you remove the Brussels sprouts from the oven, pour the sauce over the Brussels sprouts, sprinkle with pepper & salt (if using), and stir until completely coated.

Transfer back to the oven, and roast another 10 minutes. Remove from oven, and enjoy!
What to Use in This Recipe
Did you try this recipe?
Be sure to leave a comment & recipe rating below. Bonus points for tagging @memeinge & #livingwellkitchen on Instagram! THANK YOU! xo
[showhide type="post" more_text="Click here for Buffalo Brussels Sprouts Nutrition Facts" less_text="Clear Nutrition Facts"] *
Nutrition Facts
Buffalo Brussels Sprouts
Amount per Serving
% Daily Value*
* Percent Daily Values are based on a 2000 calorie diet.
* [/showhide]
Meme
Doesn't this recipe look good?! You should probably share it: