This Cheesy Brussels Sprouts Dip is simply Brussels sprouts covered in cheese and bacon served as a dip, and it's delish! Similar to a spinach and artichoke dip and great for a Thanksgiving appetizer, gameday or anytime in the fall.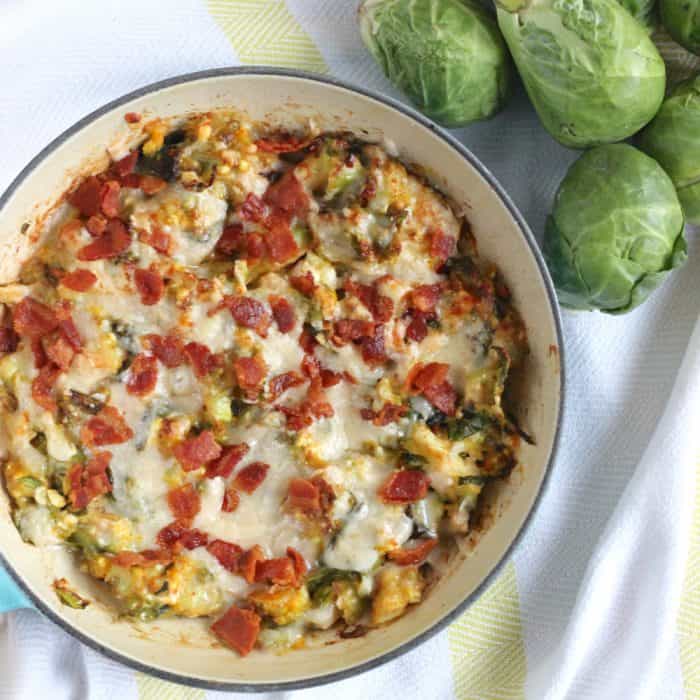 About Cheesy Brussels Sprouts Dip
I love when my appetizers are filled with veggies and this one is packed with 'em. I mean the main ingredient is Brussels sprouts, and if you're looking for dips for Thanksgiving this year, this is the recipe for you.
Basically, it's just cheese and Brussels sprouts (and a little bacon for good measure). Because bacon and Brussels sprouts go together so well, I included them in this dip. However, pecans or walnuts can easily be substituted to make this a vegetarian app.
The Brussel Sprouts Dip won't make you feel too full, plus it's always nice to start your meal with extra veggies (that doesn't necessarily involve salad). And there are only 10, easy to find, inexpensive ingredients.
It's a cinch to prepare and only needs one dish to make. The dip is ready in about 30 minutes and can be assembled ahead of time.
Bonus: if your cupboard is feeling incredibly taxed when you're preparing all those Thanksgiving dishes, you can even mix everything into the one skillet you use to cook the dip. And serve it in there too.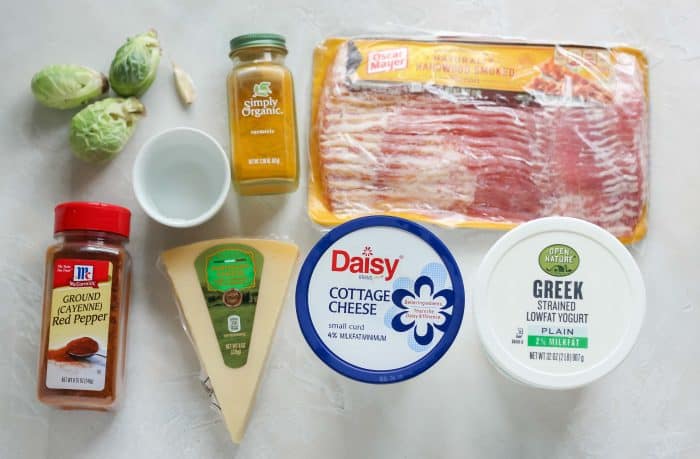 Brussels Sprouts Dip Ingredients
Bacon: I prefer center cut bacon because there is less fat so less bacon grease is released. Too much bacon grease paired with the cheese will make this dip a little too rich. While I think bacon is delicious here, it's not mandatory. If you are not a bacon eater, simply substitute the bacon for pecans and use olive oil to cook the Brussels Sprouts.
Brussels Sprouts: look for Brussels Sprouts that have tightly packed leaves and are green in color instead of browning or yellowing. You can also buy pre-shredded Brussels Sprouts to make the prep time even easier
Garlic: fresh garlic is used in the recipe, but you can substitute it with garlic powder.
Greek yogurt: Greek yogurt gives your dip a nice creamy texture without overpowering the dip. You can also use plain yogurt but you will want to strain off some of the liquid to keep the Brussels Sprouts Dip from being soupy.
Mozzarella cheese: mozzarella has a mild flavor and works well in this dip so it doesn't overpower the Brussels Sprouts. You can substitute with a mild cheddar.
Cottage cheese: Instead of using mayo, this dip has cottage cheese which adds extra protein and calcium. Plus, it gives it extra cheesiness. Even if you don't love cottage cheese, you should still add it here. I promise you cannot taste the cottage cheese -- take it from a fellow not-cottage-cheese-fan.
Parmesan cheese: Parmesan pairs well with the Brussels Sprouts and bacon to give you a punch of deliciousness. Pairing the Parmesan with mozzarella gives the dish a nice balance of flavor without taking over the flavor of the Brussels sprouts.
Spices: Turmeric and cayenne pepper give the dip a nice kick. I love the turmeric, but don't add too much. Just a tiny dash is enough. Otherwise, it'll be too much turmeric. You don't have to add cayenne pepper but I like the tiny amount of spiciness in here.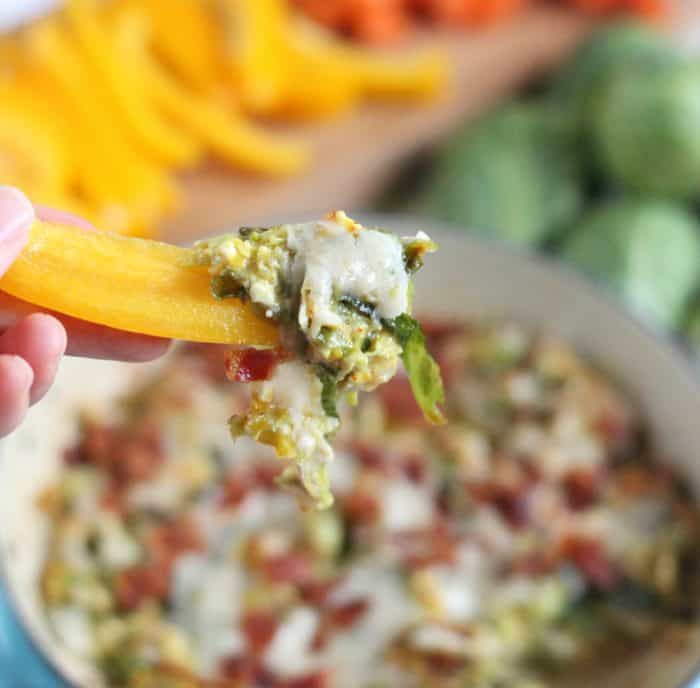 Cost of Cheesy Brussels Sprouts
Bacon 2 slices: $0.75
Brussels Sprouts ½ pound: $0.99
Garlic 1 teaspoon: $0.08
Greek yogurt ¼ cup: $0.28
Mozzarella cheese ¼ cup: $0.50
Cottage cheese ¼ cup: $0.62
Parmesan cheese ⅓ cup: $0.87
Cayenne pepper ⅛ teaspoon: $0.01
Turmeric a pinch: $0.01
TOTAL COST: $4.11 (Based on San Diego Sprouts 2019) or $1.03/serving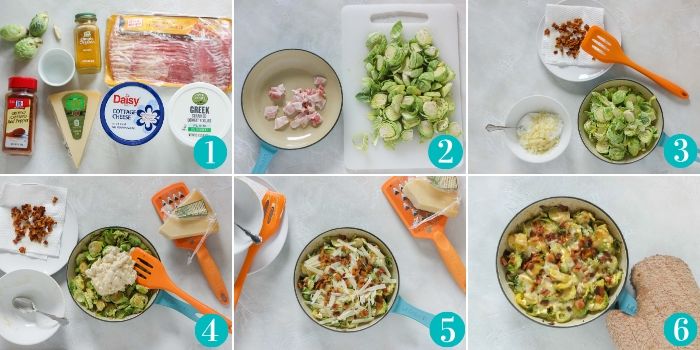 How to Make Brussels Sprouts Dip
This cheesy bacon Brussel sprouts appetizer is pretty simple to make and only needs a few steps. Here are the step by step directions for How to Make Brussels Sprouts Dip:
Gather all your ingredients.
Cook the chopped bacon in a skillet. Chop the Brussels Sprouts.

Use the same skillet you'll use to cook the Brussels Sprouts and bake the dip.

Remove the bacon and add the chopped Brussels Sprouts to the skillet.

Meanwhile, stir together the cheese mixture.

Once the Brussels Sprouts are lightly browned, remove from heat and stir in cheese mixture.
Top with cheese, and bake.
Remove from oven, and enjoy!
Tips for Making Brussel Sprout Dip
Variations
Ingredient Options
Bacon: substitute the bacon with nuts (equal amount of chopped pecans, walnuts, or almonds) and oil (olive oil or avocado oil). Use 2 teaspoons of olive oil to cook the Brussels Sprouts, and add the pecans right when you are instructed to add the cooked bacon.
Garlic: garlic powder can be substituted with garlic powder -- use ¼ teaspoon garlic powder in place of fresh.
Mozzarella: substitute with a mild cheddar or Swiss cheese.
Parmesan: substitute with Swiss cheese, sharp cheddar, or Gruyere.
How to Make Allergy Friendly
Brussels Sprouts Dip is gluten free, egg free, soy free, and nut free. You can make this vegetarian by using nuts in place of the bacon and oil in place of the bacon grease. I think it might be too difficult to make this dairy free, so here are some alternatives to a veggie-filled appetizer: Turkey Asparagus Roll Ups, Roasted Vegetable Salsa, and Spinach & Artichoke Hummus.
How to Fix a Mistake
If you forget mozzarella or parmesan: add an equal amount of another type of cheese.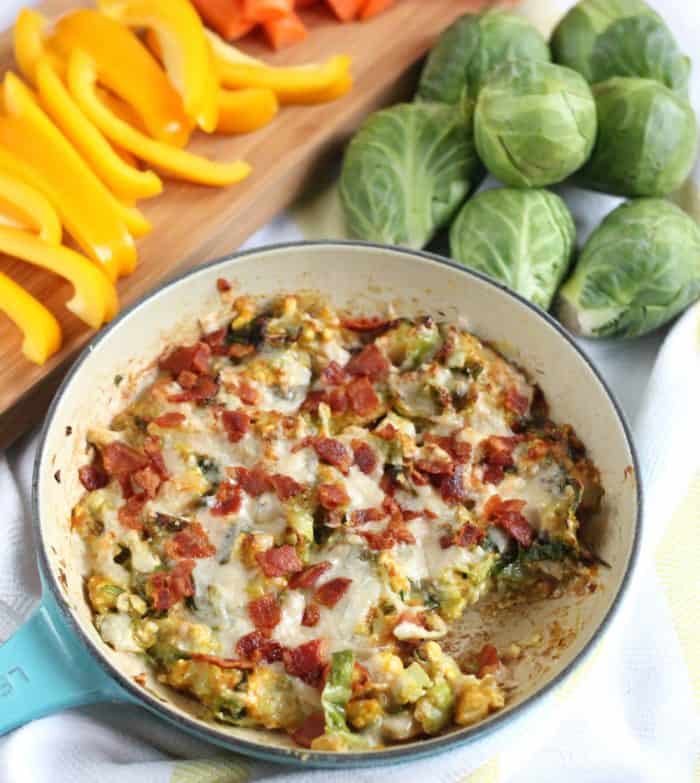 Make Ahead Ideas
You can chop the Brussels Sprouts in advance and keep them in the fridge for up to 2 days before making this dip. Otherwise, I think this Brussels Sprouts Dip is best made right before serving. However, you can make this dip then reheat in an oven at 325*F until warmed through.
Storage Suggestions
Keep in an airtight container in the fridge for up to 4 days. I don't recommend freezing this dip.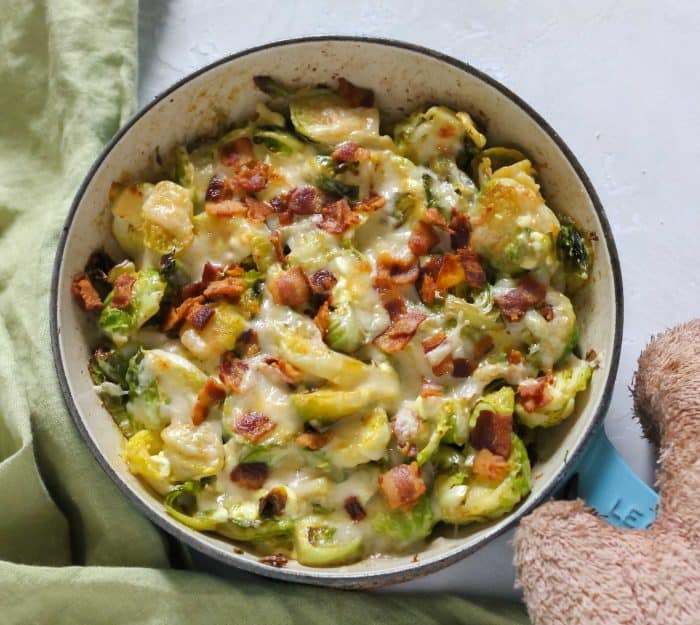 Frequently Asked Questions
Nutrition benefits of this Cheesy Brussel Sprouts recipe
Brussels sprouts are excellent sources of Vitamin K, Vitamin C, and folate. They are also high in fiber & antioxidants and have heart protective, cholesterol lowering benefits. The cheeses provide calcium and protein which is not something you typically find in an appetizer.
What to serve with this dish
Since this is an appetizer/dip, I like to serve it with crackers, sliced veggies (like bell peppers, carrots, and celery), or sturdy chips. And leftovers of this Brussels Sprouts Dip are really tasty on top of scrambled eggs.
Final thoughts:
This cheesy dip is great to serve any time Brussels Sprouts are in season (usually September to February). It's a nice alternative to something like a spinach artichoke dip and has a hefty amount of veggies in each serving. The Brussel Sprouts Dip is an excellent for you're looking for dips for thanksgiving.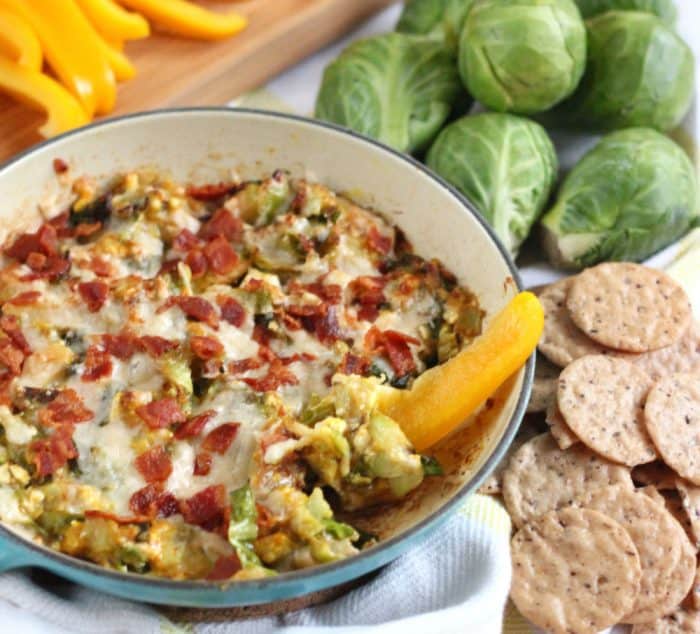 MORE VEGGIE-FILLED APPETIZER RECIPES YOU'LL LOVE:
---
Cheesy Brussels Sprouts Dip Recipe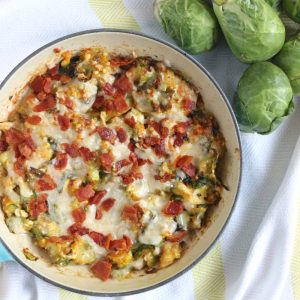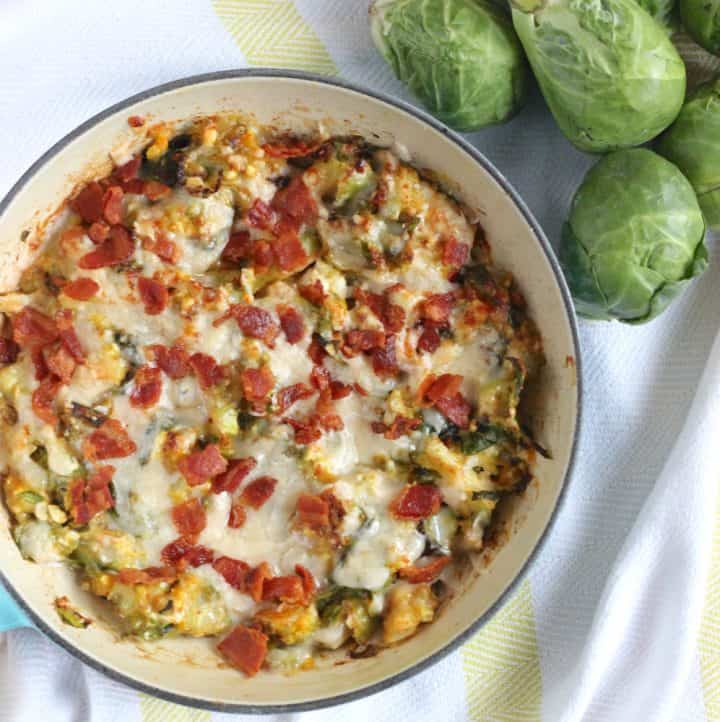 Cheesy Brussels Sprouts Dip
This Cheesy Brussels Sprouts Dip is simply Brussels sprouts covered in cheese and bacon served as a dip, and it's delish!
Print
Rate
Ingredients
2

slices

center cut bacon

chopped

½

pound

brussels sprouts

about 2 to 2 ½ cups, chopped

2

tablespoon

water

1

teaspoon

minced garlic

¼

cup

plain greek yogurt

¼

cup

shredded mozzarella cheese

¼

cup

cottage cheese

⅓

cup

shredded parmesan cheese

⅛

teaspoon

cayenne pepper

1/16

teaspoon

turmeric

optional
Instructions
Preheat the oven broiler.

Add the bacon to a small skillet and heat over medium-low heat. Cook until bacon is crispy. Remove from skillet and set aside to drain.

Turn the heat to medium-high and add brussels sprouts to bacon grease in skillet. Cook, stirring occasionally, for about 5-7 minutes until lightly browned. Add water and scrape up any bits off the bottom of the skillet.

Once the water has absorbed, after a minute or two, remove from heat. Add garlic.

In a small bowl, stir together yogurt, mozzarella, cottage cheese, 2 tablespoons of parmesan cheese, cayenne pepper, and turmeric (if using). Stir into the brussels sprouts. Sprinkle with remaining parmesan cheese and bacon.

Transfer to oven and broil until the cheese has melted and is bubbling. Enjoy with crackers or sliced veggies.
Notes
*This recipe is easily doubled or tripled to make more.
*You can make this vegetarian by skipping the bacon frying step and using 2 teaspoons of olive oil to cook the Brussels sprouts. Add two tablespoons of pecans in place of the bacon.
*Makes 2 cups
Did you try this recipe?
Be sure to leave a comment & recipe rating below. Bonus points for tagging @memeinge & #livingwellkitchen on Instagram! THANK YOU! xo
[showhide type="post" more_text="Click here for Nutrition Facts" less_text="Clear Nutrition Facts"]
*
Nutrition Facts
Cheesy Brussels Sprouts Dip
Amount per Serving
% Daily Value*
* Percent Daily Values are based on a 2000 calorie diet.
*
[/showhide]
Meme
This post was originally published November 2, 2016. Text, recipe, and photos have been updated.
Doesn't this recipe look good?! You should probably share it: