Coconut Carrot Coffee Cake is a delicious gluten free, dairy free dessert or snack that is low in added sugar. This simple, healthy coffee cake recipe even has a tasty cinnamon pecan crumb topping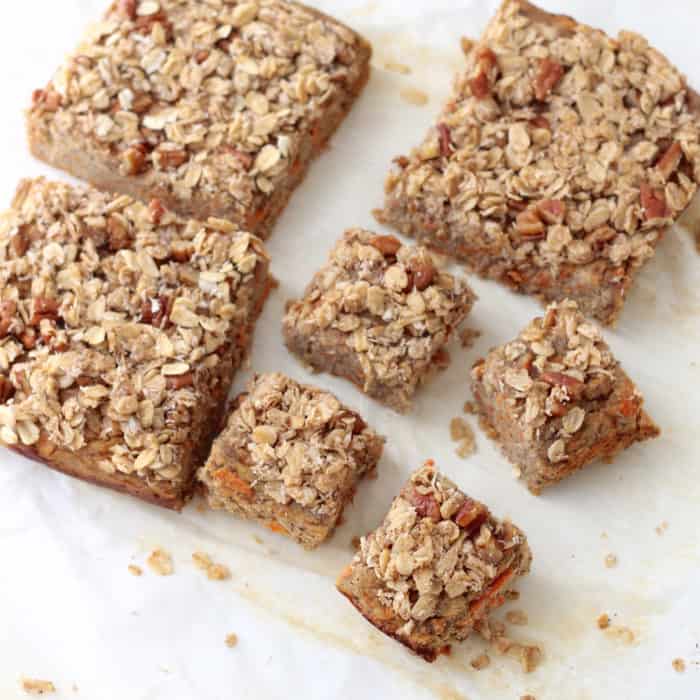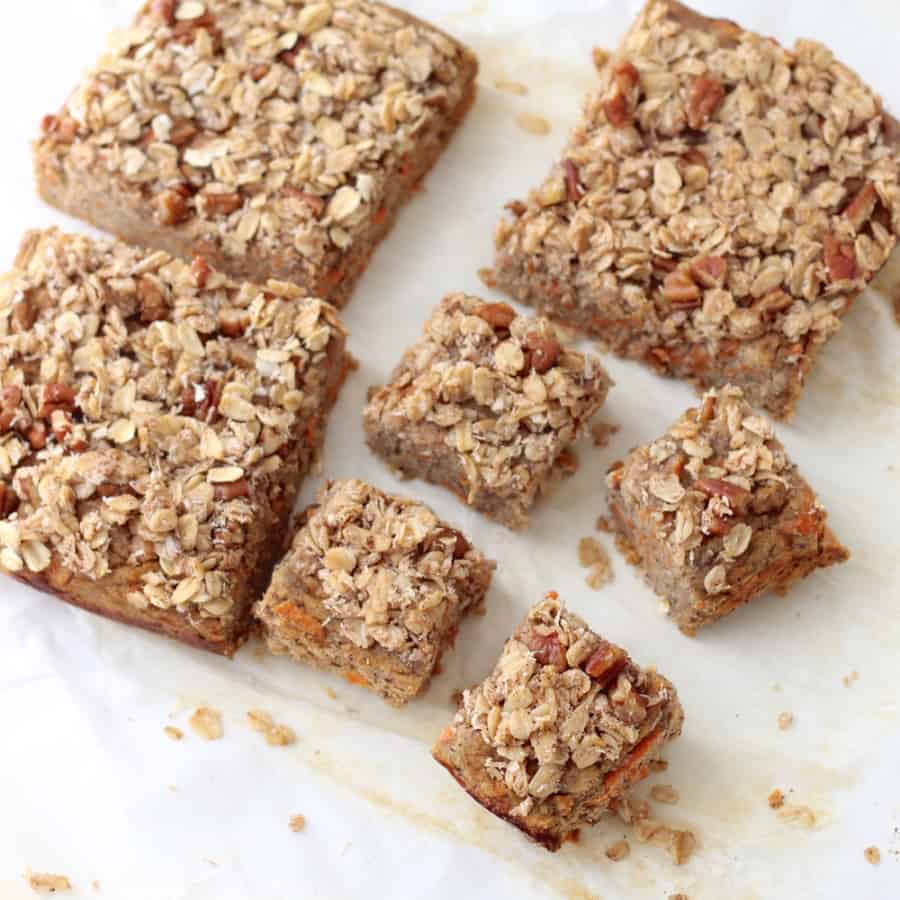 Coconut Carrot Coffee Cake. Say that three times fast. And maybe go ahead and just make three of these because you'll need a lot.
As I was testing this recipe, I accidentally took a little taste of the batter. Whoa, I was blown away by how tasty it was. Instead of waiting to taste the finished coconut carrot coffee cake, I immediately started to whip up another batch. Patience is not my strength...
Luckily, I waited to see what the texture turned out to be because the first batch was a little bit too moist. It was tasty but just not perfect, and I wouldn't want to post a recipe that wasn't perfect. And that ended up being the perfect excuse to make another batch.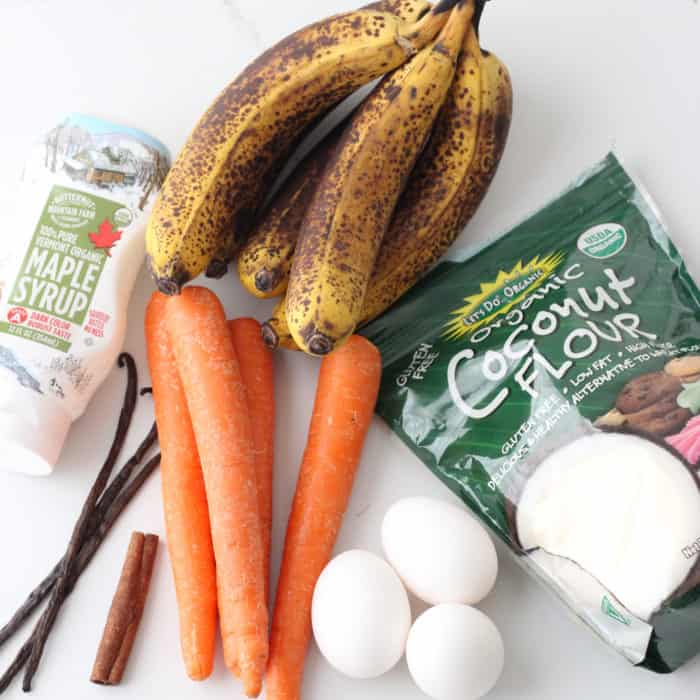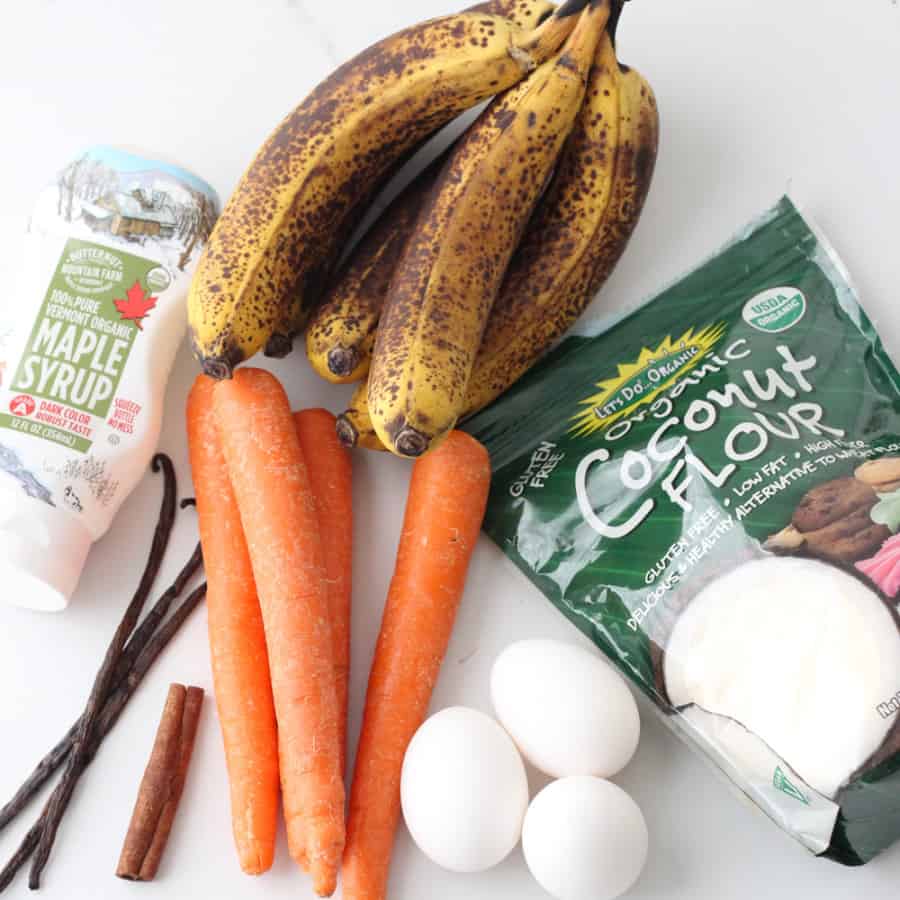 For the second batch, I added a few tablespoons of flax meal and cut back on the coconut oil to take a little moisture out.
It's still dense and moist like I want my carrot cake/banana bread to be, but it isn't soggy.
Random side note: I can't stand the words moist, soggy, or damp. Can we collectively come up with a better word to describe that?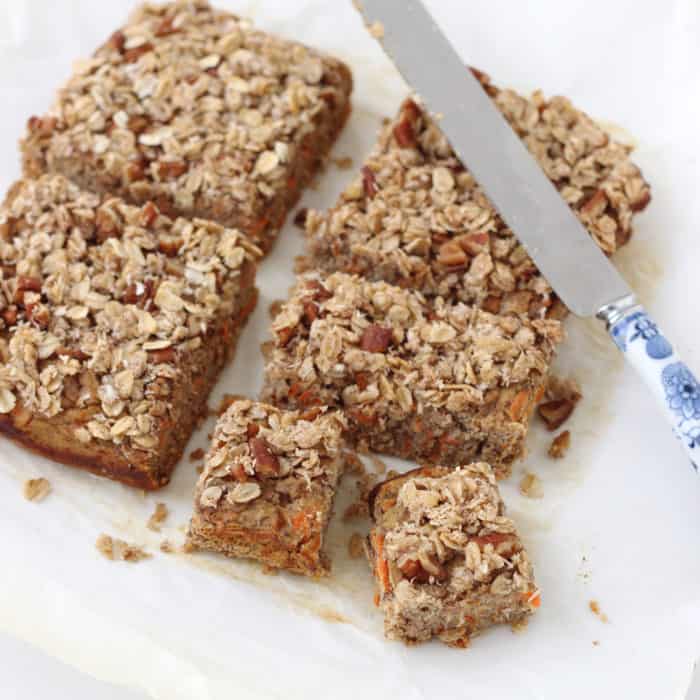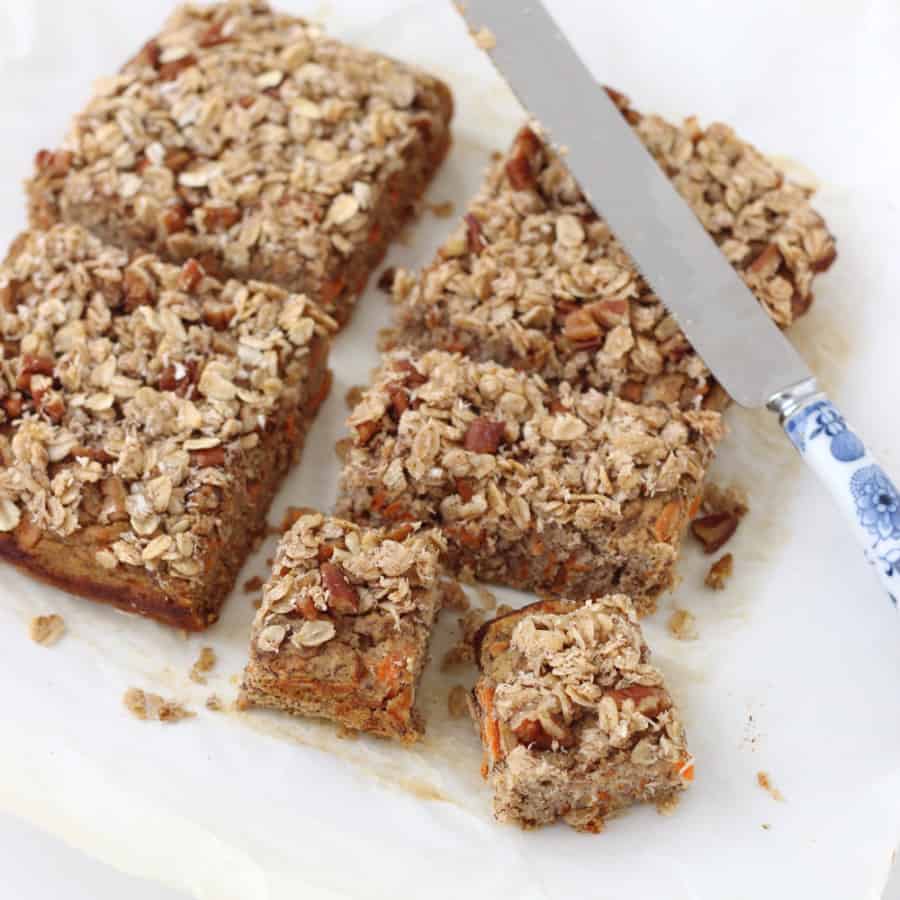 How to Make this Healthier Carrot Cake
Use really brown bananas because they're sweeter and shredded carrots, plus a few tablespoons of maple syrup, to add sweetness. Lots of cinnamon, vanilla extract, and a touch of almond extract also help bring out the sweetness without having to use too much added sweeteners.
Having only 4 tablespoons of maple syrup for the whole coffee cake makes me pretty happy since you won't have a sugar crash after enjoying a slice or two.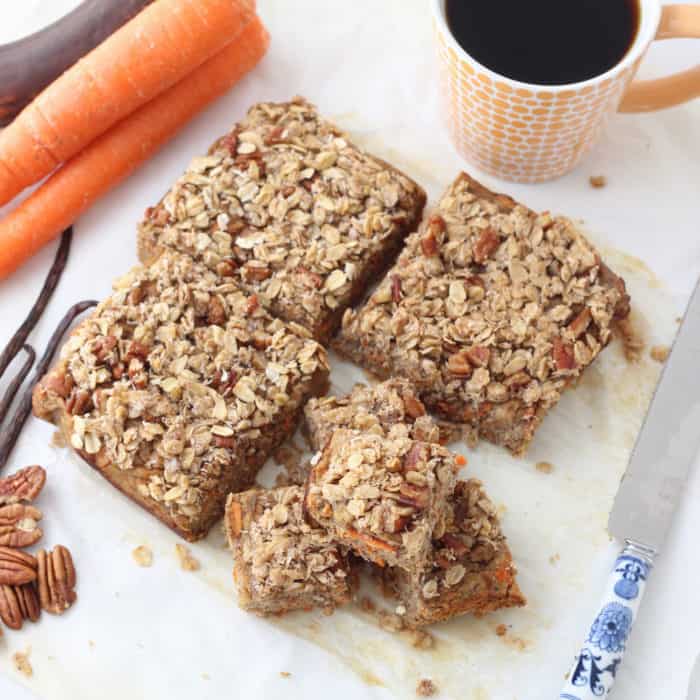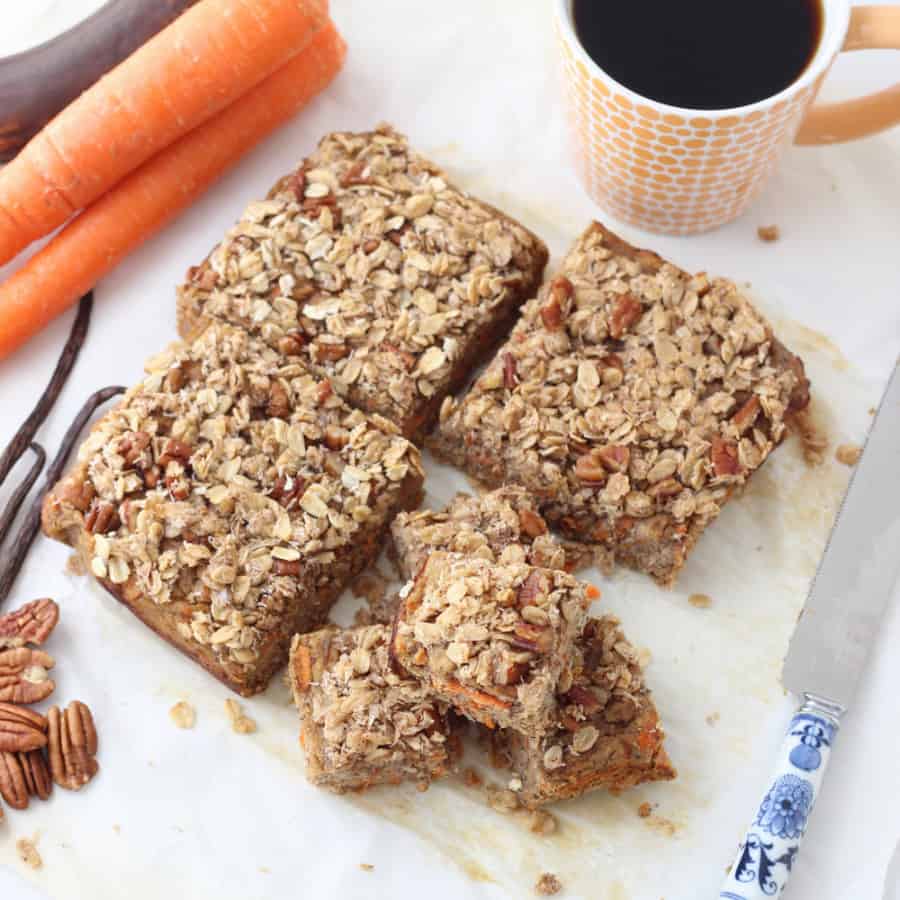 While searching for a recipe to make a coffee cake with bananas that was a carrot cake flavor, I felt overwhelmed. Everything has a ton of ingredients and none of them were in my pantry. I vowed to make a healthy carrot cake that didn't have a million weird or super expensive ingredients.
Yes, this recipe does have coconut flour and flax meal and you might not have those hanging around your house. But they are not terribly hard to find and are good ingredients to keep in your kitchen if you want to venture into a different world of baking.
So let's venture into that world together with this coffee cake that is full of carrot cake deliciousness.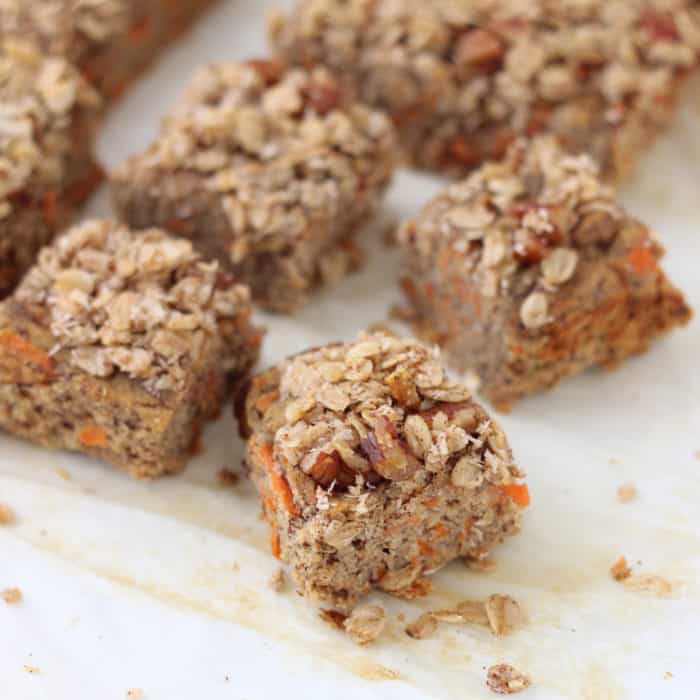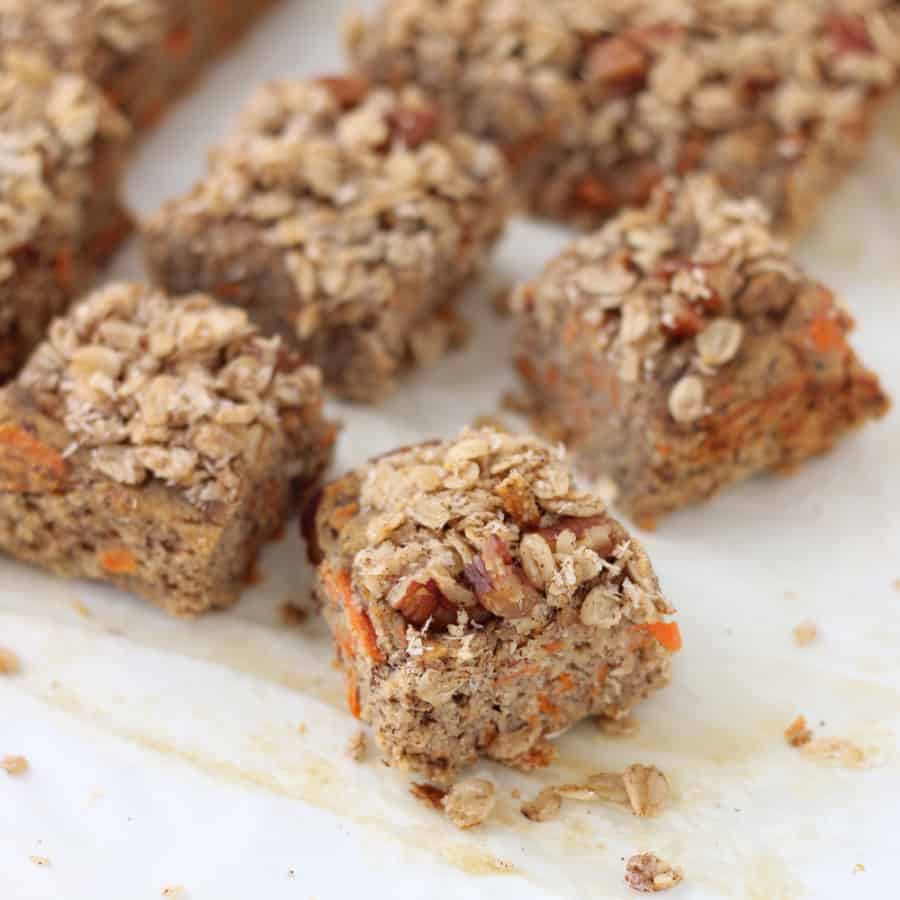 I highly recommend lining your baking dish with parchment paper or lining with foil and greasing the foil.
Take it from my experience that this bread sticks to the pan and it is a little bit upsetting; it also sticks to foil if you don't grease it.
Basically, just use parchment paper and free yourself from the thought of having your coconut carrot coffee cake sticking to the pan.
RECIPES YOU'LL LOVE WITH COCONUT FLOUR: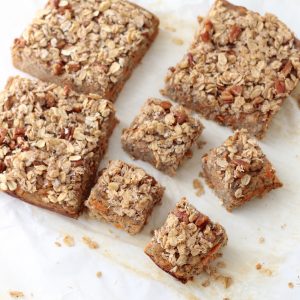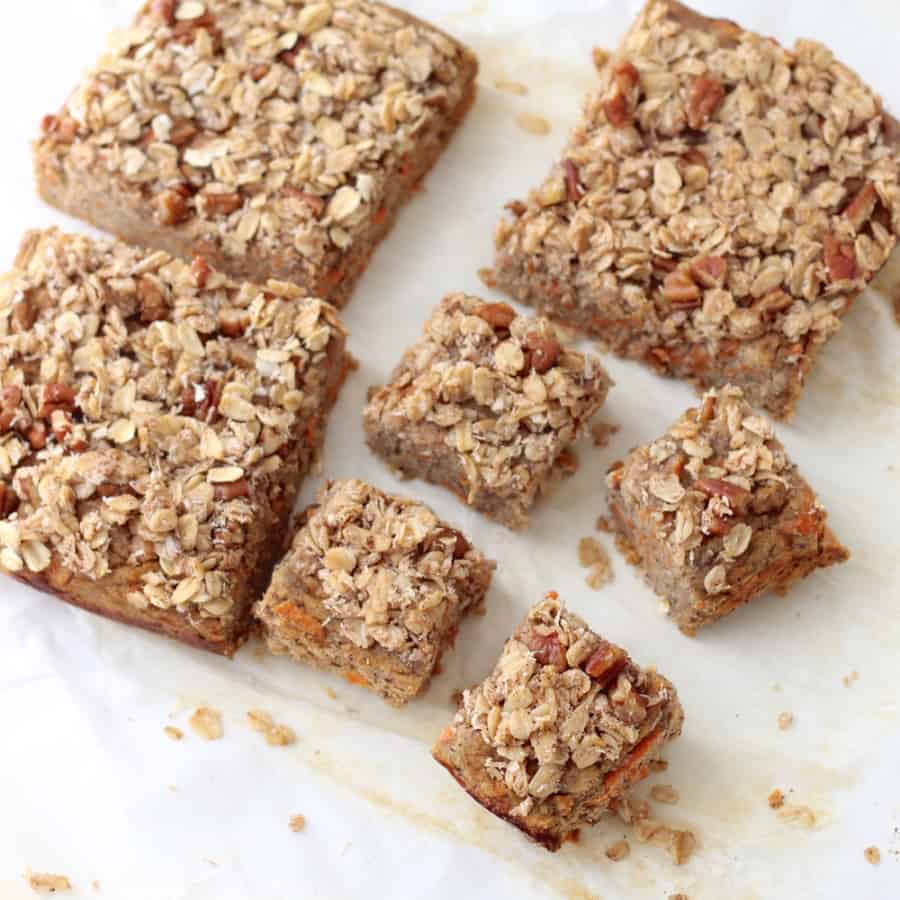 Coconut Carrot Coffee Cake
Coconut Carrot Coffee Cake is a delicious gluten free, dairy free dessert or snack that is low in added sugar for a simple, healthier coffee cake recipe.
Print
Rate
Instructions
Preheat the oven to 350*F. Line a 8 or 9 inch baking pan with parchment paper or grease with coconut oil. Set aside.

In a medium bowl, whisk together mashed banana, eggs, carrots, maple syrup, vanilla extract, and almond extract.

In small bowl, whisk together coconut flour, flax meal, cinnamon, baking powder, and baking soda. Stir the dry ingredients into the wet ingredients until completely combined.

Pour into prepared baking dish and put in the preheated oven.

Meanwhile, make the topping. Stir together oats, coconut flakes, coconut oil, maple syrup, and cinnamon. Add in pecans.

Bake the coffee cake for 10 minutes and then sprinkle with the oat mixture until covered. Pat into the coffee cake with a spatula so it sticks.

Bake another 18 to 22 minutes until cooked -- a toothpick inserted in the middle should come out clean.


Remove from oven and let cool for about 10 minutes before taking out of pan. Slice and enjoy!

Keep in the refrigerator. I think it is best when cold or at room temperature.
Did you try this recipe?
Be sure to leave a comment & recipe rating below. Bonus points for tagging @memeinge & #livingwellkitchen on Instagram! THANK YOU! xo
[showhide type="post" more_text="Click here for Nutrition Facts" less_text="Clear Nutrition Facts"]
*
Nutrition Facts
Coconut Carrot Coffee Cake
Amount per Serving
% Daily Value*
* Percent Daily Values are based on a 2000 calorie diet.
*
[/showhide]

Meme