A dairy free, gluten free Coconut Peach Cobbler low in added sugar, high in fiber, and made with coconut flour and other nourishing ingredients that won't give you a dreaded sugar crash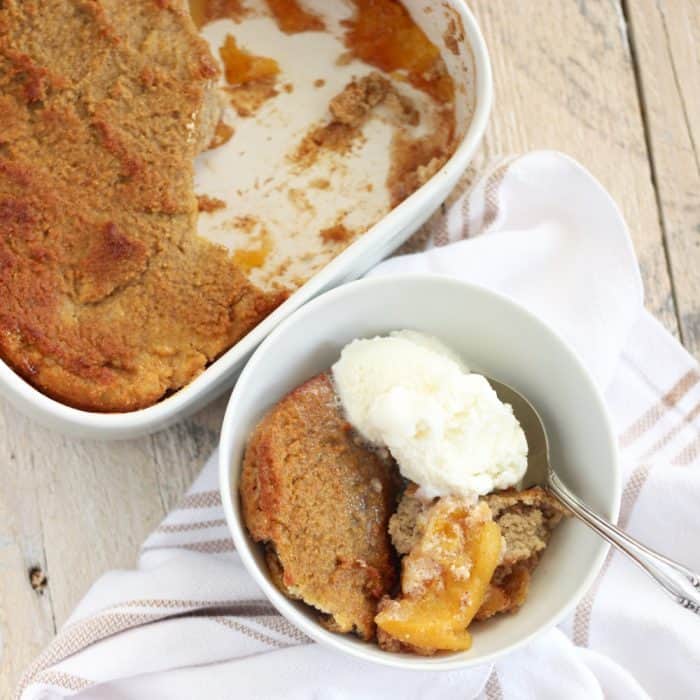 About Peach Cobbler with Coconut Flour
Picture this: a warm scoop of peaches covered in a biscuit-like topping with some vanilla ice cream melting on top... Dessert doesn't get much better than that! Unless of course you find a recipe that doesn't give you a massive sugar crash.
That's this gluten free coconut peach cobbler!
Usually when I go to make peach cobbler, I realize that the ingredients are not ingredients that make me feel my best. Lots of sugar, white flour, butter, etc. just don't make my body feel energetic and satisfied.
Don't get me wrong, I am all for desserts made with those ingredients, but only on rare occasions. And to be honest, I know how miz those desserts are going to make my stomach feel and my head hurt that I don't even want to eat them very often.
Sometimes I want a sweet treat that isn't going to make me feel awful thirty minutes after enjoying it.
So I went on a search for a peach cobbler that had ingredients that make me feel a little more nourished, and I found this one. I changed it up a little bit to my personal preferences.
I find that adding lemon juice and some extra cinnamon really brighten the peaches, and almond extract is one of my favorite additions to recipes to give that sweet flavor without a bunch of added sugar.
Coconut Peach Cobbler is peach cobbler made with peaches that are covered in a coconut flour crust. The coconut flavor is very light and adds a nuttiness to this delicious dessert recipe.
Why this gluten free peach cobbler recipe works
This recipe for gluten free peach cobbler uses coconut flour and coconut milk for the crust. The filling is basically peaches, lemon juice, and cinnamon, so it's not overly sweet.
Despite all the coconut ingredients in the recipe, this doesn't actually have much of a coconut flavor. Seriously. It does not taste like a super-coconutty peach cobbler.
And this is coming from a non-coconut fan. I like a tiny bit of coconut but not a lot, and I love this Coconut Peach Cobbler.
Ingredients
Peaches: You can use fresh or frozen peaches in this recipe. I prefer frozen because it makes the recipe even easier to prepare. However, you can simply peel and slice fresh peaches to make 1 pound.
Coconut Flour: coconut flour is not the same thing as flaked coconut or coconut butter or ground coconut. You can find coconut flour at almost any grocery store in the specialty flour aisle (which is usually next to the regular wheat flour).
Almond extract: while this isn't mandatory and can be skipped to make this recipe nut-free, I highly suggest using it if you have it. It gives a little extra sweetness and nuttiness to the recipe that is hard to beat.
Maple syrup: be sure to use 100% maple syrup and not imitation syrup. I only tested the recipe using maple syrup, but you might be able to use honey if that's all you had on hand.
Cost of Recipe
peaches 16 ounces: $1.98
lemon juice 3 tablespoons: $0.40
almond extract ½ teaspoon: $0.15
cinnamon 1 ¼ teaspoon: $0.09
coconut oil ½ teaspoon: $0.03
coconut flour ½ cup: $0.54
baking soda ½ teaspoon: $0.01
nutmeg ¼ teaspoon: $0.05
salt ¼ teaspoon: $0.01
eggs 3 large: $0.69
maple syrup ¼ cup: $0.59
coconut milk ¾ cup: $0.75
TOTAL COST: $5.29 (Based on San Diego Sprouts 2020) or $0.88/serving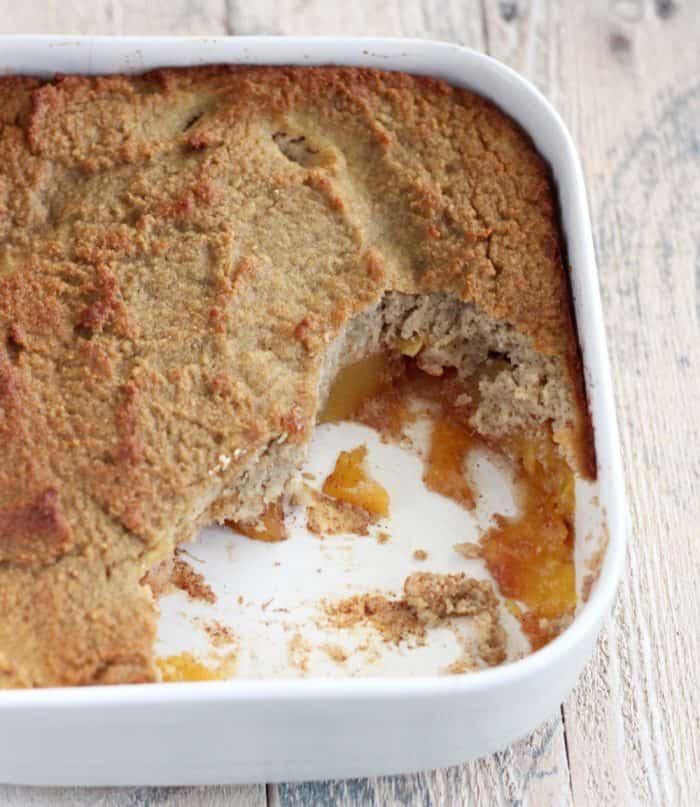 How to Make Gluten free Peach Cobbler
Toss the peaches, lemon juice, extracts, and cinnamon in a bowl.
Grease a baking dish and add peaches.
Mix together the crust ingredients and let sit for a few minutes.
Spread crust over peaches, and bake.
Serve with ice cream or yogurt, and enjoy!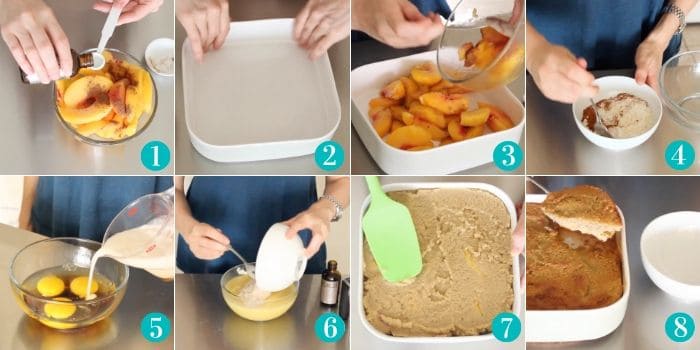 Recipe Tips
This simple peach cobbler recipe will become a dessert you turn to time and time again even if you aren't eating a gluten free or dairy free diet. Plus, you can make it year round thanks to the fact that you can use fresh or frozen peaches.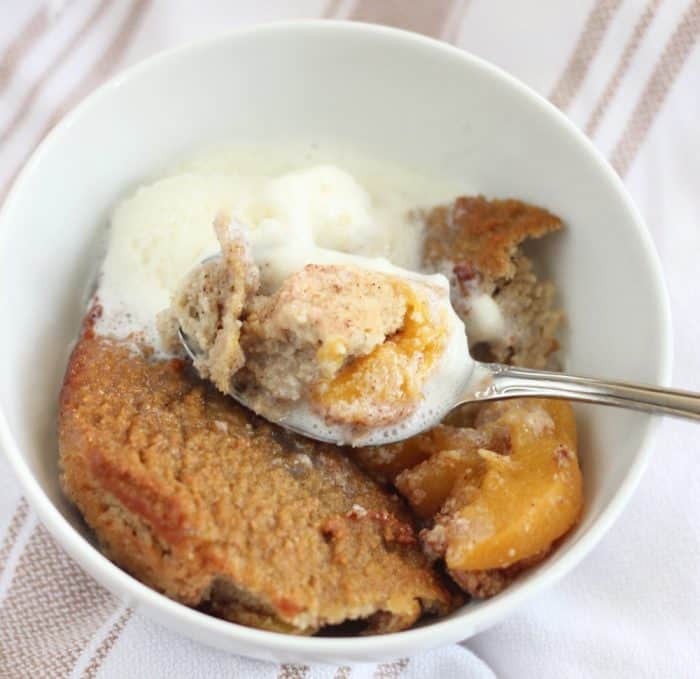 Make Ahead Tips
You can prepare this up to 4 hours in advance. Place in the oven when dinner is almost ready to be served, so your peach cobbler will be ready for dessert.
Variations
Substitutions
Also, if you don't have coconut milk, you can use regular milk. I tested it with 2% milk and it worked well. You could also substitute butter for the coconut oil if desired. Obviously, this would make the recipe no longer dairy free.
Storage Tips
You can keep this tightly covered in the fridge for up to 4 days. Reheat in the microwave or in the oven, covered, on 300*F until warmed through.
Frequently Asked Questions
Does this taste like coconut?
This does have a slight coconut flavor, but it isn't crazy intense. I am not a huge fan of coconut and still really enjoy this peach cobbler.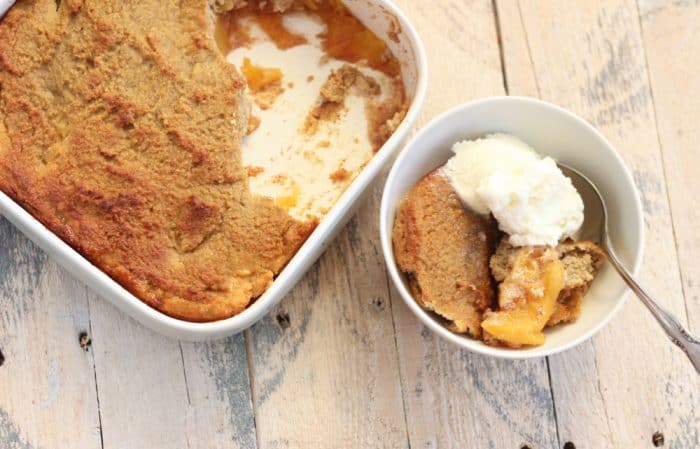 Nutrition benefits of this recipe
This entire recipe uses only ¼ cup maple syrup, so it is lower in added sugar than almost any peach cobbler recipe you will find. Plus, the coconut flour and peaches are high in fiber which gives added health benefits.
Coconut Peach Cobbler is safe for those consuming a dairy free or gluten free diet as well.
Is coconut flour healthy?
Coconut flour is an interesting flour alternative because it is super absorbent and you need a lot less than you'd normally use for regular flour. It is also high in fiber which makes it a nutritious option because it can help slow digestion (keeping you from getting an instant sugar crash) as well as offer heart healthy benefits.
What to serve with Coconut Flour Peach Cobbler
To be clear, this is dessert. But it's dessert that is a little kinder to my body. And it's a dessert that is really delicious with a scoop of vanilla ice cream or some yogurt or some whipped cream.
My personal preference is vanilla ice cream, so the ice cream slightly melts into the peaches.
Final thoughts:
I love this recipe for a more nourishing take on peach cobbler. While it's still dessert, it has less sugar than most peach cobbler recipes. Plus, the fiber in the coconut flour and peaches help stave off the sugar crash. It's also a great option for those not eating gluten or dairy.
---
MORE LOW IN ADDED SUGAR DESSERT RECIPES YOU'LL LOVE: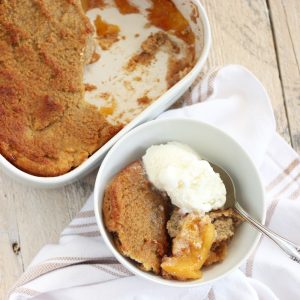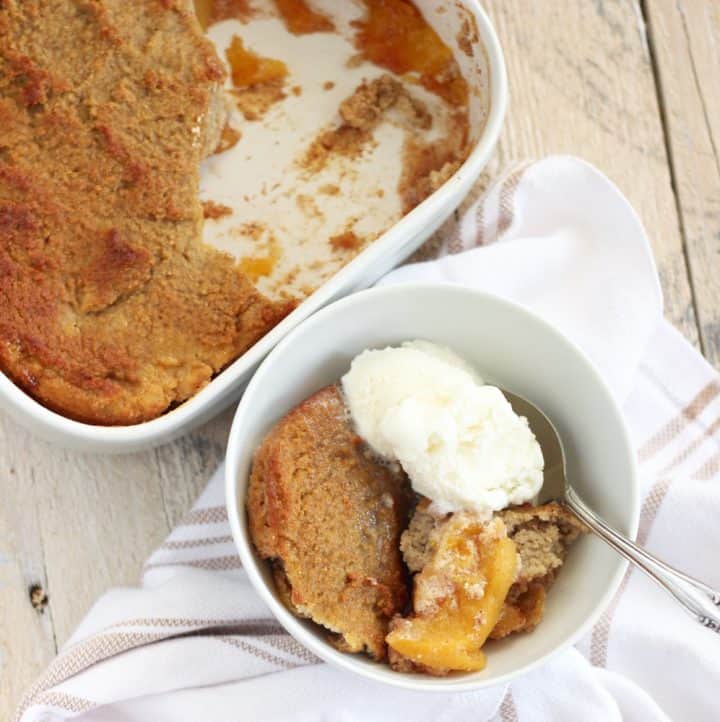 Coconut Peach Cobbler
A dairy free, gluten free Coconut Peach Cobbler low in added sugar, high in fiber, and made with coconut flour and other nourishing ingredients
Print
Rate
Total Cost:
$5.29 || $0.88/serving
Instructions
Preheat the oven to 350*F.

Stir together peaches, 2 tablespoons lemon juice, ¼ teaspoon almond extract, and ¼ teaspoon cinnamon. Set aside.


Grease an 8 inch baking dish with coconut oil. Add the peaches to the baking dish.

In a small bowl, stir together coconut flour, baking soda, nutmeg, salt, and remaining 1 teaspoon of cinnamon. Set aside.


In a medium bowl, stir together eggs, maple syrup, coconut milk, remaining tablespoon lemon juice, and remaining ¼ teaspoon almond extract. Add in dry ingredients and stir until completely combined. Let sit for five minutes.


Top the peaches with the coconut topping mixture. Transfer to the preheated oven and bake for 45 to 60 minutes until topping is golden brown.


Let sit for about 5 minutes before serving. Best served with a scoop of vanilla ice cream or yogurt. Enjoy!

Notes
*If using frozen peaches, defrost for about one hour before using.
*16 ounces sliced peaches is about 3 cups
What to Use in This Recipe
Did you try this recipe?
Be sure to leave a comment & recipe rating below. Bonus points for tagging @memeinge & #livingwellkitchen on Instagram! THANK YOU! xo
[showhide type="post" more_text="Click here for Oatmeal Cookie in the Microwave Nutrition Facts" less_text="Clear Nutrition Facts"]
*
Nutrition Facts
Coconut Peach Cobbler
Amount per Serving
% Daily Value*
* Percent Daily Values are based on a 2000 calorie diet.
*
[/showhide]
Meme
*Based on this recipe
This post was originally published April 7, 2017. Text has been updated.
Doesn't this recipe look good?! You should probably share it: