Curry Ripe Olive Sandwich is an easy, cheesy, and nourishing appetizer or light lunch with beneficial fats, whole grains, and veggies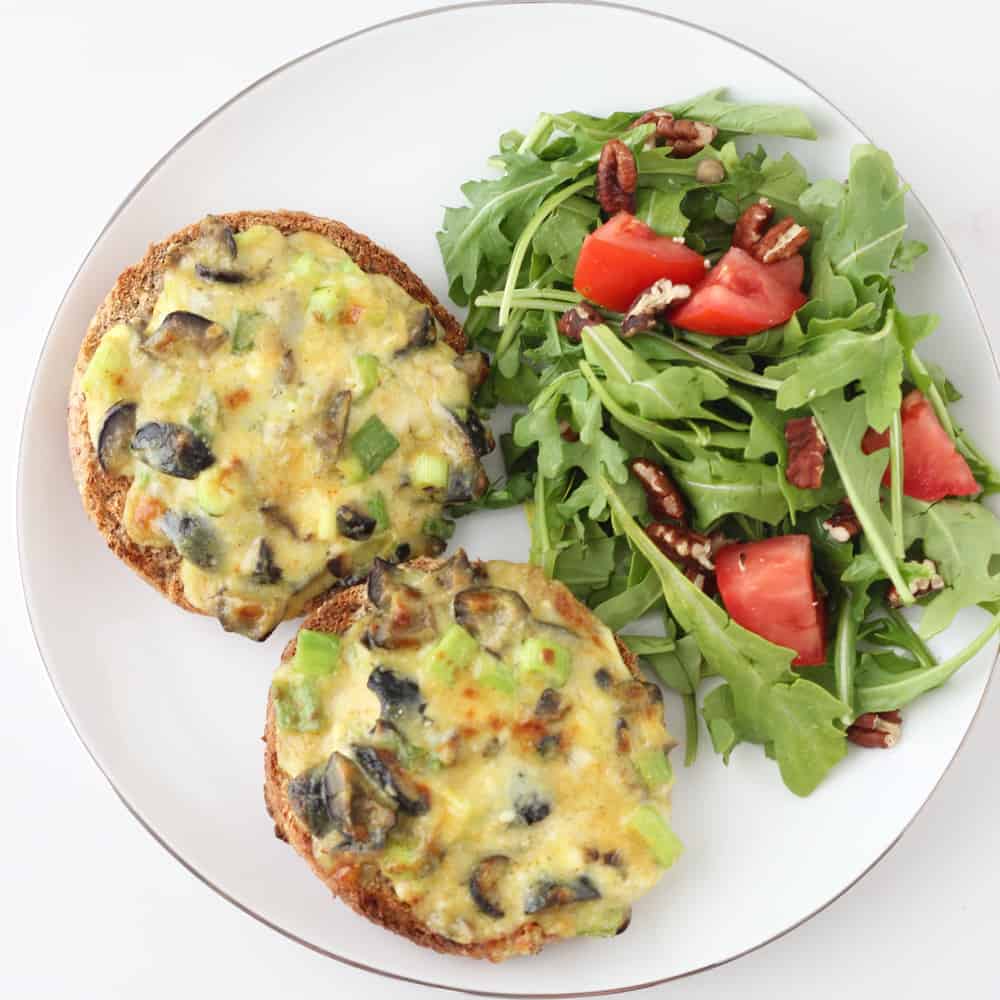 At what age does one become mature enough to actually listen to your parents/grandparents/people who are more than 15 years older than you?
My thought is that it's when you start liking foods that you hated as a kid.
Back in the day, I hated mushrooms and olives... like I made my mom pick them out of dishes for me.
I know, right?! So high maintenance geez. And so silly because mushrooms and olives are delish and are so good for you!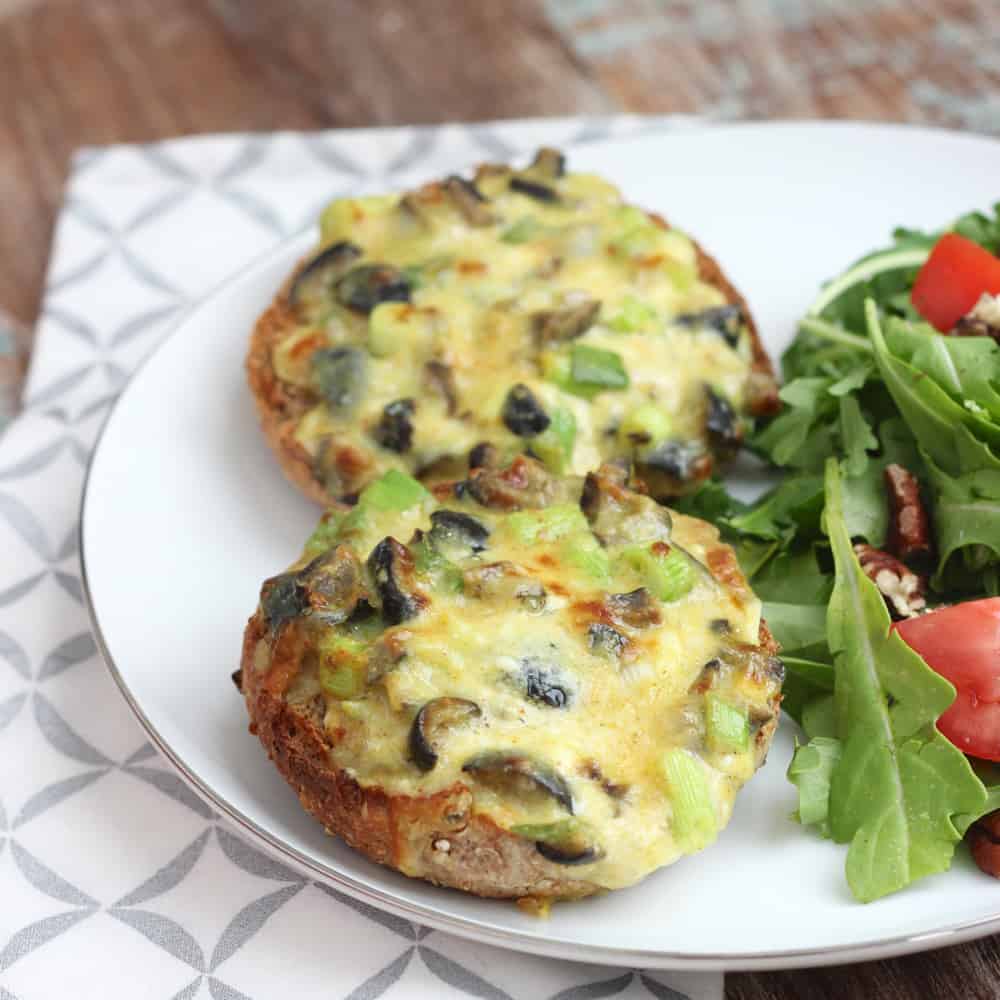 I don't remember at what point I became obsessed with mushrooms, but I do remember when it happened with olives. It started out when I tried them at St. James Cheese Company -- one of my absolute favorite lunch spots in Uptown New Orleans.
And then I had the greatest salad dressing everrrrrr when I was in California last year.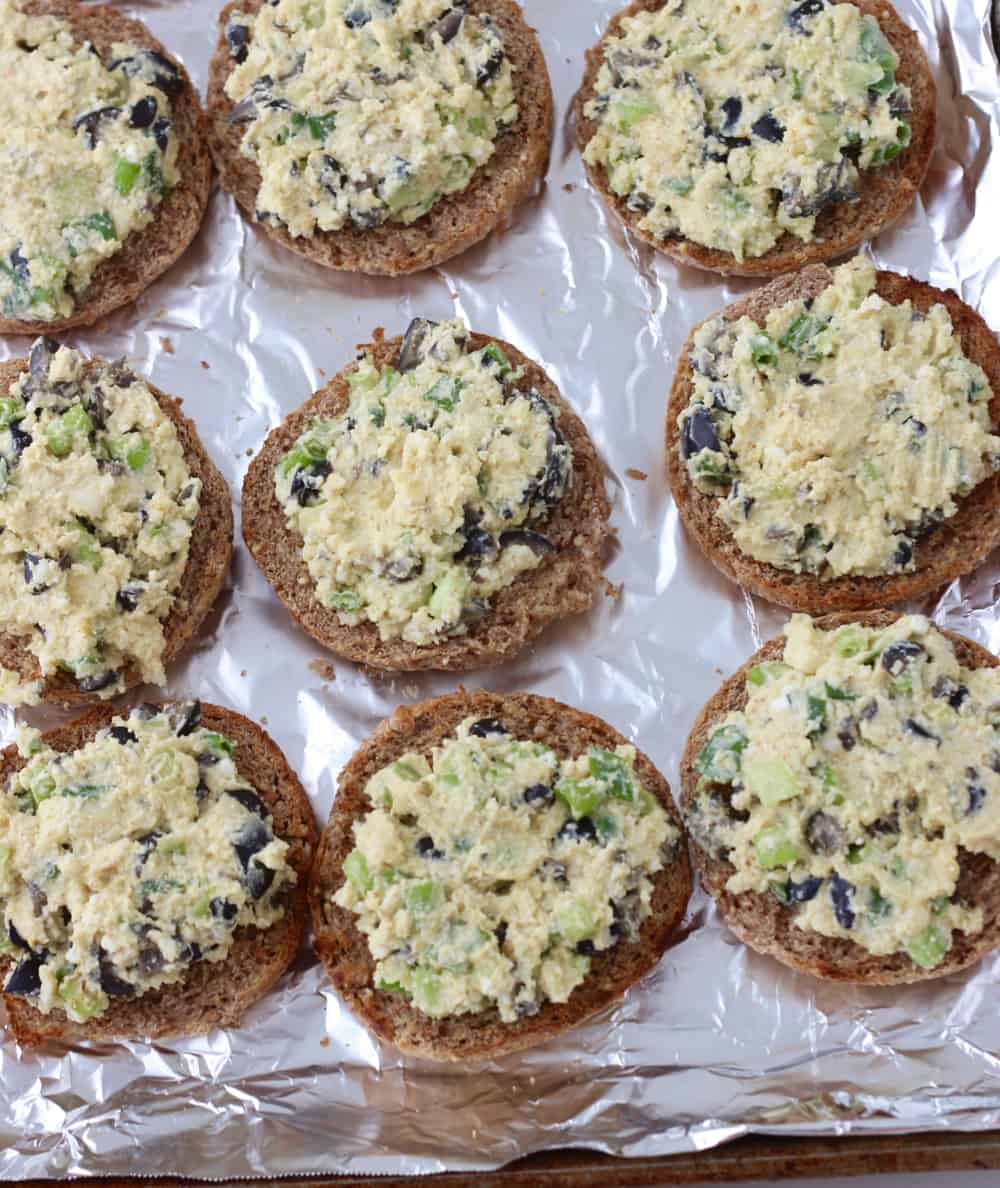 When I was trying to think of a recipe with olives, I decided to ask Nan (my all-knowing, recipe-wizard grandmother).
She's been trying to convince me to make these Curry Ripe Olive Sandwiches from one of my favorite cookbooks for years. To be honest, I thought they sounded not good at all.
But remembering that Nan's usually right, I made them. And whoa they are GOOD! Easy, cheesy, and tasty!
They're like loaded open faced grilled cheeses that have veggies, protein, whole grains, and beneficial fats -- all components of the Mediterranean diet [a heart healthy diet rich in veggies & fruit, seafood, lean meats, dairy, whole grains, nuts, olives, legumes, and red wine].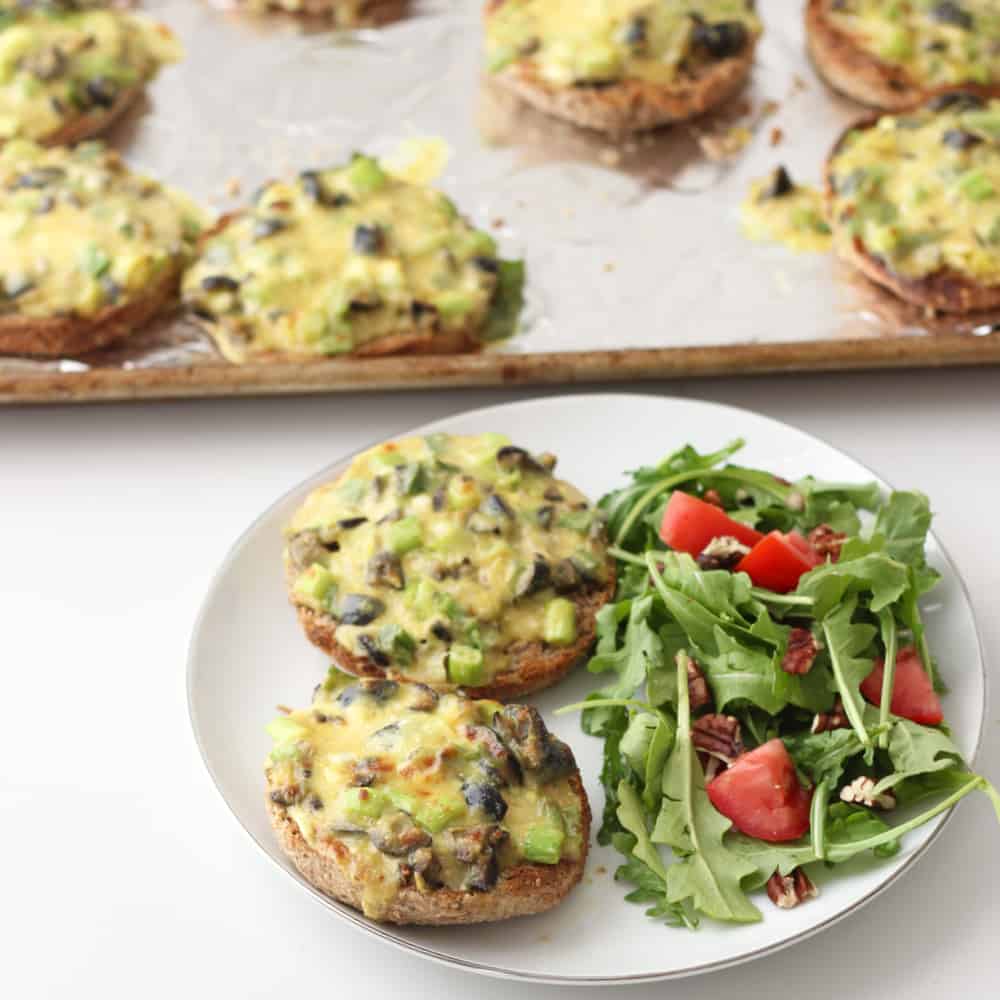 Did you know that olives are as nourishing as they are delicious?
Olives are an essential component of the Mediterranean diet, full of beneficial fat (primarily monounsaturated fat) with no trans fat or cholesterol. They also have vitamin E (.25 mg per serving), iron (.49 mg per serving), vitamin A (60 IU per serving), and fiber (.5 grams per serving).
And these are as easy as they are delicious. Toast some english muffins and stir the cheesy olive mixture together. Pile the mixture on the toasted english muffins and broil until the cheese is all bubbly and melty and wonderful.
These are great as an appetizer (baked on whole grain crackers) or for a lunch to serve a group of people because you can make the cheese mixture ahead of time and put everything on a baking sheet to cook at once.
Serve with a salad and a nice glass of red wine, and you have a lovely light lunch Mediterranean-diet style. Yes, I recommend drinking a glass of wine at lunch. Why not? Life's too short not to enjoy a glass of vino in the middle of the day on occasion 😉
Looking for other olive recipes? Here are some of my favorites: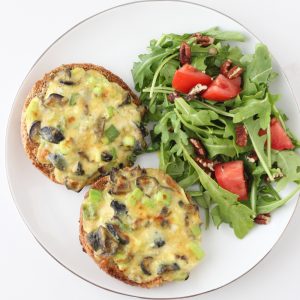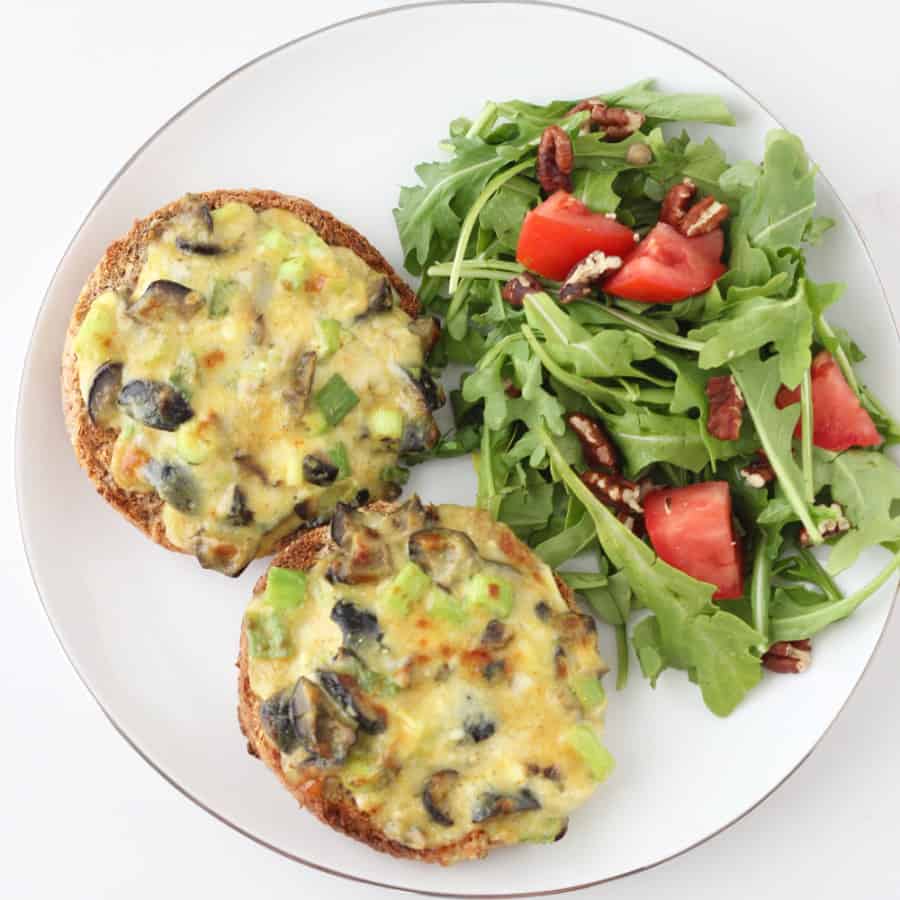 Curry Ripe Olive Sandwich
Curry Ripe Olive Sandwich is an easy, cheesy, and nourishing appetizer or light lunch with beneficial fats, whole grains, and veggies
Print
Rate
Ingredients
8

ounces

cheddar cheese

shredded

1

cup

cottage cheese

2

teaspoon

curry powder

¼

teaspoon

salt

⅛

teaspoon

cayenne pepper

1 ½

cups

black olives

chopped

1

cup

green onions

chopped, from about 4-6 green onions, white & green parts

6

whole grain english muffins

split
Instructions
Preheat the oven to broil. Line a large baking sheet with foil or parchment (for easier clean-up).

Toast bottoms of english muffins (about 2 minutes), and flip upright. Toast other side (about 2 minutes).

Stir together cheddar cheese, cottage cheese, curry powder, salt, and cayenne pepper until combined. Stir in olives and green onions. Pile mixture onto tops of english muffin halves (about ¼ cup per english muffin half). Broil until cheese is melted and bubbly. Enjoy!
Notes
*I used one 6 oz (drained weight) can of olives.
*You can use this mixture to bake on crackers, too.
Did you try this recipe?
Be sure to leave a comment & recipe rating below. Bonus points for tagging @memeinge & #livingwellkitchen on Instagram! THANK YOU! xo
[showhide type="post" more_text="Click here for Nutrition Facts" less_text="Clear Nutrition Facts"]
*
Nutrition Facts
Curry Ripe Olive Sandwich
Amount per Serving
% Daily Value*
* Percent Daily Values are based on a 2000 calorie diet.
*
[/showhide]

Meme