This veggie and protein packed edamame feta salsa is a delicious, crowd-pleasing snack topping, or appetizer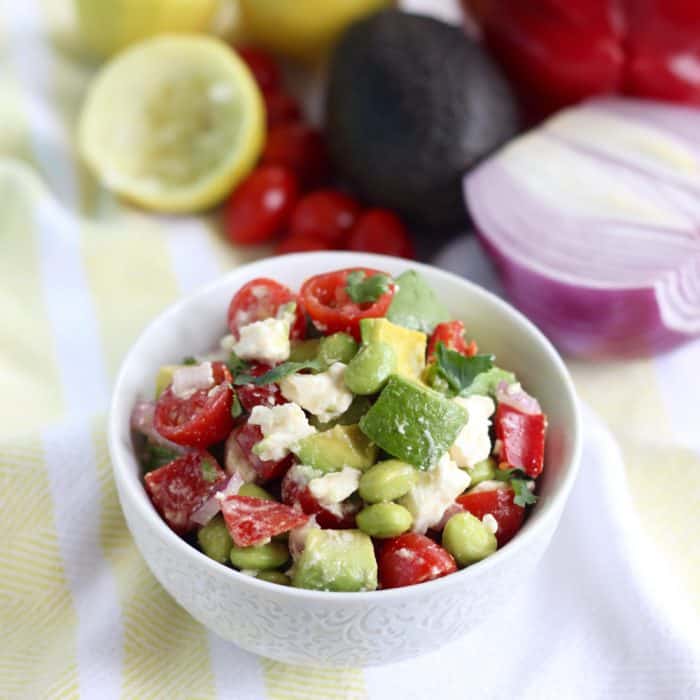 I am ever on the conquest to get people to eat more plants. If I can add an extra veggie in my meal, you better believe it's gonna happen.
This doesn't mean I'm sneaking or hiding veggies in my desserts. Ok, so I have done that before but it was only to prove a point that I could successfully add spinach to brownies. And then I added a graham cracker crust and covered them in marshmallows to make s'mores brownies (aka the best brownies ever).
[clickToTweet tweet="Veggie + protein packed Edamame Feta Salsa is a tasty #GF #vegetarian snack, topping, appetizer" quote="Veggie + protein packed Edamame Feta Salsa is a tasty #GF #vegetarian snack, topping, appetizer"]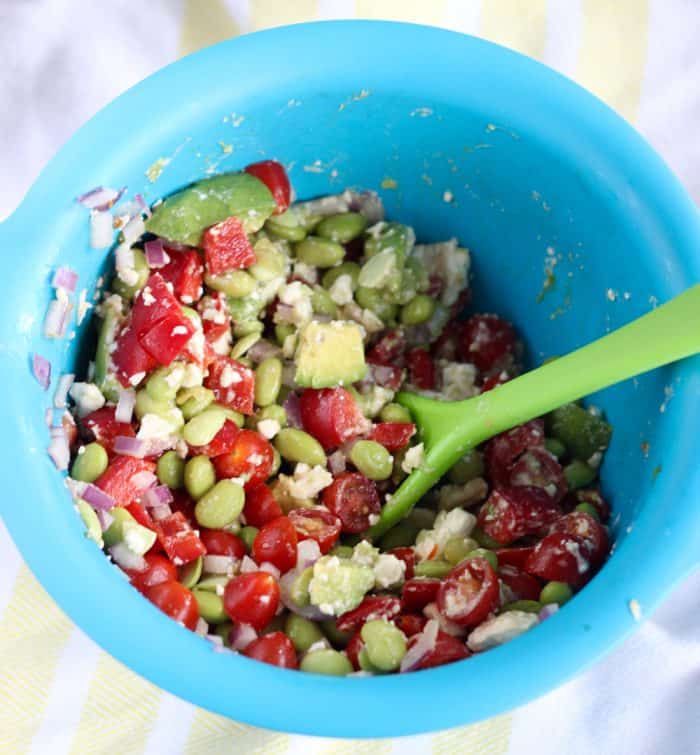 Adding extra plants into your life can have some happy side effects like more energy and more satisfaction from meals thanks to the filling fiber.
Salsa is my number one when it comes to eating more plants.
First and foremost, salsa is delicious! Second, it adds flavor to your food to make it more exciting.
Chips... tasty. Chips and salsa? Match made in heaven.
Scrambled eggs... nice. Scrambled eggs and salsa (maybe add some bacon while you're at it)... awesome!
You get the point: salsa is the BEST.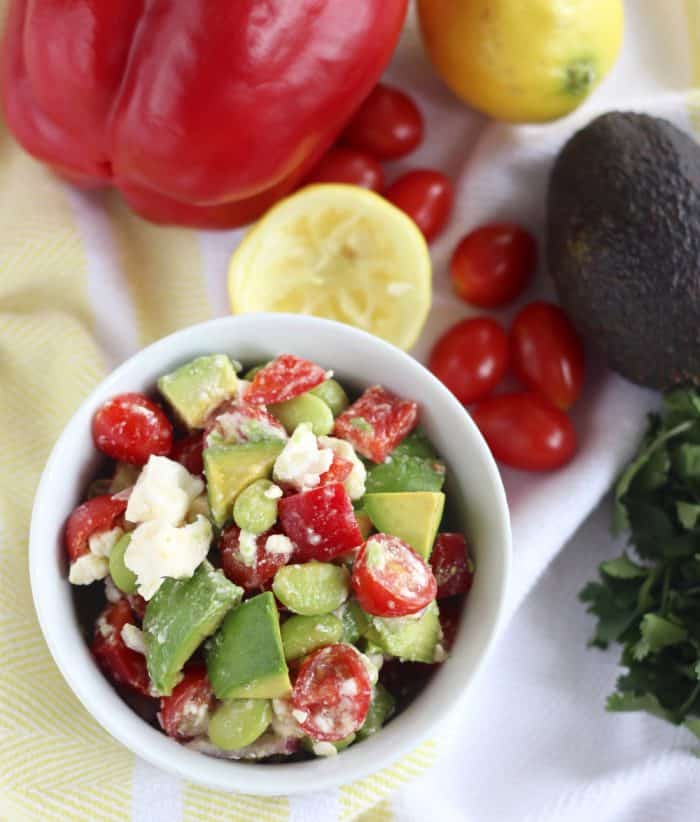 Which leads me to this edamame salsa. In the summer, there is a 94.8% chance that I have some type of homemade salsa in my fridge. It's when my favorite salsa ingredients are in season (like tomatoes), and I want as much salsa as possible. I also like having a big bowl of salsa to make for parties, so I can share the plant-love with others.
I love that edamame gives you an extra burst of protein, so it pairs well with chips for a hearty snack or with tacos or eggs for an extra burst of nutrients at breakfast. It's great served over cooked quinoa for a meal. I even eat this straight from a bowl almost like a salad.
At first, I thought this would be a random combo but y'all... You really need to try this! Every ingredient pairs so well with the others, especially after sitting for at least 30 minutes.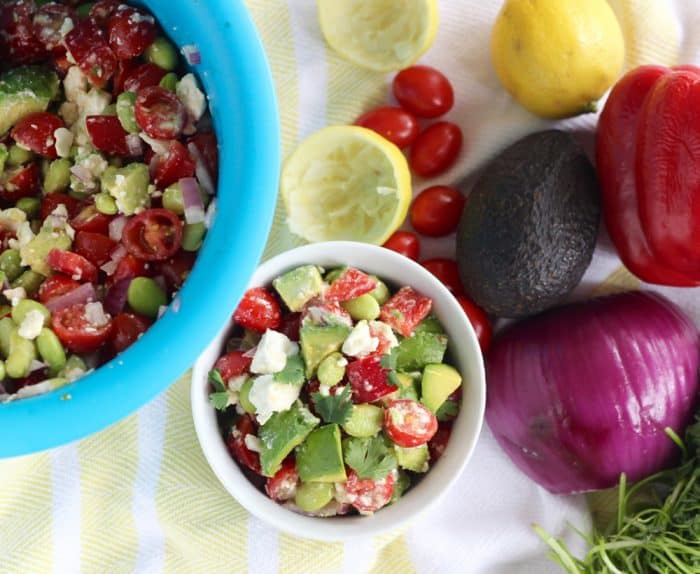 A little note that this can successfully be made ahead if you do not add the avocado and edamame until just before serving. It'll still taste good but the avocados turn a little brown and the edamame gets a little pale.
If you can chop veggies and cook edamame (meaning boil some water, add the frozen edamame and drain after 5 minutes), you can make this salsa. And I promise you it is worth the 15 minutes of prep time for a whopping 8 cups of salsa.
Beware though because it only took me 4 days to eat this. I was literally adding it to every meal and snack because it's so good, so if you are serving more than you and a friend, you might want to double the recipe.
**Get the recipe on Avocado a Day Nutrition, my fabulous friend Rachael's blog**
Meme
Pin for later: