Lamb Stuffed Peppers inspired by the Syrian dish, Koosha Mahshi, are beautifully packaged bundles of flavor that give you veggies, whole grains, and protein all in one.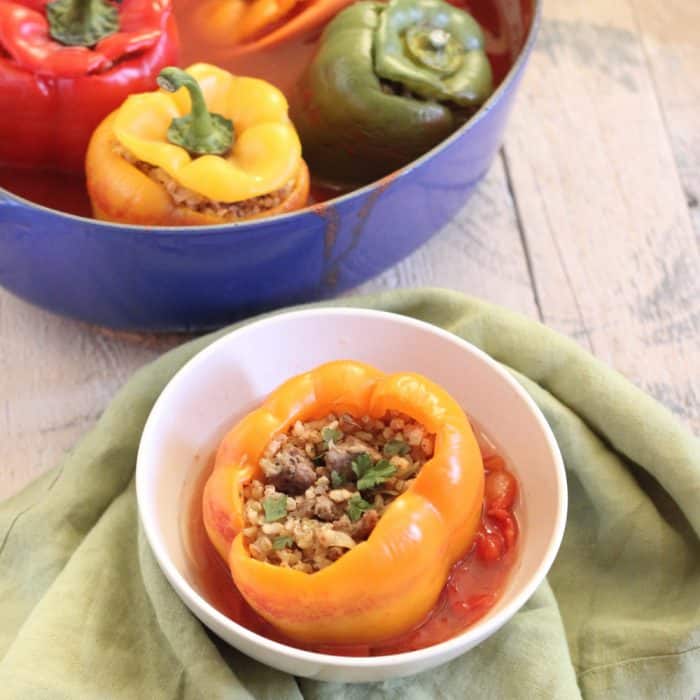 Do you ever go down the internet recipe rabbit hole? You go online to find a recipe using an ingredient you found on sale at the grocery store and three hours later, you still don't know what you'll be cooking.
Happens to me all the time, but I like to pretend it's just research for my blog.
Technically, it is, but let's be honest, I don't need to do more than a few hours of research a week.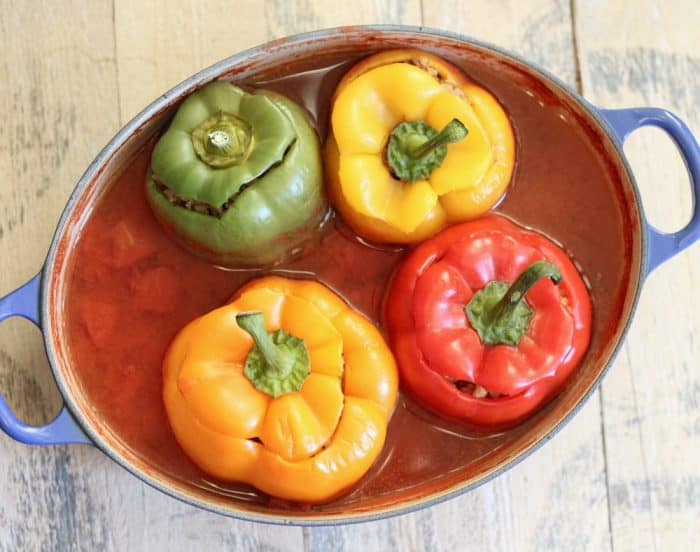 Anywho, back in January, I found the Cook For Syria website during my "research" trying to find new, exciting recipes to post this year.
What is Cook For Syria? According to the website:
CookForSyria is an international fundraising initiative curated by Clerkenwell Boy and SUITCASE Magazine to preserve and celebrate Syrian culture amidst one of the largest humanitarian crisis of our time... It will encourage everyone from the UK's top chefs to people at home to cook and raise money in aid of UNICEF's Syria Relief fund. There are hopes that the initiative will then be continued globally.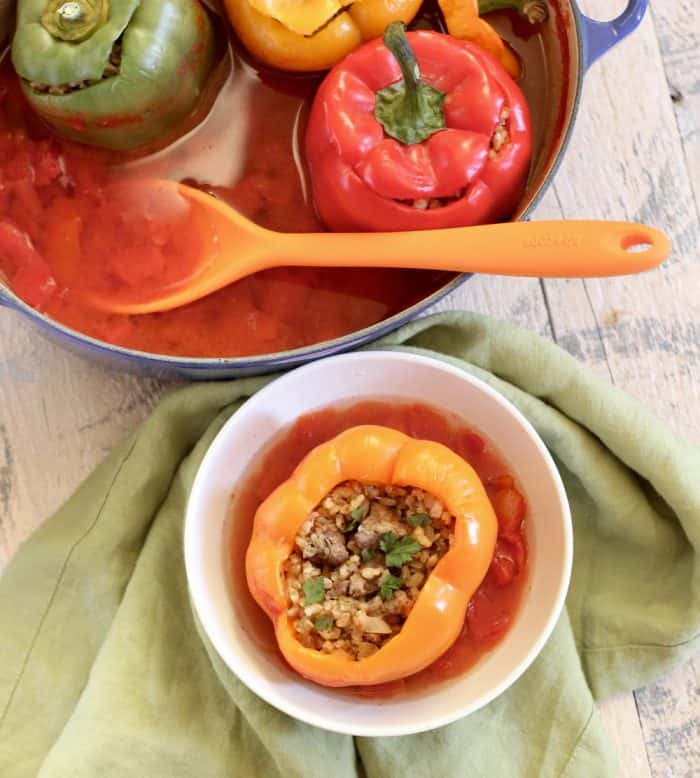 Since I absolutely love this idea, I attempted to get on board & buy the cookbook.
Unfortunately, you couldn't order the cookbook if you're in the US, but they have a few recipes on their website. (Note: you can now order the cookbook online if you're in the US).
When I saw this recipe for stuffed peppers/squash, I knew I needed to try it. I love stuffed peppers & squash!
I had to adapt the recipe a little since it's not in measurements I am accustomed to using. Also, I didn't want to go to the store to buy a special spice blend when I already have so many spices at home.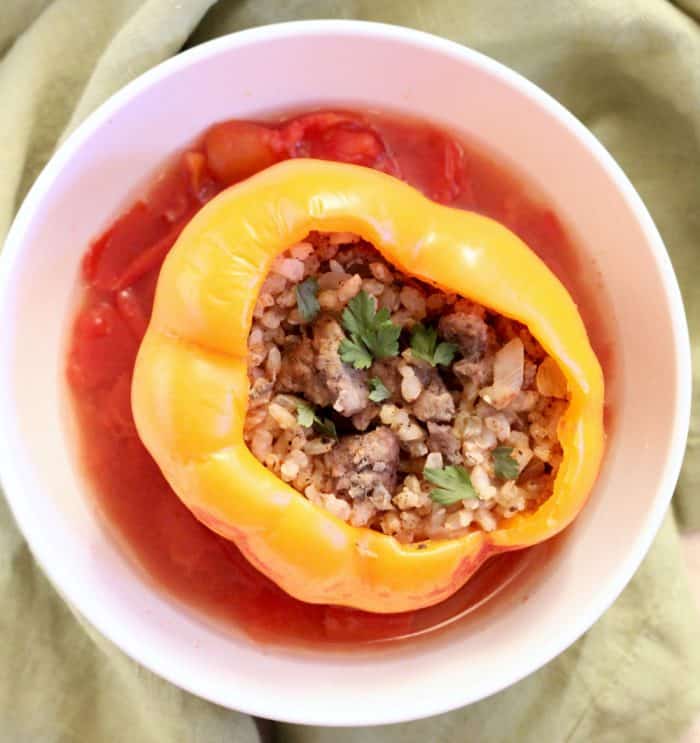 That being said, this recipe is pretty easy to make (obviously. I don't particularly love recipes that aren't easy. Easy is my MO).
If you can't get behind using lamb, you can absolutely substitute with ground beef or turkey. In fact, the second time I tested this recipe, I used ground beef because I had some in the freezer. However, it's definitely better with lamb in my opinion.
You will need to have cooked rice for this. You can either make it just before preparing the dish or in advance. I like to make extra rice and save 4 cups to make this.
I also do this with the ground lamb or beef, and by "do this" I mean cook extra when I'm already cooking it for another meal. Or I'll cook the lamb in the same pot that I'll be cooking the peppers, so I don't have to wash two pots 🙂
Last but not least, these freeze really well. Just make sure to add a little bit of the tomato juice in the container so your stuffed peppers don't dry out when reheating.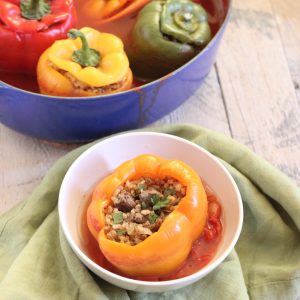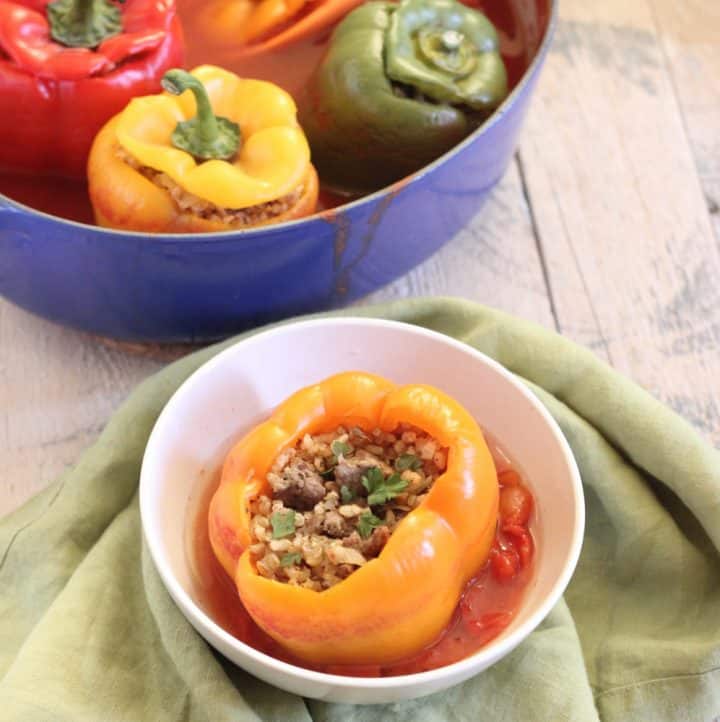 Lamb Stuffed Peppers
Lamb Stuffed Peppers inspired by the Syrian dish, Koosha Mahshi, are beautifully packaged bundles of flavor that give you veggies, whole grains, and protein all in one.
Print
Rate
Ingredients
8

ounces

lamb

ground

1

small

onion

finely diced

4

cups

cooked rice

1

teaspoon

cumin

1

teaspoon

salt

½

teaspoon

black pepper

½

teaspoon

paprika

¼

teaspoon

coriander

⅛

teaspoon

cinnamon

⅛

teaspoon

cloves

⅛

teaspoon

nutmeg

dash

cardamom

4

bell peppers

15

ounce

diced tomatoes

no salt added

4

cup

water

3

lemons

juiced

2

cloves

garlic
Instructions
In a large, oven safe pot or french oven, cook the ground lamb and onion over medium-high heat until done, about 10 minutes.

Drain excess grease, and transfer to a large bowl.

Stir in cooked rice, cumin, salt, black pepper, paprika, coriander, cinnamon, cloves, nutmeg, and cardamom. Stir well to evenly coat the lamb and rice.

Pour the diced tomatoes + juices, water, lemon juice, and garlic in the pot.

Slice the tops off of the bell peppers and remove the seeds and stems inside. Set aside the tops of the bell peppers.

Fill the peppers evenly with the lamb mixture. Arrange the bell peppers in one layer in the pot. The liquid should come about halfway up the peppers.

Bring the pot to a boil and simmer for 20 minutes. Add the reserved bell pepper tops to the bell peppers. Transfer to the oven and bake another 20-25 minutes until the peppers have softened.

Carefully remove the peppers from the oven.

Serve each pepper in a bowl with a little bit of the tomato mixture, if desired. Enjoy!

Notes
*You'll need 1 cup of uncooked rice to make 4 cups cooked rice.
*Use ground beef in place of lamb if desired.
*Nutrition Facts do not include tomato liquid
What to Use in This Recipe
Did you try this recipe?
Be sure to leave a comment & recipe rating below. Bonus points for tagging @memeinge & #livingwellkitchen on Instagram! THANK YOU! xo
[showhide type="post" more_text="Click here for Oatmeal Cookie in the Microwave Nutrition Facts" less_text="Clear Nutrition Facts"]
*
Nutrition Facts
Lamb Stuffed Peppers
Serving Size
1 stuffed pepper
Amount per Serving
% Daily Value*
* Percent Daily Values are based on a 2000 calorie diet.
*
[/showhide]
Meme
Doesn't this recipe look good?! You should probably share it: