Breakfast stuffed peppers are egg and cheese stuffed bell peppers for a delicious way to boost your veggie intake first thing in the morning.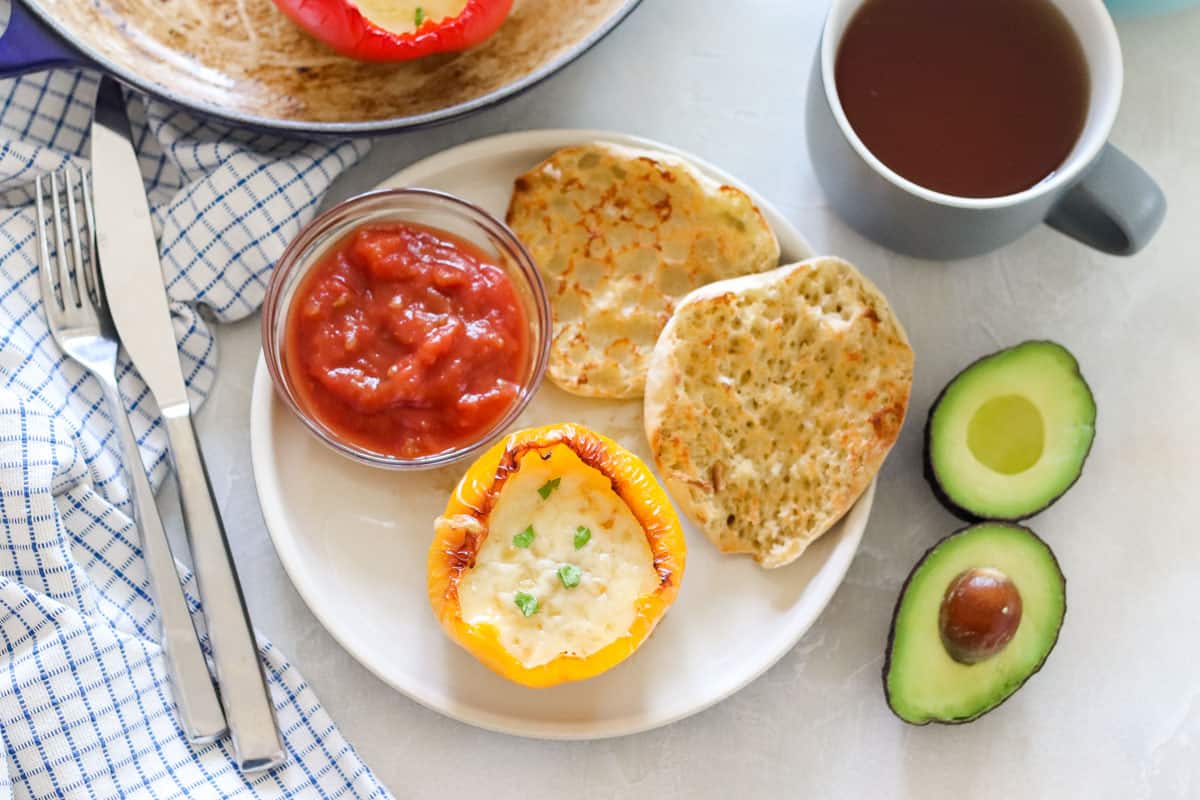 About Breakfast Stuffed Peppers
If you are a fan of savory breakfasts and veggies, you'll love these breakfast stuffed bell peppers.
They are pretty easy, and I love that they pack in the veggies first thing in the morning.
Plus, there is no wasting here.
After slicing off the tops of the peppers, you dice any salvageable bell pepper around the stem. Then you'll use that to add to the onion for seasoning the eggs.
Another great thing about these egg-stuffed peppers is that you can season them to your liking.
As written, the recipe is pretty basic with only salt and pepper.
However, you can add any seasoning you prefer, like dried herbs and spices.
Italian seasoning or southwest seasoning would both be tasty additions.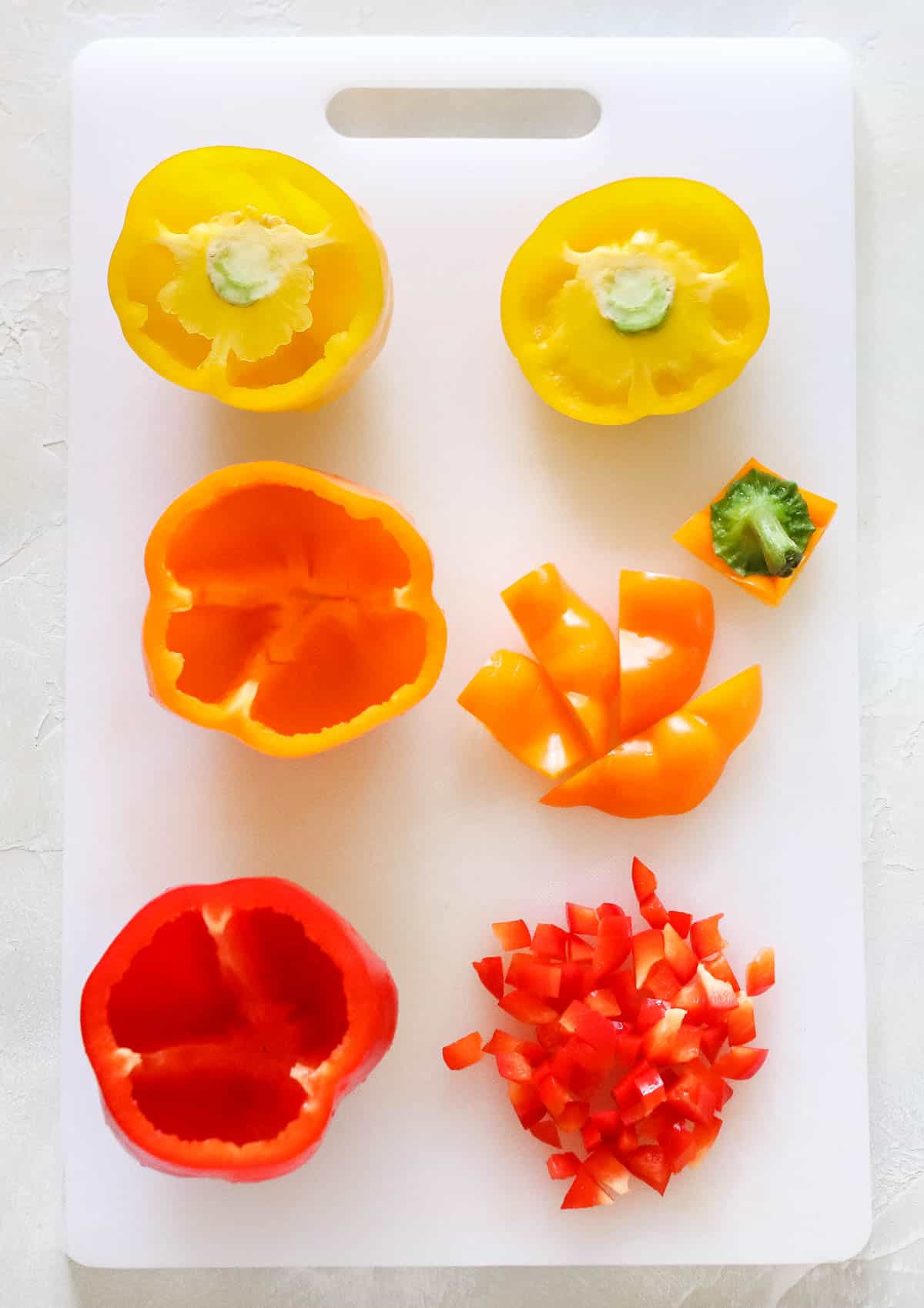 Ingredients
Bell peppers: Any color bell pepper you like are a good option. The recipe has been tested using red, green, yellow, and orange bell peppers.
Green bell peppers have a more distinct flavor and are not as sweet as red, yellow, and orange. But they are usually less expensive and still taste great in this recipe.
Oil: To sauté the veggies, you can use olive oil, avocado oil, canola, oil, butter, or bacon grease.
Onion: To add even more veggies to this breakfast stuffed peppers recipe, you sauté a diced onion to mix with the eggs. Any onion type works - yellow, white, red, and sweet (like Vidalia and Walla Walla) onions.
Garlic: Fresh garlic gives the egg stuffed peppers some flavor. Garlic powder or garlic salt can also be used.
Seasoning: Salt and pepper are the basic seasonings, but you can add other spices and herbs if you'd like. Be sure you sprinkle a little bit of salt on the peppers before adding the egg filling.
For extra assurance that your peppers will be tasty, sprinkle each pepper with a little extra salt before filling it with cheese and eggs.
Eggs: Generally, about 3 large eggs will fill the bell peppers. However, depending on the size of the bell peppers, you might want to add an additional egg to fill the peppers. You want the egg to go about ⅔ of the way up the inside of the bell pepper.
Cheese: Cheddar is the cheese used for testing the recipe, yet you can use whatever cheese you like. Mozzarella, pepper jack, Monterey jack, feta, parmesan, manchego, and cotija are all good options.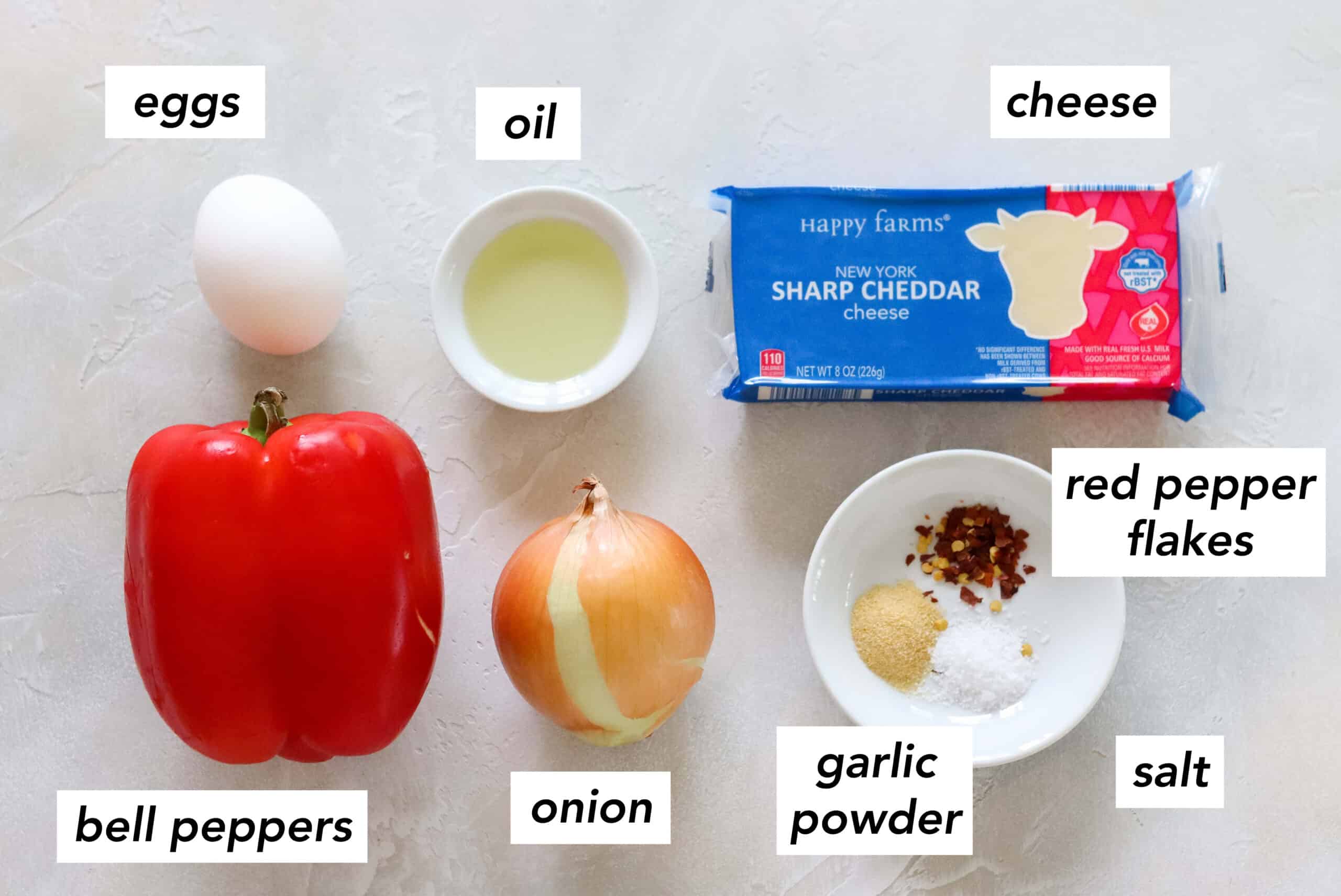 Recipe Cost
bell peppers 3 medium: $2.94
oil 1 teaspoon: $0.08
onion 1 medium: $0.50
garlic 1 clove: $0.06
salt ¼ teaspoon: $0.01
black pepper ¼ teaspoon: $0.03
eggs 3 large: $0.84
cheddar cheese ½ cup: $0.58
TOTAL COST: $5.04 or $1.68/serving (Based on San Diego grocery stores 2023)
Note that this is not the recipe; it's simply to show the cost breakdown of ingredients. Be sure to scroll down to the full recipe to see the specific ingredients and directions.
How to Make Breakfast Stuffed Peppers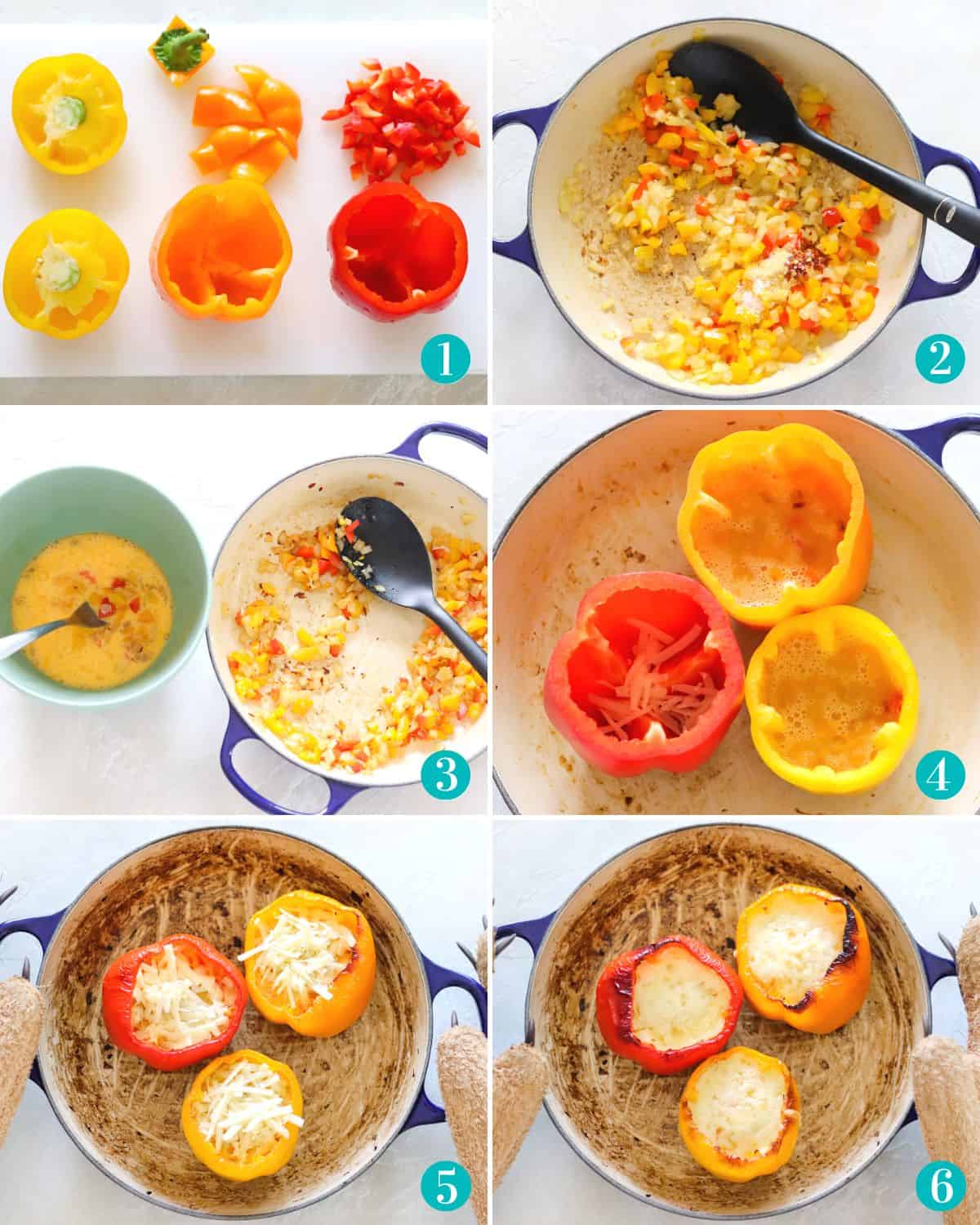 Time needed: 50 minutes
Breakfast Stuffed Peppers are an easy, tasty, high protein egg dish you can make in advance for meal prep.
Prepare the bell peppers.

Slice off tops and dice any usable bell pepper.

Sauté onion and any bell pepper.

Season the veggies, and let cool.

Whisk together eggs.

Slowly add in veggies, so you don't scramble the eggs.

Fill bell peppers with egg mixture.

Bake.

Sprinkle with cheese.

Bake until eggs are cooked through.

Enjoy!
Recipe Tips
Variations
Ingredient Substitutions
Cheese: Many different types of cheese will be delicious for egg-stuffed peppers, like Mozzarella, pepper jack, Monterey jack, feta, parmesan, manchego, and cotija.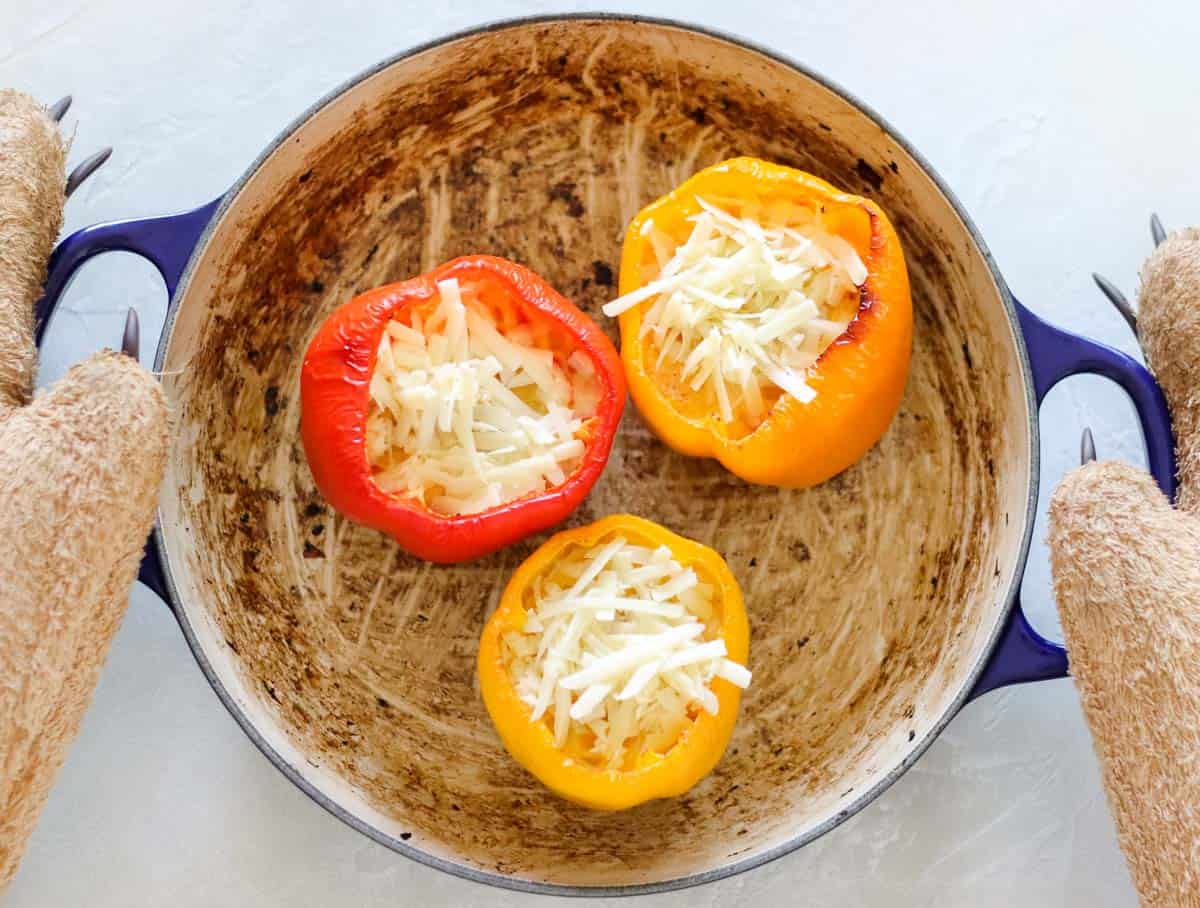 Flavor Options
Spices: To add a different flavor to this basic egg stuffed pepper recipe, you can add herbs and spices when adding salt and pepper. Here are some options...
½ teaspoon Italian seasoning
½ teaspoon chili powder + ¼ teaspoon cumin
¼ teaspoon dried oregano + ¼ teaspoon dried thyme or rosemary
For extra heat:
Add ¼ teaspoon of red pepper flakes or cayenne pepper
Or add one minced jalapeno when adding the minced garlic.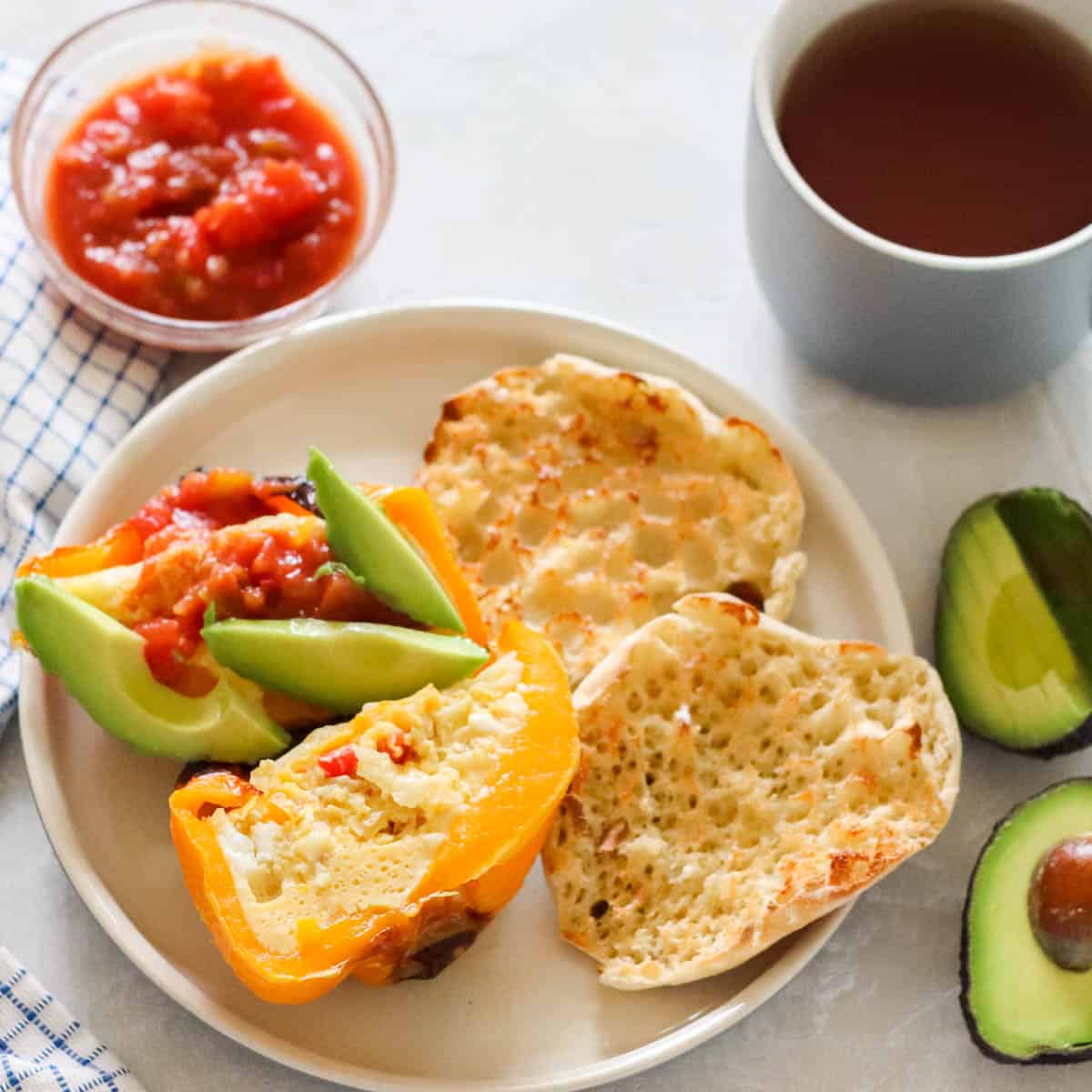 How to Make Allergy-Friendly
These breakfast stuffed peppers are naturally gluten-free, soy-free, and nut-free.
To make them dairy-free, use dairy-free cheese.
How to Fix a Mistake
Not enough egg: The peppers should be about ⅔ full once you add the eggs. If they are only halfway full, whisk another egg and pour it into the peppers.
Peppers burn before the egg cooks: Turn the heat down to 350*F and tent the peppers with foil.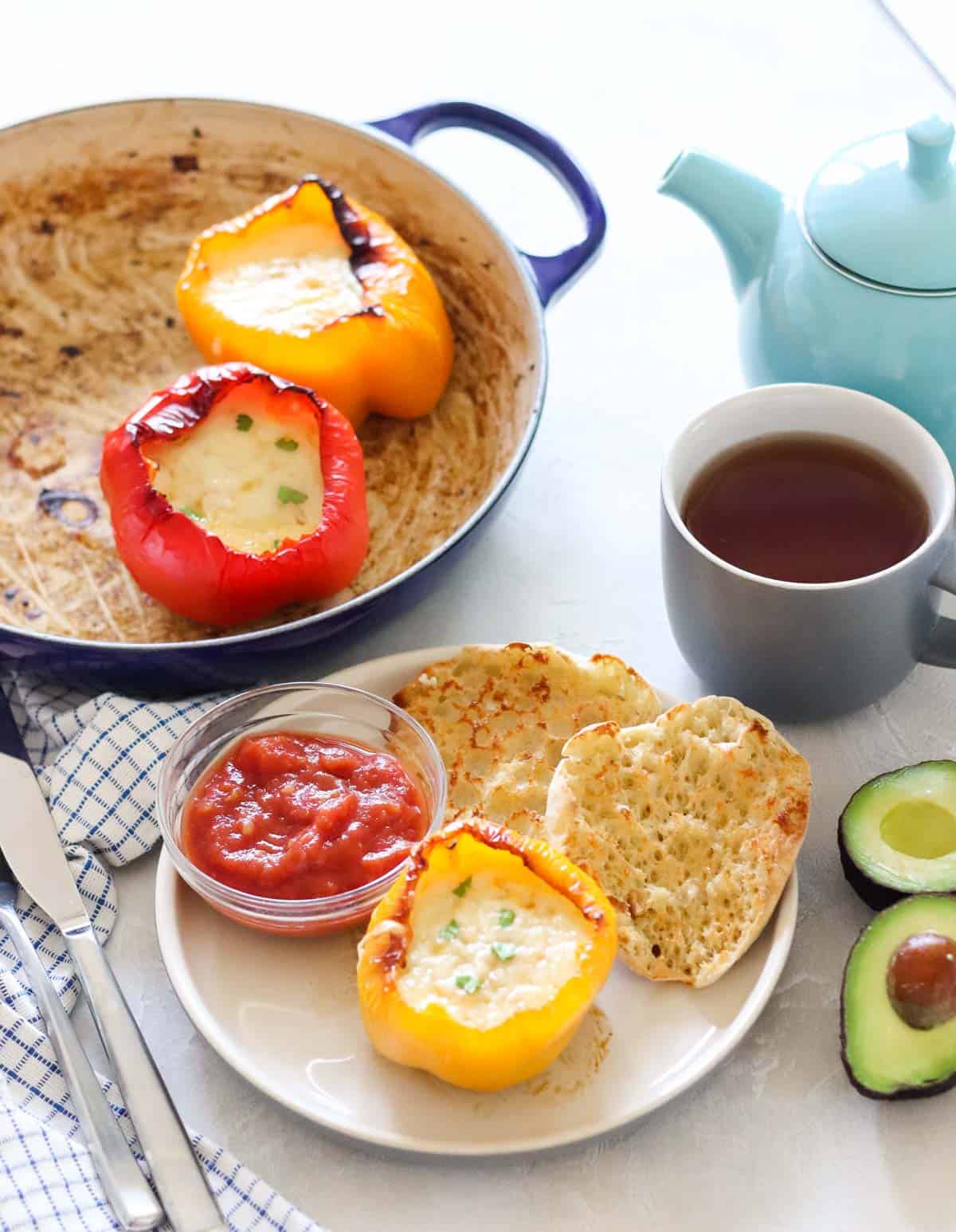 Make-Ahead Ideas
These can be made ahead of time and kept in the fridge or freezer until you're ready to enjoy them.
Prepare as directed and reheat in the microwave (for 45 to 90 seconds), air fryer (at 300F for 5-10 minutes), or oven (at 325 for 5-15 minutes).
Storage Suggestions
Keep the cooked breakfast stuffed peppers in an airtight container in the fridge for up to 4 days.
They can also be frozen in an airtight container for up to 4 weeks.
Frequently Asked Questions
Do you have to blanch green peppers before stuffing?
No, you do not need to blanch green peppers before stuffing them in this breakfast stuffed pepper recipe. They will soften enough when they are baking after being stuffed.
Are eggs and peppers healthy?
Eggs and peppers are both nutrient-rich foods. It depends on how you define healthy, but this recipe for stuffed peppers with egg is a good source of multiple vitamins, minerals, protein, and fiber.
How many days are stuffed bell peppers good for?
Stuffed bell peppers are good for about 4 days from the refrigerator and 4 weeks from the freezer.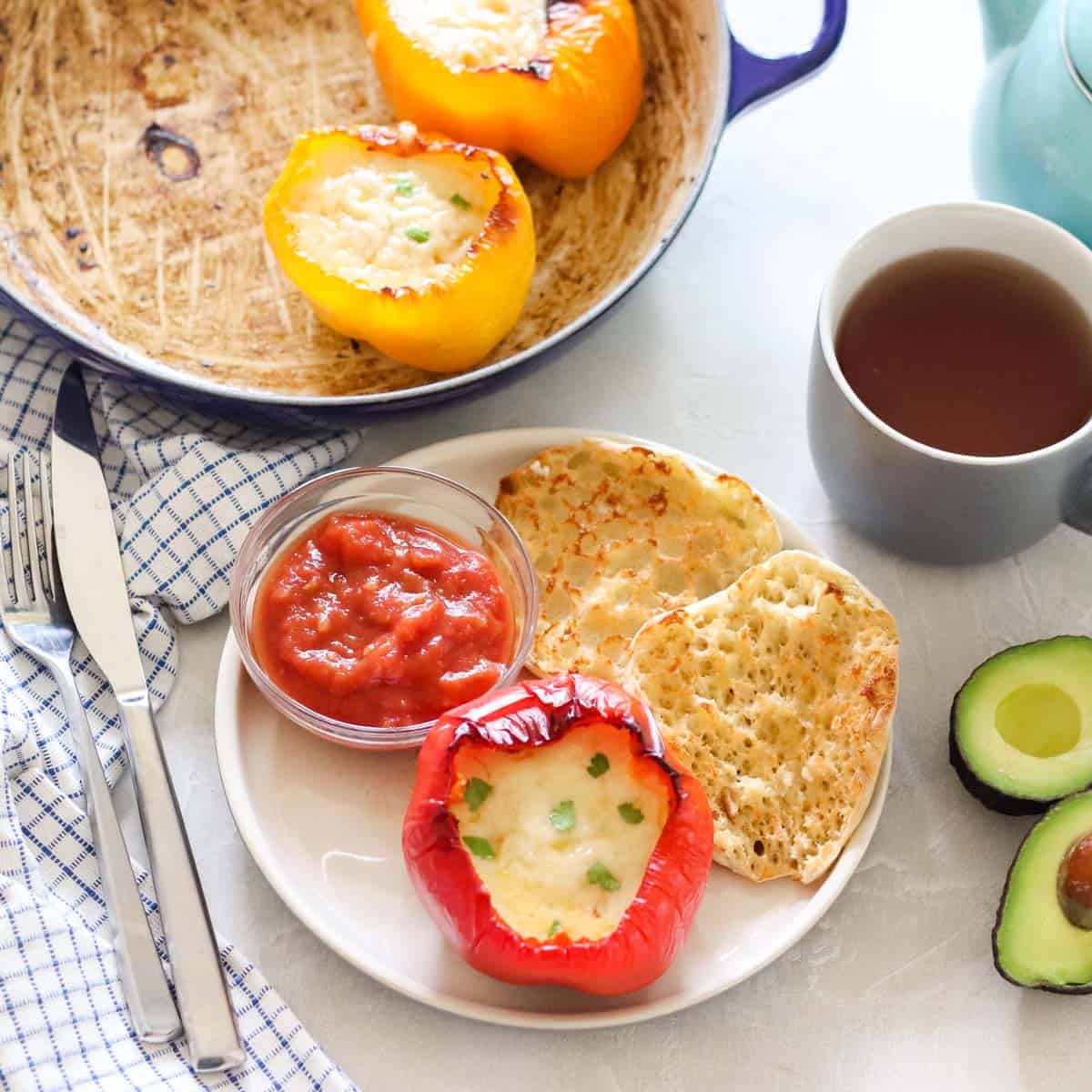 Nutrition Benefits
Each breakfast stuffed pepper provides 189% RDA Vitamin C, 83% RDA Vitamin A, 15% RDA calcium, 12% RDA potassium, and 11% RDA iron.
Eggs are high in Vitamin B12, riboflavin, choline, and selenium.
Plus, both eggs and peppers are full of antioxidants.
With 3 grams of fiber and 12 grams of protein, they will also help keep you full.
However, be sure to pair them with a carbohydrate since they are naturally low carb.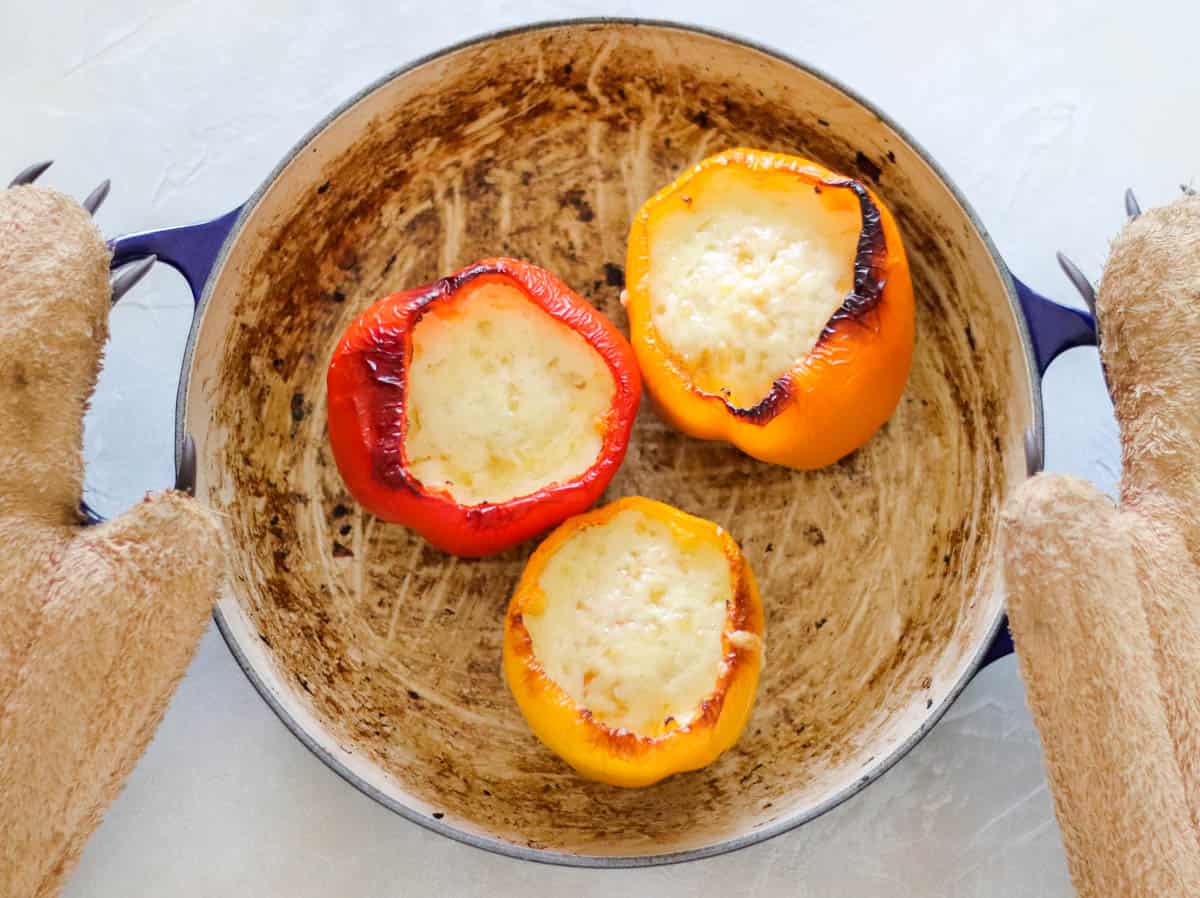 What to Serve with Breakfast Stuffed Peppers
Because these stuffed peppers are low in carbs, I recommend pairing them with a carbohydrate like toast, muffins, or oatmeal.
A microwave oatmeal cookie is another quick, delicious pairing for extra fiber and carbs.
Cooked rice and beans, breakfast quinoa, beans, or rice would also pair well with these egg stuffed peppers.
They're also really tasty served with salsa, avocado, or sprinkled with fresh herbs.
Final thoughts:
Whether you like savory breakfasts, are trying to enjoy eggs in a different way, or want more veggies, these breakfast stuffed peppers are a great choice.
This basic recipe can be customized to your liking, and it's great to make for meal prep to have veggies-filled breakfasts for the week.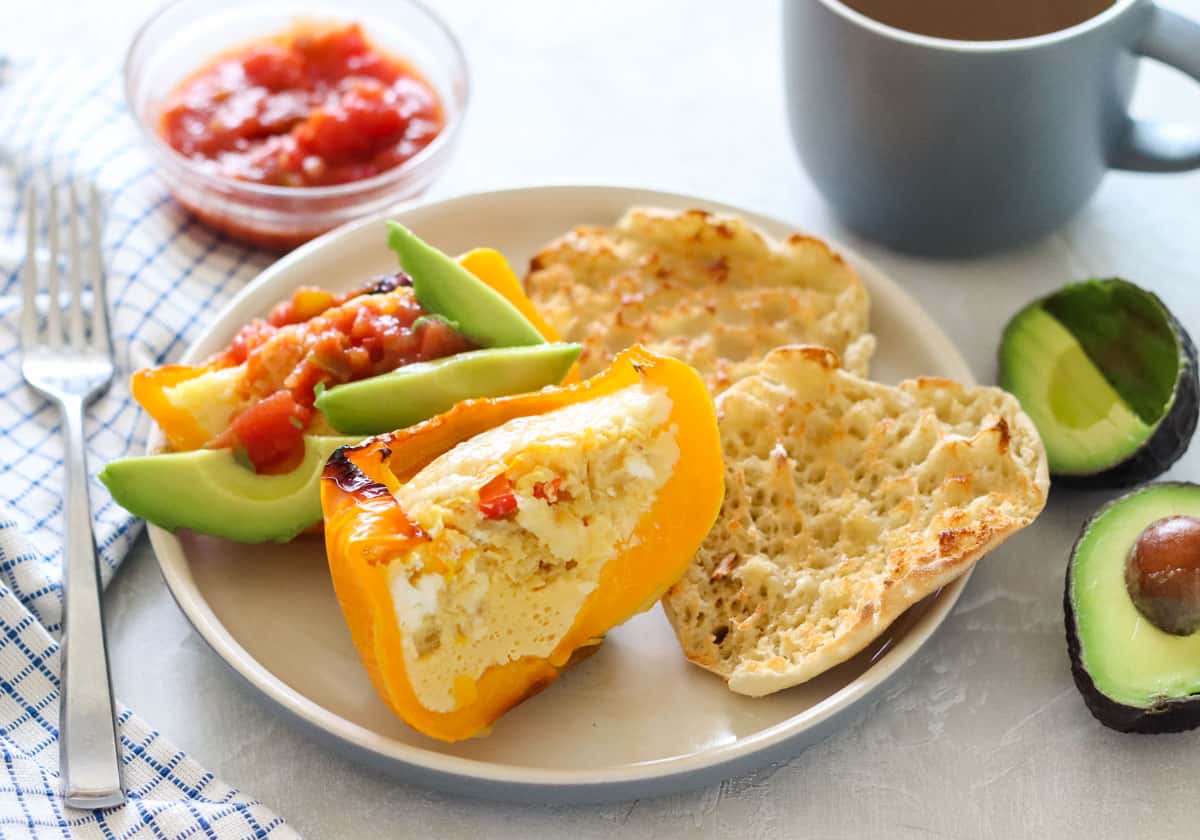 MORE VEGGIE-FILLED BREAKFAST RECIPES YOU'LL LOVE: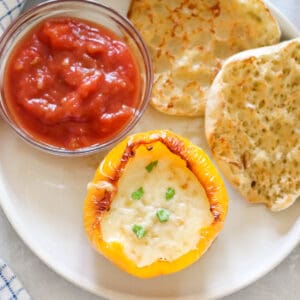 Breakfast Stuffed Peppers
Veggie, egg, and cheese stuffed bell peppers that are a delicious way to boost your veggie intake first thing in the morning
Print
Rate
Total Cost:
$5.04 or $1.68/serving
Ingredients
3

bell peppers

1

teaspoon

olive oil

1

medium

onion

diced

1

clove

garlic

minced

¼

teaspoon

salt

¼

teaspoon

pepper

3

large

eggs

½

cup

shredded cheese

divided

1

green onion

chopped, optional
Instructions
Cut the tops off the peppers (where the stem is), and take out the ribs & seeds. Set aside.

Slice the stems off and cut off any of the bell pepper around the stem & dice it.

Add oil to a oven proof skillet and heat over medium. Saute onions and any leftover bell pepper until slightly softened, about 5 minutes. Add in garlic, salt, and pepper, and stir for 30 seconds. Remove from heat and let cool.

Preheat the oven to 400°F and place the oven rack on the bottom half of the oven.

Whisk together eggs and slightly cooled veggie mixture.

Put the bell peppers in the oven-proof skillet, cut side up. Sprinkle one tablespoon of cheese on the inside of each bell pepper. If desired, sprinkle each pepper lightly with a dash of salt.

Fill evenly with the egg mixture.

Transfer skillet to the preheated oven and bake for 30 minutes or until egg is almost set.


Sprinkle with remaining cheese, and bake until the egg is set and cheese is melted after about 10-15 minutes. Sprinkle with green onion and enjoy!
Notes
*Depending on the size of the bell peppers, you might want to add an additional egg to fill the peppers. You want the egg to go about ⅔ of the way up the inside of the bell pepper.
Did you try this recipe?
Be sure to leave a comment & recipe rating below. Bonus points for tagging @memeinge & #livingwellkitchen on Instagram! THANK YOU! xo
Meme
This post was originally published on September 23, 2013. The text, recipe, and photos have been updated.
---
Breakfast Stuffed Peppers Nutrition Facts
Nutrition Facts
Breakfast Stuffed Peppers
Amount per Serving
% Daily Value*
* Percent Daily Values are based on a 2000 calorie diet.