With a crumbly shortbread crust and a sweet, gooey pecan mixture, these Pecan Pie Bars are a tasty addition to your holiday spread. They're a delicious, light dessert that are gluten free, egg free, and low in added sugar.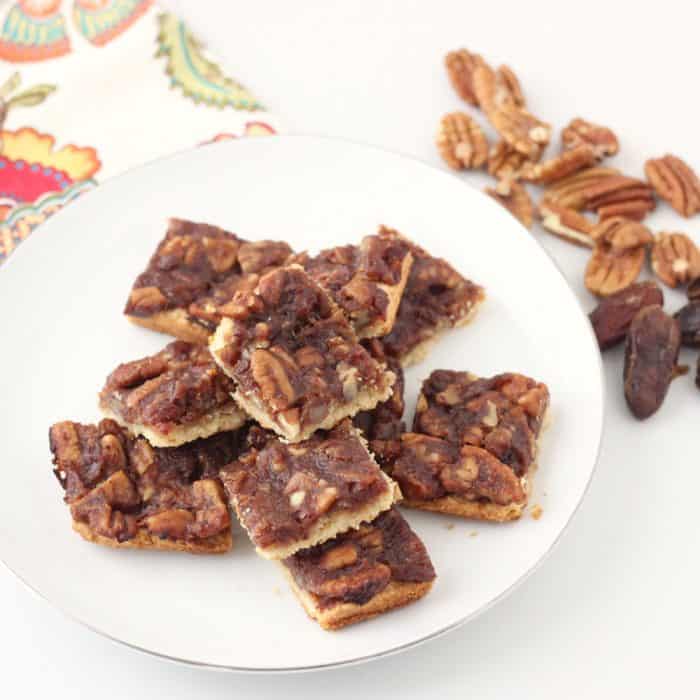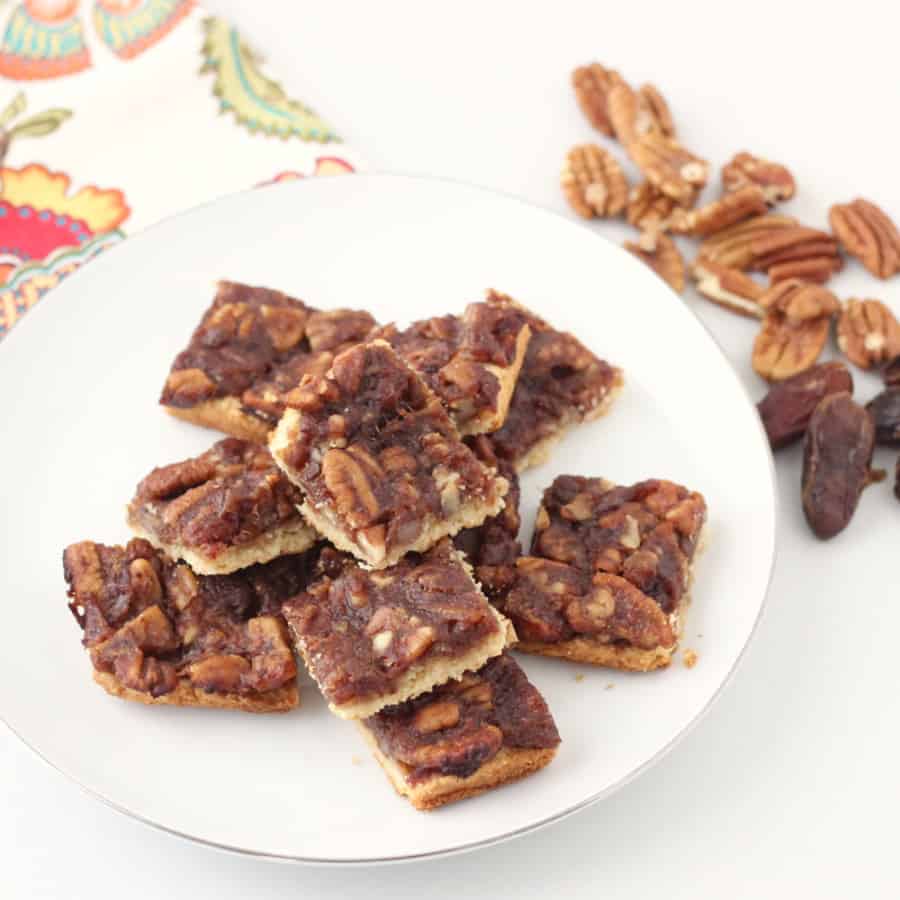 About Healthy Pecan Pie Bars
Dessert on Thanksgiving is probably the only time I don't really want dessert... I am SO full!
The only exception I'll make is warm pecan pie with vanilla bean ice cream on top. I'll save room for that fo sho!
Inevitably though I feel like a stuffed turkey if I have a big Thanksgiving meal plus my slice of pecan pie plus ice cream.
That's a little too much for me to feel like I don't need to be rolled away from the dinner table. And being rolled away from the table is not my end goal, ever. [Be sure to check out these tips for mindfully eating on Thanksgiving!]
But life without dessert is not one I want to live, so I make Pecan Pie Bars. I used to make these Maple Pecan Bars, but I wanted to try to make them without too much added sugar and gluten-free friendly.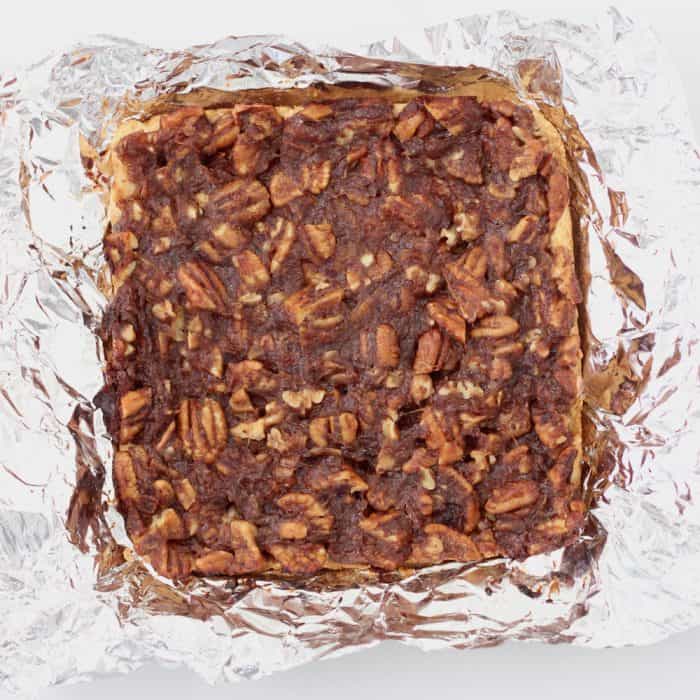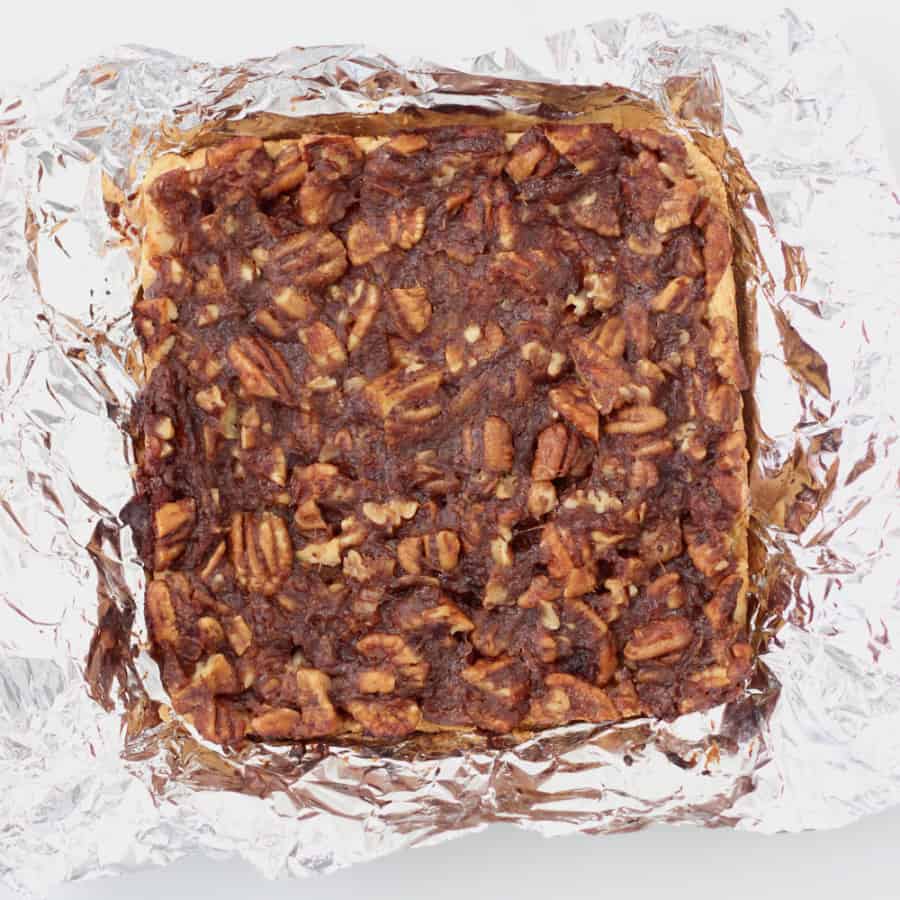 Making Healthy Pecan Pie Bars
Enter my favorite helpers for cutting back on the sugar: dates
I love using dates in desserts (brownies, cookies, more cookies, cookie dough dip) because they give the sweetness you want without a bunch of added sugar.
Yes, dates are high in sugar compared to other fruit, but they make me feel better as opposed to using something like granulated sugar, brown sugar, etc. Plus, dates have fiber, potassium, copper, manganese, magnesium, and Vitamin B6. You definitely won't find that in granulated sugar.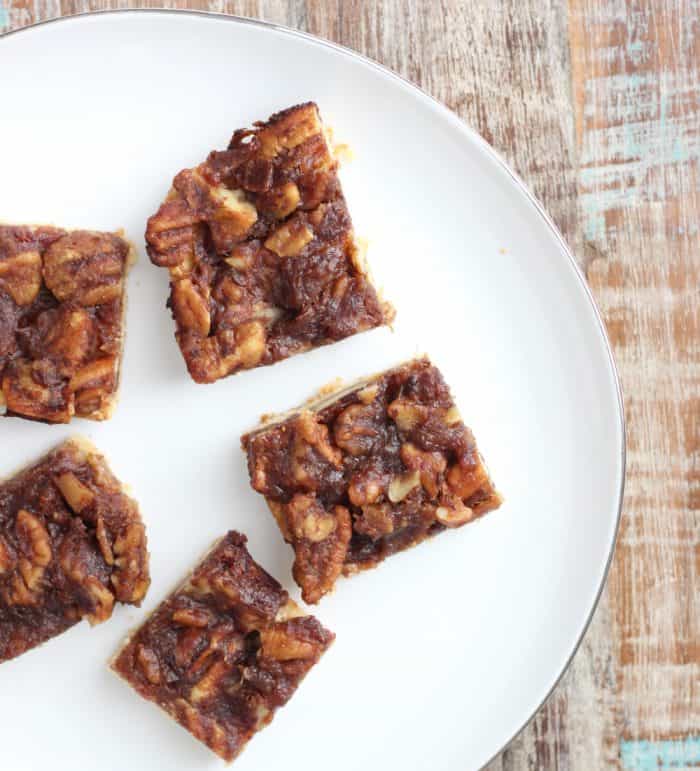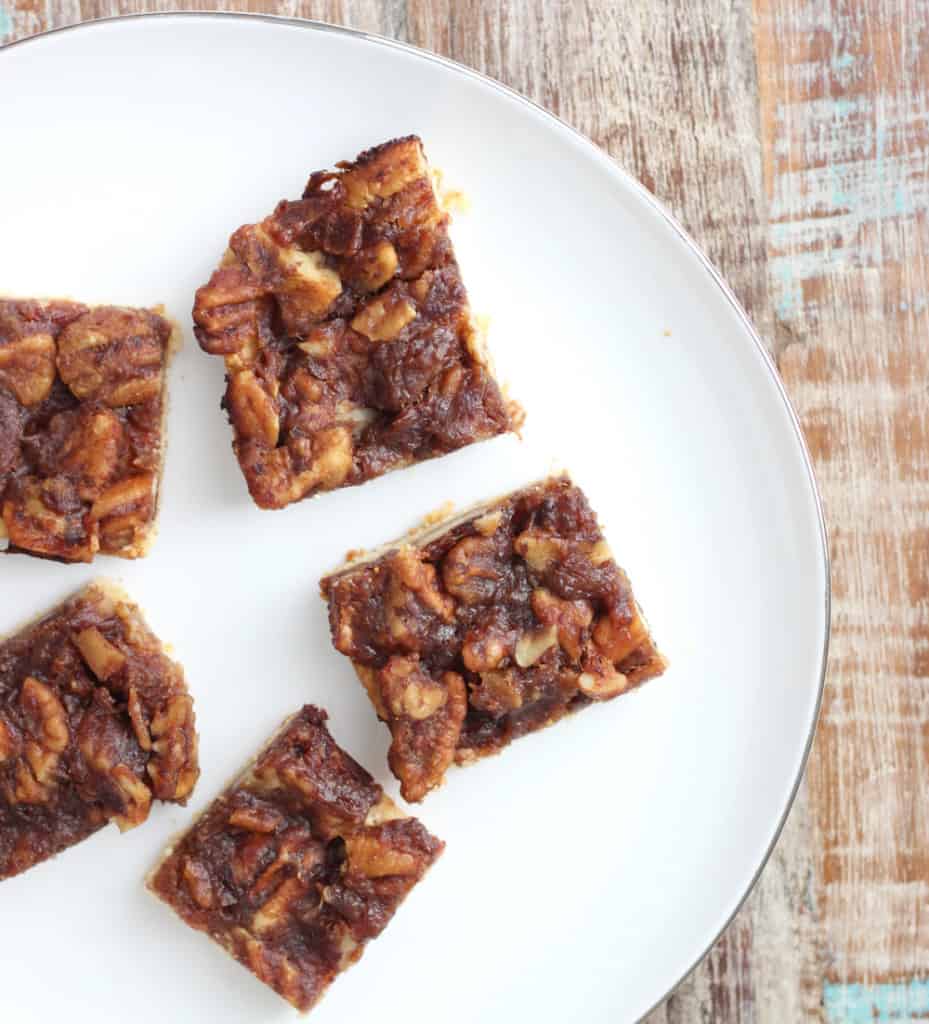 Low Sugar Pecan Pie Bar
When I am adding sugar, I like it to be a more natural sugar like maple syrup or honey. [Note: I am not against sugar, but I find that I personally feel better if I use something like dates, honey, or maple syrup as opposed to granulated sugar or brown sugar]
No, I'm not under the impression that this makes it super healthy, but I do feel a little bit better about enjoying desserts that are made with natural sugars. I usually have less of a sugar crash.
Basically, I took my original maple pecan bar recipe and made it gluten free and with only dates & maple syrup.
You can also easily make them dairy free by using dairy free butter and either unsweetened coconut milk or unsweetened almond milk in place of the butter and milk.
Note on the milk if you're using dairy milk: do not use skim milk or 1% milk. Use whole milk or 2% milk.
Final thoughts:
I'm happy to report that the results were just as tasty!
There's a crumbly shortbread crust, topped with a sweet, gooey (but not too gooey) pecan mixture. Baked to perfection and sliced into squares, these bars are a great addition to a Thanksgiving spread.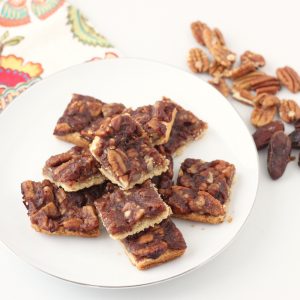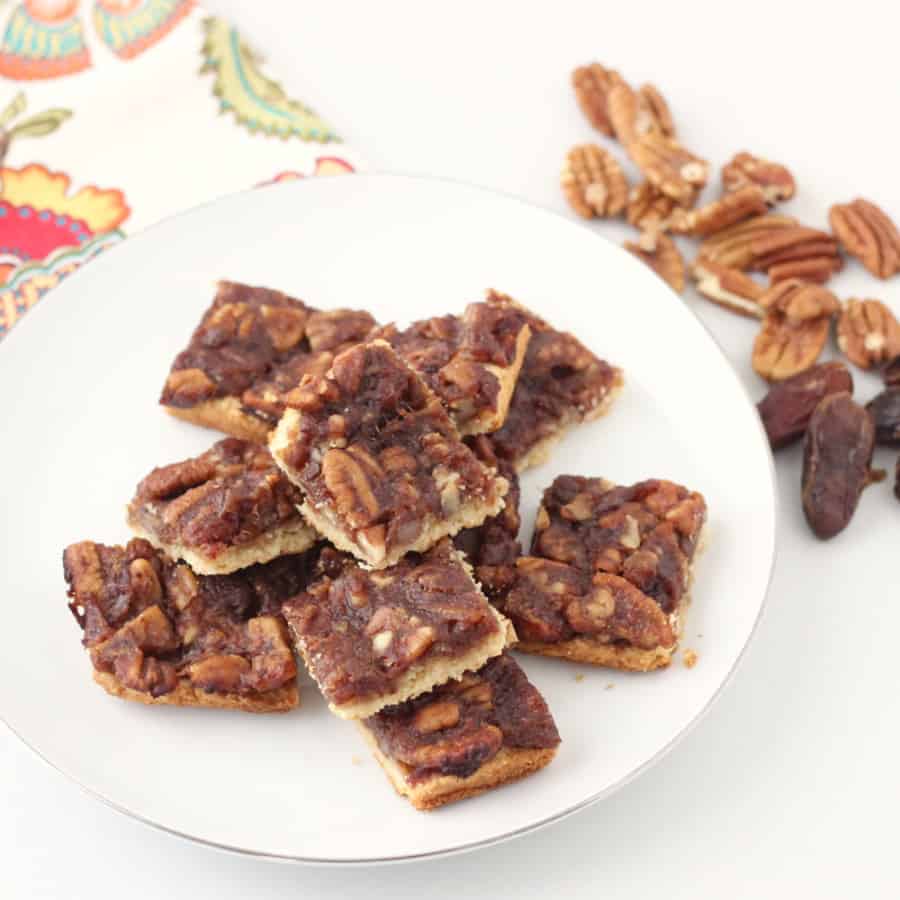 Pecan Pie Bars
With a crumbly shortbread crust & sweet, gooey pecan mixture, these Pecan Pie Bars are a great addition to your holidays. Low in added sugar, gluten free
Print
Rate
Ingredients
For the crust:
1

cup

almond meal

or almond flour

3

tablespoon

cornstarch

3

tablespoon

butter

cold, cut into pieces

1

tablespoon

maple syrup

1

teaspoon

vanilla extract
For the filling:
½

cup

dates

tightly packed into measuring cup

2

teaspoon

vanilla extract

2

tablespoon

butter

¼

cup

maple syrup

1

tablespoon

milk

2% or whole, not skim; or unsweetened coconut milk or unsweetened almond milk

1

cup

pecans

chopped
Instructions
Preheat oven to 350*F. Line an 8-inch baking dish with foil and grease foil. Set aside.

Make the crust by stirring together the almond meal, cornstarch, butter, maple syrup, and vanilla extract. It's easiest to use your hands to incorporate the butter into the almond meal. Pat mixture evenly into the prepared baking dish. Transfer to preheated oven and bake for 12 minutes.

Meanwhile, blend the dates and vanilla extract in a food processor until relatively smooth. Add to a saucepan with butter and maple syrup. Heat over medium-high heat. Whisk constantly, until mixture thickens a little (about 5 minutes). Stir in milk. Remove from heat and stir in chopped pecans.

Top the crust with the pecan mixture and bake for 12 minutes until the filling is bubbly and set. Let cool for about 10 minutes before removing from pan and cutting into squares. Enjoy!
Notes
*If your dates are not soft, soak them in hot water for 15 minutes before blending.
*1 cup of almond meal was 98g almond meal.
*Use dairy free butter and milk (unsweetened almond milk or coconut milk) for dairy free version.
Did you try this recipe?
Be sure to leave a comment & recipe rating below. Bonus points for tagging @memeinge & #livingwellkitchen on Instagram! THANK YOU! xo
[showhide type="post" more_text="Click here for Nutrition Facts" less_text="Clear Nutrition Facts"]
*
Nutrition Facts
Pecan Pie Bars
Amount per Serving
% Daily Value*
* Percent Daily Values are based on a 2000 calorie diet.
*
[/showhide]
---
Meme
Doesn't this recipe look good?! You should probably pin it for later: