Bacon deviled eggs combine two of the best breakfast foods ever for this tasty springtime appetizer or snack
About Bacon Deviled Eggs
A classic breakfast combo in deviled egg form.
Personally, I am not a fan of classic deviled eggs. Egg yolks, mustard, and mayo are not my favorite combo.
That being said, whether you like the classic version or not, I bet you will enjoy these deviled eggs with bacon.
As a binder, you'll mash egg yolks, cottage cheese, a touch of bacon grease (for added bacon flavor), a splash of water, and a little vinegar.
Ingredients
Recipe Cost
TOTAL COST: $ or $/serving (Based on San Diego grocery stores 2023)
Note that this is not the recipe; it's simply to show the cost breakdown of ingredients. Scroll down to the full recipe to see the specific ingredients and directions.
How to Make
Recipe Tips
Variations
Ingredient Options
Flavor Substitutions
You can always add some mustard if you like.
How to Make Allergy-Friendly
These are already gluten-free, nut-free, and soy-free (as long as the bacon does not have any soy).
To make dairy-free bacon deviled eggs, use mayo in place of cottage cheese.
How to Fix a Mistake
Make-Ahead Ideas
Storage Suggestions
Frequently Asked Questions
Nutrition Benefits
What to Serve with
Final thoughts:
MORE DEVILED EGG RECIPES YOU'LL LOVE:
Meme
This post was originally published on March 23, 2016. Text, recipe, and photos have been updated.
---
Bacon Deviled Eggs Nutrition Facts
Nutrition Facts
Bacon Deviled Eggs
Serving Size
1 deviled egg
Amount per Serving
% Daily Value*
* Percent Daily Values are based on a 2000 calorie diet.
What happens when you combine two of the best breakfast foods ever? You get one of the greatest Easter appetizers imaginable.
I present to you Bacon Deviled Eggs, and they are everything they're cracked up to be. Ha! I crack myself up.
Ok, enough with the bad egg puns. These things are delicious! No, you won't win awards for the most creative or most photogenic or the one with the most veggies. But you will win the best taste contest.
Is anyone competing with their Easter appetizers? I hope not. That seems a little silly, but if you were, I'd bet my Easter basket that you'd win.
I once made deviled eggs with avocado and whoa those were good.
This time, I decided to go a little more traditional but add some bacon because why not? Bacon makes pretty much everything better, and this creation proves that fact a little bit more.
I usually like to squeeze in some extra veggies when I'm preparing something in the kitchen, but in this case, you'll just want to make sure you load up on the veggies at your Easter lunch.
This time of year has so many good veggies in season. Some of my faves include artichokes, asparagus, and green onions, and... Oh wait, I did put a green onion in here. That counts as some extra veggies, right?
Believe it or not, these tasty things are actually filling. The eggs + the bacon + the cottage cheese used as a binder help pack the protein in these bites, and they have so much flavor that you are satisfied with just a few.
That's not to say that you might not eat 6 of them for quality control purposes.
Then again, it was getting to be lunchtime when I made them. So feel free to eat these for lunch. My bacon-deviled egg salad was incredible if I do say so myself.
While the bacon-deviled egg salad is not pictured, feel free to take your own creative liberties.
I used spinach, added tomatoes, and topped it with a few of these eggs. And I sorta kinda added a little extra bacon for good measure. YUM!
To make these, you don't need much -- only eggs, bacon, a few spices (salt, cayenne, paprika), green onion, and bacon grease. Yes, I used bacon grease. No, I'm not trying to kill you. It was ½ teaspoon for the entire recipe.
If you just can't put bacon grease in there, then feel free to substitute with olive oil for a creamier mixture or water. Half of a teaspoon divided by 12 is a number too small for me to care about, but that's my own personal preference.
These are best if made ahead, which makes them perfect to take to parties or to make your life a little easier by preparing in advance. But make sure not to add the bacon on top until right before serving.
To make these spicier (hence the name "deviled egg") I sprinkled a few with extra cayenne pepper, and I left some without the extra kick. I liked them both, but the bacon flavor was more obvious on the non-cayenne pepper-sprinkled ones. It's up to you which way to go.
As for cooking the eggs, this is what I do: Fill a pot with water, and heat. When it is hot (but not boiling) gently place the eggs in the pot of hot water. Bring that to a simmer. Simmer for 15 minutes. Rinse in cold water and peel under cold water.
I usually mess up one or two, so I like to boil an extra egg or two just in case. It's not like it'll go to waste! Extra hard-boiled eggs are great to eat for a quick snack or breakfast or to throw in salads.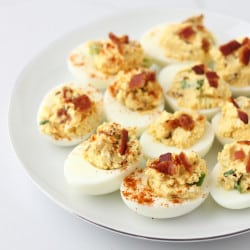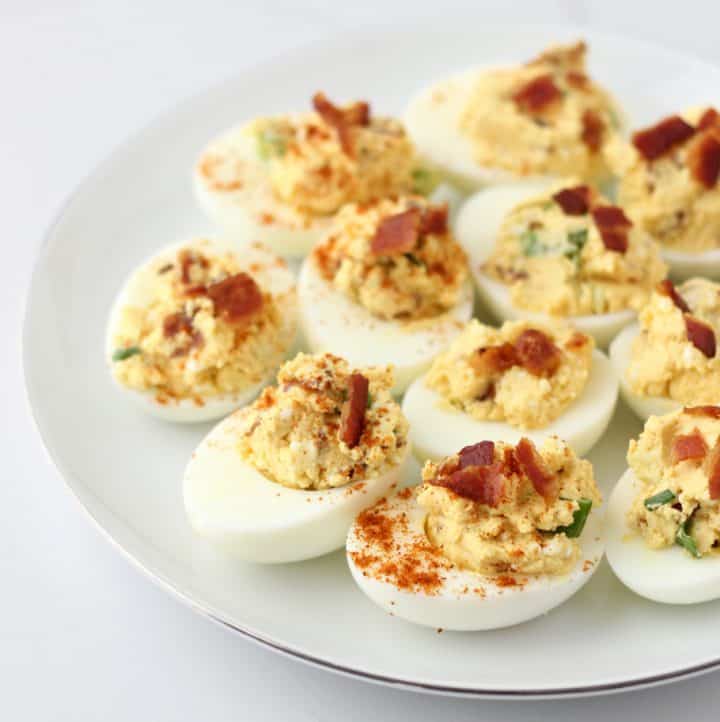 Bacon Deviled Eggs
Combine two of the best breakfast foods ever for this tasty Easter appetizer
Print
Rate
Ingredients
6

large

eggs

4

slices

bacon

preferably center cut

½

teaspoon

bacon grease

4

teaspoon

water

½

teaspoon

vinegar

¼

cup

cottage cheese

⅛

teaspoon

paprika

⅛

teaspoon

cayenne pepper

plus more for serving if desired

⅛

teaspoon

salt

2

tablespoon

chopped green onion

about one small green onion
Instructions
Cook the bacon
My preferred method: Preheat the oven to 375*F. Line a baking sheet with foil. Place the bacon in one layer on the baking sheet. Cook for 15-20 minutes until crispy, flipping halfway through cooking. Remove to paper towels and set aside. Crumble bacon. Reserve ½ teaspoon of bacon grease.
Cook the eggs
Add the eggs to a pot of cold water. Bring the water to a boil. Cover and remove from heat. Let sit for 13 minutes. Drain and rinse with cold water. Let eggs sit in cold water for a minute or two, and peel under cold water.
Make the deviled eggs
Slice the eggs in half lengthwise. Remove yolks to a bowl, and stir in bacon grease, water, cottage cheese, paprika, cayenne pepper, and salt. Mash together until it's all combined and smooth. Stir in green onion and 3 tablespoons of cooked & crumbled bacon.

Spoon mixture back into the egg whites, using about 1 tablespoon of the mixture per egg half. Refrigerate for at least 30 minutes. Sprinkle each egg half with the remaining bacon just before serving. Enjoy!
Notes
*You can use already cooked bacon, but I like cooking the bacon while the eggs are cooking to get the bacon grease for the egg mixture. You'll need about 4 tablespoons of cooked & crumbled bacon for the recipe.
*You can substitute olive oil or water for the bacon grease if desired.
Did you try this recipe?
Be sure to leave a comment & recipe rating below. Bonus points for tagging @memeinge & #livingwellkitchen on Instagram! THANK YOU! xo