Kidney Bean Casserole is a super simple, quick, meatless casserole using pantry items to keep this incredibly budget-friendly and easy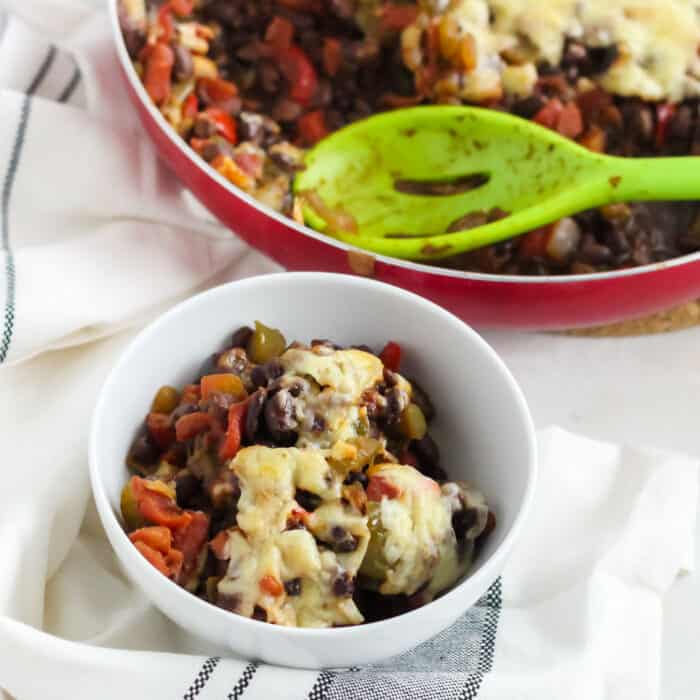 About Kidney Bean Casserole
Ever need a meal from your pantry? Well, this bean casserole is an excellent option because all but one ingredient (cheese) can be kept in the pantry or spice cabinet. [This Mexican Quinoa Casserole is another fab option]
Plus, it takes less than 30 minutes from start to finish including all the prep work like chopping and opening cans, etc. A normal person, who doesn't get sidetracked 18 times while cooking (like me), would probably be able to do it in less than 25.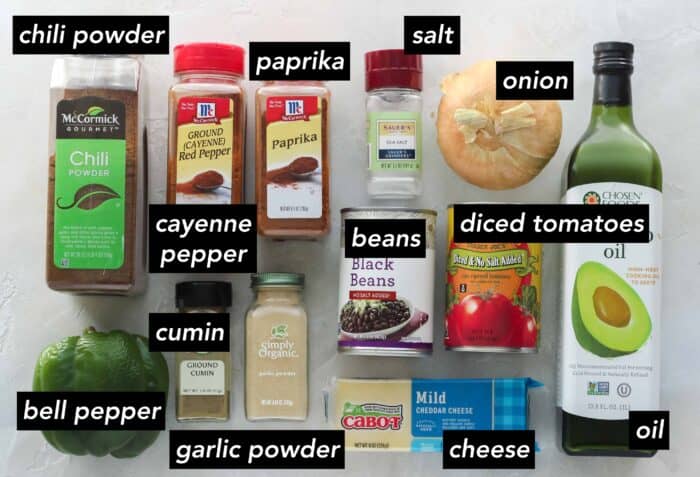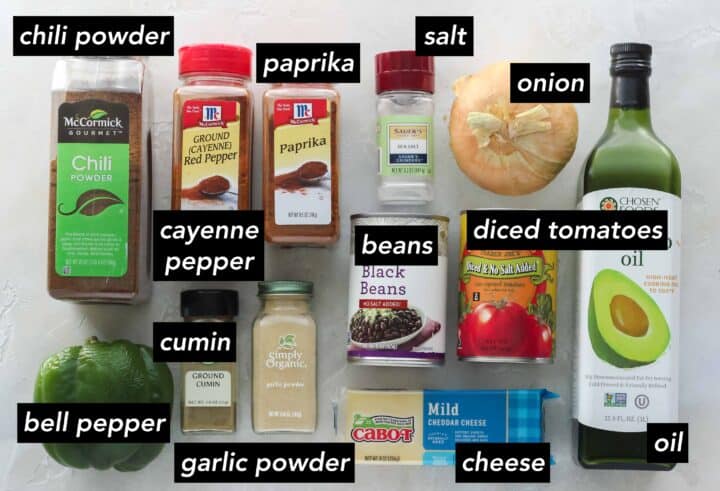 Ingredients
Oil: Any oil you prefer works. I typically use olive oil or avocado oil, but canola oil, vegetable oil, and coconut oil can all be used to sauté the veggies.
Veggies: Bell peppers of any color are great, but I like green or yellow because they add another color to the casserole to contrast with the red tomatoes and beans. Any kind of onion will be fine.
Beans: Kidney beans are what the recipe calls for but you can use any type of beans you like. In fact, most of the photos are taken using black beans because that was what I had in the pantry. Other beans that work well are garbanzo beans (chickpeas) and white beans.
Tomatoes: Petite diced tomatoes are my favorite if I can find them, and I also like no-salt added to keep the sodium level lower. You will use one can that has been drained and use the juices along with the tomatoes from another can.
Spices: Garlic powder, chili powder, paprika, cumin, cayenne pepper, and salt are the spices in the Cheesy Bean Casserole recipe. For a more mild casserole, omit the cayenne pepper.
Cheese: You don't have to top your kidney bean casserole with cheese, but I highly recommend topping with cheese to make this a cheese and bean casserole. Any kind of cheddar, Mexican or taco blend cheese, mozzarella, or feta will taste good.
Cost of Recipe
Note the amounts are not listed for the recipe; it's simply to show the cost of ingredients. Be sure to scroll down to the full recipe to see the specific ingredients and directions.
oil 1 tablespoon: $0.24
onion 2 medium: $1
bell pepper 1 medium: $0.98
beans 2 (15 ounce) cans: $1.98
diced tomatoes 2 (15 ounce) cans: $1.98
garlic powder ½ teaspoon: $0.04
chili powder 2 teaspoons: $0.16
paprika ¼ teaspoon: $0.04
cumin ¼ teaspoon: $0.04
cayenne pepper ⅛ teaspoon: $0.01
salt ½ teaspoon: $0.01
cheddar cheese 4 ounces: $2
TOTAL COST: $8.48 or $2.12/serving (Based on San Diego Sprouts 2020)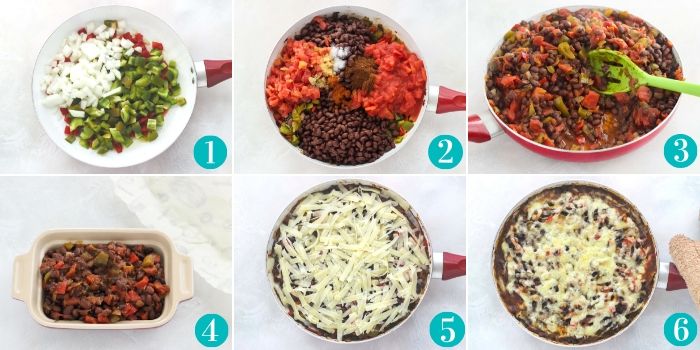 How to Make Cheesy Bean Casserole
Time needed: 40 minutes
It's incredibly easy to make this cheesy bean casserole. Simply sauté the veggies, stir in the spices and beans, cover in cheese, and bake. Here are the step by step instructions:
Sauté the onions and bell peppers in a large skillet.

Cook until soft, about 7-10 minutes.

Stir in the beans, tomatoes (and their juices), and spices.
Cook for a few minutes.
Optional: transfer to a casserole dish.

Or keep in the skillet if it is oven-safe.

Cover in cheese. Transfer to the oven.
Bake, and remove from oven. Let sit a few minutes.

Enjoy!
Kidney Bean Casserole Tips
Variations
Ingredient Options
Veggies: You can use frozen chopped veggies to make this even faster to prepare since you won't have to chop anything.
Beans: Use any type of bean you like.
Tomatoes: Canned diced tomatoes are best, but you can substitute one can with diced tomatoes and green chilies if needed. If you do, omit the cayenne pepper so the casserole isn't too spicy.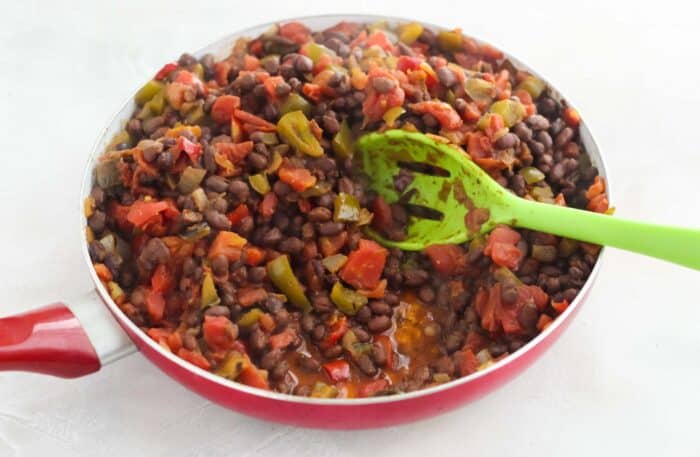 How to Make Allergy Friendly
This is already gluten free, egg free, and soy free. To make dairy free, omit the cheese or use dairy-free cheese.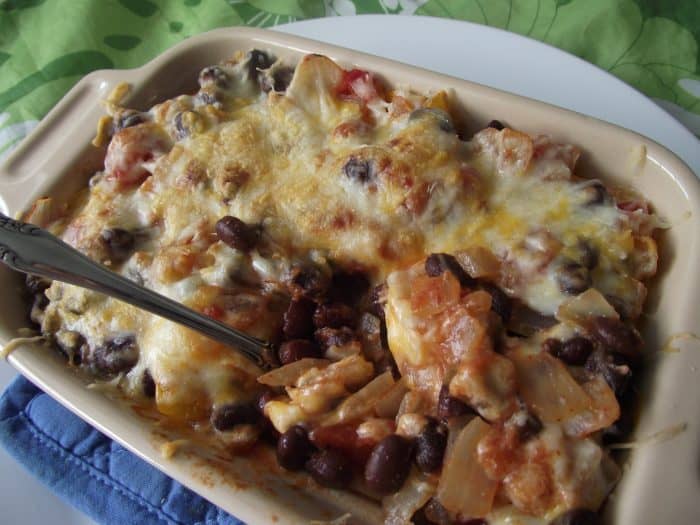 Make Ahead Ideas
The casserole can be made in advance and kept in the refrigerator for up to 4 days or in the freezer for up to 4 weeks.
To freeze: freeze the casserole in a baking dish before topping with cheese. Transfer to the refrigerator the morning you plan to cook it, and take it out of the fridge before preheating the oven. Cook for 15 minutes (or whenever it is warmed through) instead of 5.
Storage Suggestions
Keep in the fridge for up to 5 days and in the freezer for up to 4 weeks.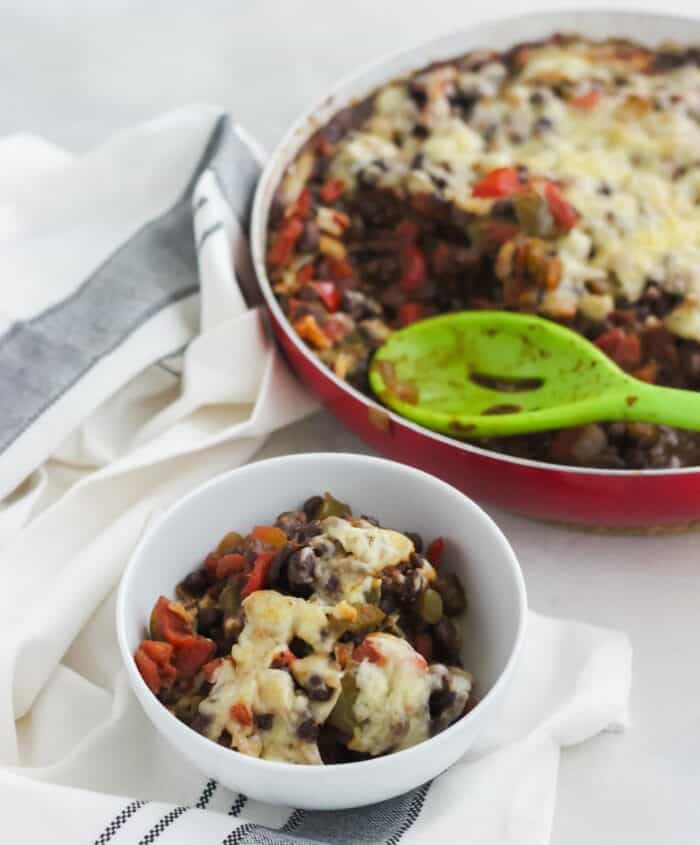 Frequently Asked Questions
Nutrition Benefits
What to serve with Bean and Cheese Casserole
This casserole is a meal in and of itself, so there's really no need to serve it with anything. You can always add toppings like avocado, green onions, cilantro, or parsley.
Final thoughts:
Using pantry ingredients like canned beans and tomatoes along with spices helps you have an inexpensive, vegetarian meal that isn't hard to make. It's flavorful and filling, and the only thing you need in the fridge is cheese. Otherwise, everything else comes from the pantry or spice cabinet. this budget-friendly casserole is a staple in my life for emergency dinners.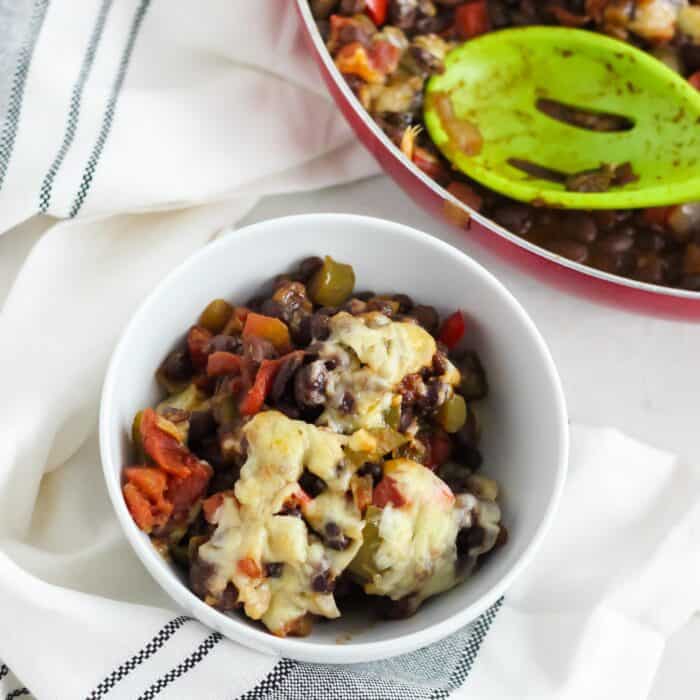 MORE BEAN RECIPES YOU'LL LOVE:
---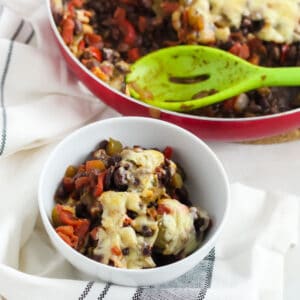 Cheesy Bean Casserole
Kidney Bean Casserole is a simple, quick, meatless casserole using pantry items to keep this incredibly budget-friendly and easy
Print
Rate
Total Cost:
$8.48 or $2.12/serving
Ingredients
1

tablespoon

oil

avocado or olive oil

3

cups

diced onion

about 2 onions

1

cup

diced bell pepper

2

(15 ounce)

cans kidney beans

or black beans, drained and well-rinsed

2

(14.5 ounce)

cans no-salt added tomatoes

one drained & one un-drained

½

teaspoon

garlic powder

2

teaspoons

chili powder

¼

teaspoon

paprika

¼

teaspoon

cumin

⅛

teaspoon

cayenne pepper

½

teaspoon

salt

1

cup

shredded cheddar cheese

4 ounces
Instructions
Heat the oil in a large, oven-safe skillet over medium-high heat. Add onion & bell pepper and sauté until tender, about 7 minutes.

Stir in beans, tomatoes, garlic powder, chili powder, paprika, cumin, cayenne, salt, and chili powder if using. Cook for 5 minutes, stirring well.

Spoon the mixture into an 8 inch square baking dish or 4 individual baking dishes. Sprinkle evenly with cheese. Bake, uncovered, for 5 minutes or until cheese melts. Let stand for 5 minutes before serving. Enjoy!
Did you try this recipe?
Be sure to leave a comment & recipe rating below. Bonus points for tagging @memeinge & #livingwellkitchen on Instagram! THANK YOU! xo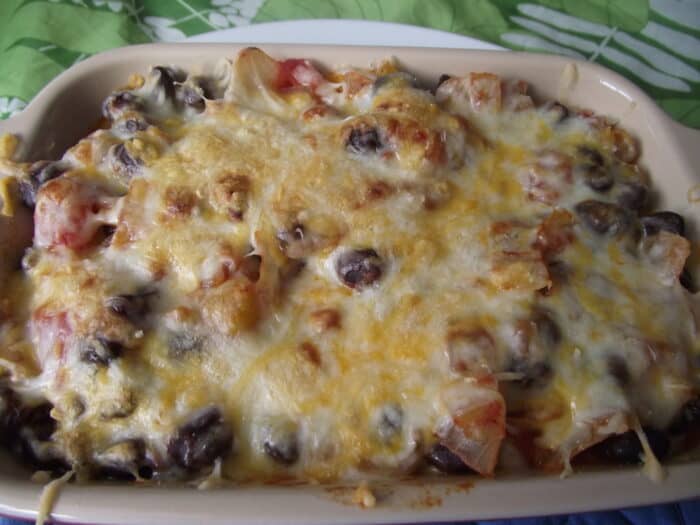 [showhide type="post" more_text="Click here for Cheesy Bean Casserole Nutrition Facts" less_text="Clear Nutrition Facts"]
*
Nutrition Facts
Cheesy Bean Casserole
Amount per Serving
% Daily Value*
* Percent Daily Values are based on a 2000 calorie diet.
*
[/showhide]
Meme
This post was originally published on March 23, 2012. Text, recipe, and photos have been updated.
Doesn't this recipe look good?! You should probably share it: