Avocado black bean burger is a delicious, filling, and budget-friendly vegan burger. You can make them ahead of time for a tasty plant-based meal.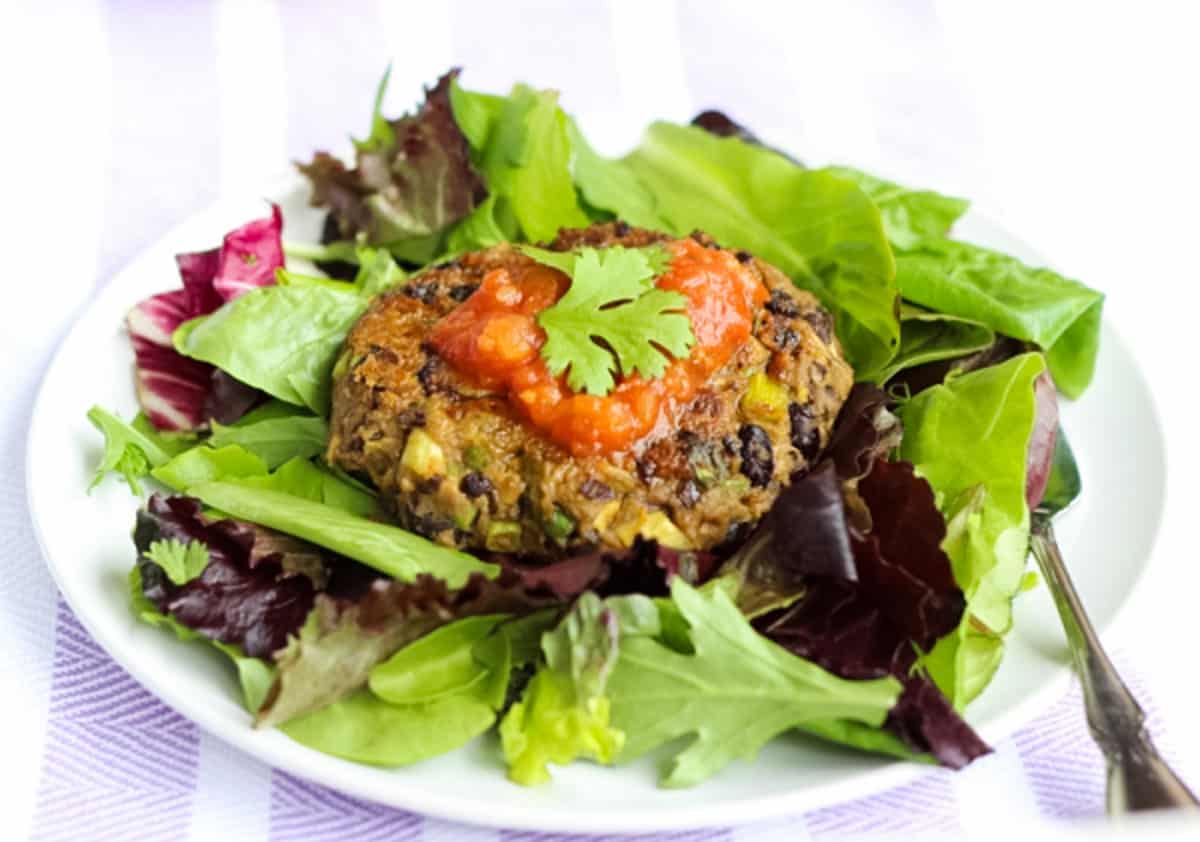 About Black Bean Avocado Burger
Avocado can do so many things: add flavor, richness, creaminess, and more.
You can't go wrong by adding avocado to things, and it's a really good day when an avocado is involved.
That's why these avocado black bean burgers are lovely!
They have a slight southwestern flavor thanks to the addition of jalapeños and avocados. Moreover, you can also add chili powder and cumin, too.
Similar to using avocado as a binder in these Salmon Avocado Burgers, avocado is combined with a few ingredients to make a black bean burger for this recipe.
Using canned black beans instead of salmon and chia seeds instead of eggs, these vegan and gluten-free avocado black bean burgers can be enjoyed by everyone.
They're crispy on the outside with a soft inside. So you get a filling and tasty veggie burger, especially when topped with salsa.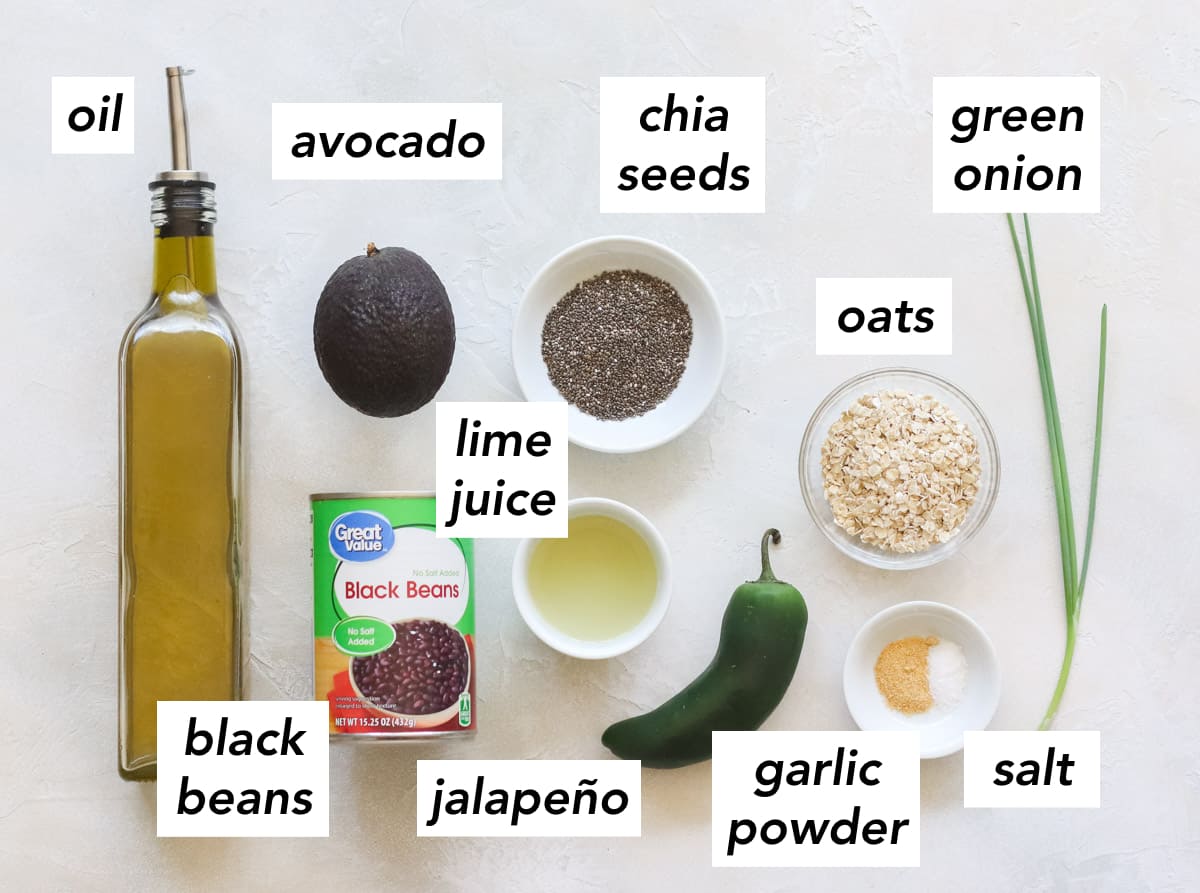 Ingredients
Avocado: Avocado gives a creamy, rich texture to the black bean burger. You'll need one small to medium-sized avocado. It's easiest to mash it with the lime juice before adding the beans.
Lime: To brighten the flavor of these black bean burgers, add lime juice. Lemon juice could be used in place of lime juice.
Black beans: The base of this veggie burger with avocado is black beans. I prefer no-salt-added beans to keep the sodium content from being high, but that's a personal preference.
Spices: For seasoning, you'll add garlic powder and salt. Jalapeno and green onion also give the burgers good flavor, but you can add other spices like cumin and chili powder if you want.
Chia seeds: To bind the avocado black bean burger together, you'll use chia seeds. Chia seeds with liquid, like lime juice used in this recipe, replace the egg.
The recipe has been tested using an egg instead of chia seeds, but I found the egg taste to be too strong.
Flaxseed meal or ground flaxseed also works instead of chia seeds.
Jalapeno: To add spiciness to the black bean avocado burger, minced fresh jalapeno is added. Be sure to mince the jalapeño to prevent the burgers from falling apart.
Red pepper flakes are an alternative.
Green onion: For a slight onion flavor, add minced green onion or chives. These can be omitted if needed. Or substitute with minced red, white, yellow, or sweet onion.
Oats: Use old-fashioned or quick oats, not flavored instant oats, to hold the burgers together.
Oil: Cook the avocado black bean burgers in olive oil, avocado oil, or canola oil.
Recipe Cost
avocado 1 medium: $1
lime 1: $0.44
black beans 15-ounce can: $0.87
garlic powder ¼ teaspoon: $0.02
salt ¼ teaspoon: $0.01
chia seeds 1 tablespoon: $0.12
jalapeño 1 small: $0.14
green onion 2: $0.20
oats ¼ cup: $0.14
olive oil 1 tablespoon: $0.24
TOTAL COST: $3.18 or $0.80/serving (Based on San Diego grocery stores 2023)
Note that this is not the recipe; it's simply to show the cost breakdown of ingredients. Scroll down to the full recipe to see the specific ingredients and directions.
How to Make Avocado Black Bean Burgers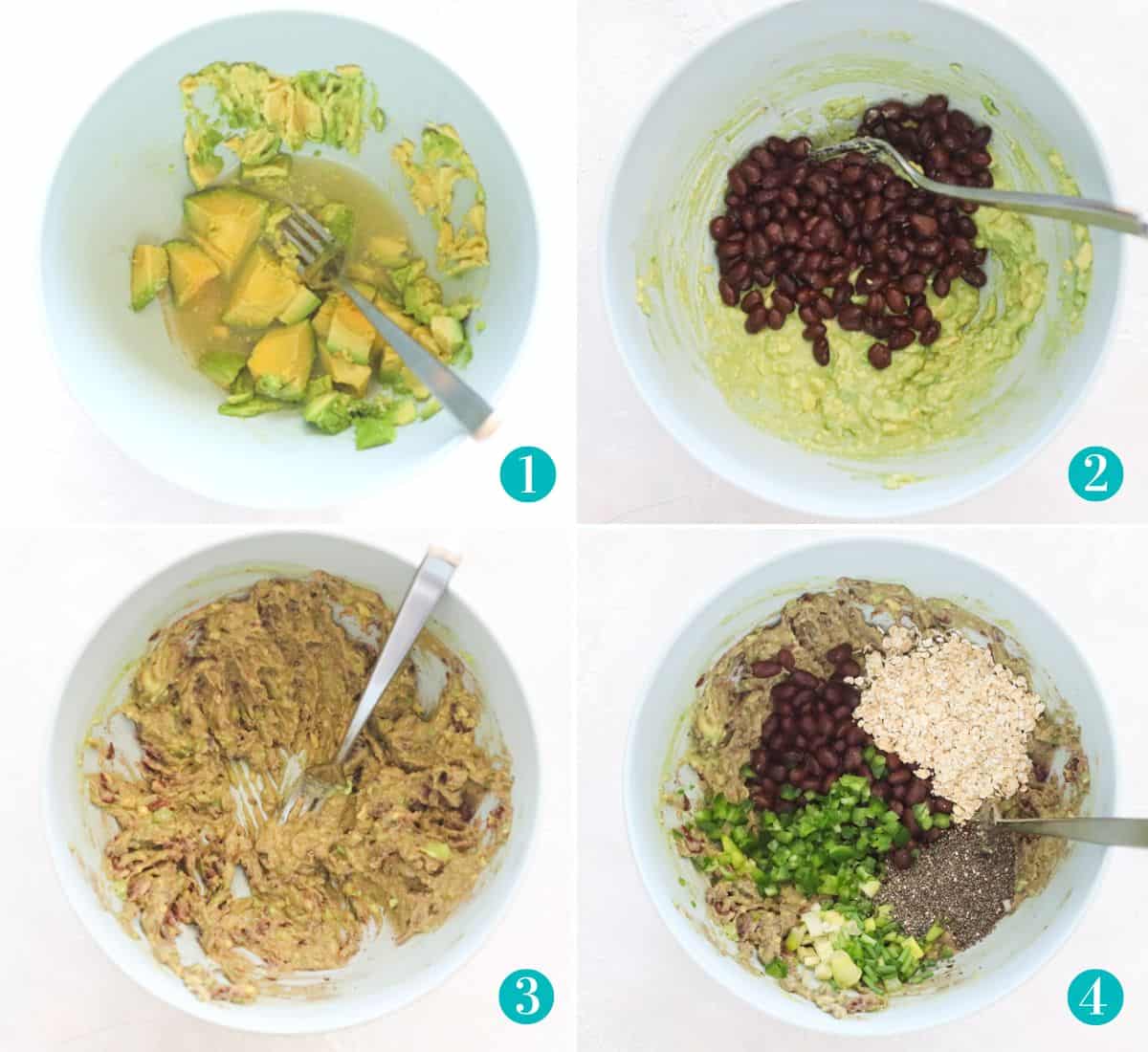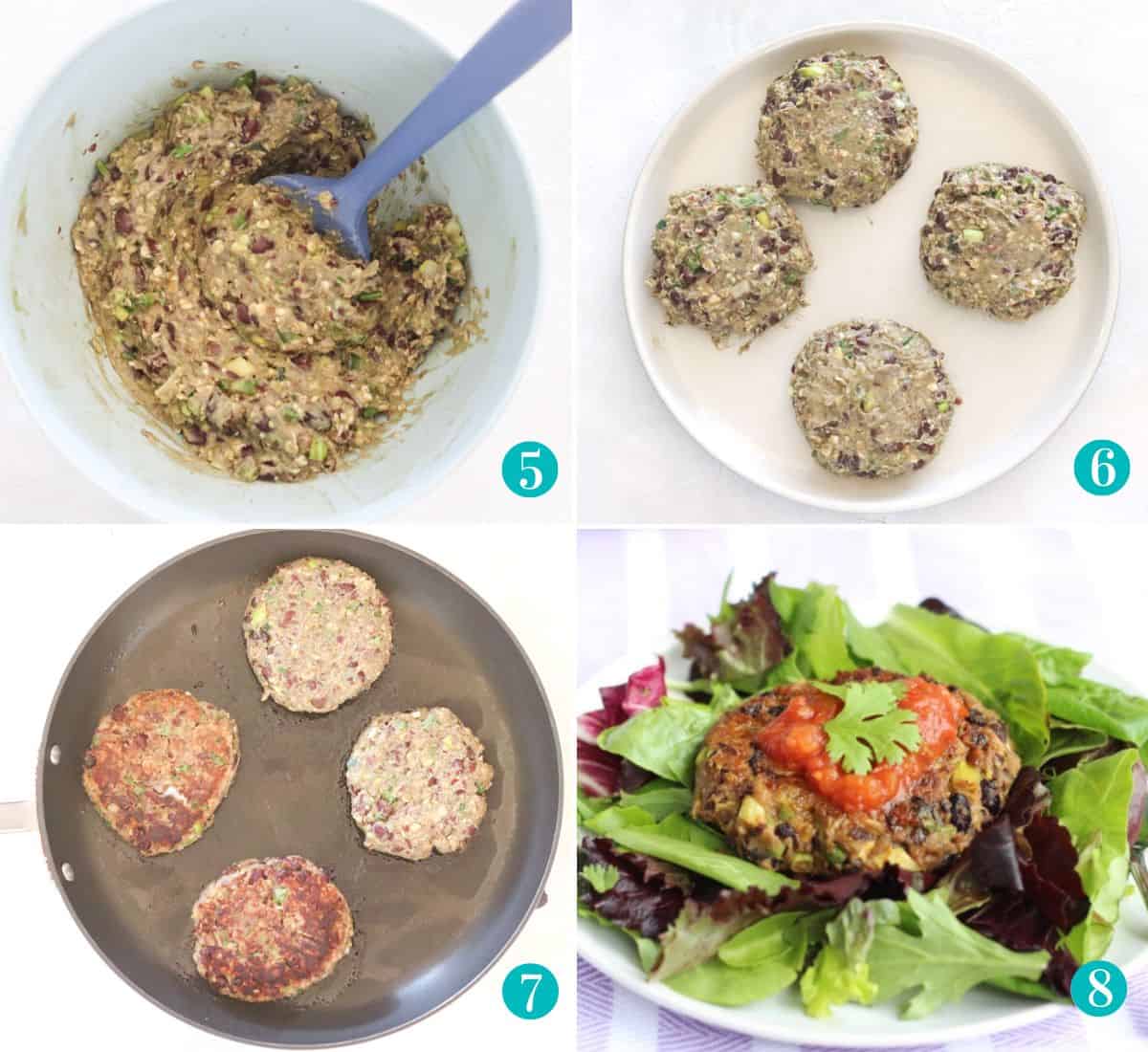 Time needed: 45 minutes
A simple recipe for a veggie burger with avocado that you can make them ahead of time for a tasty plant-based meal.
Mash avocado and lime juice in a bowl.
Add black beans.

Add about 1 cup.

Mash together the beans and avocado.
Add chia seeds, oats, jalapenos, green onion, and remaining beans.
Stir well.
Shape into 4 patties, and refrigerate.
Cook in a large skillet.

Carefully flip them since they can break easily.

Enjoy!
Recipe Tips
*Be sure to drain the beans very well before adding to the mixture.
*If you want crispier black bean burgers, you can shape the mixture into larger, thinner patties before cooking.
Variations
Ingredient Options
Chia seeds: Flaxseed meal or ground flaxseeds can be used in place of chia seeds. I do not recommend using eggs as a replacement for binding the avocado black bean burger together.
Lime: Lemon juice can be used as a replacement for lime juice, using 2 tablespoons of lemon juice.
Additionally, you can use vinegar (like apple cider vinegar or red wine vinegar) but only use 1 tablespoon of vinegar and 1 tablespoon of water.
Jalapenos: Replace the jalapeno with 1 teaspoon of red pepper flakes.
Green onion: Chives can be used in place of the green onion. Another option is to use 1 teaspoon of dried onion flakes.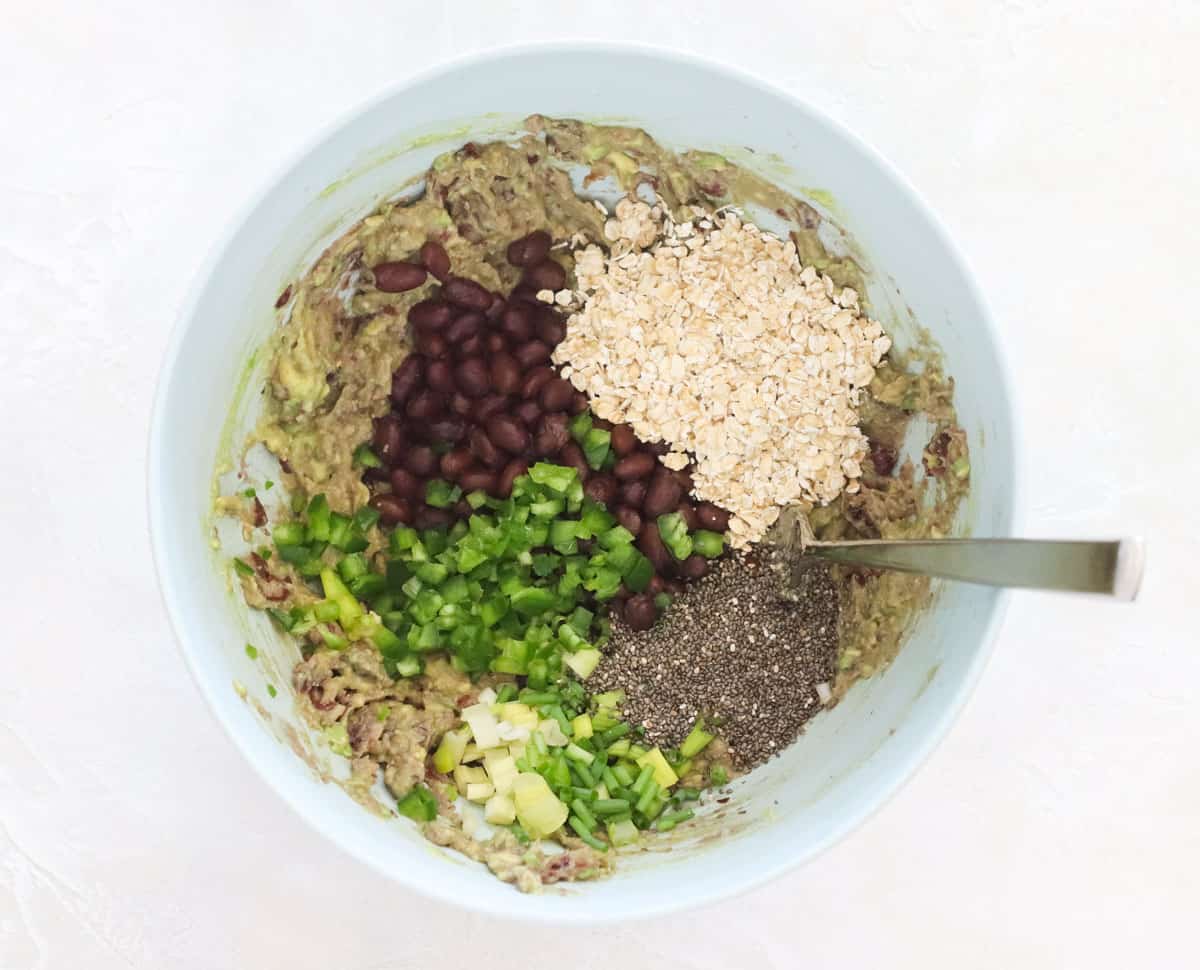 Flavor Substitutions
Spices: If you want to make this more of a southwestern black bean burger, add ½ teaspoon of chili powder + ¼ teaspoon of cumin when adding garlic powder and salt.
Alternative Prep & Cooking
To bake:
Preheat oven to 375*F. Line a baking sheet with foil or parchment.
Place avocado black bean burger patties on the prepared baking sheet, and bake for 15 minutes.
Flip the patties carefully, and bake for another 10-15 minutes until done.
How to Make Allergy-Friendly
This veggie burger with avocado recipe is naturally gluten-free, dairy-free, egg-free, soy-free, and nut-free. Also, it's vegan and vegetarian.
How to Fix a Mistake
Very sticky: It is normal for the mixture to be a little sticky. However, if it feels irrationally sticky, then you can add an extra 2 tablespoons of oats to help the batter hold together a little bit better.
Lacking flavor: Serve with salsa, hot sauce, or a sauce like Avocado Cilantro Dressing.
Make-Ahead Ideas
While these are a little fragile, you can make them in advance and reheat them in the microwave or in a skillet.
Simply prepare as directed and store in the fridge or freezer until you're ready to heat and enjoy.
Storage Suggestions
Store the veggie burger with avocado in an airtight container in the fridge for up to 6 days.
They can also be kept in the freezer for up to 6 weeks.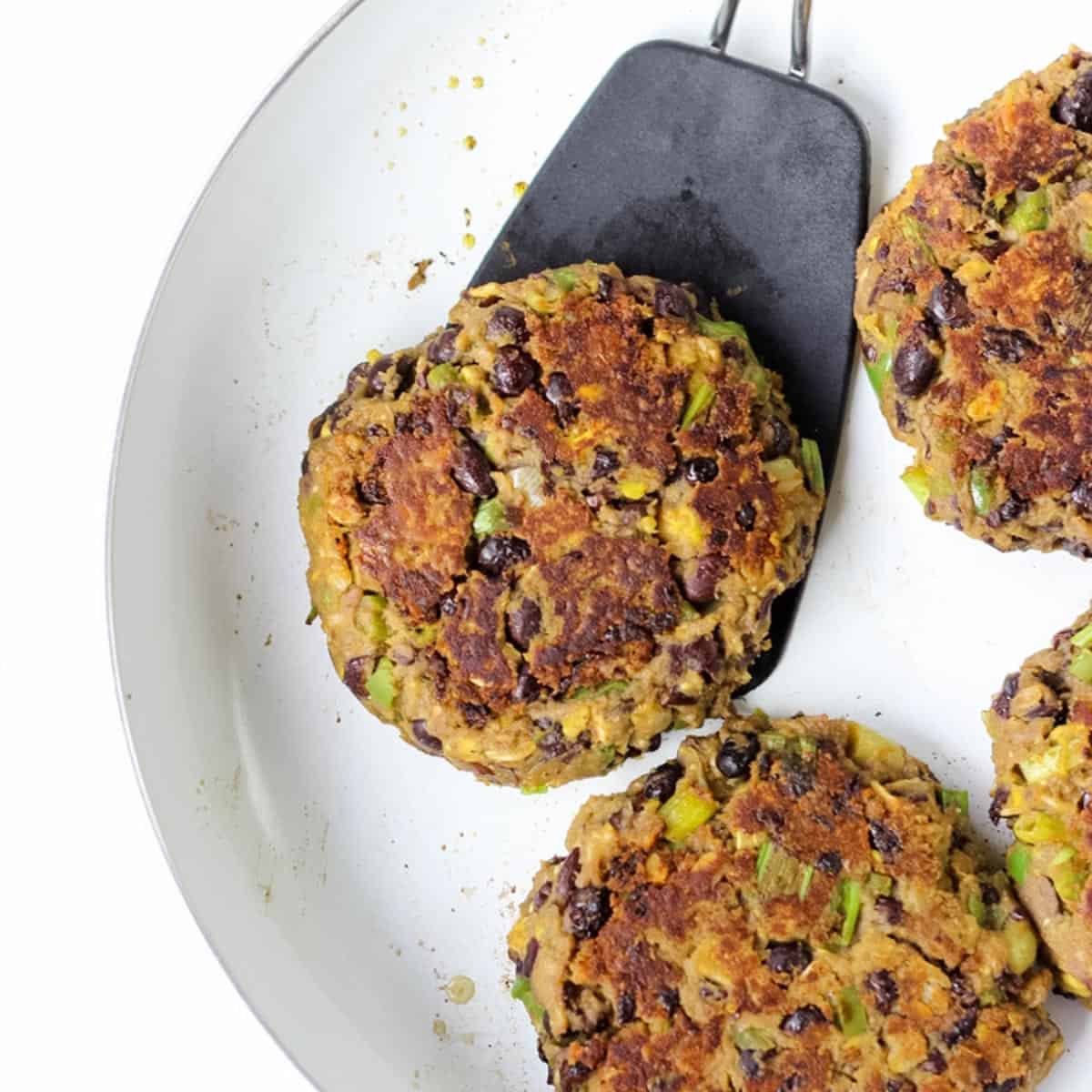 Frequently Asked Questions
How do you bind a veggie burger without eggs?
Chia seeds or ground flaxseeds are great options for what holds vegan burgers together. Add 2 tablespoons of water or liquid (like lime juice for flavor) to use as an egg replacer in veggie burgers.
What do black beans and avocado do for you?
Both black beans and avocados are nutrient-dense and full of antioxidants. They are high in fiber, which means they aid in digestion.

Additionally, black beans can help decrease cholesterol levels and reduce blood pressure. Furthermore, avocados contain nutritious fats that help your body absorb fat-soluble vitamins like Vitamins A, D, E, and K.
How do you keep black bean burgers from falling apart?
Be sure you refrigerate the shaped patties before cooking. This helps them hold together.

Also, drain the beans really well, so there isn't a lot of extra liquid with them which could possibly cause the mixture to be too sticky and wet.

Last but not least, mince the jalapenos and green onions so they mix well.
Nutrition Benefits
One veggie burger with avocado provides half of the recommended amount of fiber in a day.
Plus, each black bean burger gives you 36% RDA of Vitamin C, 17% RDA of potassium, 17% RDA of iron, and 6% RDA of Vitamin A.
Since this is a vegan recipe, it's a plant-based source of protein.
Avocados are packed with antioxidants and phytonutrients, and they have anti-inflammatory properties.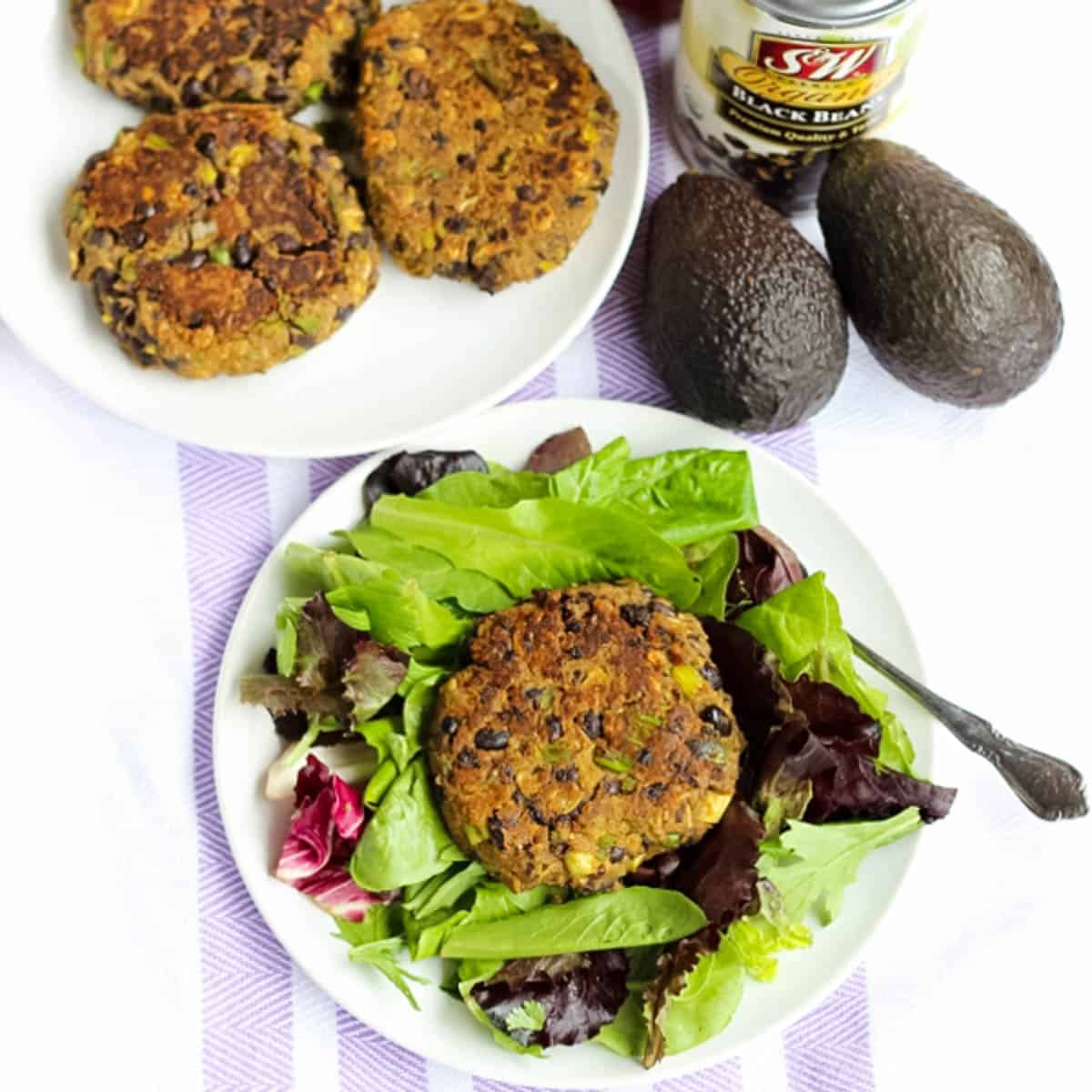 What to Serve with Avocado Black Bean Burgers
Enjoy a black bean avocado burger with salsa and fresh cilantro either over lettuce or on a bun.
Or pair them with some roasted veggies and rice or quinoa.
Final thoughts:
These tasty black bean burgers with avocado are creamy on the inside and crispy on the outside.
At less than $1 per burger, they are also very budget-friendly and can be enjoyed as a snack or as a plant-based protein for a main meal.
I love that you can make them in advance for meal prep and that they freeze well.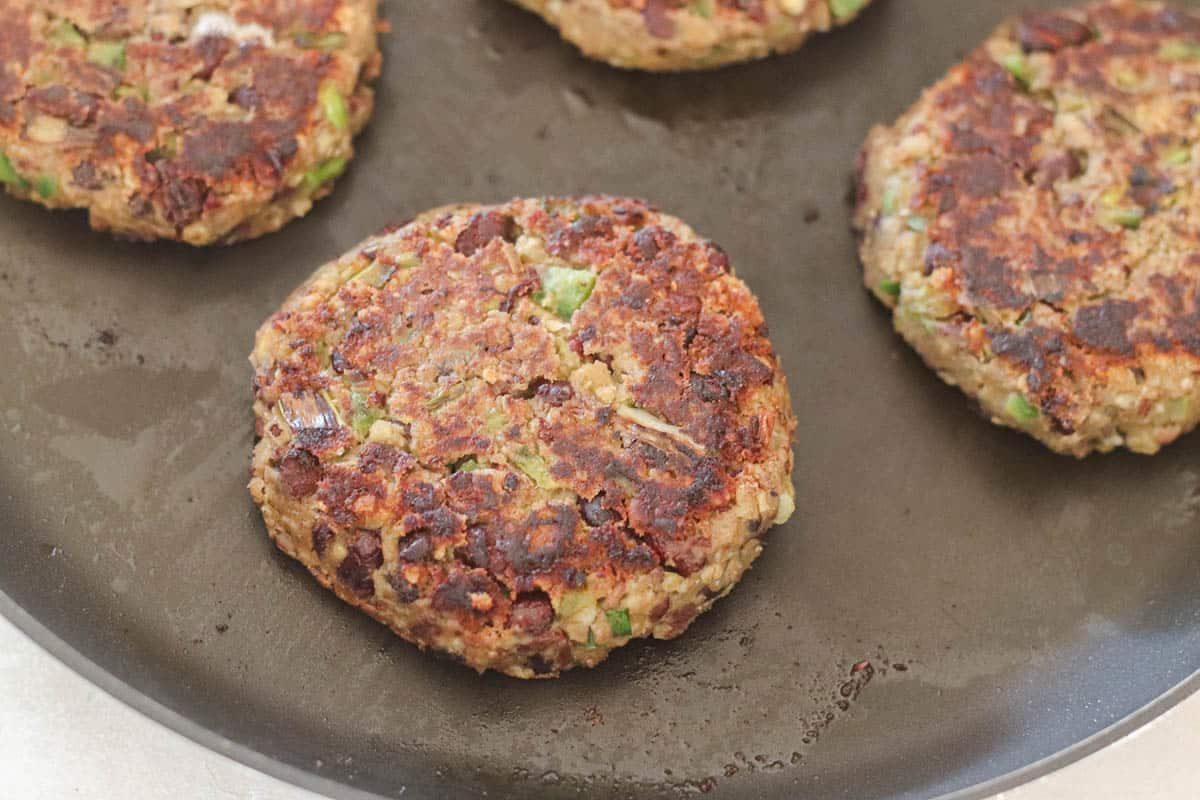 MORE AVOCADO RECIPES YOU'LL LOVE: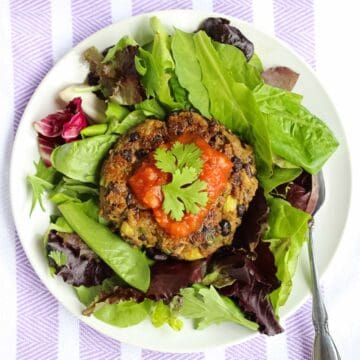 Avocado Black Bean Burgers
Avocado black bean burger is a delicious, filling, and budget-friendly vegan burger. You can make them ahead of time for a plant-based meal.
Print
Rate
Total Cost:
$3.18 or $0.80/serving
Ingredients
1

medium

avocado

about ½ cup

2

tablespoons

lime juice

from 1 lime

1

(15 ounce) can

black beans

rinsed & drained

¼

teaspoon

garlic powder

¼

teaspoon

salt

1

tablespoon

chia seeds

¼

cup

minced jalapeño

from 1 jalapeño

¼

cup

chopped green onion

from 1-2 green onions

¼

cup

oats

old fashioned or quick

1

tablespoon

olive oil

or avocado oil
Instructions
In a medium bowl, mash together the avocado and lime juice.

Add half of the beans, garlic powder, and salt. Mash together.

Add the chia seeds, jalapeño, green onions, oats, and remaining beans. Stir well to combine completely.

Shape into 4 patties, and refrigerate for at least 15 minutes or up to overnight (make sure to cover them).

When ready to cook, heat oil in a large skillet over medium-high heat. Add in patties, making sure they don't touch. Cook for about 5-7 minutes per side, until crispy on the outside.

Sprinkle with fresh chopped cilantro, and serve with salsa, if desired. Enjoy!
Did you try this recipe?
Be sure to leave a comment & recipe rating below. Bonus points for tagging @memeinge & #livingwellkitchen on Instagram! THANK YOU! xo
Meme
This post was originally published on September 5, 2016. The text, recipe, and photos have been updated.
---
Southwestern Black Bean Burger Nutrition Facts
How many calories are in a black bean burger with avocado?
Nutrition Facts
Avocado Black Bean Burgers
Amount per Serving
% Daily Value*
* Percent Daily Values are based on a 2000 calorie diet.