Cobb Salad Wraps have all the goodies of a Cobb Salad but are neatly wrapped for portability and easy eating. These are great for a make-ahead, filling & tasty lunch.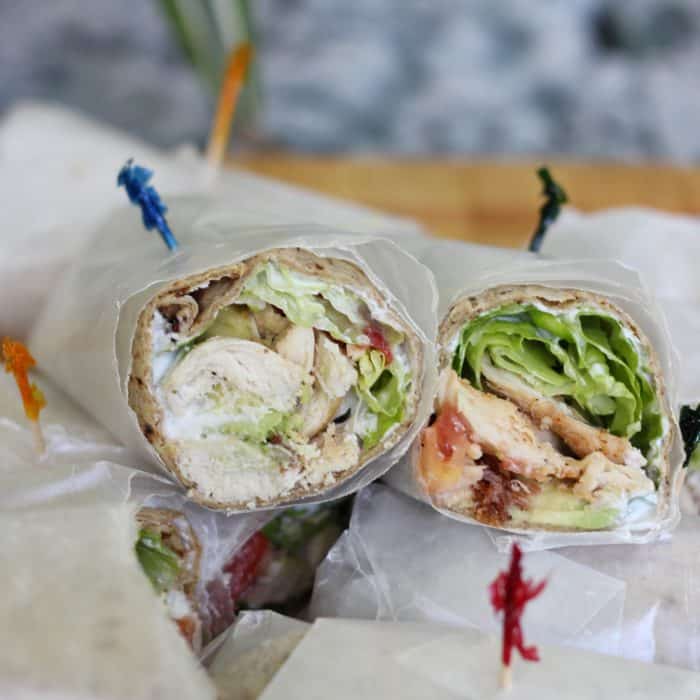 This post has been in my recipe queue since 2011. Yes, 5 years ago.
I figured it was high time to make the recipe, so I could snap some photos and share this fabulous summer meal for you fabulous friends of mine.
Many moons ago, I posted a recipe for blue cheese dressing. It's one of my favorite dressings because it's tasty & easy. Doesn't get much butter than that, aye?
But it does get better. It get's better when you make a Cobb Salad Wrap and pour that blue cheese dressing on there.
[clickToTweet tweet="Cobb Salad Wraps are neatly wrapped for a tasty, filling, make-ahead, portable #lunch" quote="Cobb Salad Wraps are neatly wrapped for a tasty, filling, make-ahead, portable #lunch"]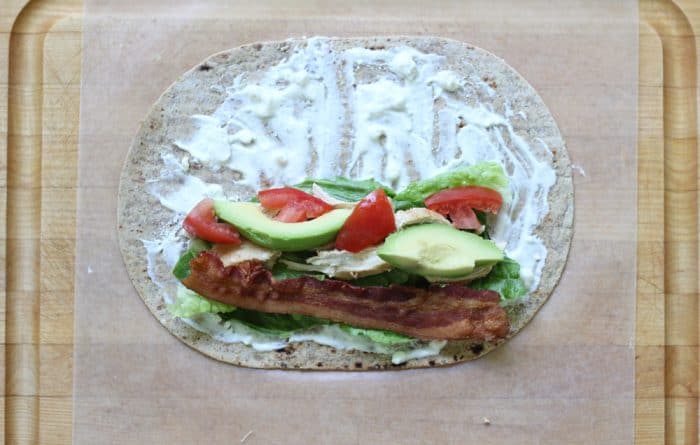 Back when I made this for the first time 5 years ago - which I still can't get over how long ago that was - I made them for my family when we were staying at our bay house.
I have this thing for pretty food. I also have youngest child tendencies, like being a touch selfish. I want the prettiest food.
I assumed don't care if their wrap isn't perfectly rolled and a touch messy, right? Wrong.
Apparently, my family members caught on to my trick of saving the last made wrap for myself, and I ended up with the not so perfect wrap. Fiddlesticks.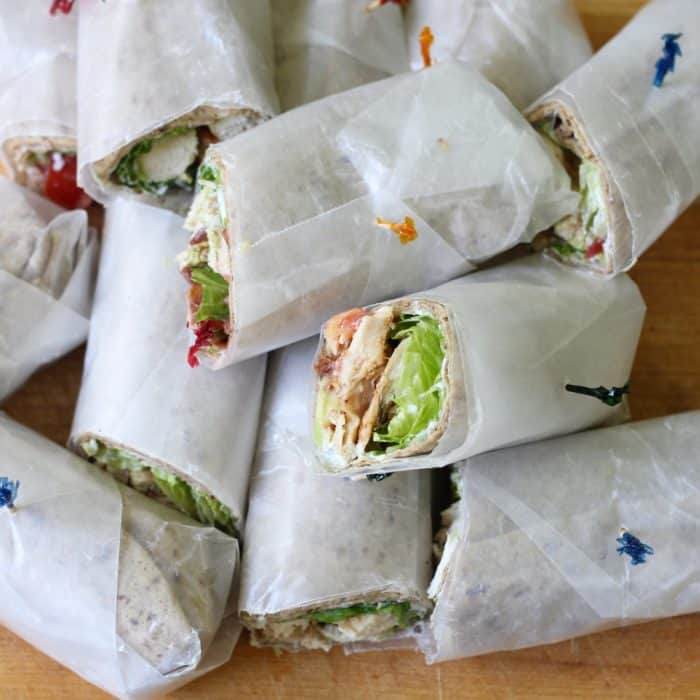 Making wraps is a little like making pancakes. The first one or two are never that pretty. They taste just as delicious as the pretty ones, but I can't count on them to make blog-worthy photographs.
What I can count on is the reliability of these wraps.
Wraps are such a great thing to make ahead of time. If you are careful to dry the lettuce and not over-do the dressing, then you can prevent a soggy wrap.
Soggy wraps make me feel sad. Just say no to soggy wraps.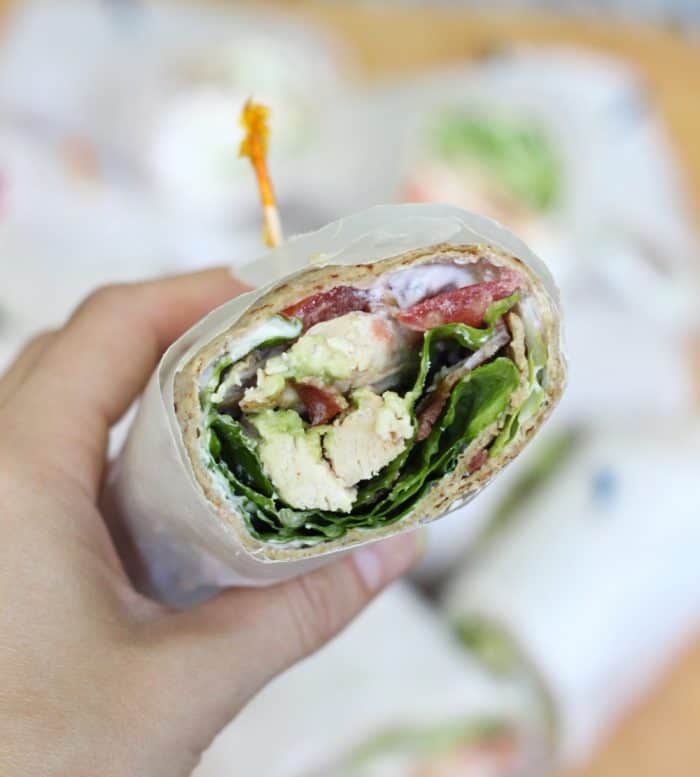 When making the wraps, feel free to use more or less or omit certain ingredients. These are just guidelines as I don't usually use a recipe.
I really don't like a lot of the wrap/bread part; I'd rather taste all the delicious things inside the wrap than mainly tasting the actual wrap. That's why I like to buy thin, rectangular wraps. Flour tortillas always fall apart on me and I can never get enough filling in there without them exploding or messing up. Remember that looks are important.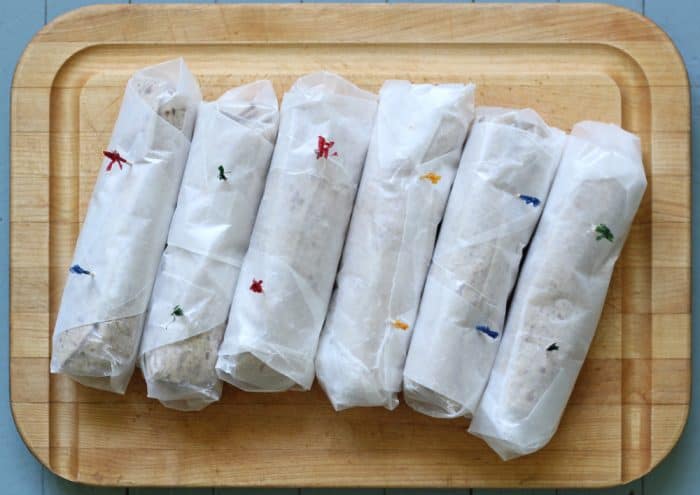 If you are making these ahead of time, wrap the whole Cobb Salad Wrap in waxed or parchment paper, then add two toothpicks to secure the wrap. Slice in half on a diagonal and you're ready to go. Keep 'em cold until you want to eat them.
Hot Cobb Salad Wraps are about as cool as soggy Cobb Salad Wraps. Don't ruin your Cobb Salad Wrap experience.
These Cobb Salad Wraps have all the yummy goodness of a Cobb salad: chicken, lettuce, tomatoes, bacon, and the blue cheese dressing ties it all together.
If you are not a fan of blue cheese dressing, I highly recommend this homemade ranch dressing.
You could also add some hardboiled eggs for extra filling or use them in place of the chicken for a vegetarian version.
Totally up to you how you fill your wraps. What's important is that they're pretty 😉 and obviously pretty tasty, and these Cobb Salad Wraps live up to that expectation.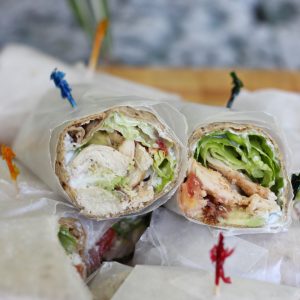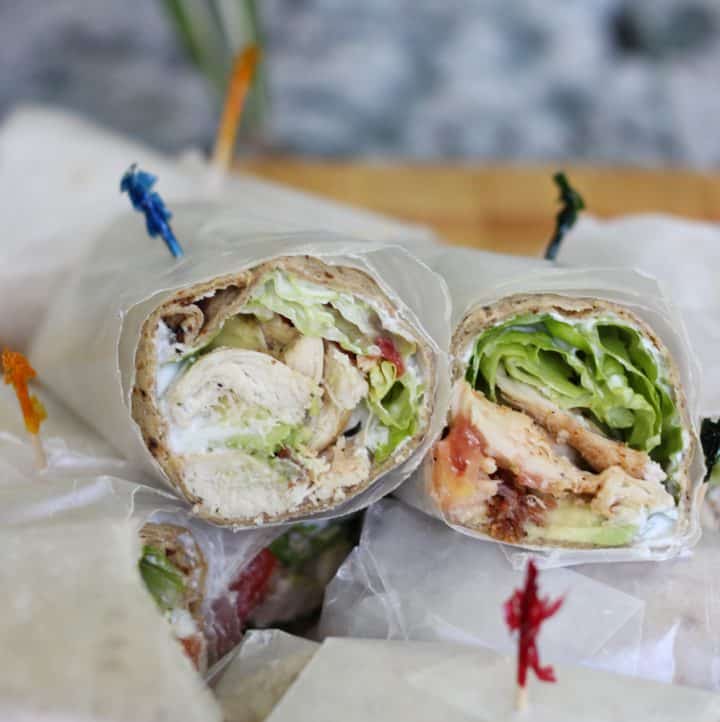 Cobb Salad Wraps
Cobb Salad Wraps have all the goodies of a Cobb Salad but are neatly wrapped for portability and easy eating. These are great for a make-ahead filling & tasty lunch.
Print
Rate
Ingredients
1

tablespoon

olive oil

1

pound

chicken breast

½

teaspoon

salt

½

teaspoon

garlic powder

¼

teaspoon

paprika

6

whole grain wraps

1 ½

cups

blue cheese dressing

1

head

romaine lettuce

washed & well-dried

2

medium

tomatoes

cored seeded & sliced

6

slices

center-cut bacon

cooked

2

avocados

peeled, seeded & thinly sliced

salt & pepper to taste
if making in advance
6

pieces

of waxed paper

12

toothpicks
Instructions
Heat a large skillet over medium-high heat and add oil. Season chicken with salt, garlic powder, and paprika. Add chicken to skillet and cook for 5-8 minutes per side, until chicken is done. Let cool and slice.

Place the wrap on a clean surface. Spread 4 tablespoons blue cheese dressing over wrap. Place the lettuce on the upper ⅓ of the wrap. Top with a few slices of tomatoes, about ½ cup cooked chicken, 1 piece of bacon, and a few slices of avocado. Season with salt and pepper (about a pinch of each per wrap).

Roll the wrap and slice in half. Repeat with remaining wraps. Enjoy!
Make ahead:
Cut a large piece of waxed paper and place the wrap on top. Follow directions for making wrap.

Roll the wrap in the waxed paper and secure using two toothpicks in each wrap (one on each end -- see photo).


Refrigerate in a zip top bag or container until ready to enjoy.

Notes
*Use leftover cooked chicken. You'll need about 3 cups cooked. If using cooked chicken, omit oil, chicken, ½ teaspoon salt, and garlic powder.
*Can substitute chicken for hard-boiled eggs. Use 1 hard-boiled egg per wrap.
*You can also add hard-boiled eggs. Use half of a hard-boiled egg per wrap.
*Substitute ranch dressing for blue cheese dressing if desired.
Did you try this recipe?
Be sure to leave a comment & recipe rating below. Bonus points for tagging @memeinge & #livingwellkitchen on Instagram! THANK YOU! xo
[showhide type="post" more_text="Click here for Nutrition Facts" less_text="Clear Nutrition Facts"]
*
Nutrition Facts
Cobb Salad Wraps
Amount per Serving
% Daily Value*
* Percent Daily Values are based on a 2000 calorie diet.
*
[/showhide]
Meme
Pin for later: