Frozen, no bake Key Lime Pie Bars are gluten free, dairy free, vegan treats perfect for the summer. Plus, they are sweetened entirely with dates!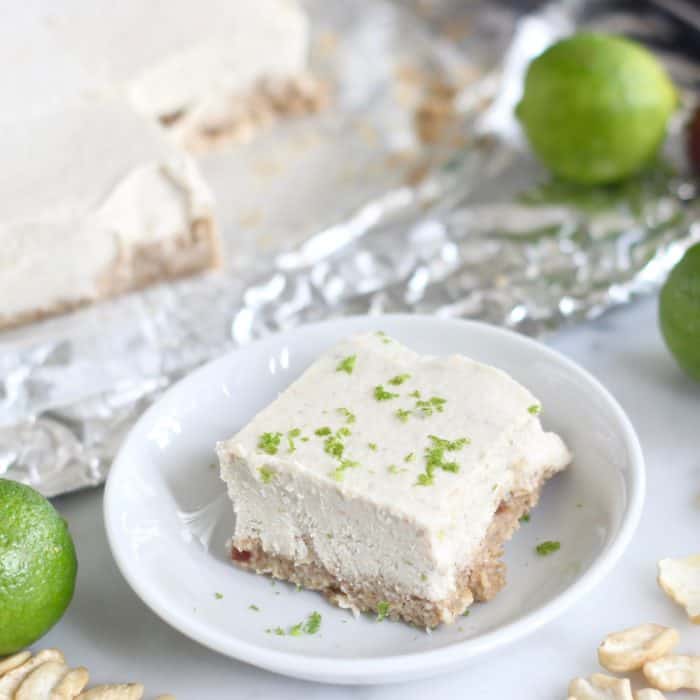 Why you should make Vegan Key Lime Pie Bars
Key Lime Pie has never been something I loved. I am always going to pick a cookie, maybe ice cream and a cookie if it's available. Then I got some key limes from Frieda's and felt like it was a sign that I needed to try them.
If I'm being completely honest, my body was so incredibly tired of me testing dessert recipes after working on the cookbook.
My stomach was all unhappy with the amount of desserts I'd been making, and while I don't restrict sugar or white flour or whatever, I know that I feel better when I don't have it every day.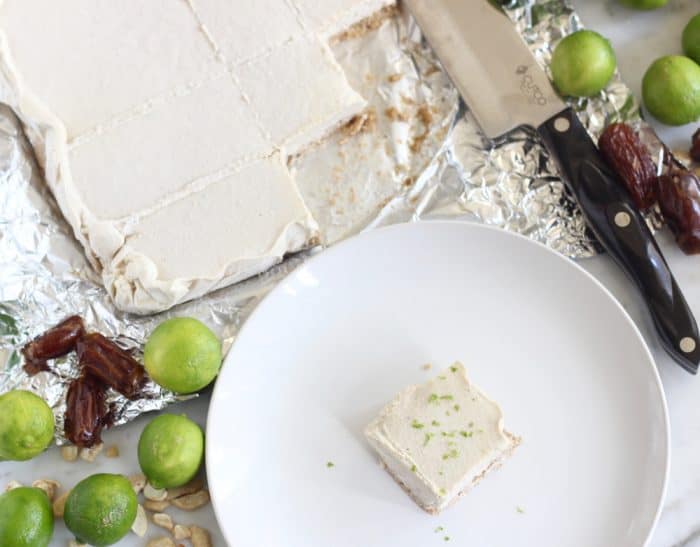 So I tried to find a recipe for key lime pie bars (bars instead of pie since I just made a peanut butter chocolate ice cream pie) that didn't mean I would have to use sweetened condensed milk.
A few years ago I made no bake cheesecake bars, so I thought I'd base my recipe off that. Then I realized I didn't have any cream cheese, and I was in no mood to go to the store.
So I started searching for dairy free key lime pie, and found this tasty-looking recipe from Minimalist Baker. It looked like something I'd really like, so I thought I'd give it a try.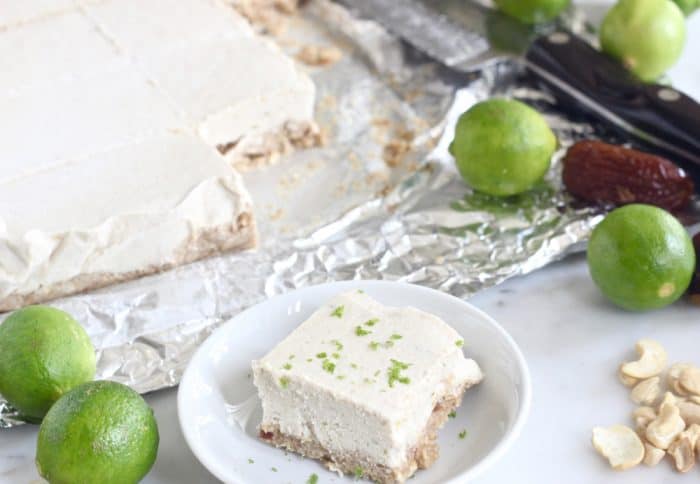 My first batch was delish, but I knew there were a few things I needed to tweak to get the recipe to share-on-my-blog status.
The crust was a little mushy and the filling was a little grainy. To remedy that, I soaked the cashews for the crust for only 5 minutes. You could also skip this step altogether.
Tips for this No Bake Key Lime Pie Recipe
Ok so these are bars, but I find them best enjoyed with a plate and utensils instead of simply using my hands. The crust isn't as sturdy since I used cashews.
To make these sturdier, you have a few options: 1) use almonds. 2) do not soak the cashews before blending.
I made one batch with a little honey and one without, and I prefer the one without. However, you can always taste the filling before you pour it on top of the crust and decide what you think.
I like my partially frozen because it's easier to eat haha, so I freeze them and let them sit out for about 10-15 minutes before I enjoy them.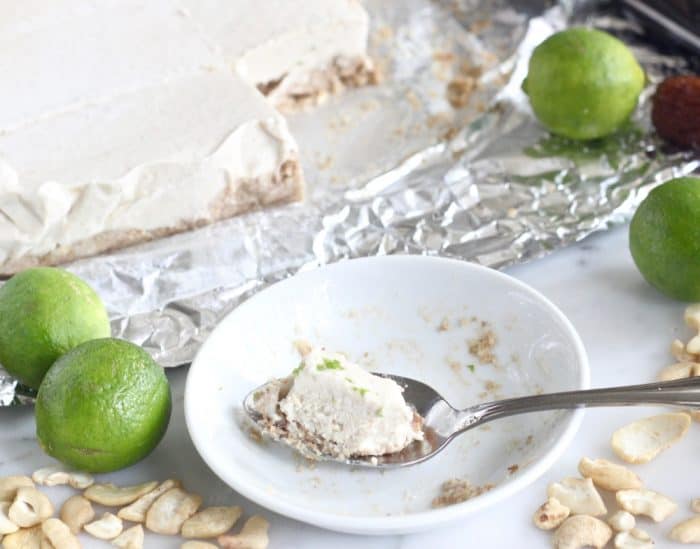 I was seriously surprised at how much I loved these. They are so refreshing and delicious!
They're relatively simple to make if you know how to work a mini food processor.
The "hardest" parts are remembering to soak the cashews for the filling and juicing the key limes.
If you can't find key limes or don't want to juice 12 key limes, look for bottled key lime juice. Sure... it's not as fresh, but I bet it'll still be tasty!
I've eat them for breakfast, snacks, and desserts. In fact, I'm off to enjoy another one now 🙂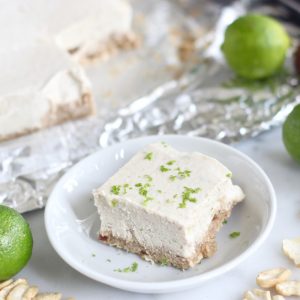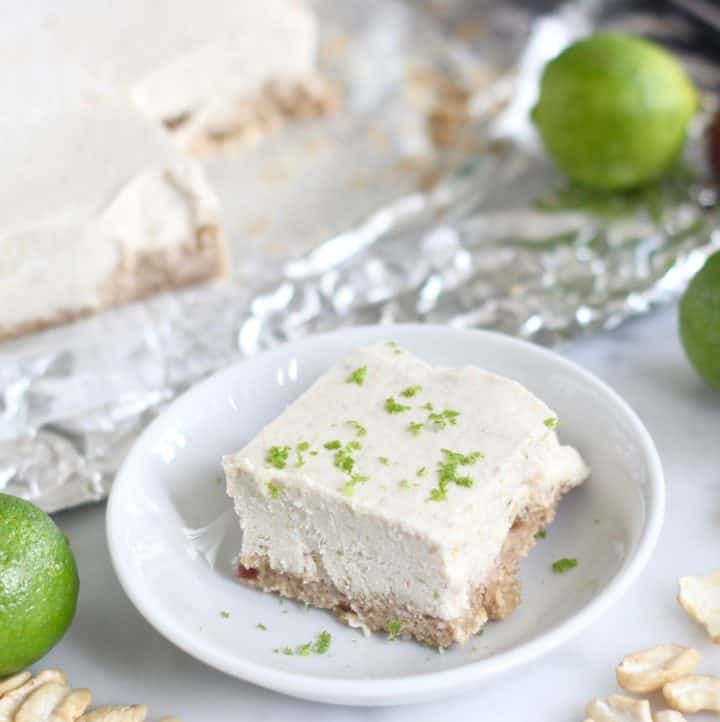 Frozen Key Lime Bars
Frozen, no bake Key Lime Pie Bars are gluten free, dairy free, vegan treats perfect for the summer. Plus, they are sweetened entirely with dates!

Print
Rate
Ingredients
Filling:
1

cup

cashews

½

cup

dates

¾

cup

coconut cream

or full-fat coconut milk

¼

cup

coconut oil

½

cup

key lime juice

1

tablespoon

honey

optional
Instructions
To start:
Line an 8inch square baking dish with foil, parchment paper or waxed paper. Set aside.

Set aside ¾ cup cashews. Cover dates with boiling water. Cover remaining 1 cup cashews with boiling water. Let sit for at least one hour, preferably overnight.
For the crust:
Add the reserved ¾ cup cashews to the bowl of a food processor. Pulse until chopped.

Drain ½ cup dates, reserving soaking water, and add the dates to the food processor. Pulse together until combined.

Add oats and vanilla extract. Pulse together until a sticky mixture forms. Add reserved date soaking water, one tablespoon at a time if needed.

Press into the prepared baking dish and transfer to the freezer.
For the filling:
Drain the 1 cup of cashews and transfer to the food processor. Pulse for 15 seconds until chopped. Add in the dates and blend until well-combined.

Add in the coconut cream and blend until smooth.

Add in the coconut oil and key lime juice. Blend until smooth. Taste and add honey if desired. Blend together.

Pour filling mixture over crust, and transfer to the freezer.

Freeze at least 2 hours before serving. If serving after 2 hours, you will likely need to let these thaw slightly, about 15 minutes, before cutting. Enjoy!

Keep tightly wrapped in the freezer for up to one month.
Notes
*This recipe has not been tested using regular lime juice. If you use regular lime juice, you might need to use honey to make it sweeter. Taste the filling before pouring it over the crust and adjust as needed.
*If you can't find key limes or don't want to juice 12 or so key limes, you can use bottled key lime juice. I have not personally tested the recipe using it, but it could be a nice substitute if needed.
Did you try this recipe?
Be sure to leave a comment & recipe rating below. Bonus points for tagging @memeinge & #livingwellkitchen on Instagram! THANK YOU! xo
[showhide type="post" more_text="Click here for Nutrition Facts" less_text="Clear Nutrition Facts"]
*
Nutrition Facts
Frozen Key Lime Bars
Amount per Serving
% Daily Value*
* Percent Daily Values are based on a 2000 calorie diet.
*
[/showhide]
What to use in this recipe:
Meme