How to make a Bushwacker, the creamy, boozy milkshake made with ice cream, Kahlúa, and rum popular at many beach bars in Alabama. An easy cocktail recipe for a fun summertime drink.
What is a Bushwacker
Bushwackers are a popular drink at many restaurants in Orange Beach, Alabama and Pensacola, Florida. According to the internet, they were originally created in the 70's at the Ship's Store in St. Thomas, Virgin Islands.
I have to say that I am incredibly happy they became popular in the Southeast where I grew up. For me, they bring back memories of days (and nights) spent at Pirate's Cove, the Flora-Bama, and Tacky Jacks.
I like to think of a bushwacker like a boozy milkshake. They are thick and creamy and full of alcohol.
Bushwackers are definitely not considered the most nutritious drink in the world, but you usually only want one because they are so filling.
What's in a Bushwacker
My version of a bushwacker has ice cream, milk, ice, coconut rum, coffee liqueur, and light or dark rum (depending on your own personal preference).
Why you should make a Bushwacker cocktail
I highly(!!!) recommend them if you're looking for a fun drink. My version is a little less rich than the one you'd get at a bar or restaurant, but they're still full of flavor and booze.
Most bushwackers have ingredients that are a little harder to find or that you'll only use once and then they'll sit on your bar for months before you need them again. I hate having to buy special ingredients for one recipe, so this recipe doesn't have that problem. Only rum, coconut rum, and coffee liquor.
How to Make a Bushwacker
Add everything to a blender and blend away! That's it! They are so simple and serve a crowd, so there's no need to painstakingly make everyone there own. Simply blend and pour.
If you order the bushwacker cocktail at a bar, they will sometimes put a "floater" on top of Bacardi 151, which is like the kiss of death in my opinion. It's basically just an extra shot of alcohol on top of a pretty powerful drink. I included a smaller topper of regular rum so you can still see straight after enjoying a bushwacker. However, the toppers are optional.
Tips for Making Homemade Bushwackers
This bushwacker recipe is very laid back (as I think all summer cocktails should be). You can play around with proportions, and you don't have to buy any special ingredients. It's one more reason to love it.
But in case you want a little more info, here are some of the tips to help you make the best easy bushwacker cocktails in the comfort of your own home.
For a richer Bushwacker recipe
For an extra creamy bushwacker, make your ice cubes with milk. Using half milk and half regular ice cubes makes for a really tasty Bushwacker, but it's totally up to you. To be honest, I usually forget this step, but it is nice when I remember.
If you decide to do this, you'll need to plan a little in advance because the milk needs to freeze. It should take around 4-8 hours depending on the size of your ice cream trays.
I like to do this the night before so the milk is frozen whenever I'm ready to make the bushwackers.
The best ingredients for the recipe
Ice Cream: Any vanilla ice cream you like best will work in this recipe. The alcohol takes over most of the flavor, so the ice cream taste isn't very important. Simply buy whatever vanilla or vanilla bean ice cream you prefer or is on sale to stretch your budget.
Milk: You are using a small amount of milk, so any milk will work here. Honestly, the milk isn't completely necessary if you forget it. Simply use a little more ice cream, and you're good to go.
Alcohol in Bushwackers
Coconut rum: The original recipe calls for coconut cream, but I know it's not super easy to find. That's why I like to use a coconut rum so you still get the coconut flavor but in an easy to find place. Plus, coconut rum is great for making other drinks like Piña Coladas.
Coffee-flavored liqueur: My personal choice is Kahlúa, but any coffee flavored liqueur will work. This gives added depth and richness to the bushwackers plus sweetness.
Rum: You can use light or dark rum. I typically use whatever is in my bar stash at home, so this is totally up to you on personal preference. You have the option to top the bushwackers with a "floater" which is just an extra shot of rum after you pour the drinks into cups. Many bars & restaurants will use Bacardi 151, but I think that's a little too intense. You decide 🙂
Make Ahead Tips
I don't recommend making these ahead of time unless you are planning on freezing the milk beforehand. Otherwise, they are so easy that you don't need to do anything to make ahead of time. All you have to do is toss the ingredients in a blender and you're done.
You can also make the chocolate sauce in advance. Then again, the chocolate sauce is optional (but oh so tasty).
Variations & Substitutions
Allergy substitutions
If you want these to be dairy free, be sure to use dairy free ice cream and milk. For soy free and egg free, double check that your ice cream doesn't have any soy ingredients.
Bushwackers are naturally free of gluten.
Milk substitutions
If you don't have any milk, you can always use a little extra ice cream in its place. You'll use the same amount of ice cream as you would for milk. This works best if your ice cream isn't super firm because the milk helps it blend a little better.
However, with the addition of alcohol, you likely won't have a problem.
Storage Tips:
Keep these in the freezer. I typically keep them covered in the blender. Then when I am ready to drink them again, I let them sit out at room temperature for about 5-10 minutes. You can do a quick pulse on the blender to make them smooth again.
Frequently Asked Questions
Can you make bushwackers in advance?
Yes, you technically can. Prepare then freezer. Let thaw about 5-10 minutes at room temperature. Then you can blend them for a second to make them creamy again, and enjoy.
Can you make one bushwacker at a time?
Yes, you can adjust the serving size on the recipe card below. Something to note is that you might want to use a smaller blender if you have one so it blends easily.
Nutrition benefits of this recipe
Well, these aren't super nutritious... sorry to burst your bubble. However, they are incredibly delicious and life would be incomplete if you didn't enjoy things that taste great.
I stick to having about 1 or 2 of these because they are rich and filling and sweet and you will probably realize you don't want another one after that. Plus, you won't feel the need to binge on them if you allow yourself to enjoy them without conditions or guilt.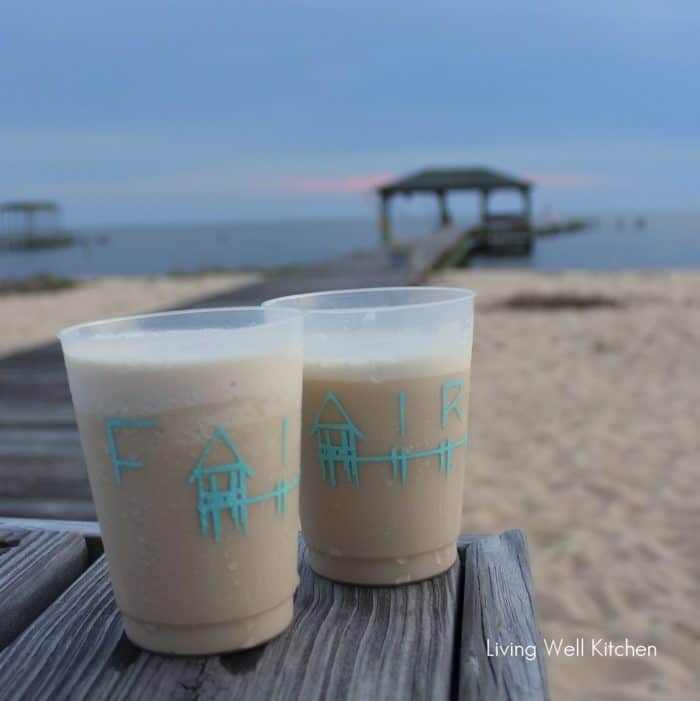 What to serve with this dish
These are best served with food since they are kinda strong. Anything you'd want to eat with a milkshake will do 🙂
Some of my personal favorites for a lovely summer day would be a burger, roasted veggie lentil salad and a big slice of watermelon.
Final thoughts:
I always look forward to a Bushwacker and make them at least a few times every summer. Pretty much everyone loves them. Plus, you only need one Bushwacker because they are pretty rich and filling. They're also great for an after dinner drink in the summer.
---
MORE SUMMER DRINK RECIPES YOU'LL LOVE:
---
Bushwackers
How to make a Bushwacker, a creamy, boozy milkshake made with ice cream and rum. This easy cocktail recipe is a fun summertime beverage great for entertaining.
Print
Rate
Ingredients
2

tablespoons

chocolate sauce

optional

4

cups

ice

2

cups

vanilla ice cream

1/4

cup

milk

4

ounces

coconut rum

Malibu

4

ounces

coffee flavored liqueur

Kahlúa

4

ounces

rum

divided
Instructions
Optional step: Drizzle about 1 teaspoon of the chocolate sauce into each of the glasses if using.

Add ice, ice cream, milk, coconut rum, coffee flavored liqueur, and 2 ounces rum to a blender. Blend until completely smooth. Taste and add more coffee flavored liqueur or coconut rum if needed.

Serve in 6 glasses. Top glasses with remaining 2 ounces rum (a few teaspoons per glass) before serving. Enjoy!
Notes
*Makes 6 cups
*For a creamier Bushwacker, freeze 2 cups milk in ice cube trays. Replace them for 2 cups of ice.
*Omit milk and use 1/4 cup extra ice cream in its place.
What to Use in This Recipe
Did you try this recipe?
Be sure to leave a comment & recipe rating below. Bonus points for tagging @memeinge & #livingwellkitchen on Instagram! THANK YOU! xo
[showhide type="post" more_text="Click here for Nutrition Facts" less_text="Clear Nutrition Facts"]
*
Nutrition Facts
Bushwackers
Amount per Serving
% Daily Value*
* Percent Daily Values are based on a 2000 calorie diet.
*
[/showhide]
---
---
Meme
Originally published on April 26, 2013. Photos and text have been updated.