Microwave Baked Apples recipe with cinnamon and brown sugar is a healthy, quick, and easy dessert for one. This gluten-free dessert can also be breakfast or a snack.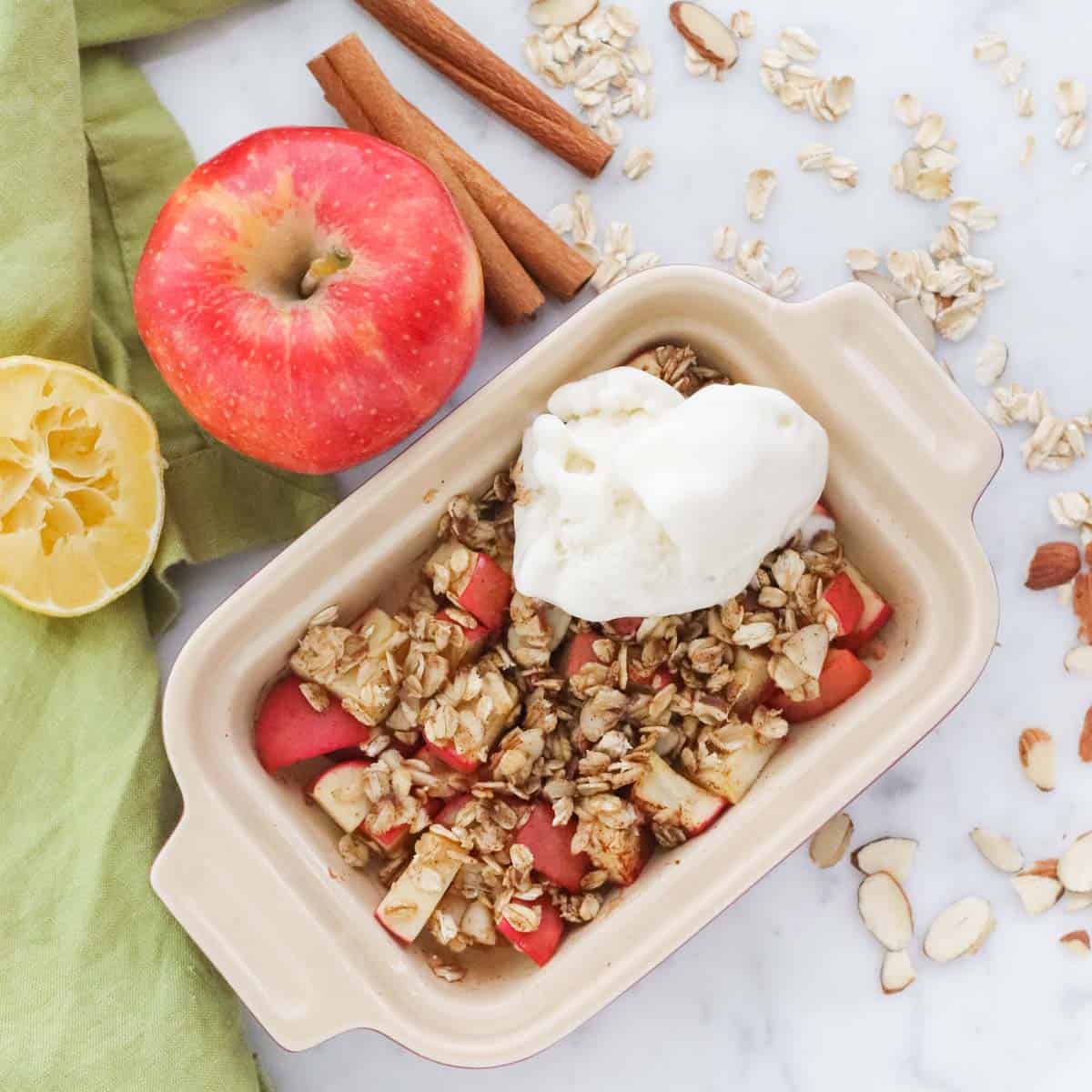 About Microwave Baked Apples
The microwave can be your best friend when you are cooking for one and/or you need something quick. Whether it's a microwaved meal or a dessert in the microwave, don't overlook the microwave.
Speaking of microwave dessert, if you've never tried cooking apples in the microwave, you need to make this recipe! You might think that microwaving apples is strange, but I promise you, it's brilliant.
Quick and simple, after only 8 minutes, you are rewarded with a bowl of gooey warm cinnamon apple goodness.
You can make these microwave apples for dessert when you're craving something sweet but not in the mood to bake cookies. Or enjoy it for breakfast or as a snack.
This is a great alternative to a large apple crisp when you're looking for a quick dessert for only yourself. All you have to do is make this microwave baked apple for one.
This dessert is exactly what it says it is: apples baked in the microwave.
It's a simple recipe that is ready in less than 10 minutes and only serves one. It can also be multiplied to serve more. Plus, you can enjoy this for breakfast or as a snack in addition to dessert.
This recipe for microwave-baked apples with oatmeal is great for when you want a nutritious dessert that isn't complicated. And if you need a quick treat that'll warm you up, this is it!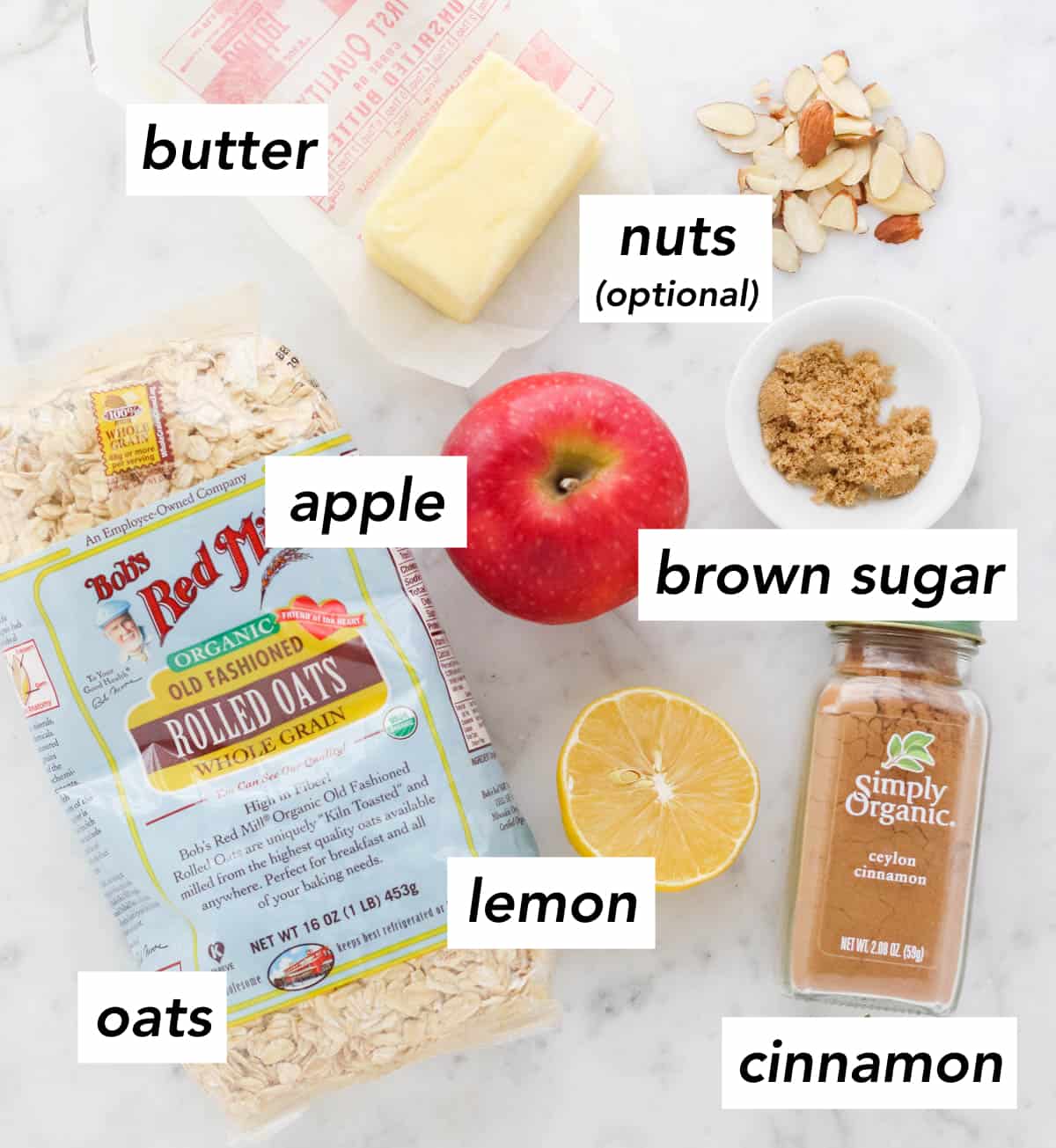 Ingredients
Apple: You'll need a small apple... any kind, really. Honeycrisp, Fuji, Braeburn, Golden Delicious, or Green apples are all good options. Red Delicious is not recommended because the texture might be a little mealy after microwaving.
Cinnamon: Regular ground cinnamon is used for testing. Apple pie spice or pumpkin pie spice are alternatives.
Brown sugar: The small amount of brown sugar gives a touch of sweetness to the recipe, but you can also use granulated sugar or maple syrup. Both light and dark brown sugar are good options.
Lemon: The lemon juice brightens the flavor and helps keep the apples from turning brown. Fresh lemon juice and bottled lemon juice will taste the same in this recipe.
Oats: Old-fashioned and quick oats will both work. Don't use steel-cut oats or instant oats with flavoring.
Nuts: Pecans, walnuts, and almonds are all great in these microwave baked apples. Seeds are another option. And you can also omit.
Butter: Regular, unsalted butter was used for testing this microwave baked apple recipe. It's best when the butter is cold because it's easier to make the topping when it's cold. Salted butter will be fine, and you can also use dairy free.
Cost of recipe
apple 1 small: $0.48
cinnamon ½ teaspoon: $0.03
brown sugar 1 teaspoon: $0.01
lemon ¼: $0.12
oats 2 tablespoons: $0.06
nuts 1 tablespoon: $0.12
butter 1 teaspoon: $0.04
TOTAL COST: $0.86 (Based on San Diego stores 2022)
Note that this is not the recipe; it's simply to show the cost breakdown of ingredients. Be sure to scroll down to the full recipe to see the specific ingredients and directions.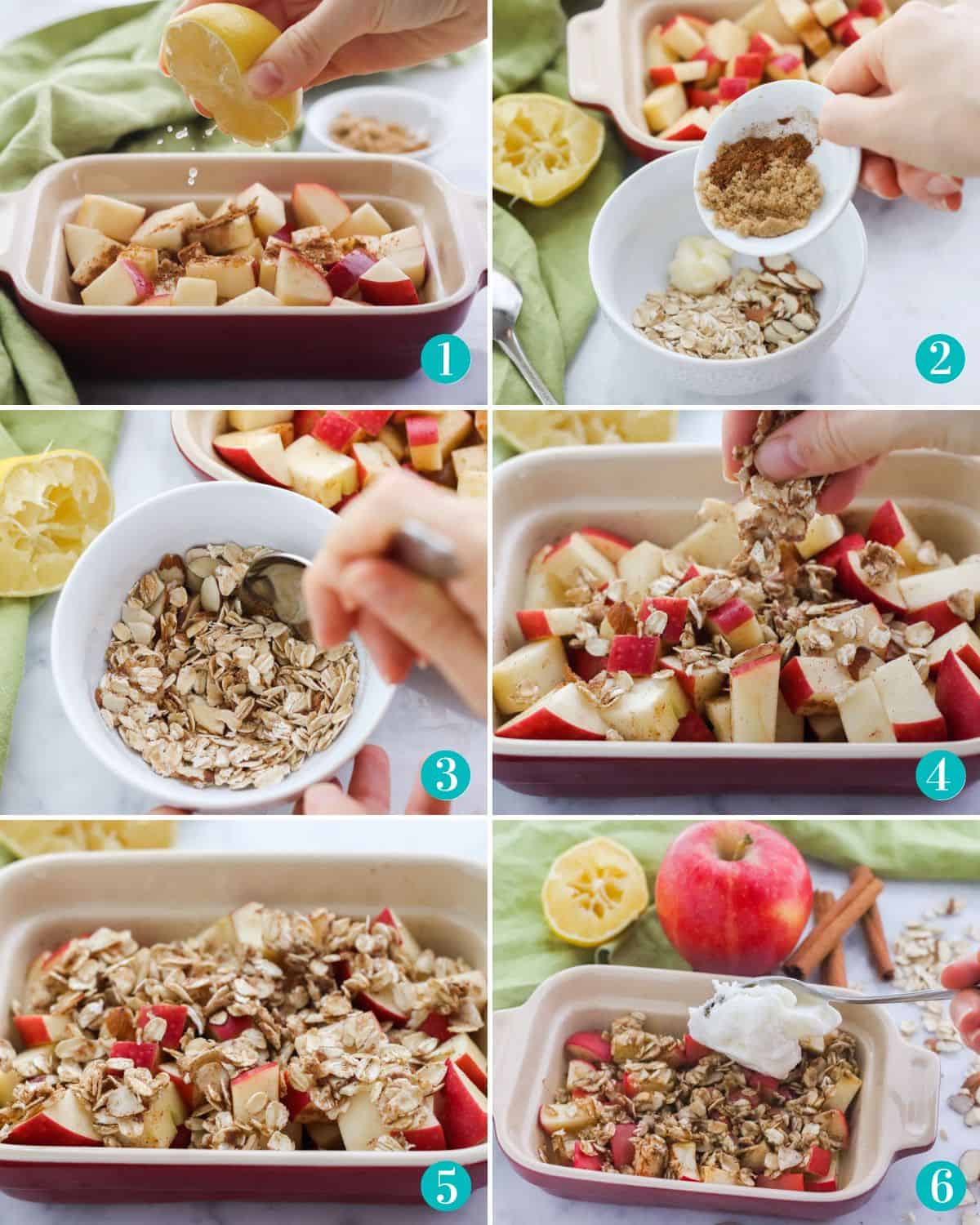 How to Bake Apple in Microwave
Time needed: 8 minutes.
It's simple to make, so here are step-by-step instructions for how to make a baked apple in the microwave.
Add the apples to a small baking dish and toss with some lemon juice, brown sugar, and cinnamon.
Put the remaining cinnamon and brown sugar along with butter, oats, and sliced nuts into a bowl.
Stir together.
Sprinkle on top of the apples.
Microwave.
Top with ice cream or yogurt, if using.

Enjoy!
Recipe Tips
Variations
Ingredient Options
Brown sugar: Regular granulated sugar can be used in place of brown sugar but it might have a little less flavor. Maple syrup is another great option.
Lemon: Orange juice can be used instead of lemon juice.
Nuts: Omit the nuts if desired or use an equal amount of sunflower seeds or pumpkin seeds in place of the nuts.
Butter: Dairy-free butter can be used in place of regular butter.
How to Make Allergy Friendly
This microwave-baked apple is already vegetarian, egg-free, soy-free, and gluten-free (if you use gluten-free oats).
To make this dairy-free and vegan, you can use dairy-free butter. If you're topping with yogurt or ice cream, be sure to use one that doesn't have any allergens you might be avoiding.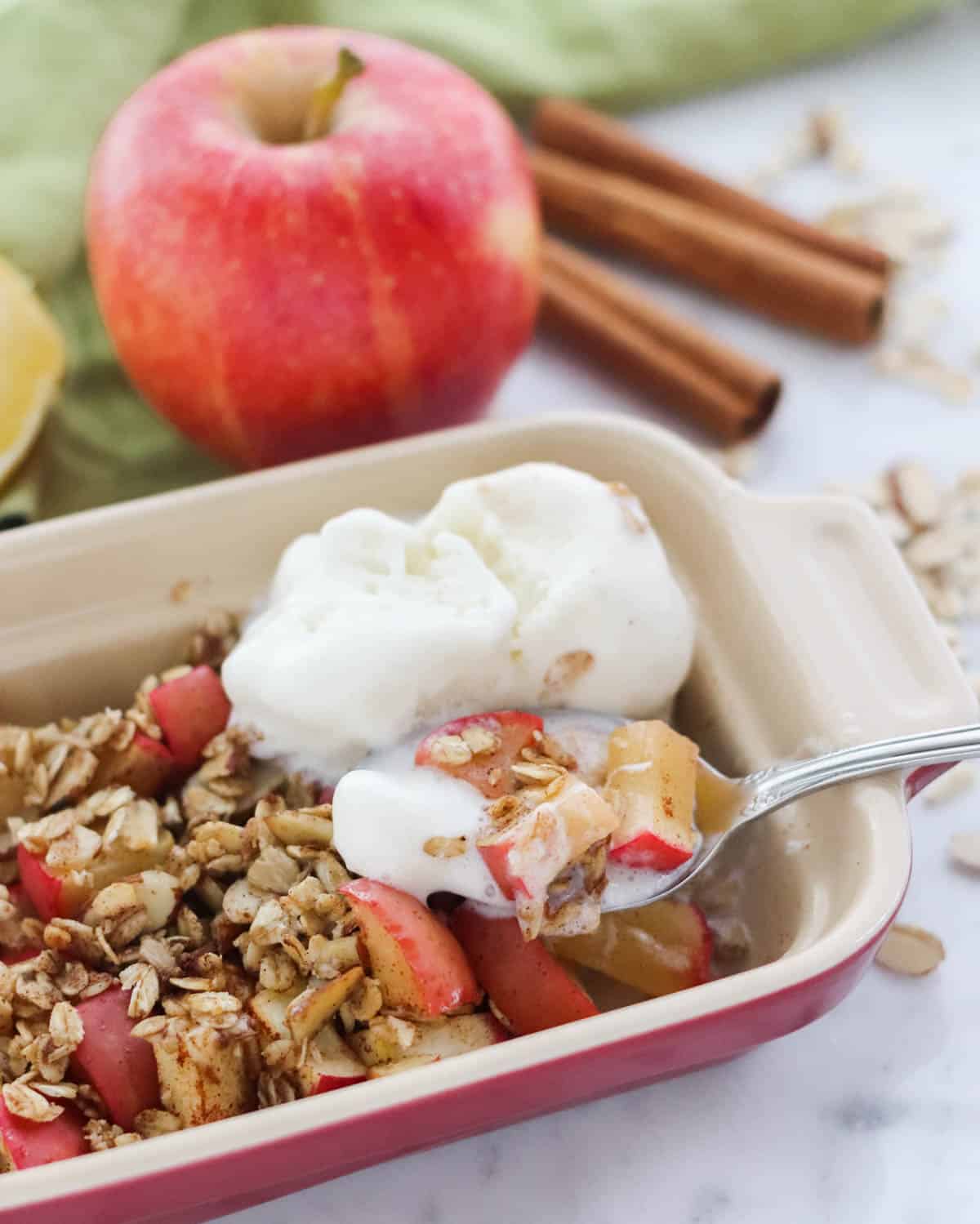 Alternative Cooking
While it defeats the whole purpose of having a microwave version of baked apples, you can easily bake this in the oven. Prepare as directed and bake in a 375*F oven for 10-15 minutes until the apples are soft.
How to Fix a Mistake
Apples aren't soft enough: Microwave for an additional 30-60 seconds depending on how much softer you want the apples to be.
Make Ahead Ideas
It's not ideal to make this in advance because apples turn brown so easily.
However, since you are tossing the apple slices with lemon juice, you can prepare the apples (cut and toss with cinnamon and lemon juice) in advance. Then add the topping right before microwaving.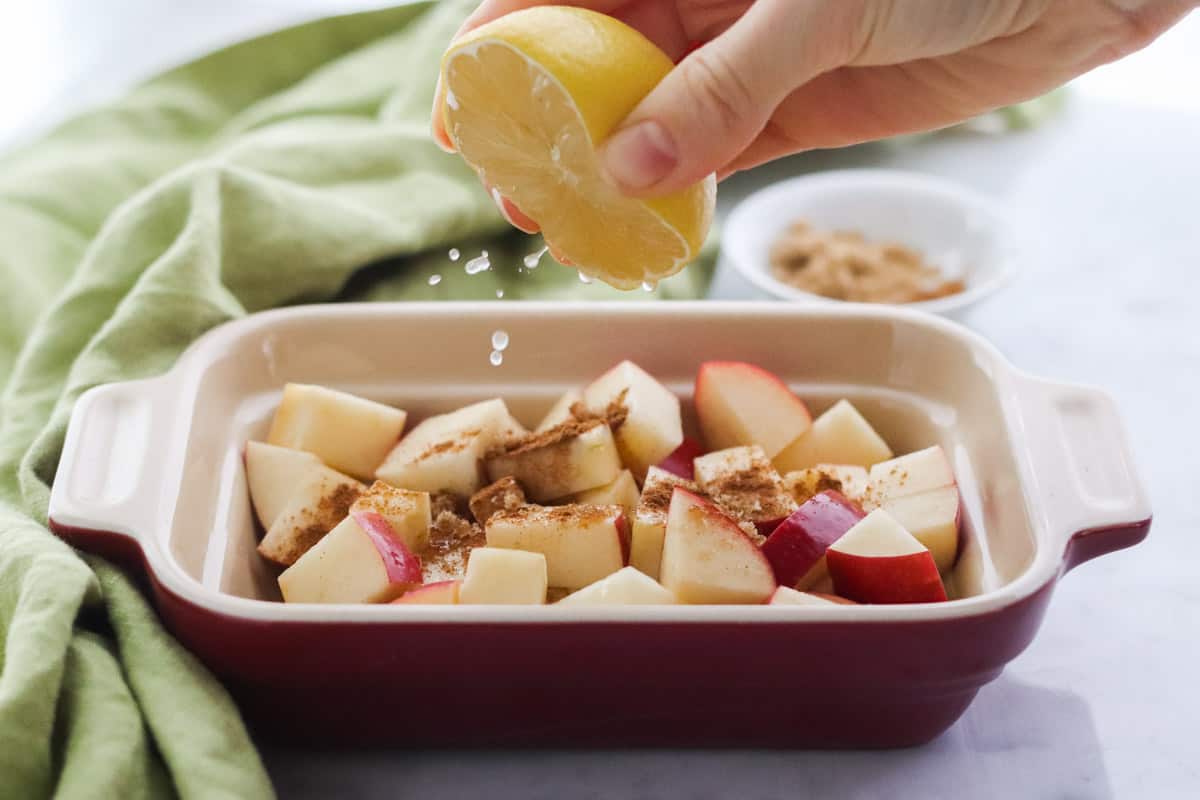 Storage Suggestions
The recipe serves one, so you likely won't have leftovers. Store in the fridge in an airtight container if you do have any remaining.
Frequently Asked Questions
How long do you microwave apples to soften?
To soften apples in the microwave, cook them for 2 to 3 minutes. For more even softening, it's best if you slice or chop them before microwaving.
Can you cook fruit in the microwave?
Yes, you can cook fruit in the microwave. Apples are a great fruit to cook in the microwave. They do well when you slice or chop them before baking, so they cook more evenly.
Can you microwave apples with the skin on?
Yes, you can microwave apples with the skin on. This is great to save time and increase the nutritional value since the peel is high in vitamins, minerals, and fiber.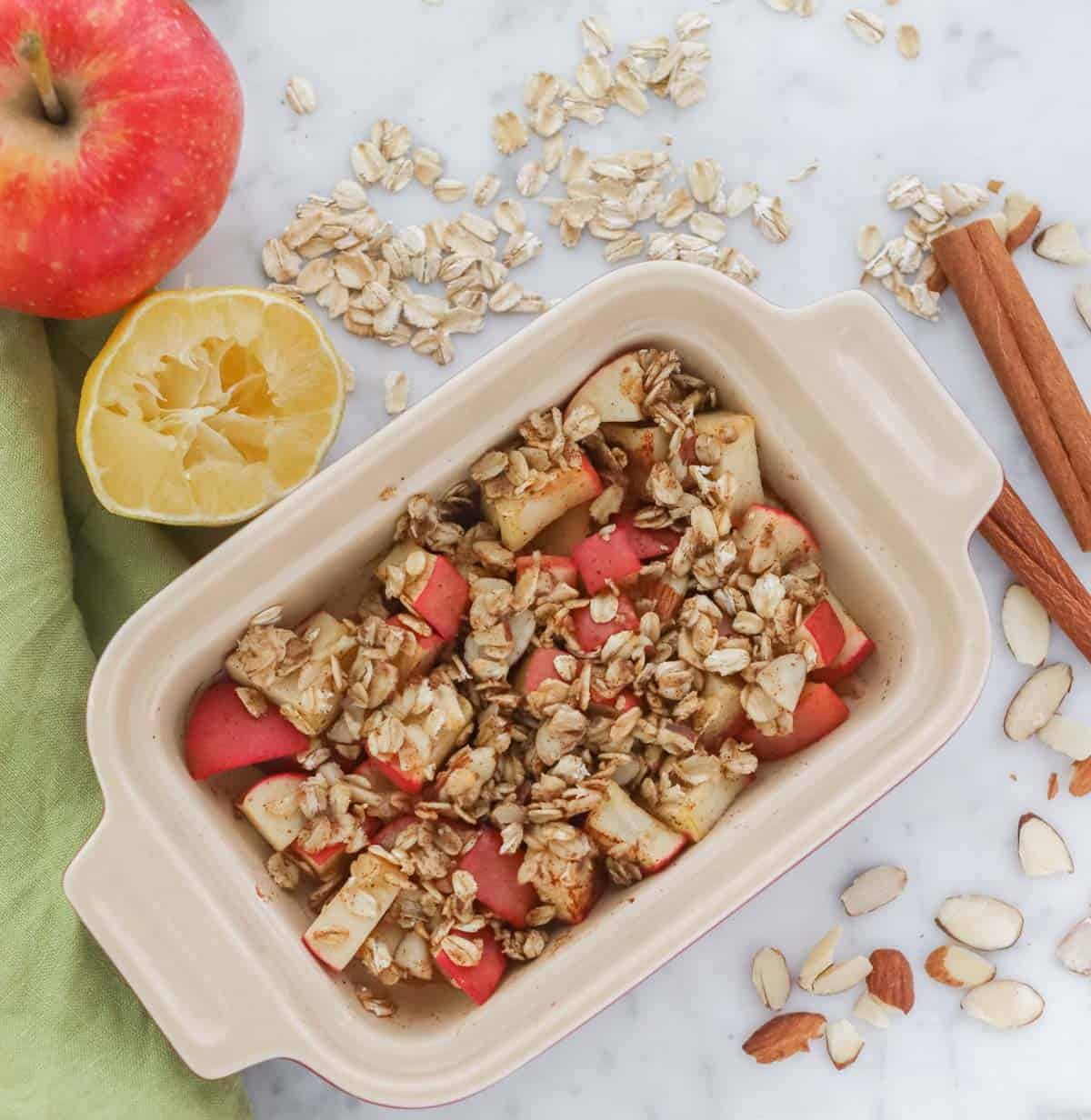 Are microwaved apples healthy?
While dessert usually isn't super nutritious, the nice thing about microwave baked apples with oatmeal is that it is simply apples, cinnamon, and oats with a touch of brown sugar and butter.
Adding nuts provides satisfying and nourishing fat to the recipe and can help your body absorb the nutrients in this dish.
Thanks to the apple, oats, and nuts, you'll get about 6 grams of fiber in this dessert. Plus, the recipe is low in added sugar with only 1 teaspoon of brown sugar in the entire recipe. You can also omit the sugar or use a sugar alternative if needed.
What to serve with Microwave Baked Apples
There's nothing better than topping this with ice cream. I mean it doesn't really need ice cream on top, but it sure is good with that scoop of cold ice cream melting into the gooey warm cinnamon apple goodness.
Another option is to add some plain or vanilla yogurt to add a little extra protein and tang; this would be great if eating the baked apple for breakfast or a snack.
Final thoughts
If you love dessert and want one that is easy, serves only one person (and can also be multiplied to serve more if needed), and is nutritious + low in added sugar, then you will want to keep this microwave-baked apples with oatmeal recipe in mind.
In less than 10 minutes, you'll get a tasty, nutritious, and filling dessert, snack, or breakfast.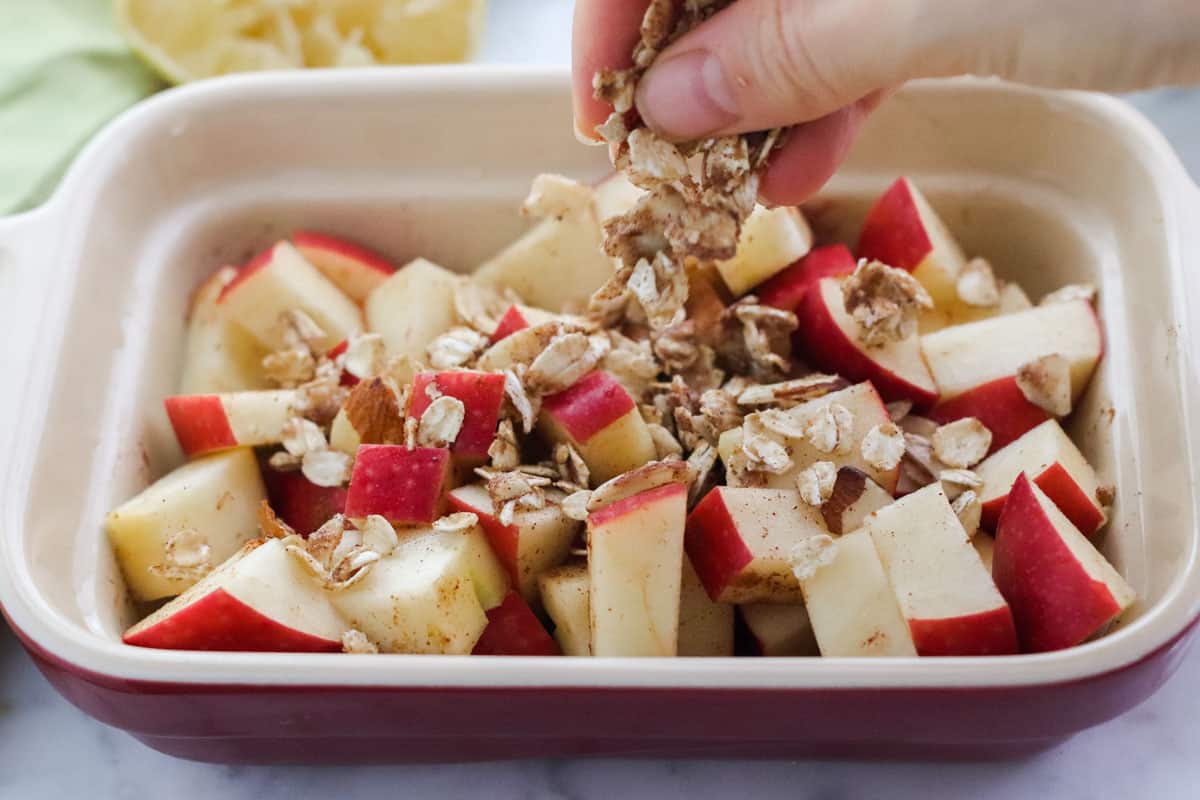 MORE MICROWAVE RECIPES YOU'LL LOVE:
---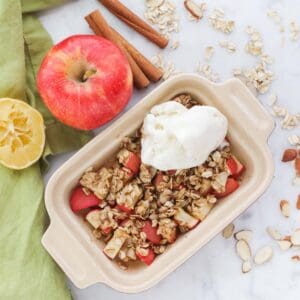 Microwave Baked Apples
A dessert that's perfect for when you don't want something too complicated.
Print
Rate
Ingredients
1

small

apple

(about 4-5 ounces)

½

teaspoon

cinnamon

divided

1

teaspoon

brown sugar

divided

¼

lemon

2 tablespoons

2

tablespoons

oats

1

tablespoon

nuts

1

teaspoon

butter
Instructions
Slice the apple into bite sized pieces, and place in a small microwaveable baking dish or bowl.

Stir ¼ teaspoon cinnamon and ½ teaspoon brown sugar into the apples. Squeeze in about ¼ of a lemon and stir together.

In a small bowl, stir together the oats, nuts, and the remaining ¼ teaspoon teaspoon of cinnamon and ½ teaspoon brown sugar.

Using a fork or you fingers stir in the butter and try to get most of the oat/nut mixture coated with butter. It should feel like wet sand. Sprinkle crumb topping over apples.

Microwave on high for 2-3 minutes until apples are softened. Let cool for a minute and enjoy!
Notes
*

Great topped with a scoop of ice cream or vanilla yogurt.
*Use old-fashioned

or quick oats, not flavored or steel cut.
*Any nuts or seeds will be delicious or omit if desired.
*Recipe was tested using

a 7x5 shallow baking dish.
*

When testing, apples were ready after 2:35 minutes.
What to Use in This Recipe
Did you try this recipe?
Be sure to leave a comment & recipe rating below. Bonus points for tagging @memeinge & #livingwellkitchen on Instagram! THANK YOU! xo
Meme
This post was originally published on November 14, 2012. Text, recipe, and photos have been updated.
---
Microwave Baked Apples Nutrition Facts
Nutrition Facts
Microwave Baked Apples
Amount per Serving
% Daily Value*
* Percent Daily Values are based on a 2000 calorie diet.