A loaded cheese spread perfect for snacking any time of the day made with Real California Milk cheese and packed with almonds, jalapeños, garlic, and green onions
Disclosure: By posting this recipe I am entering a recipe contest sponsored by Real California Milk products and am eligible to win prizes associated with the contest. I was not compensated for my time.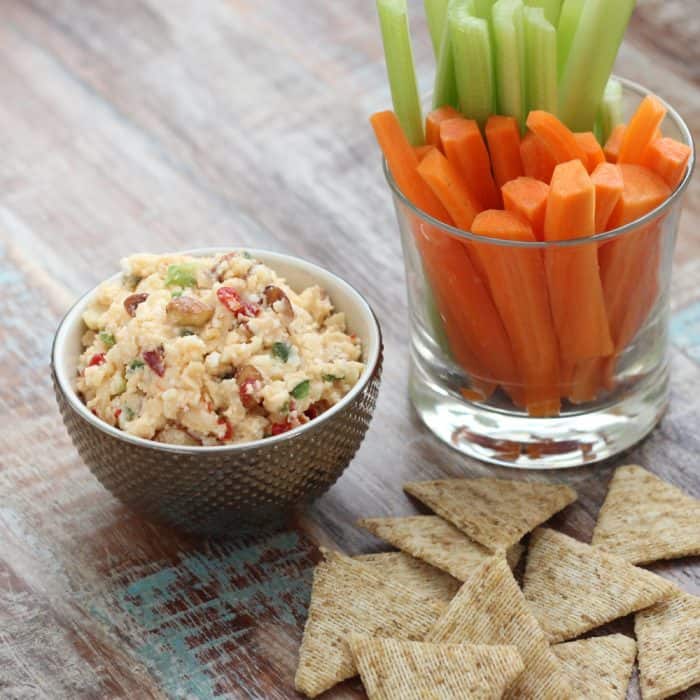 Hey, hi!
I have two fun things today. 1) Loaded Pimento Cheese. It's as good (if not better) than it sounds. 2) I'm moving.
I have a deep love of pimento cheese. It's something I keep in my fridge almost always (along with chicken salad). It's great to serve with veggies or crackers for a snack or make a grilled cheese with it. It's also a great appetizer.
A part of the Recipe ReDux includes fun recipe contests. This one is the Real California Dairy challenge to create a snack or breakfast that everyone will enjoy. I decided I'd make pimento cheese because it's multipurpose and great to satisfy between meal hunger pangs.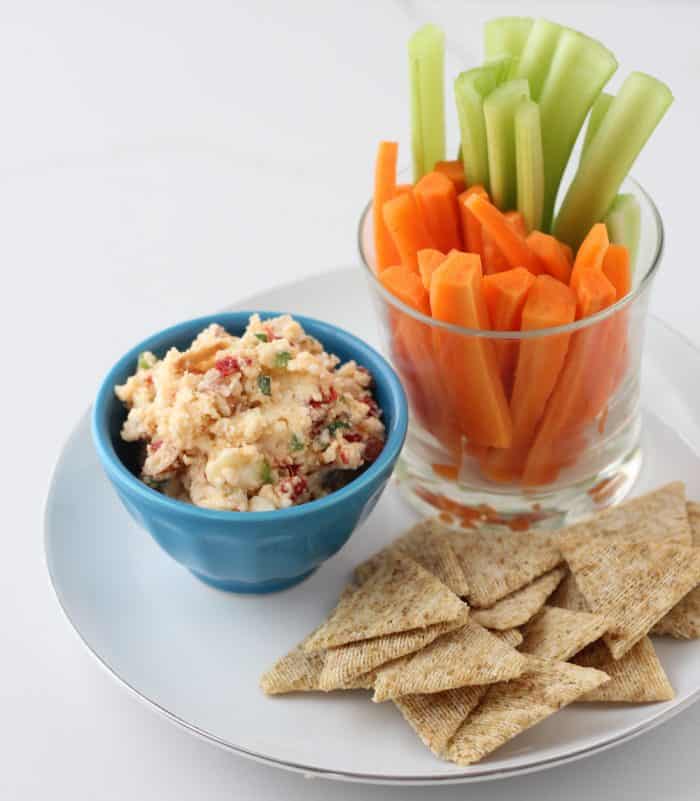 You can make a big batch on a Sunday and enjoy the rest of the week, or make some and enjoy immediately. It's up to you. But just so you know, you're going to want to make a big batch because this stuff is incredibly good.
I love it because it has simple ingredients but so. much. flavor.
This loaded pimento cheese is made with Real California Milk cheddar cheese & cottage cheese and is loaded with toasted almonds, jalapeños, garlic, and green onions.
California happens to be the largest producer of milk, ice cream & butter and is the second largest producer of cheese and yogurt. Plus, 99% of California dairies are family owned.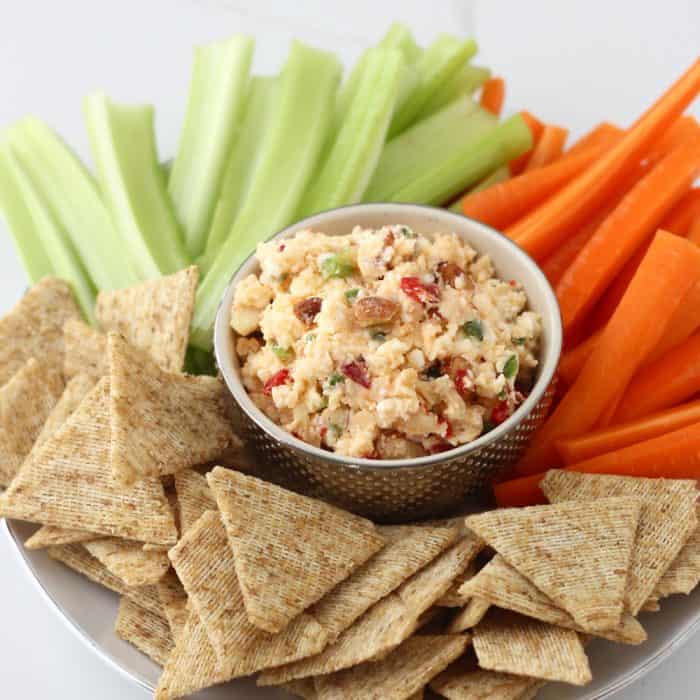 Speaking of California, we'll get to the second part of this post.
The short version: I am leaving New Orleans at the end of the month, spending the summer traveling, then moving to San Diego in August.
Sound crazy? Well, here is the long version (feel free to skip to the bottom of the page for the recipe and links to other fantabulous Real California Milk recipes. You've been warned...)
Since August, I've had this urge to have a new adventure. I love New Orleans with all my heart, but I felt the need for some fresh inspiration.
While at lunch with a few friends, we started discussing where we'd go next if we left New Orleans. I remember saying "I've always wanted to live in California, but it's so far away and expensive. I wish I had gone there for grad school or something..."
I've always lived in the South with less than a 5 hour drive away from home. I love where I grew up (Mobile, AL). I love where I went to college (University of Alabama). I love where I spent my grad school years (Birmingham, AL). And I love New Orleans. But maybe I'd love somewhere else...?
So I mentioned something to my sister about moving. We thought of a few options, cities closer to home like Nashville or Charleston or Austin. And while I love those cities, none of them made me excited.
"What about California? I've always wanted to live there!"
I 100% thought my sister would say no, but she did something I did not expect. She said "yes! You should do it!"
Next thing I know, I'm researching places to live in California. Ok, so I'm really big into planning. I don't make impulse decisions especially when they involve me moving 2000 miles away from home.
I decided San Diego would be a great place to live. One little problem though: I'd never been. It's probably not the best idea to move to a city where you've never even visited, right?
I promptly changed that and booked a flight for October. After my four day visit, I fell in love. I mean, how do you not fall in love with San Diego? My friend kindly gave me the grand tour of the city.
I was there for four days so I had a fair amount of time to do some exploring. Well, enough exploring to decide I would want to move there. I mean, I kinda decided I wanted to move there in the first hour of being there. Who cares if I didn't know every single detail about the city. That just means I have more to explore!
Here's the thing, I'd much rather try something and not love it, then not do something and never know. I firmly believe that everything in your life happens for a reason & to get you where your going, and in reality, it's not about the destination. It's about living a life where you feel fulfilled, making (real life/non-social media) connections with others, and enjoying the small moments. Ok, that is chock-full of cliches but they're cliches for a reason.
Moral of the story, I'm moving and I'm super excited about it. Well, I have all the emotions but mostly excited. Side note: who wants to move me out of my apartment and/or to San Diego?!
I usually don't ramble too too much about my personal life on the blog. I mean, after updating multiple old posts recently, I realize that I mainly talk about the weather and my trips to the grocery store. (omg, sorry if I bore y'all)
However, I felt like it would be weird for me to just up and move without me letting you know. We're friends, and it'd be totally strange if I started talking about San Diego and you had no idea. Talking about Real California Dairy is an easy way for me to combine the two, plus you get a really tasty loaded pimento cheese recipe. Basically, we all win.
Not too much will change on the blog other than my photo layouts will probably look a little different, and I'll probably talk less about rain or the really cold days since San Diego is known for its sunshine and mild temps.
So there's that. Be sure to follow me on Instagram to follow along on my adventures this summer and all along my road trip to California 🙂
[clickToTweet tweet="AD: Loaded @RealCalifMilk cheese spread w/ almonds + jalapeños is perfect for snacking" quote="AD: Loaded @RealCalifMilk cheese spread w/ almonds + jalapeños is perfect for snacking"]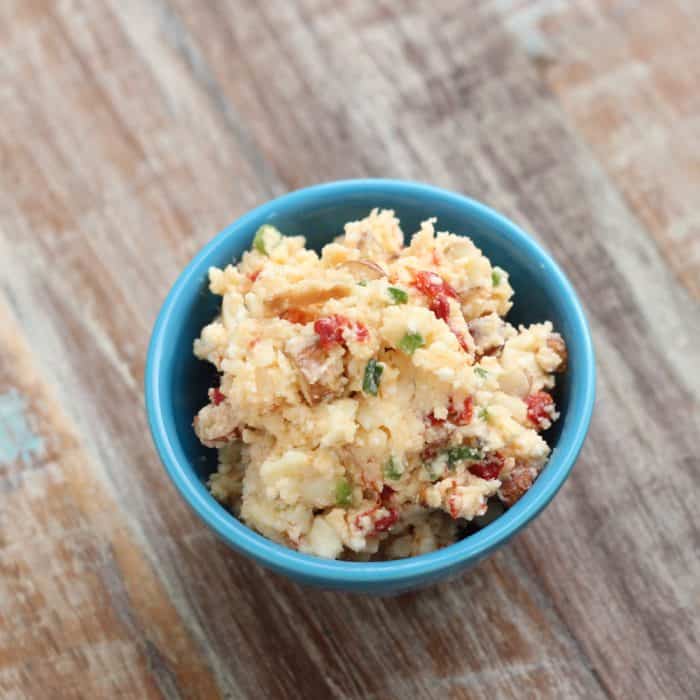 Now, here is what you've been waiting for... The recipe for loaded pimento cheese. Woohoo!
Don't stress if you're not in California. You don't have to live there to find Real California Milk products.
All you need to look for is the Real California Milk or Cheese seal, which guarantees that it is made from 100% Real California Milk. You can find it pretty much anywhere... Whole Foods, Walmart, even Walgreens.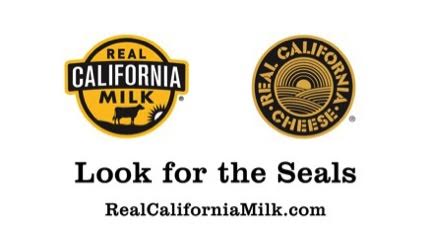 As for the loaded part of the pimento cheese, use whatever nut you like best. I always have almonds, so I chose those. Walnuts would also be great in here. I like my pimento cheese spicy, so I include most of the jalapeño seeds, but feel free to use less or take out all the seeds.
One thing to know about pimento cheese is that the longer it sits, the more pronounced the flavors get. Pimento cheese is tasty right after making it, but the flavors intensify after a few hours. Make sure not to go overboard with your jalapeños or you'll have super spicy loaded pimento cheese, which I honestly don't think I'd hate 🙂
Whatever you do, make sure you do not, I repeat do not, buy pre-shredded cheese. You must grate the cheese yourself. It makes a significant difference! Other than that, the recipe is pretty straightforward and easy, which is great because you'll be making it often.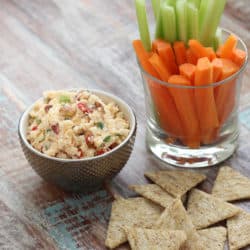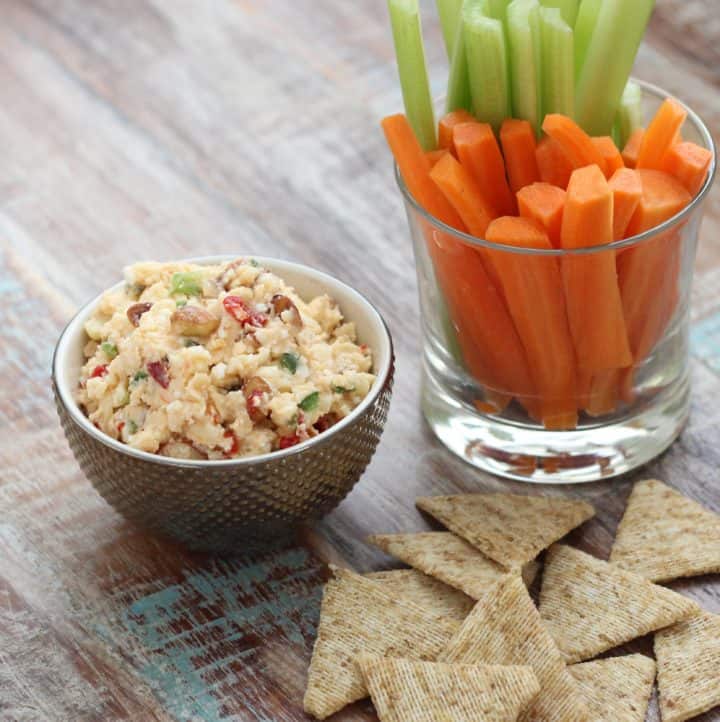 Loaded Pimento Cheese
A loaded cheese spread perfect for snacking any time of the day made with Real California Milk cheese and packed with almonds, jalapeños, garlic, and green onions
Print
Rate
Ingredients
½

chopped almonds

2 ounces

8

ounces

Real California Milk cheddar cheese

½

cup

Real California Milk cottage cheese

4

ounce

jar diced pimentos

drained

3

tablespoon

chopped green onions

about 2 green onion

2

tablespoon

minced jalapeños

about ½ jalapeño

½

teaspoon

minced garlic

1 small clove
Instructions
In a dry skillet, toast almonds over medium heat for about 8-10 minutes until they are lightly toasted. Set aside to cool.

In a large bowl, grate the Real California Milk cheddar cheese. Add in cottage cheese and stir well. Add in pimentos, green onions, jalapeños, garlic, and toasted almonds. Mix until completely combined. Refrigerate until ready to enjoy!

Great served with veggies & crackers, on toast, or in a sandwich
Notes
*Substitute an equal amount of walnuts for the almonds if desired.
*Makes 2 ½ cups
Did you try this recipe?
Be sure to leave a comment & recipe rating below. Bonus points for tagging @memeinge & #livingwellkitchen on Instagram! THANK YOU! xo
[showhide type="post" more_text="Click here for Nutrition Facts" less_text="Clear Nutrition Facts"]
*
Nutrition Facts
Loaded Pimento Cheese
Amount per Serving
% Daily Value*
* Percent Daily Values are based on a 2000 calorie diet.
*
[/showhide]
Meme
Check out these other great recipes made with Real California Milk:

Pin for later: