Spicy and sweet, this rich hot chocolate will satisfy your craving for a warm, comforting beverage.
Disclosure: This post is sponsored by The a2 Milk Company. All thoughts and opinions are my own. These partnerships help make Living Well Kitchen a reality, and I appreciate your support of the brands I love!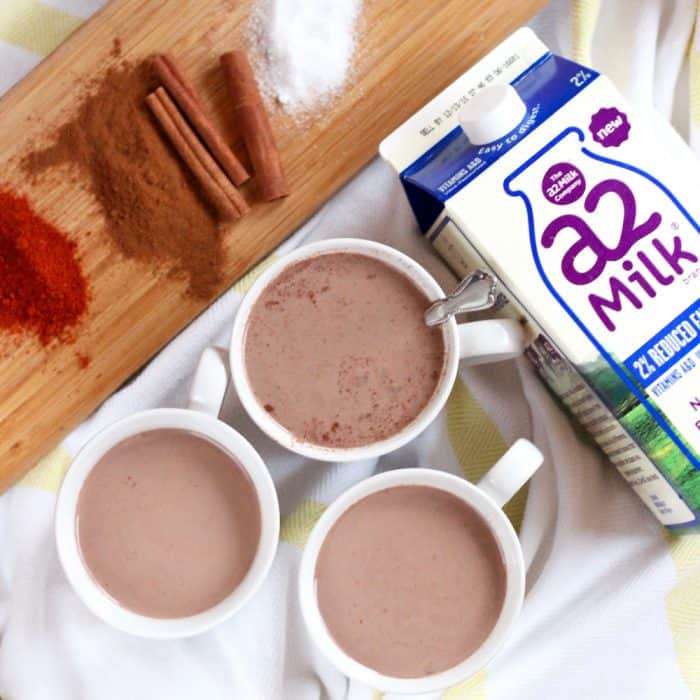 The excitement I have about this recipe is almost impossible to put into words. Almost impossible because I have to write something to tell you how great it is, right? 😉
First, it's soup and hot chocolate season which is the best season. I honestly don't love being cold but the fact that I can warm up with soup and hot chocolate makes it all better!
This hot chocolate is both spicy and sweet at the same time. The cinnamon adds warmth and sweetness while the spicy cayenne pepper adds a nice kick.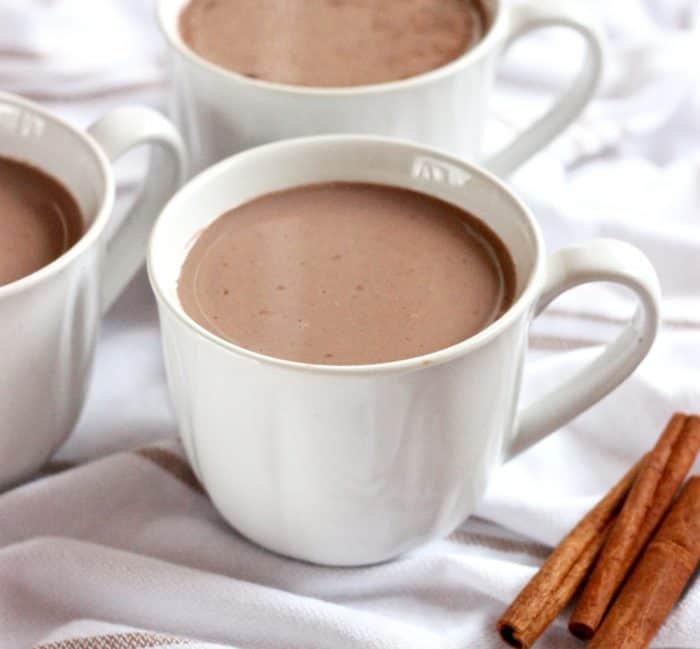 Instead of using a bunch of added sugar, I use maple syrup. Yes, that's sugar, but cocoa powder needs sugar to taste sweet. Most hot chocolate packets contain anywhere between 8 and 15g of sugar, and let's be honest... I drink at least two hot chocolates with those tiny little packets.
With this rich Mayan Hot Chocolate, one is more than enough to satisfy that craving for a comforting chocolatey treat!
The second reason I'm so happy about this recipe is because it's the first time in many many moons that I can drink a full glass of hot chocolate and not feel slightly nauseous. Usually, I have to drink hot chocolate with a big meal to help me not feel sick.
Milk makes my stomach hurt, and while I can drink a small amount without issues, too much makes me feel sick.
Not anymore with a2 Milk®
Why? Well, a2 Milk® is special milk. It's 100% real milk from real cows that is naturally easier to digest thanks to the fact that it only has the a2 milk protein.
[clickToTweet tweet="This tasty, rich Mayan Hot Chocolate w/ @a2milkUSA is a spicy, sweet, comforting beverage! #hotchocolate" quote="This tasty, rich Mayan Hot Chocolate w/ @a2milkUSA is a spicy, sweet, comforting beverage!"]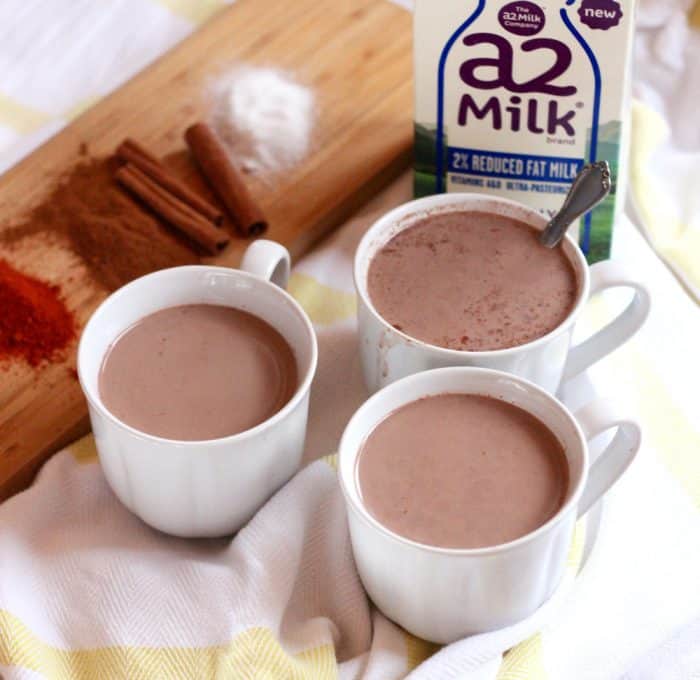 Let me explain... Initially, cows only had the A2 milk protein. As cows were domesticated and bred, some cows changed from producing only the A2 protein to producing A1 protein as well.
The A1 protein has recently been shown to be digested differently in humans than the A2 protein which can cause digestive discomfort.
a2 Milk® tastes just like real milk because it is real milk!
They use regular cows from regular, family-owned farms that have the A2 protein only. It's a simple genetic trait, kind of like I have blue eyes and maybe you have brown. Then they only use the milk from those cows and test the milk after to ensure the milk is only A2.
Nothing has been added to the milk or taken away.
It's just regular ole' milk that is packed with the nutrients milk has (like potassium, calcium, protein, vitamin B12, magnesium, niacin, riboflavin, and more) without the A1 protein that could potentially cause that unwanted digestive discomfort.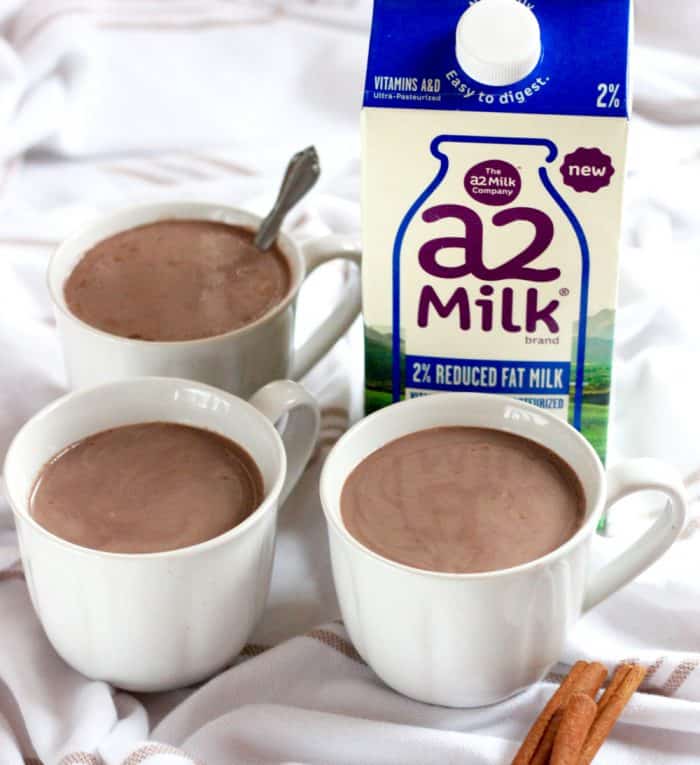 Basically, if you have always felt uncomfortable when drinking milk (but don't have an actual life-threatening milk allergy) then a2 Milk® might be a great option for you!
Be sure to check out my Facebook Live post below.
Cheers!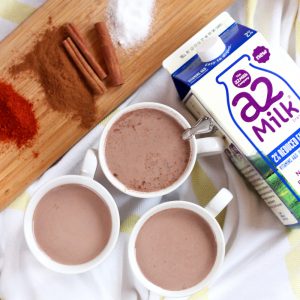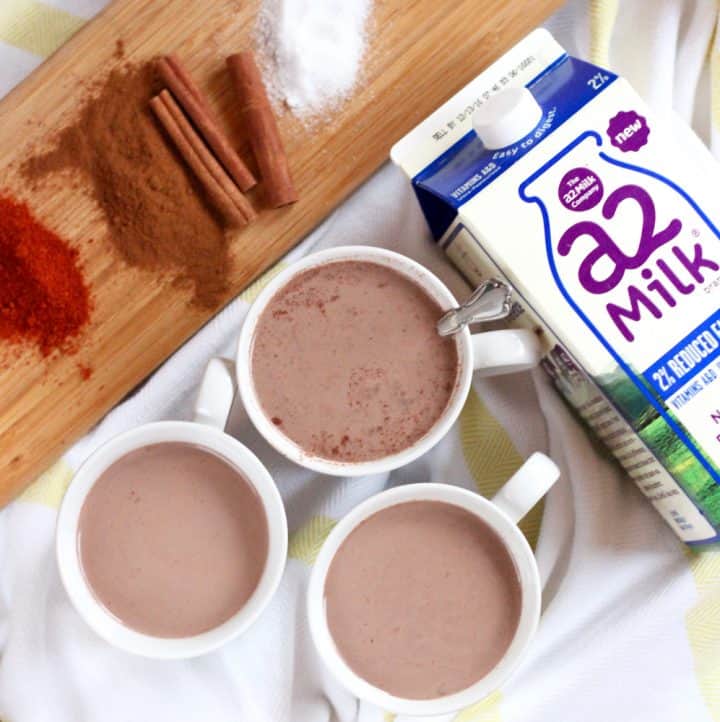 Mayan Hot Chocolate
Spicy and sweet, this rich hot chocolate will satisfy your craving for a warm, comforting beverage.
Print
Rate
Instructions
Whisk together water, maple syrup, cocoa powder, vanilla extract, cinnamon, cayenne pepper, and salt in a medium saucepan over medium-high heat. Bring to a boil.

Reduce heat to medium-low and slowly whisk in a little a2 Milk®. Stir to completely incorporate the milk; then whisk in remaining milk. Stir to completely combine.

Heat for about 5-8 minutes until milk is hot but not boiling. Pour into mugs and enjoy!
Did you try this recipe?
Be sure to leave a comment & recipe rating below. Bonus points for tagging @memeinge & #livingwellkitchen on Instagram! THANK YOU! xo
[showhide type="post" more_text="Click here for Nutrition Facts" less_text="Clear Nutrition Facts"]
*
Nutrition Facts
Mayan Hot Chocolate
Amount per Serving
% Daily Value*
* Percent Daily Values are based on a 2000 calorie diet.
*
[/showhide]
Meme
Pin for later: