Pumpkin Pie Smoothie is an excellent pumpkin treat, especially when it's too hot to have warm pumpkin recipes. Creamy, refreshing, and delicious. Great for a nutritious snack full of fiber, protein, and two servings of veggies.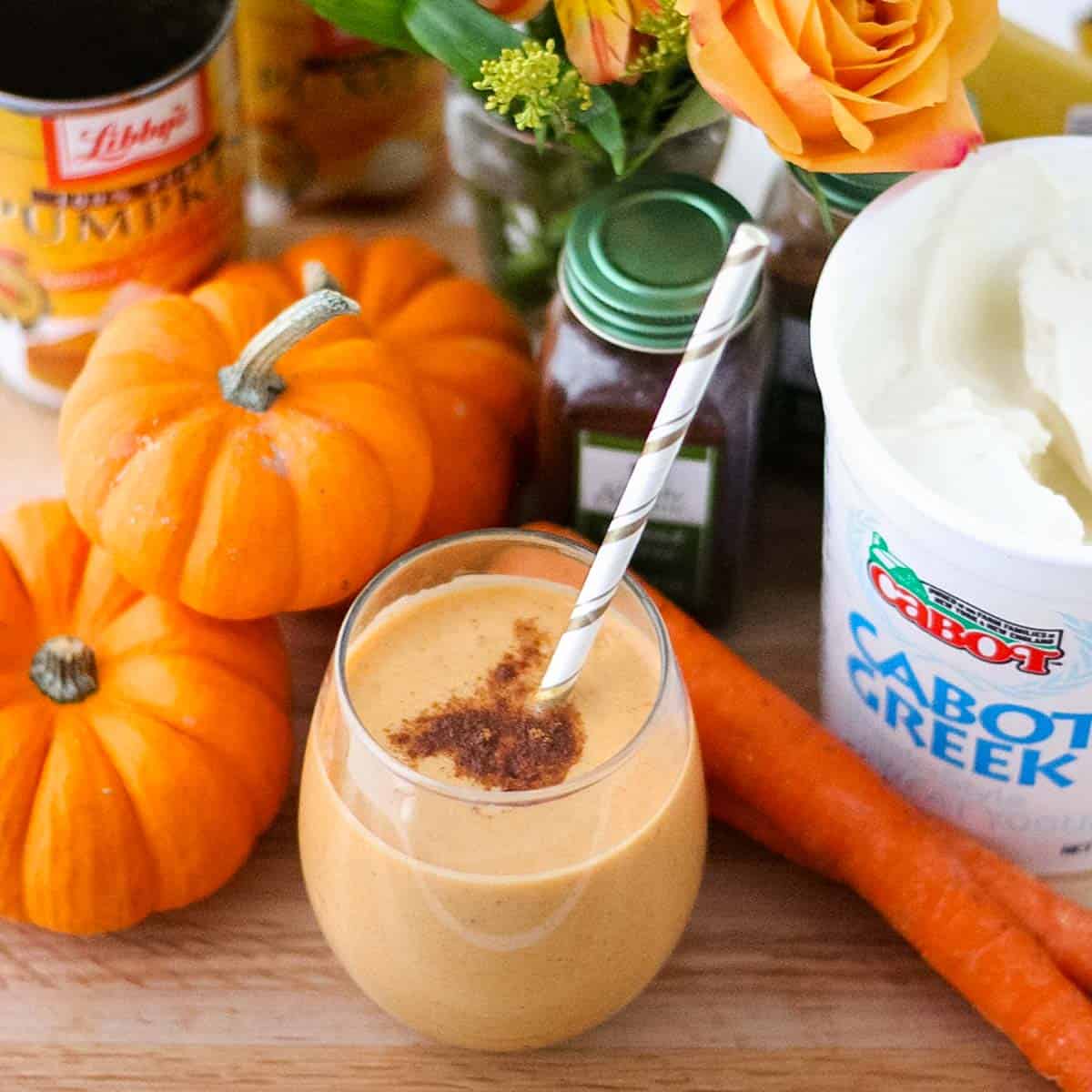 About Pumpkin Pie Smoothie
Pumpkin Pie Smoothie with all the yummy flavors of pumpkin pie is a delicious and nourishing breakfast or snack.
And it's perfect for those days you want pumpkin in your life, but it's just too warm outside to have Pumpkin Soup, Pumpkin Macaroni and Cheese or Pumpkin Chili.
Or you want something to cool you off after a lovely workout outdoors.
Plus, it's one of the many recipes on this blog that is great for using up leftover pumpkin puree. Need more ideas? Try Spicy Pumpkin Deviled Eggs, Pumpkin Rice Crispy Treats, Pumpkin Chai Latte, or Pumpkin Yogurt.
The best part about this Pumpkin Pie Smoothie other than how it tastes is that it has 10 grams of protein and 9 grams of fiber to keep you full and satisfied for a while!
It's definitely not a boring, unsatisfying smoothie. And you'll love that you get 2 servings of veggies and 1 serving of fruit in each smoothie.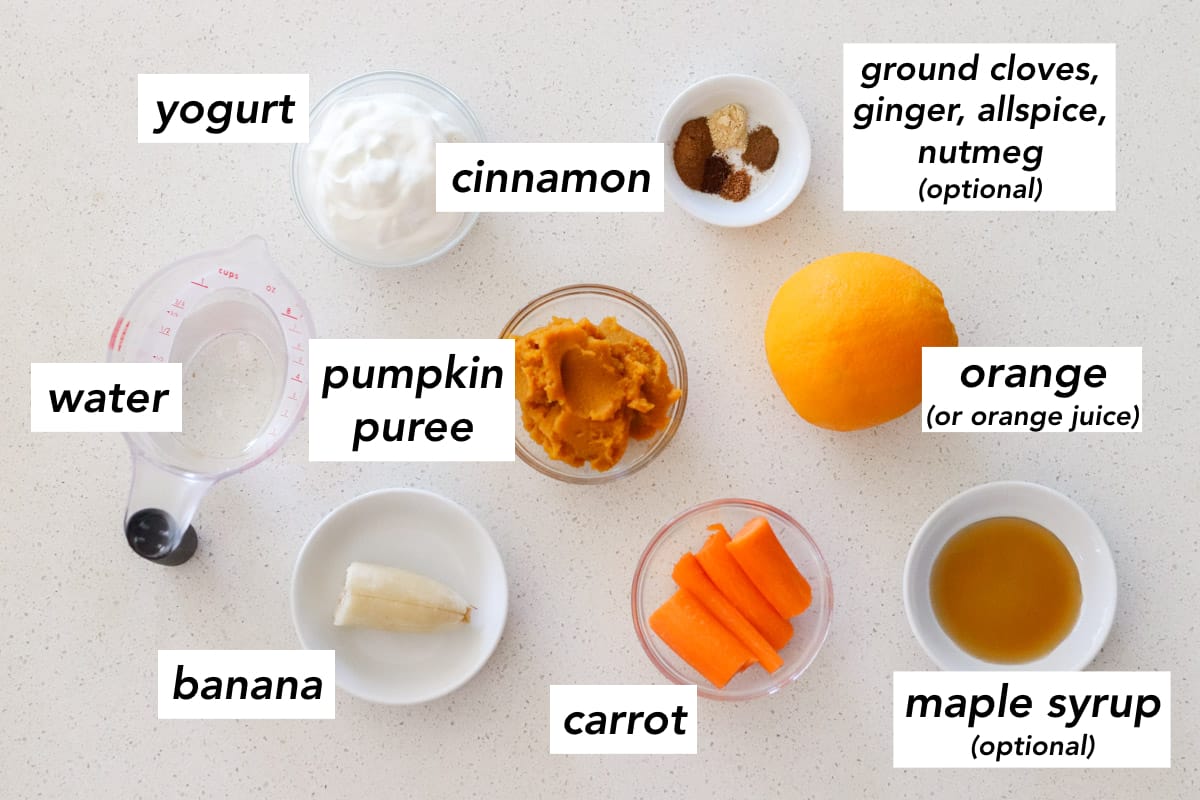 Ingredients
Pumpkin: Any pumpkin puree, whether canned, fresh, or frozen, will be great for this pumpkin pie smoothie.
Carrots: The carrots add a little natural sweetness plus extra nutrients and fiber. If you are using a high-powered blender, simply add a roughly chopped carrot. However, a less powerful blender might not be able to get the raw carrot completely smooth. You can steam carrots ahead of time and keep them in the freezer or refrigerator until you're ready to make the smoothie.
Yogurt: To add protein and creaminess, you'll use yogurt. Any kind of yogurt will work. The recipe was tested using plain Greek yogurt, which is tangy and tart. If you prefer a sweeter smoothie, use vanilla Greek yogurt. You can adjust the amount of yogurt you use based on your sweetness preferences.
If using regular yogurt (that isn't as thick as Greek yogurt), use half of the water and add more if needed.
Banana: The banana is for sweetness and creaminess. Frozen banana is preferred to get a thick texture, but using a fresh banana will work. Simply add a few ice cubes if you want a colder, thicker smoothie. Start with a small banana or half of a medium/large banana, and add more if needed.
Liquid: There are multiple options for blending liquid. Water, coconut water, milk, coconut milk, almond milk, or other non-dairy milk can all be used. They will adjust the flavor and texture slightly but not much.
Flavor additions
Spices: Cinnamon is the most important spice. Highly recommend making sure to use cinnamon.
Ground ginger, cloves, nutmeg, and allspice are optional but delicious. You can also use pumpkin pie spice in place of ginger, cloves, nutmeg, and allspice.
Orange: To brighten the flavor and add a little more sweetness, a big squeeze of orange juice (or even a slice of peeled orange) is recommended. Lemon juice can also be used, or you can skip this ingredient.
Sweetener: Maple syrup is what the recipe was tested with, but it is not completely necessary, especially if you use enough banana and/or sweetened yogurt (or less plain yogurt). Also, coconut water or any type of milk will enhance the natural sweetness of the smoothie. Alternative sweeteners like honey, sugar, or a sugar substitute can be used. Start with about 1 teaspoon and adjust as needed.
Cost of Recipe
pumpkin puree ½ cup: $0.40
carrot 1 medium: $0.20
Greek yogurt 3 ounces: $0.42
banana 1 small: $0.24
water ½ cup: $0
cinnamon ½ teaspoon: $0.04
ground cloves ⅛ teaspoon: $0.02
dash of nutmeg & allspice: $0.02
ginger ⅛ teaspoon: $0.02
orange juice 2 tablespoons: $0.50 (whole orange)
maple syrup 1 teaspoon: $0.06
TOTAL COST: $1.92 (Based on San Diego grocery stores 2022)
Note that this is not the recipe; it's simply to show the cost breakdown of ingredients. Be sure to scroll down to the full recipe to see the specific ingredients and directions.
How to Make Pumpkin Pie Smoothie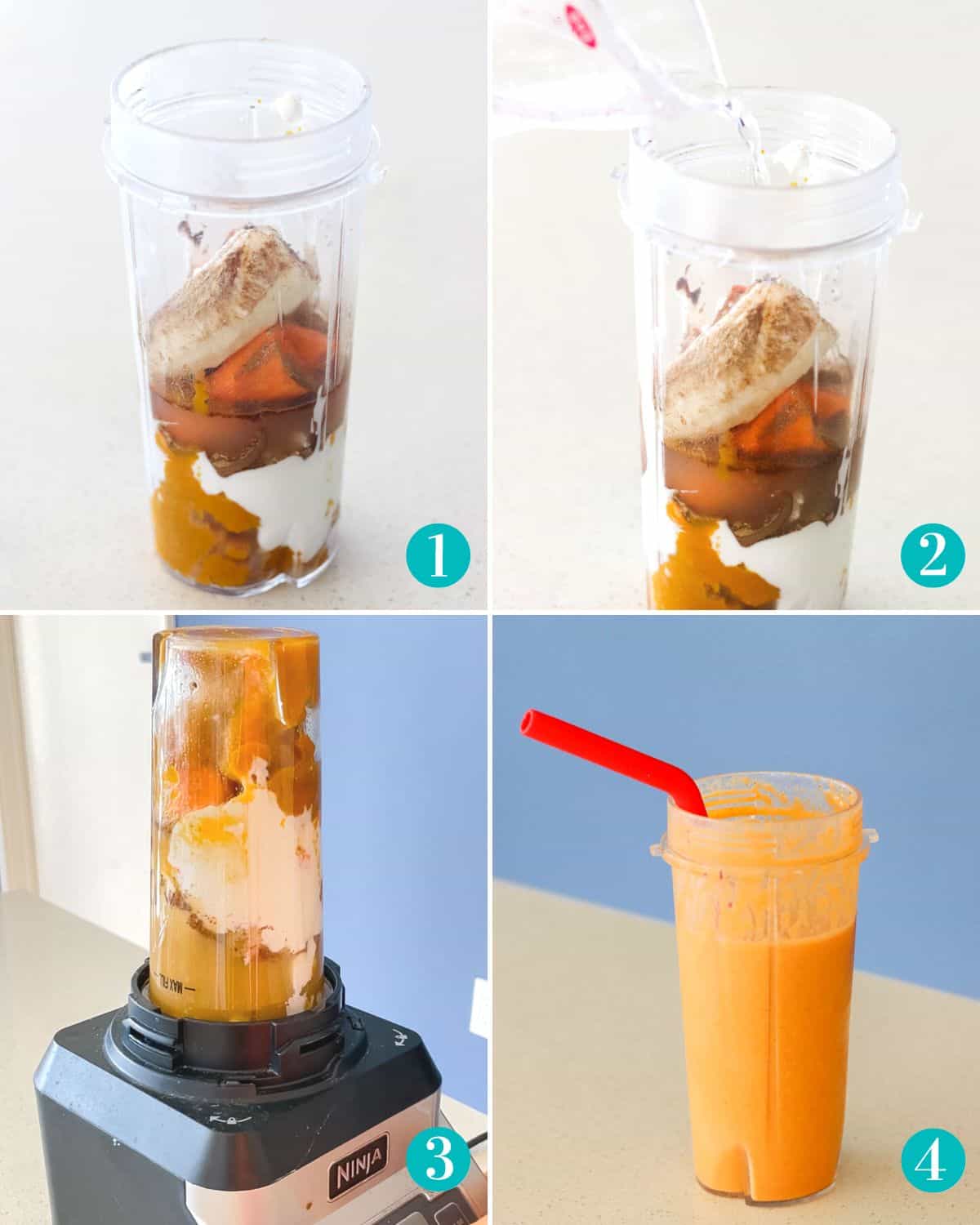 Time needed: 5 minutes
Making a Pumpkin Pie Smoothie is easy and can be easily adapted to your preferences and what you have on hand.
Add the Pumpkin puree, carrots, yogurt, banana, and cinnamon to a blender.

If desired, add additional spices.

Pour in water.

Add orange juice and/or maple syrup, if using.

Blend
Enjoy immediately
Recipe Tips
*Use coconut water, coconut milk, almond milk, or milk to make the smoothie sweeter.
*If you do not like the taste of plain yogurt, use vanilla yogurt. Or decrease the amount of yogurt to ¼ cup. If you like the tang of yogurt, increase the yogurt to ½ cup.
*If using regular yogurt, start with only ¼ cup liquid and add more if needed. Regular yogurt is not as thick as Greek yogurt, so you won't need as much liquid to combine the smoothie ingredients.
*If you don't have a frozen banana, just add a few ice cubes to make the smoothie cold and creamy.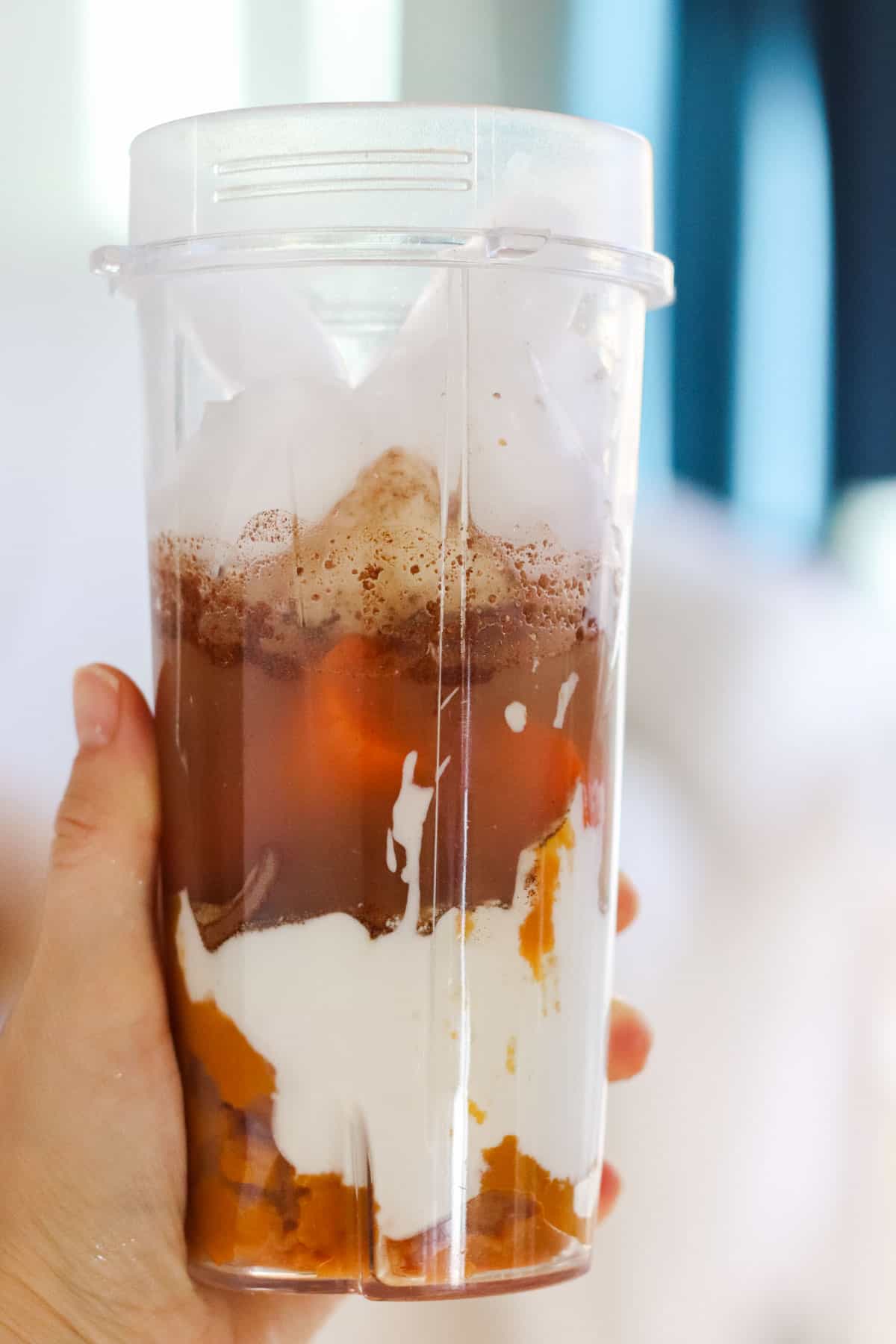 Variations
Ingredient Options
Spices: If you don't have individual ground ginger, allspice, nutmeg, and/or cloves, you can use ¼ teaspoon pumpkin pie spice. Or omit them entirely.
How to Make Allergy-Friendly
This pumpkin pie smoothie is already gluten-free, soy-free, nut-free, and vegetarian.
You can make it dairy-free and vegan by using a dairy-free yogurt or non-dairy milk in place of the water. If needed, add 1 or 2 tablespoons of chia seeds to thicken the smoothie and increase the protein if you aren't using yogurt.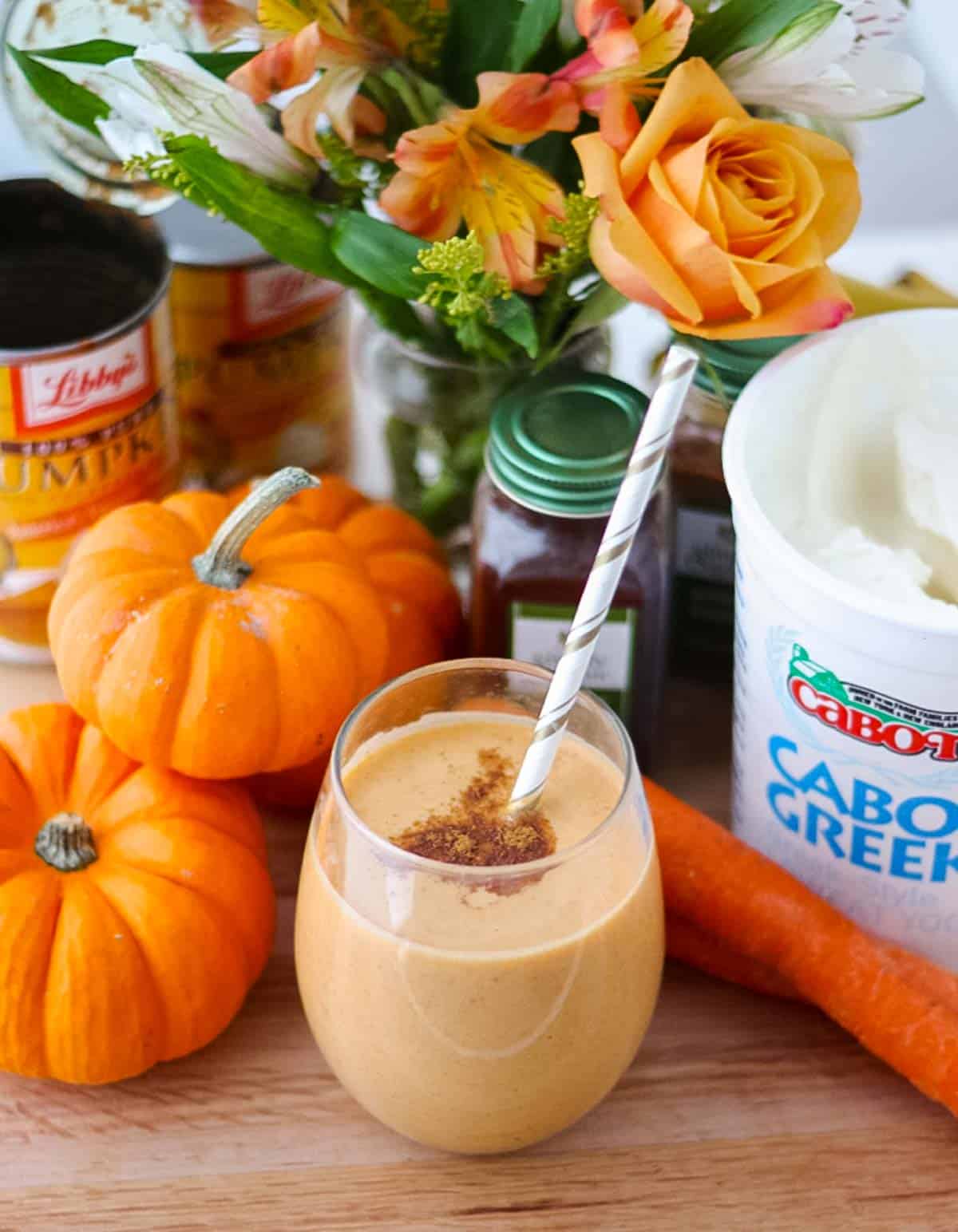 How to Fix a Mistake
Too thick: Add extra liquid, about ¼ cup at a time.
Too thin: Add a few ice cubes, a spoonful or two of Greek yogurt, ¼ of a frozen banana, or 1 tablespoon of chia seeds. Blend, and add more if needed.
Not sweet enough: For a sweeter smoothie, add extra banana, maple syrup, or another sweetener (like honey, sugar, or sugar substitute).
Too sweet: Add extra yogurt or pumpkin puree.
Make-Ahead Ideas
Because this is best enjoyed immediately, you can prepare the ingredients in advance by adding everything to the blender cup and putting it in the freezer. Then add liquid, blend, and enjoy.
Storage Suggestions
Again, the texture and flavor are best right after making. But if you have any leftover smoothie, store it in an airtight container in the fridge or freezer. Defrost in the fridge and stir before enjoying again.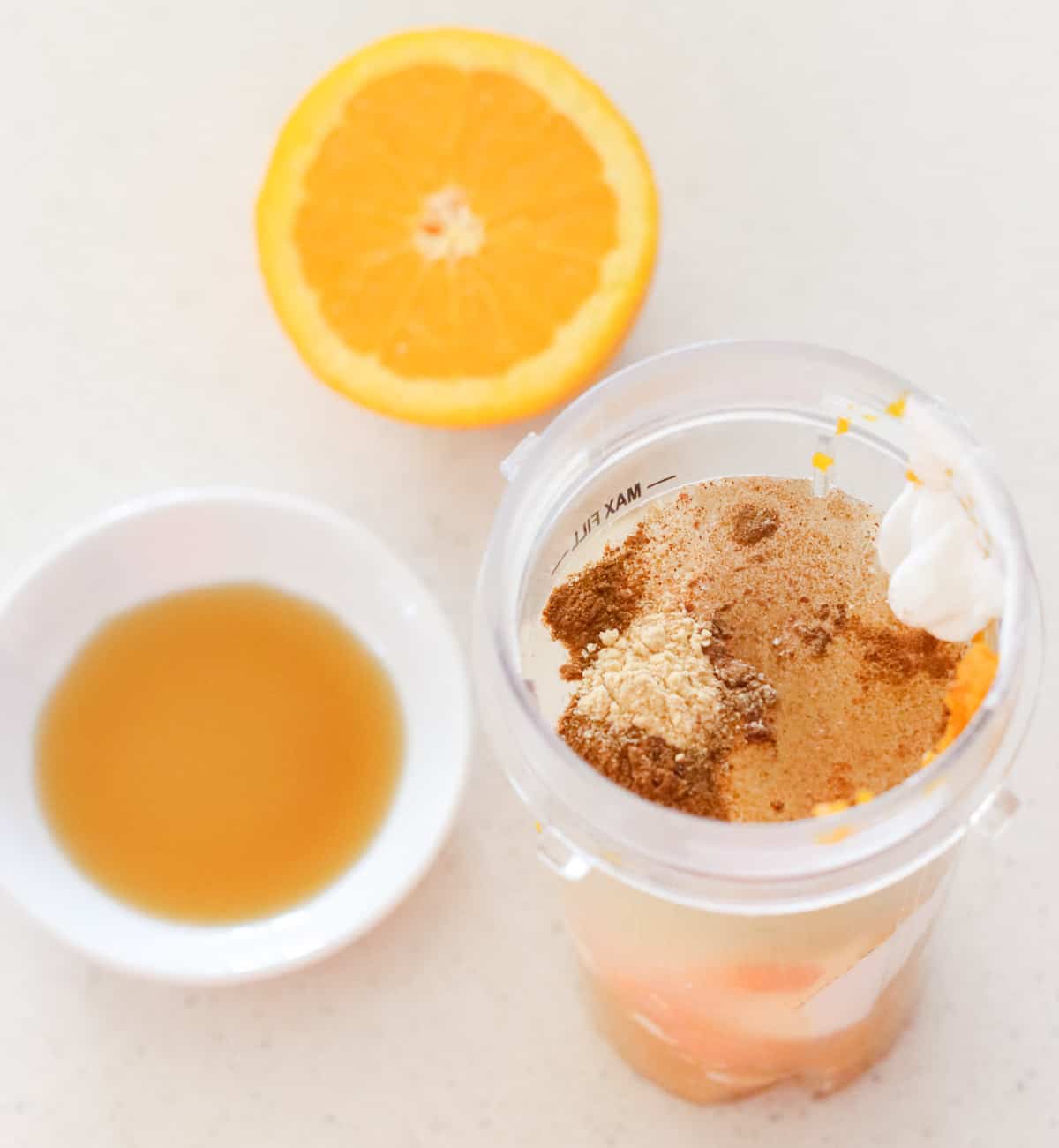 Frequently Asked Questions
What can you add to this Pumpkin Pie Smoothie?
Peanut butter, almond butter, sunflower seed butter, cashew butter, and chia seeds are all delicious additions that are also full of nutrients, extra protein, fiber, and fat. Use about 1 tablespoon for one smoothie.
Nutrition Benefits
This pumpkin carrot smoothie has 3 servings of produce (2 servings of veggies and 1 serving of fruit), so you are getting tons of nutrients, vitamins, and minerals.
Plus, it has 9 grams of fiber and 10 grams of protein, so it'll keep you full and satisfied, unlike other smoothies and juices.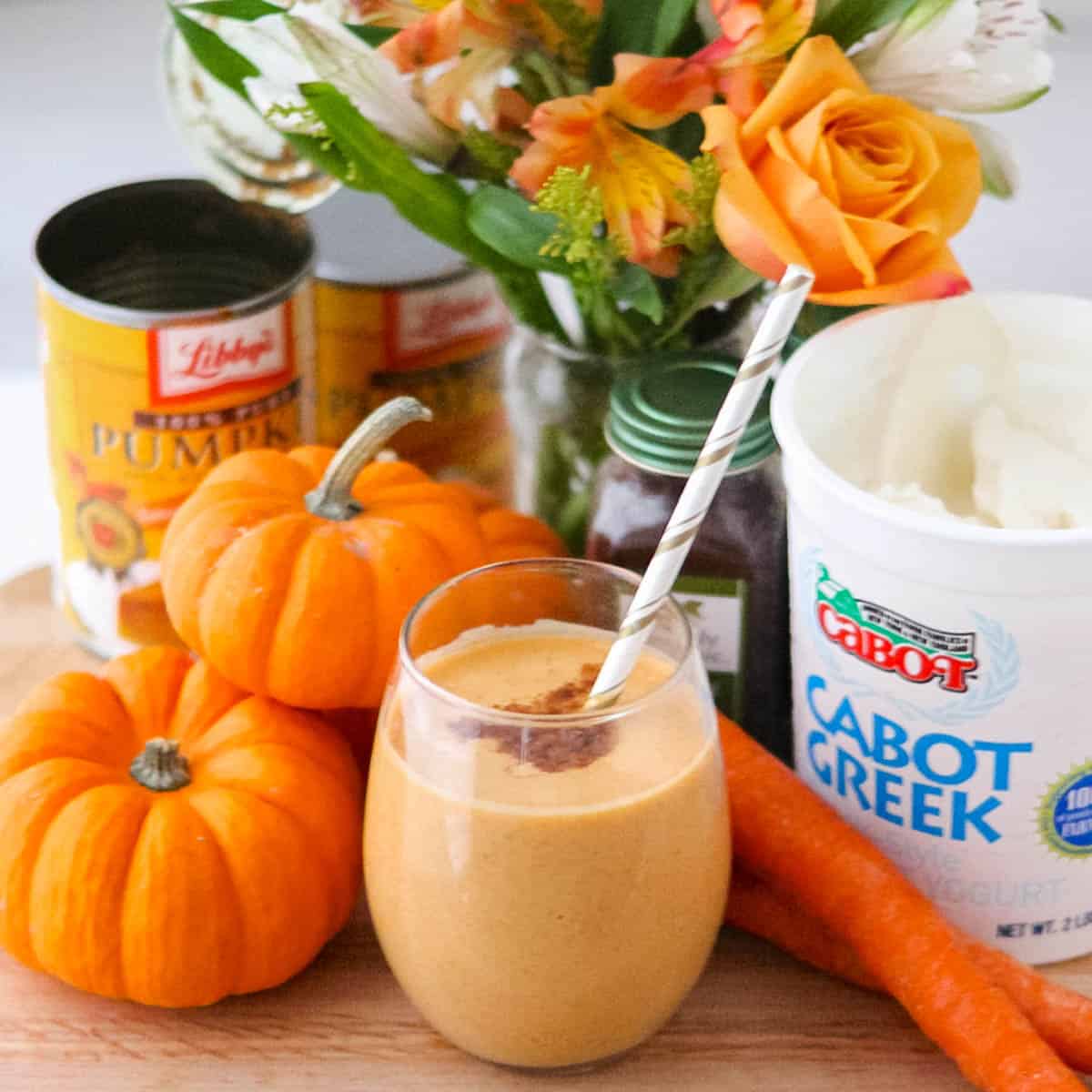 What to Serve with Pumpkin Carrot Smoothie
While it does have a substantial amount of protein and fiber, you might want to add something to eat along with it since drinking your meals and snacks can sometimes feel unsatisfying.
Peanut butter toast, a hard-boiled egg, a handful of nuts or seeds, a scoop of chicken salad & crackers, and avocado toast (or Avocado Chickpea Toast) would all be delicious partners for this pumpkin carrot smoothie.
Final thoughts:
This smoothie takes 5 minutes to make and is incredibly satisfying and delicious! While the ingredients list is a little longer than most smoothie recipes, it's simply because of the additional (optional) spices to give it that pumpkin pie flavor.
You'll love this refreshing pumpkin treat for a snack or breakfast, especially when it's still warm outside.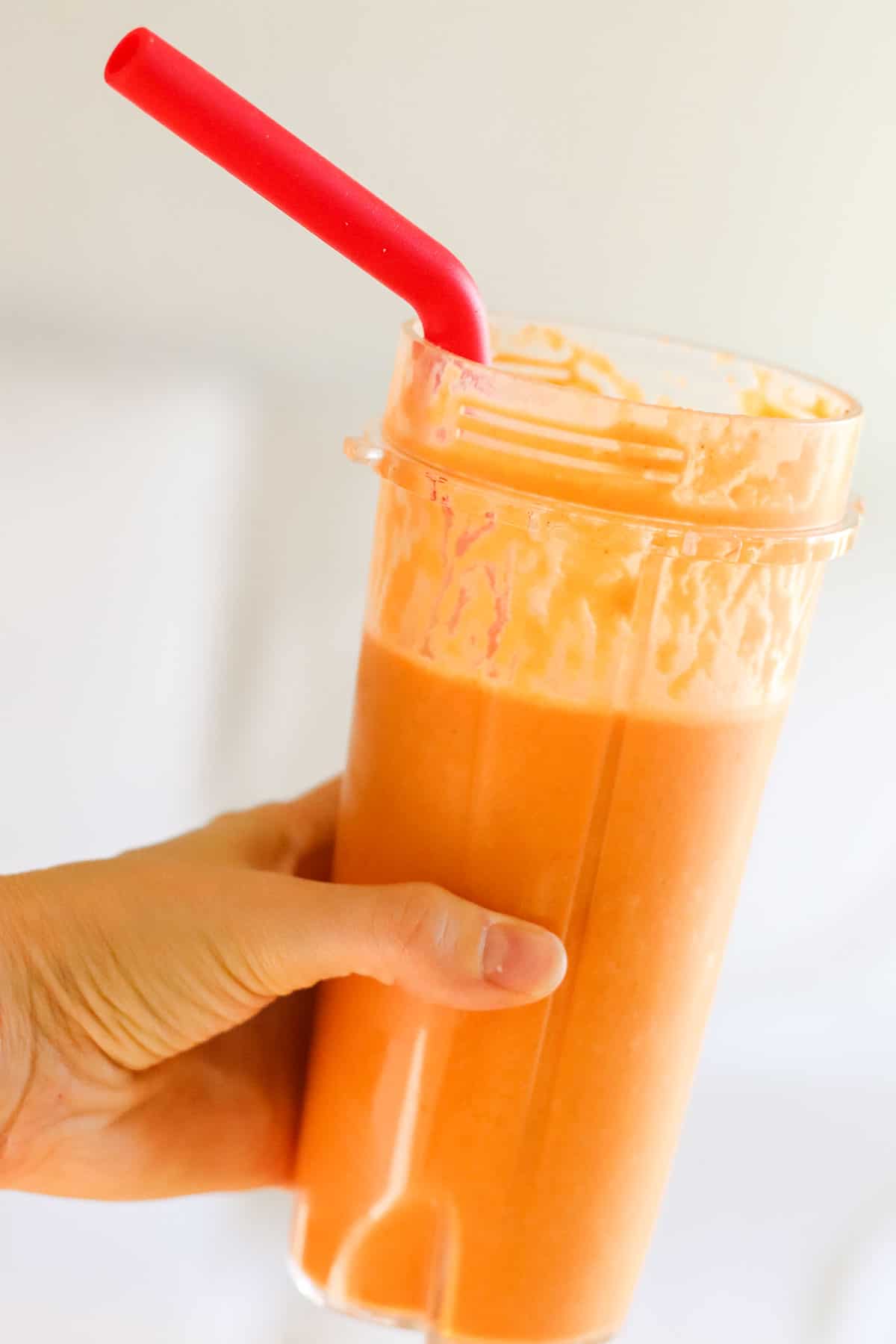 MORE PUMPKIN RECIPES YOU'LL LOVE (that won't warm you up):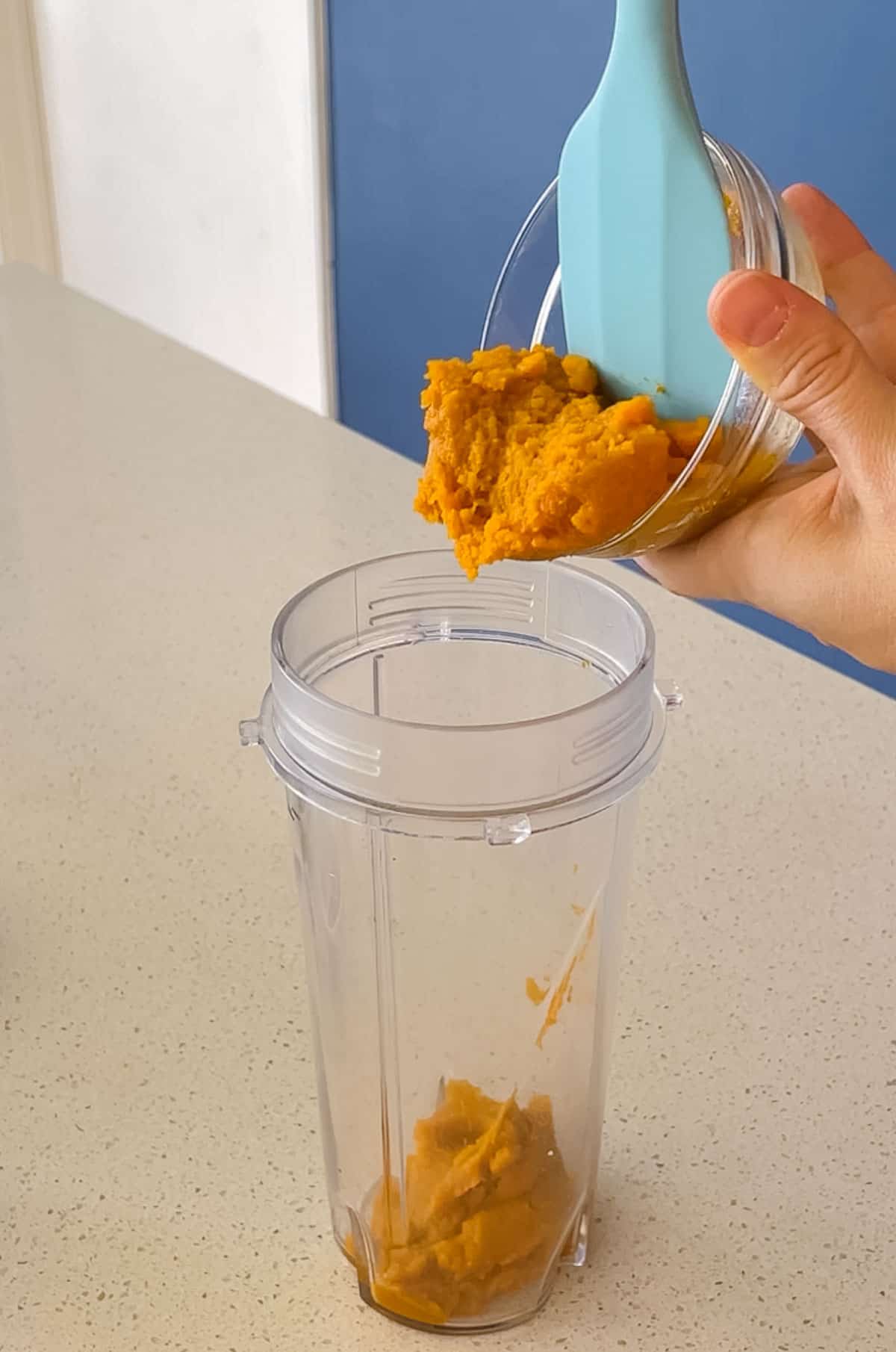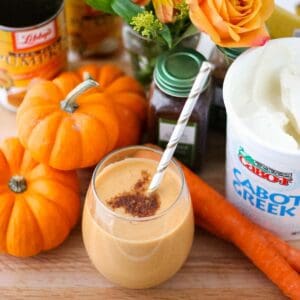 Pumpkin Pie Smoothie
Pumpkin Pie Smoothie is a creamy, refreshing, delicious snack. High in fiber and protein, with two servings of veggies. Can be vegan
Print
Rate
Ingredients
½

cup

pumpkin puree

1

medium

carrot

roughly chopped

⅓

cup

Greek yogurt

plain or vanilla

1

small

banana

preferably frozen

½

cup

water

or coconut water

½

teaspoon

ground cinnamon

⅛

teaspoon

ground cloves

optional

⅛

teaspoon

ground ginger

optional

dash

nutmeg

optional

dash

allspice

optional

2

tablespoons

orange

or lemon juice, optional

1

teaspoon

maple syrup

or honey, optional
Instructions
Add all ingredients to a blender in the order listed, and process until smooth. Enjoy!
Notes
*This isn't super sweet, so play around with the amount of banana and maple syrup you add. Using coconut water will also increase the sweetness.
*If you do not like the taste of plain yogurt, use vanilla. Or decrease the amount of yogurt to ¼ cup.
*If you enjoy the tanginess of plain yogurt, increase the yogurt to ½ cup.
*Pumpkin pie spice (¼ teaspoon) can be used in place of cloves, ginger, allspice, and nutmeg. Or omit them entirely.
What to Use in This Recipe
Did you try this recipe?
Be sure to leave a comment & recipe rating below. Bonus points for tagging @memeinge & #livingwellkitchen on Instagram! THANK YOU! xo
Meme
This post was originally published on October 1, 2014. Text, recipe, and photos have been updated.
---
Pumpkin Pie Smoothie Nutrition Facts
Nutrition Facts
Pumpkin Pie Smoothie
Amount per Serving
% Daily Value*
* Percent Daily Values are based on a 2000 calorie diet.