Peanut butter potatoes double as a breakfast or snack and are high in fiber, a good source of plant-based protein, budget-friendly, vegan, and gluten-free. Easy to make ahead, so they're great for meal prepping.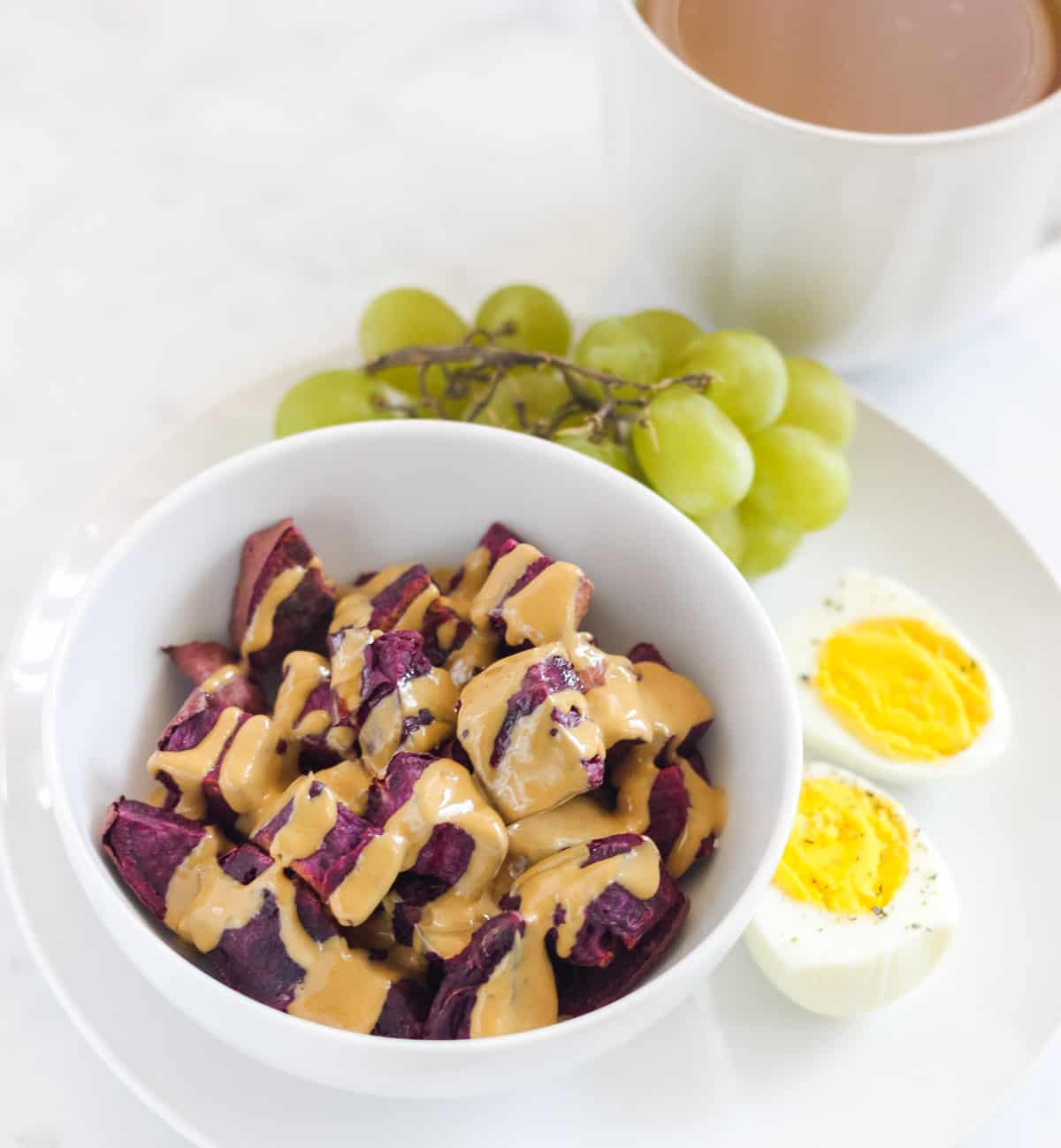 About Peanut Butter Potatoes
Who knew peanut butter on potatoes could be so delicious?
Whether you knew it or not, you need to try it.
This easy breakfast that doubles as a snack is hearty, filling, and a good source of plant-based protein.
Simple yet versatile. It can be made to serve one, prepared ahead of time for meal planning, or increased to serve a crowd.
Oh and there are a few ways to prepare the sweet potato: roast, bake, use a leftover sweet potato, or microwave the sweet potato.
Plus, peanut butter potatoes are budget-friendly, high in fiber, and can be adapted to your personal preferences.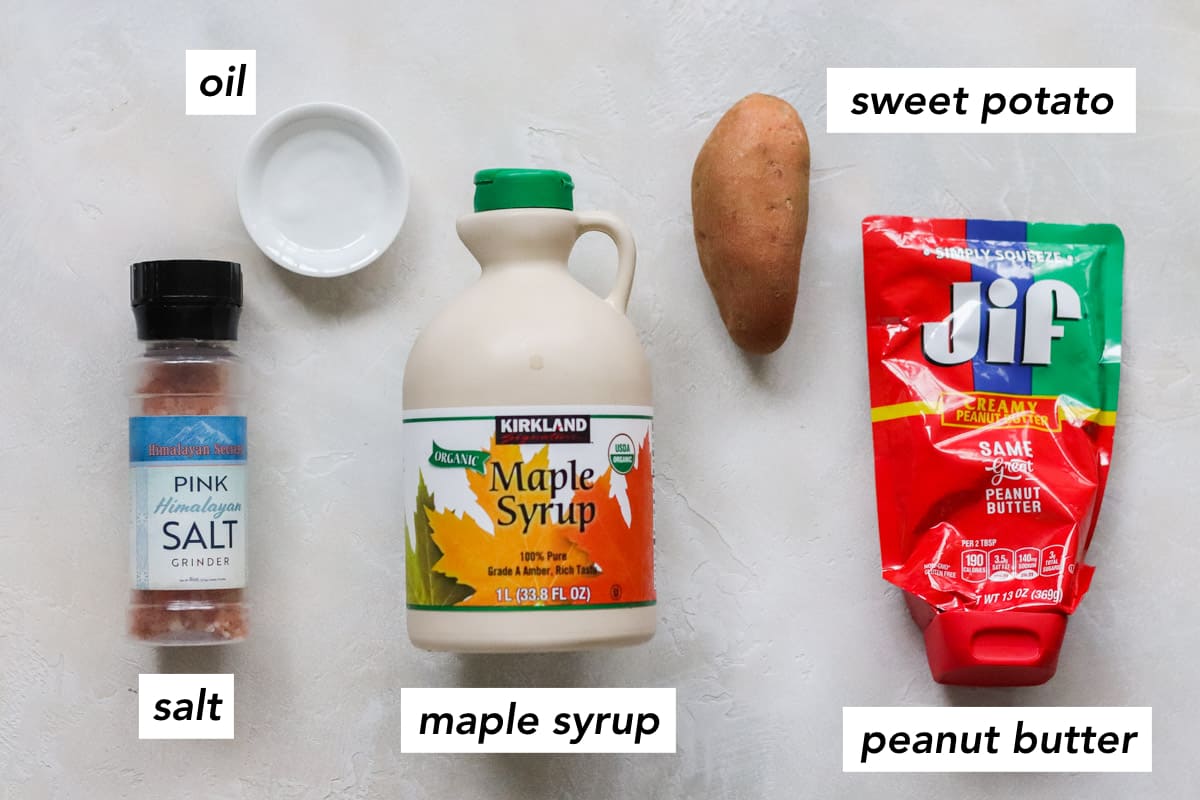 Ingredients
Sweet Potato: The recipe was tested using a small or medium-sized sweet potato, so if you use a larger sweet potato, you might need more peanut butter and/or maple syrup. Also, the color of the sweet potato doesn't matter, as you can see from the photos using both orange and purple sweet potatoes.
Oil: A neutral-flavored oil is best like avocado or canola oil. Coconut oil is another delicious option; however, it does give a slight coconut flavor to the peanut butter potatoes. Peanut oil is another good option. Olive oil is not recommended because it can have a strong flavor.
Peanut Butter: Creamy peanut butter is preferred so the sauce stirs well, yet crunchy or natural peanut butter will be fine. Any nut or seed butter will taste great.
Maple Syrup: Pure maple syrup is best. If you prefer something that is less sweet, you can decrease maple syrup to one teaspoon or omit it entirely. Honey is another option but will make the recipe no longer vegan.
Salt: To bring out the sweetness of the sweet potato as well as the peanut butter and maple syrup, a touch of salt is sprinkled over the top of the peanut butter and potatoes. It's not completely mandatory but does taste great. Best if you use flaky sea salt or kosher salt, but table salt will work.
Cost of Recipe
Sweet potato - 1 small: $0.48
Avocado oil - 1 teaspoon: $0.11
Peanut butter - 2 tablespoons: $0.16
Maple syrup - 2 teaspoons: $0.10
Salt - 1/16 teaspoon: $0.01
TOTAL COST: $0.86 or $0.86/serving (Based on San Diego grocery stores 2023)
Note that this is not the recipe; it's simply to show the cost breakdown of ingredients. Be sure to scroll down to the full recipe to see the specific ingredients and directions.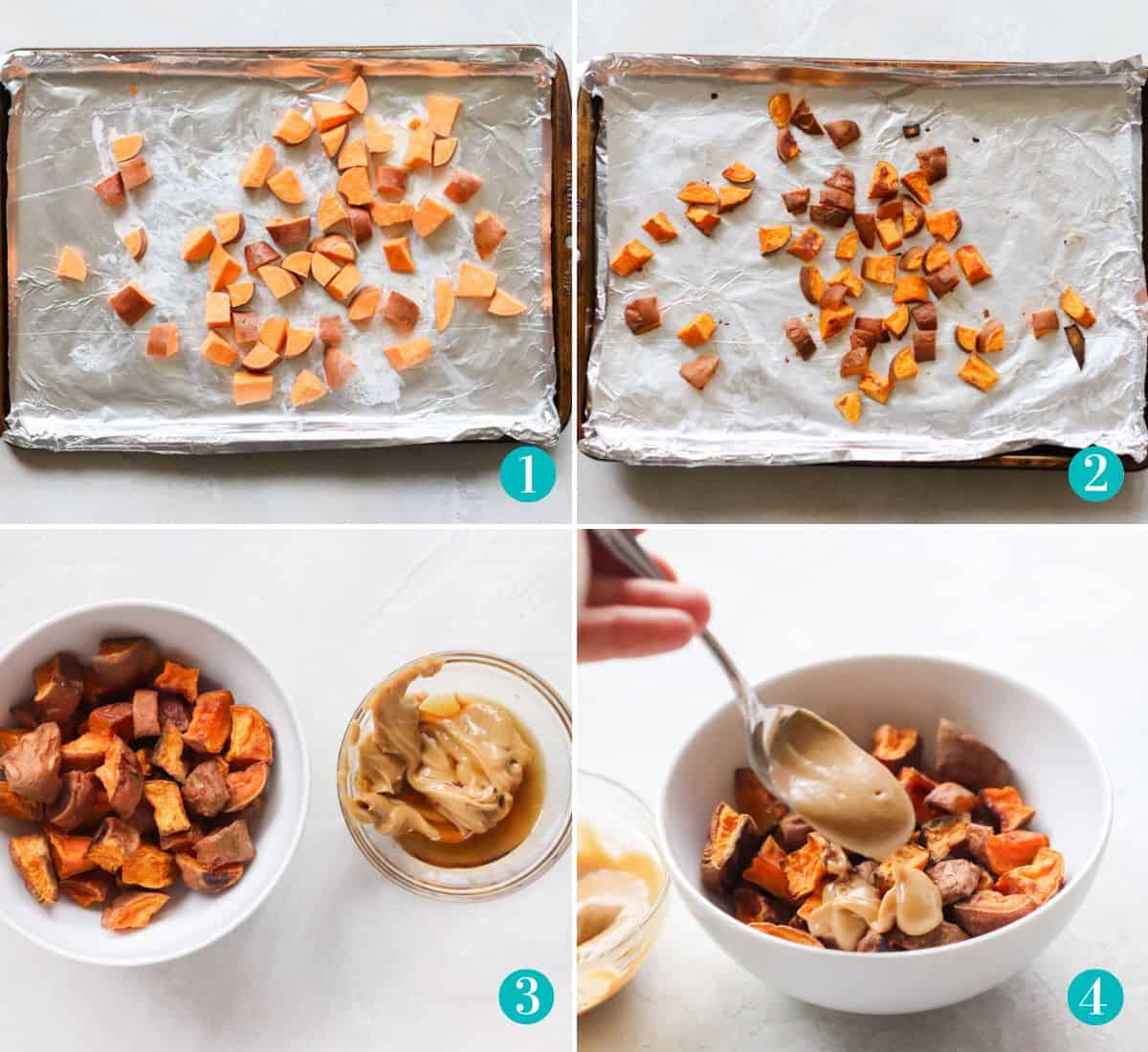 How to Make Peanut Butter Potatoes
Time needed: 45 minutes.
Straightforward and simple to make, you'll love these vegan, gluten-free sweet potato and peanut butter breakfast or snack.
Toss the chopped sweet potatoes and oil on a baking sheet.

Bake.

Remove from oven once they are roasted.

Put the potatoes in a bowl.

Stir together maple syrup and peanut butter.

It helps to microwave the mixture for a few seconds.

Drizzle sauce over potatoes, and enjoy!
Potato and Peanut Butter Recipe Tips
When making the peanut butter maple sauce, it helps to microwave the mixture for a few seconds.
Variations
Ingredient Options
Oil: Avocado oil, coconut oil, peanut oil, and canola oil are all good oils to use. Coconut oil will give the potatoes a slight coconut flavor (that is delicious if you like coconut).
Peanut butter: If you need it to be nut-free, use sunflower or pumpkin seed butter instead of peanut butter.
Maple syrup: Honey can be used in place of maple syrup. This will slightly change the flavor, and the peanut butter potatoes will no longer be vegan.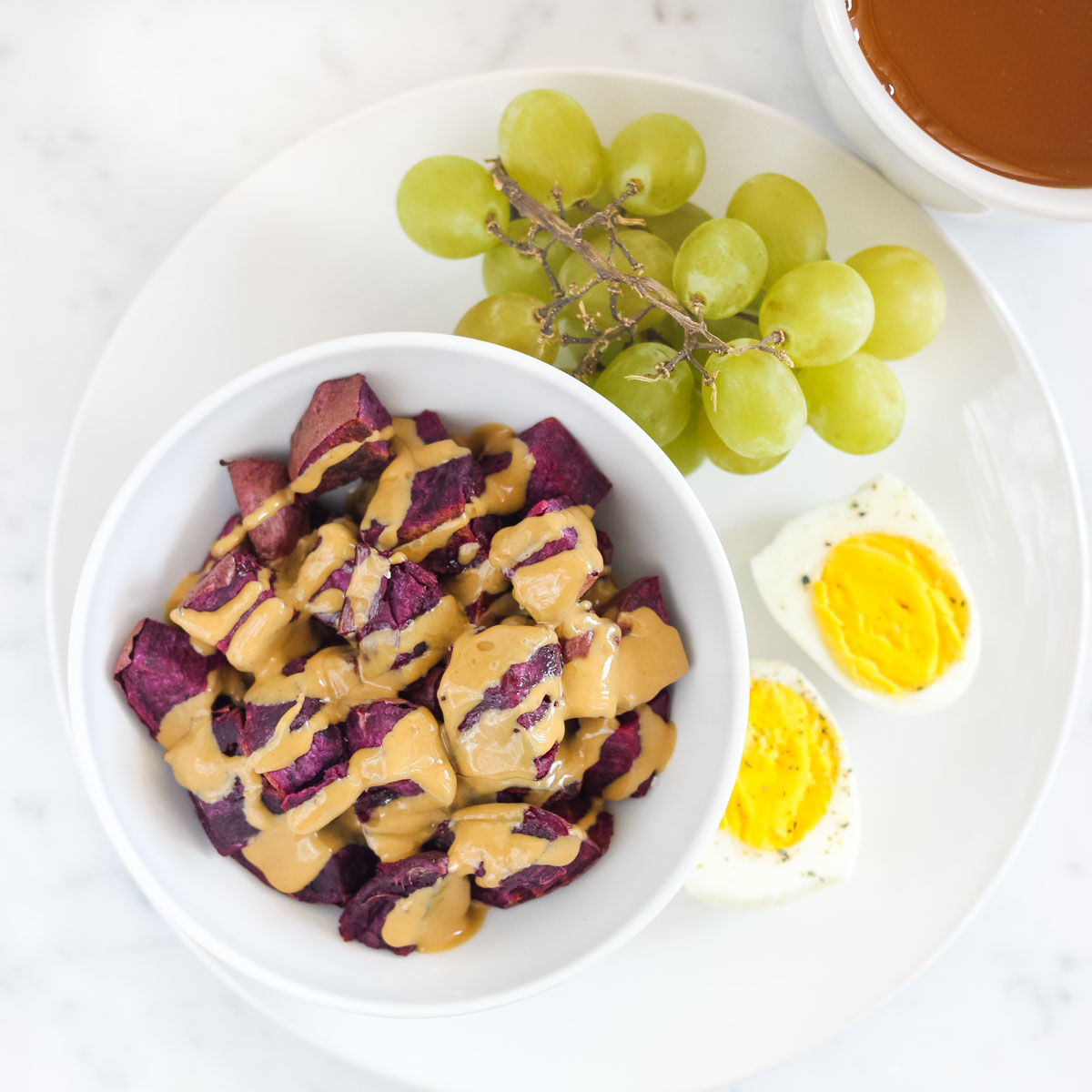 Alternative Prep & Cooking
Bake the sweet potato or microwave it, and then slice it open and drizzle with peanut butter.
How to Make Allergy-Friendly
This peanut butter and potatoes recipe is already gluten-free, dairy-free, egg-free, soy-free, vegetarian, and vegan. To make it nut-free, use seed butter in place of peanut butter.
How to Fix a Mistake
Sauce is too sweet: If you want a less sweet sauce, add more peanut butter, preferably one without added sugar.
Sauce is not sweet enough: Add (1 teaspoon) maple syrup, (⅛ teaspoon) vanilla extract, (dash of) almond extract, or a dash of salt. These can all intensify the sweetness.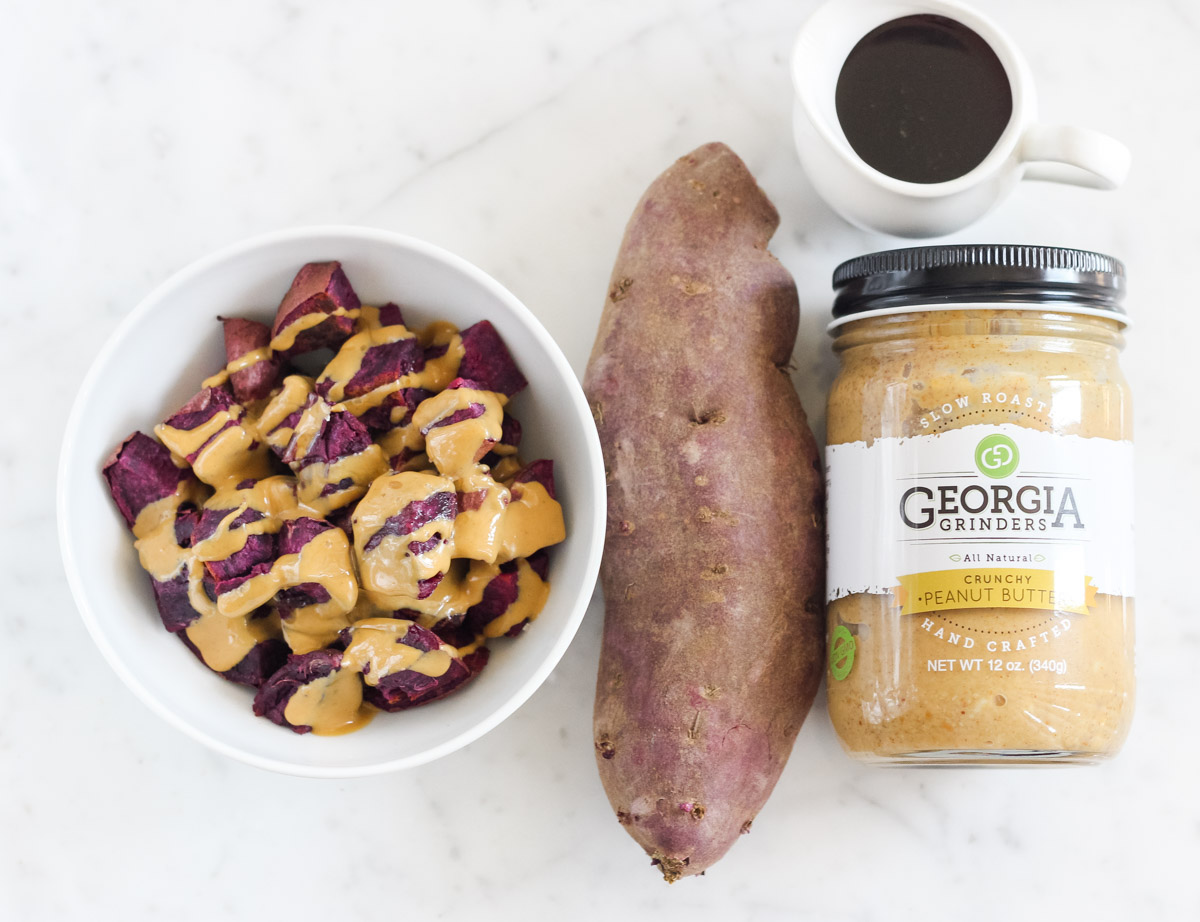 Make-Ahead Ideas
Roast the potatoes and store them in the fridge until ready to eat.
Reheat in the microwave for 60 seconds, stirring halfway through or in a 300*F oven for 10 minutes.
The peanut butter sauce can be made ahead of time or right before serving. The consistency will be best if making right before serving (and it takes the same amount of effort).
Storage Suggestions
Store separately (if possible) in an airtight container in the fridge for up to 5 days.
Frequently Asked Questions
Can we eat peanut butter with potato?
Yes, peanut butter and potatoes are a delicious combo and an excellent breakfast or snack. Peanut butter potatoes are high in fiber and plant-based protein; plus, they are budget friendly at less than $1 per serving.
Nutrition Benefits
This recipe is high in fiber, Vitamin A, potassium, magnesium, niacin, and protein. A nice balance of carbohydrates, fat, and protein, so you'll feel satisfied after enjoying.
Despite being shunned in many restrictive diets, potatoes are quite nutritious, no matter what type they are. And sweet potatoes are packed with antioxidants.
Peanut butter has been linked to a decreased risk in heart disease and diabetes.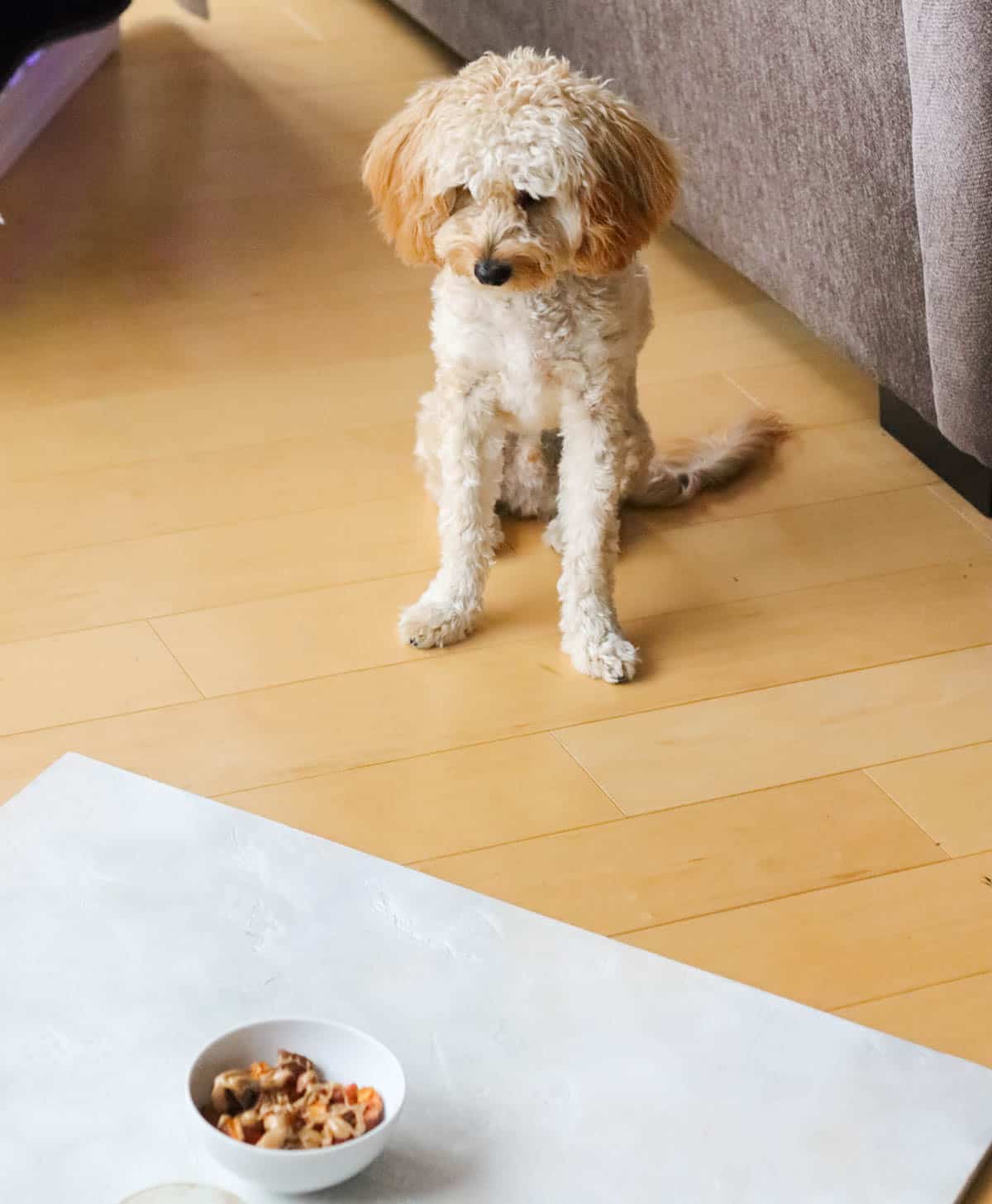 What to Serve with Peanut Butter Potato
If you want to add something for more lasting energy, a hardboiled egg is a good option. Or spinach egg muffins, so you can have a combo of sweet and savory at breakfast.
As a snack, you can add another protein like jerky or a piece of cheese. Or add some fruit with it if needed.
Final thoughts:
With only 5 ingredients costing under $1 total, this breakfast is definitely worth trying.
It's simple while also incredibly satisfying. Sweet with slight savoriness plus richness from the peanut butter.
Bonus points for the nutrients you get and the fact that you can make it for one, make ahead of time for meal prepping, or make it for a crowd.
MORE MAKE-AHEAD BREAKFAST RECIPES YOU'LL LOVE: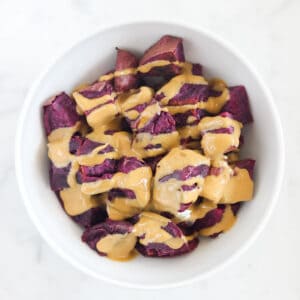 Breakfast Potatoes with Peanut Butter
A satisfying budget-friendly breakfast that is vegan, gluten free, and high in fiber. Easily made to serve one or a crowd.
Print
Rate
Total Cost:
$0.86/serving
Ingredients
1

small

sweet potato

chopped (4-6 ounces)

1

teaspoon

oil

2

tablespoons

peanut butter

2

teaspoons

maple syrup

dash

salt
Instructions
Preheat the oven to 400°F. Line a baking sheet with parchment paper or foil for easier cleanup.

Toss the chopped sweet potato with the oil, and spread in an even layer onto the baking sheet. Roast for 25-35 minutes, stirring halfway through cooking.

Remove from oven and transfer to a bowl.

Add peanut butter to a small microwave safe bowl. Heat for 15-30 seconds until runny. Stir in maple syrup and drizzle over potatoes.

Sprinkle with salt, and enjoy!
Notes
*Use a neutral-flavored oil like

avocado oil, canola oil, or peanut oil. Or try coconut oil.
What to Use in This Recipe
Did you try this recipe?
Be sure to leave a comment & recipe rating below. Bonus points for tagging @memeinge & #livingwellkitchen on Instagram! THANK YOU! xo
Meme
This post was originally published on March 11, 2018. Text, recipe, and photos have been updated.
---
Potato and Peanut Butter Nutrition Facts
Nutrition Facts
Breakfast Potatoes with Peanut Butter
Amount per Serving
% Daily Value*
* Percent Daily Values are based on a 2000 calorie diet.