Healthy Breakfast Egg Muffins with Spinach are the best make-ahead, high-protein breakfast that'll keep you full for hours. They are a delicious, healthy idea for a morning meal that's portable.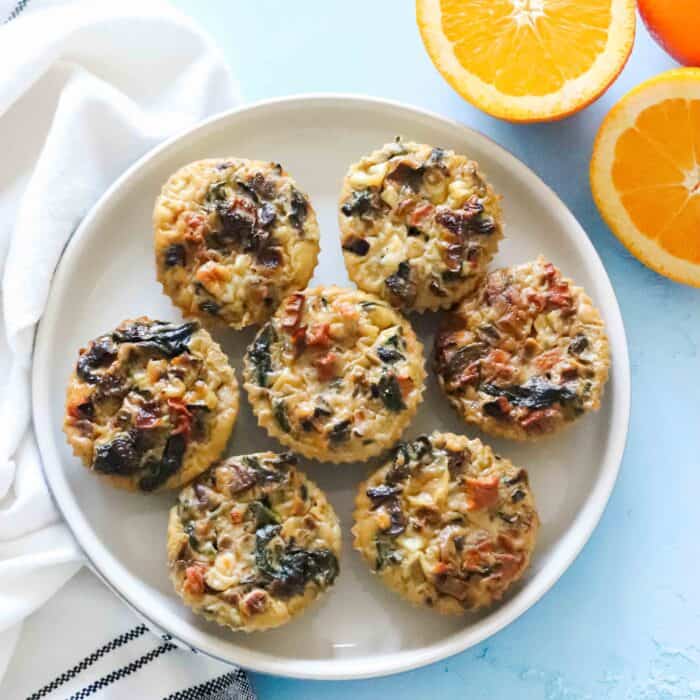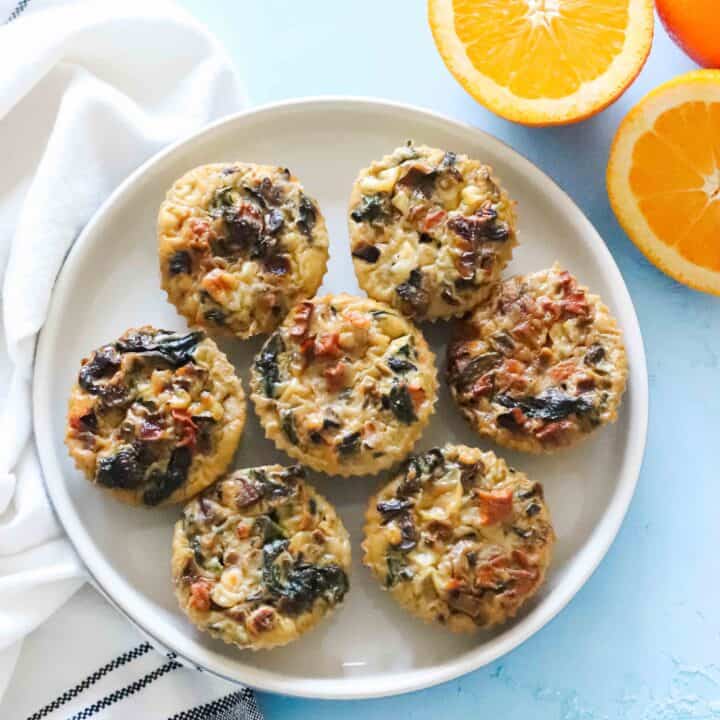 About Spinach Egg Muffins
Breakfast egg muffins are my go-to breakfast to keep in the fridge or freezer for a high-protein, vegetable-packed, easy meal.
These egg muffins keep you full for hours and help power you through the morning without the distraction of a hungry tummy.
Another absolutely wonderful thing about these is the fact that they make your life so easy in the morning because you can make a big batch to have breakfasts prepared for a whole week. Plus, they keep well in the fridge as well as the freezer.
When you're ready to eat them, enjoy them cold or microwave for about 30-60 seconds — a little more if they're frozen — and enjoy!
Egg muffins are basically just eggs, veggies, and cheese baked into a muffin form. They are packed with protein and each serving has over 1 cup of veggies, so they are a fabulous way to start your day.
You can't beat them for a tasty breakfast! Also, a big bonus is that you get a delicious and portable breakfast option that's great for meal prepping when you bake them into muffins.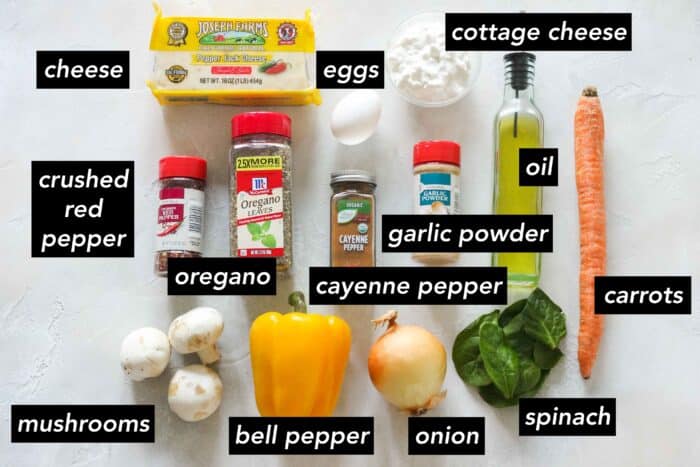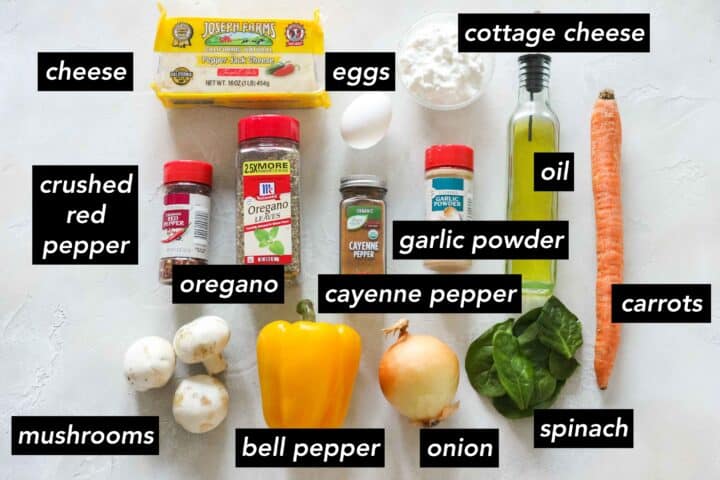 Ingredients
Oil: You need oil to sauté the veggies. You can use any oil you have. I typically use olive oil or avocado oil. Butter is another option.
Veggies: The veggies you sauté before adding spinach are onions, bell peppers, carrots, and mushrooms. Specifically, you can use any type of onion and any color bell peppers. Also, both white button mushrooms and portabella mushrooms are great. Feel free to play around with the veggies you add depending on what you have and what you like. You'll want about 5 cups chopped veggies to sauté.
Spices: Oregano, garlic powder, crushed red pepper, cayenne pepper, and salt are the spices in this recipe. However, you can change up the amounts or types of spices used in your spinach egg muffins.
Spinach: Spinach is the main veggie in here, and I think it's easiest and more budget-friendly to use frozen. But feel free to use fresh or frozen chopped veggies (or a combination) for all of the veggies in this recipe.
A note on organic veggies: It's more important to increase the number of vegetables (and fruit) you eat as opposed to focusing on whether or not they are organic. There is extensive research on the safety of conventional and organic produce, and the research shows that the most beneficial thing for your health is to eat more veggies & fruits. For more info, check out this post on conventional and organic produce.
Cottage Cheese: Buy whatever cottage cheese you prefer. I typically go with the kind that has the least amount of ingredients, and I often buy the full-fat cottage cheese as I do not like the taste of reduced-fat or fat-free. I do not recommend using fat-free cottage cheese in this recipe.
Eggs: Eggs are full of vitamins, and both the white and yolk are nutritious. Large grade A eggs are used for testing this spinach egg muffin recipe. I typically buy store-bought, white eggs. However, you can use whatever you prefer.
Also, the number of eggs doesn't need to be exact. You can also use 6 extra-large or 8 medium eggs.
If you have been advised to avoid eggs by your health care provider, an egg substitute will work in place of the eggs. Use enough for about 7 to 8 eggs.
Cheese: Mozzarella and cheddar are the two kinds of cheese I like to use in this recipe. Additionally, parmesan can also be added for extra flavor.
Cost of Recipe
oil 1 tablespoon: $0.24
onion 1 medium: $0.50
bell pepper 1 medium: $0.98
carrots 4 medium: $0.80
mushrooms 6 ounces: $1.49
oregano 1 teaspoon: $0.08
garlic powder ½ teaspoon: $0.02
red pepper flakes ¼ teaspoon: $0.01
cayenne pepper ¼ teaspoon: $0.02
spinach 10 ounces: $1.99
cottage cheese 2 cups: $2.49
eggs 7 large: $1.61
cheese 5 ounces: $2.49
TOTAL COST: $12.72 or $1.59/serving (Based on San Diego grocery stores 2021)
Note that this is not the recipe; it's simply to show the cost breakdown of ingredients. Be sure to scroll down to the full recipe to see the specific ingredients and directions.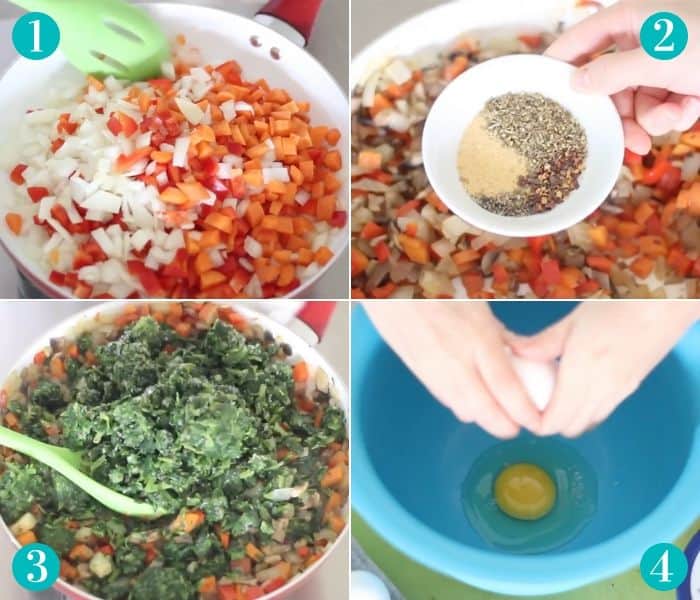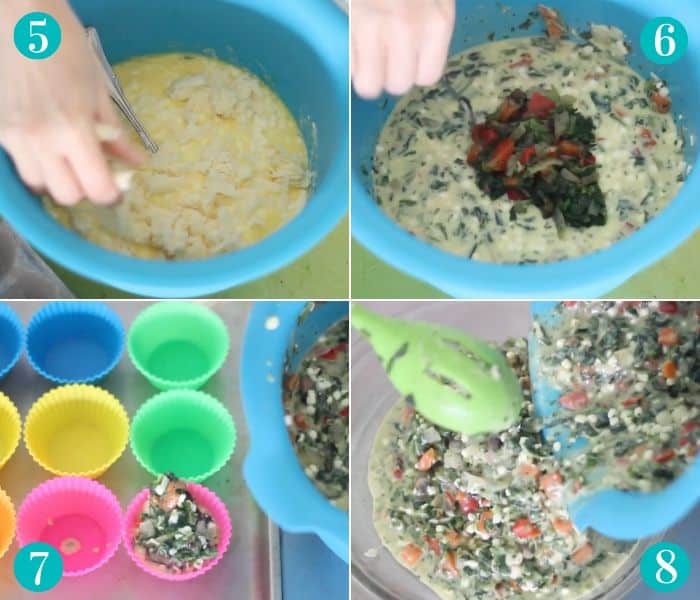 How to Make Egg Muffins with Spinach
Time needed: 1 hour and 5 minutes
These are really simple to make. They take a few extra minutes to prepare (because you have to chop veggies and sauté), but it's not too much work. All you're doing is sautéing the veggies and stirring them with some eggs and cheese. Then you bake, and you're good to go.
Chop and sauté the veggies.
Stir in the spices.
Add the spinach and cook until all the juices have been released.
Whisk together eggs and cottage cheese.
Stir cheese into the egg mixture.
Mix the veggies into the egg cheese mixture.
Transfer to muffin tins or baking dish.
Bake and enjoy!
Recipe Tips
Variations
Ingredient Options
Veggies: Feel free to use whatever veggies you like and have in your kitchen. I typically use onions, bell peppers, carrots, mushrooms, and spinach. In total, you want about 5 cups of diced veggies to sauté.
Spinach: Both fresh and frozen spinach with work. While frozen is nice because it's already chopped and typically less expensive, fresh spinach also works. Be sure to cook until all the liquid from the spinach has been absorbed.
Alternative Prep & Cooking
These are baked into egg muffins making them more portable. However, you can also bake them in a 13x9 baking dish... similar to how I make my baked protein pancakes - my other all-time favorite breakfast.
How to Make Allergy Friendly
These spinach egg muffins are already gluten-free, soy-free, and nut-free. Since they are egg muffins, you can't really make them egg-free.
Therefore, seeing as dairy-free cottage cheese options are not guaranteed to work, I don't recommend making these egg muffins dairy-free.
For some high protein, dairy-free, egg-free breakfast alternatives, try a Berry Green Dream Smoothie or Mushroom and Sausage Hash.
How to Fix a Mistake
These spinach egg muffins are incredibly forgiving. Which means you don't have to worry too much about making a mistake.
Don't have enough eggs or cheese: If you don't have enough eggs, add a little more cottage cheese or shredded cheese. If you don't have a lot of cottage cheese, add another egg and some shredded cheese. The amount of shredded cheese isn't important to make up for.
Make Ahead Ideas
These are great to make ahead! Plus, you can cook and refrigerate or freeze to enjoy later.
To make life easier when you are cooking, chop the veggies in advance or use pre-chopped veggies (fresh or frozen).
Storage Suggestions
Keep these in an airtight container in the fridge for up to 5 days and in the freezer for up to 6 weeks.
Frequently Asked Questions
How do you reheat the Healthy Breakfast Egg Muffins?
Place two from the fridge on a microwave-safe plate, cover, and microwave for 30-60 seconds. Heat in additional 30-second intervals until warm.
For frozen, add an extra 60 seconds to start and heat until warmed through.
Can you use yogurt in place of cottage cheese?
I have not tried this yet, so I cannot say for sure. However, I have heard from other readers that they used plain greek yogurt and these spinach egg muffins turned out great.
Are eggs healthy?
Eggs are a great source of budget-friendly, vegetarian protein and are full of vitamins. Vitamin D, Vitamin B12, choline, selenium are some of the nutrients in eggs.
In previous years, eggs have been labeled as unhealthy because they contain a lot of cholesterol. However, it's been shown that cholesterol in food doesn't raise blood cholesterol in most humans.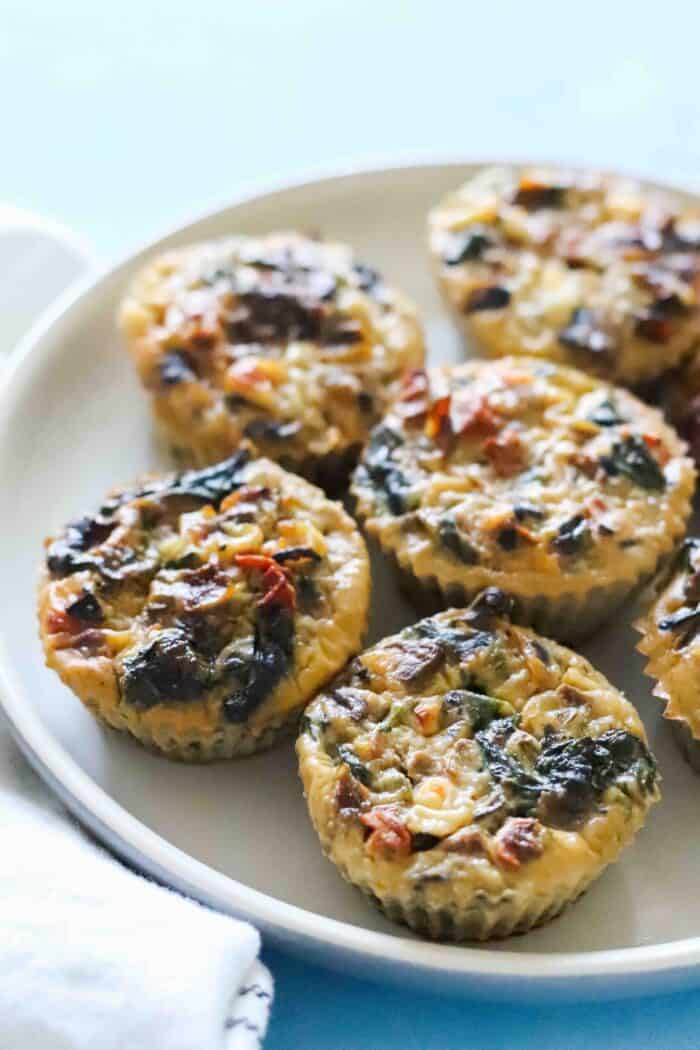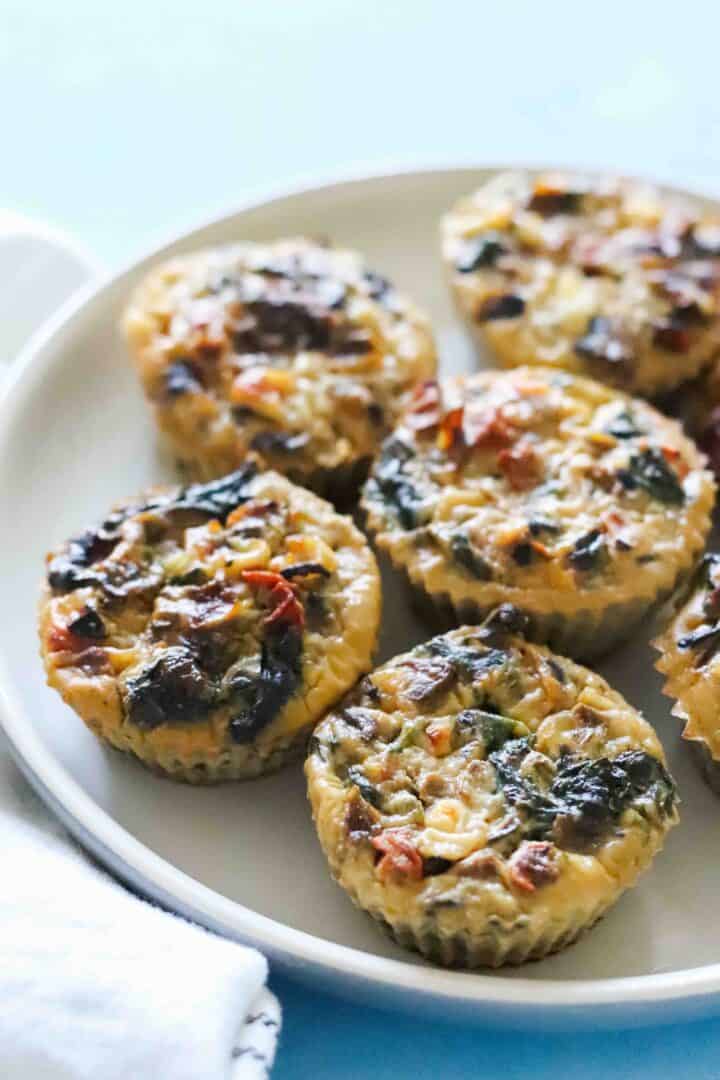 Nutrition Benefits
These egg muffins are high in protein and have some fiber thanks to the veggies. Since it's not as easy to get veggies at breakfast, especially in portable breakfast options, these egg muffins come through to get you extra nutrients.
What to Serve with Breakfast Egg Muffins
Add a serving or two of carbohydrates to give you a little more staying power with these egg muffins. When paired with avocado toast, a bowl of oatmeal, roasted potatoes, hash browns, cooked quinoa, or whole-grain toast, this will keep you full for hours.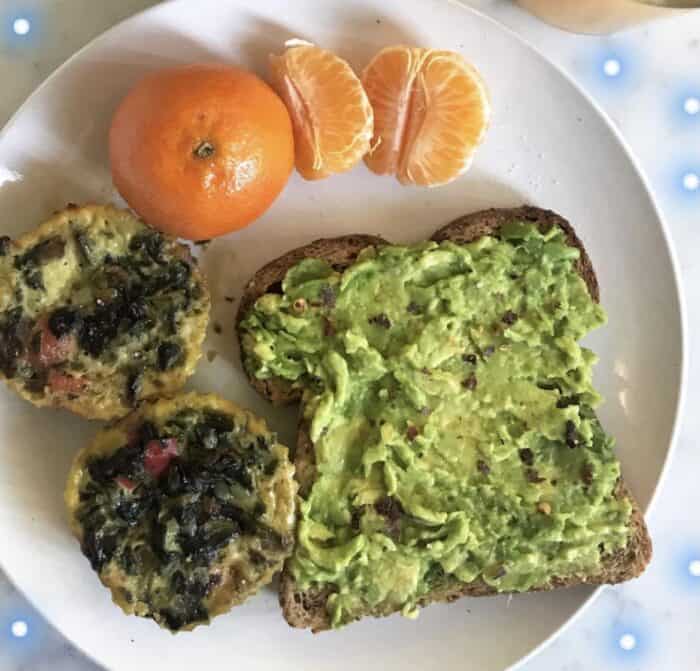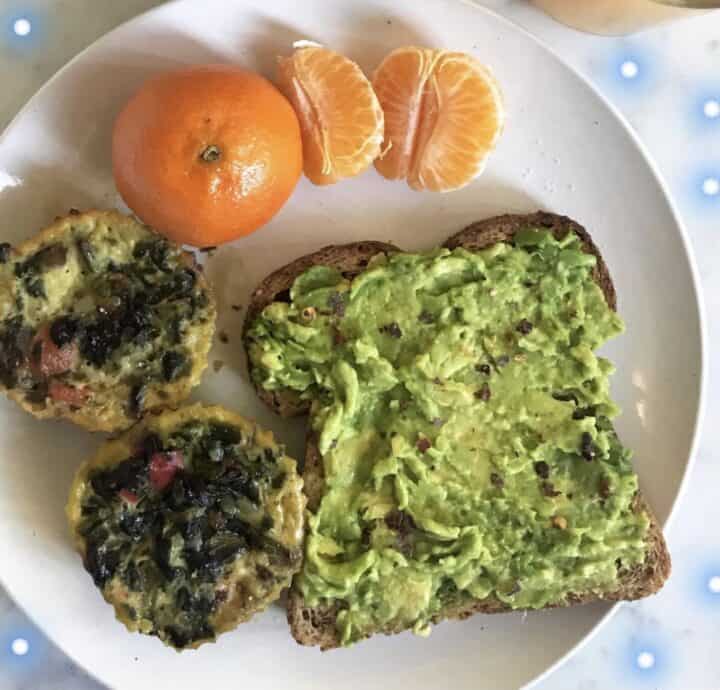 Final thoughts:
There's a reason this is one of my most popular recipes; the egg muffins are delicious, filling, and a great way to get veggies & protein in first thing in the morning. So take a little time to prepare these filling breakfast egg muffins and have breakfast for the week.
MORE HIGH PROTEIN BREAKFAST RECIPES YOU'LL LOVE: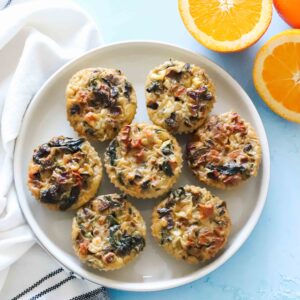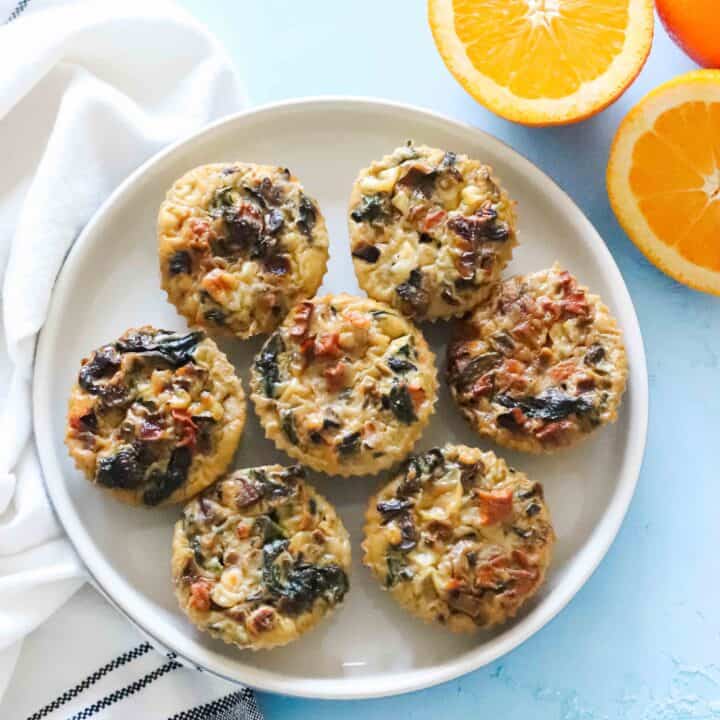 Egg Muffins
Healthy Breakfast Egg Muffins with Spinach are the best make ahead, high protein breakfast that'll keep you full for hours.
Print
Rate
Total Cost:
$12.72 or $1.59/serving
Ingredients
1

teaspoon

oil

1

medium

onion

diced

1

medium

bell pepper

diced

4

medium

carrots

diced or grated

6

ounces

mushrooms

diced

1

teaspoon

oregano

½

teaspoon

garlic powder

¼

teaspoon

red pepper flakes

¼

teaspoon

cayenne pepper

10

ounces

spinach

fresh or frozen

16

ounces

cottage cheese

7

large

eggs

lightly beaten

5

ounces

cheese

shredded (about 1 ¼ cup)
Instructions
Preheat oven to 375°F. Grease a baking dish or muffin tins with a little oil, or use non-stick or silicone cupcake liners.

Heat oil in a large non-stick or ceramic skillet over medium heat. Add onion, bell pepper, and carrots, and cook until slightly tender, about 7 minutes. Add mushrooms, and cook until they release their juices, about 5 minutes.

Season with oregano, garlic powder, red pepper flakes, and cayenne pepper.

Stir in spinach, and cook until all liquid from spinach has been absorbed. Remove from heat.

In a large mixing bowl, stir together cottage cheese, eggs, and cheese. Once combined, stir in vegetable mixture.

Pour mixture into the prepared muffin tin or baking dish.

Bake in preheated oven for 24-28 minutes until eggs are set. Remove from oven and let cool about 5 minutes before serving.

Promptly refrigerate leftovers. Keeps refrigerated for 5 days and frozen for 1 month.
Notes
*Makes 16 regular-sized muffins. Can also use a (deep) 9-inch round baking dish or a 9 x 13-inch baking dish.
*Spinach can be fresh or frozen. If frozen, allow to slightly thaw before adding to make it easier to add to the veggies. If fresh, chop before adding.
What to Use in This Recipe
Did you try this recipe?
Be sure to leave a comment & recipe rating below. Bonus points for tagging @memeinge & #livingwellkitchen on Instagram! THANK YOU! xo
Meme
This post was originally published on September 25, 2014. Text, recipe, and photos have been updated.
---
Spinach Egg Muffins Nutrition Facts
Nutrition Facts
Egg Muffins
Amount per Serving
% Daily Value*
* Percent Daily Values are based on a 2000 calorie diet.
Doesn't this recipe look good?! You should probably share it: