Chicken hash made with Progresso Unsalted Chicken Stock is the answer to all your comfort food cravings
Disclosure: I received free samples of Progresso Cooking Stock mentioned in this post at no cost. By posting this recipe I am entering a recipe contest sponsored by Progresso Cooking Stock and am eligible to win prizes associated with the contest. I was not compensated for my time.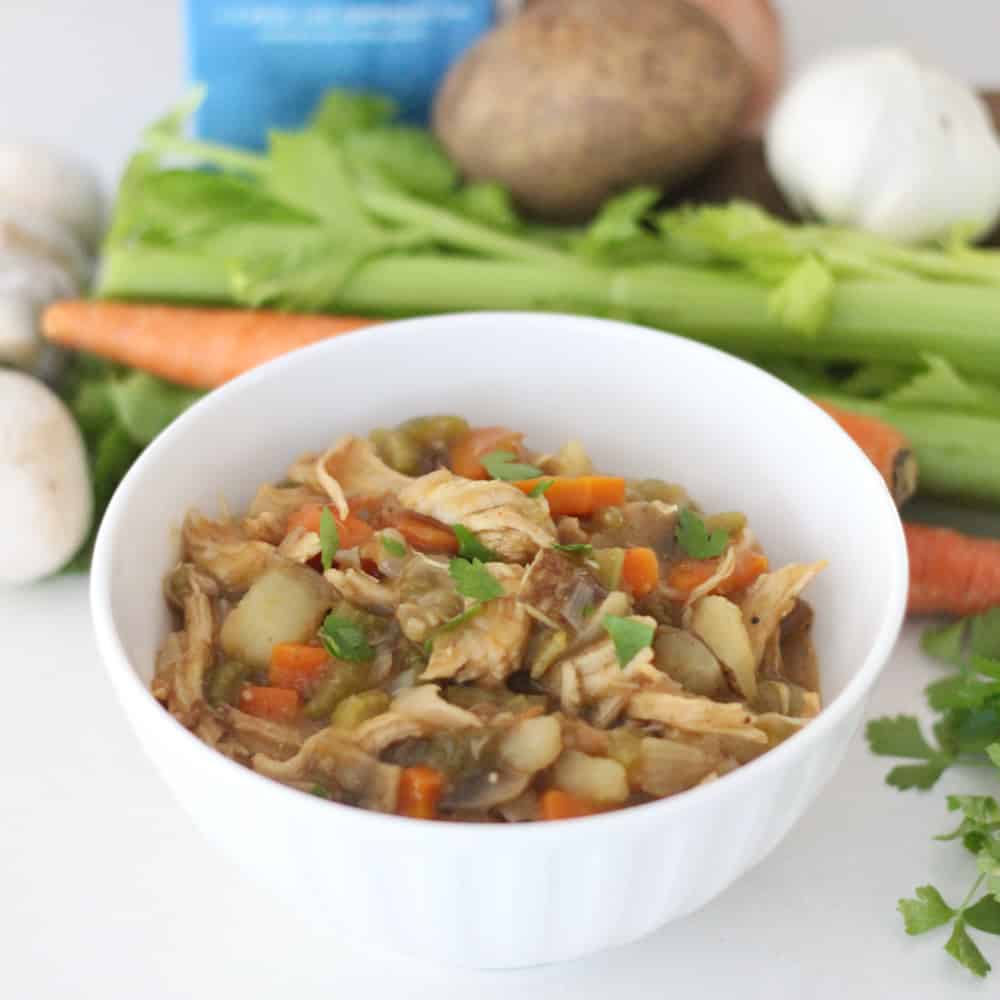 When the temperature drops below 50 degrees, I am ready for some comfort food. Soups, stews, casseroles, anything warm.
Ok, so maybe for me it's more like when it gets below 65 degrees because I'm always so cold.
Either way, January is like prime comfort food eating time. (I need you to pronounce all those i's in the previous sentence with a thick southern accent. K thanks)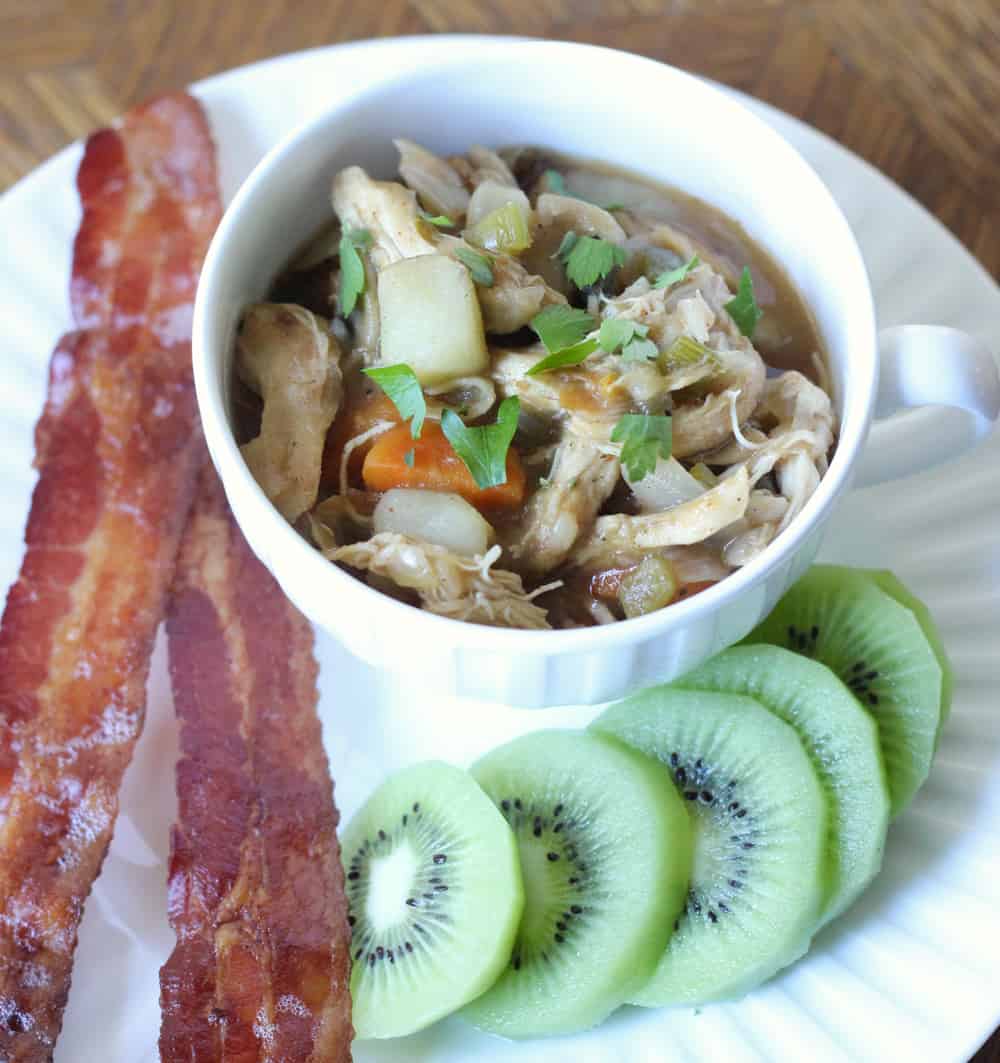 I go through copious amounts of chicken, vegetable, and beef stock in the cold months. I should buy stock in stock. Since the stock market scares me, I'll just continue to talk about how much stock means to me... the chicken, vegetable, or beef variety of stock.
I'm partial to homemade stocks, but sometimes I don't get around to making it and have to rely on store bought stock. Some stocks have weird ingredients in there, and I just find that unnecessary & upsetting.
I also want to use a cooking stock that is made like homemade -- simmering with bones and veggies and herbs and all that goodness.
That used to be kind of hard to find until now. Progresso's new Cooking Stock is the answer to my store-bought but homemade tasting (without scary ingredients) cooking stock needs. The flavor this stuff adds is like whoa!
This cooking stock takes your food to the next level with all its amazingness. Preparing grains in water is so lame & boring after you've prepared them with stock. Soups without stock are a travesty, and I beg you to use stock when you make this hash.
Y'all... this hash... oh my holy hash this stuff is good!
[clickToTweet tweet="#AD Chicken Hash with Progresso's Unsalted Chicken Stock (tastes homemade!)" quote="#AD Chicken Hash with Progresso's Unsalted Chicken Stock (tastes homemade!)"]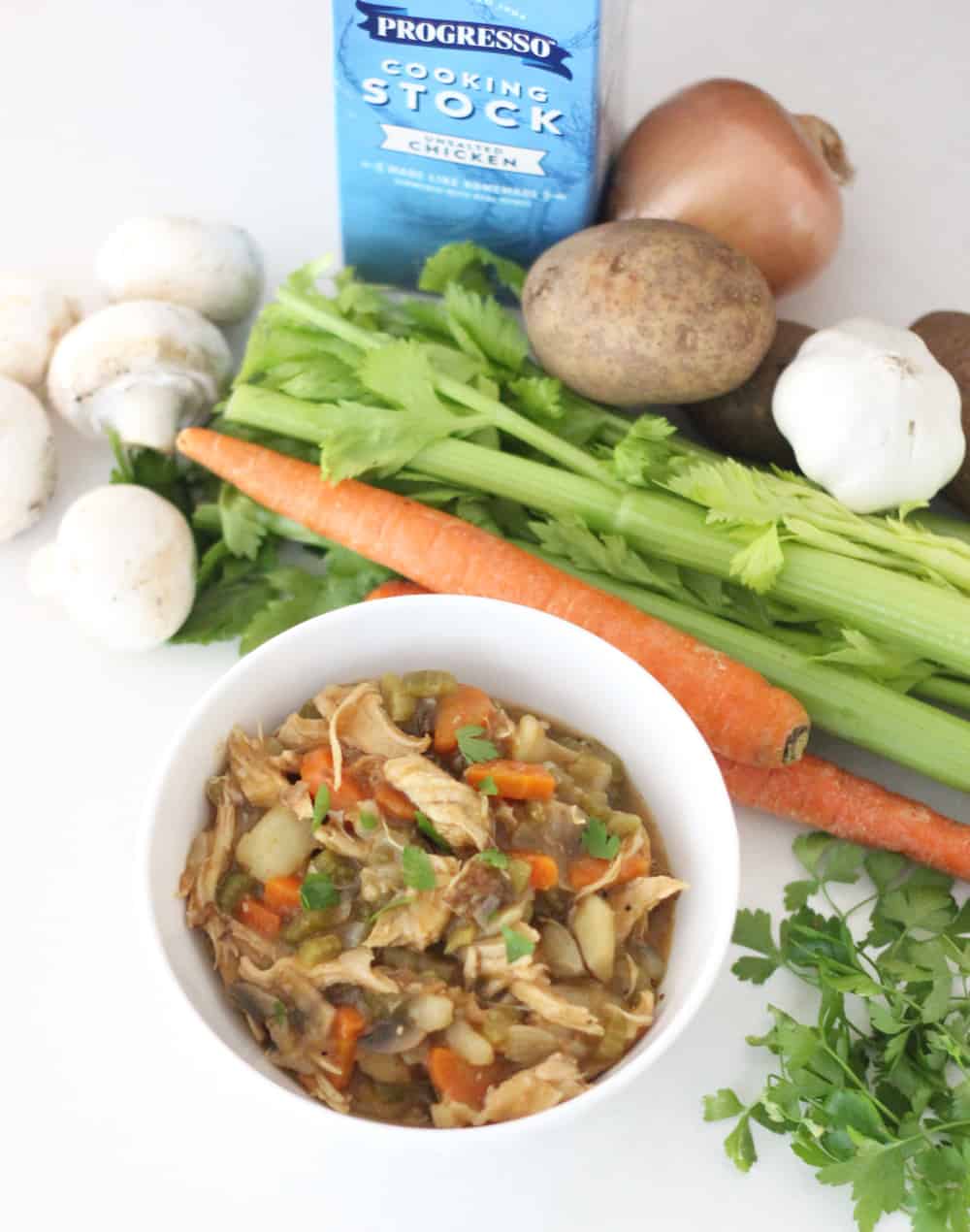 This hash is glorious. It's comforting. It's warming. It's filling. It has one million vegetables (well, a little over 8 cups to be exact). And it's just downright delicious.
A long leisurely Sunday is a great day to make this hash.
What's nice about this hash is that you can use up leftover chicken (or turkey) or just buy some chicken and cook it before making the hash. This will add only about 10 minutes to your cook time.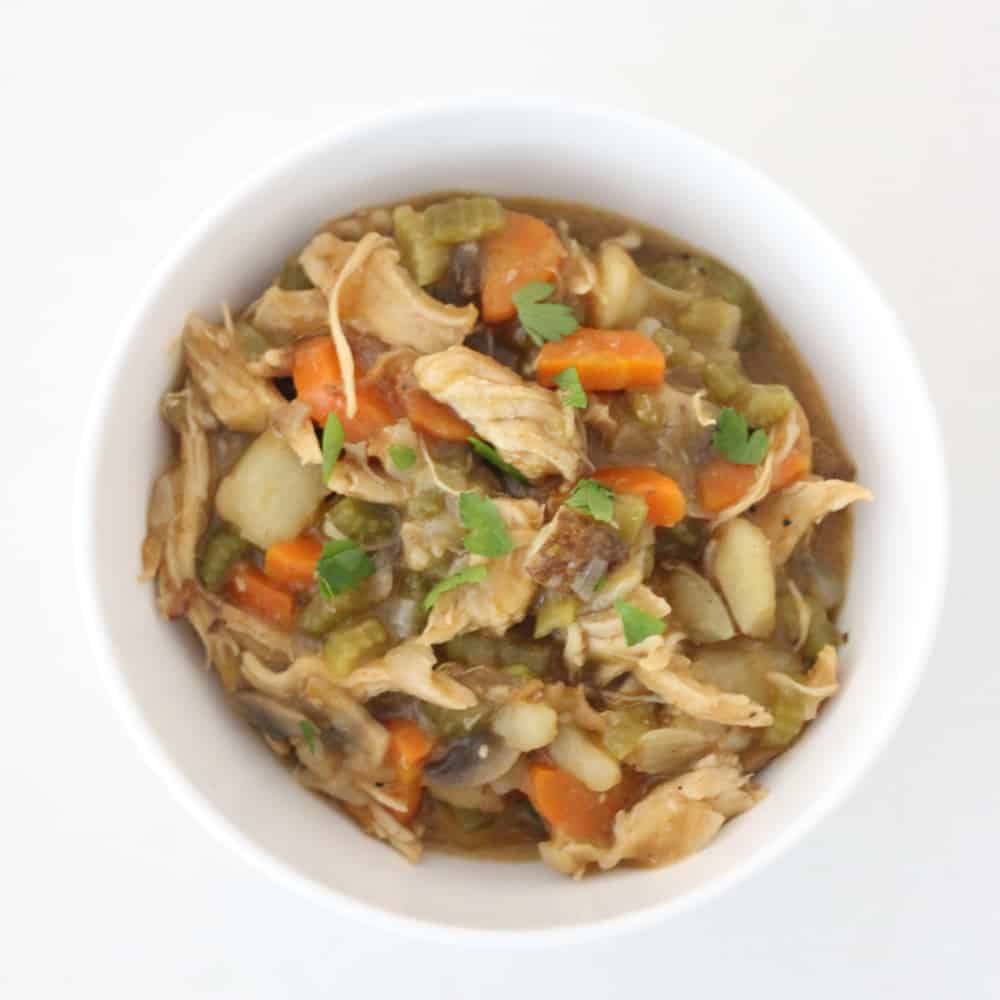 Then you'll sauté your veggies in some butter (or a combination of butter & bacon grease because bacon always) while the potatoes boil in the unsalted chicken stock.
I love the Progresso unsalted chicken stock (only 95mg sodium per serving) because you can control the amount of salt your dish has.
Once you're done marveling at the color of the stock (it's thicker, richer, and you can just tell it's gonna make things taste good), add in the potatoes, the stock they cooked in, cooked chicken, and spices & herbs. Then you just let it simmer away and get all amazing. After that has simmered for at least 30 minutes, dig in.
The hash is better the longer you let it cook, but it's so tasty that it's hard to wait.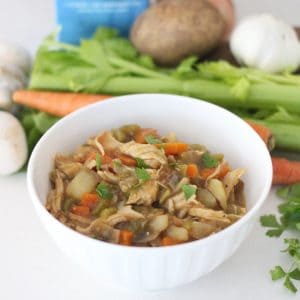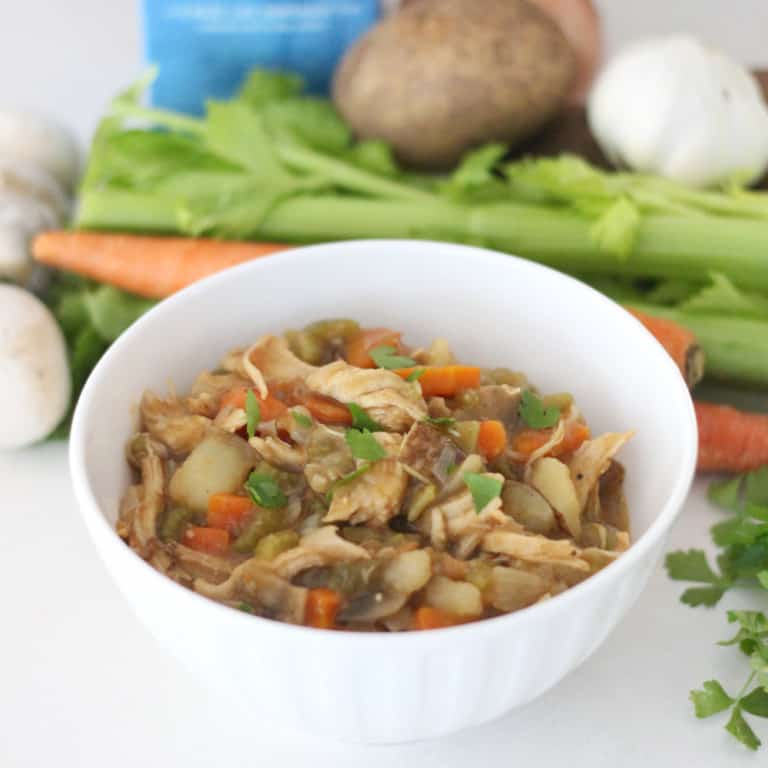 Chicken Hash
Chicken hash made with Progresso Unsalted Chicken Stock is the answer to all your comfort food cravings
Print
Rate
Ingredients
3

cups

chicken broth

+ 2 tablespoon

3

cups

diced potatoes

1 pound

2

tablespoon

butter

1 ½

pounds

chicken

2 ½

cups

diced onion

2 medium onions

2 ½

cups

diced celery

5-6 stalks

1

cup

sliced carrots

2 medium

2 ½

cups

sliced mushrooms

8 ounces

1

tablespoon

minced garlic

3 cloves

1

teaspoon

paprika

1

teaspoon

dried thyme

1

teaspoon

lemon pepper

¼

teaspoon

cayenne pepper

⅛

teaspoon

white pepper

⅛

teaspoon

nutmeg

1 ½

teaspoon

salt

1

tablespoon

cornstarch

½

teaspoon

fresh thyme
Instructions
In a medium pot, boil the 3 cups of broth and potatoes for about 20 minutes until potatoes are cooked. Set aside.

Meanwhile, heat 1 tablespoon of butter to a large pot or Dutch oven over medium high heat. Add chicken and cook until the chicken is done, about 10 minutes. Set aside & shred to make 3 ½ cups cooked chicken.

Add remaining 1 tablespoon of butter to the pot, and add the onions, celery, and carrots. Sauté for 15 minutes. Add in mushrooms, and sauté for about 7 minutes until mushrooms release their juices.

Add in minced garlic, paprika, thyme, lemon pepper, cayenne pepper, white pepper, nutmeg, and salt. Stir well.

Transfer the potatoes, the broth with the potatoes, and the chicken to the pot with the veggies. Stir together.

In a small bowl, stir together remaining 2 tablespoons chicken broth and cornstarch. Pour into pot, and stir well.

Stir in fresh thyme. Let the mixture simmer for at least 30 minutes. Best if cooked for over an hour. Enjoy!
Notes
*Cook 1.5 pounds of raw chicken before sautéing the veggies, or use 3 ½ cups of cooked chicken.
*Feel free to use butter, olive oil, or bacon grease to sauté your veggies. I used a combination of butter & bacon grease 😉
*Makes 8 cups
Did you try this recipe?
Be sure to leave a comment & recipe rating below. Bonus points for tagging @memeinge & #livingwellkitchen on Instagram! THANK YOU! xo
[showhide type="post" more_text="Click here for Nutrition Facts" less_text="Clear Nutrition Facts"]
*
Nutrition Facts
Chicken Hash
Amount per Serving
% Daily Value*
* Percent Daily Values are based on a 2000 calorie diet.
*
[/showhide]
Meme