Cheeseburger Chowder uses nutritious, convenient ingredients for an easy, delicious, and low-stress recipe that's mess-free. Thanks to Libby's® Vegetables, you can make this simple, budget-friendly soup in only one pot.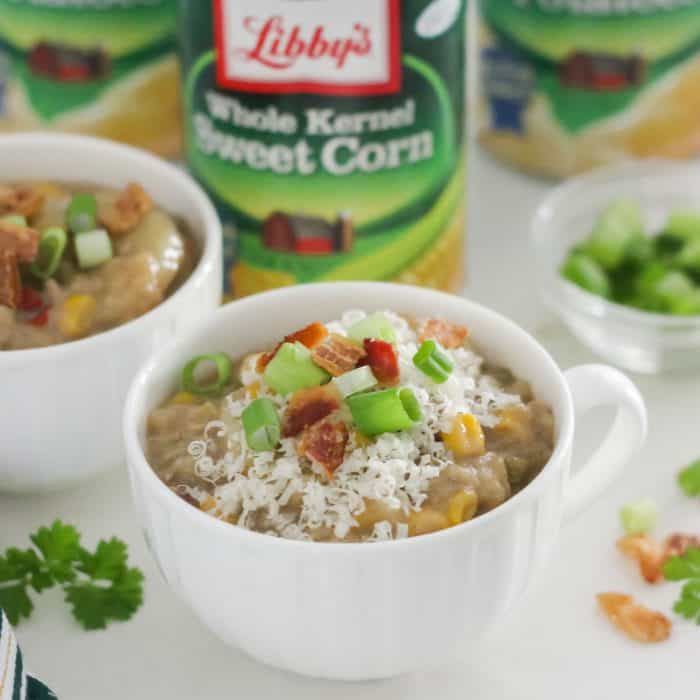 Disclosure: This post is sponsored by Libby's® Fruits & Vegetables. These partnerships help make Living Well Kitchen a reality, and I appreciate your support of the brands I love!
About Cheeseburger Chowder
Busy? Cold? Tired? Well, lucky for you, I have a recipe that is exactly what you need in your life: Cheeseburger Chowder.
This easy Cheeseburger Chowder recipe has 10 ingredients, requires barely any prep work and is cooked all in one pot for minimal cleanup. It's great for the busy holiday season when you want your family to enjoy a nutritious and tasty meal, but don't have the time to put too much effort into dinner.
Plus, you'll have enough chowder to serve any unexpected guests that might pop in during this festive time of year. And you can even pull out the holiday bowls & plates if you want to serve at a holiday party.
This is a one-pot recipe that everyone loves – in fact, I made it three nights in one week because the first batch was gone so quickly, I didn't get a chance to take photos.
I wasn't upset about that though because one-pot recipes are the way to my heart... they make life easier since there's only one dish to wash (yay for less cleanup) and you usually end up with a lot of food (yay for leftovers)! So, I happily obliged to eating this Cheeseburger Chowder three nights in one week.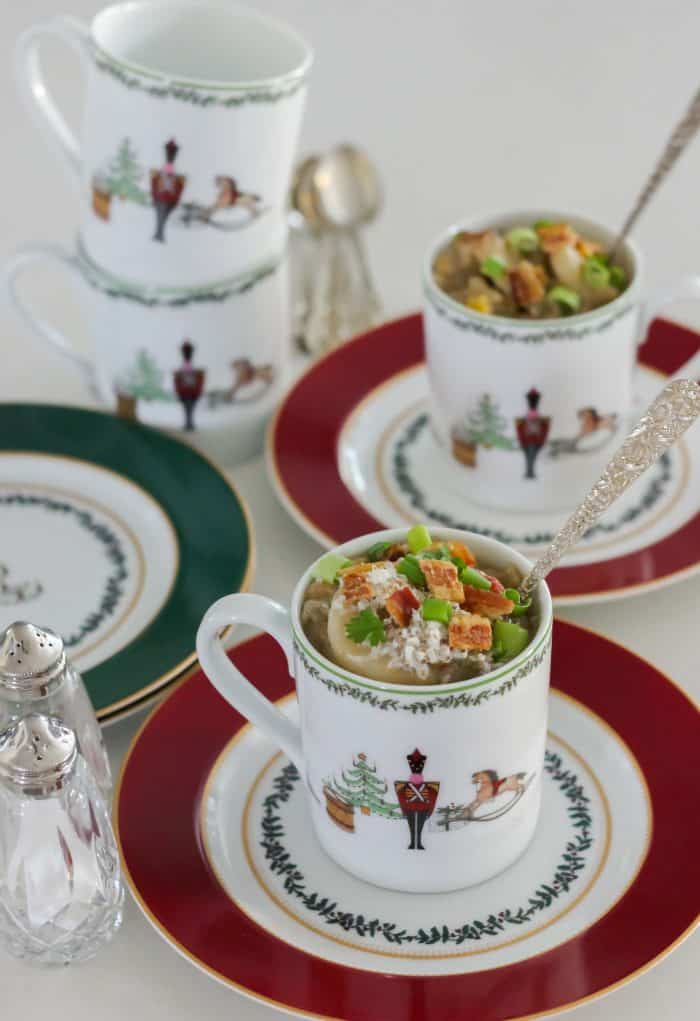 What is Cheeseburger Soup
You can call this one-pot recipe Cheeseburger Soup or Cheeseburger Chowder, but either way, it's delicious. Thick, creamy and comforting, it's fabulous for a chilly night when you want a low effort, no-stress, minimal cleanup meal.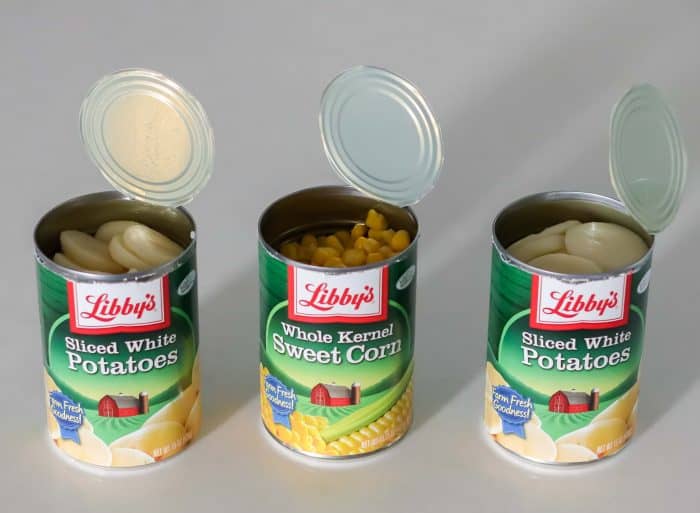 Canned Veggies Make Life Easier
I can think of multiple reasons why I love Libby's® Fruits & Vegetables, but I think my favorite is that they make life so easy. Simply opening & draining the can is the only prep work needed which is oh, so very nice.
Minimal prep work is key when I would rather spend time with my family and friends instead of laboring in the kitchen, especially during the holiday season.
Bonus: I love that Libby's® Fruits & Vegetables help me add more fruits & veggies into my diet while going easy on my budget, which is important during the holiday season (gotta save money for traveling to see family and buying gifts). Then again, I don't mind saving money on food all year 'round.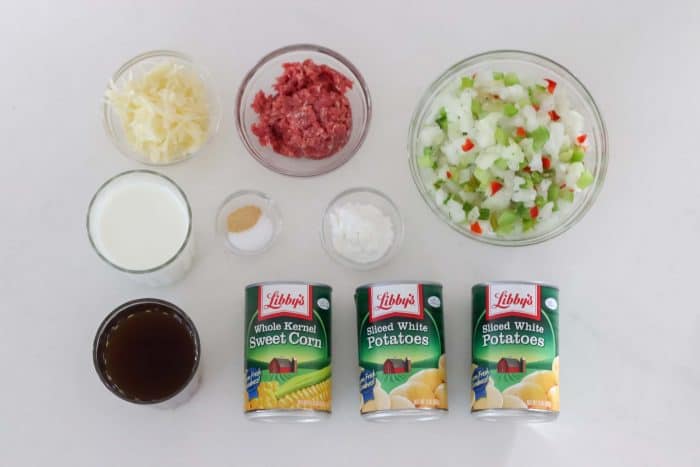 Cheeseburger Chowder Ingredients
Libby's® Whole Kernel Sweet Corn: The corn gives a touch of sweetness and adds extra fiber to the soup. Another option is Libby's® Naturals Whole Kernel Sweet Corn.
Libby's® Sliced White Potatoes: I like the sliced white potatoes because I think they are easier to enjoy in the chowder. You can add one can of potatoes to the soup and mash the other can to thicken the soup. However, you could also use the Libby's® Whole White Potatoes then chop one can and mash the other.
Ground beef: Use one pound of lean ground beef. I prefer 93/7 or 94/6 because the low-fat content means you likely will not need to drain the meat. Ground sirloin, 90/10, and 85/15 are also great options, but be sure to drain the meat after cooking, so there isn't a ton of excess grease in the chowder.
While ground beef isn't the most budget friendly ingredient, you only need one pound for 12 cups of soup. Thanks to the addition of all the veggies, your Cheeseburger Chowder will give you the satisfaction of a dish with meat, while keeping your budget in check.
Frozen veggies: The frozen veggies are already diced, so there's no need to do any chopping. I prefer to use a mix of onions, celery, and green/red peppers, if possible. You can typically find it labeled as "seasoning mix" and it has parsley flakes in it.
If you cannot find a mix of frozen peppers, onions and celery, you can use a bag of frozen bell peppers and a bag of frozen onions. Simply make sure you use about 18-24 ounces of frozen veggies. Or you can also use fresh onions, bell peppers and celery in place of the frozen veggies, if you prefer, and you'll need about 6-7 cups of diced fresh vegetables.
Broth: I tested the recipe using chicken broth, as well as beef broth, and both versions tasted great. Vegetable broth is another good option. Try to use unsalted broth, if possible, to keep the sodium content of the chowder down. Water will work in a pinch, but the soup will be a lot less flavorful. If using water, I recommend adding spices like garlic powder, onion powder, cayenne pepper, and/or herbs like parsley, rosemary or thyme to the soup to add flavor.
Garlic powder: Adding garlic flavor with garlic powder keeps you from having to mince a clove of garlic, which saves you from needing to wash the knife and cutting board. However, you can certainly use minced fresh garlic in place of the garlic powder.
Salt: Like most chowders, this one really needs salt. I tested it with no salt, and it was quite bland. You can decrease the amount of salt added to the soup and add more at the table to taste, if desired.
Milk: The recipe was tested using 2% milk, but whole milk will also work well. I don't recommend using skim milk or 1% because it could curdle while cooking. Plus, you want some of the milk fat to give your chowder its classic creaminess.
Corn starch: The corn starch helps thicken the chowder since you aren't using cream or butter. Flour can also thicken the soup, but you will need to use twice the amount of flour as you do of cornstarch.
Cheddar cheese: Use a sharp cheddar cheese to give your soup a cheesy flavor. A mild cheddar or mozzarella will disappear in the chowder. Also, I prefer to buy a block of cheese and shred it myself for optimum taste and texture. It's only about five minutes of prep work, and it's well worth it. I recommend waiting to add the cheese until just before serving.

How to Make Cheeseburger Chowder
Add the ground beef, onions, bell peppers and celery to a large pot.
Cook until the ground beef is done, and all the liquid has evaporated.

Drain off any grease, if needed.

Mash one can of Libby's® Sliced White Potatoes with a fork.

You can mash the potatoes right in the can. No need for them to be completely smooth.

Add the broth, one can of Libby's® Whole Kernel Sweet Corn, one can of Libby's® Sliced White Potatoes, and the can of mashed Libby's® Sliced White Potatoes to the large pot with the ground beef, onions, bell peppers and celery.
Stir well and simmer.
Add most of the milk, and simmer.
Whisk together remaining cold milk and cornstarch.
Pour in cornstarch-milk mixture and cheese. Stir well.

Simmer until thickened, and serve.
Tips for Making Cheeseburger Soup
This Cheeseburger Soup is pretty simple to make and quite forgiving if you make any mistakes. Here are a few ideas for ingredient substitutions and what to do if you make a mistake while cooking.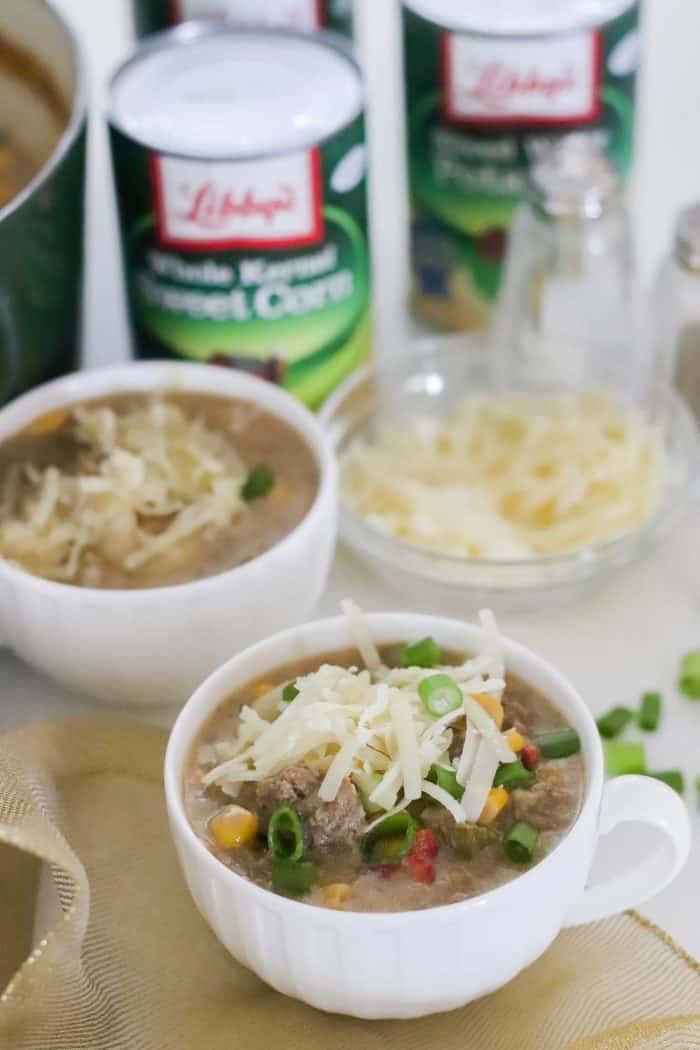 Ingredient Options
Ground beef: Ground turkey can be used in place of the ground beef.
Frozen veggies: Use an equal amount of fresh, diced onions, bell peppers and/or celery. You'll use about 6-7 cups of diced vegetables (about 2 onions, 2 bell peppers and 4 stalks of celery).
Garlic powder: One garlic clove minced can be used instead of the garlic powder.
Corn starch: Arrowroot powder or all-purpose flour can be used as alternatives for corn starch. Use an equal amount of arrowroot powder in place of corn starch. Use twice the amount of flour in place of corn starch.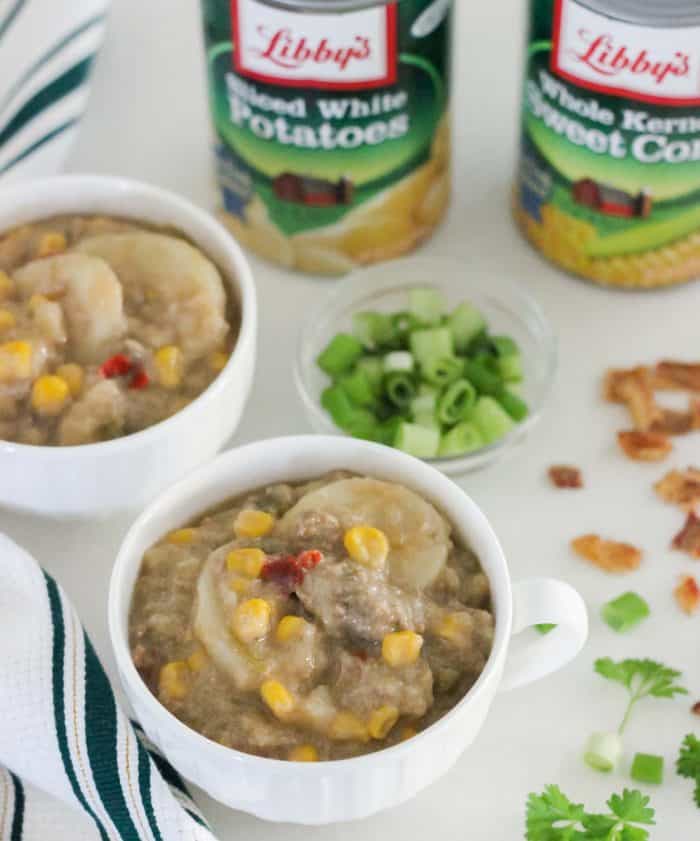 How to Make It Allergy Friendly
This Cheeseburger Chowder recipe is already gluten free, egg free, nut free and soy free. I haven't tested it with dairy free alternatives, but you could possibly use unsweetened almond milk and dairy free cheddar to make this cheeseburger soup dairy free.
Flavor Substitutions
Not in the mood for Cheeseburger Chowder? Skip the cheese in the recipe. Your chowder will still be creamy, but now it will be a creamy hamburger soup instead of cheeseburger soup (yet still really tasty!)
How to Fix a Mistake
If the chowder is not thick enough: 1) One option is to add another ¼ cup cold water or milk + 1 tablespoon cornstarch to the soup. 2) Another option is to remove some of the potatoes and mash. Then return to the soup. In either option, be sure to stir well and allow about 10-15 minutes for the chowder to thicken.
If it's too thick: Stir in extra water, broth or milk in ½ cup increments until it is to your desired thickness.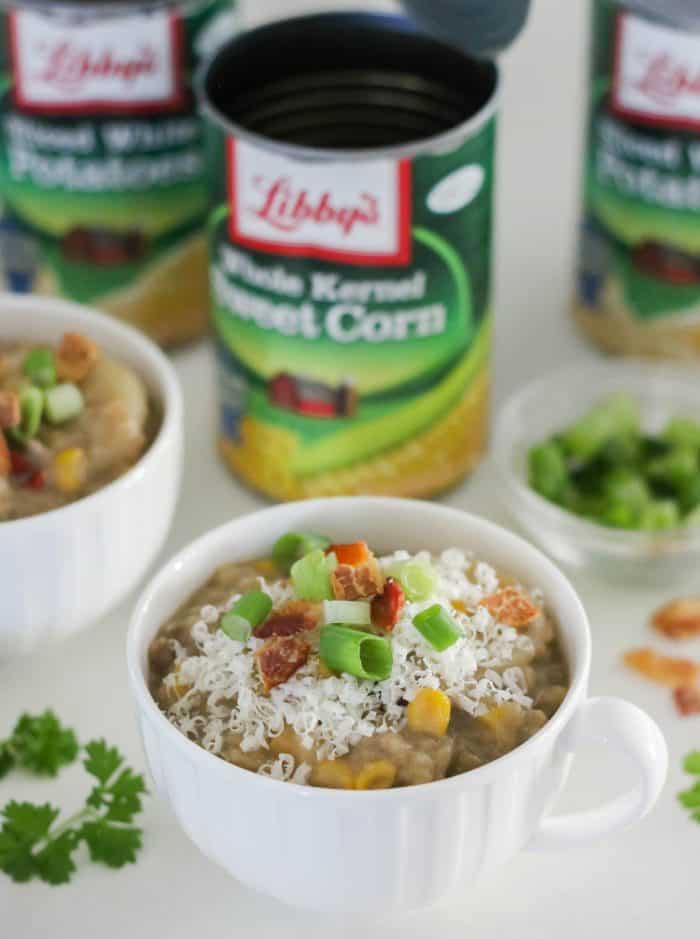 Make-Ahead Ideas
Because this soup requires very little prep work, there isn't much you can do ahead of time other than shredding the cheese which can be done a few days in advance – just be sure to keep it in an airtight container in the fridge.
You can also make this Cheeseburger Soup ahead of time and reheat it in a pot over medium-low, stirring occasionally, until warmed through. If you are making this in advance, wait to add cheese until just before serving if possible.
Occasionally, the soup will get a little thinner when reheated, so you can cook for extra time to thicken or add ¼ cup cold water + 1 tablespoon cornstarch to the soup and simmer for 10 minutes until thickened.
Storage Suggestions
Transfer any leftovers into an airtight container and keep in the fridge up to four days or in the freezer up to one month.
Reheat in a saucepan on the stove over medium heat or in the microwave. Warm in the microwave on 50% power in 45 second intervals, stirring between, until warmed through. For frozen chowder, defrost in the fridge if possible or use the microwave (according to your appliance directions).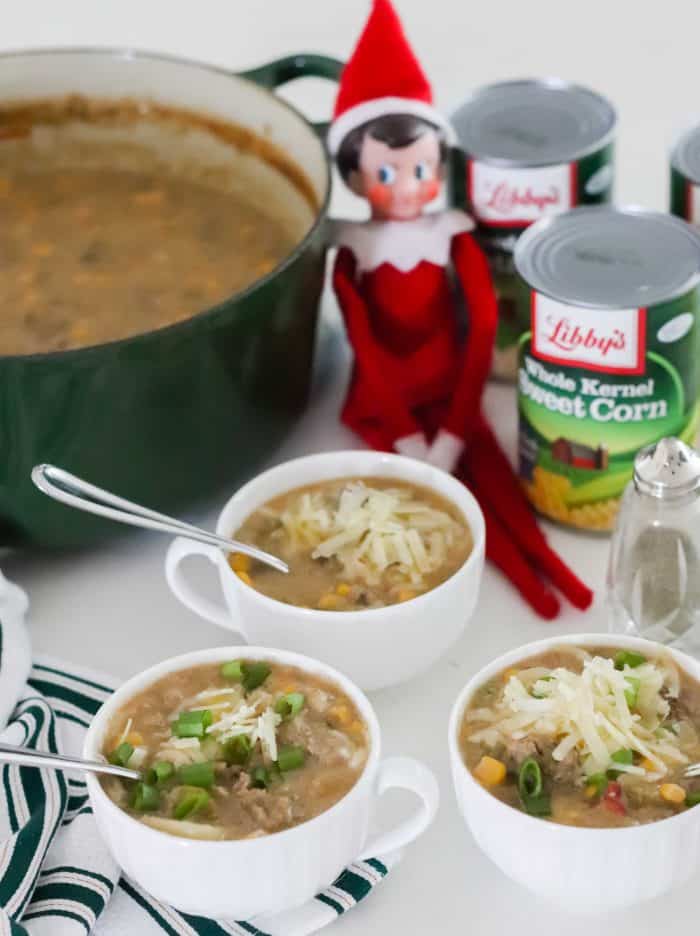 Frequently Asked Questions
Can you freeze Cheeseburger Chowder?

Yes, you can freeze this Cheeseburger Soup. Follow the directions in Storage Tips for freezing and reheating suggestions.
How to Thicken Chowder Without Cream
There is no cream or butter in this chowder recipe, but it still has a thick and creamy texture. Three things help thicken the Cheeseburger Chowder:
Mashing one can of Libby's® Sliced White Potatoes and adding it to the chowder. The starch in the potatoes helps thicken the soup.
Adding a mixture of milk and cornstarch.
Using cheese in the chowder.
Nutrition benefits of Easy Cheeseburger Chowder
This Cheeseburger Chowder is full of veggies, and each cup of chowder has one serving of veggies in it. Vegetables nourish your body with antioxidants, fiber, vitamins and minerals. Eating a wide variety, like in this chowder, is recommended to provide your body with nutrients it craves.
Additionally, thanks to the milk and cheese, each serving (1.5 cups) has 20% of the recommended amount of calcium and potassium. Calcium helps build strong bones, and potassium helps preserve bone mineral density.
What to serve with Cheeseburger Soup
This Cheeseburger Chowder is delicious on its own, but I love topping it with cheese, chopped green onions, fresh parsley, red pepper flakes, crumbled bacon, diced tomatoes or anything you want.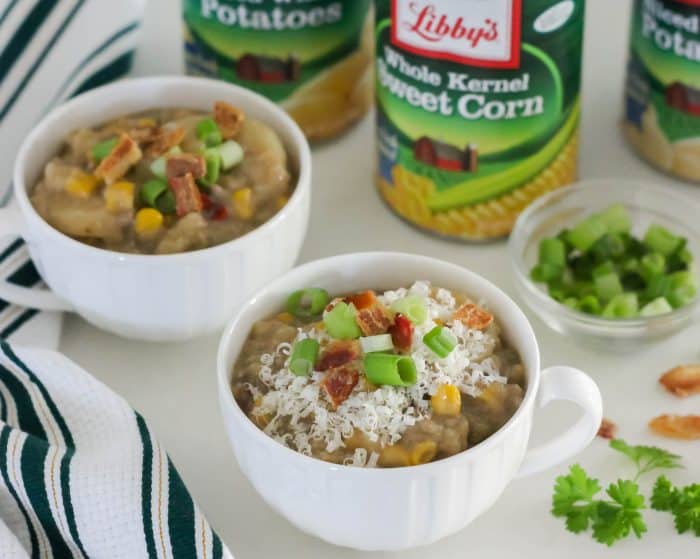 Final thoughts:
Thanks to Libby's® Canned Vegetables, you only 10 ingredients and less than 10 minutes prep time to make this easy, delicious, low stress Cheeseburger Chowder recipe that has little mess. Cheeseburger Chowder is a one-pot meal your whole family will love.

MORE ONE-POT RECIPES YOU'LL LOVE:
---
Cheeseburger Chowder Recipe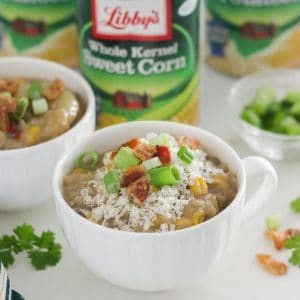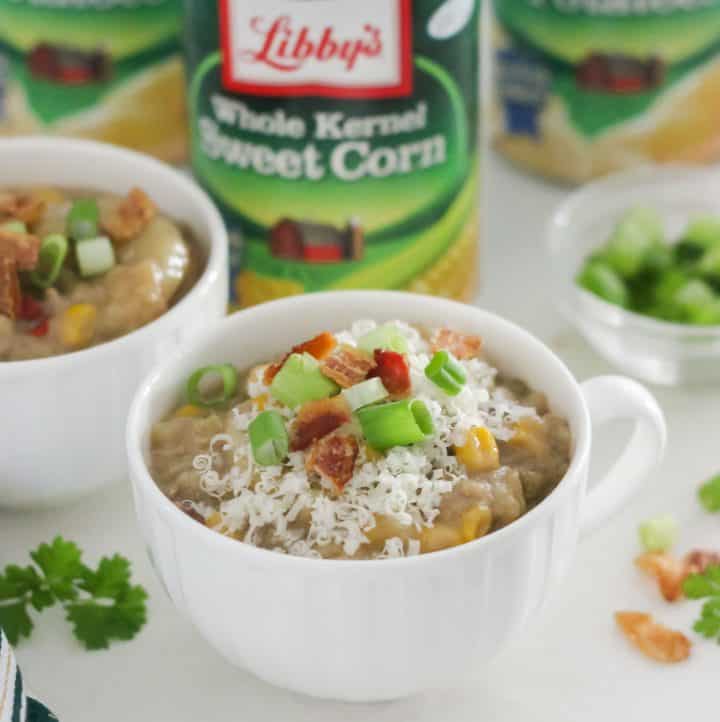 Cheeseburger Chowder
Cheeseburger Chowder uses nutritious convenience ingredients for an easy, delicious, low-stress recipe that requires little cleanup.
Print
Rate
Ingredients
2

(15 ounce cans)

Libby's Sliced White Potatoes

drained

1

(15.25 ounce can)

Libby's Whole Kernel Sweet Corn

drained

1

pound

ground beef

lean

24

ounces

frozen vegetables

onions, bell peppers and celery

4

cups

unsalted beef broth

or chicken broth or vegetable broth

2

cups

milk

divided

¾

teaspoon

salt

¼

teaspoon

garlic powder

3

tablespoons

cornstarch

4

ounces

cheddar cheese

shredded, divided
Instructions
Add ground beef and frozen onions, bell peppers and celery to a large pot. Cook over medium-high heat, stirring occasionally, until beef is done and liquid from veggies has evaporated. Drain off grease if needed.

Pour in 1.5 cups milk, salt and garlic powder, and cook over medium heat for 10 minutes.

Meanwhile, whisk together remaining ½ cup milk and cornstarch. Pour in cornstarch-milk mixture and stir in 2 ounces cheese. Cook for 10-15 minutes until soup has thickened to your desired consistency.

Serve with extra cheese, chopped green onions, parsley, crumbled bacon and/or sliced tomatoes. Enjoy!
Notes
*Makes 12 cups
*If making ahead of time, wait to add cheese until just before serving.
What to Use in This Recipe
Did you try this recipe?
Be sure to leave a comment & recipe rating below. Bonus points for tagging @memeinge & #livingwellkitchen on Instagram! THANK YOU! xo
[showhide type="post" more_text="Click here for Nutrition Facts" less_text="Clear Nutrition Facts"]
*
Nutrition Facts
Cheeseburger Chowder
Amount per Serving
% Daily Value*
* Percent Daily Values are based on a 2000 calorie diet.
*
[/showhide]
Meme
Doesn't this recipe look good?! You should probably share it: