Sausage and Lentils Casserole is a spicy, satisfying, and incredibly delicious one-pot stew that is great for leftovers.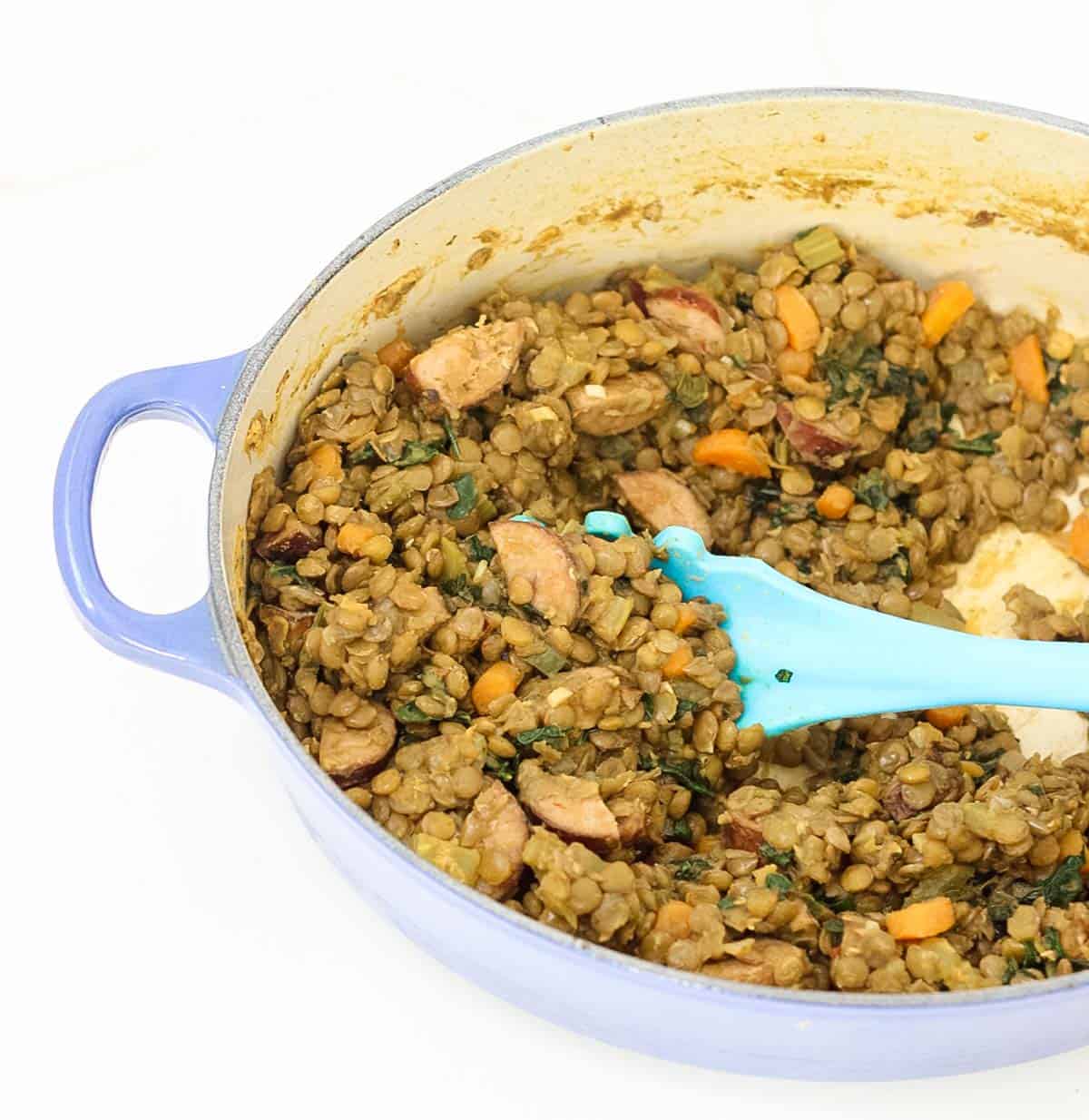 About Sausage and Lentils
This sausage and lentils recipe is one I think about regularly.
In fact, if I had to pick my favorite recipes from the 700+ options on my blog, this would make the top 10!
The sausage and jalapeño add a spicy hint, while the veggies and lentils mellow out the flavor. Lemon juice at the end really brightens the dish, so I highly recommend it.
This Sausage and Lentils Casserole will become a new favorite dinner.
Spicy, tasty, and incredibly satisfying thanks to all the fiber from the lentils and veggies. There's just enough sausage to give that delicious sausage flavor but not too much.
It's simple enough to make this recipe: brown the sausage, sauté the veggies, add your broth & lentils, and simmer for a little bit.
When the broth has all but absorbed, stir in the kale and cooked sausage. And yum!
This dish is filling and flavorful.
Plus, it gets even better as it sits in your fridge, so it's great for making ahead of time or for leftovers. Luckily, it also freezes well.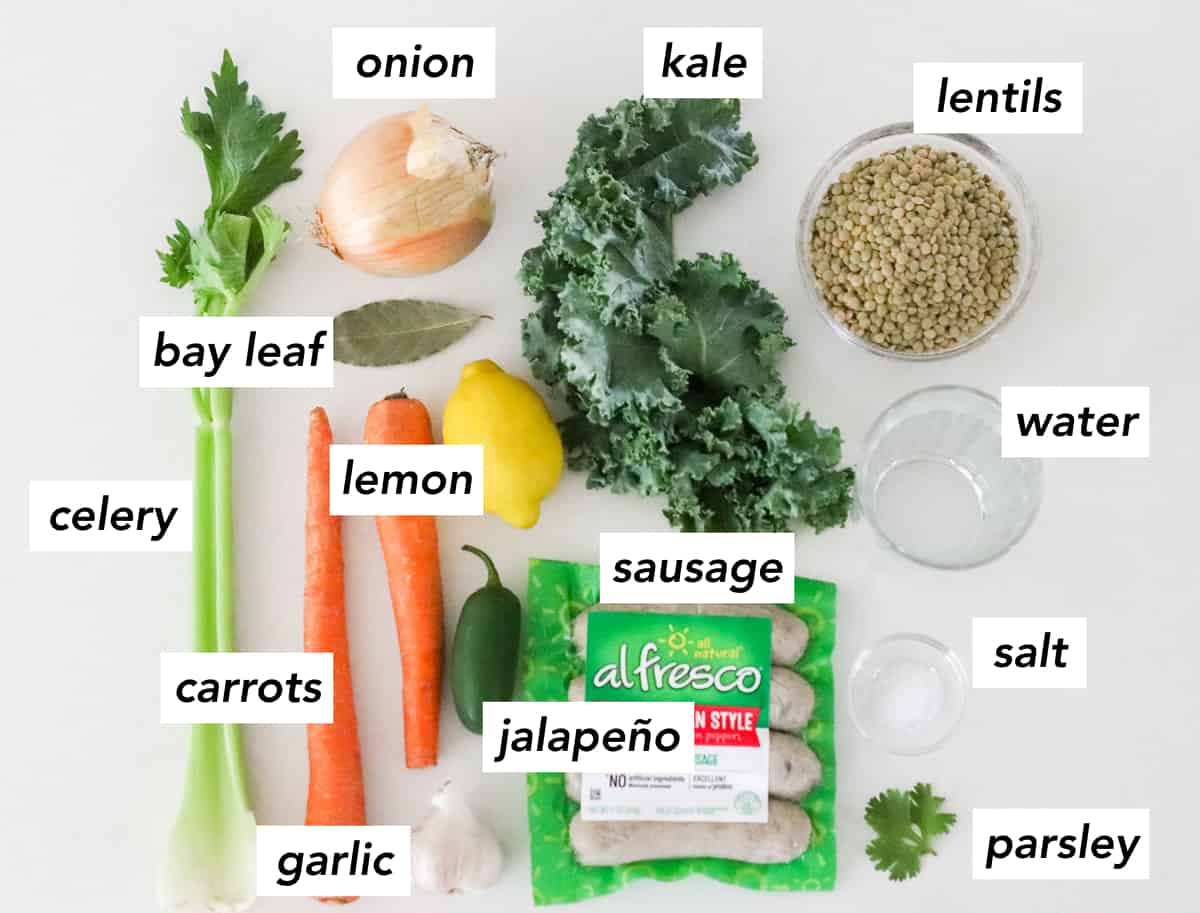 Ingredients
Sausage: I like using the link sausage, but ground sausage will work as well. I typically buy chicken sausage because it isn't as rich, but you can certainly use pork sausage. A flavored sausage will also be fine; I like the andouille chicken sausage.
Veggies: The veggies used (other than kale) are onions, carrots, and celery. Any kind of onion is fine, and you can substitute one of the veggies for a bell pepper if desired. Honestly, you don't really taste any of these veggies because they kind of melt into the sauce.
Seasoning: Garlic, jalapeño, a bay leaf, and salt are all you need to season this sausage and lentils casserole. Garlic powder and red pepper flakes can be used in their place.
I'm a big fan of bay leaves because it adds a layer that you can't really find in other spices, but you can skip it if needed. You can also add fresh parsley or cilantro at the end, but that's completely optional.
Kale: Admittedly, kale isn't my favorite. I like to use lacinato (also known as dinosaur kale or Tuscan kale) because it has a less intense kale flavor.
However, you can use any type of kale because the sausage, other veggies, and jalapeño give this a ton of flavor that the kale flavor isn't very strong. Another option is to use another type of fresh green that you like (ex: spinach or collard greens).
Lentils: I prefer using green lentils since they hold up a little better than red lentils. If you only have red lentils, they will work. But you might want to be cautious not to cook this for too long or your lentils will possibly have a mushy texture.
Broth: Any broth (vegetable, beef, or chicken) is fine. Water is another suitable option.
Lemon: I love the fresh lemon at the end, but when I made this for my family, my niece preferred it without lemon; totally up to you.
Recipe Cost
sausage 8 ounces: $3.36
onion 1 medium: $0.50
carrots 1 large: $0.20
celery 2 stalks: $0.28
jalapeño 1 small: $0.20
garlic 2 cloves: $0.12
salt ¼ teaspoon: $0.01
broth 4 cups: $2.14
lentils 1 ½ cups: $1.47
bay leaf 1: $0.10
kale 4 cups: $0.43
lemon juice 2 tablespoons: $0.25
TOTAL COST: $9.06 or $2.27/serving (Based on San Diego grocery stores 2023)
Note this is not the recipe; it's simply to show the cost breakdown of ingredients. Be sure to scroll down to the full recipe to see the specific ingredients and directions.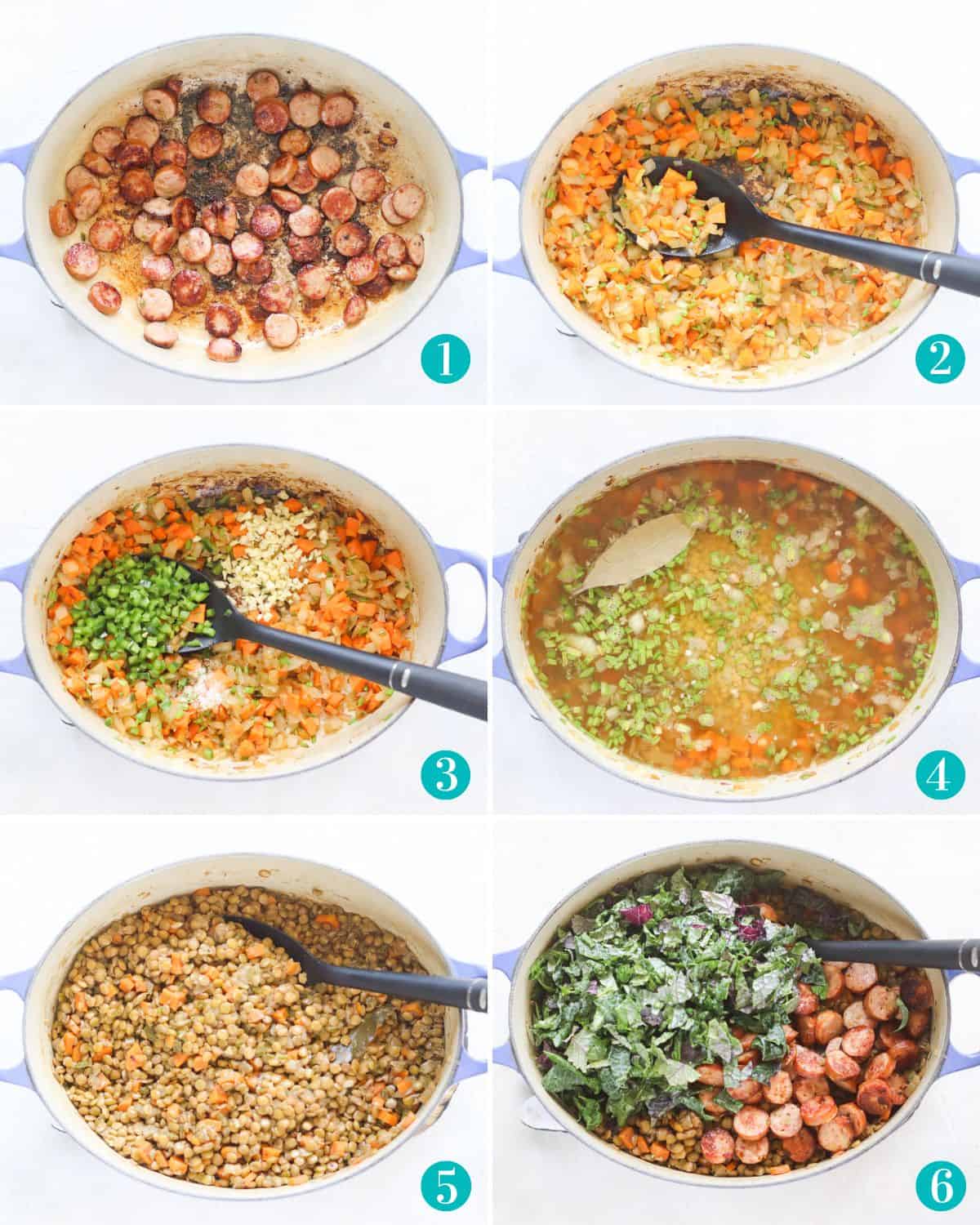 How to Make Sausage and Lentils Casserole
Time needed: 55 minutes
Preparing Lentils with Sausage and Kale is very simple and made in one pot.
Brown the sausage in the pot.

Remove and set aside. If there is excess grease, wipe some out. No need to scrape out any bits of sausage that are on the bottom of the pot. This will give it flavor.

Sauté the veggies in the pot.
Add the garlic and jalapeño.

Stir for one minute.

Stir in lentils, salt, bay leaf, and broth.

Simmer until most of the liquid absorbs.

Add kale and cooked sausage.
Stir and cook until kale wilts.

Serve with fresh parsley and/or lemon juice if desired. Enjoy!
Recipe Tips
Variations
Ingredient Options
Sausage: Any sausage will work. Using a flavored sausage will alter the flavor.
Jalapeño: Use red pepper flakes in place of the jalapeño if needed. Start with ½ teaspoon and add more if desired.
Garlic: Fresh garlic is preferred, but garlic powder is fine. Use ½ teaspoon garlic powder in place of the fresh.
Lemon: Lime juice, white wine vinegar, or red wine vinegar can all be added in place of lemon juice.
Alternative Prep & Cooking
If you want this to be more like a stew, add an extra 3 cups of water or broth.
How to Make Allergy Friendly
This lentil and sausage recipe is gluten-free, dairy-free, soy-free, nut-free, and egg-free (make sure the sausage you buy is free of these ingredients if needed).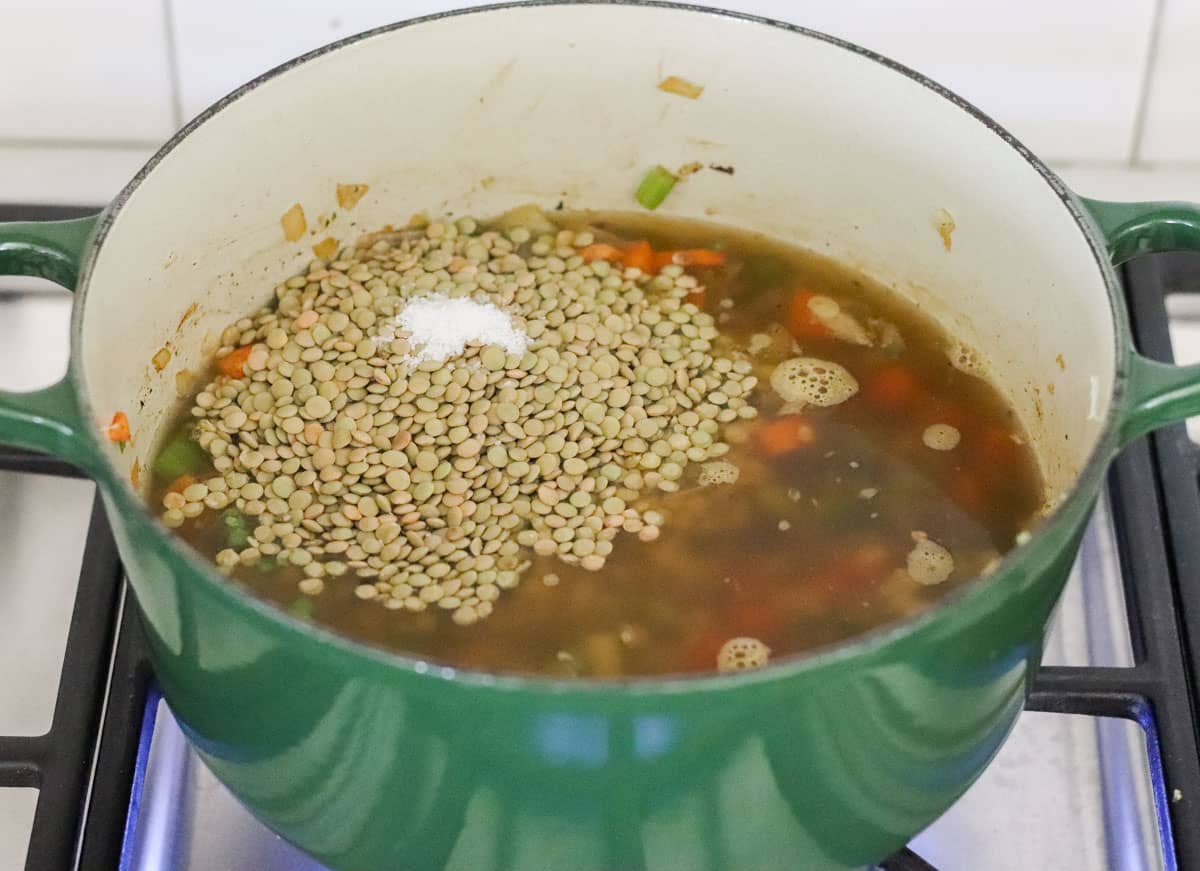 How to Fix a Mistake
Lacking flavor: A squeeze of lemon or lime juice really enhances the flavor. Hot sauce is another great addition. White wine vinegar and red wine vinegar are great as well.
Too soupy: Simmer for a little longer until more liquid evaporates. It will slightly thicken as it cools.
Too thick: Add extra water or broth in ¼ cup increments, stirring well with each addition. Once it reaches your desired consistency, let simmer for 5 minutes to warm through.
Make Ahead Ideas
This is great to make ahead of time because it's similar to a stew or soup where the longer it has time to sit together, the better it gets. Prepare as directed and reheat when ready to enjoy.
Storage Suggestions
Keep this in an airtight container in the fridge for up to 5 days or up to 4 weeks in the freezer.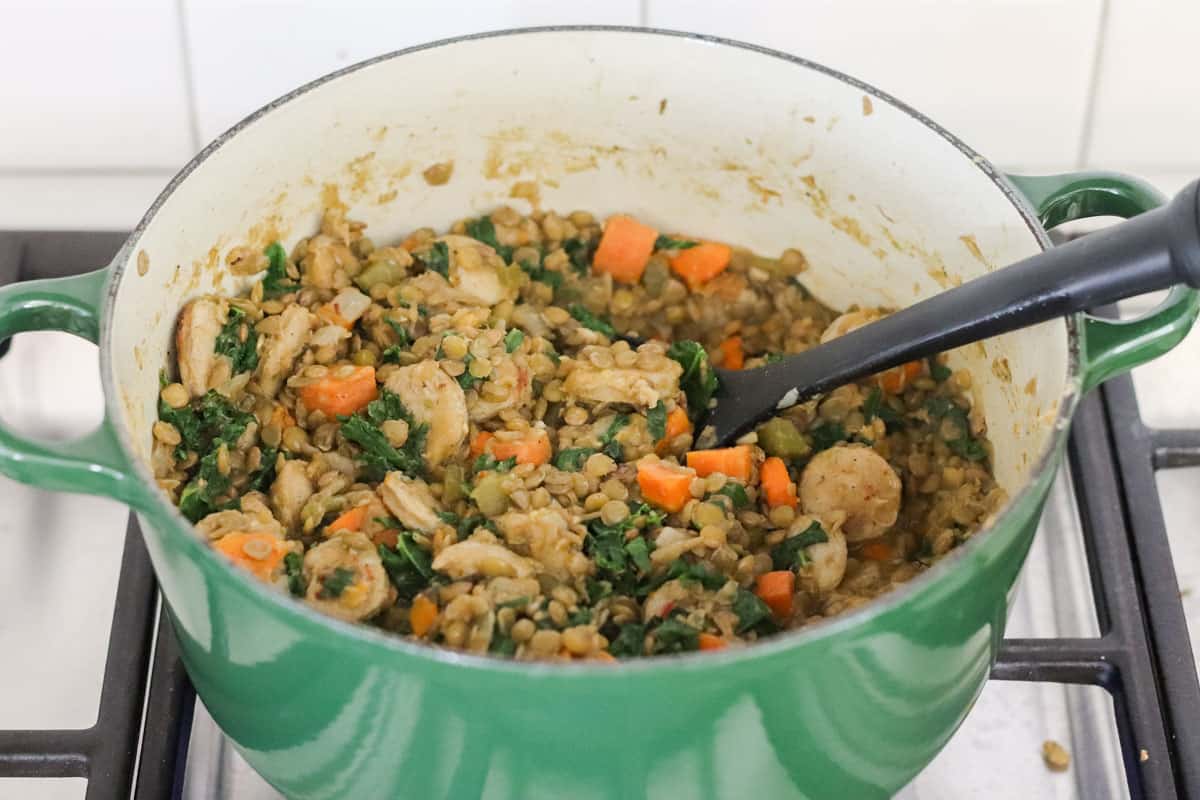 Frequently Asked Questions
What tastes good with lentils?
There are many ingredients and spices that work well with lentils. Onions, carrots, bell peppers, celery, and garlic are all delicious additions to lentils.
Do green lentils need to be soaked?
Green lentils do not need to be soaked before cooking. In this sausage and lentils recipe, the lentils are cooked with veggies and broth.
What meat goes with lentils?
Sausage, pork, chicken, beef, turkey, and tofu all go well with lentils. In this recipe, sausage and lentils pair perfectly together because the sausage infuses the lentils with its flavor.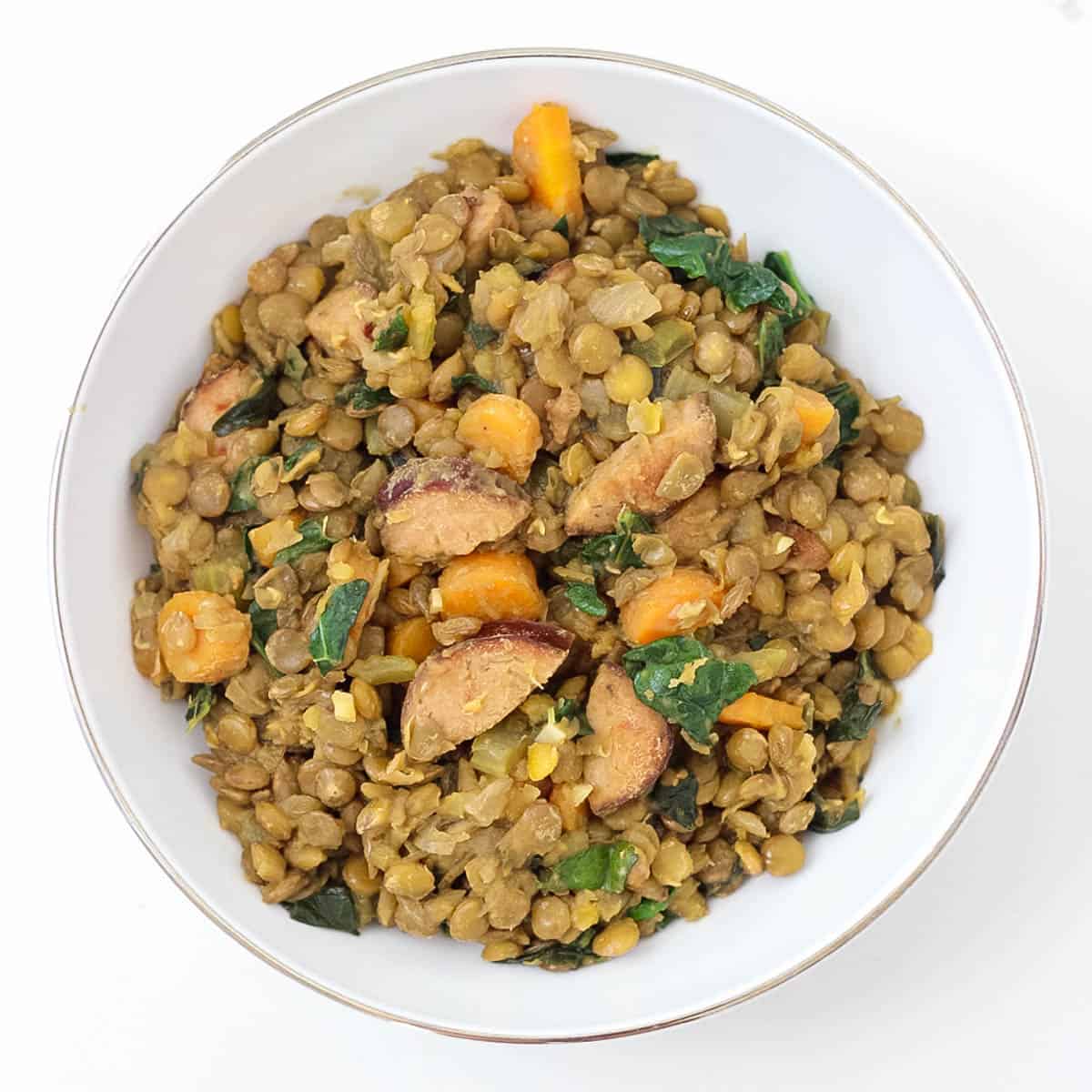 Nutrition Benefits
This Lentils with Sausage and Kale dish is delicious and full of nutrients. One serving (about 1.75 cups) provides 252% RDA of vitamin A, 109% RDA of vitamin C, 39% RDA of iron, 35% RDA of potassium, and 26% RDA of calcium.
The lentils give you a hefty dose of fiber for over 100% of the RDA of fiber in each serving.
Plus, by combining lentils with sausage, you get a substantial serving of protein to keep you full and satisfied.
One of my favorite parts of this lentil sausage stew dish is that it has tons of vegetables, like kale, onions, and garlic, giving this dish antioxidants and phytochemicals that help you feel good from the inside out.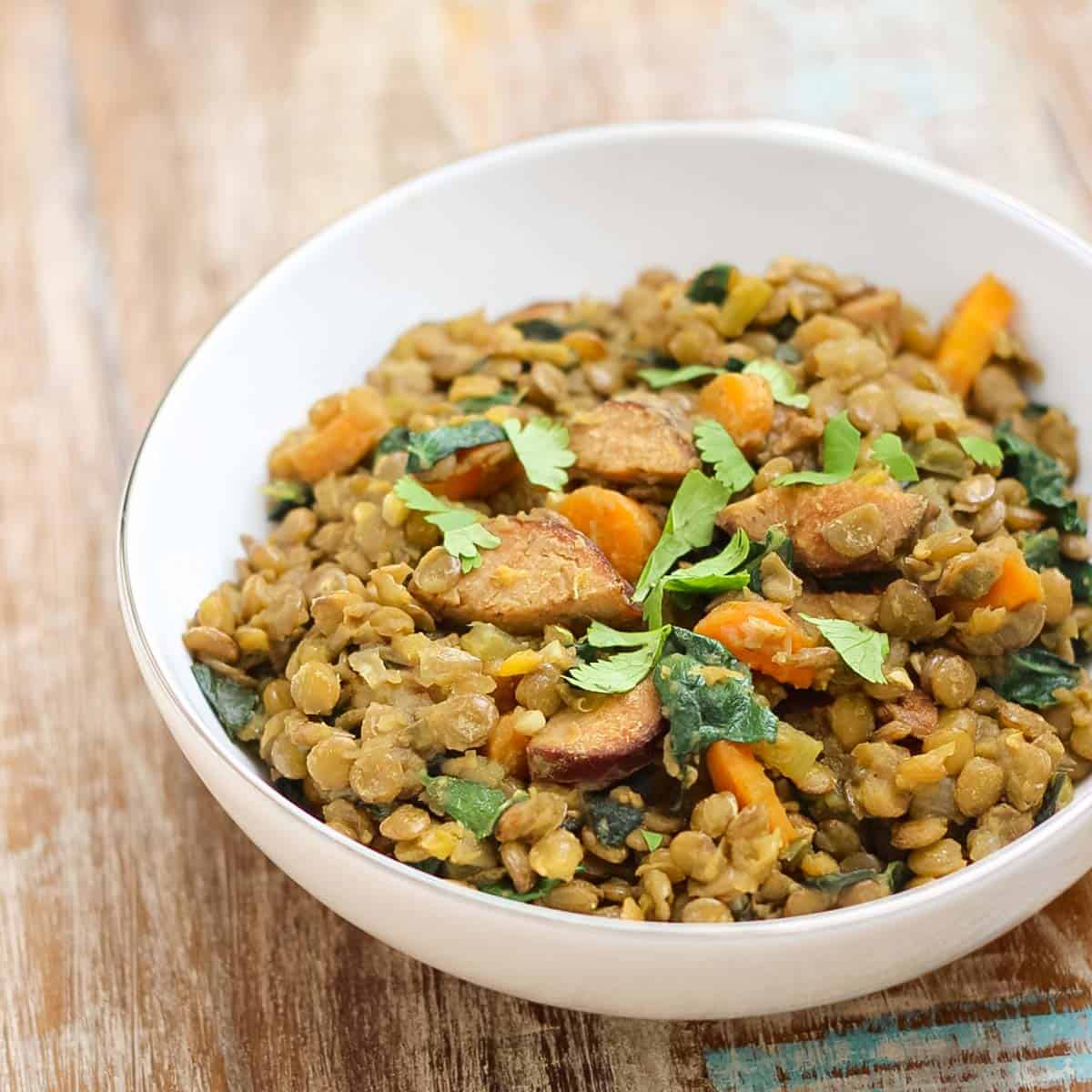 What to Serve with Sausage and Lentils
This is really a complete meal in one thanks to the copious amount of veggies. It's quite filling, but if you feel like it needs a side, you can serve it with a slice of bread or cornbread.
Final thoughts:
Ever find a recipe and think "That looks ok..." but then it turns out AMAZING?
This is that sausage and lentils casserole recipe. Trying to find a use for the leftover sausage in my fridge to pair with the random pantry ingredients I have (lentils or beans or something like that), I found this recipe from Serious Eats. And whew am I glad I tried it!
The fact that it's made in one pot really sold me because cooking everything in one pot makes life much easier. And then this lentil sausage kale dish turned out to be absolutely perfect. HIGHLY recommend!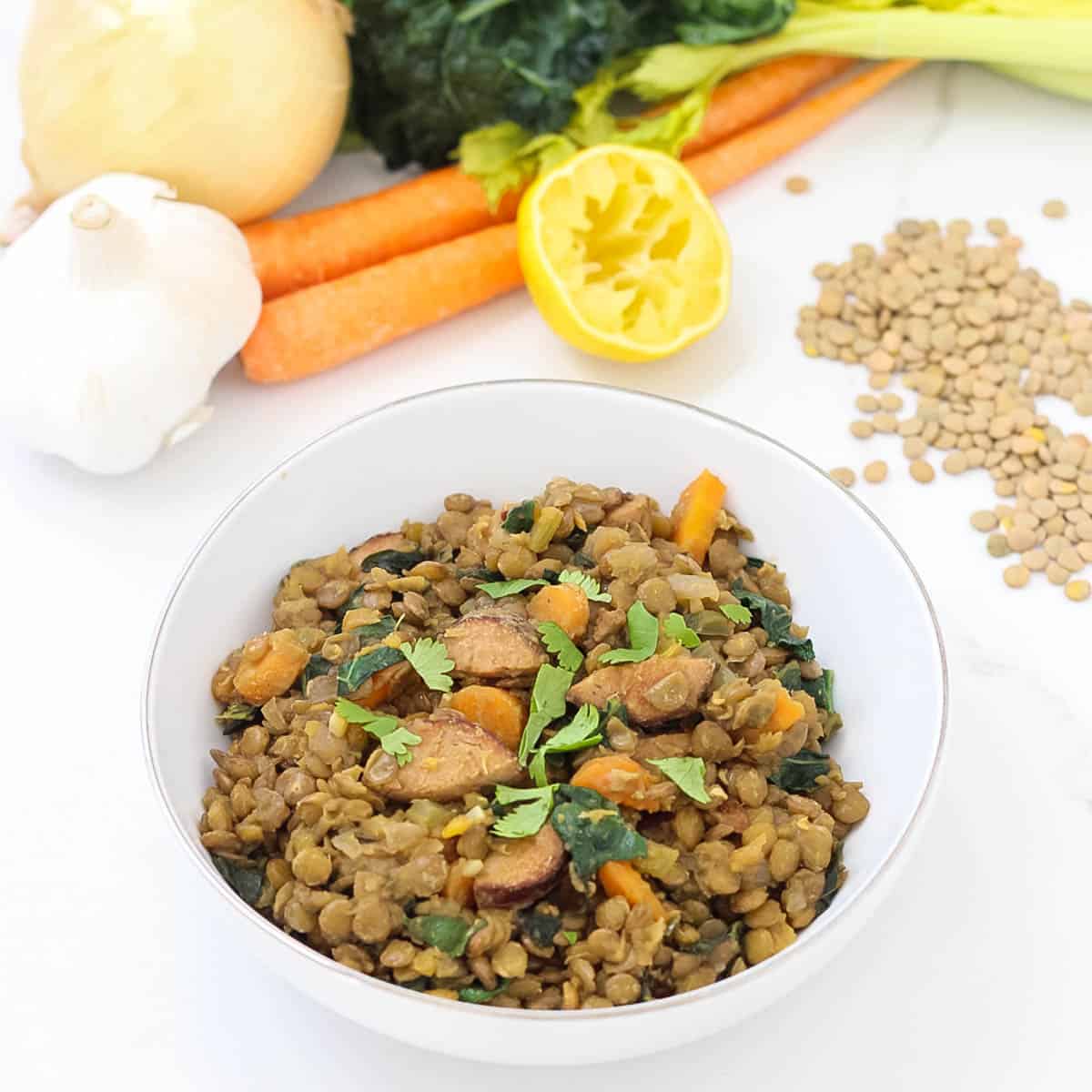 MORE LENTIL RECIPES YOU'LL LOVE: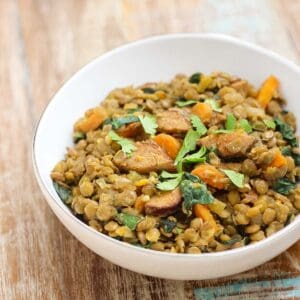 Sausage and Lentils Casserole
Sausage and Lentils with kale is a spicy, satisfying, and incredibly delicious one-pot casserole or stew that is great for leftovers.
Print
Rate
Total Cost:
$9.06 or $2.27/serving
Ingredients
8

ounces

sausage

sliced

1 ¼

cup

onions

diced (1 medium)

1

cup

carrots

diced (1 large)

1

cup

celery

diced (2 stalks)

2

tablespoons

jalapeño

minced (1 small)

2

teaspoons

garlic

minced (2 cloves)

¼

teaspoon

salt

4

cups

no salt added chicken broth

or water

1 ½

cups

lentils

rinsed & sorted

1

bay leaf

4

cups

kale

chopped (⅓ bunch)

2

tablespoons

lemon juice

optional (½ lemon)

2

tablespoons

parsley

optional
Instructions
Heat a pot or dutch oven over medium-high heat. Add sausage and cook for about 5-7 minutes until browned. Flip and brown the other side. Transfer to a plate, and set aside.

Add diced onions, carrots, and celery to the pot. Sauté veggies until softened for about 5 minutes.

Stir in jalapeño and garlic, and sauté for 1 minute.

Add salt, chicken broth, lentils, and bay leaf. Stir well. Bring to a boil, reduce heat to simmer, and simmer for 30 minutes.

When almost all of the liquid has absorbed and the lentils are softened, stir in kale & reserved sausage. Cook for about 5 minutes until kale wilts and the liquid has been mostly absorbed.

Remove bay leaf and stir in lemon juice. Serve with parsley and extra lemon if desired.
Notes
*If you want this to be more like a stew, add an extra 3 cups of water or broth.
*Lemon and parsley are great additions for serving, but they are completely optional.
*Lime juice, white wine vinegar, or red wine vinegar can be used in place of the lemon juice.
*Makes about 7 cups total.
What to Use in This Recipe
Did you try this recipe?
Be sure to leave a comment & recipe rating below. Bonus points for tagging @memeinge & #livingwellkitchen on Instagram! THANK YOU! xo
This post was originally published on April 20, 2016. The text, recipe, and photos have been updated.
Meme
---
Sausage and Lentils Casserole Nutrition Facts
Nutrition Facts
Sausage and Lentils Casserole
Amount per Serving
% Daily Value*
* Percent Daily Values are based on a 2000 calorie diet.
How many calories in a bowl of lentils and sausage?
There are 435 calories in a 1.75-cup serving of sausage and lentils.