This easy ice cream pie will be your favorite summer party and birthday ice cream cake. It's super simple with just Oreos, ice cream, chocolate sauce and candy.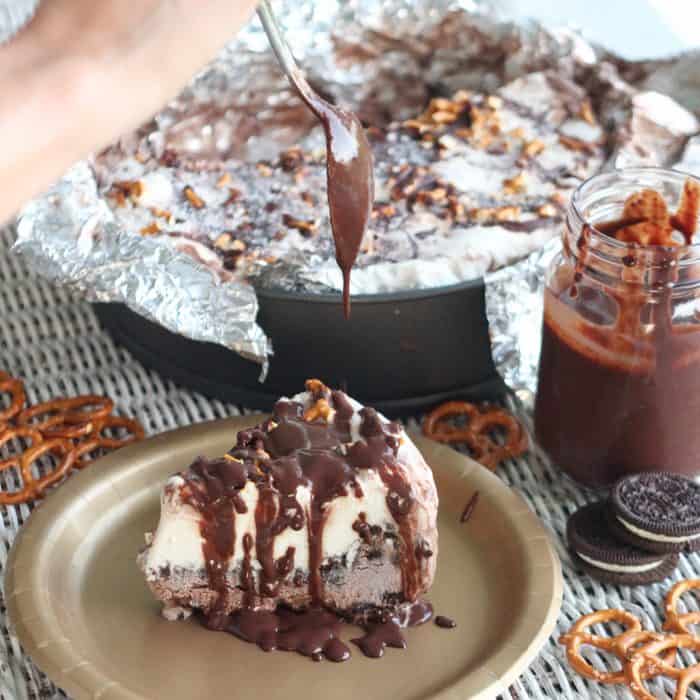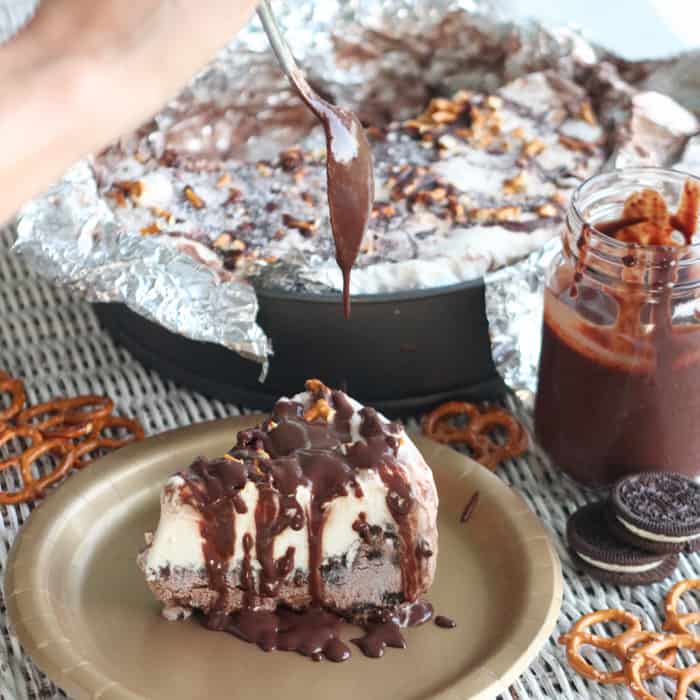 About Easy Ice Cream Pie
The beauty of having a summer birthday is that ice cream cake is the perfect cake to celebrate your birthday.
Usually I get a white cake with cookies & cream icing (from Baskin Robbins), but a few years ago my family started making this ice cream pie for my birthday ice cream cake. And I cannot stress enough how much I love it. And that's coming from someone who doesn't even love ice cream (I know it's weird, but I just don't ever crave ice cream).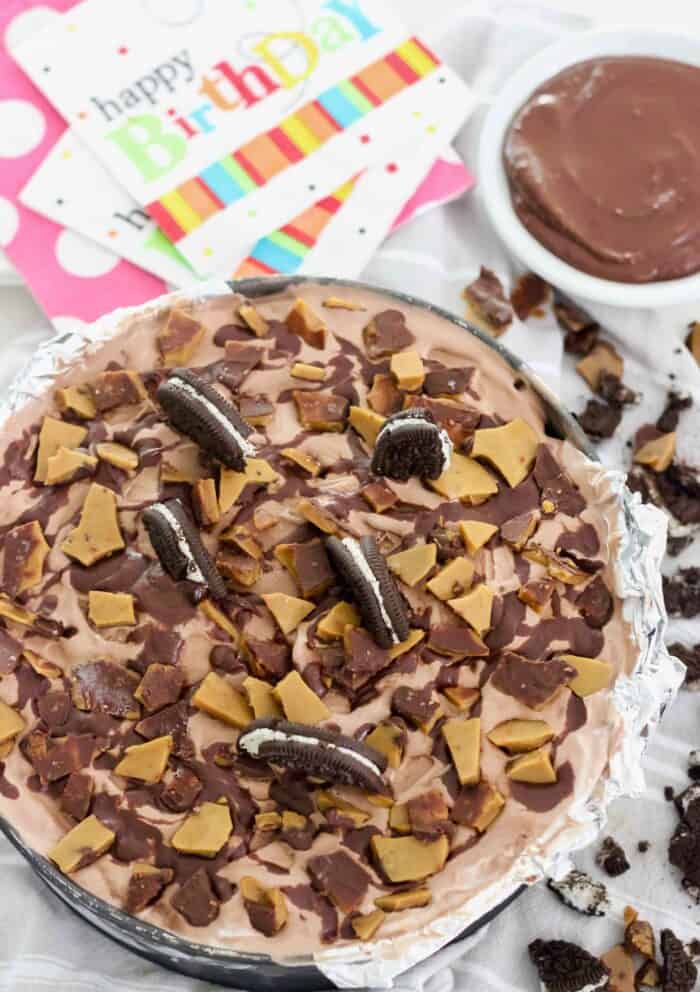 This Ice Cream Pie is simply layers of crushed Oreos with ice cream and chocolate sauce, topped with chopped candy pieces. And it's magical.
Plus, there is no cake to bake or oven to heat up your kitchen. It is best made ahead (and needs at least a few hours to set), so it's great for preparing in advance. Additionally, as you can see in our video, this ice cream pie is a fun dessert for kids to help make. They can crush the Oreos, pour on the chocolate sauce, (depending on their age, they can press in the ice cream) and sprinkle the toppings.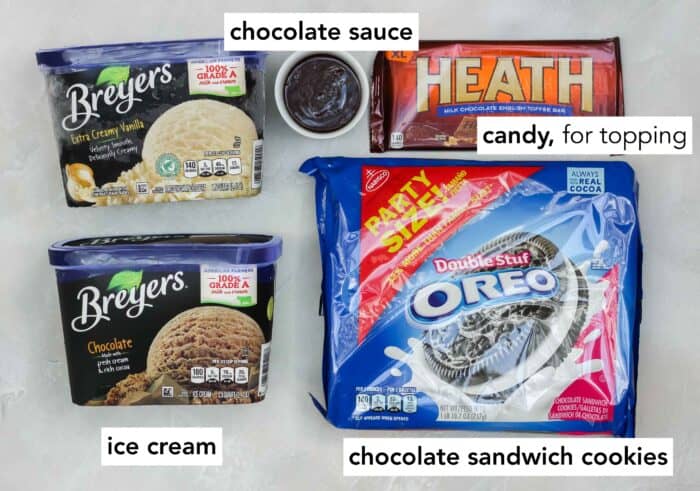 Ingredients
Ice cream: The combo we use most often is chocolate and vanilla ice cream, but you can use your favorite flavors. Nan loves to use coffee ice cream in one of the layers, and it's so good! You really can do whatever flavors you want that would go well with Oreos and chocolate sauce. Also, for an 8 or 9 inch springform pan, I find that 48 ounce containers of ice cream are best. If you are using a 10 inch springform pan, use ½ gallon ice cream containers if you want a very full/large ice cream cake.
Chocolate sauce: My prefered choice is to make it myself, and I promise it's worth it. It takes less than 10 minutes to make. However, I understand if any form of cooking is not in the cards, so simply use store-bought chocolate sauce. The amount called for in the recipe is very generous, so feel free to decrease if desired (I use less as a personal preference).
Chocolate sandwich cookies: Double Stuf Oreos are my favorite for this ice cream pie, but any kind of chocolate sandwich cookie will work. The reason I like Double Stuf is because the extra cream helps the crust stick together a little bit better than the regular cookies.
Candy, for topping: Any crushed candy bar would be a welcome addition to this cake. My personal favorite is Heath bars or any type of toffee when you are using chocolate and/or coffee ice cream. Chopped Reese's would also be really delicious. Another option we loved was adding chopped pretzels for a salty sweet ice cream pie. Or cover the top with sprinkles for a colorful ice cream cake.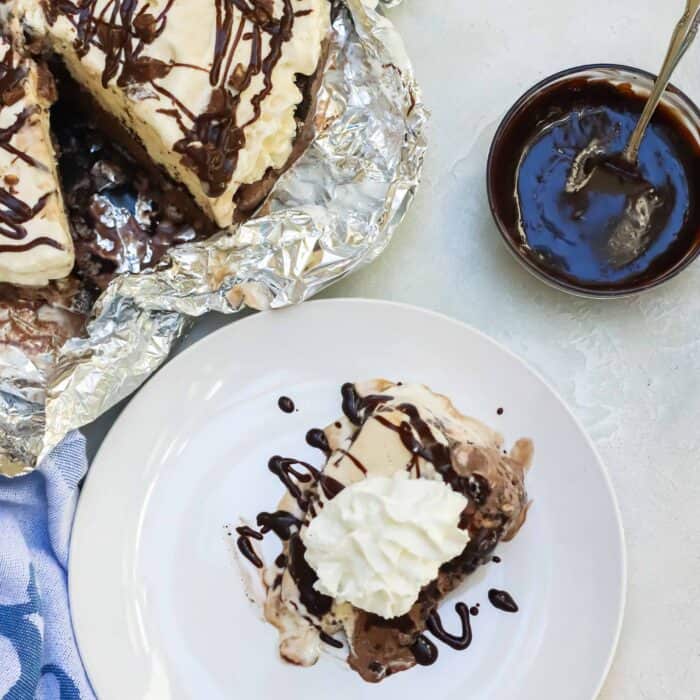 Cost of Recipe
Ice cream 2 (48 ounce) cartons: $8.36
Chocolate sauce ¾ cup: $1.92
Chocolate sandwich cookies 30: $2.78
Candy bar 1 ounce: $0.86
TOTAL COST: $13.92 (Based on San Diego Amazon Prime Now 2020) or $0.70/serving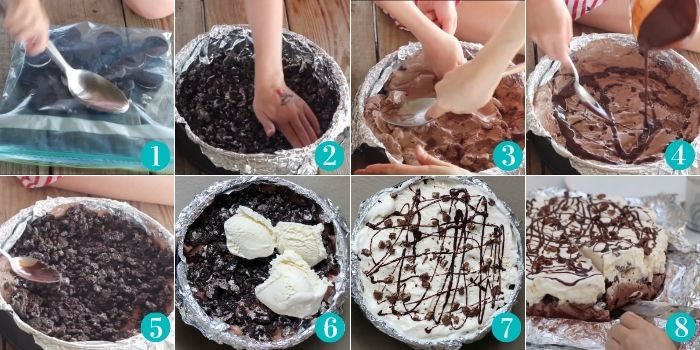 How to Make Ice Cream Pie
Crush the cookies.
Press into a foil-lined springform pan.
Top cookies with a container of ice cream.
Cover with with chocolate sauce.
Top with cookies.
Add other container of ice cream.
Top with chocolate sauce and candy.
Freeze, and enjoy!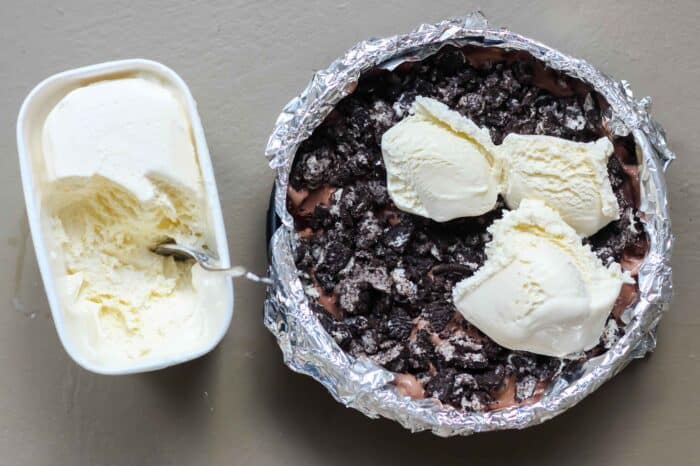 Ice Cream Cake Recipe Tips
*Use Double Stuf Oreos because the extra cream filling will help the crust stick in place. Also, be sure to crush the cookies manually (not in a food processor) using a spoon, spatula or rolling pin. If you use a food processor, you could potentially lose some of the cream which is important for keeping the crust to hold together.
*Since this ice cream cake is Nan's recipe (and we should all take Nan's cooking advice), I use the Easy Chocolate Sauce she makes. It's easy, so you should make it. And then you'll have chocolate sauce in your fridge for future ice cream cakes, topping ice cream, stirring into milk, eating with a spoon, etc. However, using store-bought chocolate sauce is totally acceptable 🙂
*You'll need to make this in advance so it has time to harden, but it's pretty simple otherwise. You need to wait at least 4-6 hours, but overnight is best. It's 100% worth the wait! In fact, I have a feeling that I'll be making this every single birthday for quite some time.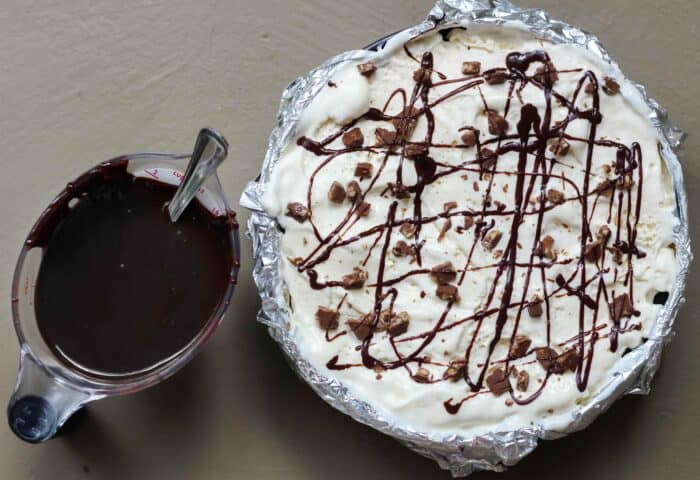 Variations
Ingredient Options
Ice cream: Whatever ice cream flavors you want to use will be good here. Obviously the classic chocolate and vanilla is a solid choice. Other good options are chocolate & coffee, coffee & vanilla, vanilla & strawberry, peppermint & chocolate, cookies and cream & chocolate, ... the options are endless.
Topping: Honestly, any topping will work here if you think it'll taste good with your chosen ice cream flavors. We've tried so many different kinds... sprinkles, pretzels, homemade toffee, Heath bars, Reese's cups, extra Oreos.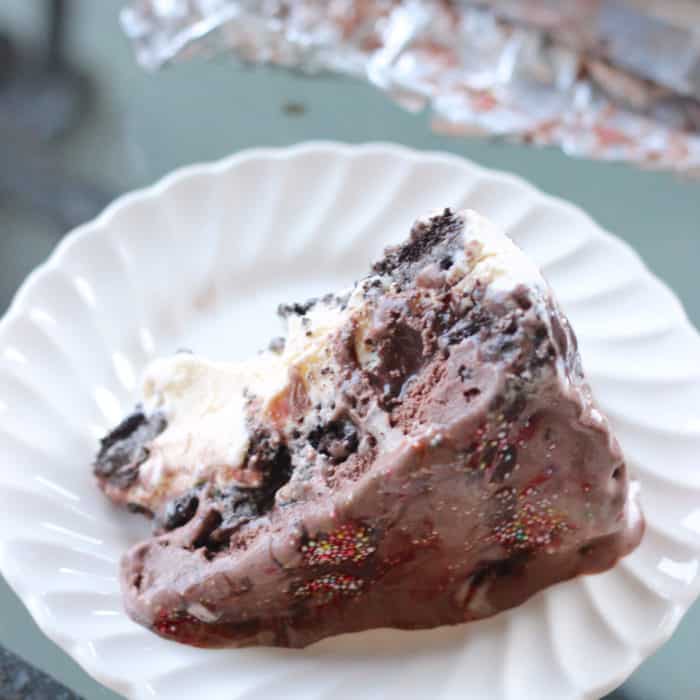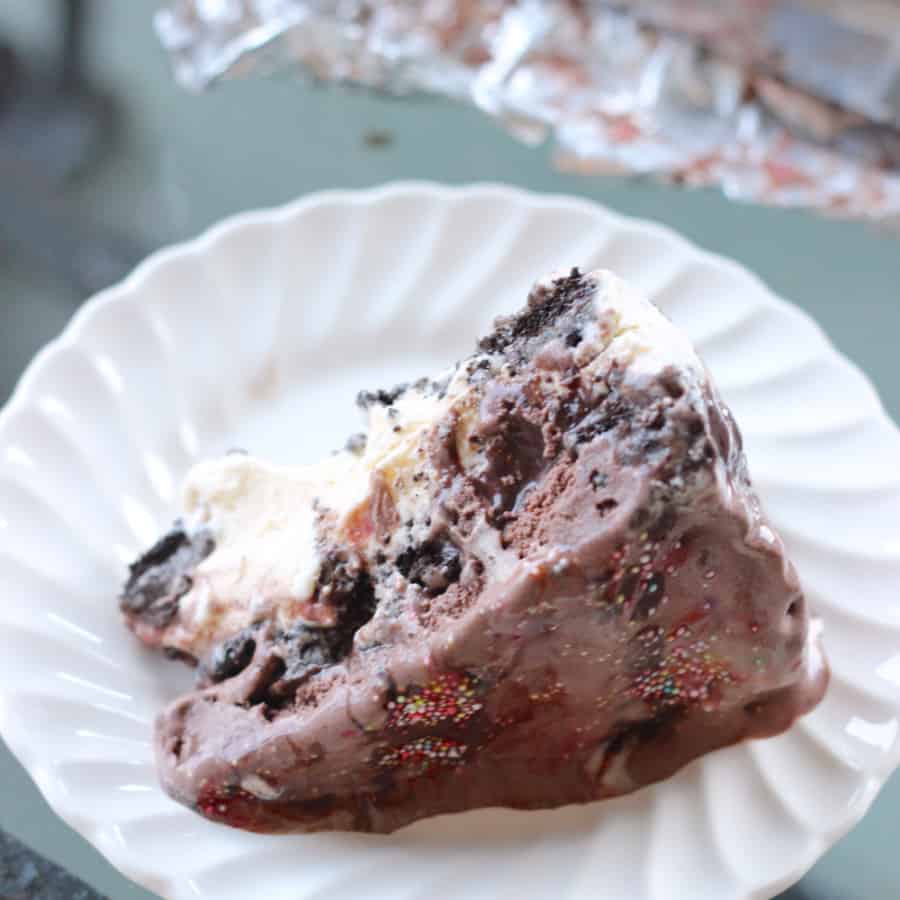 Alternative Prep
If you happen to find yourself without a springform pan, don't worry! You can make this is any kind of deep cake pan. It needs about 2-3 inch thick sides for a 9 inch circumference. In a pinch, a pot will even work (see photo from my friend Alyssa who tried it in a pot when she couldn't find her springform pan haha!)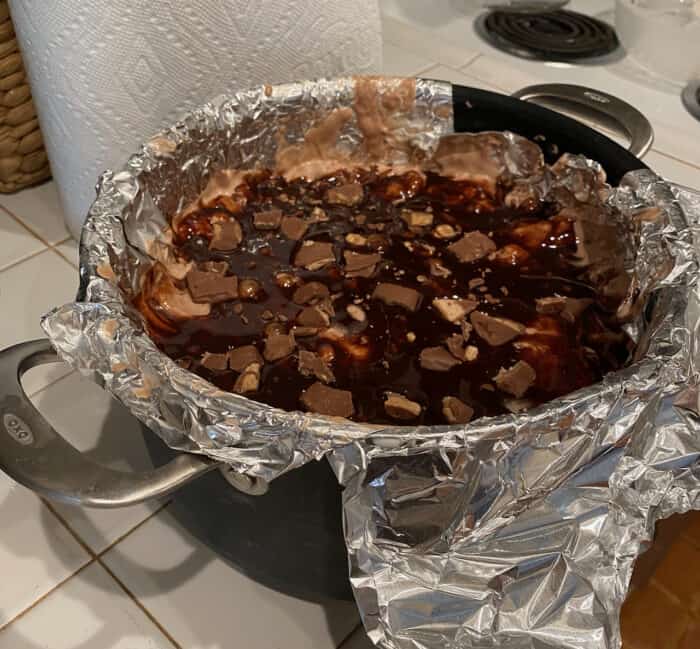 How to Make Allergy Friendly
This ice cream pie is easily adaptable to most food allergies. Simply use ingredients that do not have the offending allergen in them.
How to Fix a Mistake
It's pretty hard to make a mistake, but here are some things I've done wrong:
Forgotten to add chocolate sauce: skip it. Not a big deal.
Forgotten to add a specific layer: just add it when you remember. In the end, the ice cream cake is going to meld all together on your plate when you eat it, so it doesn't really matter if you layer the chocolate sauce before the Oreos or after.
Not enough cookies for the crust to cover the whole pan: Simply crush up some extra cookies and pat them into the crust. Or if you have no more cookies remaining, take a spoonful or two from the other bag of crushed Oreos that you plan to use for the middle layer. You won't notice if a few cookies are missing from the middle, but it will be annoying to serve if your crust falls together everything you try to take it out of the pan.
Don't have a springform pan: No worries! I wrote about this above, but feel free to use a deep dish cake pan. Or even just grab a pot. Lining it with foil with will help you lift it out of the pot. You need something that is about 8-10 inches in diameter that has about 2-4 inch high sides.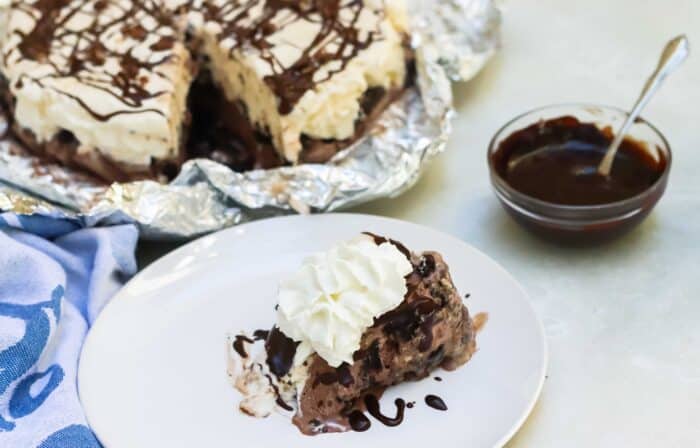 Make Ahead Ideas
Because this ice cream cake must be made ahead, this is great for preparing in advance. I like to let it set for at least 8 hours or overnight, but about 4 hours should be enough if that's all you can wait. It'll still be good no matter when you make it, but it won't hold together if you don't get it enough time to set.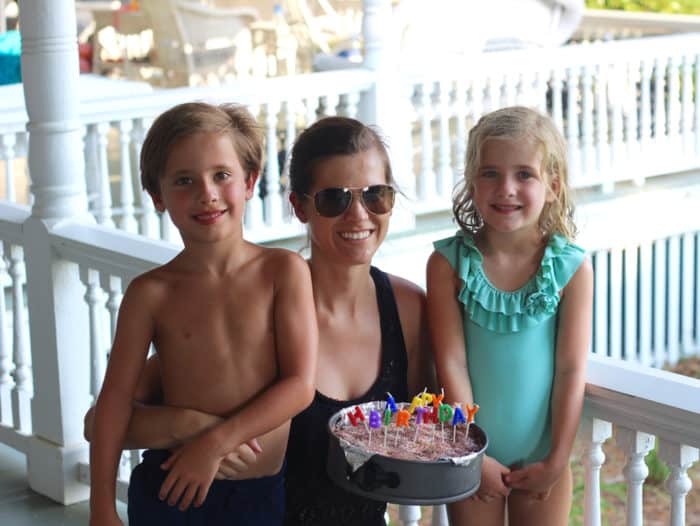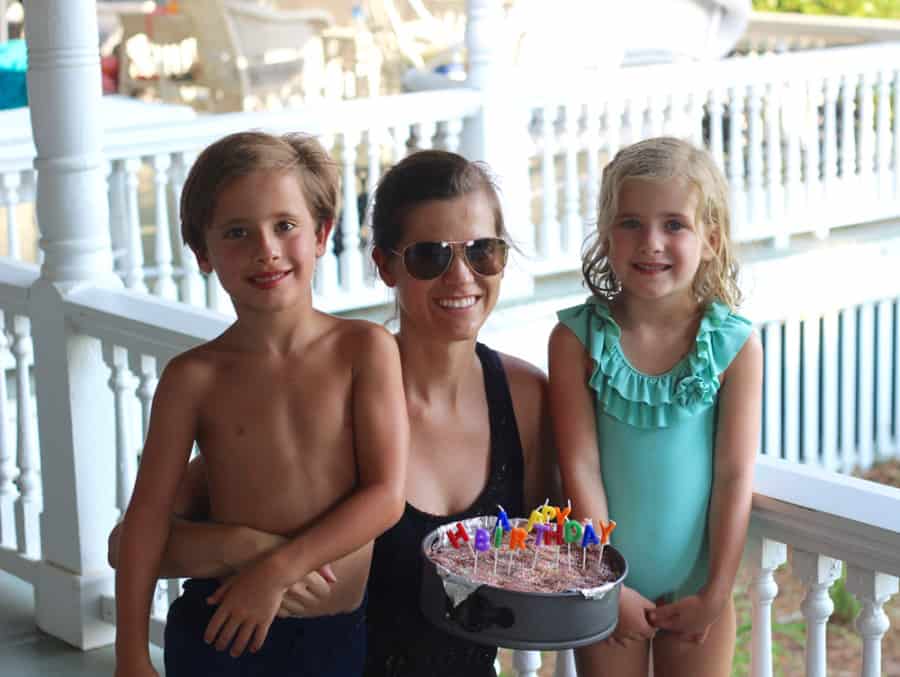 Storage Suggestions
Keep this in the freezer for up to one month, tightly covered. I like to wrap it in an extra layer of foil and keep in a freezer bag if I'm storing this for longer than one week.
Frequently Asked Questions
Can you put candles on an ice cream cake?
Yes, you can! You might need to wait a minute or two after removing from the freezer for the top to soften enough for candles to push into the cake, but it'll work well. Also, don't wait longer than 15-20 minutes or the cake could melt too much.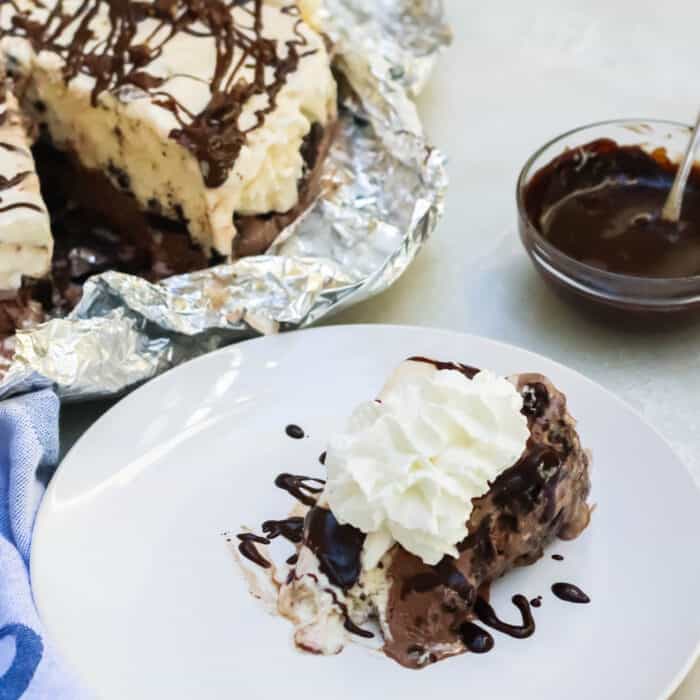 Nutrition Benefits
This ice cream cake is strictly fun. There are no nutrition benefits in an ice cream cake other than that it is good for your soul to enjoy fun foods without guilt, especially if this is served as your birthday ice cream cake.
What to Serve with Easy Ice Cream Cake
Final thoughts:
This is my go-to dessert because it's so easy and it's SO good. Everyone raves about this ice cream pie, and you absolutely must make it no matter what occasion you're celebrating. It could be your birthday ice cream cake, a celebratory ice cream pie, or simply because it's hot outside and you want dessert. All are valid reasons to enjoy this ice cream cake!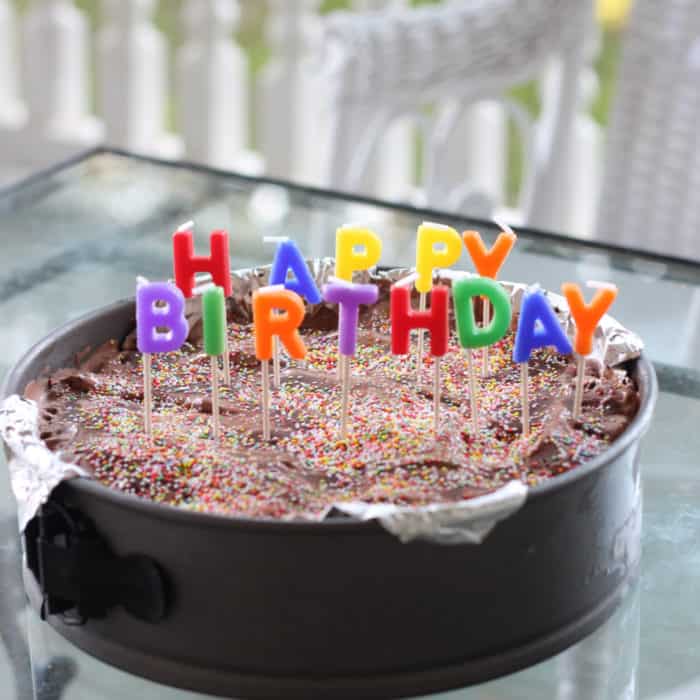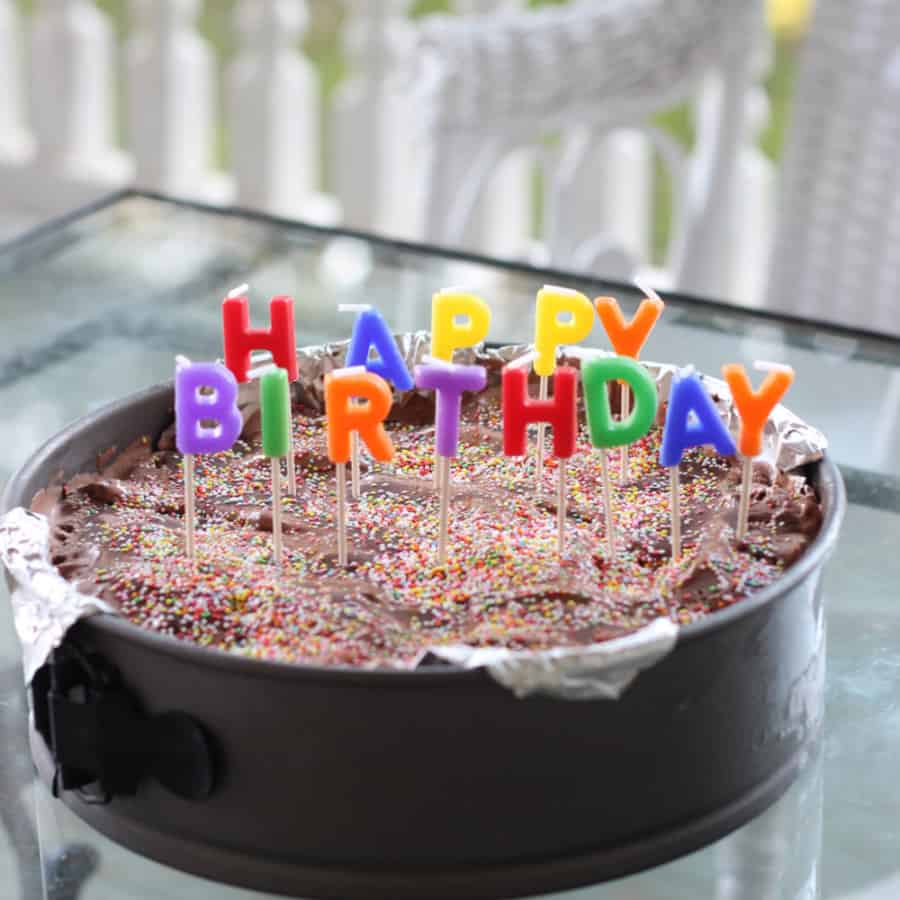 MORE SUMMER DESSERT RECIPES YOU'LL LOVE:
---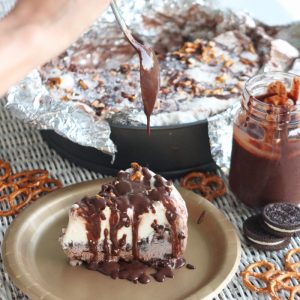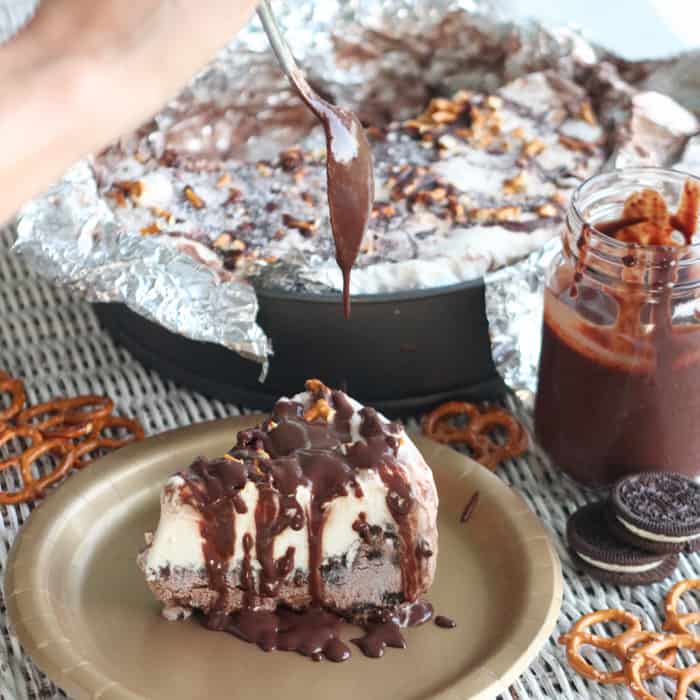 Ice Cream Cake
Easy ice cream pie will be your favorite summer party and birthday ice cream cake. Super simple with just Oreos, ice cream, chocolate sauce and candy
Print
Rate
Ingredients
30

Oreos

divided

48

ounces

chocolate ice cream

48

ounces

vanilla ice cream

¾

cup

chocolate sauce

divided

sprinkles

optional, chopped candy bar for topping
Instructions
Crush 16 Oreos in one bag and 14 in another bag. Use a rolling pin or hands; don't use a food processor.

Line a 9-inch springform pan with non-stick foil. Lightly grease the foil.

Press the bag with 16 crushed Oreos into the bottom of the springform pan to form a crust. Cover with ¼ cup chocolate sauce. Top with one container of ice cream.

Sprinkle with the other bag of Oreos. Cover with ¼ cup chocolate sauce. Top with other container of ice cream. Cover with remaining ¼ cup chocolate sauce. Sprinkle any toppings over chocolate sauce. Cover with foil, and freeze until hard (about 2-4 hours).

Remove from freezer and wait about 3-5 minutes before removing from springform pan and slicing to serve. Enjoy!
Notes
*Notes: best to use Double Stuf Oreos. You'll get about 30 Double Stuf Oreos per regular sized pack.
*If using a larger springform pan, add a few extra Oreos to the crust. Additionally, use ½ gallon of ice cream per layer instead of 48 ounces.
What to Use in This Recipe
Did you try this recipe?
Be sure to leave a comment & recipe rating below. Bonus points for tagging @memeinge & #livingwellkitchen on Instagram! THANK YOU! xo
[showhide type="post" more_text="Click here for Nutrition Facts" less_text="Clear Nutrition Facts"]
*
Nutrition Facts
Ice Cream Cake
Amount per Serving
% Daily Value*
* Percent Daily Values are based on a 2000 calorie diet.
*
[/showhide]
Meme
This post was originally published July 29, 2015. Text, recipe, and photos have been updated.
Doesn't this recipe look good?! You should probably share it: