Celebrate warm weather with this dangerously easy, homemade ice cream cake that'll be your new summer celebration favorite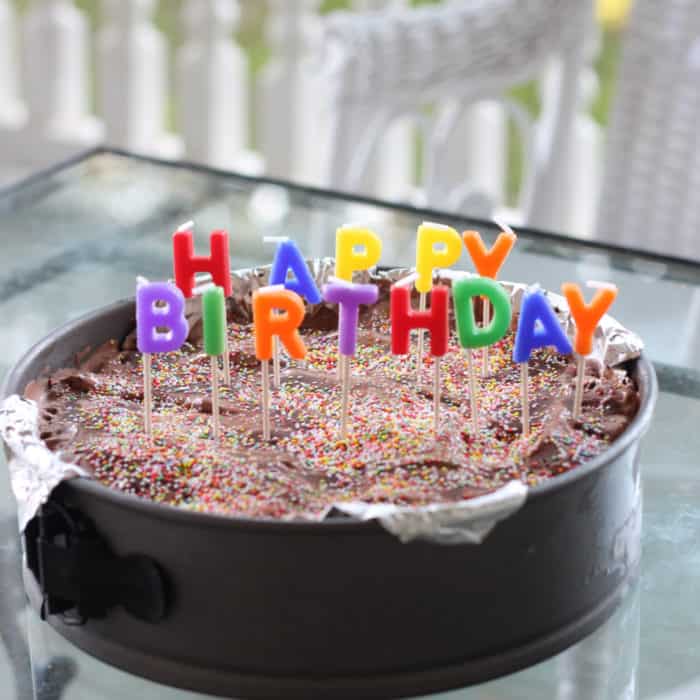 Guess what day it is…
It's the greatest day of the year — my birthday!
In all honesty, I'm not a huge birthday person. However, I really like celebrating them on my blog. It makes it so much more fun, and it usually means I get to do some early celebrating.
For example, for my twenty sixth birthday, I celebrated the 5th anniversary of my 21st birthday with 5 days of drinks: Red Roosters, Jalapeño Margaritas, Piña Coladas, Mojito Limeades, and Berry Peach Sangria.
To top it all off, I made myself Funfetti Protein Pancakes (if you don't know about these, you need to find out!)
Three years ago, I made myself a cookie cake. And last year I made Peanut Butter Cookie Dough Dip on The Lean Green Bean blog, and I did a little birthday reminiscing.
This year, I made ice cream cake.
Yep. Ice cream cake… I know, right?!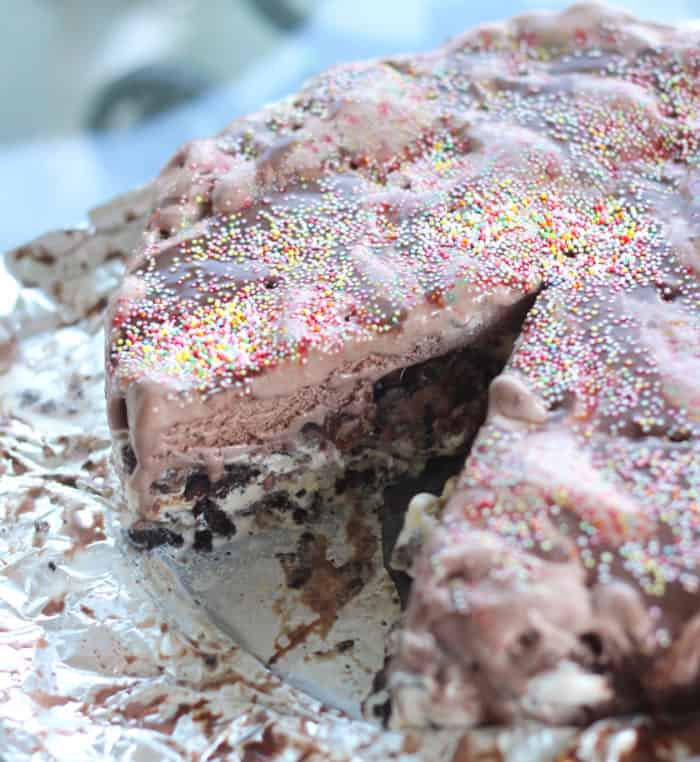 The beauty of having a summer birthday is that ice cream cake is the perfect cake to celebrate your birthday.
Usually I get a white cake with cookies & cream icing (from Baskin Robbins), but this year I decided to make one myself.
It's layers of crushed Oreos with ice cream and chocolate sauce.
I used chocolate and vanilla ice cream but you can use your favorite flavors. We also covered the top with sprinkles, but any crushed candy bar would be a welcome addition to this cake (we were avoiding any nuts because of allergies).
This ice cream cake is a fun cake for kids to help make. They can crush the Oreos, pour on the chocolate sauce, and sprinkle the toppings.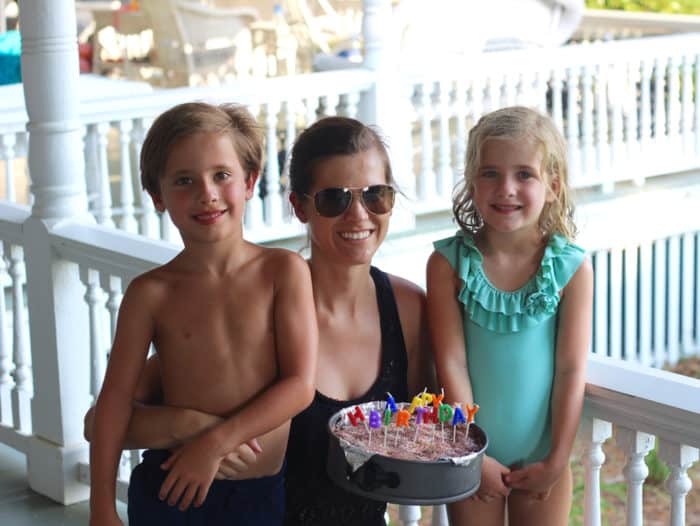 A few tips for making this delicious delight:
*Use Double Stuffed Oreos because the extra cream filling will help the crust stick in place.
*Since this ice cream cake is Nan's recipe (and we should all take Nan's cooking advice), I use the Easy Chocolate Sauce she makes. It's easy, so you should make it. And then you'll have chocolate sauce in your fridge for future ice cream cakes, topping ice cream, stirring into milk, eating with a spoon, etc.
*You'll need to make this in advance so it has time to harden, but it's pretty simple otherwise. A few hours is all you need.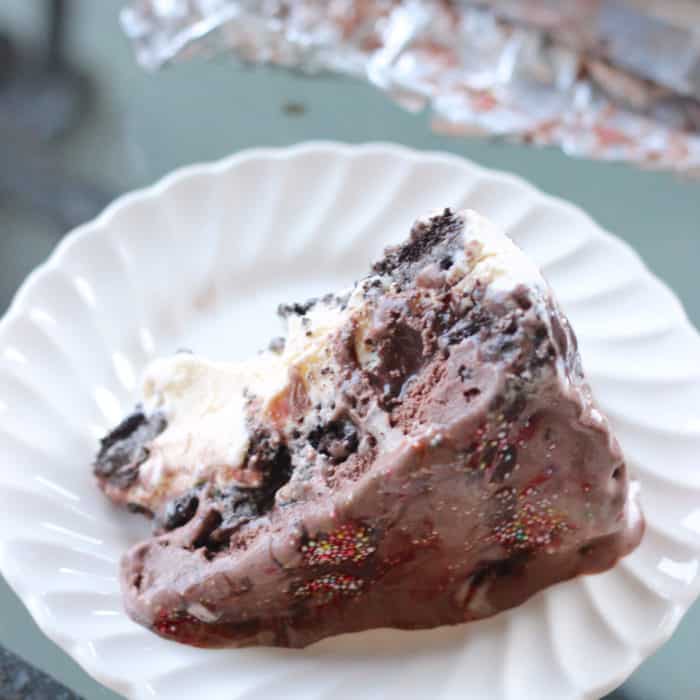 It's 100% worth the wait! In fact, I have a feeling that I'll be making this every single birthday for quite some time.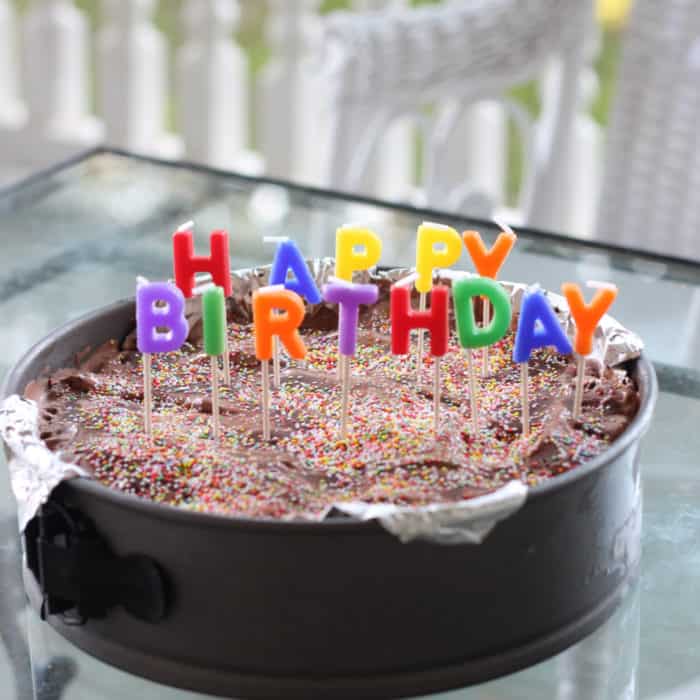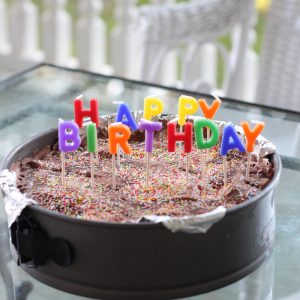 Ice Cream Cake
Celebrate warm weather with this dangerously easy, homemade ice cream cake that'll be your new summer celebration favorite
Print
Rate
Ingredients
28

Oreos

divided

1/2

gallon

chocolate ice cream

1/2

gallon

vanilla ice cream

1/2

cup

chocolate sauce

sprinkles

optional, chopped candy bar for topping
Instructions
Crush 14 Oreos in one bag and 14 in another bag. Use a rolling pin or hands; don't use a food processor.

Line a 10-inch springform pan with non-stick foil. Lightly grease the foil.

Press one bag of crushed Oreos into the bottom of the springform pan to form a crust. Top with 1/2 gallon of ice cream. Cover with 1/4 cup chocolate sauce.

Sprinkle with the other bag of Oreos. Top with 1/2 gallon of ice cream. Cover with remaining 1/4 cup chocolate sauce. Sprinkle any toppings over chocolate sauce. Cover with foil, and freeze until hard (about 2-4 hours).

Remove from freezer and wait about 3-5 minutes before removing from springform pan and slicing to serve. Enjoy!
Notes
*Notes: use Double Stuffed Oreos. You'll get about 30 Double Stuffed Oreos per regular sized pack.
Did you try this recipe?
Be sure to leave a comment & recipe rating below. Bonus points for tagging @memeinge & #livingwellkitchen on Instagram! THANK YOU! xo
What's your favorite birthday dessert?
Meme
4