Looking for tasty recipes using leftovers? Make this Leftover Turkey Quinoa Soup for a nourishing and filling meal perfect for the holiday season especially since it is budget-friendly. Dairy-free can easily be gluten-free. Freezes well, too!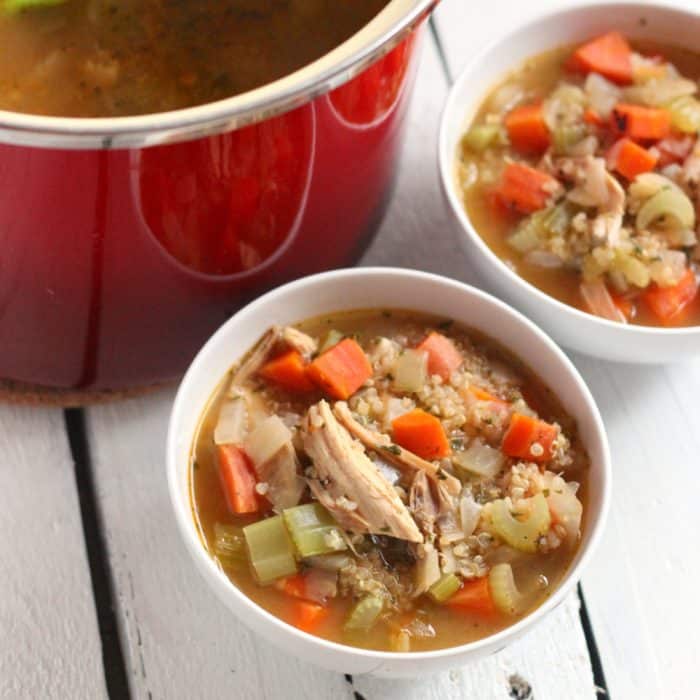 About Turkey Quinoa Soup
If you have leftovers from a holiday meal, you will love this soup recipe! I mean, one can only eat so many turkey and cranberry sandwiches. Right?
Also, it's dairy-free and can easily be made gluten-free. And if you have fresh veggies in the fridge that you want to use up or any leftover roasted veggies, you can add those in here too. Like most soup, it's very versatile.
Plus, this makes a whole lot of soup (about 10 cups) and it freezes well. And last but not least, it is warming and filling and oh so satisfying.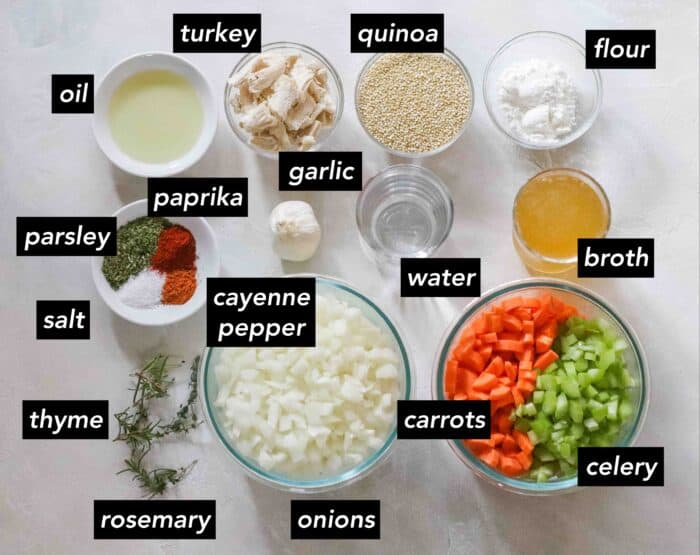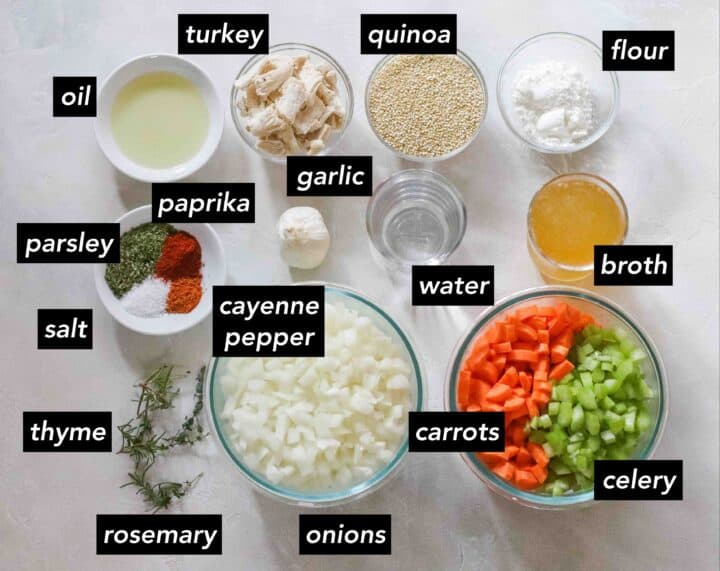 Ingredients
Oil: Olive oil, avocado oil, vegetable oil, or butter can be used for this Turkey Quinoa Soup. Use whatever you like best and have in the kitchen.
Veggies: The recipe calls for onion, carrots, celery, and garlic. However, you can adjust those to your liking or what you have in the kitchen.
Flour: Many different flour types work in this leftover turkey soup recipe. All-purpose flour, white whole wheat flour, whole wheat pastry flour, gluten-free all-purpose flour, rice flour, and cornstarch have all been tested. For the flours, you'll add them as described in the recipe. For cornstarch, you won't add until the later. If using cornstarch, be sure to mix it with cold water so there are no cornstarch clumps in the soup.
Broth/water: Chicken broth, vegetable broth, turkey stock, and water are all great options. The soup needs about 8-10 cups of liquid depending on the consistency of soup you like and how long you plan on cooking it. (You'll need less water for a thicker soup or one that will only be simmered for the minimum amount of time. Use more water for a thinner soup or one that you plan on simmering for a while or if you are reheating it later).
Quinoa: White quinoa is typically what I use because it's easier to find and more budget-friendly, but any quinoa is great for this Quinoa Turkey Soup.
Turkey: Any kind of cooked turkey will work. I usually end up with a combo of white and dark meal (usually it's mostly white meat because people like to eat the dark meat more). Also, the amount listed in the recipe is a guideline. Add more if you have extra, and no worries if you have a little less. You can even use shredded chicken or ham if needed.
Spices: The spices & herbs in this leftover turkey and quinoa soup include rosemary, thyme, parsley, paprika, cayenne pepper, and salt. You can use dried herbs or fresh. And use less cayenne pepper or omit for a more mild soup.
Cost of Recipe
For the cost of this Turkey Quinoa Soup, I am using amounts for if you had to buy all new ingredients. However, since you're likely going to be using up leftover ingredients, the cost will be less since you'd possibly end up wasting those ingredients if you weren't using them in this recipe. Additionally, rosemary & thyme are often herbs you can pick from the garden for free, so the cost listed is for dried herbs.
oil 1 tablespoon: $0.24
onion 1 large: $0.68
carrots 3 medium: $0.60
celery 3 stalks: $0.42
garlic 3 cloves: $0.18
flour 3 tablespoons: $0.05
broth 4 cups: $1.99
quinoa ⅔ cup: $1.66
turkey 6 ounces: $1.87
salt ¾ teaspoon: $0.01
thyme ¼ teaspoon dried: $0.02
rosemary ½ teaspoon dried: $0.25
paprika ¼ teaspoon: $0.04
cayenne pepper ¼ teaspoon: $0.02
dried parsley 1 teaspoon: $0.33
TOTAL COST: $8.36 or $0.93/serving (Based on San Diego Sprouts 2020)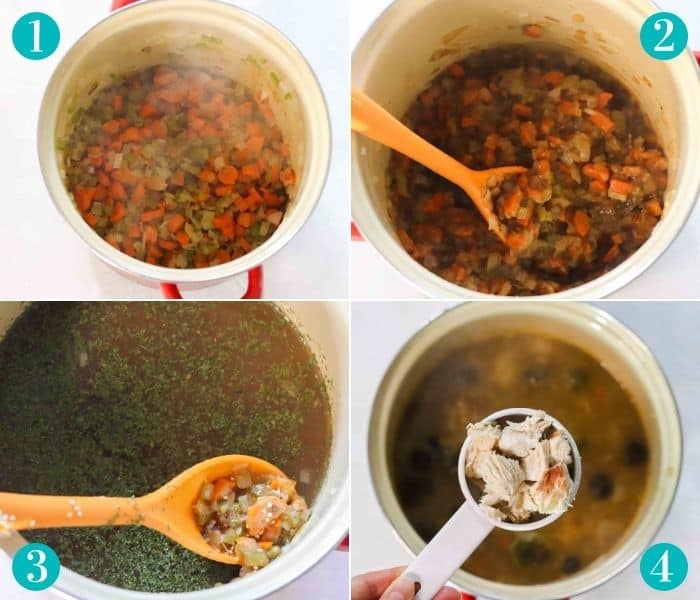 How to Make Quinoa Turkey Soup
Time needed: 1 hour and 5 minutes.
This Quinoa Turkey Soup is easy to make and is great for using up leftover ingredients in your kitchen.
Sauté the veggies in oil.
Add garlic and flour. Coat the veggies completely in the flour.

Then stir in one cup liquid until the all the flour has been mixed in.

Stir in quinoa and spices.

Simmer.

Add turkey.

Simmer until ready to serve. Taste and add seasoning if needed. Enjoy!
Leftover Turkey Soup Recipe Tips
Variations
Ingredient Options
Veggies: Use any veggie you like. Bell peppers, potatoes, squash would all be good in here. Also, the amounts listed are just suggestions. Use whatever amount you like. Additionally, you can add already cooked veggies to the soup when you add the turkey.
Turkey: Chicken can be used in place of turkey. Or you can use cooked ground turkey or chicken or sausage.
Flavor Substitutions
The tastes great served with a squeeze of lemon juice. You can also add 1 tablespoon or lemon juice or apple cider vinegar to the soup before serving if you feel like it is missing something.
How to Make Allergy Friendly
This is already dairy-free, egg-free, nut-free, and soy-free.
To make it gluten-free, use gluten free all-purpose flour or rice flour.
Alternatively, you can omit adding the flour in the second step. Then whisk together. 2 tablespoons cornstarch with ¼ cup cold water until no lumps remain. Stir into the soup after you add the turkey.
How to Fix a Mistake
Soup is too thin: add 2 tablespoons cornstarch to ¼ cup cold water, whisk until no lumps remain, stir into soup and simmer for 10-15 minutes until it thickens.
Soup is too thick: add extra water or broth in ½ cup increments until it reaches the desired consistency.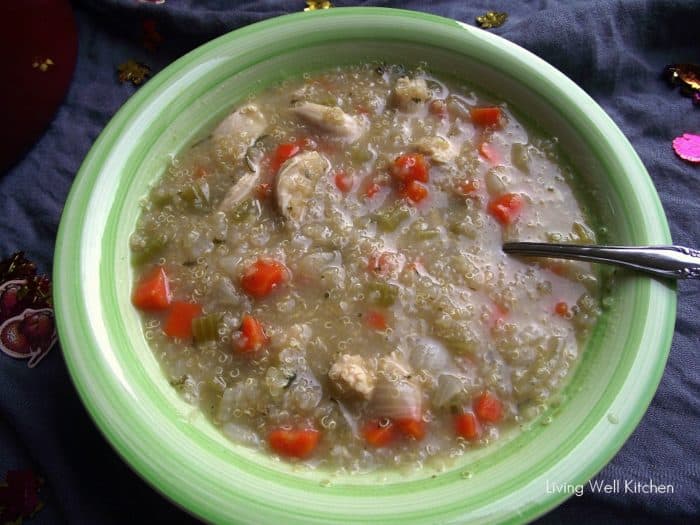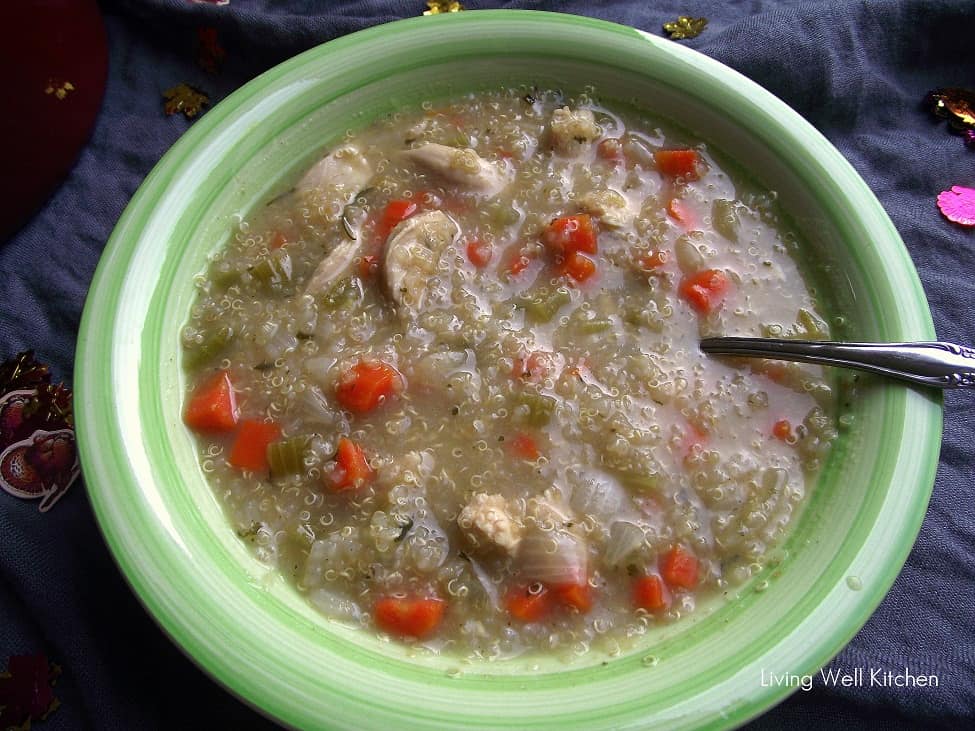 Make Ahead Ideas
Soup is great to make ahead of time. Simply prepare as directed and keep in airtight containers or even in the cooled soup pot in the fridge (for up to 1 day) until ready to reheat.
Storage Suggestions
Store this soup in glass or plastic airtight containers in the fridge for up to 5 days or the freezer for up to 5 weeks.
Frequently Asked Questions
Nutrition Benefits
Thanks to the veggies in the soup plus the spices, this is full of antioxidants and phytochemicals which can help fight inflammation-related diseases in your body.
This Quinoa Turkey Soup has a nice balance of carbohydrates, fiber, and protein along with some fat to help you feel satisfied. And soup is my favorite way to get veggies and extra fluid in the colder months.
What to Serve with Turkey Quinoa Soup
I usually enjoy this soup by itself because it is satisfying enough, but you could also include a roll or slice of bread on the side. Or finish it off with a pecan pie bar!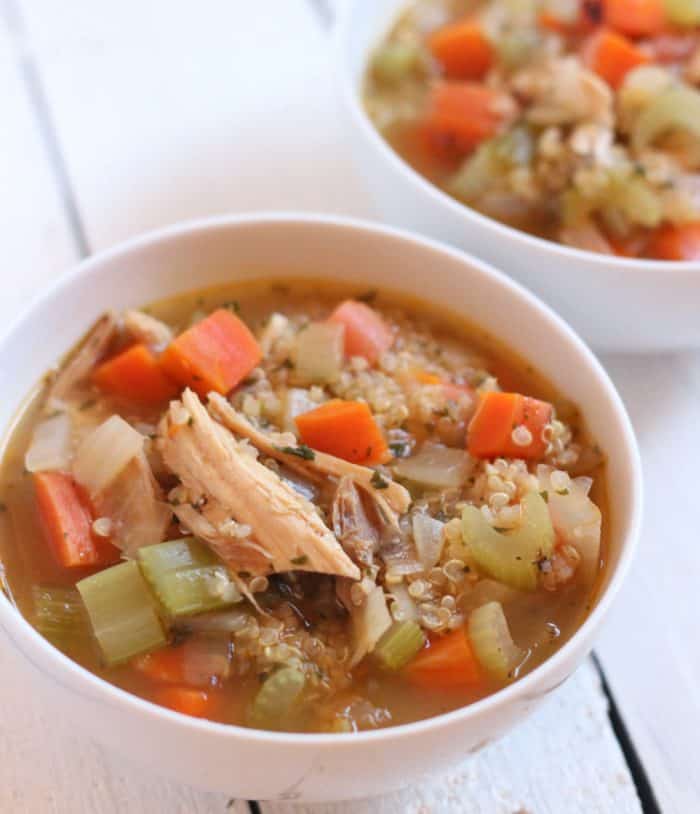 Final thoughts:
After every holiday meal that includes turkey, I make this Turkey Quinoa Soup. I even make this recipe without turkey and use chicken in its place. I just love how comforting and filling it is. Plus, it's a tasty way to eat more veggies.
MORE LEFTOVER RECIPES YOU'LL LOVE:
---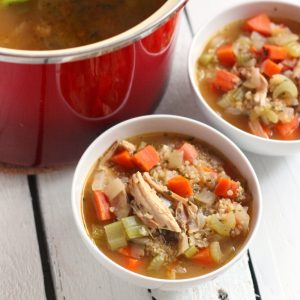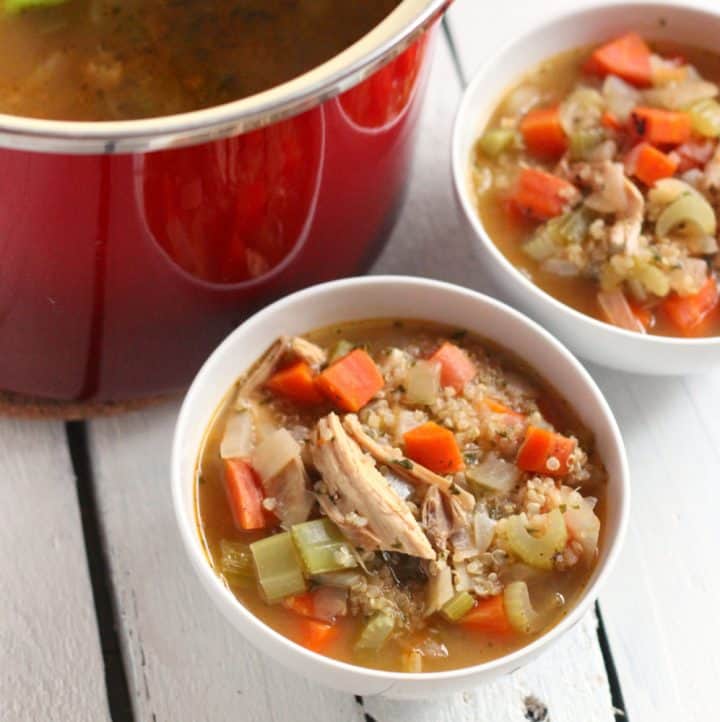 Turkey Quinoa Soup
Use leftover turkey to make this nourishing and filling soup perfect for the holiday season
Print
Rate
Total Cost:
$8.36 or $0.93/serving
Ingredients
1

tablespoon

oil

1

large

onion

2-3 cups, diced

3

medium

carrots

2 cups, diced

3

stalks

celery

1 ½ cups, diced

3

cloves

garlic

1 TBSP, minced

3

tablespoons

flour

4

cups

unsalted chicken broth

or water

4

cups

water

⅔

cup

uncooked quinoa

¼

teaspoon

paprika

¼

teaspoon

cayenne pepper

1

tablespoon

dried parsley

6

ounces

cooked turkey

or chicken (1 ½ cups)

¾

teaspoon

salt

½

teaspoon

fresh thyme

(about 3 sprigs fresh) or ¼ teaspoon dried

1

teaspoon

fresh rosemary

minced (about 2 sprigs) or ½ teaspoon dried
Instructions
Heat oil in a large soup pot over medium-high heat. Add onions, carrots, and celery. Sauté until tender, about 7 minutes. Stir in garlic and flour, and completely coat vegetables in flour.

Slowly whisk in 1 cup of chicken broth (or water). Make sure the flour is completely incorporated and there are no lumps. Stir in remaining chicken broth & water.

Reduce heat to medium-low and stir in quinoa, paprika, cayenne pepper, and parsley. Cover and simmer for 10 minutes, stirring occasionally.

Stir in remaining ingredients, and simmer partially covered for at least 20-30 minutes. Taste and add any additional seasoning as needed. Enjoy!
Notes
*If you are using dried rosemary and thyme, add with the quinoa.
*Makes about 8-10 cups
*Use gluten-free flour or omit flour and whisk together 2 tablespoons cornstarch with ¼ cup cold water to add with the turkey.
What to Use in This Recipe
Did you try this recipe?
Be sure to leave a comment & recipe rating below. Bonus points for tagging @memeinge & #livingwellkitchen on Instagram! THANK YOU! xo
[showhide type="post" more_text="Click here for Nutrition Facts" less_text="Clear Nutrition Facts"]
*
Nutrition Facts
Turkey Quinoa Soup
Amount per Serving
% Daily Value*
* Percent Daily Values are based on a 2000 calorie diet.
*
[/showhide]
Meme
This post was originally published on November 23, 2012. Text, recipe, and photos have been updated.
Doesn't this recipe look good?! You should probably share it: