Lower in added sugar, this easy Homemade Cranberry Sauce gets its sweetness from orange juice and applesauce, plus a touch of honey or maple syrup.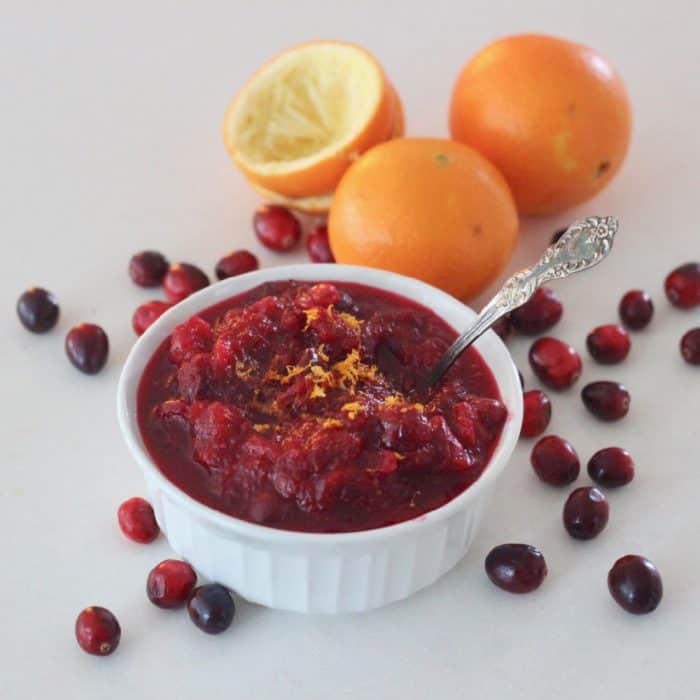 About Homemade Cranberry Sauce
Until a few years ago, I was never a fan of cranberry sauce. I did not see the appeal of it. It was way too sweet and usually shaped like a can.
However, I was preparing a friendsgiving feast and multiple people requested cranberry sauce, so I made a basic cranberry, sugar, and water version to go along with my other favorite Thanksgiving sides. That was when I realized that homemade cranberry sauce is actually quite delicious.
The next year, I added some orange juice & zest and really liked that. I also tried it with sugar substitute, and that was a hard no. You need a little bit of real sugar to make it taste good.
However, I really wanted to use less sugar. Not because I think sugar is poison or the devil or the cause of the world's health problems but because I know that I have more energy and feel better when I don't eat a ton of sugar.
I decided to use fruit to help sweeten the cranberry sauce and add a little sugar as needed, and last Thanksgiving, I finally perfected my homemade cranberry sauce recipe made with orange juice, applesauce, and honey.
Cranberry Sauce Ingredients
Cranberries: Use fresh whole cranberries in this cranberry sauce. Also, whole cranberries that are frozen will work in the cranberry sauce. Simply add them from the freezer; it'll take a few extra minutes to cook but they work well in the sauce.
Orange juice and zest: For the orange juice and orange zest, you just need one medium orange. I don't buy a specific orange; you simply need a medium sized orange to get the right amount of zest and juice. If you forget to buy an orange, you can use store-bought orange juice in place of the fresh juice and skip the orange zest. However, I really love the flavor the orange zest gives.
Apple sauce: No sugar added apple sauce is my personal choice to keep this cranberry sauce from being too sweet. However, if you only have applesauce with added sugar then you can use it and start with less honey and add more as needed.
Honey: For the sweetener, I use honey for a lighter flavor. If you want to make this cranberry sauce vegan replace the honey with maple syrup. Note that maple syrup has a stronger flavor than honey, so you will taste the maple syrup. But I certainly don't think that's a bad thing.
Cost of Homemade Cranberry Sauce
cranberries 12 ounces: $2.49
orange juice & zest from 1 orange: $0.49
apple sauce 1/2 cup: $0.42
honey 2 tablespoons: $0.56
TOTAL COST: $3.46 (Based on San Diego Sprouts 2019) or $0.50/serving
How to Make Healthy Cranberry Sauce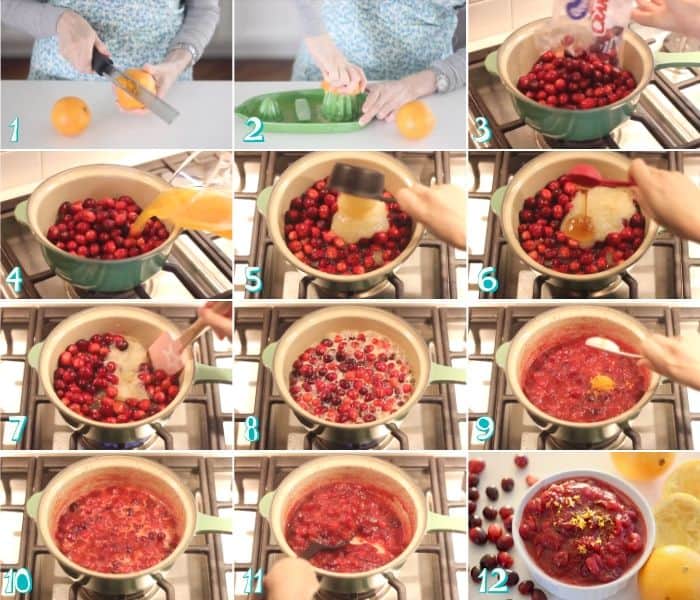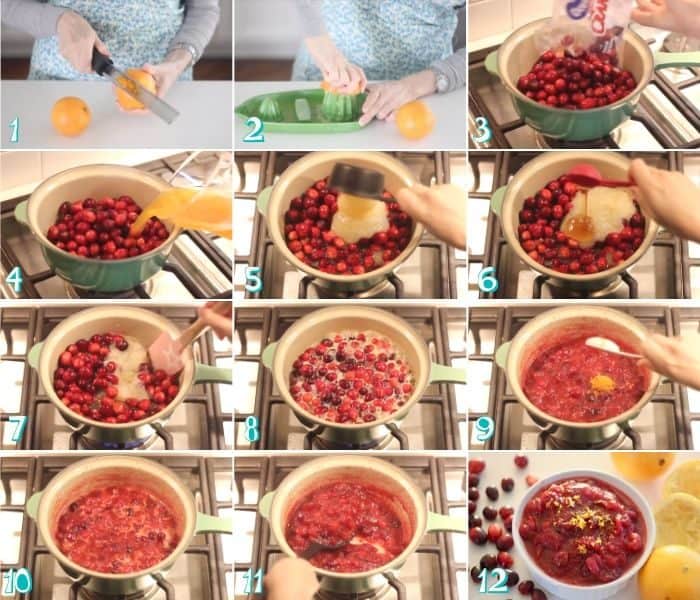 Time needed: 30 minutes.
Looking at this photo makes it seem like making cranberry sauce has a lot of steps, but it really is simply throwing the ingredients into a saucepan and cooking until the cranberries turn into a sauce. I just wanted to make sure you saw exactly everything that goes into the sauce, so you know exactly How to Make Healthy Cranberry Sauce:
Zest the orange.

Do this before juicing because it's harder to zest after cutting the orange.

Juice the orange.

Set aside.

Add cranberries to a saucepan.
Pour orange juice to a saucepan.
Add the applesauce to the saucepan.
Top the mixture with the honey.
Stir it all together.
Bring to a boil and simmer.

Cook until the mixture turns into a sauce with your desired consistency.

Add the orange zest.

Stir together.

Let the sauce cool.

The sauce with thicken a little more as it cools.

Spoon the sauce into a serving bowl.
Enjoy!
Tips for Making Homemade Cranberry Sauce
Variations
Ingredient Substitutions
In case you forget to buy an orange, you can always use store bought orange juice in its place. You can also add lemon zest in place of the orange zest or skip it (though I think it makes the cranberry sauce go from good to great).
How to Make Allergy Friendly
This healthy cranberry sauce is already gluten free, dairy free, egg free, soy free, and nut free. It's also vegetarian, and if you want to make it vegan, you can substitute the honey with maple syrup.
Flavor Substitutions
If you want to jazz this up a little bit, feel free to add 1/4 to 1/2 teaspoon ground cinnamon or a cinnamon stick to the saucepan when you add the cranberries, etc.
Make Ahead Ideas
Homemade cranberry sauce is one of the best sauces to make ahead of time to save yourself time and stress for your holiday meals because cranberry sauce is best made ahead
It keeps in the fridge for up to one week. You can even make this in advance and freeze it to defrost the day before using it.
Storage Suggestions
Homemade cranberry sauce keeps well in the fridge for up to one week and in the freezer for up to six weeks. Use a glass or plastic container to store the cranberry sauce.
Since it is served cold, there's no need to reheat. If you are using from frozen, put in the fridge to defrost at least 6 hours before using. I typically like to start defrosting the night before so I don't forget.
Frequently Asked Questions
Can you use frozen cranberries to make cranberry sauce?
Yes, you can use frozen whole cranberries to make cranberry sauce. Simply add them into the saucepan like you would fresh cranberries.
Nutrition benefits of this recipe
Cranberries and oranges are high in Vitamin C, and the fresh cranberries add fiber to the sauce. Additionally, cranberries contain substances that can prevent urinary tract infections.
Another great thing about this lower sugar, healthy cranberry sauce is that it has much less sugar than your typical cranberry sauce recipe. It also uses no sugar substitute.
What to serve with Cranberry Sauce
Cranberry sauce is a great sauce to serve with your turkey, dressing, sweet potato casserole, green beans, squash casserole, mashed potatoes, or whatever else you like to serve on Thanksgiving and Christmas. It's also a great sauce for sandwiches.
Final thoughts:
Cranberry sauce doesn't have to come from a can, and it doesn't need to have a crazy amount of sugar to be enjoyable. This lower sugar version using honey and applesauce will satisfy your cranberry craving without giving you a sugar crash.

MORE CRANBERRY RECIPES YOU'LL LOVE:
---
Cranberry Sauce Recipe with Video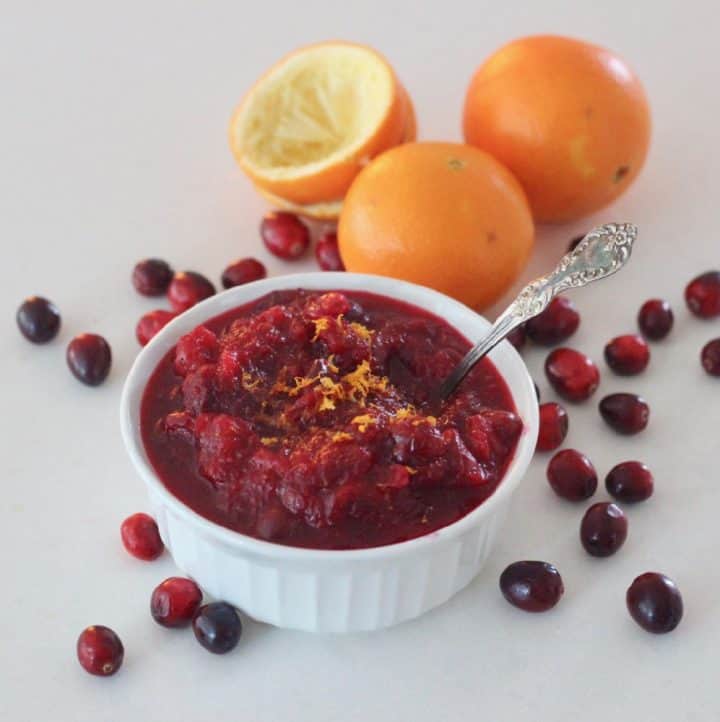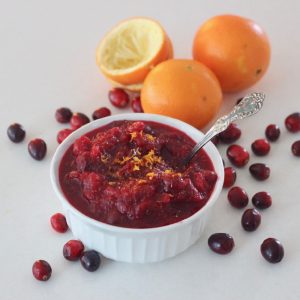 Homemade Cranberry Sauce
Lower in added sugar, this easy homemade cranberry sauce gets its sweetness from orange juice and applesauce, plus a touch of honey or maple syrup.
Print
Rate
Ingredients
12

ounces

fresh cranberries

1

cup

orange juice

1/2

cup

apple sauce

no added sugar

2

tablespoons

honey

or maple syrup

1

teaspoon

orange zest
Instructions
Add all of the ingredients to a saucepan, and heat over medium-high heat.

Bring to a boil, and reduce heat to a simmer.

Simmer for 20-25 minutes until the cranberries pop and it turns into a sauce.

Add orange zest, and taste. Add any additional honey if desired.

Transfer to a bowl, and enjoy!
Did you try this recipe?
Be sure to leave a comment & recipe rating below. Bonus points for tagging @memeinge & #livingwellkitchen on Instagram! THANK YOU! xo
What to use in this recipe:
Meme
Doesn't this recipe look good?! You should probably share it: