These Thanksgiving Vegetables are an easy, tasty Thanksgiving side dish to add more veggies to your Thanksgiving, Friendsgiving, or holiday table. A fabulous recipe for the fall or winter season that is gluten-free, dairy-free, and vegan.
About Thanksgiving Roasted Vegetables
Thanksgiving can be quite the feast, and most people skip the veggies in favor of the items that don't always have much to offer in the nutritional department.
With an expansive Thanksgiving meal spread including turkey, casseroles, more casseroles, gravies, sauces, rolls, dressing/stuffing, etc. it might be hard to fit some veggies on your plate.
While I am absolutely against diets, I certainly believe that food can make you feel good or bad, and not in a good person/bad person way, but in a energized versus bloated way. That's why I love the Thanksgiving Roasted Veggies, because they are a delicious way to add veggies to your Thanksgiving table.
Now don't worry, I'm not going to advise you to forgo your Thanksgiving favorites and eat salad for Thanksgiving (though I wouldn't mind eating a huge serving of this wonderful fall salad). I'm pretty sure if you brought salad to Thanksgiving, you might get a few glares from those already elbow deep in the gravy... (because who brings salad to Thanksgiving?!)
But what if you added a new soon to be favorite dish to your Thanksgiving table? One that makes you want to make room on your plate for veggies!
What are Roasted Veggies for Thanksgiving
Thanksgiving Vegetables are simply roasted vegetables that are tastiest in the fall/winter season. Using seasonal veggies gives you the most nutrients while also minding your budget since seasonal veggies are typically less expensive.
I suggest you make a huge batch because people will definitely go back for seconds. Even when someone who laughs at vegetables on their plate at Thanksgiving ends up loving these.
Another thing I love about this recipe, despite its serious nutritious value, is everyone can eat it -- vegetarians, vegans, carnivores, and those with any of the top eight food allergens (peanuts, tree nuts, soy, eggs, wheat, fish, shellfish, and dairy).
Ingredients
Veggies: My personal favorites are Brussels sprouts, sweet potatoes, onions, and mushrooms. I do not feel the need to be super strict with ingredients and I usually just use whatever is on sale or looks the freshest at the market. For the onions, red, yellow, white, or sweet onions are all good choices. Mushrooms can be white (button) or baby portobello mushrooms. And you can use regular potatoes in place of the sweet potatoes.
Oil: Olive oil, avocado oil, or canola oil are good options for roasting veggies.
Herbs: Rosemary and thyme are the two herbs I like for this recipe. You can use fresh or dried.
Salt: Kosher salt, sea salt, or table salt will all work.
Garlic: Fresh garlic is what I prefer, but garlic powder can be substituted here.
Vinegar: White wine vinegar is what I typically use, but apple cider vinegar, red wine vinegar, or lemon juice would all work well. The vinegar isn't completely mandatory, but I like how it brightens the flavor of the veggies. Skip it if needed.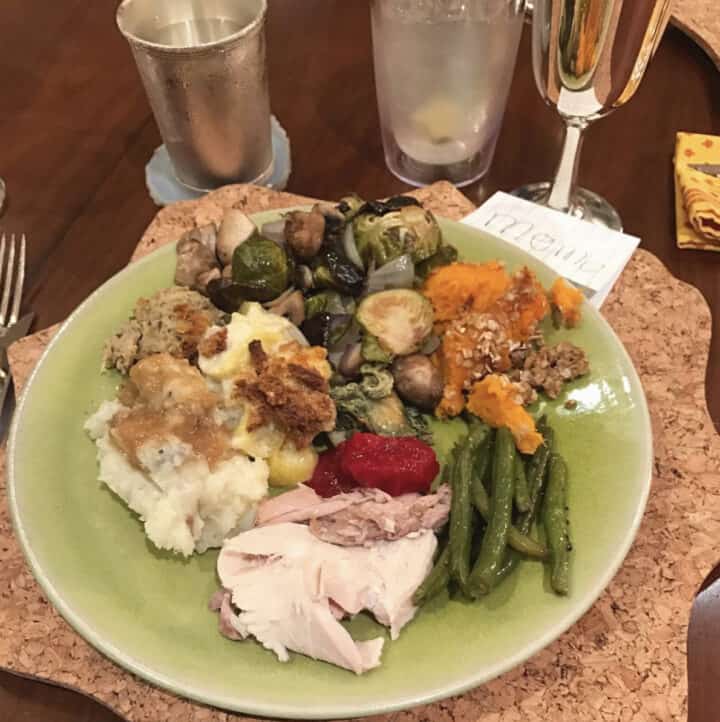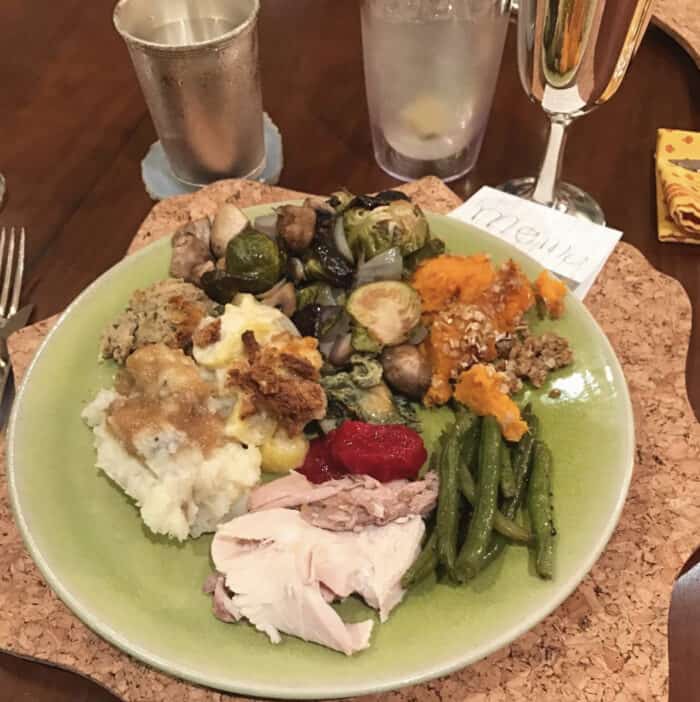 Cost of Recipe
Brussels sprouts 1 pound: $1.99
sweet potatoes 2: $0.96
onions 2: $1.36
mushrooms 8 ounces: $1.98
olive oil 1 tablespoon: $0.24
rosemary 2 sprigs: $0.50
salt 1/2 teaspoon: $0.01
garlic 1 clove: $0.06
white wine vinegar 1 tablespoon: $0.12
TOTAL COST: $7.22 (Based on San Diego Sprouts 2019) or $1.20/serving
How to Make Thanksgiving Vegetables
Time needed: 1 hour.
This recipe for roasted vegetables for thanksgiving dinner couldn't be much easier. All you do is toss the ingredients together on the baking sheets and roast.
Chop the veggies, and put on a baking sheet.
Add oil and salt.
Stir together, and transfer to oven.
Stir halfway through cooking.
Remove from oven and stir in garlic and vinegar.
Enjoy!
Tips
These Roasted Thanksgiving Veggies are so simple, but in case you want to know a little bit more, here are a few tips for how to make these best.
Variations
Ingredient Options: The vegetables can be adjusted depending on your preferences. And you can also use thyme instead of rosemary (or use dried instead of fresh), or lemon juice instead of vinegar.
How to Make Allergy Friendly: Luckily, these are already vegan, gluten free, dairy free, nut free, soy free, and egg free. You can adjust the vegetables depending on your taste preferences or if certain veggies work better for your dietary preferences.
Flavor Substitutions: Change up the flavors by using lemon juice or red wine vinegar in place of the white wine vinegar. You can also use thyme in place of rosemary.
What to do if you make a mistake
There isn't really any way to make a mistake for this recipe which is great to help you relax when you are trying to prepare all those dishes for Thanksgiving!
Make Ahead Ideas
You can roast the veggies in advance of up to three days and keep in the fridge. When ready to serve, you can reheat in a 350°F oven until they are warmed through and crispy again.
Storage Suggestions
Store the roasted vegetables in an airtight container in the fridge for up to 5 days. Reheat as directed above. I do not recommend freezing these as the texture will be less than desirable when defrosted.
If you want to use the leftovers creatively, you can make Leftover Thanksgiving Frittata.
Frequently Asked Questions
What veggies can you use to make Thanksgiving Roasted Vegetables?
Yes! You can use any vegetable that you like in this Thanksgiving roasted vegetable side dish. My favorites are Brussels sprouts, sweet potatoes, mushrooms, and onions. Carrots, beets, and squash are all good options as well.
How do you keep roast vegetables moist?
To prevent the veggies from drying out, make sure not to overcook them. You can also lower the temperature to 400°F. Additionally, at the end of cooking the veggies, the vinegar will not only add flavor but will keep them from being too dry.
What's the best way to reheat roasted vegetables?
To reheat roasted veggies, put them in a single layer on a rimmed baking sheet and reheat in a 350°F oven, stirring occasionally, until warmed through.
Can I pre cook roasted vegetables?
Yes, you can make these ahead of time. Prepare as directed, let cook, transfer to a glass or plastic container, and simply reheat in the oven as directed above when you're ready to enjoy.
Nutrition benefits
The great thing about this recipe is that it's basically just veggie and a little oil. The oil helps add flavor, and the fat helps your body absorb nutrients in the veggies.
Veggies are excellent sources of vitamins, minerals, antioxidants, and phytochemicals that are all great for your body. For example: Brussels sprouts are high in fiber, Vitamin C, Vitamin K, and manganese. Sweet potatoes are also high in fiber as well as Vitamin A, B Vitamins, and Potassium. Mushrooms have immune boosting benefits as well as Vitamin D, and onions are high in Vitamin C and polyphenols.
What to serve with Thanksgiving Roasted Vegetables
These vegetables are obviously perfect for a Thanksgiving side dish, so they can be enjoyed with whatever you like to serve on Thanksgiving, Friendsgiving or other holiday meal.
However, don't wait to serve these only on Thanksgiving because they are great for any meal and a delicious way to add extra veggies to your table.
Final thoughts:
Honestly, this is a perfect dish in my humble, vegetable-loving opinion... it's delightfully delicious, nourishing, and no matter what lifestyle you live or allergy you have - you can eat this!
It's a Thanksgiving miracle: you can still enjoy your old favorites, but adding some veggieful options will give your body something to be thankful for 🙂
---
MORE THANKSGIVING RECIPES YOU'LL LOVE:
---
Thanksgiving Roasted Veggies
An easy, tasty Thanksgiving roasted vegetable side dish to add more veggies to your Thanksgiving, Friendsgiving, or holiday table. A fabulous recipe for the fall or winter season that is gluten-free, dairy-free, and vegan.
Print
Rate
Ingredients
1

pound

Brussels sprouts

halved

2

medium

sweet potatoes

unpeeled & chopped

2

large

onions

red or yellow, chopped

8

ounces

mushrooms

quartered

1

tablespoon

oil

avocado or olive oil

2

sprigs

rosemary

minced

1/2

teaspoon

salt

1

clove

garlic

minced

1

tablespoon

white wine vinegar

red wine vinegar or lemon juice
Instructions
Toss all the vegetables with the olive oil, rosemary, and salt on a large rimmed baking sheet. (You might have to use two sheets)

Make sure vegetables are in one layer, and transfer to the preheated oven.

Roast for 20 minutes then stir vegetables. Return back to oven and roast another 15-30 minutes, until they are browned and slightly crispy.

Remove from the oven, toss with garlic and vinegar, and serve. Enjoy!
Notes
*Feel free to use different vegetables as desired. Carrots, squash, beets are other good options.
*Thyme can be used in place of the rosemary. Also, 1/2 teaspoon dried minced rosemary or thyme can be used in place of the fresh herbs.
*To use garlic powder in place of the fresh, use 1/4 teaspoon.
What to Use in This Recipe
Did you try this recipe?
Be sure to leave a comment & recipe rating below. Bonus points for tagging @memeinge & #livingwellkitchen on Instagram! THANK YOU! xo
[showhide type="post" more_text="Click here for Nutrition Facts" less_text="Clear Nutrition Facts"]
*
Nutrition Facts
Thanksgiving Roasted Veggies
Amount per Serving
% Daily Value*
* Percent Daily Values are based on a 2000 calorie diet.
*
[/showhide]
Meme
This recipe was originally published on November 20, 2012. Recipe, photos, and text were updated.
Doesn't this recipe look good?! You should probably share for later: