Spicy Pumpkin Deviled Eggs are a fun appetizer or snack for the fall, Halloween, and Thanksgiving. Made with pumpkin puree, there's no need to use mayo, and you get an extra kick of spice from the harissa paste.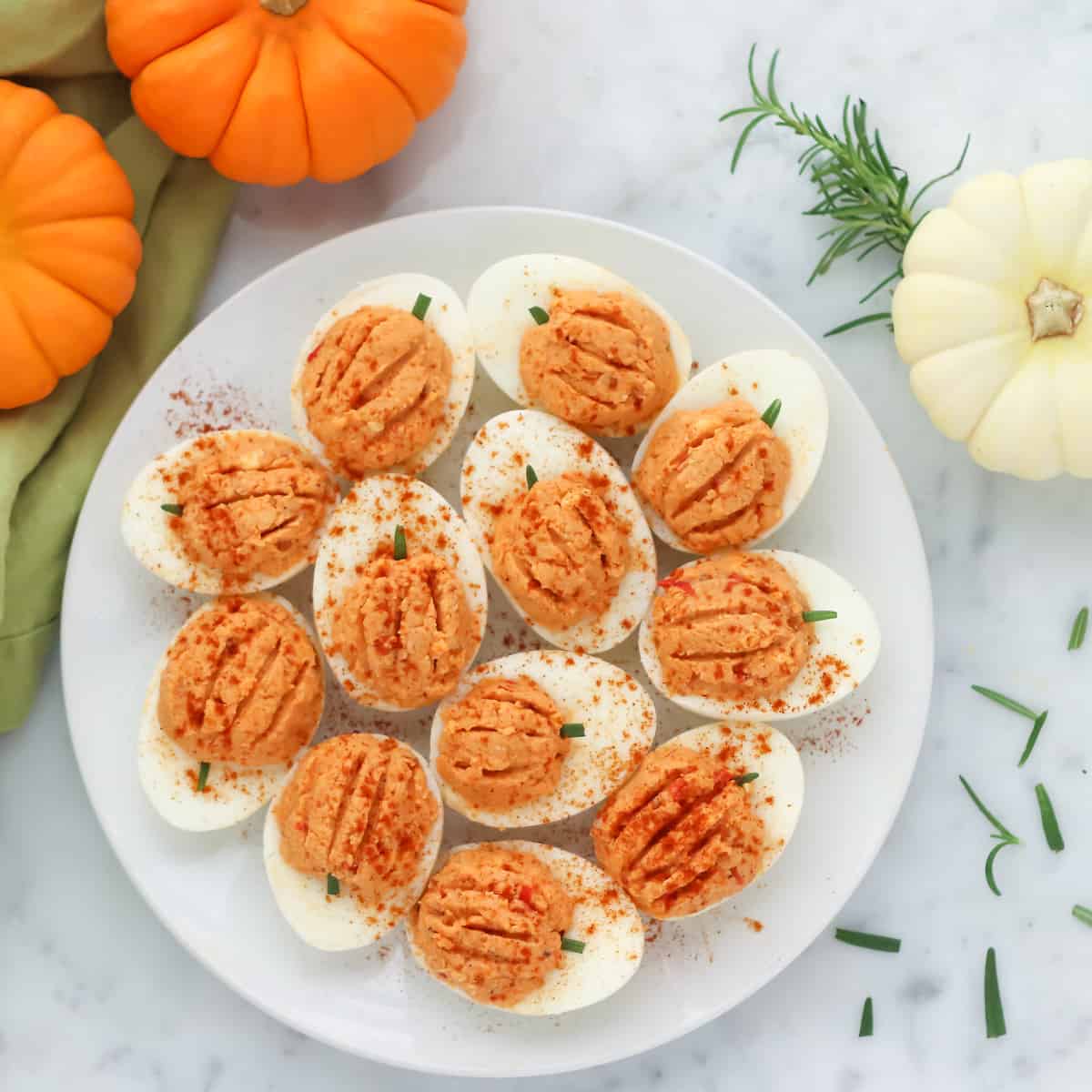 About Pumpkin Deviled Eggs
Ever seen those cute deviled egg pumpkins but realized they don't actually have pumpkin in them? They're orange simply because of food coloring - how annoying.
Well, these pumpkin deviled eggs are actually made with pumpkin!
The pumpkin puree helps bind the egg yolks, and the harissa gives it a spicier flavor and extra orange coloring.
Plus, there's no need for mayo in these fall deviled eggs. The pumpkin and harissa plus a little lemon juice do an excellent job binding the deviled egg mixture all together.
This recipe is great for Halloween, Thanksgiving, or any fall pumpkin party.
Pumpkin Deviled Eggs are so fun, and they are great to balance out the plethora of sweet pumpkin recipes you usually find. Plus, they keep in the fridge for a few days so you can have a quick and nutritious snack with a little pumpkin flare.
Bonus: pumpkin is packed with Vitamin A, so yay for extra nutrients!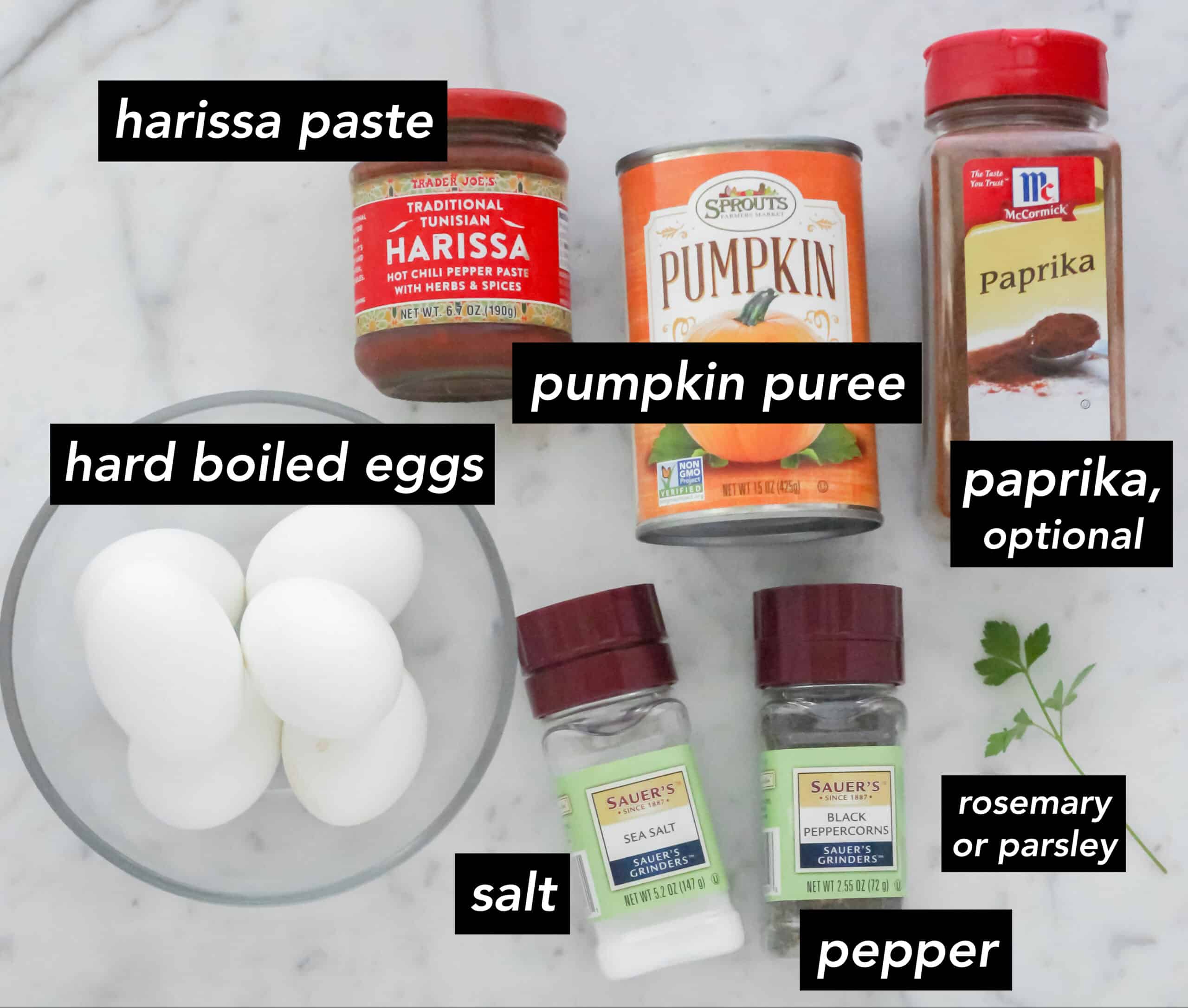 Ingredients
Eggs: Hard-boiled large eggs are recommended for this recipe. Extra large eggs or medium eggs will work. You might need to adjust the amount of pumpkin you use for larger or smaller eggs. You can hard-boil the eggs up to 3 days in advance.
Pumpkin: Use 100% pumpkin puree for these deviled egg pumpkins. Make sure you're not using pumpkin pie mix.
Harissa paste: This Moroccan red pepper sauce gives tons of deep spicy flavor; plus, it enhances the orange color of the mixture. Red chili paste or sriracha could be used as alternatives.
Lemon: The lemon juice brightens the flavor, and it helps the mixture bind together. Fresh lemon juice is best, but bottled will work.
Spices: Salt and pepper are the basic spices you need. And be sure to add enough salt to the egg yolk mixture. It's best to taste the mixture before filling the egg whites, so you can check that it has enough seasoning. Paprika or cayenne pepper can be sprinkled over the finished pumpkin deviled eggs if you like.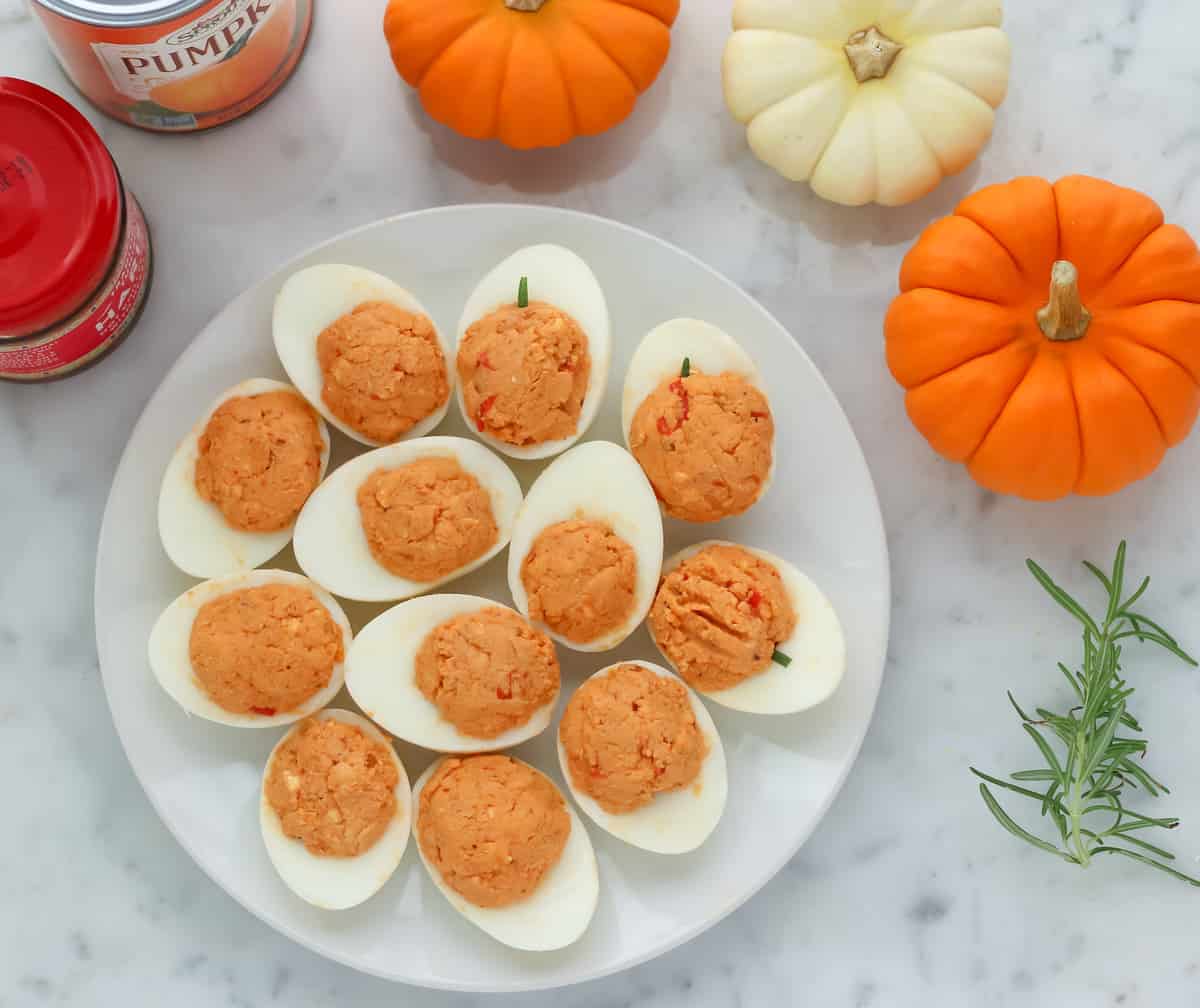 Cost of Recipe
egg 6 large: $1.38
pumpkin puree 5 tablespoons: $0.15
harissa paste 1 tablespoon: $0.40
lemon juice 1 tablespoon: $0.12
salt ¼ teaspoon: $0.01
black pepper ¼ teaspoon: $0.02
TOTAL COST: $2.08 or $0.35/serving (Based on San Diego grocery stores 2022)
Note that this is not the recipe; it's simply to show the cost breakdown of ingredients. Be sure to scroll down to the full recipe to see the specific ingredients and directions.
How to Make Pumpkin Deviled Eggs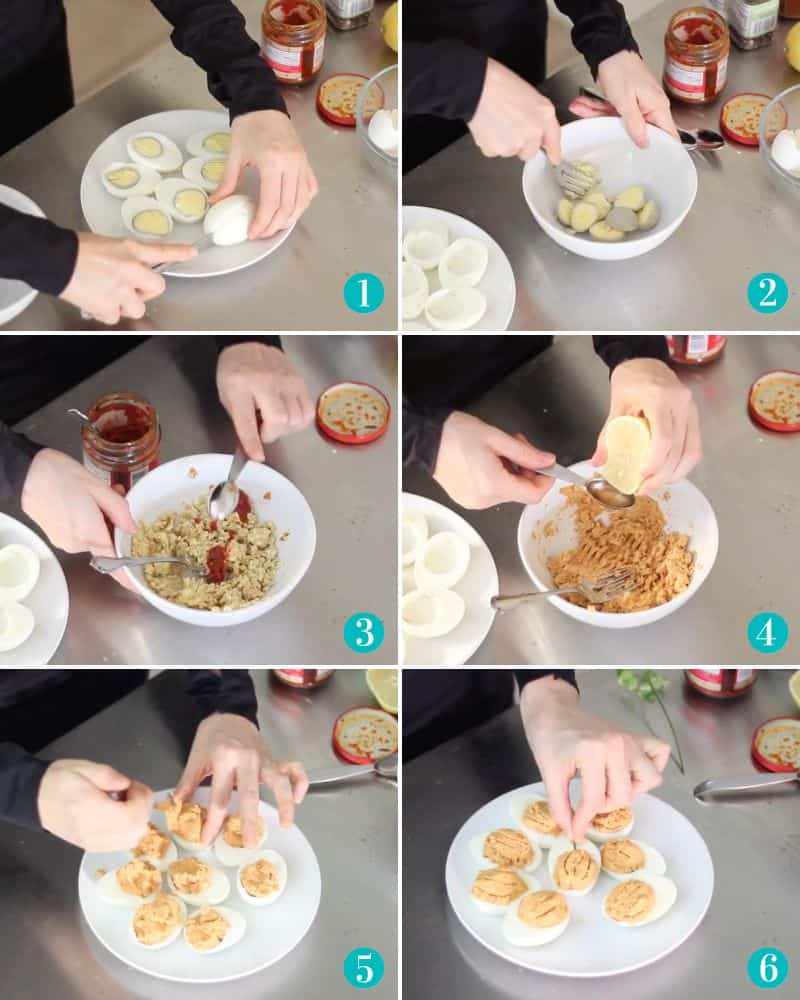 Time needed: 15 minutes.
Here's how to make Pumpkin Deviled Eggs with pumpkin puree and harissa paste for maximum flavor and orange color.
Peel and slice hard-boiled eggs.
Add the yolks to a bowl. Mash.
Stir in pumpkin puree, harissa paste, salt, and pepper.
Add lemon juice.

Taste and add additional seasoning if needed.

Spoon the mixture back into the egg whites.

Use a toothpick to make ridges for it to look like a pumpkin.

Add a chive, piece of parsley, or rosemary as the "stem."
Sprinkle with paprika if desired.

Enjoy!
Recipe Tips
Be sure to taste the pumpkin-yolk mixture before filling the egg whites.
Don't skimp on the salt in the pumpkin-yolk mixture because these fall deviled eggs need it. Or you can also sprinkle the finished deviled eggs with salt.
If you decide to add ridges to your pumpkin deviled eggs, it helps to press the toothpick lightly on the pumpkin mixture to make lines instead of dragging the toothpick through the pumpkin mixture. Like this: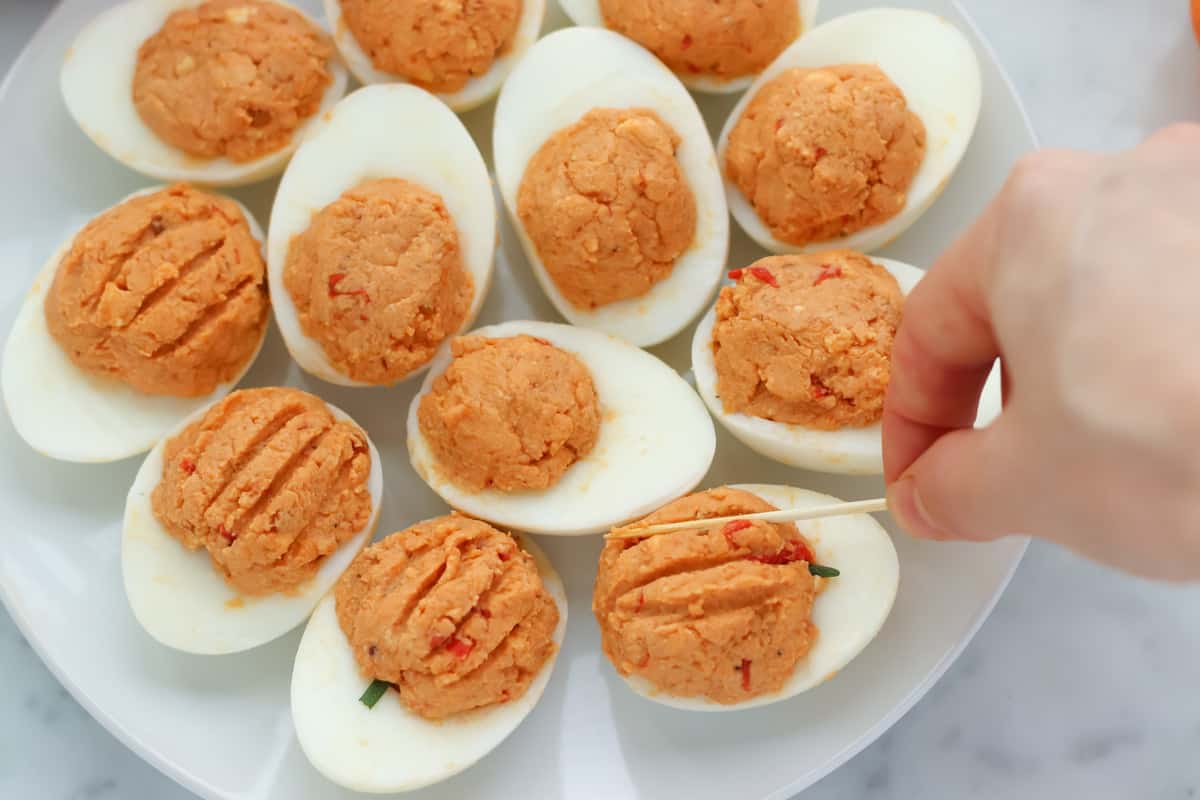 Variations
Ingredient Options
Harissa paste: Red chili paste and sriracha sauce can be used in place of the harissa paste. Start with half the amount then add more as needed. You might need more pumpkin or lemon juice to bind the mixture together.
Also, feel free to use a little less harissa paste if you aren't a fan of spicy things.
How to Make Allergy-Friendly
These fall deviled eggs are already gluten-free, dairy-free, nut-free, and soy-free. Since eggs are the main ingredient, they cannot be made egg-free.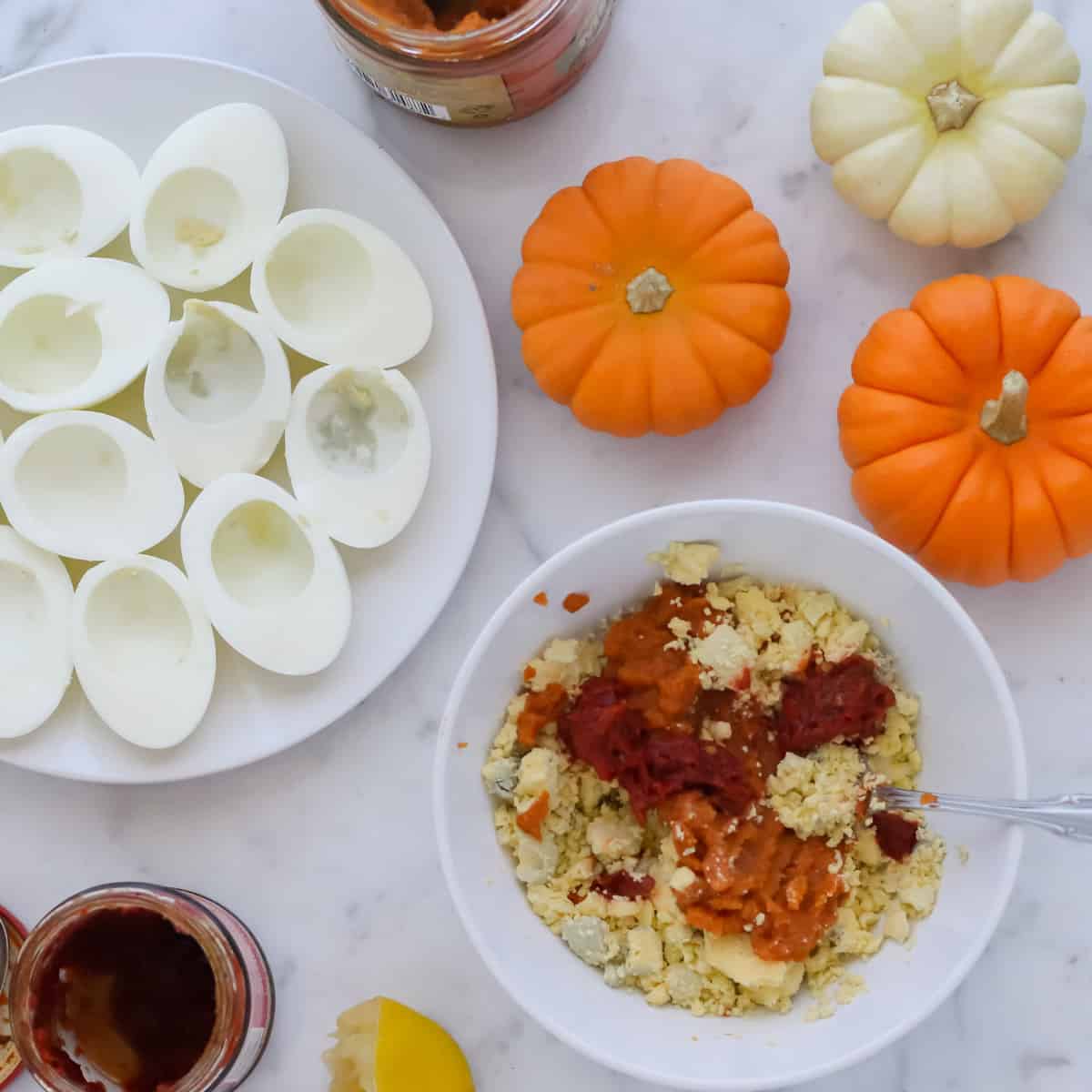 How to Fix a Mistake
Too spicy: Add more lemon juice or pumpkin puree.
Not enough flavor: Add more harissa paste in ½ teaspoon intervals or add another ⅛ teaspoon salt. You could also add an extra squeeze of lemon juice. Let sit for at least 5 minutes before adding more seasoning, so the flavors can develop.
Make-Ahead Ideas
These are best made ahead of time, so they have time to sit and let the flavors develop.
Note that the egg whites will turn a little orange, but this adds to the festive orange color of these deviled egg pumpkins. 🧡
Storage Suggestions
Deviled eggs should not sit out for longer than an hour or two, so be sure to keep these in the fridge when people aren't snacking.
Store them in a large glass container, preferably in one layer so the pumpkin design doesn't get messed up.
These keep in the fridge for up to 4 days.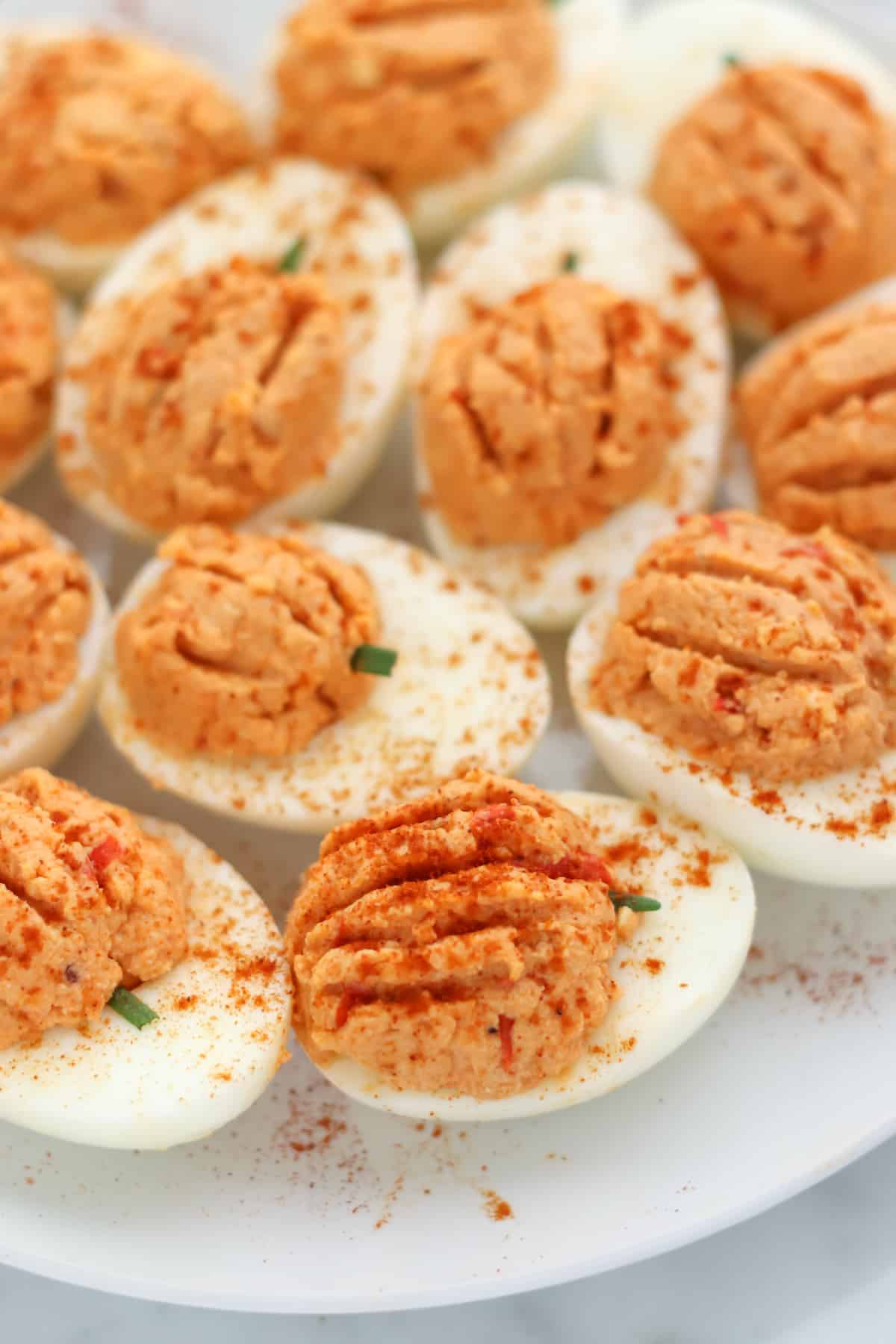 Frequently Asked Questions
Can you make deviled eggs the day before?
Yes, you can make deviled eggs up to 3 or 4 days before. For these pumpkin deviled eggs, note that there will be some orange color from pumpkin and harissa that bleeds into the egg whites.
They are best eaten within 2 days but will last in the fridge for up to 4 days if kept cold.
Nutrition Benefits
These pumpkin deviled eggs have 6 grams of protein per serving (2 deviled eggs) which is a fair amount for a snack or appetizer.
Plus, the pumpkin puree gives a boost of Vitamin A, so one serving has almost half of the recommended amount for a day.
Eggs offer an excellent source of Vitamin B12, biotin, choline, and selenium. They're a good source of riboflavin (Vitamin B2), pantothenic acid, and protein.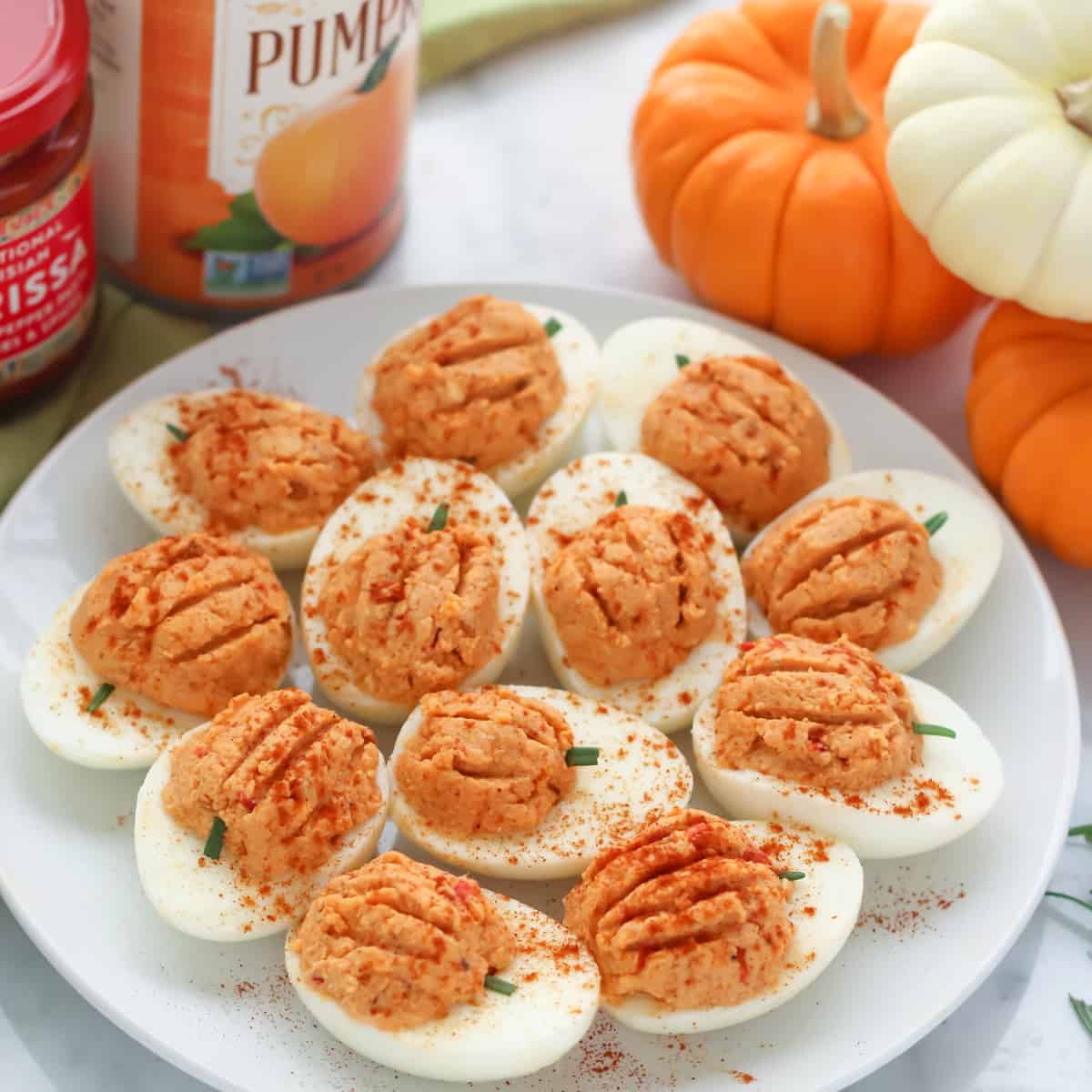 What to Serve with Pumpkin Deviled Eggs
When eaten as a snack, add a carbohydrate like a piece of fruit or crackers to help you feel full for longer.
These pumpkin deviled eggs are fun to serve alongside other deviled eggs like hummus deviled eggs or avocado deviled eggs.
Final thoughts:
These adorable, spicy deviled egg pumpkins make a great appetizer to serve at a Halloween, Thanksgiving, or any fall pumpkin-themed party!
MORE PUMPKIN RECIPES YOU'LL LOVE: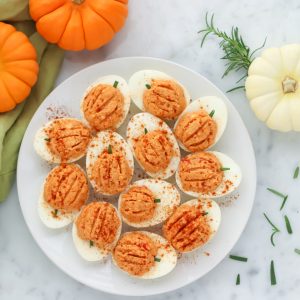 Spicy Pumpkin Deviled Eggs
Spicy Pumpkin Deviled Eggs are a fun fall appetizer or snack. Made with pumpkin puree, there's no need to use mayo.
Print
Rate
Total Cost:
$2.08 or $0.35/serving
Ingredients
6

large

eggs

hard boiled and peeled

5

tablespoons

pumpkin puree

1

tablespoon

harissa paste

1

tablespoon

lemon juice

¼

teaspoon

salt

⅛

teaspoon

black pepper

paprika

for serving

chives or rosemary

for serving
Instructions
Slice the eggs in half lengthwise, and remove the yolks to a bowl.

Mash the yolks, and stir in pumpkin, harissa paste, and lemon juice.

Mash until smooth. Season with salt and pepper. Taste and add pumpkin, harissa paste, lemon juice, salt and/or pepper if desired.

Spoon mixture back into egg whites, and use a toothpick to add ridges to the pumpkin mixture. Add a small piece of chive or rosemary as the stem to your pumpkin. Enjoy!
Did you try this recipe?
Be sure to leave a comment & recipe rating below. Bonus points for tagging @memeinge & #livingwellkitchen on Instagram! THANK YOU! xo
Meme
This post was originally published on October 14, 2018. Text, recipe, and photos have been updated.
---
Pumpkin Deviled Eggs Nutrition Facts
Nutrition Facts
Spicy Pumpkin Deviled Eggs
Serving Size
2 deviled eggs
Amount per Serving
% Daily Value*
* Percent Daily Values are based on a 2000 calorie diet.