Try this Pumpkin Chili recipe for a healthy boost of flavor & nutrients since pumpkin isn't only for bread and pies; it's a great addition to savory recipes, too! A crowd-pleasing chili that is spicy, delicious, and easy to make vegetarian.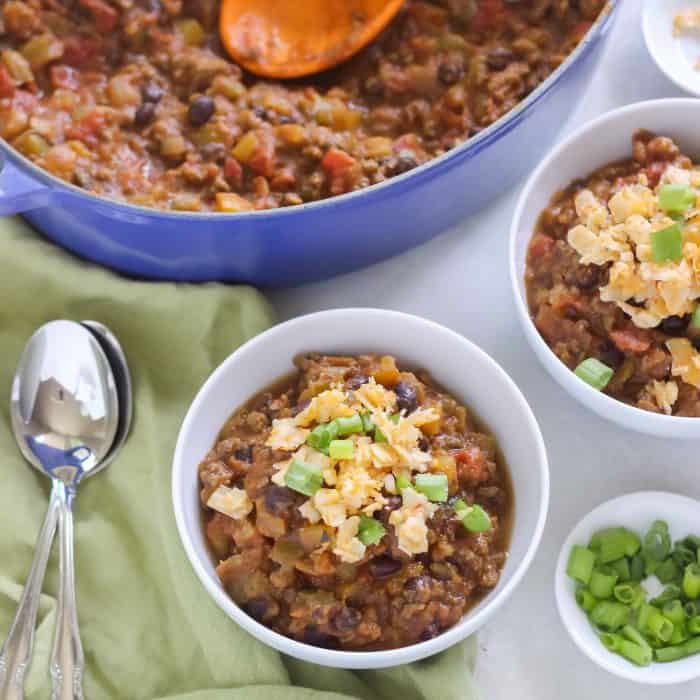 About Pumpkin Chili
Soup season (which obviously includes chili season) is undoubtably one of my favorite times of the year. And this Pumpkin Chili is a delicious chili that you'll want to make all chili season, even after Halloween. The contrast of the spicy jalapeños and the sweet pumpkin is a magical flavor combo; plus, pumpkin adds even more nutrients to this healthy bowl of goodness.
In addition to the nutritious pumpkin, there are tons of veggies packed in this chili: bell peppers, onions, jalapeños, garlic, and tomatoes. Mixed with ground beef and black beans, this is a nice combination of protein and produce.
This recipe lasts about 4-5 days in the fridge, and it is perfect with pumpkin cornbread and especially amazing when topped with some shredded cheddar cheese, chopped green onions, and/or sliced avocados.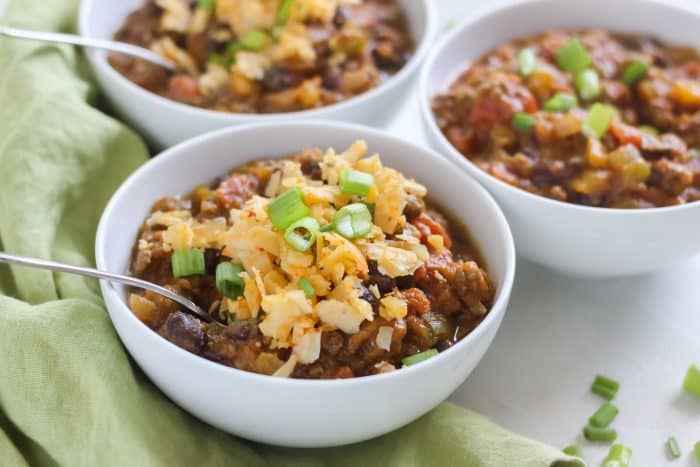 Pumpkin chili is basically a regular chili with an added can of pumpkin puree. This recipe is based on one from My Recipes.
It has a very subtle pumpkin flavor that even pumpkin naysayers will enjoy, and I can say this from experience because I've shared it with others who don't love pumpkin but enjoyed this chili.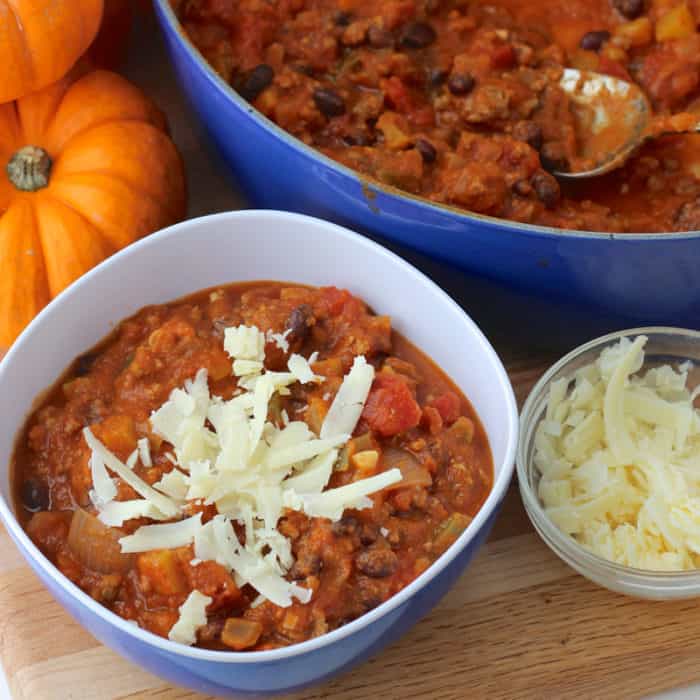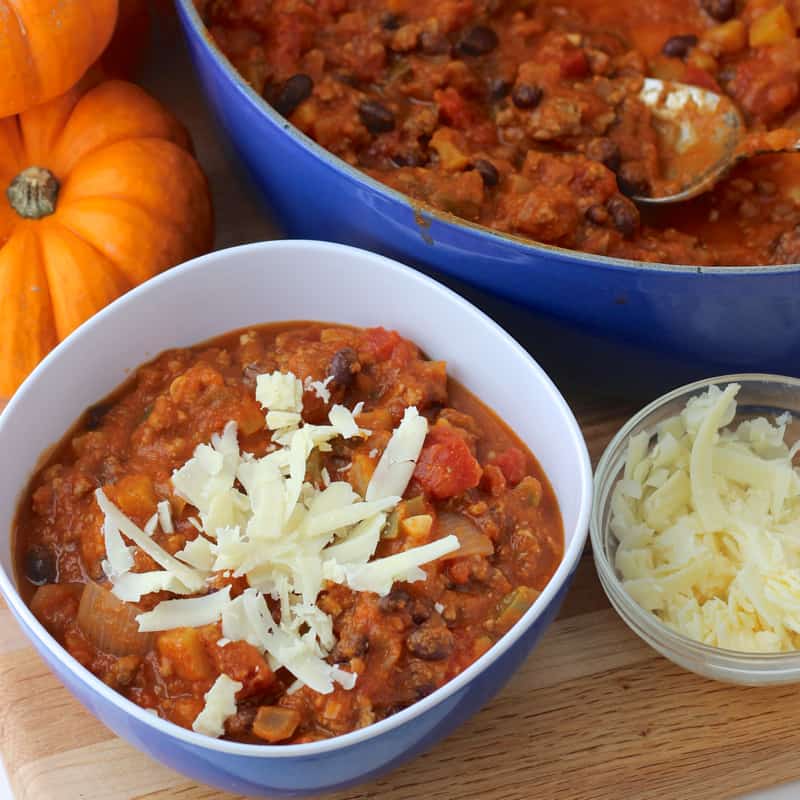 Ingredients
Ground beef: I use 90/10, ground sirloin, 93/7, 85/15 or 80/20 ground beef and drain off any excess grease. The nice thing about using 90/10 or 93/7 is that there typically isn't much grease to drain (so you can skip that step and soak up any excess grease with a paper towel if needed). I wouldn't use ground chuck or 70/30 because much of it will end up being grease and you won't have as much ground beef in the chili.
Veggies: Bell peppers and onions are my favorite veggies to add to chili, but you can also add chopped carrots or use extra onions in place of the bell peppers or vice versa. I like to use a combo of colors for the bell peppers to give the chili extra color, but you can use any color bell peppers you like.
Jalapeño: The jalapeño balances the sweetness of the pumpkin and gives your chili a spicy kick. You can use one or two jalapeños in this chili; I typically taste the jalapeño to see how spicy it is before adding more. The pumpkin mellows out the spiciness, so be sure to add extra jalapeños if you like a spicier chili. You can also use red pepper flakes to add heat to the chili.
Garlic: Garlic is one of my favorite additions to chili to add richness. I typically use fresh garlic, but garlic powder also works well.
Spices: Chili powder, cumin, and paprika are the spices in this pumpkin chili recipe. I find that they are all necessary to give your pumpkin chili the right flavor. You can also try adding ground coriander if desired and/or add more chili powder or cumin to your liking.
Salt: You need some salt to enhance the flavors in the chili, but if you are trying to cut back on sodium, you can add less. Make sure that you use no salt added tomatoes, beans and broth to decrease the amount of sodium (that doesn't really enhance the taste of the chili).
Diced tomatoes: No salt added diced tomatoes are the best for this recipe because they help keep the sodium content in the chili low. You can use 2 (14.5 ounce) cans or 1 (28 ounce) can diced tomatoes. In a pinch, diced tomatoes and green chilis could replace one of the cans of diced tomatoes; however, I'd be sure to decrease the amount of salt added then add more as needed.
Broth: Typically, I use unsalted or no salt added chicken broth, but you can also use beef or vegetable broth. Water also works well too, but the broth is nice to add a little extra flavor and depth in your chili. Start with using only 3 cups, but you might find you need to add a cup or two more the longer you cook the chili.
Pumpkin puree: Obviously, you need pumpkin puree to make pumpkin chili. Make sure you buy the 100% pumpkin puree and not pumpkin pie filling, or you'll have a strange tasting chili. Note that the pumpkin flavor will decrease the longer you cook the chili.
Black beans: Any beans will work in this chili, and honestly, beans are optional. My favorite beans for chili are black beans, kidney beans and garbanzo beans (chickpeas). Something to note is that I like to use no salt added beans to help keep the sodium levels down and keep it from being too salty. If you do not want to use canned beans, you can use 1.75 cups cooked beans.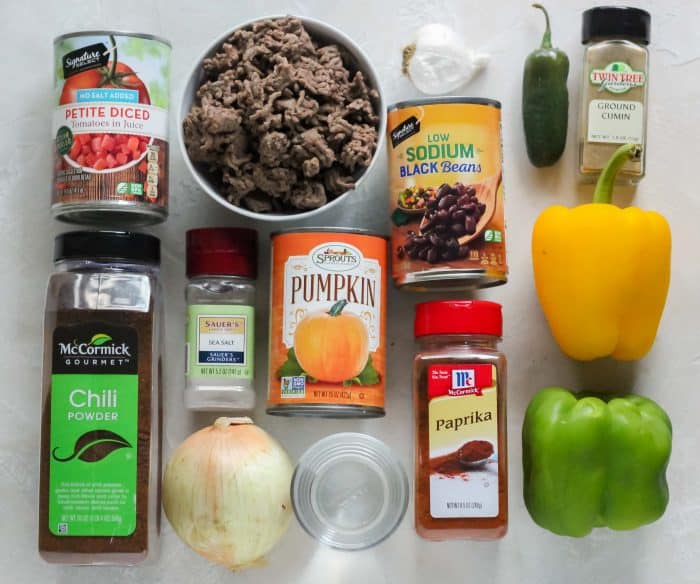 Cost
ground beef 1 pound: $5.99
onion 1: $0.60
green bell pepper 1: $0.98
yellow bell pepper 1: $1.78
jalapeño 1: $0.20
garlic 4 cloves: $0.24
chili powder 2 tablespoons: $0.50
cumin 1 tablespoon: $0.13
paprika 1 teaspoon: $0.25
salt 1 teaspoon: $0.01
diced tomatoes 2 (14.5 ounce) cans: $1.98
chicken broth 3 cups: $1.71
pumpkin puree 1 (15 ounce) can: $1.29
black beans 1 (15 ounce) can: $0.98
TOTAL COST: $16.64 (Based on San Diego Sprouts 2019) or $1.66/serving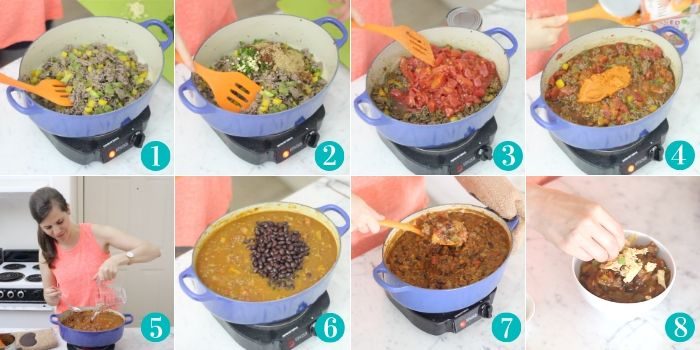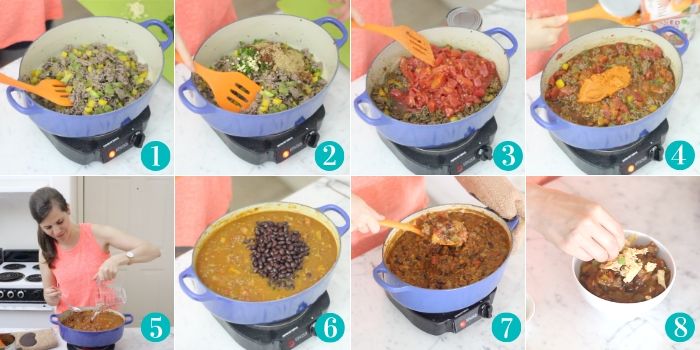 How to Make Pumpkin Chili
Time needed: 1 hour and 15 minutes.
Making pumpkin chili, like most chilis & soups, is incredibly simple, and the main thing you need to make a delicious chili is time to let is simmer. Here are the step by step directions with photos for How to Make Pumpkin Chili:
Saute the onions & bell peppers with the ground beef until the beef is cooked.

Drain off excess grease if needed, and return the beef-vegetable mixture back into the pot.

Add the jalapeño, garlic, chili powder, cumin, paprika, and salt.

Stir until fragrant.

Pour in tomatoes with their juices.
Stir in pumpkin.

It's helpful to add the pumpkin a little bit at a time to easily incorporate the pumpkin. Be sure to add it before the broth/water because more liquid will make it more difficult to stir in completely.

Pour in broth or water.

Bring to boil and reduce to a simmer.

Add in beans, and stir.

Simmer.

Taste and add extra seasoning if needed, then serve when ready.
Sprinkle with desired toppings, and enjoy!

Toppings like shredded cheese, diced green onion, sliced avocado, and/or sour cream or yogurt are all great.
Tips
Variations
Ingredient Options
Onion: if you're not a huge fan of onions, feel free to use a smaller onion. Or omit and use an extra bell pepper.
Bell pepper: you can use whatever color bell peppers you like. I use yellow and green to give extra color to the chili, but any color bell peppers work in this recipe. Also, feel free to omit and use an extra onion or two in their place.
Jalapeño: the number of jalapeños you use depends on how spicy you like the chili to be. If you do not have jalapeños, use red pepper flakes in their place. About 1 teaspoon red pepper flakes can be used in place of 1 small fresh jalapeño. If you do not like any kind of spiciness, you can omit the jalapeños. Because this chili has pumpkin, there will be a hint of sweetness to the chili but it is nicely balanced with the chili powder.
Garlic: garlic powder can be used in place of the fresh garlic. If using garlic powder, add the garlic powder when adding the chili powder and other spices. Use about 2 teaspoons garlic powder in place of the 4 cloves fresh garlic.
Broth: chicken, vegetable, and beef broth will all work in this recipe. Also, water can be used in place of the broth.
Black beans: kidney beans and garbanzo beans (chickpeas) can be used in place of the black beans.
How to Make Allergy Friendly
This pumpkin chili recipe is gluten free, dairy free, egg free, soy free and nut free. To make vegetarian/vegan, omit the ground beef and use extra beans (see FAQ below for more information).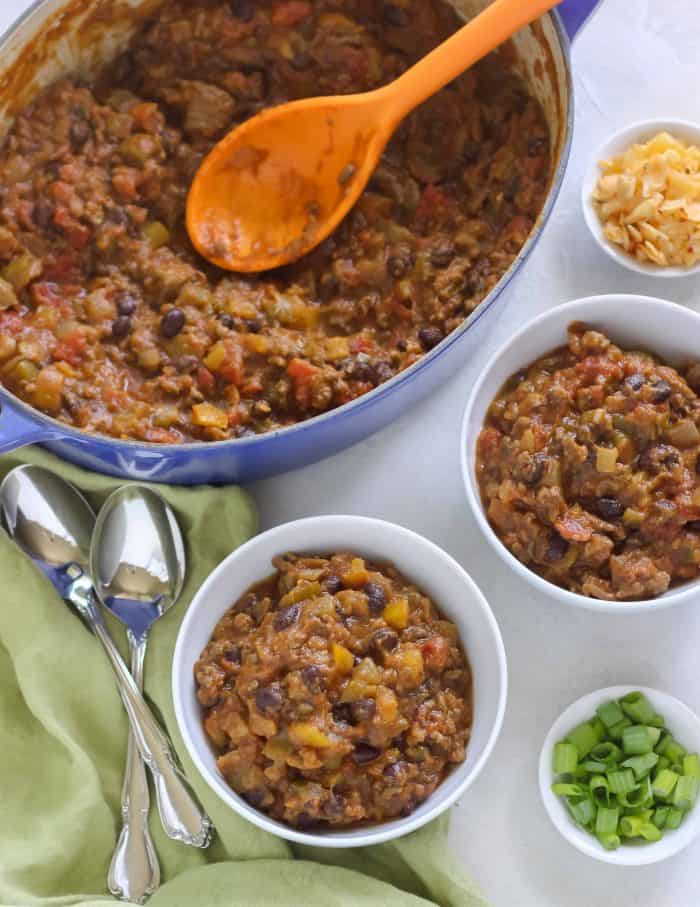 Make Ahead Tips
Chili, like pretty much all soups, is a great dish to make ahead of time as it's best the longer it sits. I recommend making this at least a few hours before serving because it really does taste better after it cooks for over one hour.
You can also do some prep work in advance by dicing the onions and bell peppers, mincing the garlic and jalapeños, and rinsing & draining the beans in advance for up to 24 hours stored in the fridge. Keep the onions + bell peppers in their own container, the garlic + jalapeños in their own container, and the beans in their own container (but not in the opened can as this can give your beans an undesirable metallic taste).
Storage Tips
Keep your cooked chili in an airtight glass or plastic container in the fridge for up to 4-5 days. It also keeps well in the freezer for up to 2 months.
When freezing chili (or any soups), I like to freeze is smaller portions to serve one or two so it takes less time to defrost and you only defrost what you need.
To reheat from the fridge, cook over medium-low in a saucepan until warmed through. Or cook in a microwave safe bowl on 50% power at 60 second intervals until warmed through. When reheating from the freezer, use the same method but add a few tablespoons of water when reheating and be sure to stir every few minutes.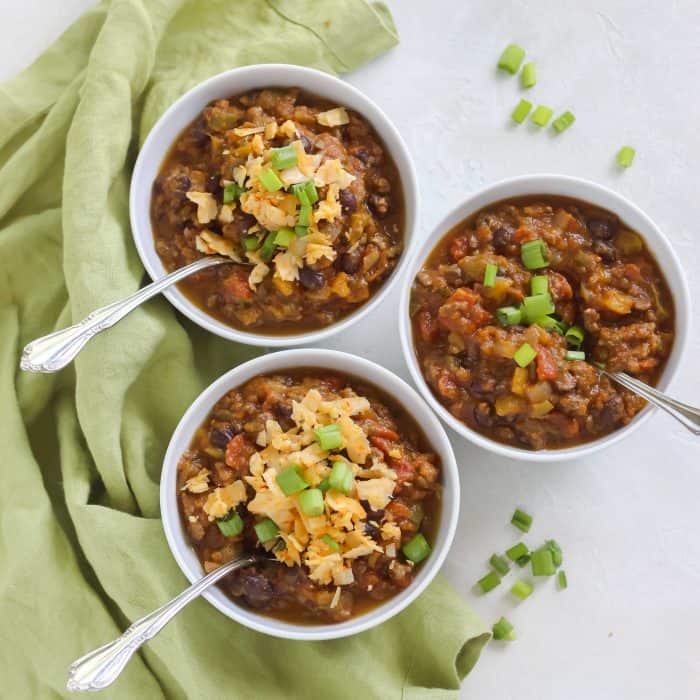 Frequently Asked Questions
Can you make Vegan Pumpkin Chili
Yes, you can easily make vegetarian and vegan pumpkin chili. You simply replace the ground beef with two (15 ounce) cans of rinsed and drained beans of any kind. Or add another 3.5 cups cooked beans if you do not want to use canned beans. Kidney beans, black beans, and or garbanzo beans (chickpeas) are my personal favorites to use in chili, and it's great if you add all three (like this Three Bean and Quinoa Chili) when making this vegetarian/vegan.
How to make Pumpkin Chili Vegetarian
Follow the directions as listed but add 1 tablespoon of oil and do not add meat when sautéing the onions and peppers.
When you are instructed to add the black beans, add the additional two cans of beans to the chili and follow the directions as written.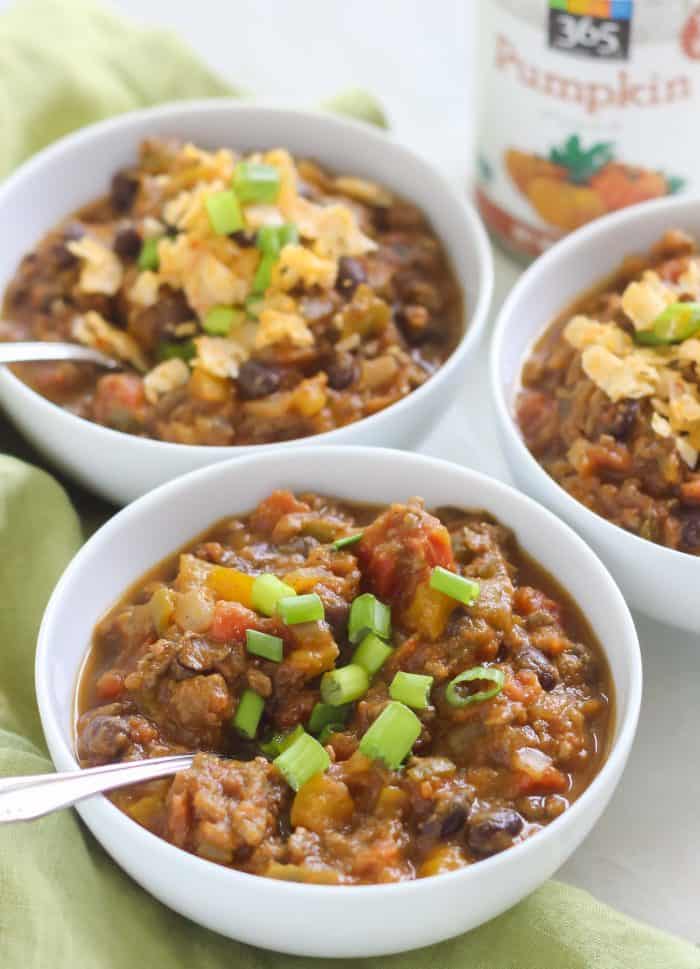 What if you forget something
As you can see from the video for how to make this pumpkin chili, you'll notice that I forgot to add the onions in the first step. No big deal! Since the chili cooks for a while, you have time to add the onions (or bell peppers, garlic, jalapeño, spices, etc.) and they'll merge right in with the other ingredients as long as you give them another 20 minutes to cook.
The only thing to be cautious of is if you forget to add the meat to cook in the beginning. If this happens, simply cook the ground beef in a separate skillet, drain, and add the meat to the chili.
For any of the ingredients you forget to add as directed, be sure to add at least 15-20 minutes onto the cooking time to allow the ingredient to cook into the chili. No one will notice the difference!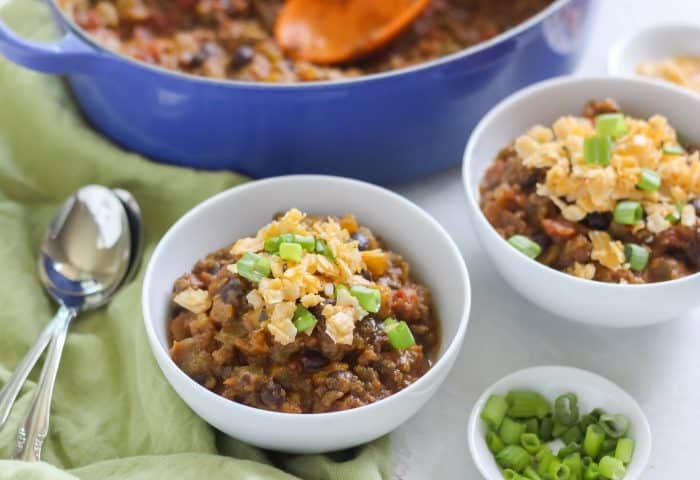 Nutrition benefits of this Pumpkin Chili recipe
The lean ground beef and beans add protein to the recipe to help build muscle and keep you satisfied. Additionally, the beans add fiber and are a great source of plant protein, so you can use only beans to make this a vegetarian/vegan pumpkin chili.
There are tons of veggies including onions, bell peppers, jalapeños, garlic, tomatoes, and pumpkin which all add vitamins, minerals, fiber, and antioxidants to the chili.
This pumpkin chili recipe is also gluten-free, dairy-free, egg-free, and soy-free and can easily be modified to vegetarian/vegan if needed, so it is great to serve for those with specific dietary preferences or needs.
What to serve with Pumpkin Chili
Pumpkin chili is great served as is, or you can add any toppings you typically add to chili, like shredded cheese, chopped green onions, sliced avocado, or sour cream/yogurt. One of my favorite additions is using a spicy cheese to add even more spice to the chili. Additionally, another great thing to serve with pumpkin chili is cornbread, especially pumpkin cornbread.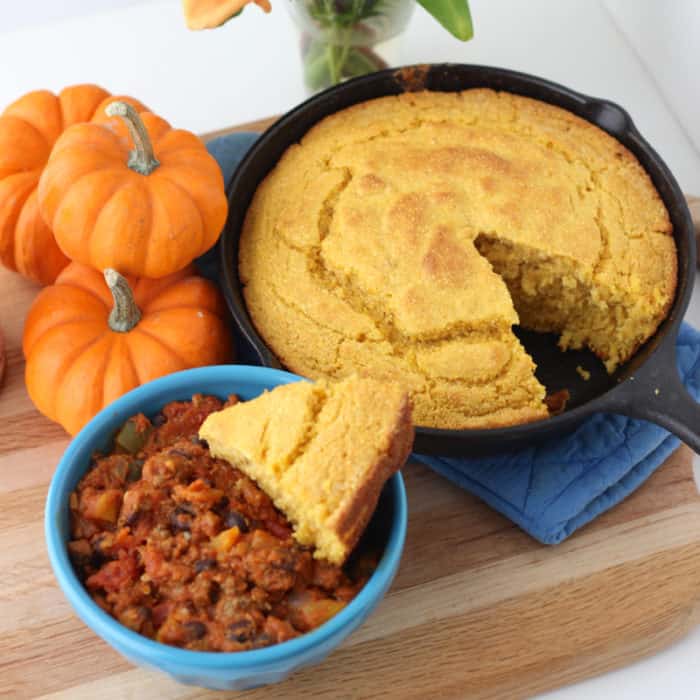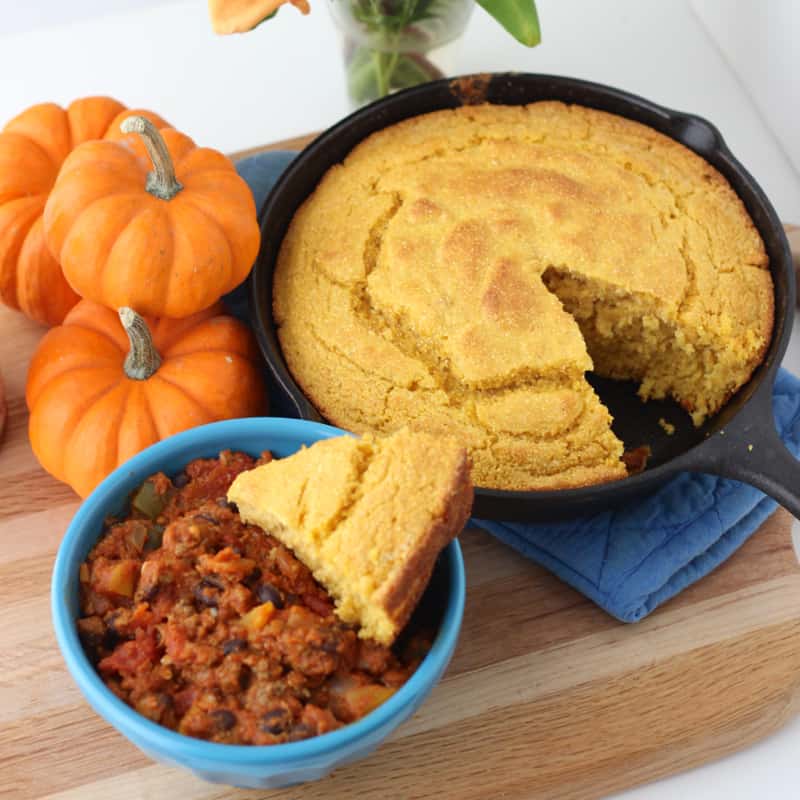 Final thoughts
Enjoying a bowl of the pumpkin chili is a delight thanks to the spiciness of the jalapeños and chili powder balanced by the pumpkin puree. It's a fun change on your regular bowl of chili yet it doesn't have an overpowering pumpkin flavor; therefore, you can serve it to even those that don't fall head over heels in love with pumpkin.
---
MORE SAVORY PUMPKIN RECIPES YOU'LL LOVE: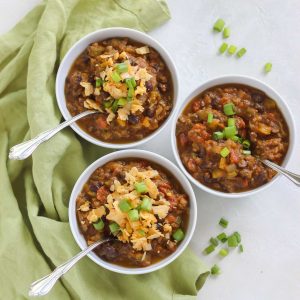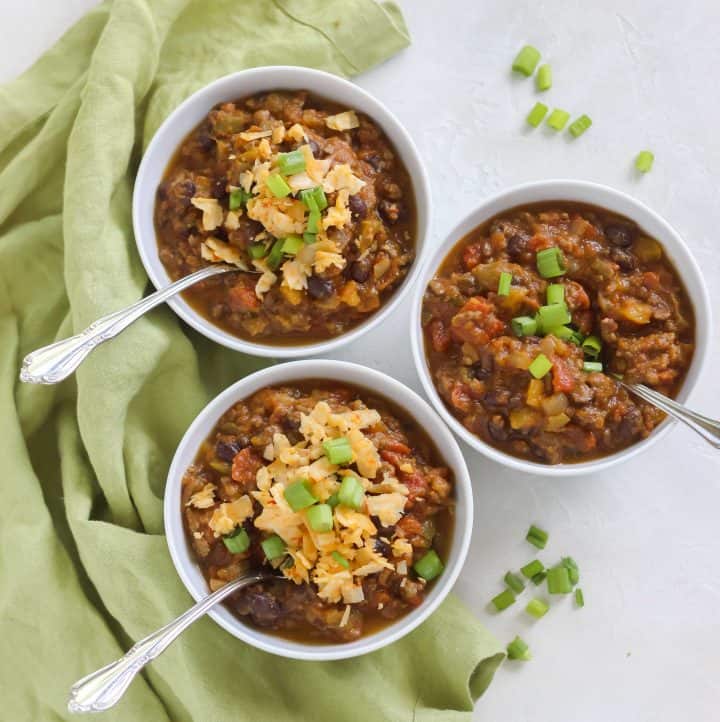 Pumpkin Chili
A can of pumpkin in this Pumpkin Chili adds a healthy boost of flavor and nutrients. Gluten-free, dairy-free, and easy to make vegetarian.
Print
Rate
Ingredients
1

pound

ground beef

or 2 (15 oz) cans beans

1

large

onion

diced

1

medium

green bell pepper

diced

1

medium

yellow bell pepper

diced

1-2

small

jalapeños

seeded & minced

4

cloves

garlic

minced

2

tablespoons

chili powder

1

tablespoon

cumin

1

teaspoon

paprika

1

teaspoon

salt

2

(14.5 ounce)

cans no-salt-added diced tomatoes

with juices

3

cups

chicken broth

no salt added, or water

15

ounce

pumpkin puree

15

ounce

black beans

rinsed & drained
Instructions
Heat a Dutch oven or soup pot over medium-high heat. Add ground beef, onions, and bell peppers. Cook, breaking up meat, until meat is browned, about 10 minutes. Drain and return to pot.

Stir in jalapeños, garlic, chili powder, cumin, paprika, and salt until fragrant, about 1 minute.

Add diced tomatoes & juices, chicken broth (or water), and pumpkin. Stir well and bring to a boil which takes about 5-10 minutes.

Reduce heat to a simmer and let simmer for about 45 minutes, stirring occasionally.

Stir in black beans and add any additional seasoning if needed. Simmer for 10-15 minutes or longer if possible. If you cook longer than an hour, you might need to add more broth or water (1 cup at a time) depending on your desired consistency.

Enjoy with desired toppings like cheese, green onions, or cornbread
Notes
*Makes about 9-10 cups.
*Use 1-2 jalapeños depending on desired spiciness.
*One medium bell pepper is about 1.25 cups diced. One large onion is about 1.5 to 2 cups diced.
*To make vegan pumpkin chili, simply replace the ground beef with an additional two (15 ounce) cans of rinsed & drained beans of any kind. Add one tablespoon of oil to sauté the onions and bell peppers.
What to Use in This Recipe
Did you try this recipe?
Be sure to leave a comment & recipe rating below. Bonus points for tagging @memeinge & #livingwellkitchen on Instagram! THANK YOU! xo
[showhide type="post" more_text="Click here for Pumpkin Chili Nutrition Facts" less_text="Clear Nutrition Facts"] *
Nutrition Facts
Pumpkin Chili
Amount per Serving
% Daily Value*
* Percent Daily Values are based on a 2000 calorie diet.
* [/showhide]
Meme
This post was originally published October 3, 2014. Text, recipe, photos and video have been updated.
Doesn't this recipe look good?! You should probably share it: