You only need two ingredients for this tasty Hummus Deviled Eggs recipe. Perfect for a make-ahead snack, breakfast, or light lunch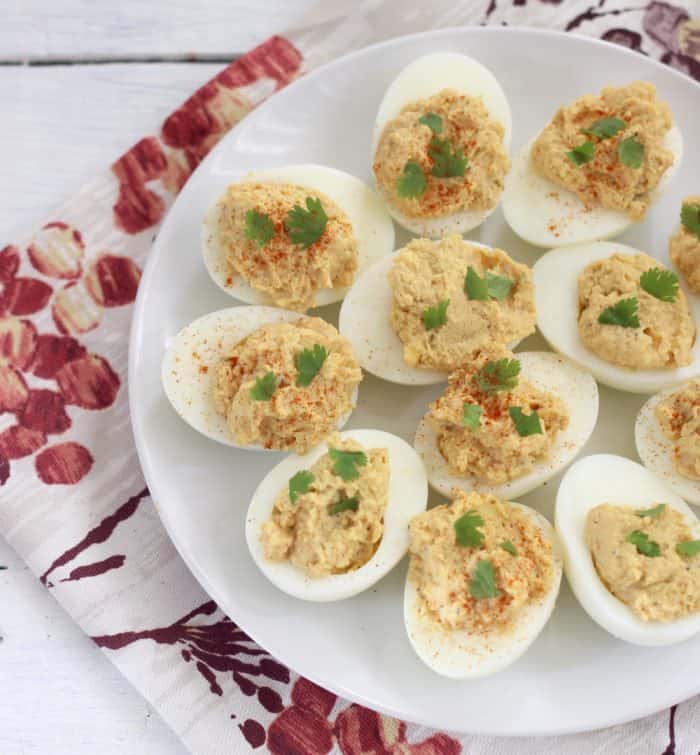 About Deviled Eggs Made with Hummus
With only two basic ingredients, you'll have a tasty and satisfying snack or appetizer in no time.
Even though eggs and hummus sound like a funny combo, they go together quite well.
The hummus takes the place of mayo, so you don't need mayo for these easy deviled eggs.
And if you think you don't like deviled eggs, these are a great version to try! (Also, highly recommend these avocado deviled eggs)
The beauty of this recipe is its simplicity and that you can change the flavor of the eggs based on the type of hummus you use.
While a basic hummus will be just fine, a flavored hummus is preferred since the eggs have little flavor.
You can always liven these up a little more by using spices and/or herbs in the mixture or on top.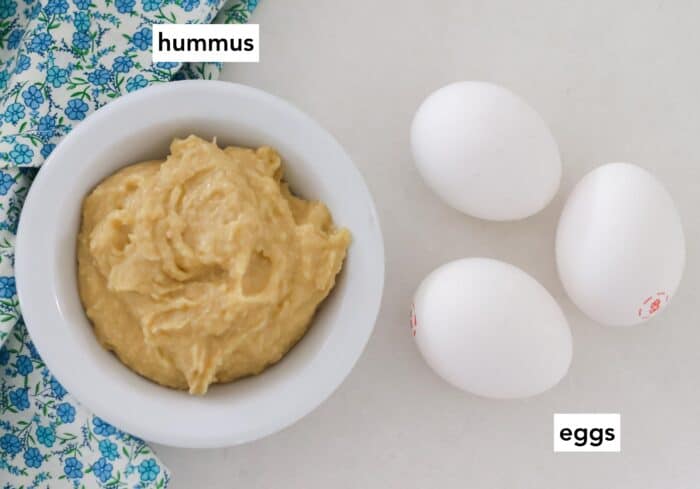 Ingredients
Eggs: Large eggs are the type of eggs to use in this recipe. Other sizes will work, but you might need to adjust the amount of hummus you use to make sure the mixture is smooth. For extra-large eggs, add a tablespoon of hummus with the original ½ cup called for in the recipe. For medium eggs, start with ⅓ cup of hummus and add more as needed.
Hummus: Any flavor of hummus works for these deviled eggs. If you use flavored hummus, you will likely not need additional seasoning because they will be flavorful enough. But if you are using plain hummus, you might want to add extra seasoning.
Seasoning: There are many options for adding seasoning to your hummus deviled eggs, but it's completely unnecessary if you are using a more flavorful hummus. You can use salt, pepper, garlic powder, paprika, cayenne pepper, fresh chopped herbs, or chopped green onion.
Cost of Recipe
eggs 6 large: $1.38
hummus ½ cup: $1
TOTAL COST: $2.38 or $0.40/serving (Based on San Diego grocery stores 2022)
Note that this is not the recipe; it's simply to show the cost breakdown of ingredients. Be sure to scroll down to the full recipe to see the specific ingredients and directions.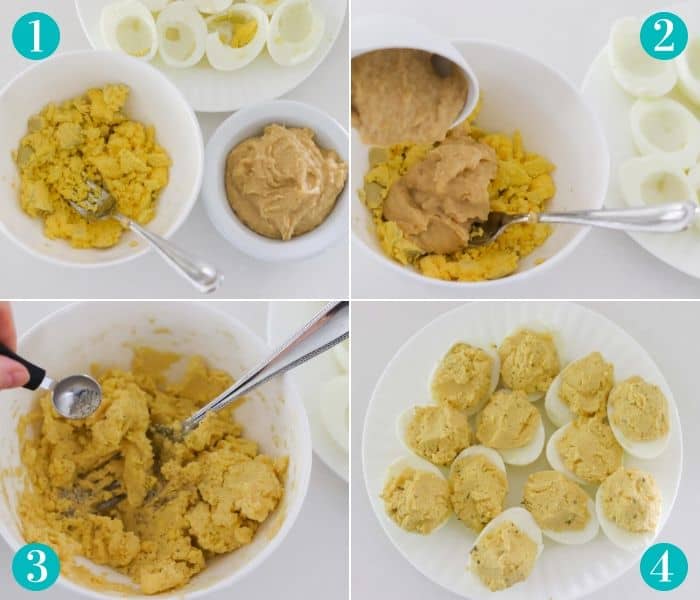 How to Make Hummus Deviled Eggs
Time needed: 10 minutes
Slice the hard-boiled eggs in half, and put the yolks in a bowl.
Add hummus to the bowl with the yolks, and mash together.
Taste the hummus-yolk mixture and season if needed.
Spoon the mixture back into the egg whites. Enjoy!

Sprinkle with paprika, cayenne pepper, herbs, chives, or chopped green onions if desired.
Recipe Tips
Variations
Ingredient Options
Hummus: you can use any type of hummus you like.
Flavor Substitutions
Hummus: Change the flavor of your hummus deviled eggs by changing the type of hummus you use. Hummus with a lot of flavor like a spicy red pepper or cilantro jalapeño is recommended, so you don't have to add salt, spices, or herbs. But it's completely up to you.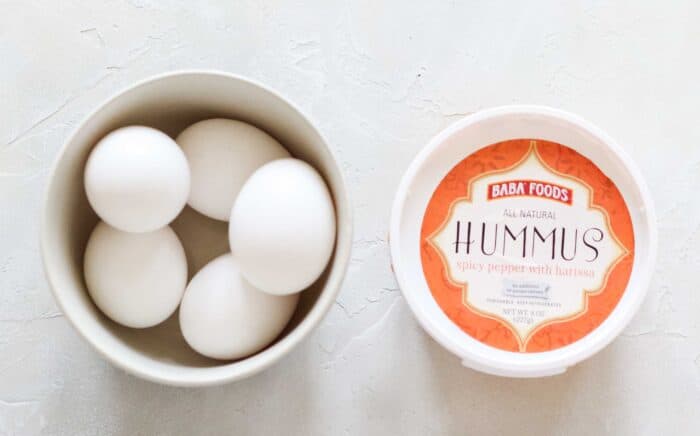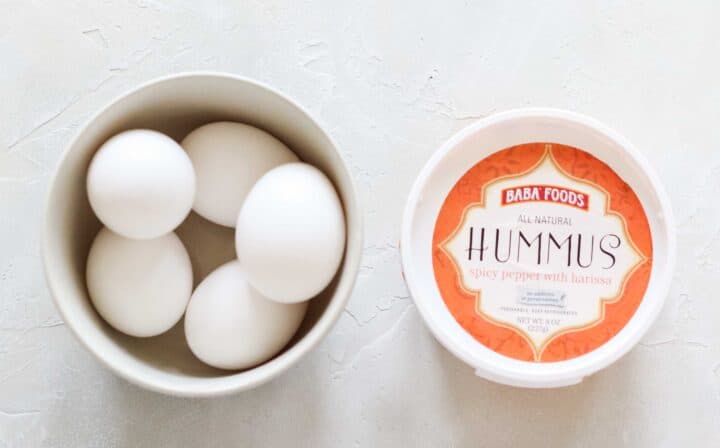 How to Make Allergy-Friendly
These hummus deviled eggs are already gluten-free, dairy-free, nut-free, and soy-free. Be sure to check the ingredients of your hummus to make sure it doesn't have an ingredient you are looking to avoid.
How to Fix a Mistake
The yolk mixture is too thick or crumbly: Add another tablespoon of hummus until the mixture thins enough. If you do not have extra hummus, add 1 teaspoon of water at a time, stirring between additions, until it reaches the consistency you like.
The yolk mixture is too thin: Slice another hard-boiled egg in half, and add the yolks.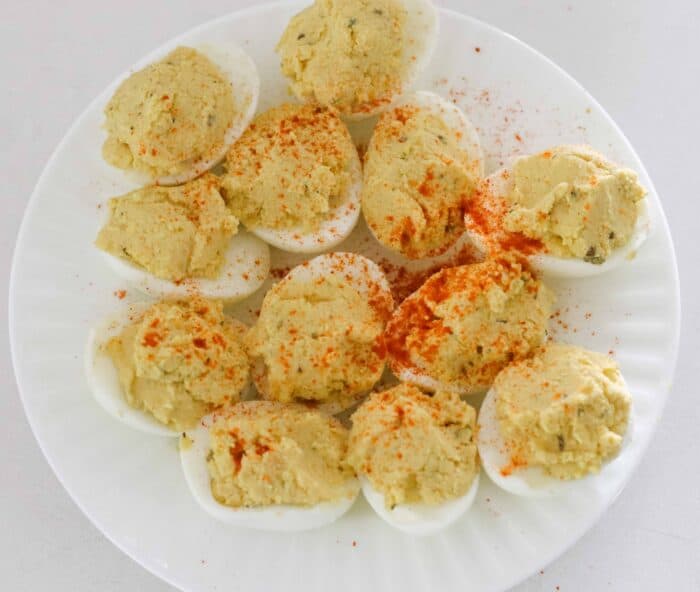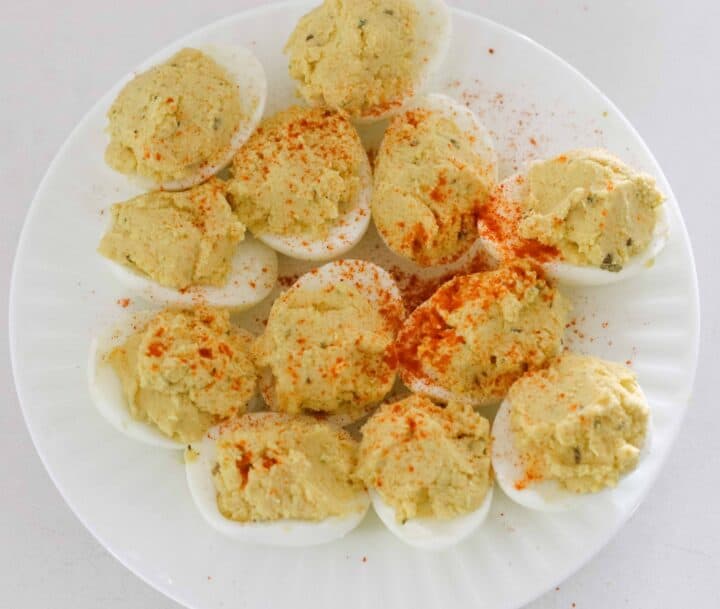 Make-Ahead Ideas
Deviled eggs are great to make ahead of time, and these are no exception. Simply prepare according to the recipe directions, and promptly refrigerate in an airtight glass or plastic container, preferably in a single layer.
Serve cold or at room temperature.
Storage Suggestions
These keep well in the refrigerator in an airtight container for up to 4 days. Be sure to refrigerate the eggs when they are not being eaten, and do not leave them at room temperature for longer than 2 hours.
Deviled eggs do not freeze well.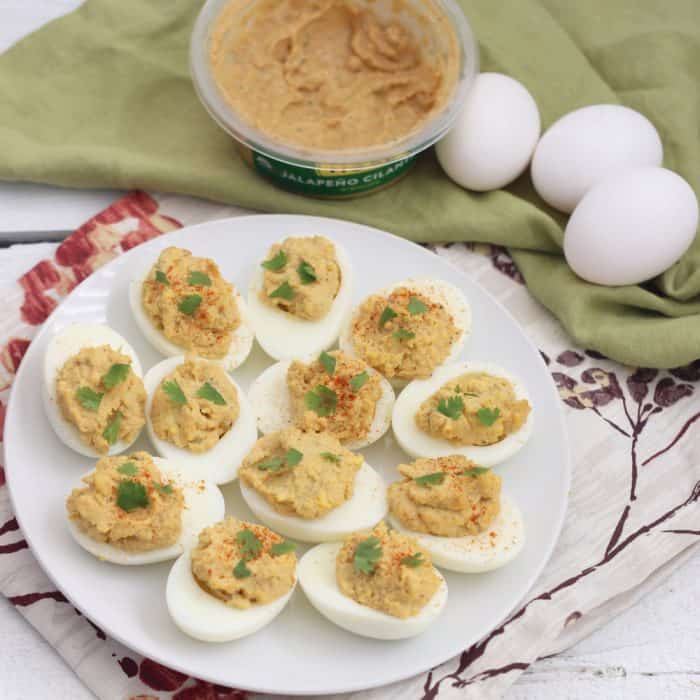 Frequently Asked Questions
What's a good side for deviled eggs?
Potato chips
Crackers
Tortilla chips
Tater tots
Berries
Sliced apples, pears, or pineapple
How many days in advance can you make deviled eggs?
About 2-3 days.
Nutrition Benefits
Hummus deviled eggs have 8 grams of protein per serving (2 deviled egg halves), so they are a higher protein snack options.
Eggs are an excellent source of Vitamin B12, biotin, choline, and selenium. They are a good source of protein, riboflavin (Vitamin B2), and pantothenic acid.
The chickpeas, which make up hummus, are high in fiber, especially soluble fiber which can help lower cholesterol and aid in digestive issues.
What to Serve with Hummus Deviled Eggs
You can enjoy them as a snack, on top of a salad, or as a appetizer. Since these hummus deviled eggs are low carb, pair them with a carbohydrate like crackers, chips, or fruit.
Final thoughts:
These hummus deviled eggs are not only simple and quick to make, they are delicious and satisfying.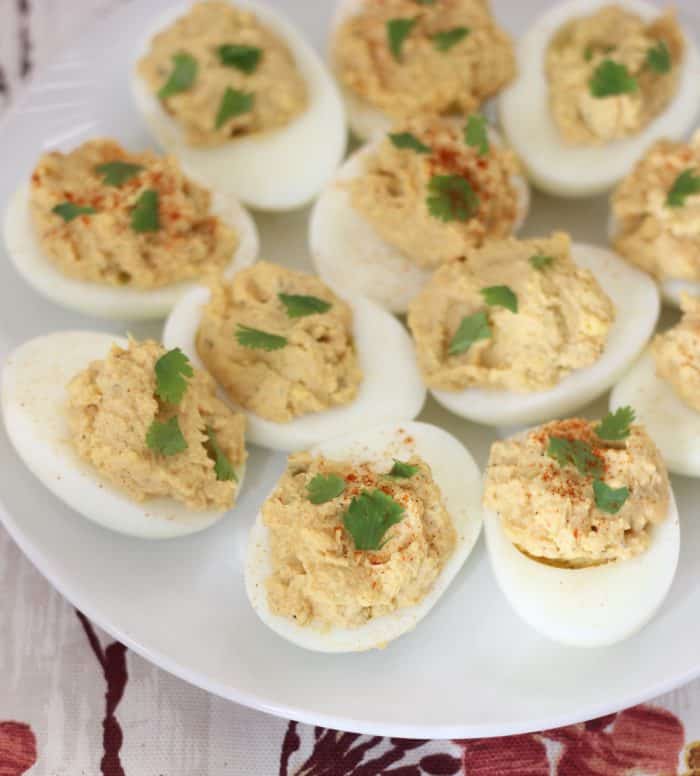 MORE DEVILED EGG RECIPES YOU'LL LOVE: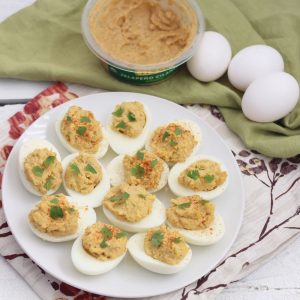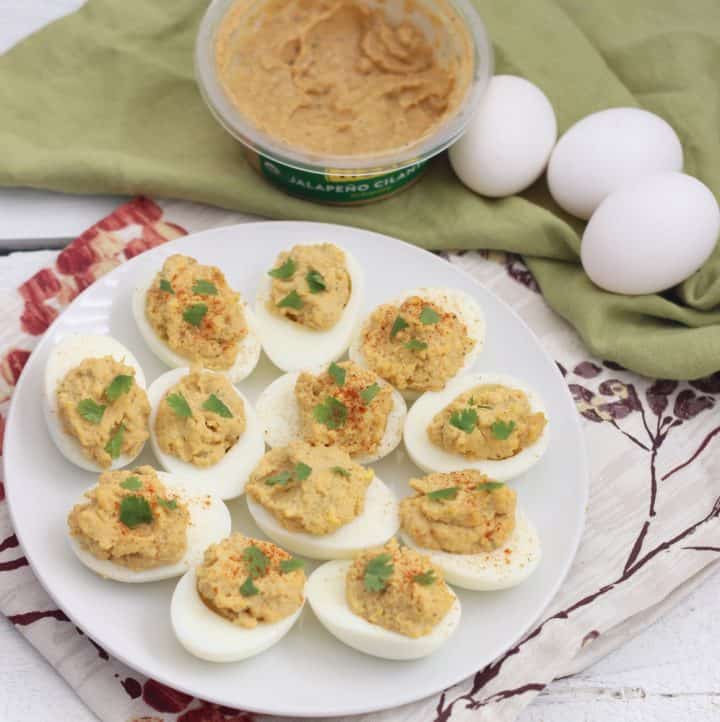 Hummus Deviled Eggs
You only need two ingredients for these tasty Hummus Deviled Eggs. Perfect for a make-ahead snack, breakfast or light lunch
Print
Rate
Total Cost:
$2.38 or $0.40/serving
Ingredients
6

large

eggs

hard-boiled and peeled

½

cup

hummus

any flavor

1

teaspoon

fresh herbs

optional

paprika

for serving
Instructions
Slice the eggs in half and transfer the yolks to a bowl.

Mash the yolk and stir in the hummus until completely combined.

Fill each egg white with the mixture.

Sprinkle with fresh herbs and/or paprika if desired, and enjoy!
What to Use in This Recipe
Did you try this recipe?
Be sure to leave a comment & recipe rating below. Bonus points for tagging @memeinge & #livingwellkitchen on Instagram! THANK YOU! xo
Meme
This post was originally published on March 22, 2017. Text, recipe, and photos have been updated.
---
Hummus Deviled Eggs Nutrition Facts
Nutrition Facts
Hummus Deviled Eggs
Serving Size
1 deviled egg
Amount per Serving
% Daily Value*
* Percent Daily Values are based on a 2000 calorie diet.
Doesn't this recipe look good?! You should probably share it: