Microwave Oatmeal Cookie is an easy, healthy cookie ready in 5 minutes. Only serves one, allergy friendly, and made with pantry ingredients.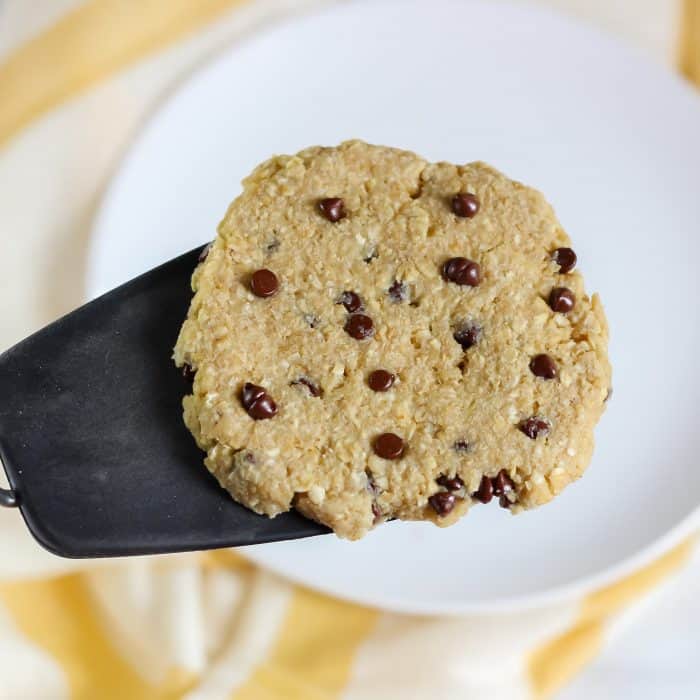 About Oatmeal Cookie in the Microwave
There are times when I want dessert -- and by dessert I almost always mean a cookie -- but making it seems too daunting. Often, I am not in the mood to pull out the mixer or turn on the oven or make a whole batch of cookies just so I can have a sweet treat. So how do I still get my cake cookie and eat it too? I use the microwave to make dessert!
A Microwave Oatmeal Cookie to be exact. This cookie made in the microwave is perfect for those times. It takes less than 5 minutes to make, and it serves only one, meaning you're not making extra cookies you don't need.
Oh and it's whole grain, dairy free, soy free, egg free, nut free, and can be gluten free (depending on the flour you use, taking care to use certified gluten free ingredients), so it's a little more nutritious and everyone can enjoy it!
I don't eat Microwave Oatmeal Cookies only for dessert, though. Like the broiled grapefruit or microwave baked apples, this cookie is good anytime of the day, especially for breakfast paired with a hard boiled egg and a piece of fruit.
Ingredients
Oats: Since you are only "cooking" the cookie for a minute or so, you'll use quick oats. Old fashioned oats might make the cookie a little too chewy; however, you can pulse old fashioned oats in a mini food processor to use. Steel cut oats and instant oatmeal packets will not work for this cookie.
Flour: The cookies in the photos are made with brown rice flour or almond flour, but I normally use white whole wheat flour or whole wheat pastry flour. Honestly, any flour will work: brown rice, all purpose, whole wheat, or almond flour.
Baking powder: The baking powder helps give your Microwave Oatmeal Cookie that classic cookie taste; plus, it helps the cookie rise. Look for an aluminum free baking powder when purchasing this baking staple.
Brown sugar: A cookie must have sugar I think. And I like the extra depth of flavor brown sugar adds. Light or dark brown sugar will both work in the recipe.
Cinnamon: Use regular ground cinnamon. I usually add about ⅛ teaspoon because I love cinnamon! But a tiny dash will do. And you can also omit the cinnamon if desired.
Apple sauce: No sugar added apple sauce is the best for this microwave oatmeal cookie recipe; otherwise, your cookie might be too sweet.
Vanilla extract: Vanilla extract is a must in all cookies, in my opinion. It adds a richness that can't be beat. Use pure vanilla extract, not imitation.
Toppings: I prefer this cookie with chocolate chips, but you could certainly use raisins or chopped nuts if that's your thing. Or skip altogether and simply enjoy the oatmeal cookie as is. Additionally, a tiny pinch of sea salt or kosher salt on top is delicious and gives you that sweet-salty taste.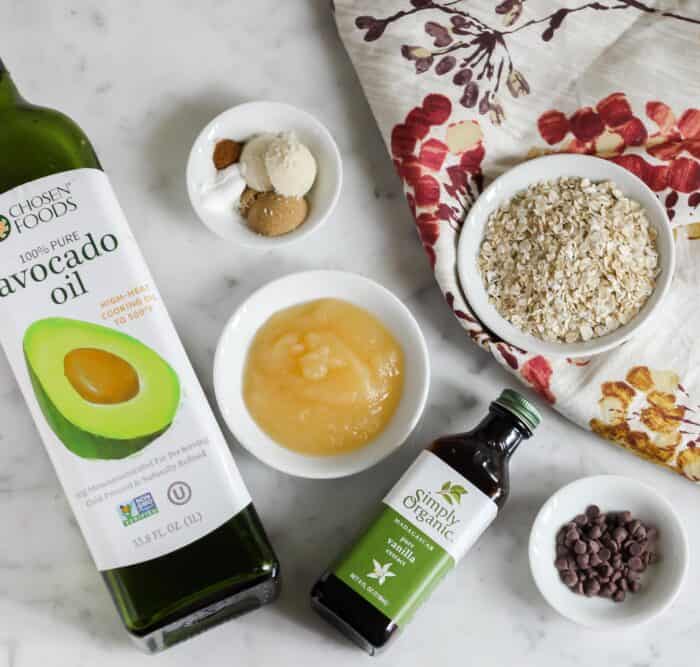 Cost of Recipe
quick oats ¼ cup: $0.14
flour 2 teaspoons: $0.01
baking powder ¼ teaspoon: $0.01
brown sugar 1 teaspoon: $0.01
cinnamon 1/16 teaspoon: $0.01
applesauce 2 tablespoons: $0.10
vanilla extract ¼ teaspoon: $0.08
chocolate chips ½ tablespoon: $0.05
avocado oil ⅛ teaspoon: $0.01
TOTAL COST: $0.42 (Based on San Diego Sprouts 2020) for the entire recipe
How to Make a Microwave Oatmeal Cookie
Add the oats, flour, baking powder, brown sugar, and cinnamon to a bowl.
Stir together.
Pour in apple sauce, and stir.
Add in vanilla extract.
Stir.
Add in chocolate chips, and stir.
Lightly coat a microwave safe plate or bowl with oil. Shape the cookie onto the plate.
Microwave. Enjoy!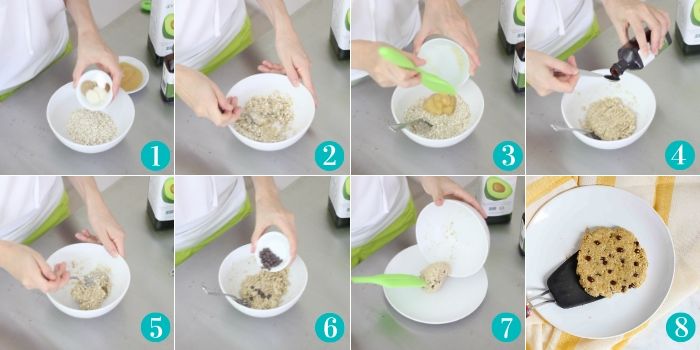 Recipe Tips
Variations
Ingredient Options
Sugar: Any sugar will work. Light or dark brown sugar, or use granulated sugar. Another option is to use maple syrup, but cut back a little on the applesauce so the cookie isn't too mushy.
Flour: Pretty much any flour can be used, and I've tested it with multiple types. You might need to add more flour than called for or add additional apple sauce depending on the consistency of the cookie, but it will work no matter what you use.
Additional ingredients: You can use chocolate chips, nuts, raisins, or any other optional filling to the cookies as you wish. I recommend using about ½ to 1 tablespoon per cookie.
How to Make Allergy Friendly
This oatmeal cookie in the microwave is naturally vegan, dairy free, egg free, soy free, and can be gluten free depending on the flour & oats you use.
Flavor Substitutions
You can omit the cinnamon to make a more basic oatmeal cookie.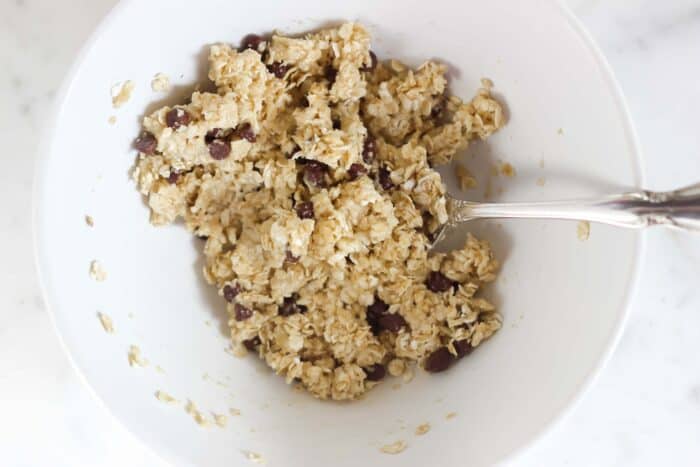 How to Fix a Mistake
Cookie dough too wet: Add a little extra flour or oats. Stir in a little bit at a time.
Dough too dry: Add a little extra apple sauce or water. Start with very small amounts and increase as needed.
Make Ahead Ideas
There's no need to make this ahead of time since it takes about 5 minutes to make.
Storage Suggestions
Since this cookie only serves one, you likely won't need to store this. But you can keep in an airtight bag or container in the fridge if desired. Reheat for a few seconds in the microwave to warm up if desired.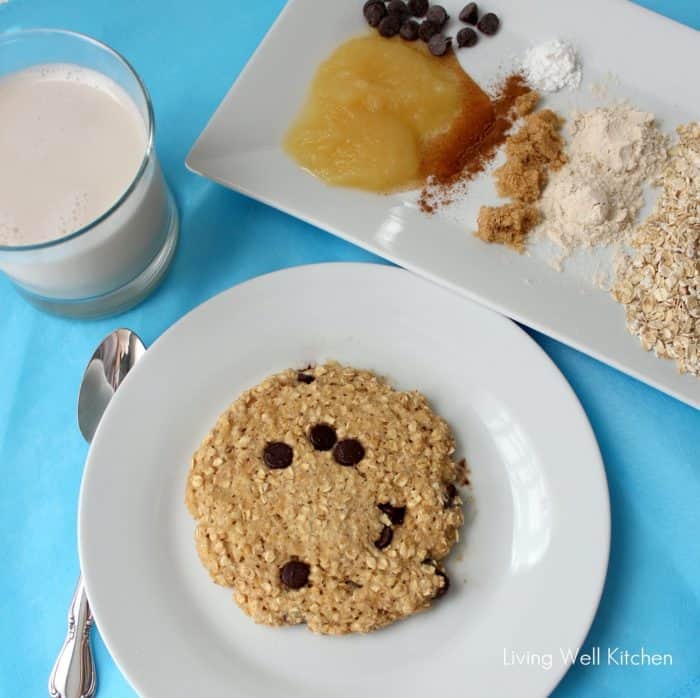 Frequently Asked Questions
Can you really make a cookie in the microwave?
Yes, you can! Let's be honest, this doesn't have the exact same texture as a cookie made in the oven with butter, flour, sugar and eggs. But it is sweet and hits the spot when you want dessert without much effort.
Nutrition Benefits
Unlike most cookies, this Microwave Oatmeal Cookie is very low in added sugar (with only 1 teaspoon) and is higher in fiber (with 3g per cookie). So it's a great option when you want something sweet without a sugar crash.
The oats provide fiber which can help lower bad cholesterol, help regulate digestion, and keep you satisfied for longer.
What to Serve with Microwave Oatmeal Cookie
Since cookies are usually eaten as dessert, you can simply enjoy this after dinner. Or if you are eating it as a snack or breakfast, I suggest adding a little protein to keep yourself full and satisfied. A spoonful of nut butter, a hard boiled egg or a serving of avocado egg salad are all great options for higher protein snacks that would pair well with this cookie.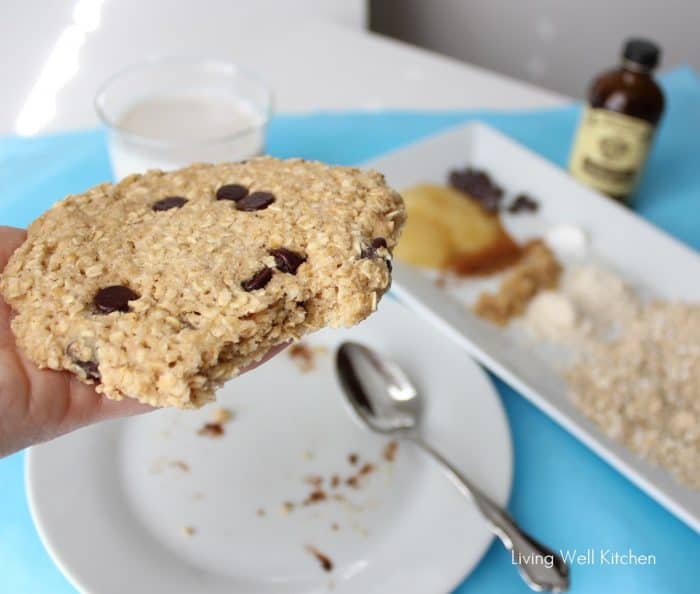 Final thoughts:
A cookie ready in less than 5 minutes that doesn't require turning on the oven? Sign me up! This oatmeal cookie made in the microwave is simple, quick and made entirely with ingredients found in the pantry.
MORE MICROWAVE RECIPES YOU'LL LOVE:
---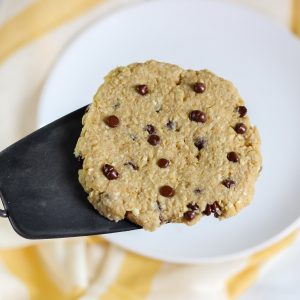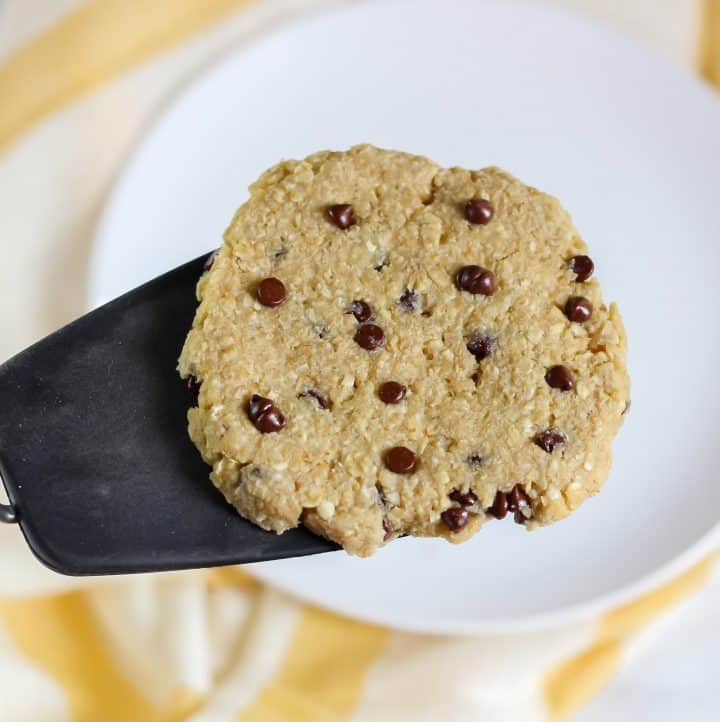 Microwave Oatmeal Cookie
Microwave Oatmeal Cookie is a quick and easy cookie made in the microwave. It only serves one, so there's no need to make extra cookies you don't need.
Print
Rate
Instructions
Combine the oats, flour, baking powder, brown sugar, and cinnamon if using. Stir in applesauce and vanilla extract. Stir in raisins or chocolate chips.

Rub a tiny bit of oil onto a microwave safe plate or bowl. (this step is optional)

Shape the mixture onto the plate or bowl. Microwave cookie on High for 60-75 seconds.

Enjoy!
Notes
*The measurements are pretty flexible. Play around with them if you want.
*Note that this is not the exact same texture as a regular cookie from an oven made with butter, but it is still delicious!
*Flours that have been tested are white whole wheat flour, all-purpose flour, brown rice flour, whole wheat pastry flour, whole wheat flour, almond flour, and gluten-free all-purpose flour.
*You can use old-fashioned rolled oats in this recipe if you pulse them in a food processor a few times before using them. Do not use steel-cut oats or instant oats.
*No-sugar added applesauce is preferred. If using regular applesauce, you might want to decrease the sugar so it's not overly sweet.
*To prevent the cookie from sticking to the plate, use a small amount of neutral-flavored oil like avocado oil, peanut oil, or canola oil to grease the plate.
*For a dairy-free cookie, use dairy-free chocolate chips, raisins, or nuts.
*For a gluten-free cookie, use certified gluten-free oats and brown rice flour, almond flour, or a gluten-free all-purpose flour blend.
What to Use in This Recipe
Did you try this recipe?
Be sure to leave a comment & recipe rating below. Bonus points for tagging @memeinge & #livingwellkitchen on Instagram! THANK YOU! xo
[showhide type="post" more_text="Click here for Oatmeal Cookie in the Microwave Nutrition Facts" less_text="Clear Nutrition Facts"]
*
Nutrition Facts
Microwave Oatmeal Cookie
Amount per Serving
% Daily Value*
* Percent Daily Values are based on a 2000 calorie diet.
*
[/showhide]
Meme
This post was originally published March 5, 2013. Text, recipe, and photos have been updated.
Doesn't this recipe look good?! You should probably share it: