Easy Almond Butter Banana Cookies with only 5 ingredients. A healthy, vegan cookie recipe that satisfies your sweet tooth with no added sugar, butter, or oil.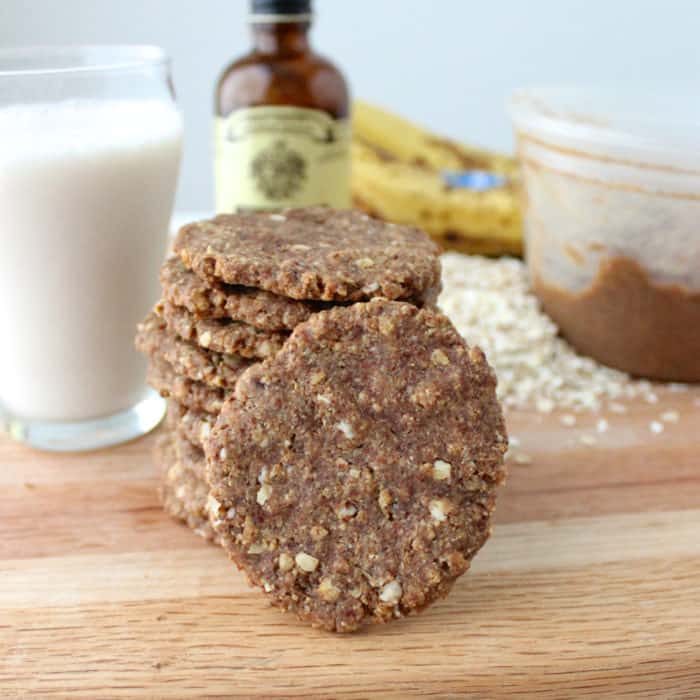 About Banana Almond Butter Cookies
Banana and almond butter recipes aren't hard to come by because they make a great pair, and these banana almond butter cookies prove it.
Plus, these cookies only have 5 ingredients: bananas, almond butter, oats, vanilla extract, and salt.
And they are incredibly simple since they only require you to mash the banana and stir everything together. No mixer needed, and no remembering to soften the butter.
Plus, you can even just eat the cookie dough since it's egg-free.
(Psst... Love cookie dough? Try this chocolate chip cookie dough dip, oatmeal raisin cookie dough dip, or sugar cookie dough dip)
But I highly suggest baking them into cookies because they are quite tasty.
Since there is no sugar, flour, butter, oil, or eggs, these obviously don't have the same texture as regular cookies. Yet, they are tasty in their own way!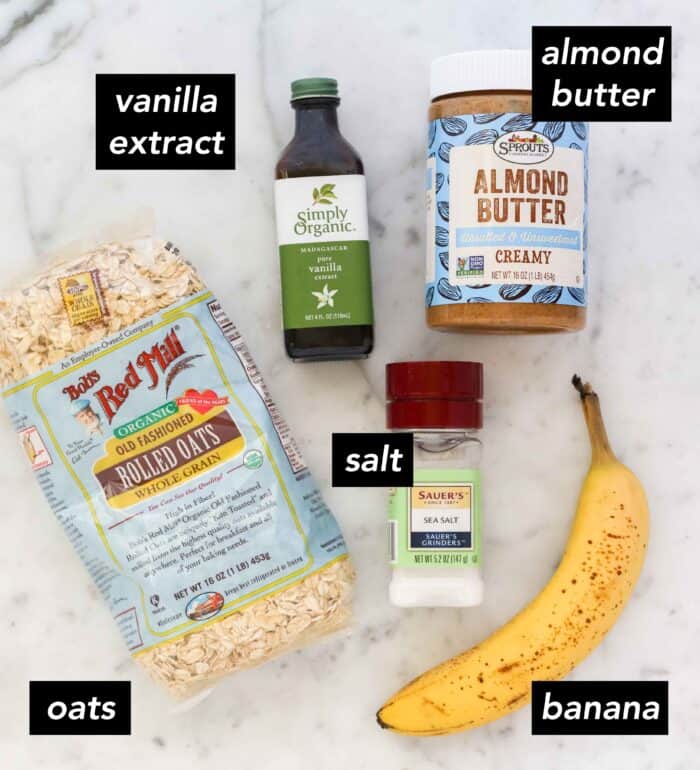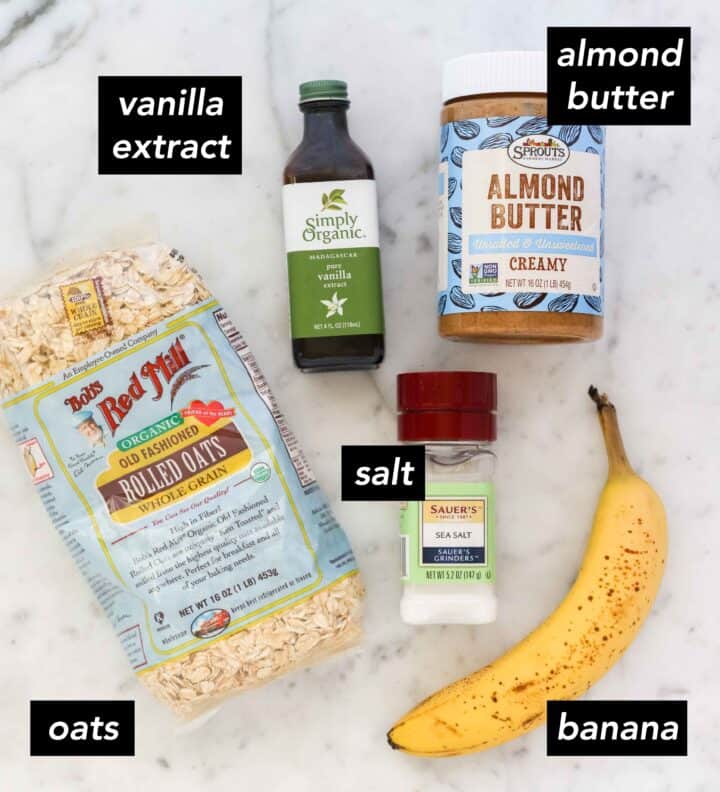 Ingredients
Banana: For this banana almond butter cookie recipe, you'll only need ½ cup of mashed banana. That is about ½ to ¾ of one medium-large banana. You can either double the recipe, or you can freeze the remaining banana to add to smoothies.
Note: if you are multiplying the recipe, be sure to measure out the banana instead of relying on the guestimate of ½ to ¾ banana since each banana is a different size.
Almond butter: Make sure you don't use almond butter that is too oily or your cookies might be extra oily. I like to use almond butter that you buy off the grocery store shelf instead of the kind that you grind yourself. It can be course/crunchy or creamy/smooth.
Oats: Quick-cooking oats are preferred. You can also pulse old-fashioned oats in a food processor for a quick second to make them a little smaller. Make sure you don't buy steel-cut oats or instant oats with flavoring. Neither of those will work for this recipe.
Vanilla extract: Because there are only a few ingredients in these cookies, I think vanilla is mandatory. I prefer real vanilla extra over imitation, but it's completely up to you.
Salt: A pinch of salt helps bring out the sweetness of the cookies. You can use table salt, sea salt, or kosher salt.
Cost of Recipe
banana 1 medium: $0.29
almond butter ½ cup: $1.96
oats ¼ cup: $0.14
vanilla extract ½ teaspoon: $0.30
salt ⅛ teaspoon: $0.01
TOTAL COST: $2.70 or $0.45/cookie (Based on San Diego grocery stores 2022)
Note that this is not the recipe; it's simply to show the cost breakdown of ingredients. Be sure to scroll down to the full recipe to see the specific ingredients and directions.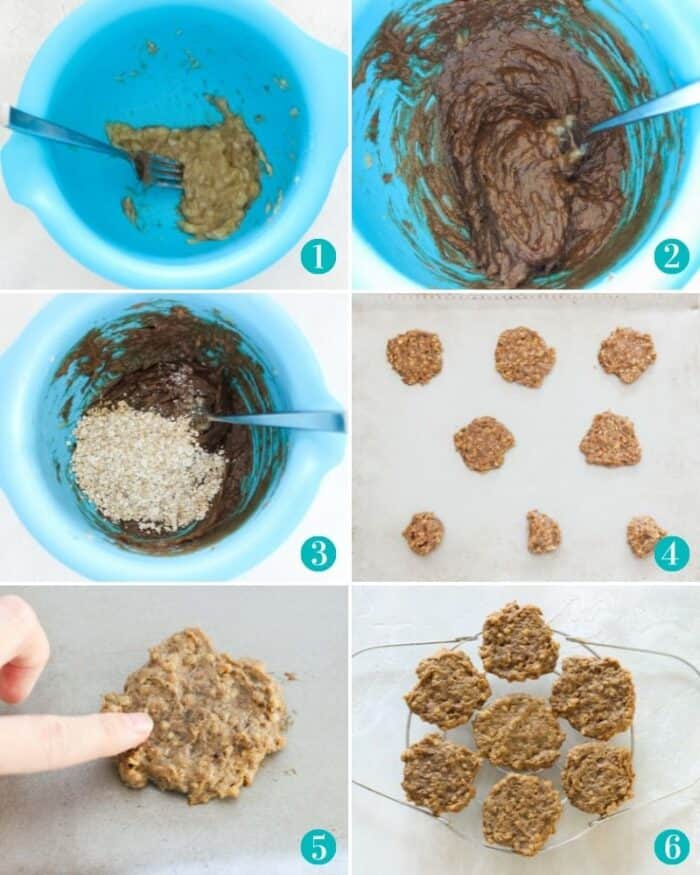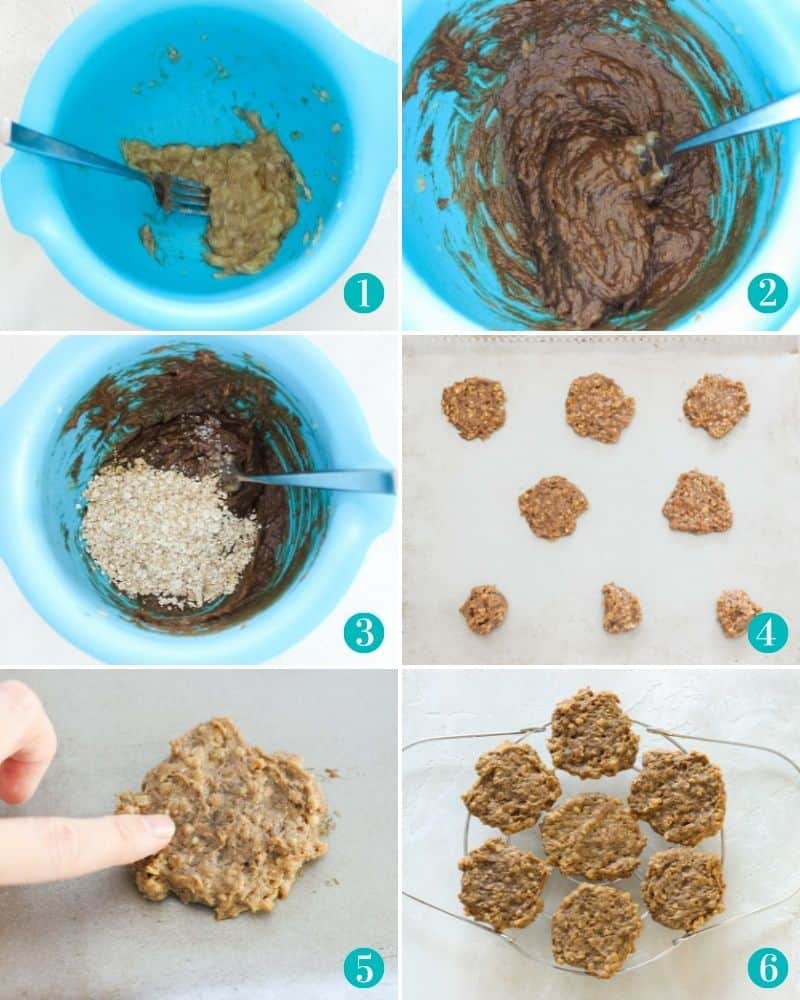 How to Make Almond Butter Banana Cookies
Time needed: 20 minutes
Super simple, 5-ingredient cookies that need only one bowl and a spoon or fork. These banana almond butter cookies take less than 30 minutes from start to finish.
Mash the banana in a bowl.
Stir in almond butter and combine.
Add in the remaining ingredients and mix well.
Shape into balls and smash onto the baking sheet.
Bake until the cookies are firm to the touch.
Transfer to a cooling rack, and enjoy!
Recipe Tips
Variations
Ingredient Options
Almond butter: You can easily use any other nut or seed butter with success. The original version I made was actually with peanut butter, but I've also tested & enjoyed the recipe made with sunflower seed butter.
How to Make Allergy-Friendly Cookies
These almond butter banana cookies are egg-free, dairy-free, gluten-free, and soy-free. And they are vegan. Be sure to use oats that are certified gluten-free if that is a concern for you.
Need them to be nut-free? Use an equal amount of sunflower seed butter.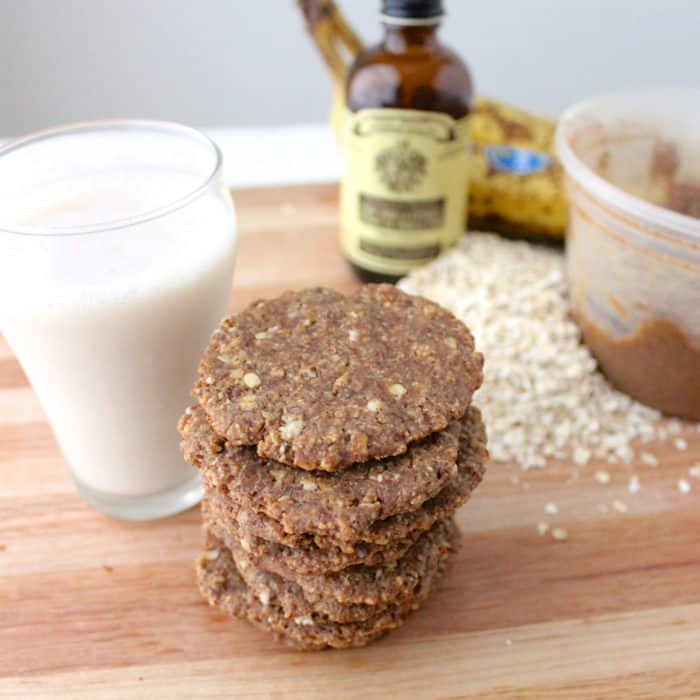 How to Fix a Mistake
Dough too thin: If the dough looks really thin and doesn't hold into balls like in the photo, add a few tablespoons more oats.
Dough too thick: If the dough is crumbly and dry, add a few more tablespoons of mashed banana.
Make-Ahead Ideas
You can prepare the dough up to 24 hours in advance and bake them when you're ready. Be sure to store the dough covered tightly in the fridge.
You can also bake the cookies, and store them in the fridge to enjoy within 3 days.
Storage Suggestions
Store in an air-tight container for up to 3 days in the fridge. If wrapped tightly, you can keep these in the freezer for up to one month. Defrost before enjoying.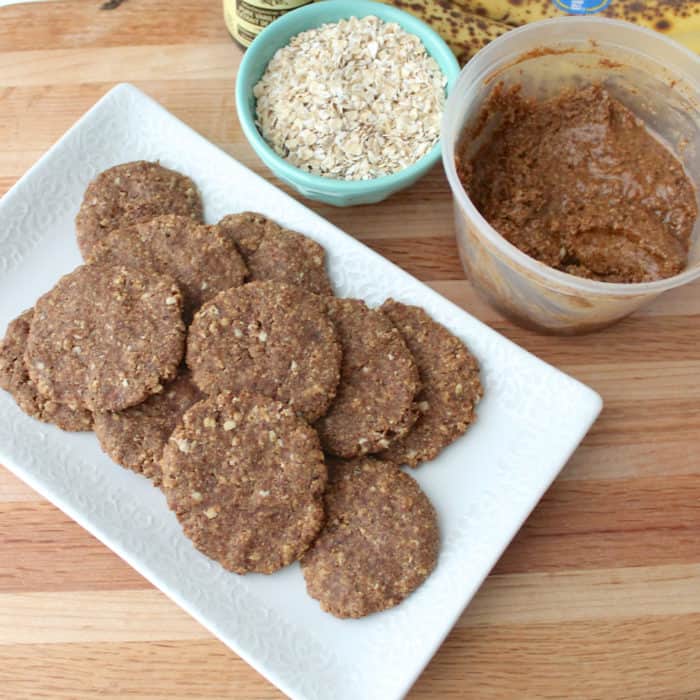 Frequently Asked Questions
Can you use another nut butter?
Yes, you can use any seed butter, nut butter, or soy nut butter in these cookies. Use an equal amount.
Nutrition Benefits
Each cookie has 3 grams of fiber and 5 grams of protein. Plus, one almond butter banana cookie provides 7% of the RDA for calcium and 6% of the RDA for iron.
Quick reminder that no food is "good" or "bad". Some foods are simply more nutritious than others. Eating a variety of all foods that you enjoy is health-promoting.
What to Serve with Almond Butter Banana Cookies
For dessert or snack, these are great with a glass of milk (dairy, almond, coconut, oat, whatever!). Or serve with a side of egg muffins or breakfast stuffed peppers for a filling breakfast.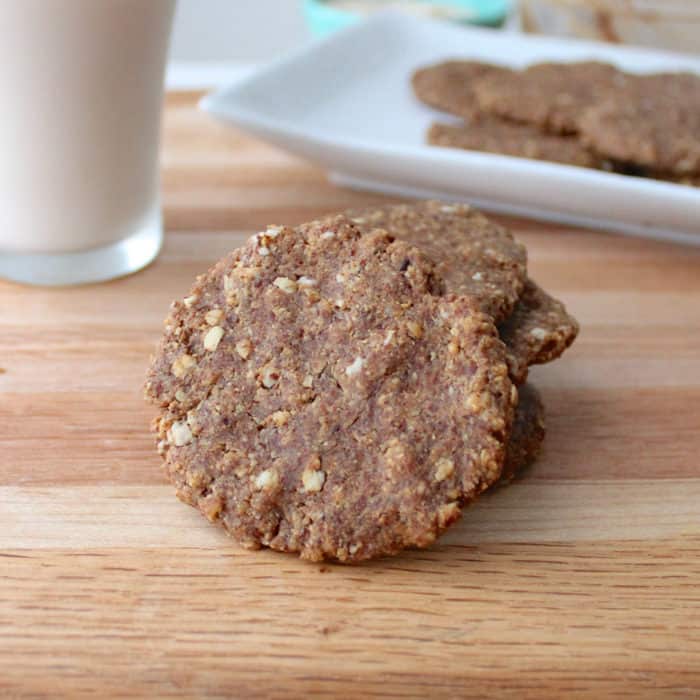 Final thoughts:
These cookies are easy to make and quite tasty. Only five ingredients that you probably already have in your kitchen make them a great recipe to have on hand, and you can eat them for dessert, a snack, or even breakfast.
MORE FRUIT-SWEETENED DESSERT RECIPES YOU'LL LOVE: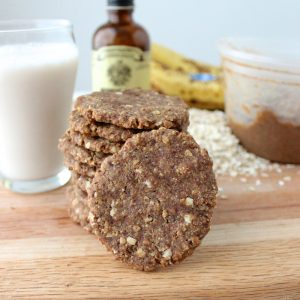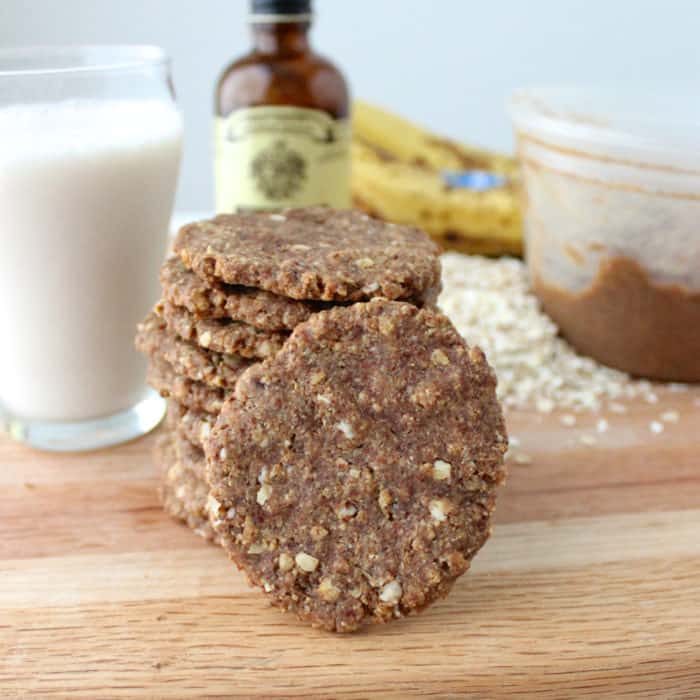 Almond Butter Banana Cookies
Five ingredient cookies with no added sugar, butter, or oil. Vegan, gluten-free, dairy-free, and egg-free
Print
Rate
Total Cost:
$2.70 or $0.45/cookie
Instructions
Preheat the oven to 325°F.

Stir together all the ingredients.

Put spoonfuls of batter about 1 inch apart on the prepared baking sheet. Flatten as much as you want because the cookies do not spread.

Bake in the preheated oven for 7-9 minutes or until cookies are firm to the touch.

Let cool on the baking sheet for 5 minutes before transferring to a cooling rack. Enjoy!
Notes
*Use quick or old-fashioned, not instant.
*¼ cup banana is about ½ of one small-medium banana.
*Store cookies in the fridge for best storage. Keep up to 3 days.
*Based on these Peanut Butter Banana Cookies
What to Use in This Recipe
Did you try this recipe?
Be sure to leave a comment & recipe rating below. Bonus points for tagging @memeinge & #livingwellkitchen on Instagram! THANK YOU! xo
Meme
This post was originally published on November 6, 2013. Text, recipe, and photos have been updated.
---
Banana Almond Butter Cookies Nutrition Facts
Nutrition Facts
Almond Butter Banana Cookies
Amount per Serving
% Daily Value*
* Percent Daily Values are based on a 2000 calorie diet.
Doesn't this recipe look good?! You should probably share it: