This Hummus Stuffed Peppers recipe is a three ingredient, creamy, spicy, and delicious appetizer.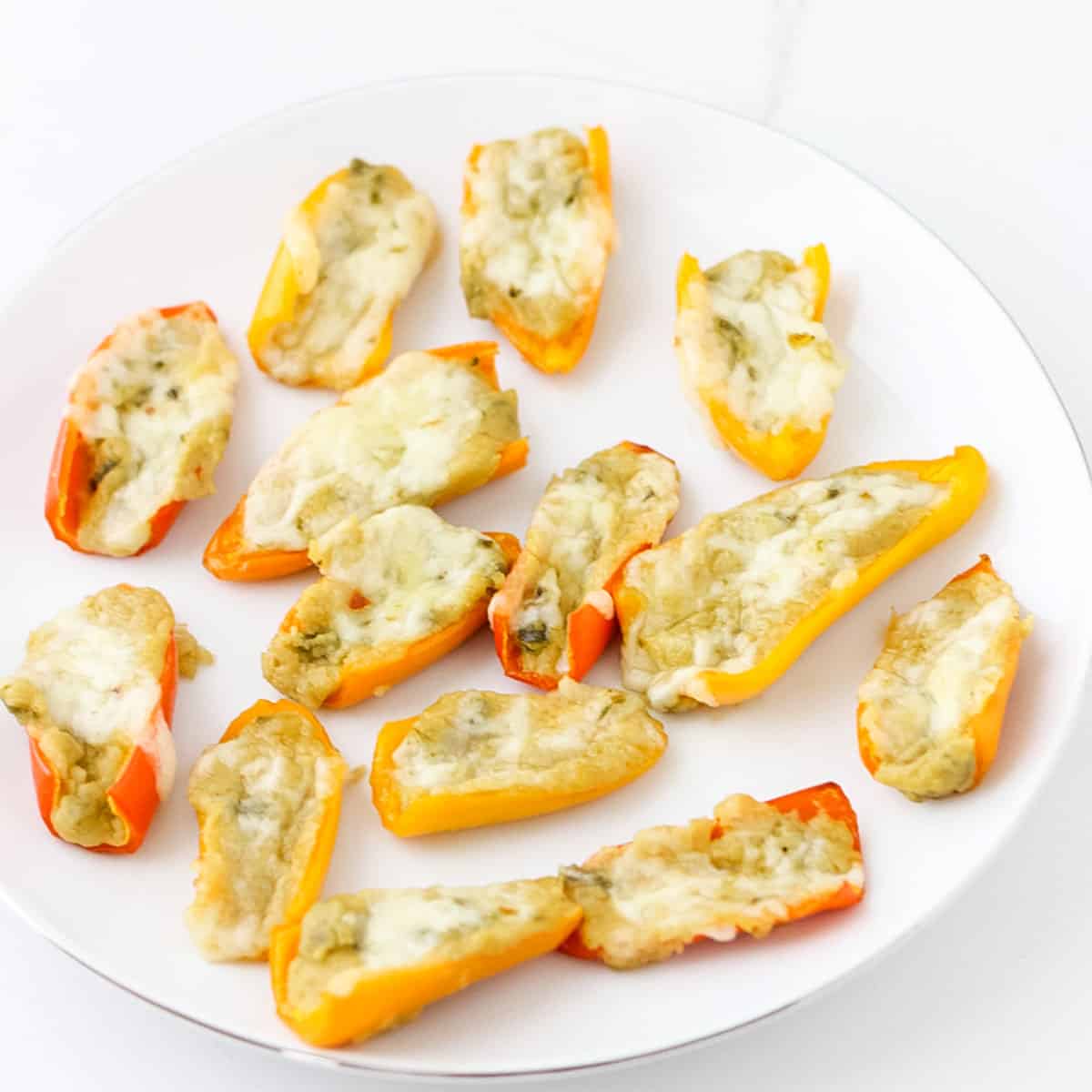 About Hummus Stuffed Peppers
Who doesn't love an easy appetizer? Three ingredients, a few steps, and you've got yourself a delicious snack.
All you need for these Hummus Stuffed Peppers is hummus (any flavor), mini peppers, and cheese (I used pepper jack for extra spiciness).
Slice your mini bell peppers in half and take out any seeds or ribs. Then fill each with a spoonful of hummus and sprinkle with cheese. Bake and you're done!
These little spicy bites are so delicious, you'll want to eat them all!
The mini bell peppers are on the sweeter side, so they balance the spiciness of the hummus and pepper jack cheese. If you don't want them really spicy, use mild cheese like mozzarella or mild cheddar.
They are tasty fresh out of the oven or at room temperature.
My favorite part (other than how delicious they taste) is that they are a nourishing appetizer.
They have peppers for veggies, and the hummus + cheese add a little protein.
Like this idea? Be sure to try something similar that also happens to be one of the most popular recipes on the blog for cream cheese stuffed peppers.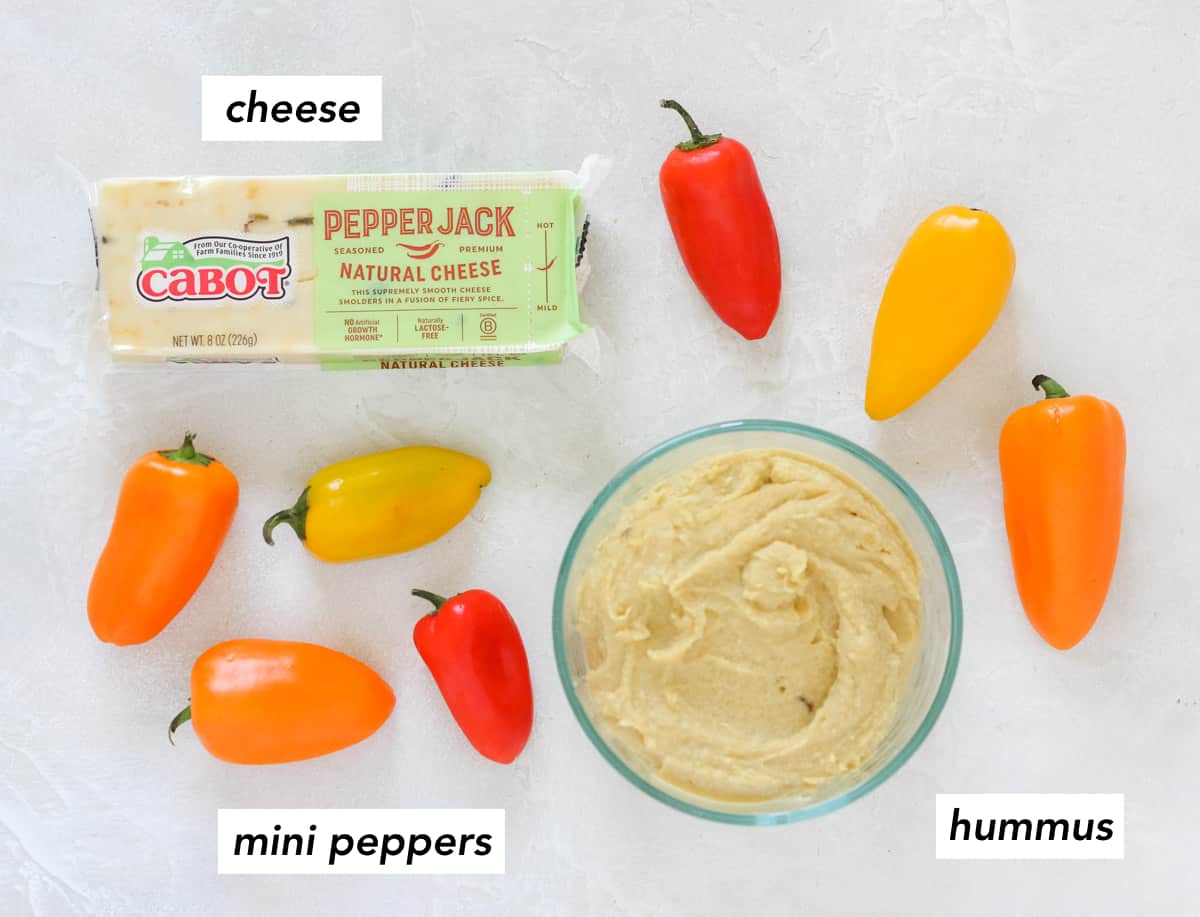 Ingredients
Mini peppers: You'll need a 1-pound bag of mini peppers to make this tasty hummus stuffed mini peppers recipe. If you can't find mini peppers, you can also slice regular-sized bell peppers into thick slices that will hold the hummus when baked. For a more visually pleasing appetizer, use multiple colors of bell peppers.
Hummus: Any type of hummus will be delicious. You can use store-bought hummus or homemade hummus like Roasted Garlic Hummus, Artichoke Hummus, or Spinach Avocado Hummus.
Cheese: For the cheese, anything goes. Cheddar (any type), mozzarella, pepper jack, Monterey jack, feta, parmesan... whatever you want. You'll need about 1 cup of shredded or crumbled cheese.
Cost of Recipe
mini peppers 1 pound: $2.98
hummus 1 cup: $1.98
cheese 4 ounces: $1
TOTAL COST: $5.96 or $0.50/serving (Based on San Diego grocery stores 2023)
Note that this is not the recipe; it's simply to show the cost breakdown of ingredients. Be sure to scroll down to the full recipe to see the specific ingredients and directions.
How to Make Hummus Stuffed Peppers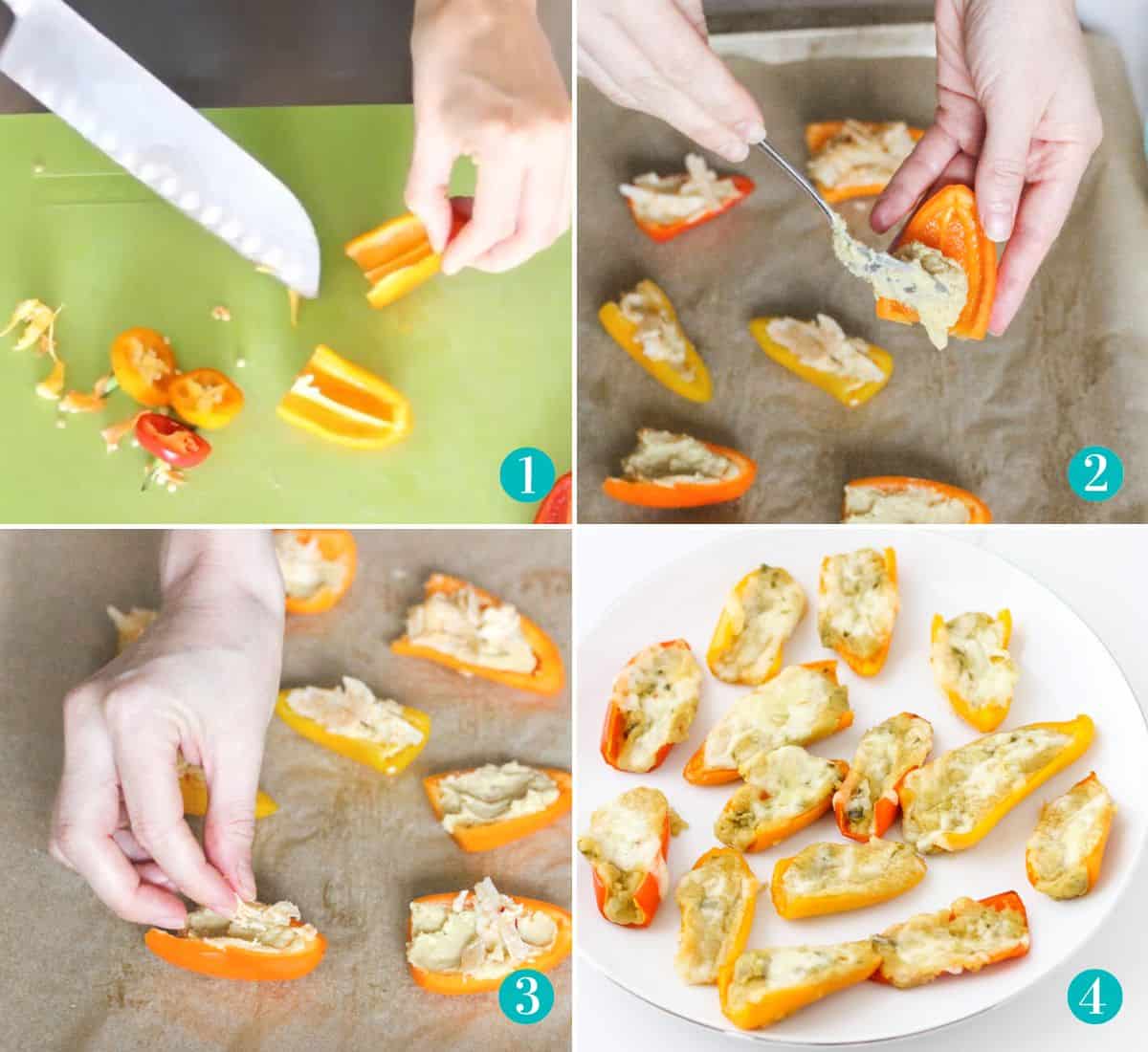 Time needed: 25 minutes.
Here are the steps to make hummus stuffed mini bell peppers:
Slice the mini peppers.

Remove the ribs and seeds.

Fill each pepper half with a spoonful of hummus.

Place on a baking sheet.

Sprinkle with cheese, and bake.
Enjoy!
Recipe Tips
This simple recipe can be customized based on your flavor preferences with hummus.
Variations
Ingredient Options
Cheese: Any type of cheddar, mozzarella, pepper jack, Monterey jack, feta, parmesan... all will be delicious.
Hummus: You can use store-bought hummus or homemade hummus like Roasted Garlic Hummus, Artichoke Hummus, or Spinach Avocado Hummus.
Flavor Substitutions
Hummus: To change the flavor of these hummus stuffed mini peppers, simply change the hummus you use.
Alternative Prep & Cooking
Don't have time to bake? Skip it! These are still quite delicious without being baked.
How to Make Allergy-Friendly
Hummus stuffed mini peppers are already gluten-free, egg-free, nut-free, soy-free, and vegetarian. To make it dairy-free and/or vegan, use a dairy-free cheese or omit it.
Because ingredients can vary, check the ingredients list on the hummus and cheese to make sure it doesn't have anything you're trying to avoid.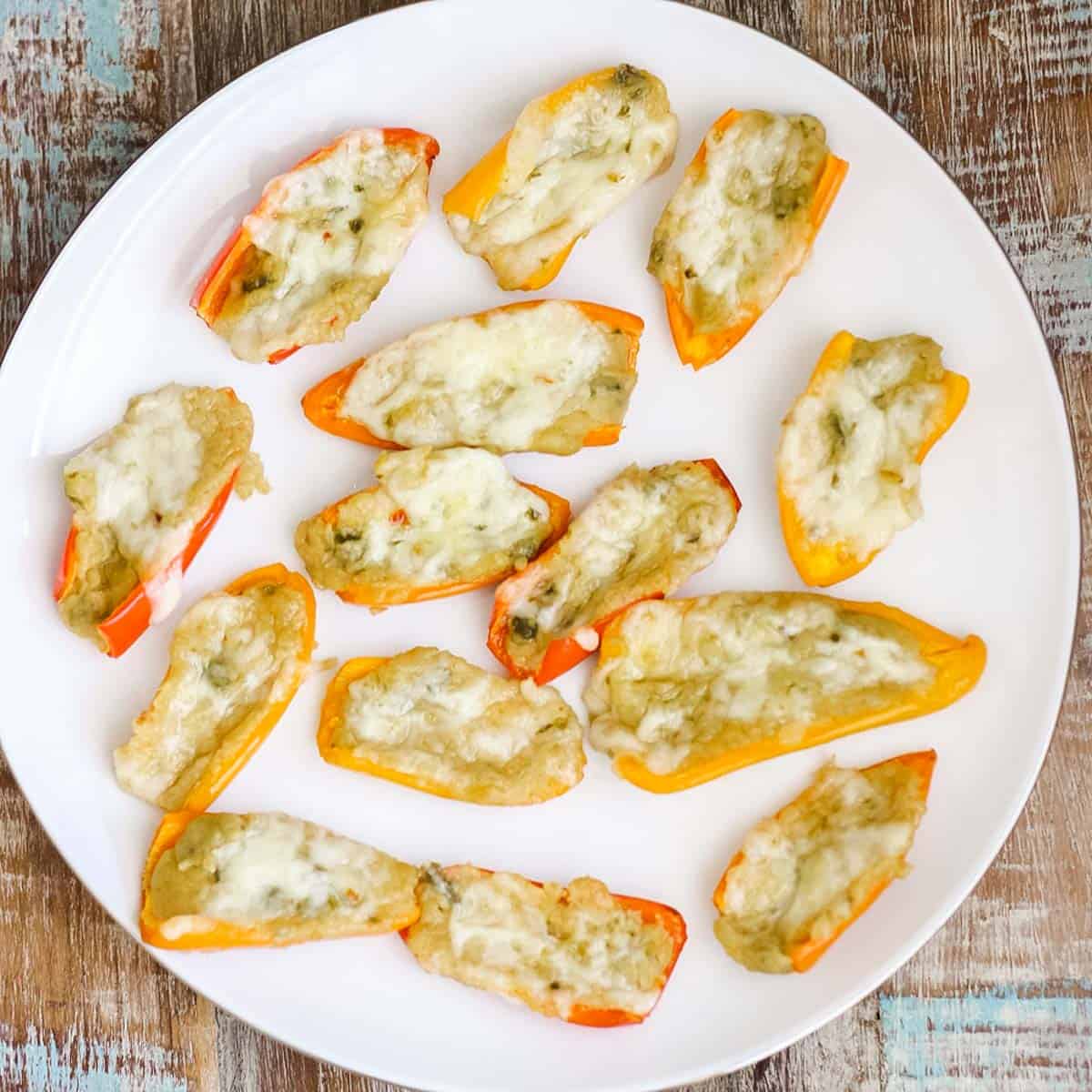 Make-Ahead Ideas
Best enjoyed right after cooking, hummus stuffed mini peppers can be prepared in advance. Simply slice and fill the peppers with hummus, then sprinkle with cheese.
Refrigerate for up to 24 hours and bake as directed.
You can also prepare these and keep in the fridge until ready to serve and serve them cold or at room temperature.
Storage Suggestions
Store this bell peppers and hummus snack in the fridge for up to 4 days. Freezing is not recommended because the cheese and hummus will not have the best texture after freezing.
Frequently Asked Questions
Are sweet peppers and hummus good for you?
Hummus is a very nutritious snack option, especially when paired with a vegetable. Bell peppers are packed with vitamins and antioxidants, plus hummus offers a combo of fiber and protein.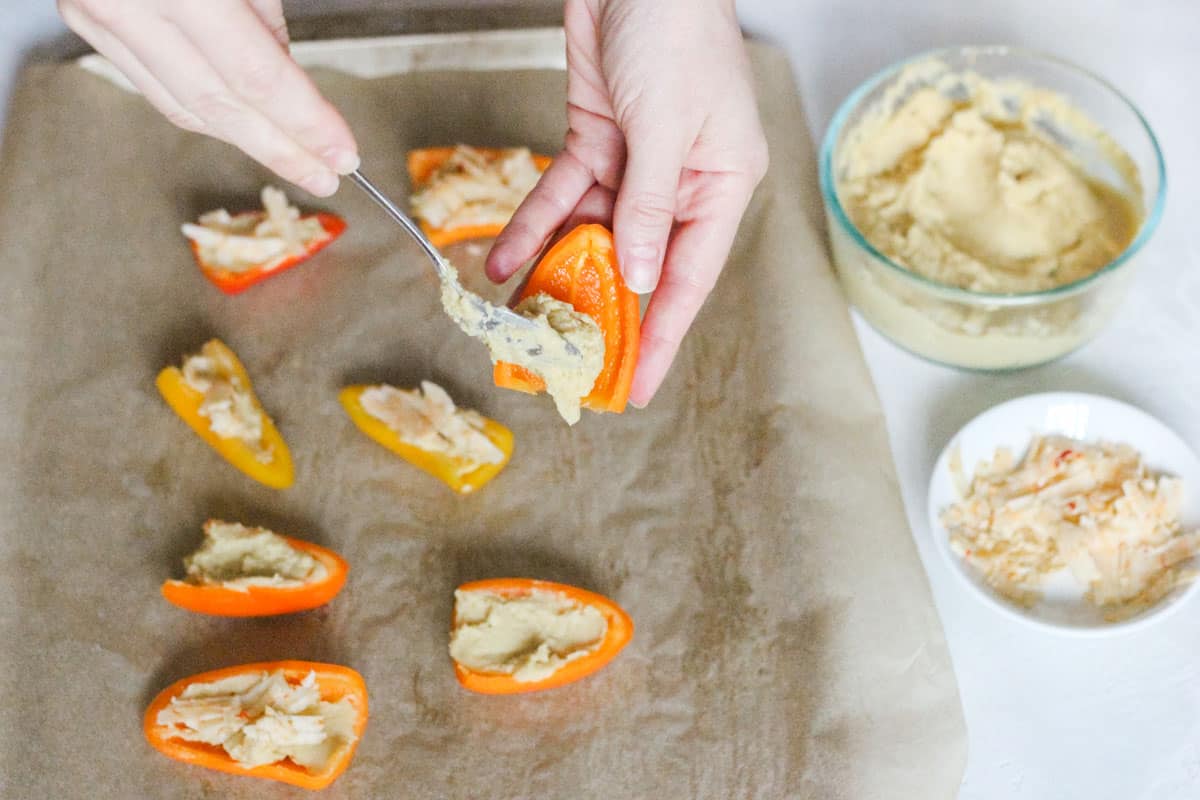 Nutrition Benefits
Each serving of these hummus stuffed peppers has 59% of the recommended amount of Vitamin C and 26% of Vitamin A, plus 4 grams of protein and 2 grams of fiber.
Bell peppers are high in fat-soluble vitamins, meaning you need to eat fat to absorb the vitamins. Thanks to the fat in the cheese and hummus, your body gets all the benefits that bell peppers have to offer.
Plus, there is a nice balance of carbohydrates, protein, and fat, so you will feel satisfied for longer than a typical snack without a balance of macronutrients.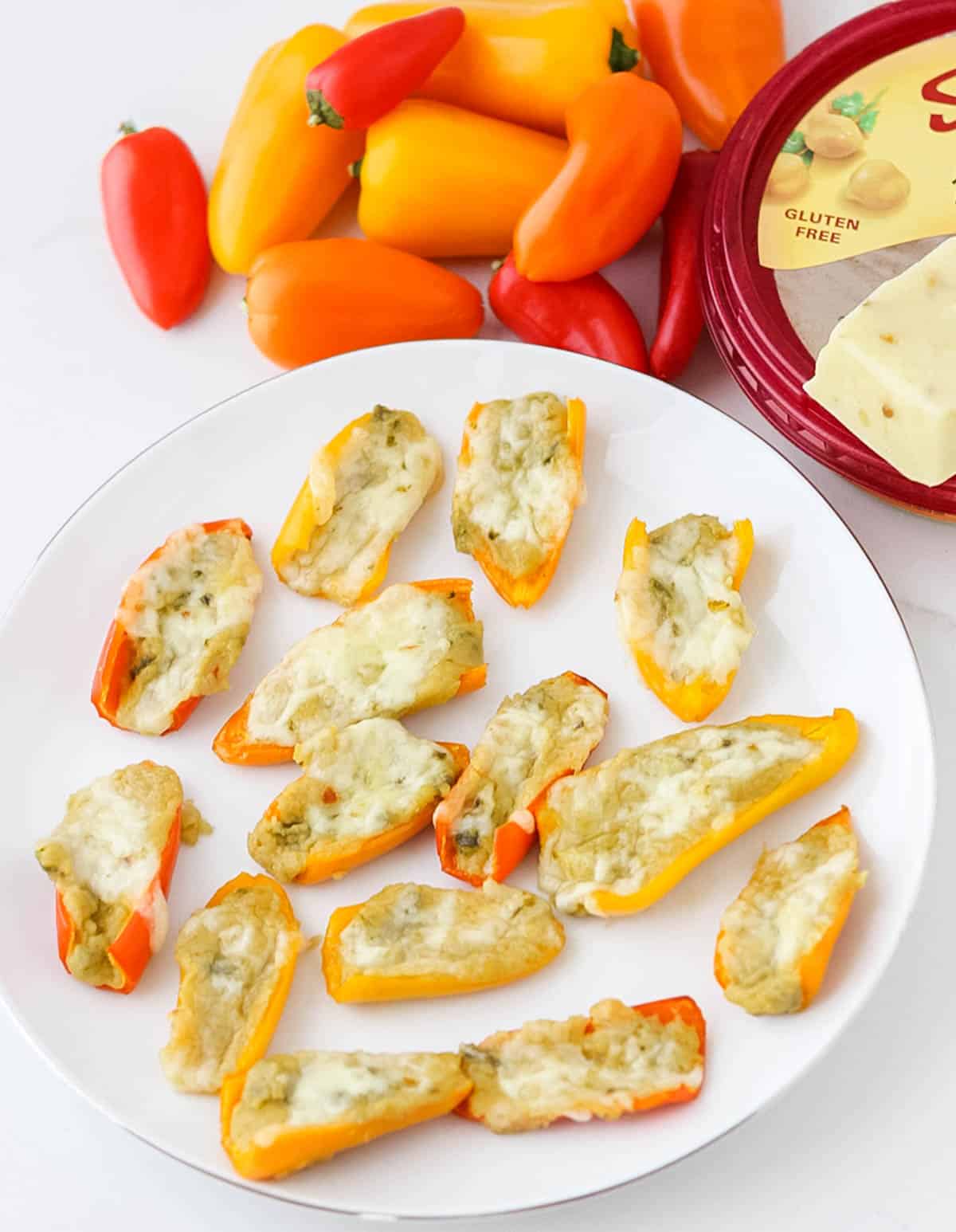 What to Serve with Hummus Stuffed Peppers
These mini hummus stuffed peppers are a delicious way to add nutrients to your day whether they're served as an appetizer or snack.
As an appetizer, I recommend serving an array of apps. Different textures and ingredients, as well as making sure that your guests will all be able to find something they prefer.
For example, you could have a balanced appetizer table with these hummus stuffed mini peppers plus a creamy dip like Crawfish Dip, a fresh option like Cucumber Chicken Salad Bites, a vegan choice like Mango Black Bean Salsa, and something sweet like Almond Butter Banana Cookies.
When enjoyed as a snack, you get a balance of carbs, protein, and fat. Simply eat enough of them to fill you up, which is probably more than the serving size listed in the recipe.
Remember that it's always ok to eat a different amount than the serving size.
You're not a robot and your body has different needs at each meal & snack, so focus on eating enough, not limiting yourself to an arbitrary serving size.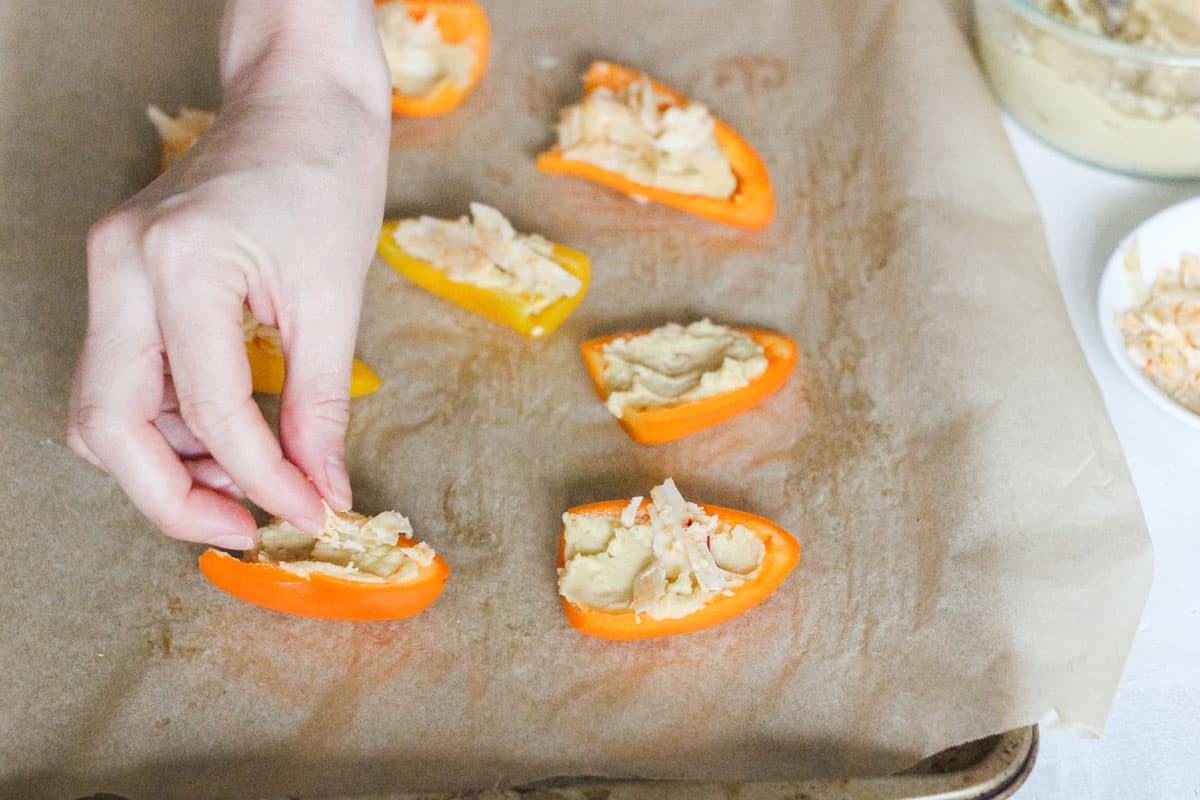 Final thoughts:
You might not get as excited about healthy appetizers as I do, but you will get excited with how these are easy, irresistible bites of yum!
MORE VEGGIE APPETIZER RECIPES YOU'LL LOVE: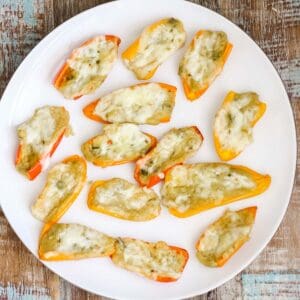 Hummus Stuffed Peppers
Three ingredient appetizer that's creamy, spicy, and delicious!
Print
Rate
Total Cost:
$5.96 or $0.50/serving
Ingredients
1

pound

mini bell peppers

about 24 mini peppers

1

cup

hummus

any flavor

4

ounces

cheese

about 1 cup, shredded
Instructions
Preheat the oven to 400°F. Line a baking sheet with parchment or foil (for easier cleanup).

Slice bell peppers in half lengthwise and remove the ribs and seeds.

Fill each mini pepper half with about 1 teaspoon of hummus.

Sprinkle with about 1 teaspoon of shredded cheese.

Bake for 5 minutes. Turn on broiler and broil for 2-3 minutes until bubbly. Enjoy hot or room temperature.
Notes
*Makes about 48 pepper halves
*Change the flavors by picking your favorite hummus, either storebought or homemade.
What to Use in This Recipe
Did you try this recipe?
Be sure to leave a comment & recipe rating below. Bonus points for tagging @memeinge & #livingwellkitchen on Instagram! THANK YOU! xo
This post was originally published on October 18, 2015. Text, recipe, and photos have been updated.
Meme
---
Hummus Stuffed Peppers Nutrition Facts
Nutrition Facts
Hummus Stuffed Peppers
Serving Size
4 pepper halves
Amount per Serving
% Daily Value*
* Percent Daily Values are based on a 2000 calorie diet.