Creamy, spicy crawfish dip made with cream cheese that can be served warm or cold. A satisfying appetizer for parties, tailgates, and holidays. You can even toss it with pasta to make crawfish pasta for dinner.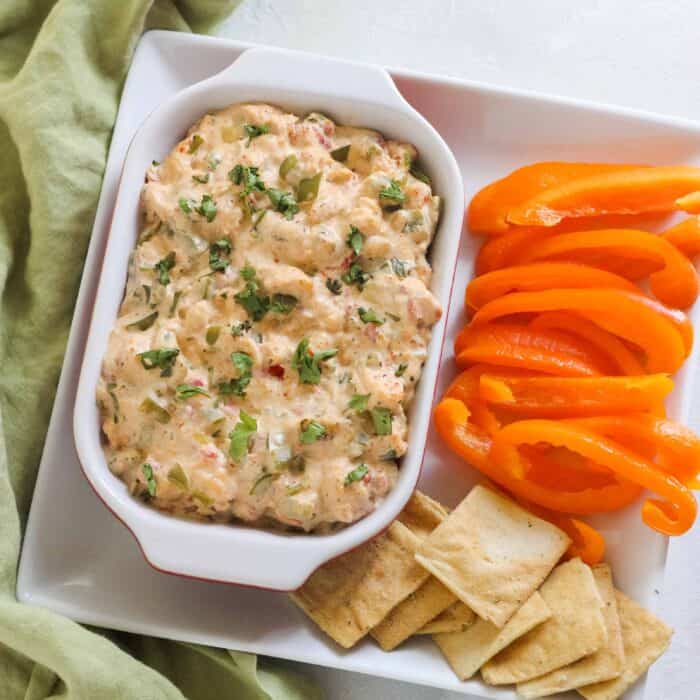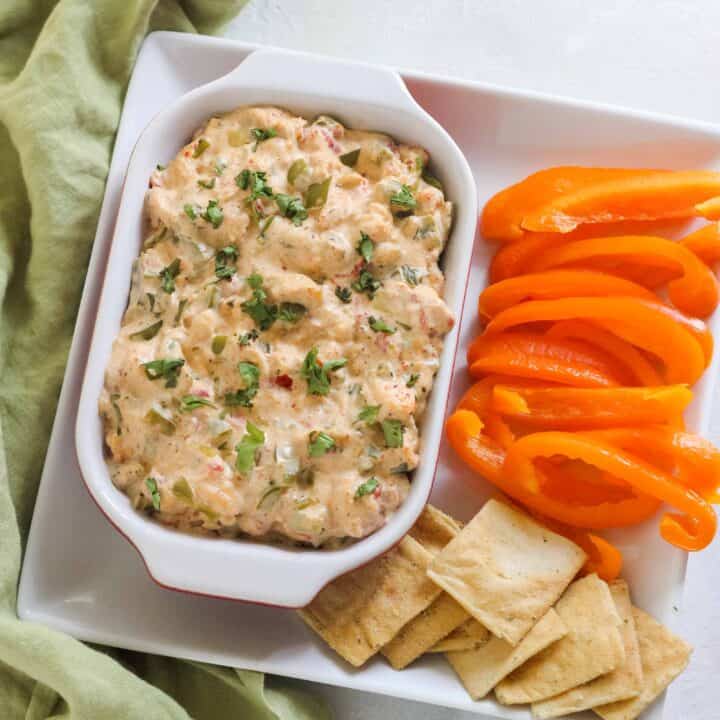 About Crawfish Dip
Full of crawfish and veggies in every bite, this crawfish dip is a seafood lover's dream come true.
It's incredibly simple to make and loaded with flavor. It's basically just veggies, cream cheese, crawfish, and spices, and you really can't go wrong with that combo.
This recipe is based on one from an old issue of Southern Living. But that recipe used a whole stick of butter to sauté the bell peppers and green onions which just felt extreme.
I decided to try making it with only a tablespoon, and it was rich without being too much. It's a total crowd-pleaser.
You can serve it straight from the skillet served warm, transfer to a serving dish for a fancier presentation, or even take it up a notch by covering it with shredded cheese and broiling it in the oven for a few minutes to get extra cheesiness.
It's also delightful served cold or at room temperature, and you can even use it as a sauce for pasta. There's practically nothing this crawfish dip recipe can't do. Oh, and it's quite forgiving so you can't really mess it up. Hooray!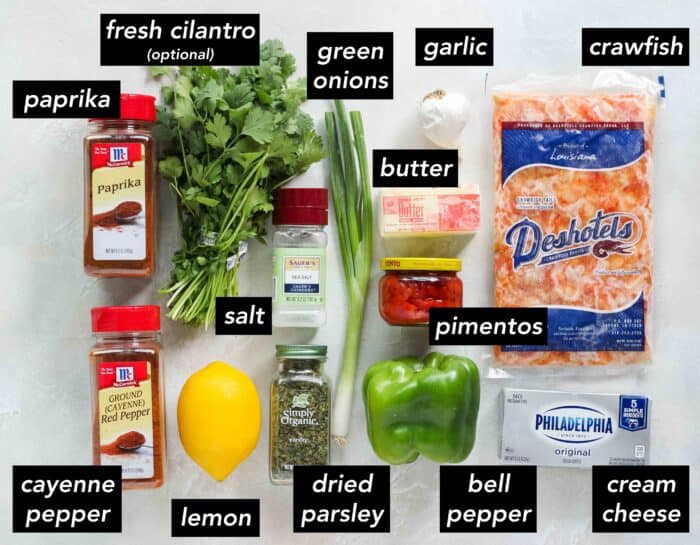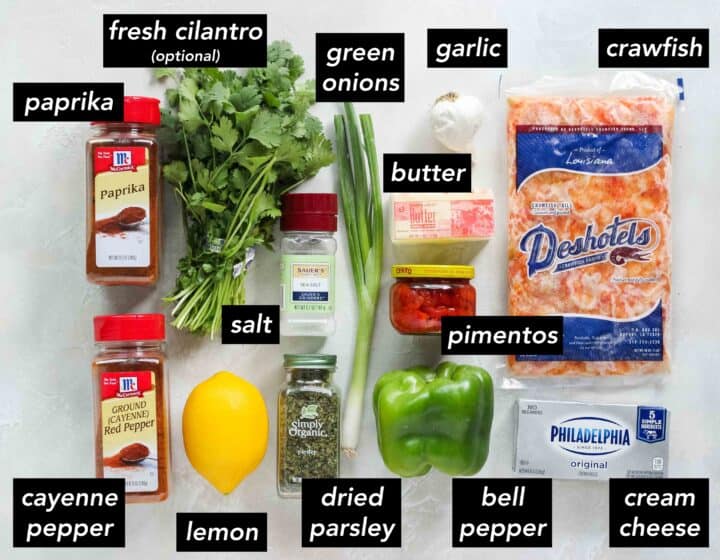 Ingredients
Butter: In most cases, use unsalted butter for cooking and baking so you can add salt as needed. If using salted butter, use less salt to start when seasoning and add more later if needed.
Bell peppers: Green bell pepper is the bell pepper that was used for testing purposes, but any color bell pepper will work. Preferably, use orange or yellow to add a variety of colors to your dip, and the pimentos will add red.
Green onion: The green onion has a mild flavor that blends well into the dip, but if you like onion flavor, you can use regular onion.
Garlic: A must-have ingredient for this crawfish dip is garlic. Both fresh and powdered garlic are included in the recipe, but you can substitute one for the other if you only have one on hand.
Pimentos: Sliced or diced pimentos are both good options. Make sure you drain them before adding them to the dip. Jarred pimentos can be found next to the olives in the store.
Spices: Dried parsley, paprika, garlic powder, salt, and cayenne pepper are the spices for this dip. Honestly, paprika and garlic powder could be omitted. Be cautious of the cayenne pepper if you don't like spicy; you can always use less and add more as needed.
Cream cheese: Block cream cheese works best for this. Full-fat or reduced-fat will both work fine. However, don't use fat-free.
Crawfish: Peeled, deveined crawfish tails are what you need. I recommend using frozen because they are already taken care of for you, and all you have to do is thaw, rinse, and drain. Be sure to rinse and drain the crawfish well before adding to the dip.
Cost of Recipe
butter 1 tablespoon: $0.11
green onion ½ cup: $0.40
bell pepper 1 medium: $0.98
garlic 3 cloves: $0.24
pimentos 4-ounce jar: $1.22
parsley 1 teaspoon: $0.33
paprika ½ teaspoon: $0.09
garlic powder ½ teaspoon: $0.04
cayenne pepper ¼ teaspoon: $0.02
salt ½ teaspoon: $0.01
cream cheese 8 ounces: $1.68
crawfish 12 ounces: $9.98
TOTAL COST: $15.10 or $1.34/serving (Based on San Diego grocery stores 2022)
Note that this is not the recipe; it's simply to show the cost breakdown of ingredients. Be sure to scroll down to the full recipe to see the specific ingredients and directions.
How to Make Crawfish Dip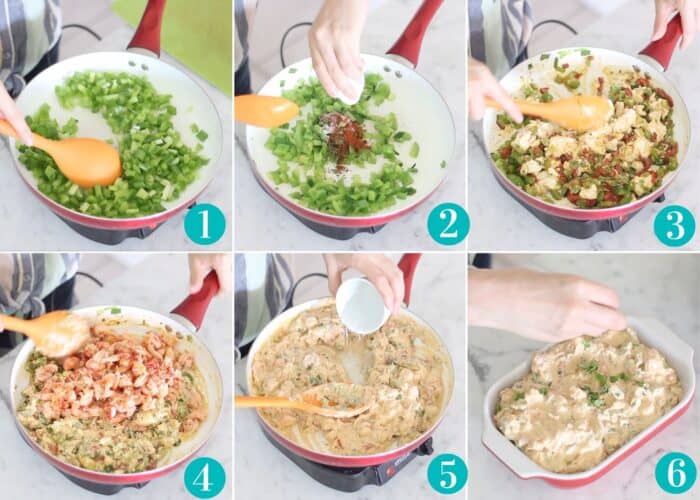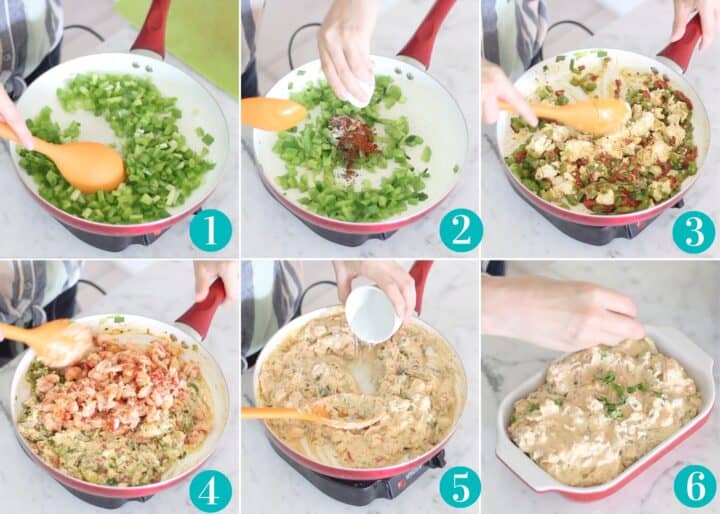 Time needed: 30 minutes.
This crawfish dip recipe is simple to make. Sauté the veggies, season with pimentos, spices, and garlic, add cream cheese, and stir in the crawfish. Thin with a little lemon juice and water, and enjoy. Here are the specific steps to make it:
Sauté the bell peppers and green onions until softened.
Add spices, garlic, and pimentos.
Stir in cream cheese.

Cook until the cream cheese melts into the veggies.

Add in the crawfish.

Stir to completely coat the crawfish.

Pour in lemon juice and/or water to get your desired consistency.
Transfer to a serving dish, and enjoy!

Sprinkle with cilantro, parsley, chives, or green onion if desired.
For Hot Crawfish Dip
Serve immediately, or keep warm in a 275*F oven. Another alternative is to reheat the crawfish dip in the oven at 325*F until ready to serve.
For Cold Crawfish Dip
Let cool for 30 minutes then transfer to the refrigerator. Allow to sit out for 10 minutes to let the cream cheese slightly soften so it's easier to serve. You can also stir in a little extra water or lemon juice so it is thinner.
Crawfish Cheese Dip Recipe Tips
Something to be mindful of is how your crawfish tails are prepared. If they are from a crawfish boil and have been well seasoned, you might want to avoid adding salt and cayenne pepper until after the dip is prepared so you can taste and see what it needs.
Also, make sure that the crawfish tails are completely defrosted. Then rinse well and drain off as much liquid as possible.
Variations
Ingredient Options
Butter: Olive oil or avocado oil can be used in place of the butter as well.
Green onion: Red onion, sweet onion, or Vidalia onion would be other good alternatives since they aren't typically as pungent as regular, yellow onions.
Pimentos: If you don't have or can't find pimentos, you can finely dice red bell peppers and add with the bell pepper and onion to cook.
Crawfish: Not a fan of crawfish? I tried this dip with shrimp and it was equally as delicious. Plus, shrimp can be easier to find.
Flavor Substitution
Less spicy: If you want your dip to be less spicy, use less cayenne pepper or you can omit it. You can add 1 teaspoon of fresh thyme leaves to give it some extra flavor.
Alternative Prep & Cooking
You can transfer this to a baking dish and sprinkle with ½ cup cheddar, mozzarella, pepper jack, or parmesan cheese and broil until cheese is bubbly.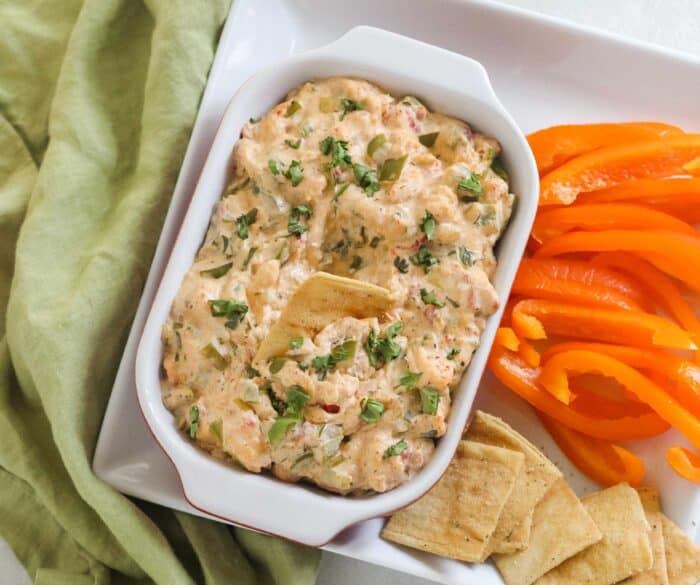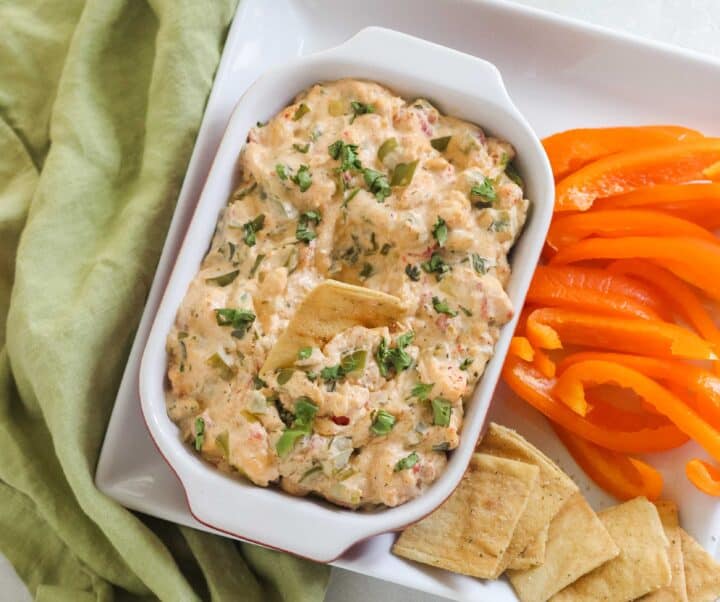 How to Make Allergy Friendly
The recipe is gluten-free, egg-free, nut-free, and soy-free. It does have dairy as well as shellfish.
For a dairy-free version, use olive or avocado oil in place of the butter and dairy-free cream cheese.
How to Fix a Mistake
No crawfish: Use shrimp in place of the crawfish. Lump or claw crabmeat could also be used. Or try flake-style imitation crabmeat.
Too thick: If the dip is too thick, add one tablespoon of water to the mixture at a time and stir well. Add as much water as needed to get your desired consistency, making sure to stir well between additions.
Too thin: Cook the dip a little longer on the stove, stirring occasionally, until the dip thickens.
Too spicy: Add an extra tablespoon of lemon juice, and allow it to cool. This helps mellow out the flavor.
Not enough flavor: Add ⅛ teaspoon cayenne pepper or ¼ teaspoon red pepper flakes. You can also add ½ teaspoon of lemon zest.
Make Ahead Ideas
You can prepare this ahead of time up to 24 hours in advance. Reheat in a skillet or in the oven.
Storage Suggestions
Transfer to a glass or plastic container or cover the serving dish tightly. Transfer to the refrigerator and keep refrigerated for up to 3 days.
Make sure not to let the dip sit out for longer than 2 hours without keeping warm or cold.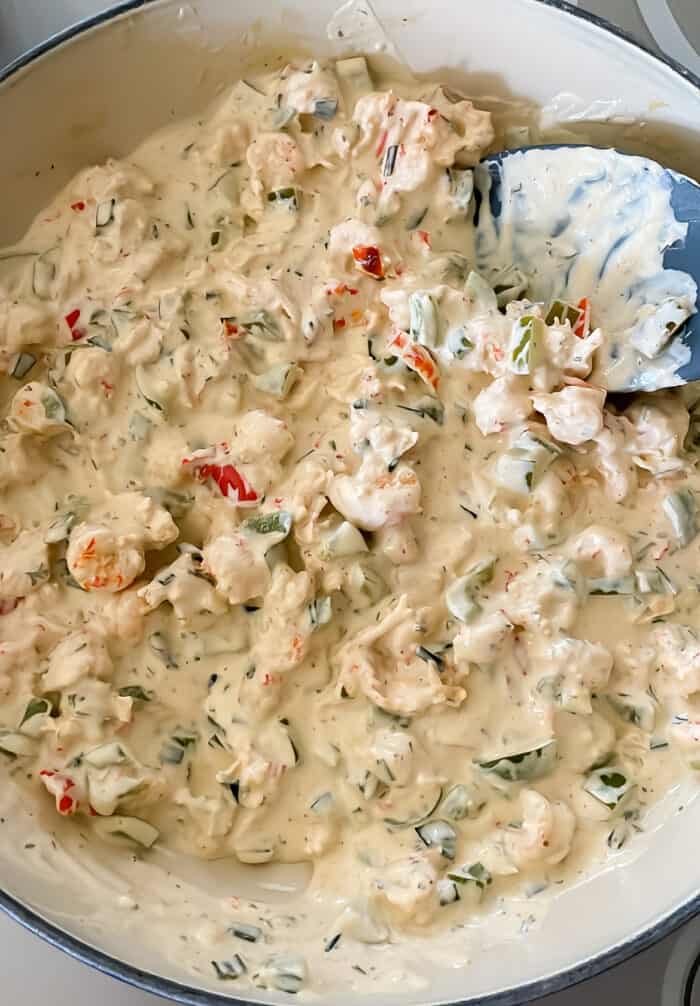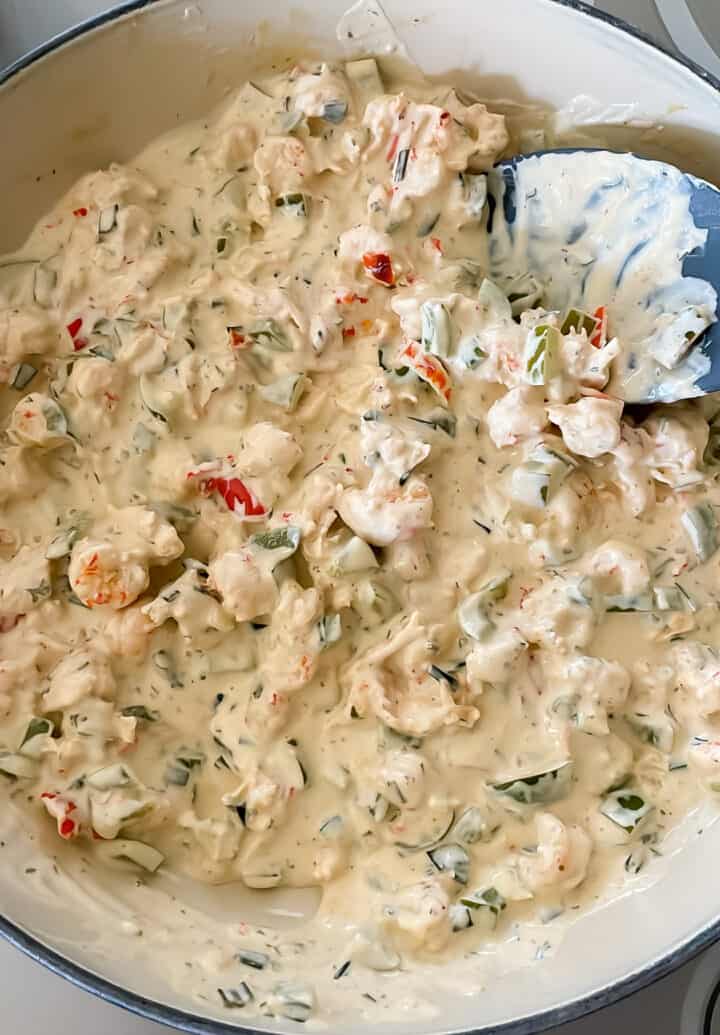 Frequently Asked Questions
What is crawfish dip made of?
This crawfish dip recipe is simply veggies (bell peppers, onions, and pimentos), crawfish, cream cheese, and spices. Also, you can add additional cheese on top if you'd like but the basic dip recipe is delicious as is.
Can you freeze crawfish dip?
I don't recommend freezing this dip. Cream cheese can have a strange texture after defrosting, and since this dip is primarily cream cheese with crawfish and veggies, it doesn't turn out the best.
Can this crawfish dip be cold?
This crawfish dip can be served hot or cold, depending on your preference. It's tasty either way.
What can I substitute for crawfish in this crawfish dip recipe?
Shrimp is a great substitute for crawfish in this dip recipe as well as most other crawfish recipes. Crabmeat could also work well. I'd use lump or claw, or if you are using imitation crab meat, use flake-style.
Nutrition Benefits
A serving of this crawfish dip is an excellent source of Vitamins A and C, and it's a good source of iron.
Plus, you get a few bites of vegetables in this dip which you usually don't find in your average dip recipe.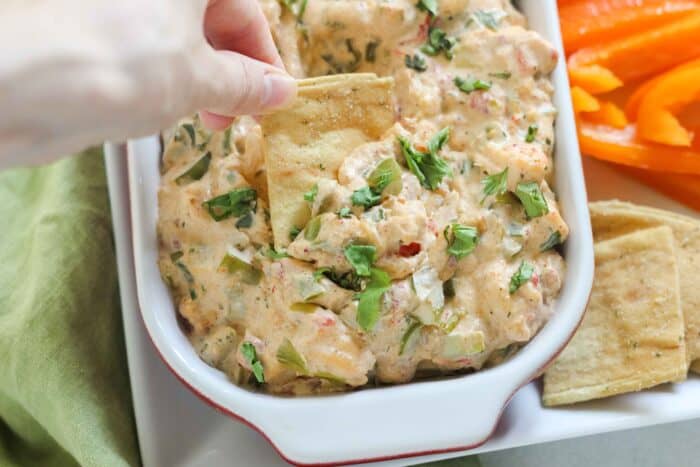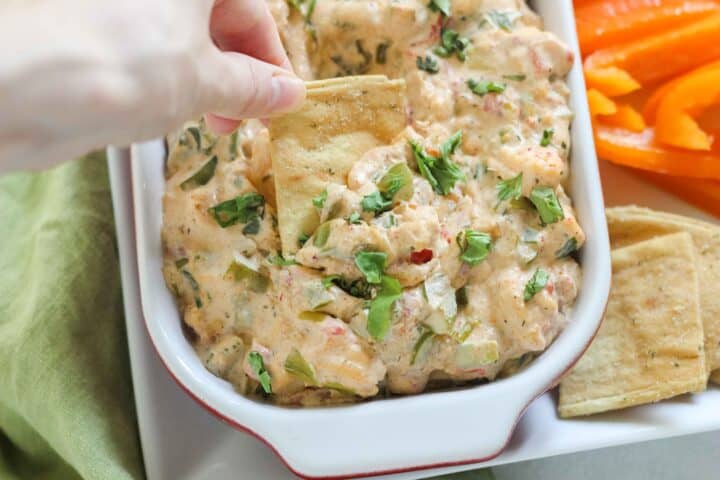 What to Serve with Crawfish Dip
I love serving this dip with crackers, pita chips, tortilla chips, and sliced veggies like bell peppers, carrot sticks, and celery sticks. Moreover, I think it's nice to have a combo so people can enjoy the dip however they prefer.
Crawfish Pasta
Another option with this crawfish dip is to serve it over cooked pasta for a tasty crawfish pasta. Use 4 ounces of pasta for 1 cup of leftover sauce.
I used the leftover crawfish dip to make crawfish pasta.
To make this, cook 4 ounces of pasta in salted, boiling water. Meanwhile, sauté one diced red bell pepper in about 1 teaspoon of olive oil. (You could use onion in the bell pepper's place or skip.)
When the pasta is al dente, reserve about 1 cup of pasta cooking water, and drain.
Add the cooked pasta to the veggies. Stir in 1 cup leftover crawfish dip and ½ cup pasta cooking water.
Let the sauce simmer until it slightly thickens, and add pasta water if needed. Serve.
P.S. Want more crawfish pasta? You need Crawfish Monica!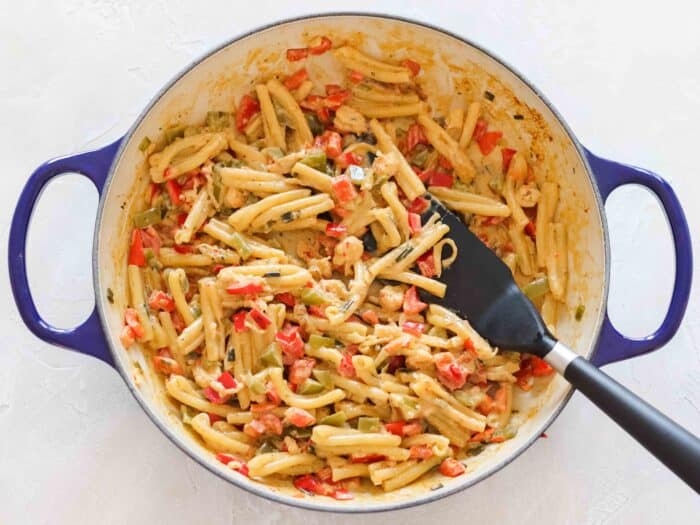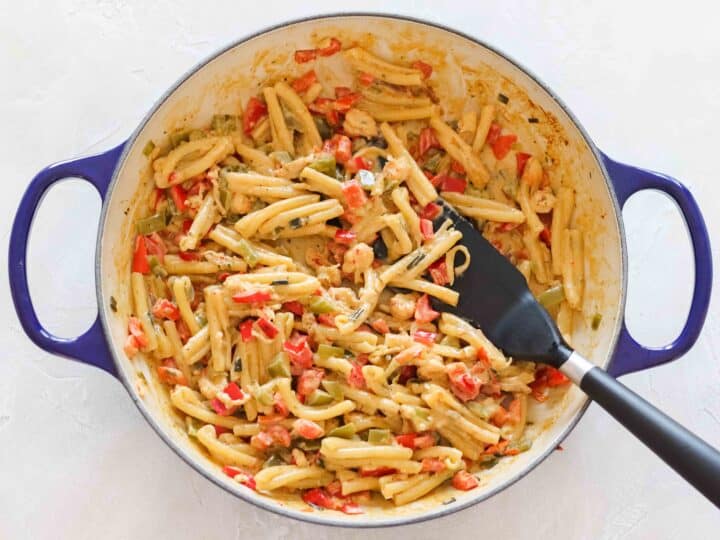 Final thoughts:
Whether it's crawfish season or not, I highly recommend making this crawfish dip. It's creamy, hearty, and incredibly flavorful. In conclusion, it has just the right amount of spices so it's not too spicy but still tastes great.
And you can make it all year by using frozen crawfish tails, so you have no excuse not to make it. Served hot or cold, everyone will be begging you for the recipe.
MORE CRAWFISH RECIPES YOU'LL LOVE: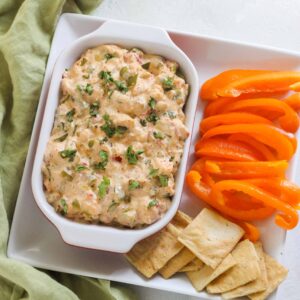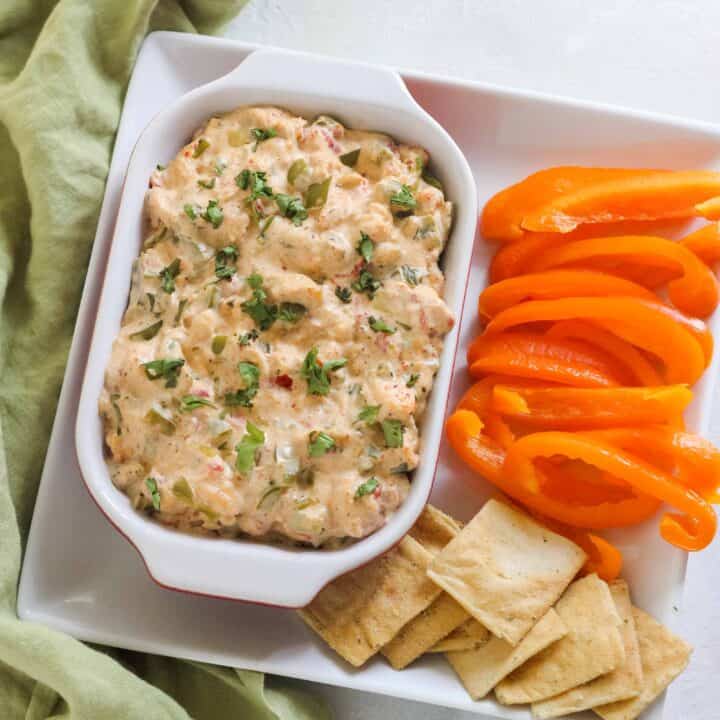 Crawfish Dip
Easy, creamy, spicy crawfish dip made with cream cheese that can be served warm or cold. Satisfying appetizer for parties, tailgates, holidays
Print
Rate
Total Cost:
$13.42 or $1.34/serving
Ingredients
1

tablespoon

butter

1

cup

green onion

chopped, 8 green onions

1

cup

bell pepper

diced, 1 medium

3

cloves

garlic

minced

4

ounce

pimentos

diced or sliced

1

teaspoon

dried parsley

½

teaspoon

paprika

¼

teaspoon

cayenne pepper

½

teaspoon

salt

½

teaspoon

garlic powder

optional

8

ounces

cream cheese

cubed, room temperature

12

ounces

crawfish tails

rinsed and drained

2

tablespoons

lemon juice

1-4

tablespoons

water

as needed

fresh parsley or cilantro

for serving
Instructions
In a medium skillet, heat the butter over medium heat.

Add the bell peppers and green onion, and sauté for 7 minutes until softened.

Stir in spices, drained pimentos, and garlic. Sauté for 1 minute.

Add in the cream cheese and stir well until the cheese melts into the veggies. This will take about 5-10 minutes.

Add the crawfish, and stir until completely coated.

Pour in lemon juice, and stir well. Add in water, one tablespoon at a time until it reaches your desired consistency.

Transfer to a serving dish if desired (or serve in the skillet), and sprinkle with chopped parsley, cilantro, chives, or green onions.
Notes
*Makes about 2.5 to 3 cups
*Be sure to completely thaw the crawfish tails, then rinse well, and drain. You want to remove as much liquid as possible from the crawfish before adding it, so it doesn't make the dip too soupy.
What to Use in This Recipe
Did you try this recipe?
Be sure to leave a comment & recipe rating below. Bonus points for tagging @memeinge & #livingwellkitchen on Instagram! THANK YOU! xo
Meme
---
Crawfish Dip Nutrition Facts
Nutrition Facts
Crawfish Dip
Amount per Serving
% Daily Value*
* Percent Daily Values are based on a 2000 calorie diet.
Doesn't this recipe look good?! You should probably share it: