Easy jambalaya ready in less than an hour thanks to the pressure cooker. Instant Pot Jambalaya has that rich creole flavor you want without too much time or effort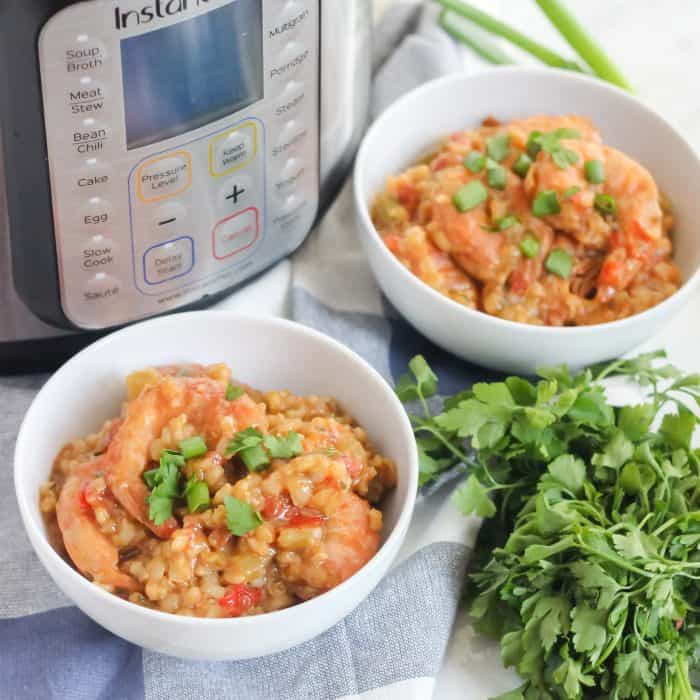 About this Easy Jambalaya recipe
In the past, I've made Jambalaya on the stove, and it was lovely. However, regular jambalaya takes at least 2 hours to make. And it's really better if you cook for even longer in my opinion.
The nice thing about this recipe is that it is made with only shrimp, so you can enjoy it if you are a pescatarian or don't eat meat on Ash Wednesday and Fridays of Lent.
What is Jambalaya
Jambalaya is a creole meat & seafood dish cooked in a red sauce made of veggies and rice. Jambalaya means "jumbled" or "mixed up"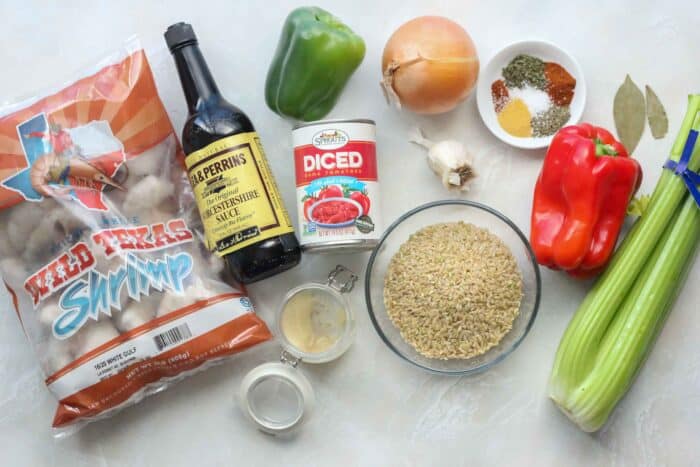 Why make Instant Pot Jambalaya
The great thing about using your pressure cooker is that it gives you that slow cooked flavor you are looking for in a jambalaya but takes much less time.
Typically, you want to cook your jambalaya for a few hours to have the veggies & tomatoes melt into a sauce and cook the rice. But with the Instant Pot®, this all happens in minutes, and you do not notice the difference.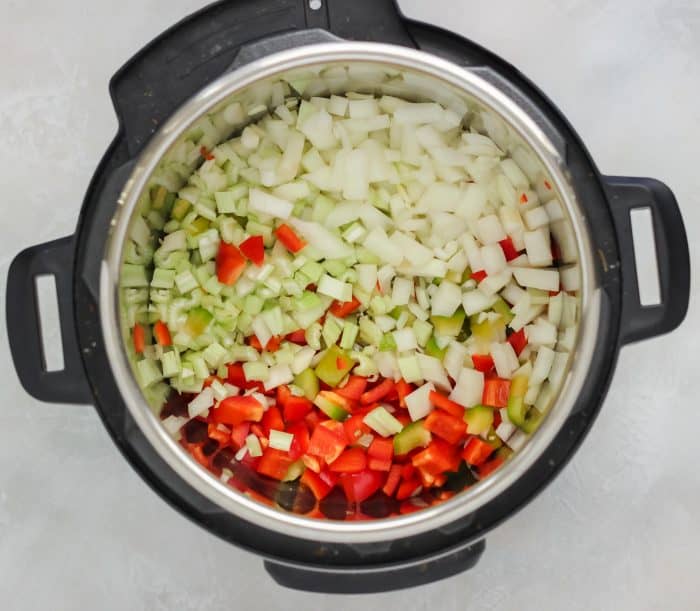 How to Make Instant Pot Jambalaya
Making jambalaya in the Instant Pot is quite easy and very similar to cooking it on your stove.
If your shrimp is frozen, you'll want to thaw them before you start cooking. All you have to do is add them to a bowl of cold water.
Start cooking by sautéing the veggies in bacon grease or oil in the Instant Pot®. Then add the spices and rice. Stir in the tomatoes with their juices, broth or water, Worcestershire sauce, and bay leaves. Then cover and pressure cook.
Let the recipe sit for 10 minutes after it is done before doing a quick release. If you thawed your frozen shrimp, you want to drain well and make sure there are no extra peels in the shrimp. Also, remove the heads if the shrimp have heads. You can also peel them completely if desired.
Then stir in the thawed (or fresh) shrimp and let the heat from the jambalaya cook your shrimp. This helps keep them from overcooking.
Then remove the bay leaves and stir in some lemon juice if desired. If your shrimp were unpeeled, I like to peel them before serving so you don't have to deal with it later, but you can serve them as is and have everyone peel their own shrimp.
Serve with chopped green onion, chopped parsley, bacon bits, lemon slices, and/or hot sauce if desired.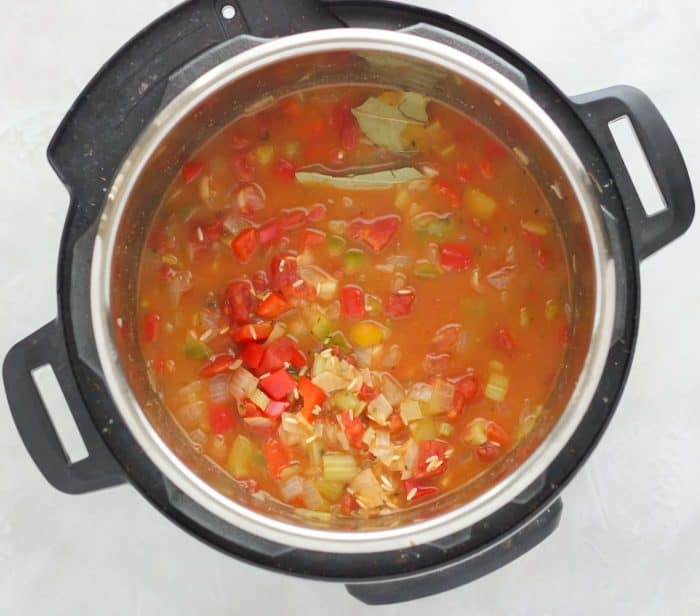 Tips for Making Instant Pot Jambalaya
I tried this recipe 5 different times before I got it exactly how I wanted it. Here's what I learned...
The hardest part of this recipe is chopping the veggies. You can use frozen chopped veggies if desired.

You can also substitute garlic powder for the fresh minced garlic.

I tested the recipe using chicken broth, vegetable broth, and water. All versions were delicious. I think that seafood stock would also taste great in this recipe.
You can use oil (like olive oil or avocado oil) or bacon grease. I prefer the bacon grease because it adds a smokey flavor, but this is completely optional.
If you add the shrimp before cooking, you will end up with very mushy shrimp. So we wait until after the jambalaya mixture has cooked before adding.
Raw shrimp is expensive and goes bad quickly. Using frozen is a great way to save a little money as well as make this easier. You don't have to make it the second you get home from the grocery store.

When using frozen shrimp, it's best to thaw before adding to the Instant Pot®. Shrimp thaw pretty quickly, so this can be done while the jambalaya is cooking.
Thaw the shrimp in cold water and drain well before adding to the Instant Pot. Be sure to pick out any shells before adding.
Once the mixture has cooked and you've released the remaining pressure after 10 minutes, you'll stir in the thawed or fresh shrimp. The heat from the jambalaya will cook the shrimp without overcooking them.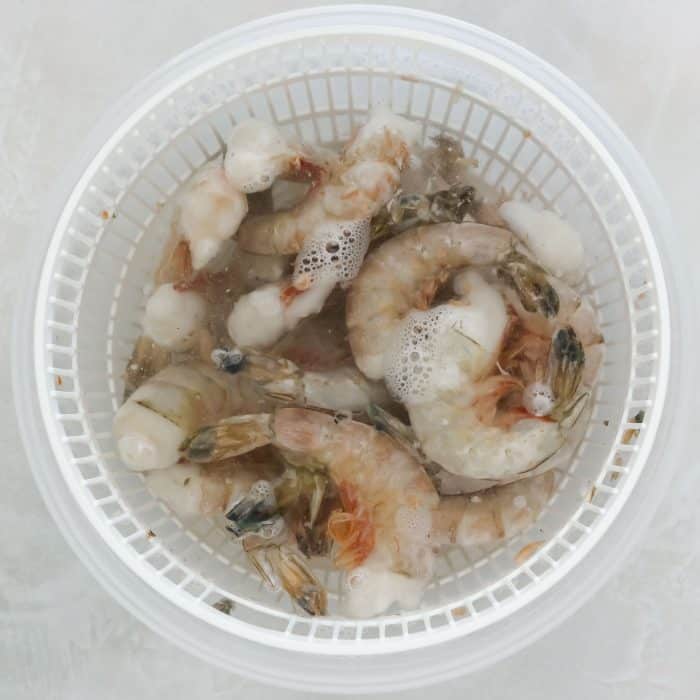 The best shrimp for this Instant Pot jambalaya recipe
Frozen, peeled, tail-on shrimp are the best choice for this Instant Pot Jambalaya because they are cost effective and less maintenance than fresh shrimp. Fresh shrimp doesn't last long in the fridge and can go bad quickly. Frozen shrimp lasts a while (unopened) and is just as delicious.
I recommend peeled shrimp with the tail on. This means you don't have to do much peeling -- all you have to do is pop off the tail -- yet you still get some added flavor from the shrimp tail.
In the photos and video, you'll see that I used peel-on shrimp. That was only because it was the only option at the store. It's kind of annoying to have to peel your shrimp, but it's not the worst thing in the world. And it's worth it to have this jambalaya.
You can always peel your shrimp before adding, but I hate peeling raw shrimp. However, if you have unpeeled shrimp be sure to remove the head before adding no matter what.
When buying shrimp, be sure to look for a label that shows that the shrimp has been eco-certified by the Marine Stewardship Council and/or Aquaculture Stewardship Council.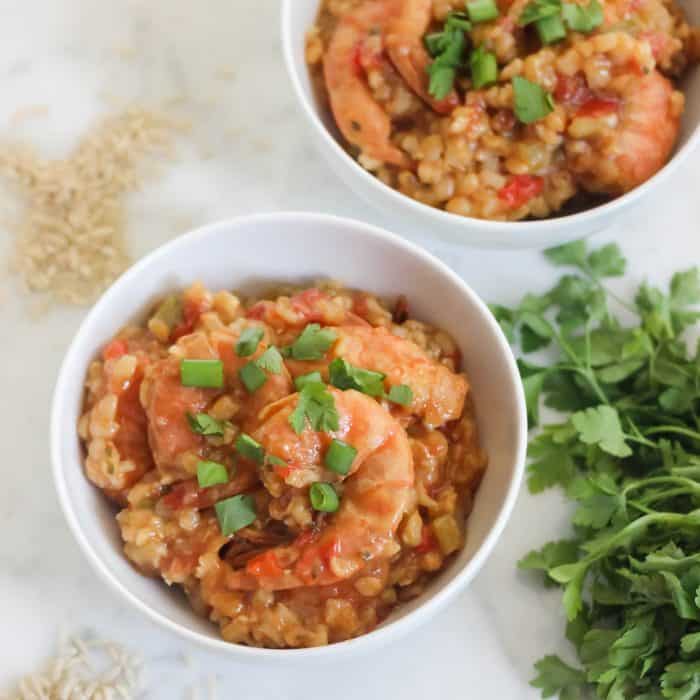 Make Ahead Tips
To make your life easier when cooking the jambalaya, you can chop all the veggies and keep in the fridge until ready to throw together. Everything else is pretty simple and need not be prepared ahead of time.
Because shrimp can change texture when being reheated, I recommend waiting to make this until just before serving.
Variations for Instant Pot Jambalaya
Ingredient Substitutions:
Not a fan of shrimp? Use cooked & peeled crawfish. You would stir it in at the same time you do with the shrimp.
Don't want to use seafood? You can easily use sausage or chicken. Use cooked and sliced sausage and/or chicken and add it before pressure cooking.
Another great alternative is adding crawfish, sausage or chicken in addition to the shrimp. You can use less shrimp (about ½ pound) and add about ½ pound of crawfish when you are adding the shrimp. For the sausage or chicken, use cooked and sliced sausage or chicken and add it before pressure cooking.
Alternative prep & cooking methods
This is easily converted to your stove top, or just use my recipe for making jambalaya the old fashioned way.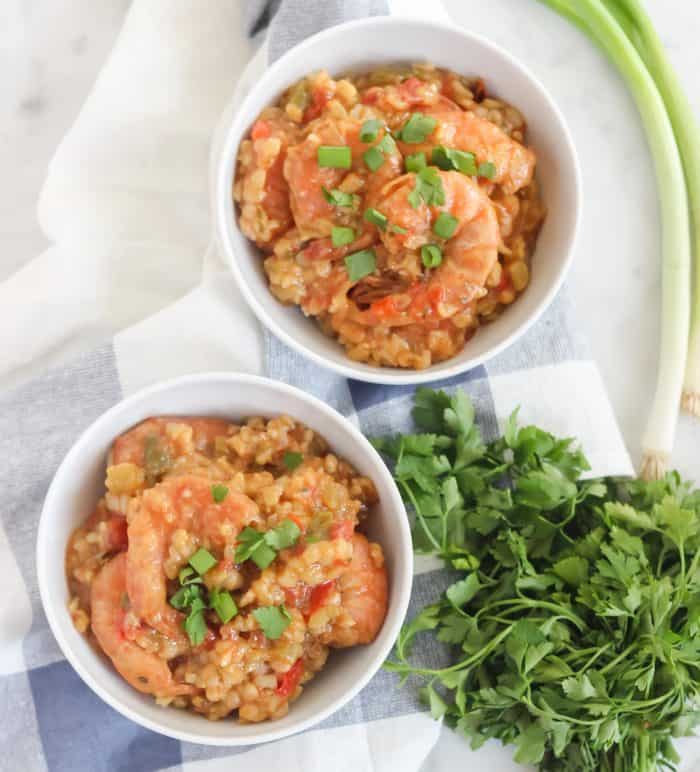 Storage Tips
Keep in an airtight container in the fridge for up to 3 days or in the freezer for up to one month.
When reheating in the microwave, I recommend reheating the rice mixture (without the shrimp if possible) until it's really hot then stirring in the shrimp to warm them up. Microwaving shrimp isn't the best and can give you a weird, rubbery texture.
Frequently Asked Questions
What is the best rice for jambalaya?
I found that long grain brown rice worked best in this Instant Pot Jambalaya. However, I also tried it with short grain brown rice and it worked just fine. The only difference was that it was a little bit gummier than with the long grain.
You wouldn't want to use white rice in this recipe because white rice cooks faster than brown rice, so you might end up with mushy jambalaya if you use white rice in the Instant Pot®.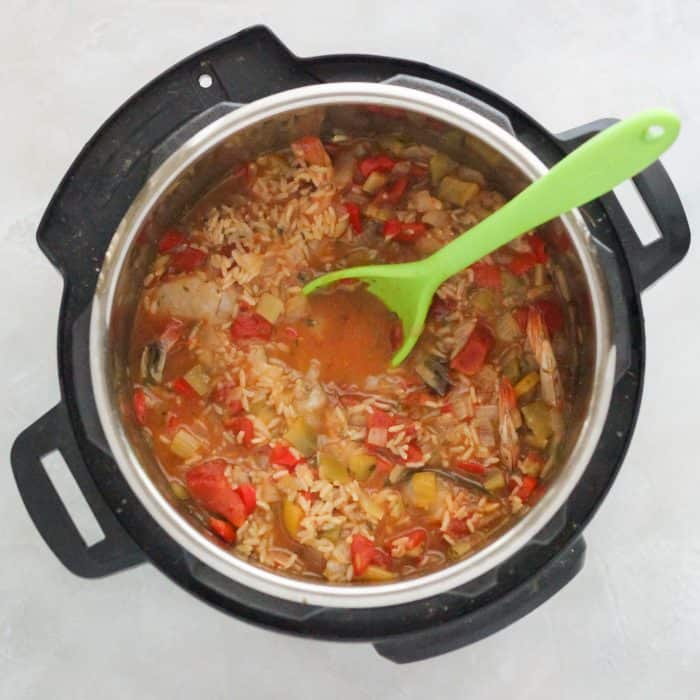 Can you freeze jambalaya?
Yes, you can freeze jambalaya. I find that the texture of the shrimp is a little less in tact when it's been frozen but it's still really delicious. It's almost like shrimp are falling apart a little bit.
Is jambalaya the same thing as gumbo?
No, jambalaya and gumbo are different. They do have similar ingredients but a lot of differences. Gumbo is made with a roux which is a mixture of oil and flour. This helps thicken the dish. Gumbo is also more soupy whereas jambalaya is a thicker dish.
Similar to gumbo, jambalaya can be made with seafood and/or meat like sausage. Be sure to check out my Seafood Gumbo if you need gumbo in your life (which you 100% do!)
What to serve with Instant Pot Jambalaya
This is really a complete, one pot meal in and of itself, so there's no need to serve it with anything. If you want a few toppings, feel free to add some chopped green onions, parsley, or bacon bits. I also like to serve with a little hot sauce for those wanting extra spice.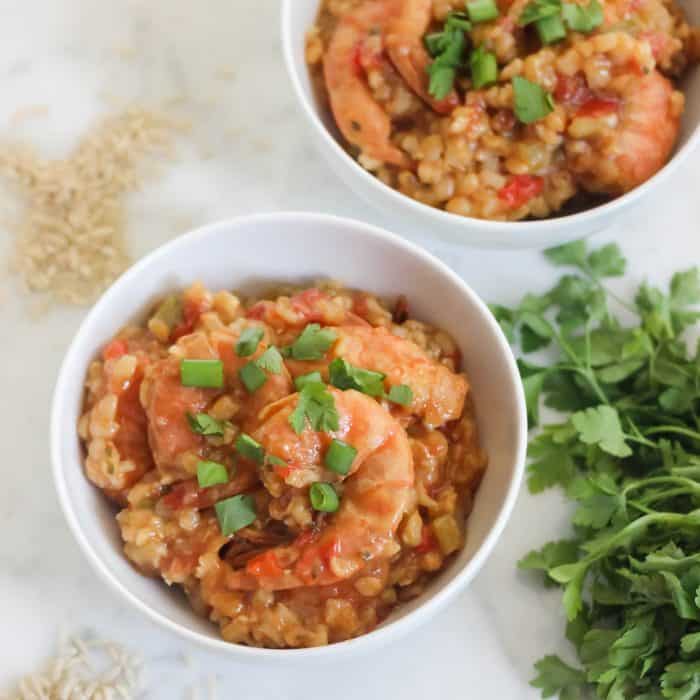 Final thoughts:
Using the Instant Pot® has this jambalaya recipe ready in less than an hour when typical jambalaya takes at least 2 hours which makes it a win in my book.
---
MORE SHRIMP RECIPES YOU'LL LOVE: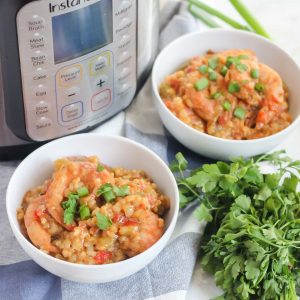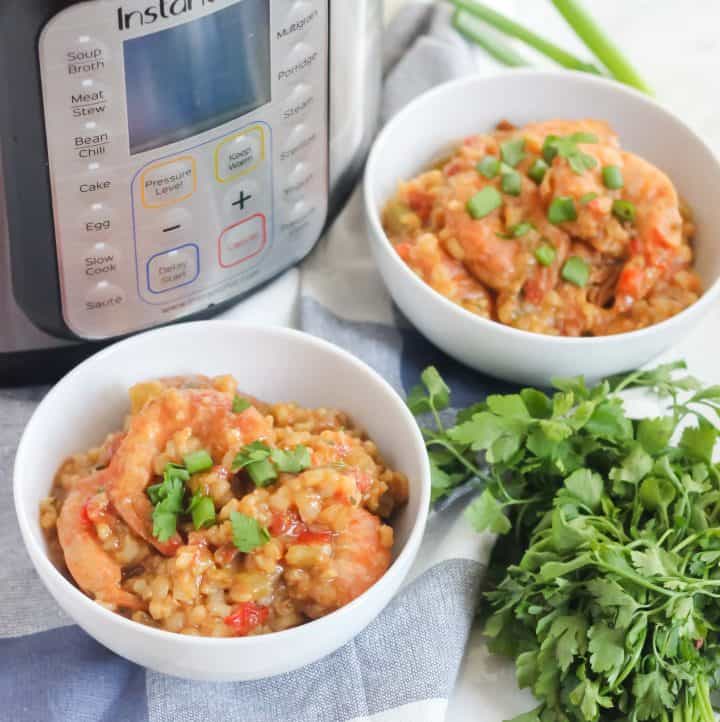 Instant Pot Jambalaya
Easy jambalaya ready in less than an hour thanks to the pressure cooker. Instant Pot Jambalaya has that rich creole flavor you want without too much time or effort
Print
Rate
Ingredients
1

tablespoon

oil

or bacon grease

2

medium

onions

diced

2

medium

bell peppers

diced

4

stalks

celery

diced

3

cloves

garlic

minced

1

teaspoon

dried thyme

1

teaspoon

paprika

1

teaspoon

dried parsley

½

teaspoon

salt

¼

teaspoon

garlic powder

¼

teaspoon

cayenne pepper

1 ¼

cup

uncooked brown rice

long grain, rinsed

15

ounce

can diced tomatoes

no salt added

2

teaspoons

Worcestershire sauce

2

cups

no salt added chicken broth

or vegetable broth or seafood stock or or water

2

bay leaves

1

pound

shrimp

fresh or frozen

1

teaspoon

lemon juice

optional
Instructions
Turn the Instant Pot on the Sauté function, and add the oil.

Add onions, bell peppers, and celery. Stir well. Sauté for 5 minutes, and stir in garlic along with thyme, paprika, parsley, salt, garlic powder, cayenne pepper, and rice. Cook for 2 minutes.

Stir in diced tomatoes and their juices, Worcestershire sauce, broth or water, and bay leaves. Cover, set the top to sealing, and cook on High Pressure for 7 minutes.

Let the pressure release naturally for 10 minutes before doing a quick release. Stir in shrimp, and cover.

Let sit for 10-15 minutes until the shrimp is cooked through. Remove bay leaves and stir in lemon juice if using. Serve and enjoy!
Notes
*When using frozen shrimp, add to a bowl of cold water before starting to make the jambalaya to thaw. Drain and pick out any shells before adding to the Instant Pot.
*If you use unpeeled shrimp be sure to remove the head before adding.
*Long grain brown rice works best in this Instant Pot Jambalaya.
*Substitute ½ teaspoon garlic powder in place of the garlic cloves (in addition to the ¼ teaspoon).
*Do not add the shrimp until after pressure cooking.
What to Use in This Recipe
Did you try this recipe?
Be sure to leave a comment & recipe rating below. Bonus points for tagging @memeinge & #livingwellkitchen on Instagram! THANK YOU! xo
[showhide type="post" more_text="Click here for Instant Pot Jambalaya Nutrition Facts" less_text="Clear Nutrition Facts"]
*
Nutrition Facts
Instant Pot Jambalaya
Amount per Serving
% Daily Value*
* Percent Daily Values are based on a 2000 calorie diet.
*
[/showhide]
Meme
Doesn't this recipe look good?! You should probably share it: