Easy Instant Pot Lamb Curry with spices, lamb, and lots of veggies. Thanks to a pressure cooker, dinner is ready in an hour! Gluten-free, dairy-free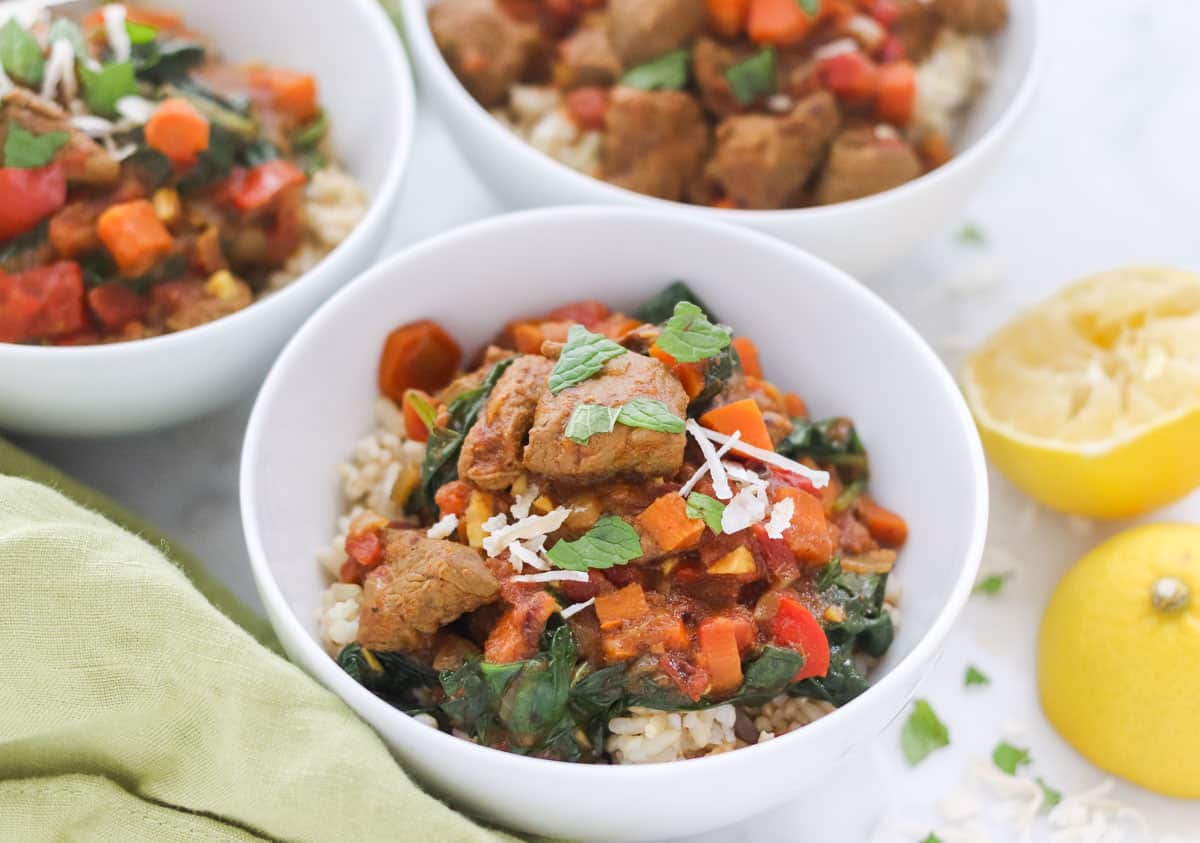 About Instant Pot Lamb Curry
When was the last time you enjoyed lamb?
If you are like most people, it's probably been a while (or never) since you cooked lamb at home which is incredibly unfortunate because lamb is a wonderful addition to your meals.
To bust the myth that lamb is intimidating, complicated, or too fancy, my nine-year-old niece Joy and I made Lamb Curry in the Instant Pot.
And then I tested it a few more times to triple-check (or really just as an excuse to keep making this amazing dish!)
Lamb is an excellent, high-quality protein choice that gives your meals, especially this lamb curry, an incredible taste that only lamb can give.
Also, a little bit of lamb goes a long way, meaning you can enjoy the greatness of lamb along with veggies, spices, and rice (or whatever you decide to serve with your lamb curry) for a beautifully balanced plate.
Plus, this lamb curry recipe is heavy on veggies to give your body extra antioxidants, fiber, and vitamins. It is also gluten-free, nut-free, soy-free, and can be dairy-free.
We tried it with yogurt and with coconut milk. I liked the coconut milk version better, but my sister doesn't like coconut, so she preferred the yogurt version.
Both were tasty, so see below for instructions on how to use yogurt instead of coconut milk.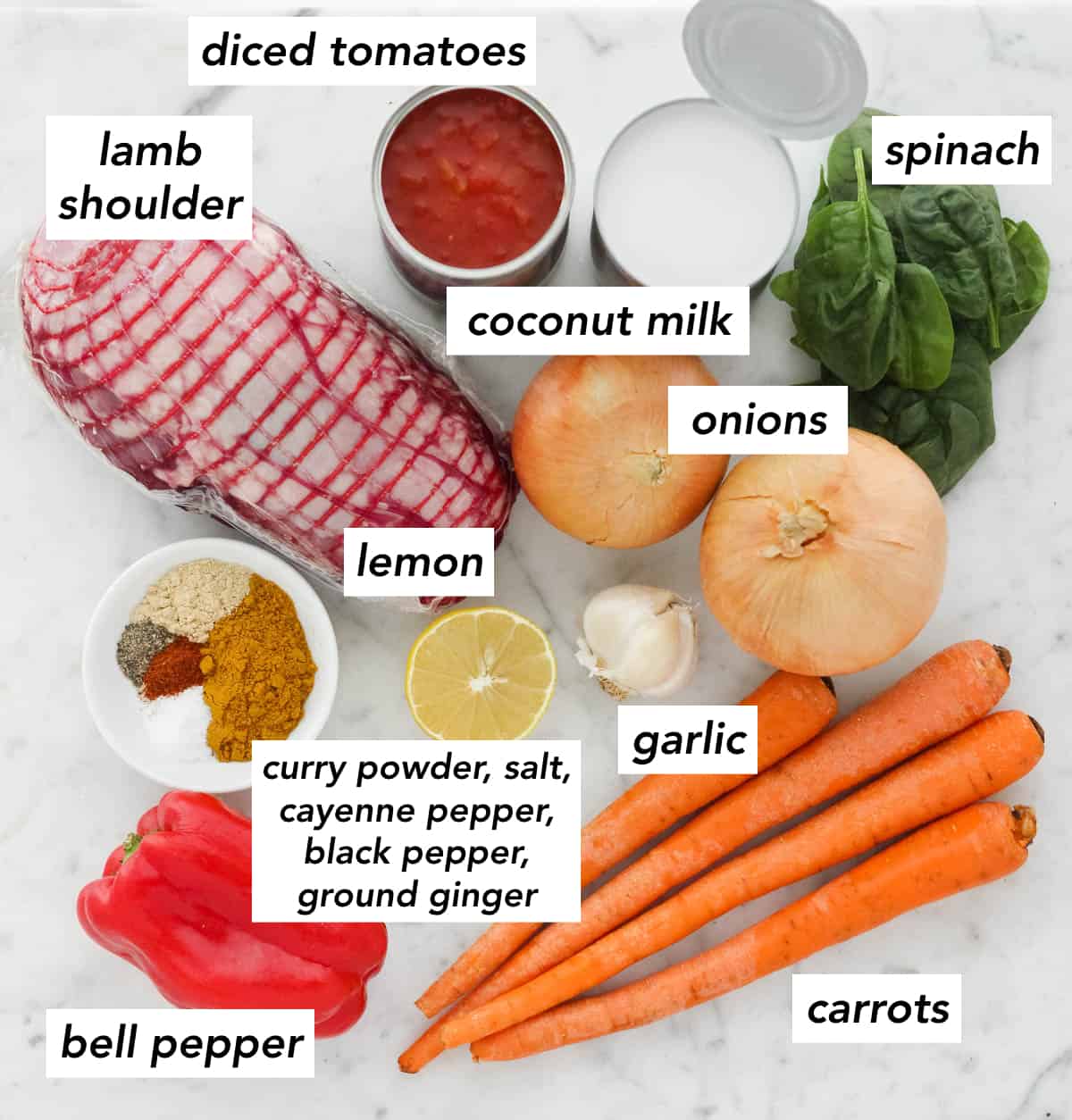 Ingredients
Veggies: This lamb curry has bell peppers, onions, carrots, garlic, spinach, and diced tomatoes, so you get tons of nutrients. You can use fresh or frozen bell peppers, onions, and/or carrots. The tomatoes are from the can for ease, but fresh tomatoes are another option. Spinach is optional but adds extra nutrients and flavor.
Onions: Yellow onion, red onion, white onion, or sweet onion work well in this lamb curry recipe.
Bell peppers: Any color bell pepper will work. The recipe was tested using red bell pepper.
Carrots: Carrots add a touch of sweetness to the sauce. Regular carrots as well as baby carrots are fine.
Garlic: This sauce has a lot of garlic to boost the flavor. Fresh is preferred but garlic powder will be ok in a pinch. Use 1.5 teaspoons garlic powder in place of the fresh.
Spices: Curry powder, ginger, salt, pepper, and cayenne pepper are the spices in the recipe. Be sure to use fresh spices for maximum flavor. If the curry powder isn't spicy, add cayenne pepper, hot sauce, or red pepper flakes if needed.
Diced tomatoes: Use no-salt-added diced tomatoes to keep the sodium levels low and prevent the curry from being too salty. Make sure to add the tomatoes with their juices.
Coconut milk: Any type of coconut milk will be good in this lamb curry recipe. Full-fat version is preferred, so the curry is thicker. You can use canned coconut milk or coconut milk from a carton. And see below if you'd rather use yogurt in place of coconut milk.
Lemon juice: This adds brightness to your curry; however, it's optional. Fresh or bottled lemon juice will work.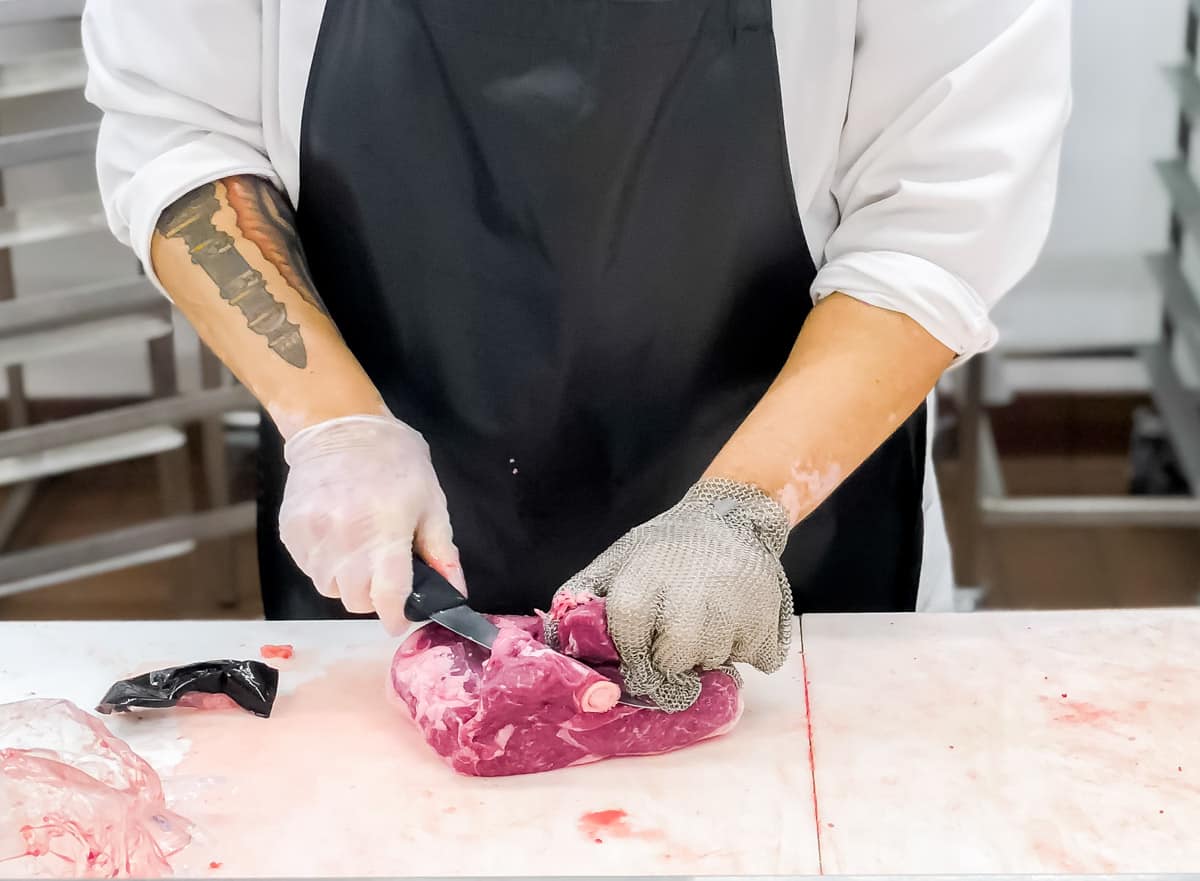 Best Lamb Cut for Lamb Curry
What cut of lamb is best for curry? Lamb shoulder, leg of lamb, or lamb kebab meat.
These economical cuts are easy to find in your grocery store and are great for roasting and stews.
For testing purposes, I used lamb shoulder in this Instant Pot Lamb Curry recipe.
I bought a 2-pound bone-in lamb shoulder and had the butcher remove the fat and cube it for me. I added the bone to the pot while the curry was cooking for extra richness and removed it before serving, but this is not at all necessary.
Alternatively, you can buy a boneless shoulder. After trimming, you should be left with around 1.5 pounds of lamb.
The 2-pound lamb shoulder came packaged with the bone in and with a thick layer of fat. I had the butcher slice and discard the fat. He cubed the meat and left the bone for me to use while cooking (which I discarded before serving).
You can easily do this at home, but I enjoyed one less step. Ask your butcher to cube the lamb into 1-inch or ¾-inch pieces if possible. Otherwise, you can trim and chop it right before cooking. It'll take about 10-15 minutes.
Sometimes, you can find already lamb shoulder or leg of lamb chopped in the meat section and labeled as "lamb kabab meat"
Cost of Recipe
lamb shoulder 2 pounds: $20.78
bell pepper 1 medium: $0.98
carrots 4 medium: $0.80
onions 2 large: $1.56
garlic 5 cloves: $0.30
curry powder 1.5 tablespoons: $1.17
ginger 1 teaspoon: $0.11
salt ½ teaspoon: $0.01
pepper ¼ teaspoon: $0.03
cayenne pepper ¼ teaspoon: $0.02
diced tomatoes 15-ounce can: $0.98
coconut milk 1 cup: $0.50
lemon juice ¼ cup: $0.50
spinach 6 ounces: $1.32
TOTAL COST: $29.06 or $4.84/serving (Based on San Diego grocery stores 2023)
Note that this is not the recipe; it's simply to show the cost breakdown of ingredients. Scroll down to the full recipe to see the specific ingredients and directions.
How to Make Instant Pot Lamb Curry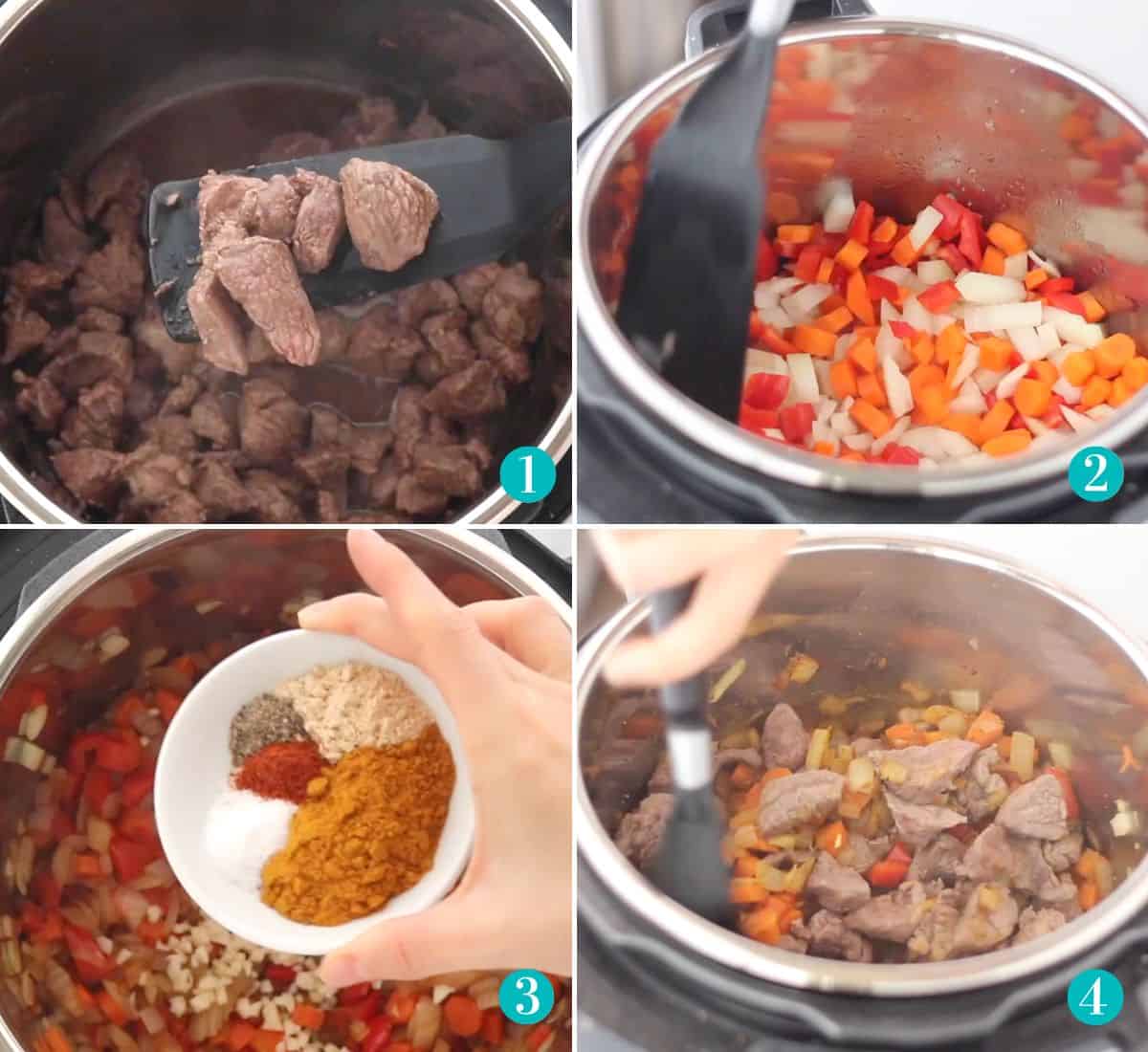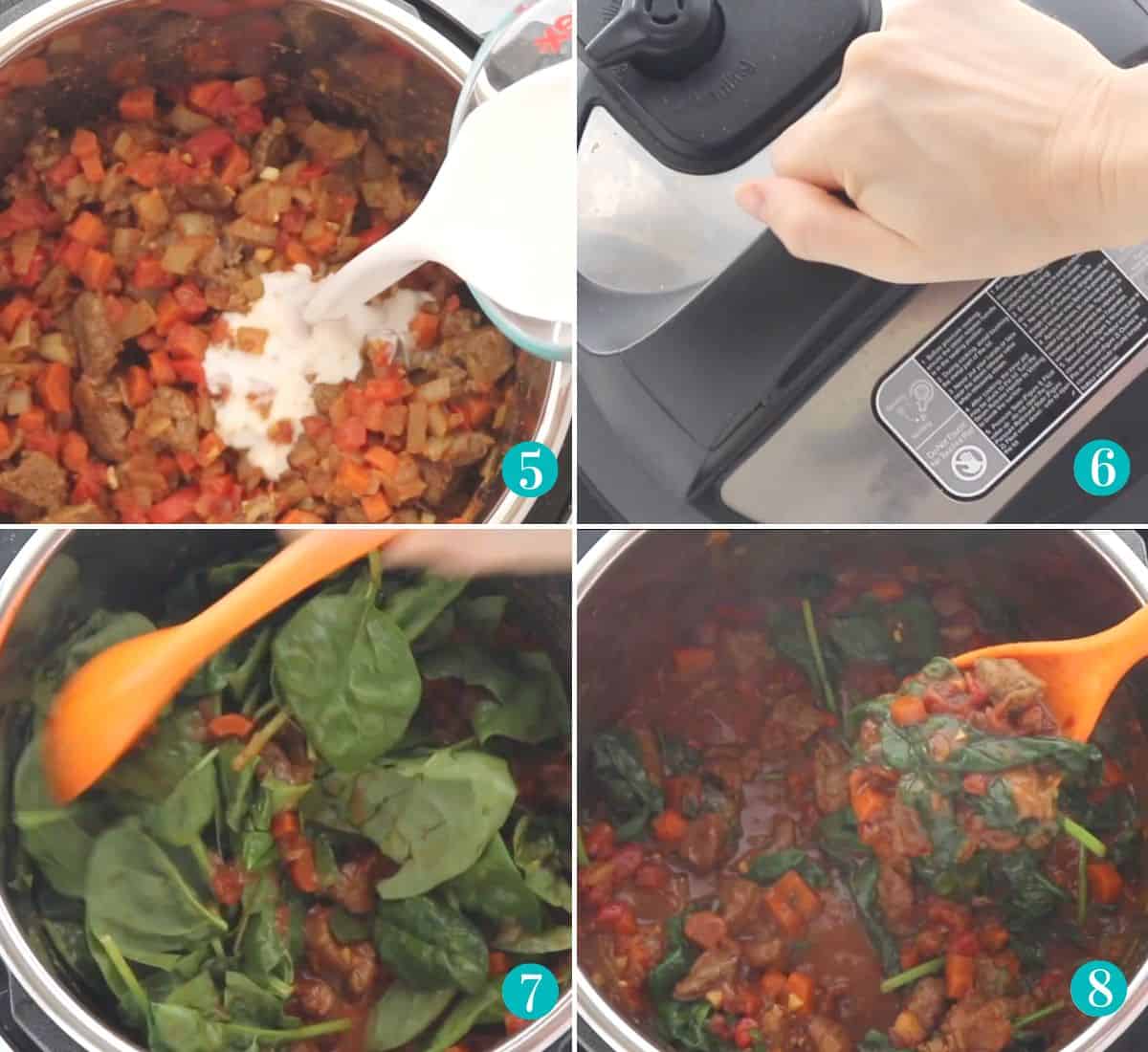 Time needed: 1 hour and 5 minutes.
Simple, satisfying, and delicious lamb curry made in the instant pot that your whole family will love.
Sear the lamb in the Instant Pot and transfer to a bowl.

Pour off the excess liquid and fat, leaving about 1 tablespoon in the Instant Pot.

Add the veggies and sauté for a few minutes.
Once the veggies are soft, add the spices. Stir until fragrant.
Put the lamb back into the pot, and stir to coat completely.
Add in the tomatoes and liquid. Stir well.

Add water and coconut milk. Or if using yogurt (in place of coconut milk), stir in only water.

Cover and cook on High for 20 minutes.

Let the pressure release naturally for 10 minutes then do a quick release for the remaining steam.

Let rest for about 5-10 minutes until the mixture thickens.

If you're adding spinach, stir it in now. If you're using yogurt, stir in now.

Stir in lemon juice, and serve.

Great with naan, rice, potatoes, or whatever you want.
Timing of the Recipe
Total recipe time of a recipe made in the Instant Pot can be a bit confusing since recipes often leave out the time it takes to bring it to pressure as well as to release the pressure.
However, it's important to me that you get the most accurate info, so here's an outline of the time it takes to make instant pot lamb curry from start to finish:
8 minutes to sear the lamb
5 minutes to sauté the veggies
2 minutes to add the remaining ingredients
15-20 minutes for the curry to come to pressure
20 minutes cook time
10 minutes to release the pressure
5 minutes to rest
To streamline the process, chop the veggies (onion, bell pepper, and carrots) while the lamb is searing.
Mince the garlic and get out all the remaining ingredients while the veggies are sauteing.
That way, it's about 15 minutes of hands-on time (preparing and cooking), and 55 minutes of hands-off cooking time.
Recipe Tips
When searing the lamb, you don't need to cook the meat all the way through. You simply want to get a nice brown crust on the beef.
Searing the meat caramelizes the natural sugar in the beef and browns the proteins to form a brown crust on the surface of the meat that enhances the savory flavor of the meat. Plus, the browned bits also boost the flavor so you don't have a bland soup.
Variations
Ingredient Options
Vegetables: You can change the vegetables or use more or less of certain veggies. Like carrots but not onions? Ditch the onions and add more carrots. Or add other veggies like zucchini. You want about 6 cups of chopped veggies.
My family really liked the carrot, bell pepper, and onion combo, and I also added some spinach in one of my test batches (the kids weren't a huge fan of that but the adults enjoyed it).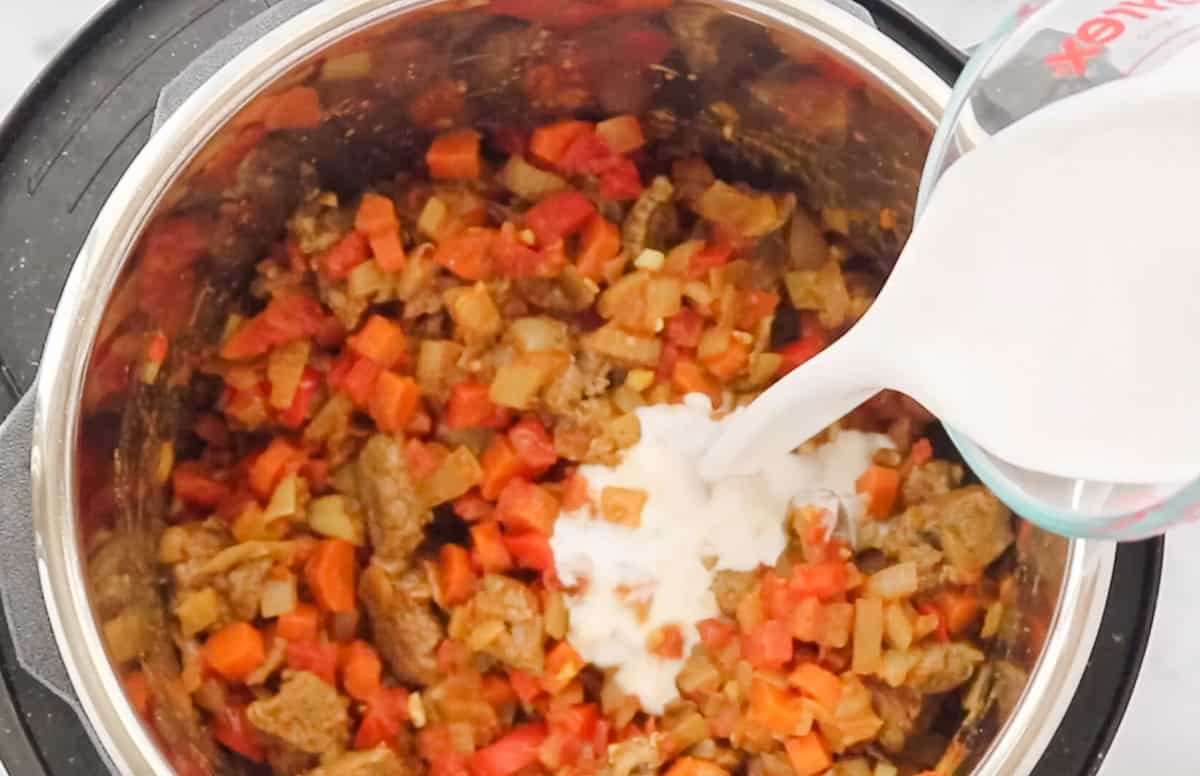 Coconut Milk or Yogurt
The recipe was tested using coconut milk as well as plain yogurt. I prefer the coconut milk, though both are really good!
Either way, you will use 1 cup of yogurt or 1 cup of coconut milk.
The video shows me using coconut milk, but you can easily use yogurt.
Coconut milk version: This one is a little thinner than the yogurt version. I recommend using regular coconut milk (not reduced fat) so your curry isn't too soupy. If you use coconut milk, you will only add ¼ cup water in the recipe before cooking.
Yogurt version: To use yogurt in place of coconut milk, you will add ½ cup water to the Instant Pot. Do not add the yogurt until after it has cooked.
After you've released the pressure, scoop out a spoonful of the cooked lamb curry and add to 1 cup of yogurt. Mix together; then stir it all into the lamb curry.
Everything else is the same.
Alternative Prep & Cooking
Don't have an Instant Pot or pressure cooker? You can make this Lamb Curry in the slow cooker!
To be honest, I have not tried this specific recipe in the slow cooker.
However, most pressure cooker and slow cooker recipes easily translate, and for this recipe, you'll just cook all day in the slow cooker instead of cooking in under one hour in the pressure cooker (Instant Pot).
To make in your slow cooker, you have two options.
throw everything in the slow cooker and cook all day -- this option is a lot easier but make sure that your lamb is completely trimmed of fat so you don't have excess grease in your finished curry.
brown the meat and saute the veggies then add to the slow cooker -- this will give your dish more depth and will help the lamb render some of the fat off while cooking before adding to the slow cooker.
How to Make Allergy-Friendly
This recipe is naturally gluten-free, soy-free, and egg free. Use coconut milk to make this dairy free.
How to Fix a Mistake
Too thin: If the sauce is too thin, turn the instant pot to sauté and allow it to simmer and cook down. Be sure to stir the curry every few minutes to keep it from sticking and to check the consistency.
Too thick: Simply add water or coconut milk in ¼ cup increments until it is the thickness you like.
Lacking flavor: If it needs more flavor, add ¼ teaspoon of salt, ½ teaspoon of hot sauce, or ¼ teaspoon of cayenne pepper. Stir and taste before adding more. Another option is to try adding lemon juice, sliced almonds, coconut flakes, and/or fresh herbs like parsley, cilantro, or mint.
Too spicy: Add ¼ cup of coconut milk or yogurt. This will help cool down the spiciness. Also, an extra tablespoon of lemon juice or vinegar can help. And serve over unseasoned rice or potatoes.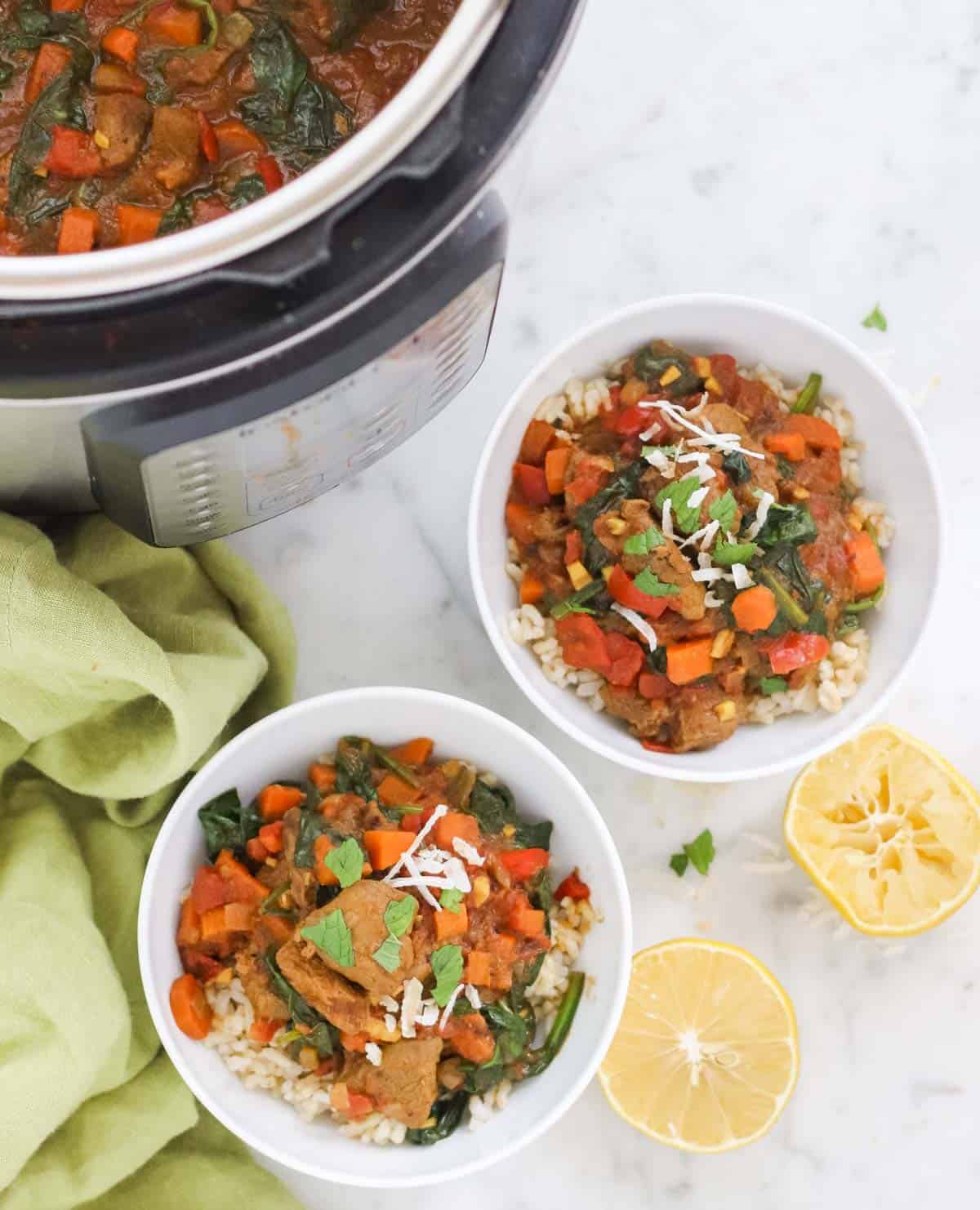 Make-Ahead Ideas
This dish comes together quite quickly, but a few things you can do to make ahead of time are...
chop the veggies (or use chopped frozen), and keep in the fridge until ready to cook
remove the fat and chop the lamb, and keep in the fridge until ready to cook
cook the rice or whatever you want to serve with your Lamb Curry in advance
Additionally, you can make this lamb curry recipe ahead of time and keep in the fridge for up to 4 days or in the freezer for up to one month.
Storage Suggestions
Immediately transfer any leftovers to an airtight container and store in the fridge for up to 4 days or in the freezer for up to one month.
Frequently Asked Questions
Do you need to marinate the lamb for lamb curry?
No, you do not need to marinate your lamb for this recipe.
Simply sear the lamb to enhance the flavor and let the pressure cooker do the tenderizing.
Is Lamb Curry healthy?
Yes, this lamb curry is rather wholesome! It has warming spices, nourishing lamb, and nutrient-rich veggies.
You only need a 2-pound shoulder (which ends up being about 1.5 pounds after trimming the fat and removing the bone) to serve 6 to 8 people.
Since aromatics are lambs' best friends, you'll be adding onions, garlic, spices, and lemon juice to season the dish along with upping the fiber, antioxidants, and vitamins.
Can lamb curry be reheated?
Yes, it can be reheated in the microwave, on the stovetop, or in the Instant Pot.
Nutrition Benefits
I love lamb because not only is it incredibly flavorful where a small amount goes a long way, but it is also very nutrient rich.
Lamb serves up a significant amount of nutrients essential for immune function like zinc, selenium, protein, and iron. So this instant pot lamb curry is great when you need immune system support.
One serving provides an excellent source of protein, along with 27% RDA of potassium, 204% RDA of Vitamin A, 62% RDA of Vitamin C, and 29% RDA of iron. Plus, 4 grams of fiber and 11% RDA of calcium.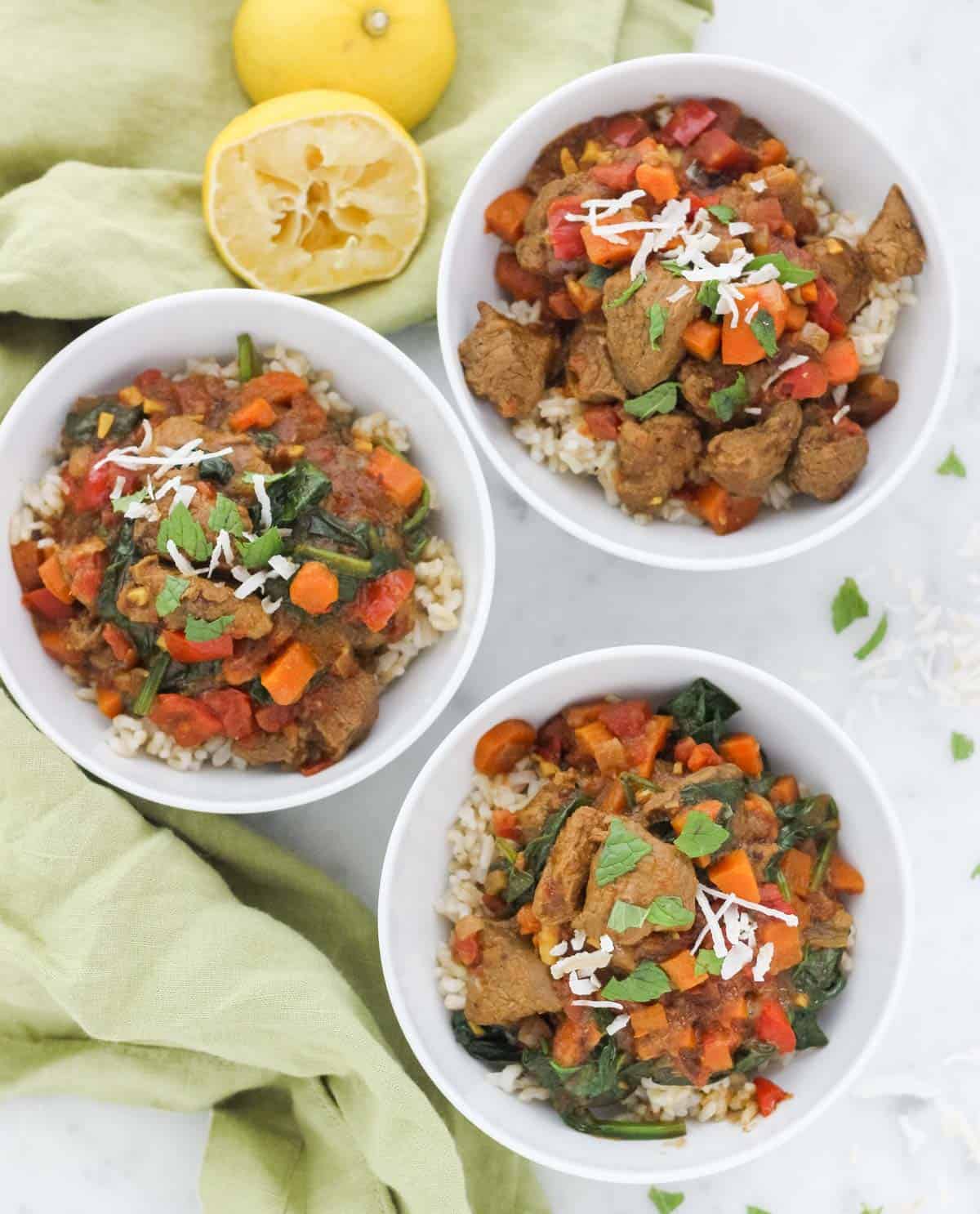 What to Serve with Instant Pot Lamb Curry
What goes with lamb curry? Something to soak up the deliciously warm, spicy curry sauce.
Serve with a carbohydrate like cooked rice or quinoa, roasted or baked potatoes, or a big piece of bread or naan for a balanced, satisfying meal.
Final thoughts:
This Lamb Curry meets all of the requirements for a fabulous recipe:
it's easy to make and my nine-year-old niece could do it with minimal assistance from me (mostly when it came to handling the raw meat and using the Instant Pot).
it's incredibly satisfying and delicious. My whole family, including my niece and nephew, really enjoyed this meal!
it makes a large amount so you can enjoy leftovers for another meal or two.
it's full of vegetables - woohoo!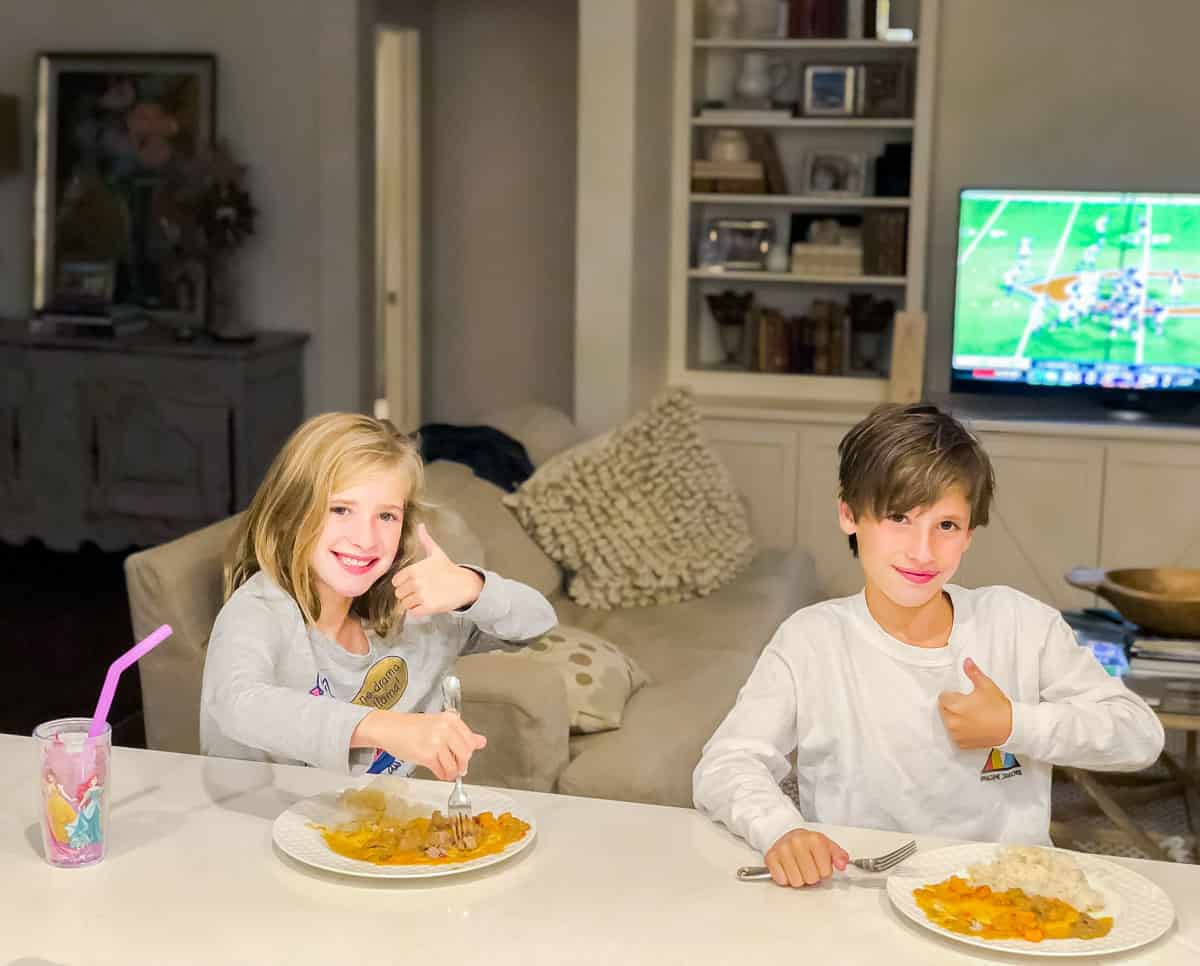 MORE INSTANT POT RECIPES YOU'LL LOVE: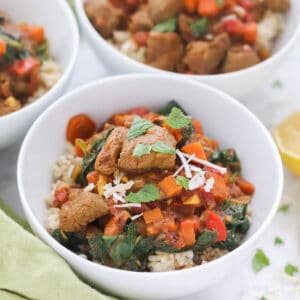 Instant Pot Lamb Curry
Easy Instant Pot Lamb Curry with spices, lamb, and lots of veggies. And thanks to a pressure cooker, dinner is ready in about an hour! Gluten free, dairy free
Print
Rate
Total Cost:
$29.06 or $4.84/serving
Ingredients
2

pound

boneless lamb shoulder

trimmed of fat and cubed

1

medium

bell pepper

chopped

4

medium

carrots

chopped

2

large

onions

chopped

5

cloves

garlic

minced

1.5

tablespoons

curry powder

1

teaspoon

ground ginger

½

teaspoon

salt

¼

teaspoon

pepper

¼

teaspoon

cayenne pepper

optional

15

ounce

can diced tomatoes

no salt added

¼

cup

water

1

cup

coconut milk

*See notes for using yogurt

¼

cup

lemon juice

from 1 small lemon

6

ounces

fresh baby spinach

optional
Instructions
Turn on the saute function of your pressure cooker. Lightly brown the lamb on all sides, and transfer to a bowl or plate.

Pour off the rendered liquid and fat, leaving about 1 tablespoon in the Instant Pot.

Add the veggies and sauté for about 5-7 minutes until soft.

Add in the garlic, curry powder, ground ginger, salt, pepper, and cayenne pepper (if using). Stir until fragrant.

Put the lamb back into the pot, and stir to coat completely in the veggies and spices.

Pour in the canned tomatoes along with their juices. Stir well.

If using coconut milk, add it here along with ¼ cup water. (If using yogurt, only add ½ cup water because you'll add the yogurt after cooking.)

Cover, set the valve to sealing, and cook on HIGH pressure for 20 minutes. Let the pressure release naturally for 10 minutes then release the remaining pressure.

If you are adding spinach, add to the lamb curry and put the lid back on.

Let sit for about 5-10 minutes and stir well.

Stir in lemon juice, and serve over rice. Sprinkle with cilantro or mint and serve with extra lemon juice, and enjoy!

Notes
*Makes about 7-8 cups of Lamb Curry.
*Use a 2 to 2.5-pound lamb shoulder, and trim of fat. Cube into 0.75 to 1.5-inch pieces.
*If the lamb has bones, add to the pot when cooking but remove immediately after cooking (and before adding spinach and/or yogurt if using).
*If you want to use yogurt instead of coconut milk, omit the coconut milk and add ½ cup water before cooking (instead of ¼ cup water). After the lamb curry has cooked, stir in 1 cup of plain greek yogurt.
What to Use in This Recipe
Did you try this recipe?
Be sure to leave a comment & recipe rating below. Bonus points for tagging @memeinge & #livingwellkitchen on Instagram! THANK YOU! xo
Meme
This post was originally published on October 8, 2018. Text, recipe, and photos have been updated.
---
Instant Pot Lamb Curry Nutrition Facts
Nutrition Facts
Instant Pot Lamb Curry
Amount per Serving
% Daily Value*
* Percent Daily Values are based on a 2000 calorie diet.