Easy, vegan Instant Pot Lentil Curry that takes less than an hour for a plant-based, high fiber, healthy meal everyone will enjoy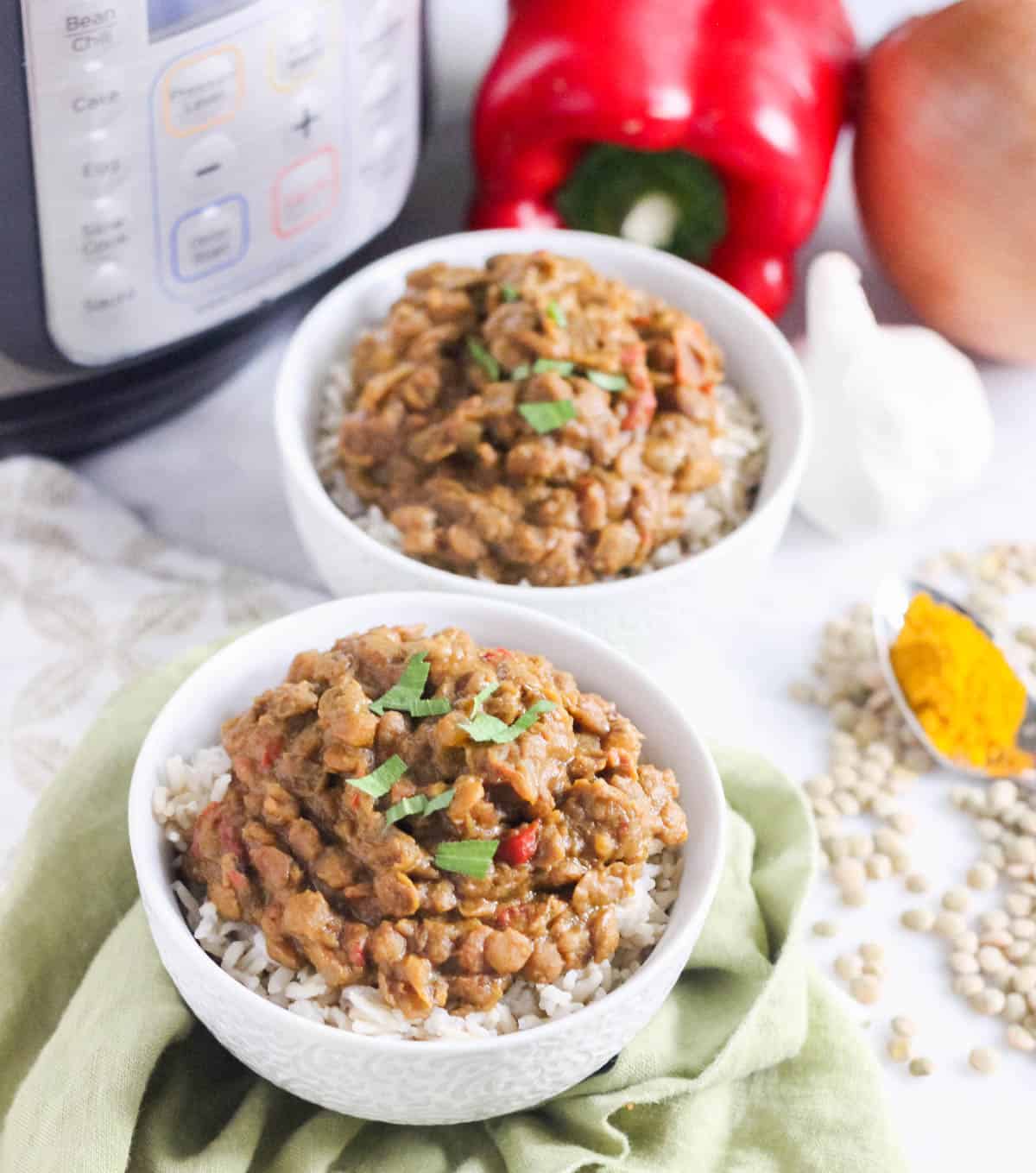 About Instant Pot Lentil Curry
This rich, creamy lentil vegetable curry has a slow-cooked flavor but is ready in an hour.
The nice thing about this recipe is that it uses a pressure cooker or Instant Pot, which is great for last-minute meal planning. For those dishes that typically need hours to cook, the Instant Pot usually cooks them in about an hour.
Take curry for example. The sauce needs hours to really develop the flavors while the veggies almost melt into the sauce. But the Instant Pot does it in under an hour, and most of that work is hands-off.
As much as I love having a meal plan and being prepared, it's definitely not one of my strengths.
That's why I love my Instant Pot, and you will love it too, especially after trying this lentil curry with coconut milk.
This recipe works so well because you have a nice balance of spicy and intense flavors with sweetness from the coconut and a touch of sugar.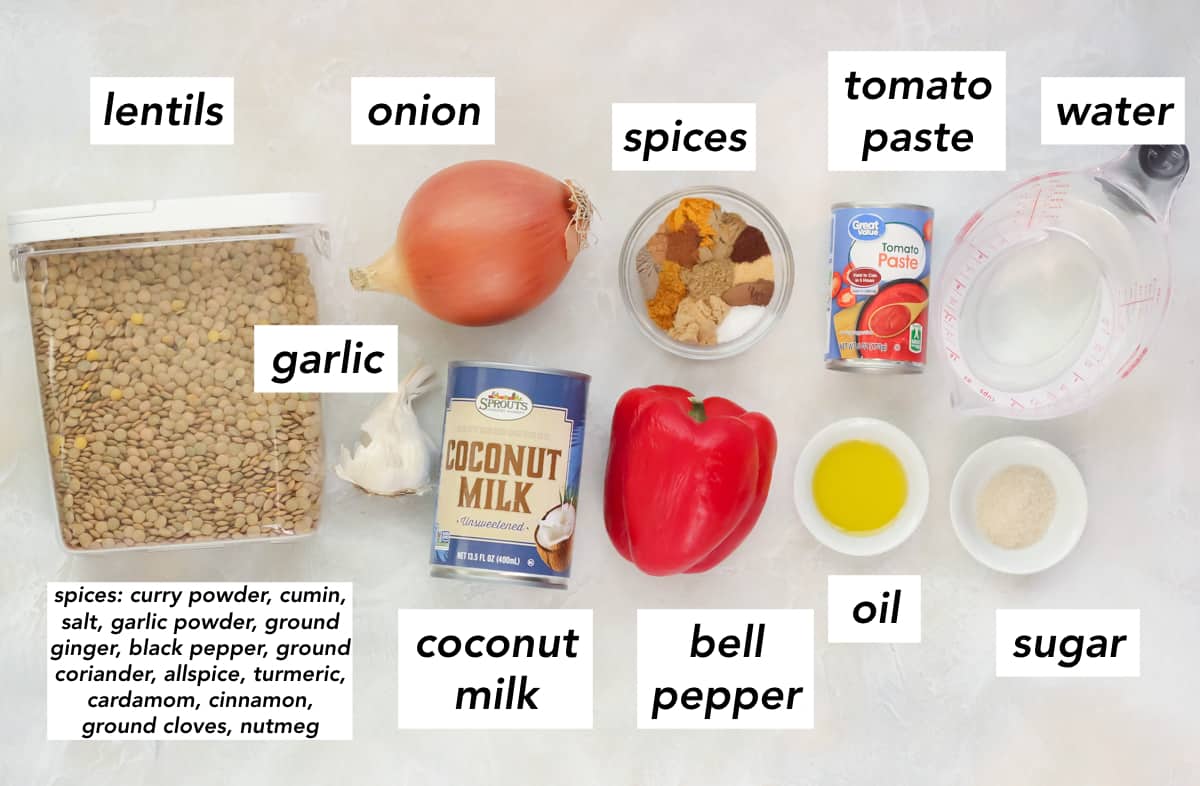 Ingredients
Oil: Any oil will work in this recipe. I have tested it using avocado oil, olive oil, and coconut oil, and I honestly didn't notice the difference between the oils. Basically, use whatever you have in your kitchen.
Veggies: You can use fresh or frozen chopped veggies in this recipe. Yellow, white, red, and sweet onions are all great options. For the bell peppers, any color will work; I've tested it with red, yellow, orange, and green.
Spices: Yes, there are a lot of spices in this recipe. But it's because I do not have garam masala, so I used a lot of spices I had in my kitchen cabinet in its place. If you have garam masala, see the ingredient options below to use it instead.
A few of the spices have very small amounts, so they can be skipped if needed. However, the main spices of curry powder, cumin, and ginger are the most important.
Tomato Paste: A few tablespoons of tomato paste adds depth of flavor to the lentil vegetable curry recipe.
Lentils: Use green lentils in this recipe since they hold up better than red when cooked for long periods of time.
Coconut Milk: I tested this recipe using both full-fat and reduced-fat coconut milk. Either work fine in the recipe. The only difference is that the full-fat coconut milk will have a thicker consistency than the reduced-fat coconut milk will.
Sugar: There is a small amount of added sugar in this recipe but it's worth it. Don't skimp on the sugar because it really does bring all the flavors together.
Recipe Cost
avocado oil 1 tablespoon: $0.32
onions 2 large: $1.36
red bell peppers 1 medium: $1.38
green bell pepper 1 medium: $0.72
garlic 3 cloves: $0.18
curry powder 1 tablespoon: $0.78
cumin 2 teaspoons: $0.26
salt 1 ¼ teaspoon: $0.01
garlic powder 1 teaspoon: $0.08
ground ginger ¾ teaspoon: $0.08
black pepper ¼ teaspoon: $0.04
ground coriander ¼ teaspoon: $0.04
allspice ¼ teaspoon: $0.04
turmeric ¼ teaspoon: $0.04
cardamom ⅛ teaspoon: $0.02
cinnamon ⅛ teaspoon: $0.01
ground cloves ⅛ teaspoon: $0.02
nutmeg ⅛ teaspoon: $0.02
tomato paste 3 tablespoons: $0.08
green lentils 1 ½ cups: $1.47
coconut milk 13.5-ounce can: $1.79
sugar 1 ½ teaspoons: $0.01
TOTAL COST: $8.75 or $1.46/serving (Based on San Diego grocery stores 2023)
Note that this is not the recipe; it's simply to show the cost breakdown of ingredients. Scroll down to the full recipe to see the specific ingredients and directions.
How to Make Instant Pot Lentil Curry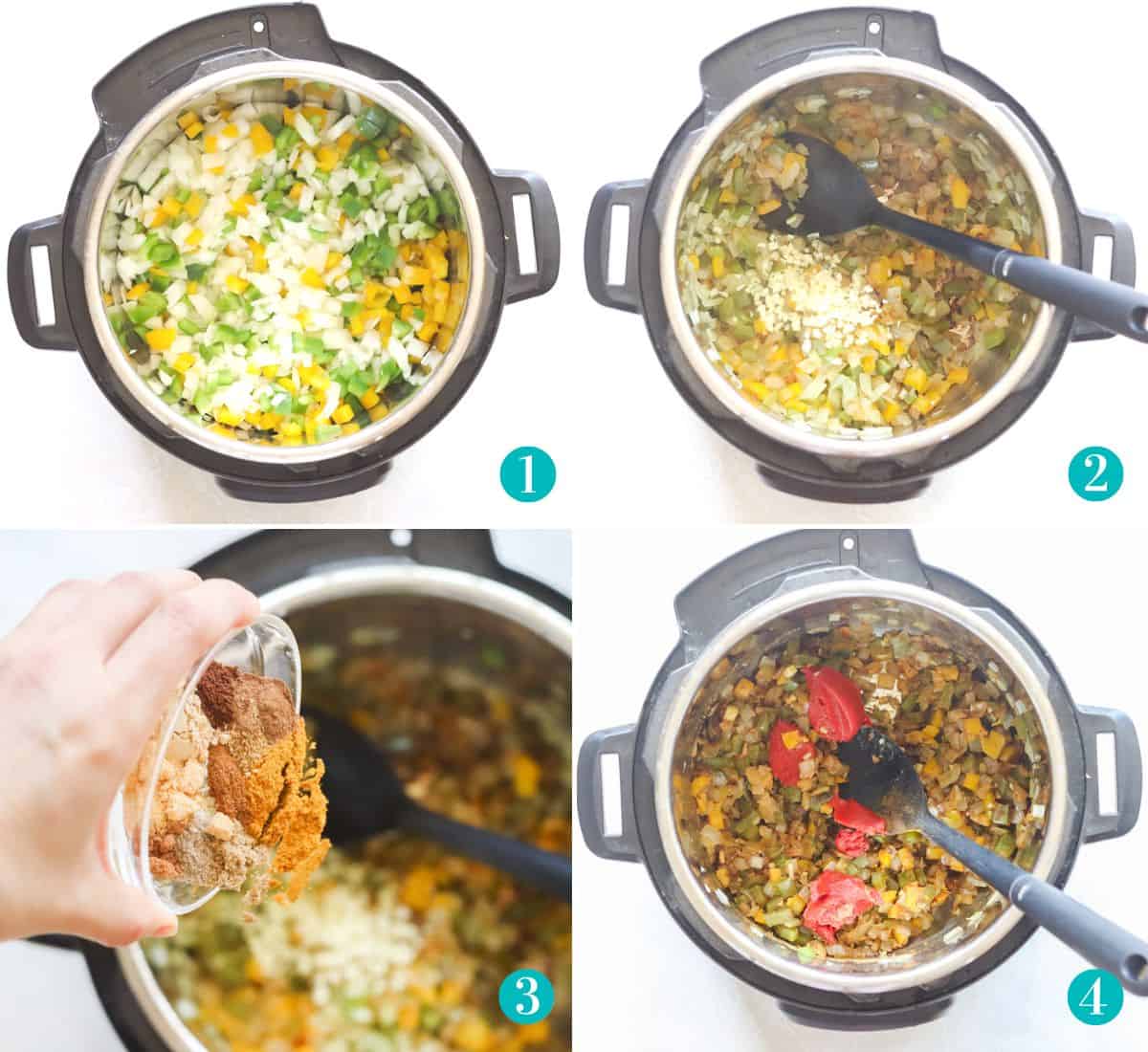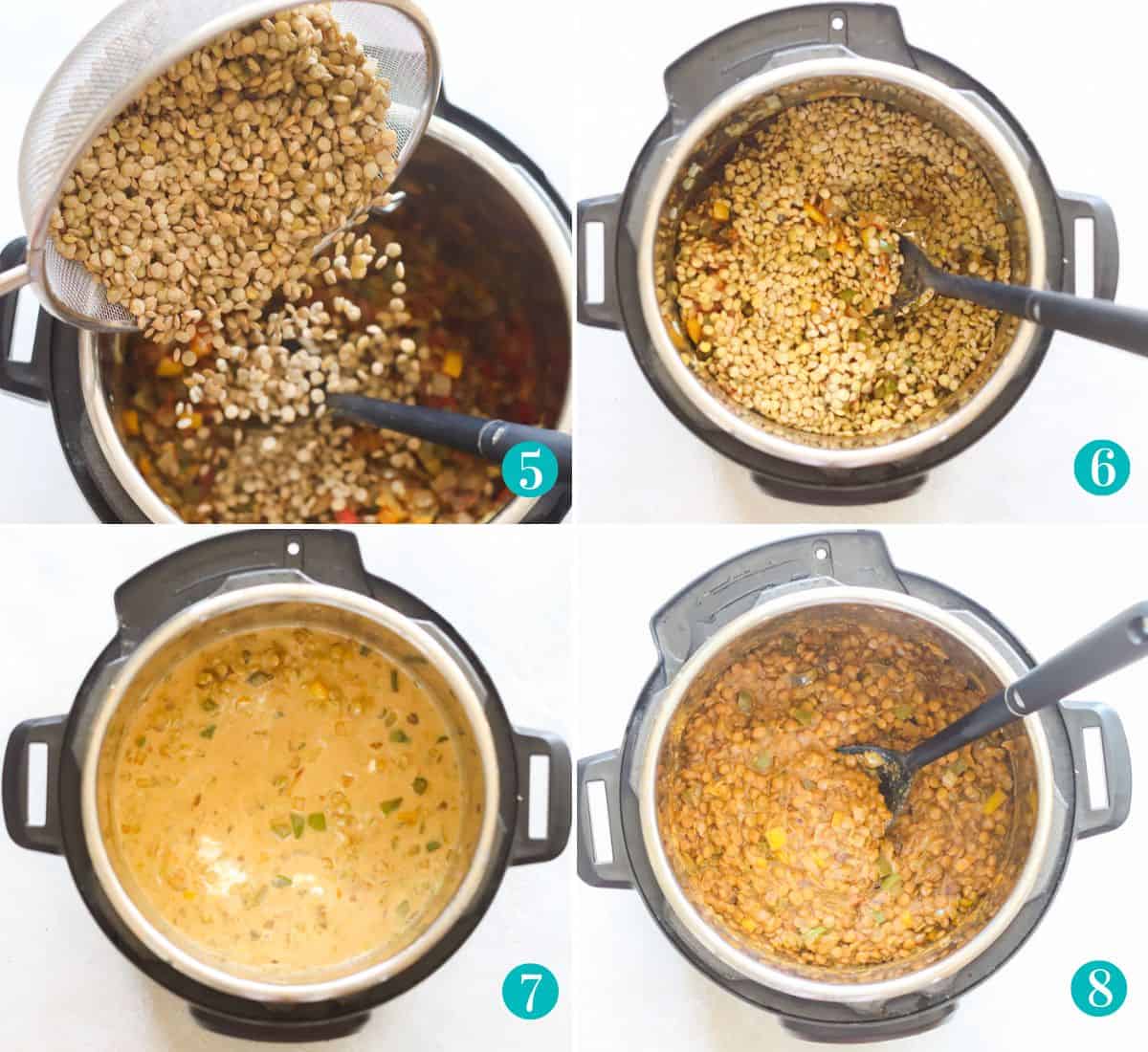 Time needed: 55 minutes.
Get slow-cooked flavor in under an hour thanks to the Instant Pot in this lentil vegetable curry.
Turn on the Sauté function. Add oil and vegetables to the pressure cooker.

Sauté the veggies while you measure out the spices.

Stir in garlic.

Measure and rinse your lentils. Let drain.

Stir in the spices.
Add in the tomato paste and stir to coat the vegetables.
Add in the lentils.
Stir the lentils.
Pour in the water, coconut milk, and sugar.

Cover and cook.

Release pressure, and enjoy!

Let the pressure release naturally for 10 minutes then release, and enjoy in a bowl with rice if desired. Feel free to sprinkle with cilantro, parsley or mint if desired.
Recipe Timing
Total time for an Instant Pot recipe can be a bit confusing since recipes often leave out the time it takes to bring it to pressure as well as release the pressure.
However, I want to share the most accurate info, so here's an outline of the time it takes to make lentil vegetable curry from start to finish:
5 minutes to sauté the veggies
5 minutes to add the remaining ingredients
15-20 minutes for the lentil curry to come to pressure
15 minutes cook time
10 minutes to release the pressure
To streamline the process, measure out the spices while the veggies are sauteing.
Then mince the garlic, chop the potatoes, and get all the remaining ingredients out while the veggies are sauteing. (If you have time, you can start to clean up)
That way, it's about 25 minutes of hands-on time (preparing and cooking), and 55 minutes of hands-off cooking time.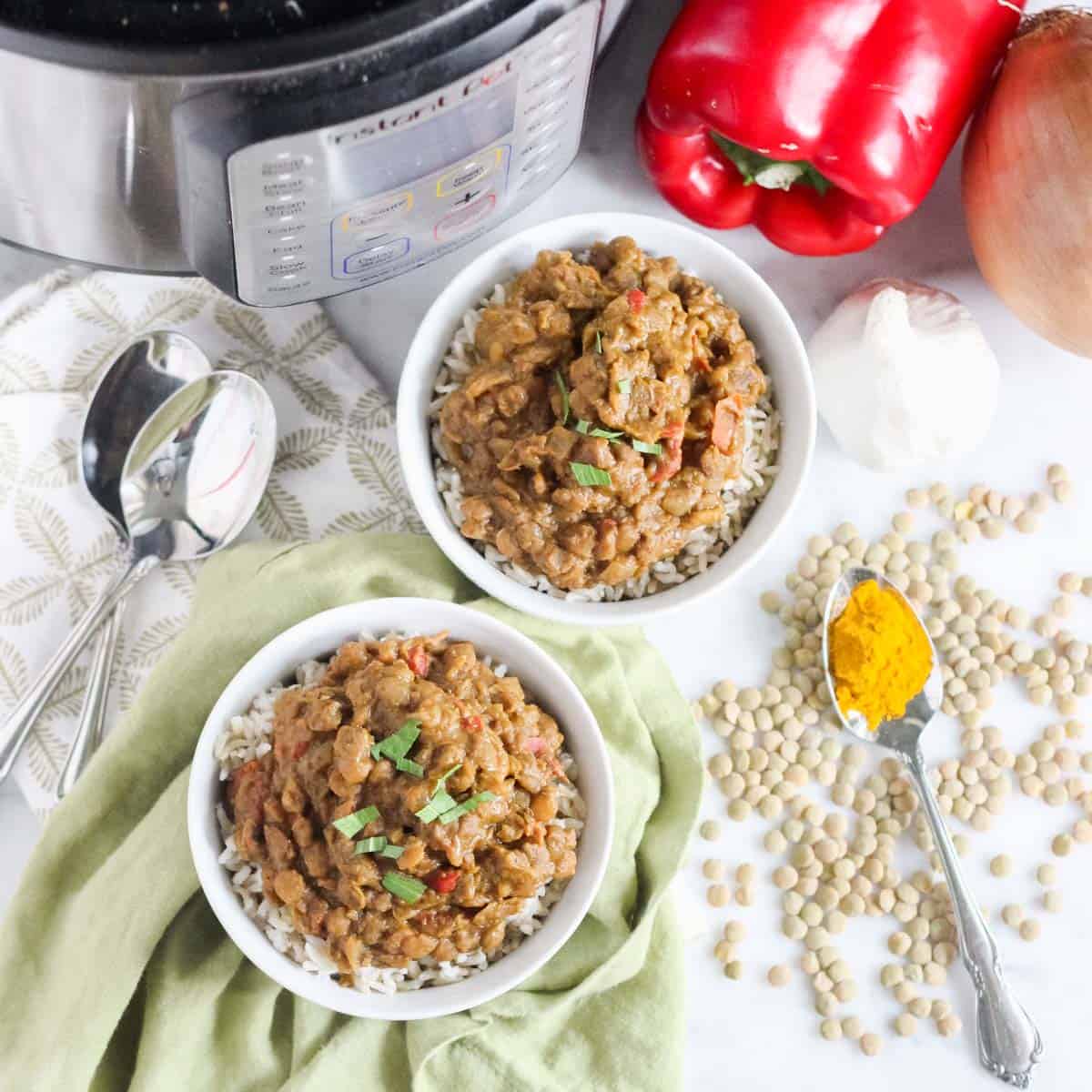 Green Lentil Curry Recipe Tips
The recipe is very simple, but here are a few in-depth details so you have no fears about how easy this is to make.
Variations
Ingredient Options
Veggies: If you do not have fresh garlic, use an extra 1 teaspoon of garlic powder in its place.
Onions and bell peppers give the lentil vegetable curry flavor, but if you don't like one of those veggies, feel free to use more of the other. For example, use two extra bell peppers in place of the onions so this lentil curry is still filled with veggies. Or add carrots.
Spices: For the spices, it is ok if you do not have every single spice that is listed in amounts of ⅛ teaspoon. You can omit those spices without a huge sacrifice in flavor.
If you'd like to use garam masala, use 2 teaspoons garam masala, 1 tablespoon curry powder, 1 teaspoon garlic powder, 1 teaspoon cumin, ½ teaspoon ground ginger and 1 ¼ teaspoon salt. [Use these amounts and ingredients in place of the other spice amounts listed in the recipe]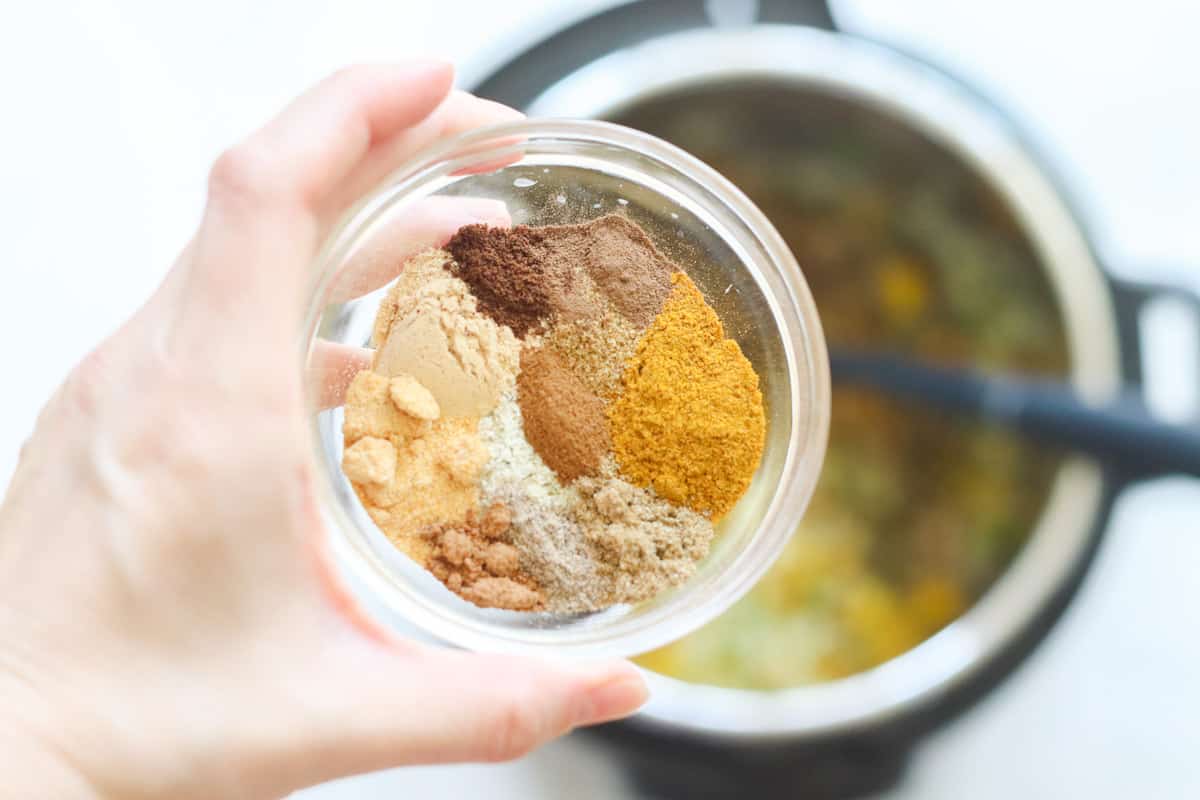 Alternative Prep & Cooking
Slow Cooker: This can easily be made in a slow cooker. In fact, this recipe is based on one from The Pretty Bee that was made in the slow cooker.
To use a slow cooker, add all the ingredients to the slow cooker. Stir well, cover, and cook on LOW for 4-5 hours.
Stove-top: I've never tried cooking it on the stove, but I assume it can also be made on the stove. Follow the directions, but instead of pressure cooking, simmer over medium-low for at least 1 hour, stirring occasionally.
How to Make Allergy-Friendly
This lentil vegetable curry is vegan, vegetarian, gluten-free, dairy-free, egg-free, and soy-free, so it's very allergy friendly.
How to Fix a Mistake
Too soupy: If the curry is too thin, you can turn on the Sauté function and let the mixture simmer for 10-15 minutes until more liquid has been absorbed.
Too thick: Add an extra ½ cup of water and stir. If needed, you can add additional water or broth.
Make-Ahead Ideas
To make this even easier, you can chop the veggie ahead of time. You can also measure out the spices in a bowl for when you're ready to toss them in the mixture.
Another perk of this recipe is that the leftovers taste great, so you can make a batch of this in advance to enjoy during the week for easy meals. You can also double the recipe and freeze it to have an easy and filling meal in the freezer for later.
Storage Suggestions
Keep in an airtight container for up to 5 days. You can also freeze this for up to 6 weeks.
Because there is curry powder and turmeric, be aware that you might notice a yellow coloring in the storage container after use. I prefer using glass containers to prevent this (and they are more durable and versatile).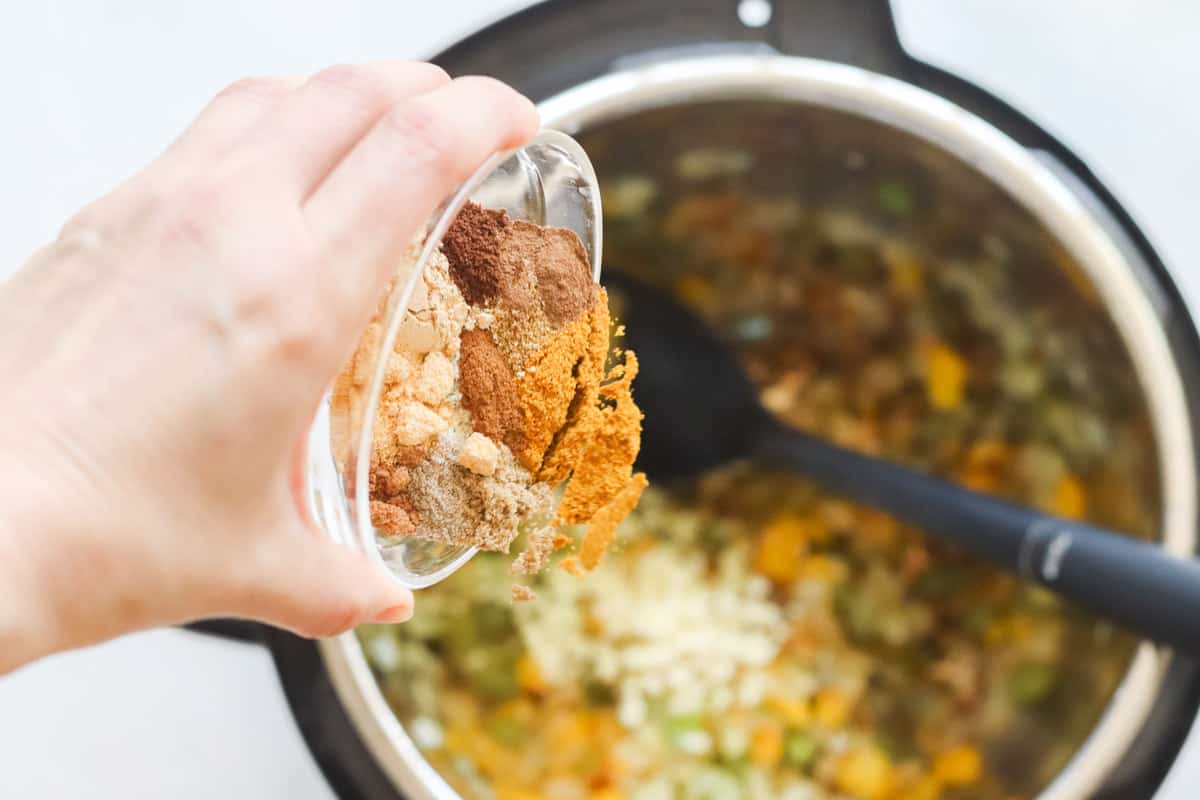 Frequently Asked Questions
Do you have to cook lentils before adding to curry?
You do not have to cook lentils or soak them before adding them to the curry. You can put dry lentils in curry. Cooking them with all the ingredients like veggies and spices helps infuse the lentils with flavor.
What happens if you dont rinse green lentils?
It's fine if you don't rinse lentils before using them. It's helpful so you can make sure they're clean and sort out any possible stones. But it's not going to ruin your dish.
Can you use red lentils in lentil curry?
Technically, you can use red lentils in lentil curry. However, red lentils do not hold up well when cooked for longer times, so they will probably be pretty mushy. If that's ok with you, then go ahead and use the red lentils.
Is lentil curry healthy?
If you're wondering, "Is lentil curry good for you?" the answer is yes! While everyone has a different definition of healthy, this Instant Pot Lentil Curry is a nutritious dish. It's an excellent source of plant-based protein and fiber. Plus, it's full of antioxidant-rich veggies.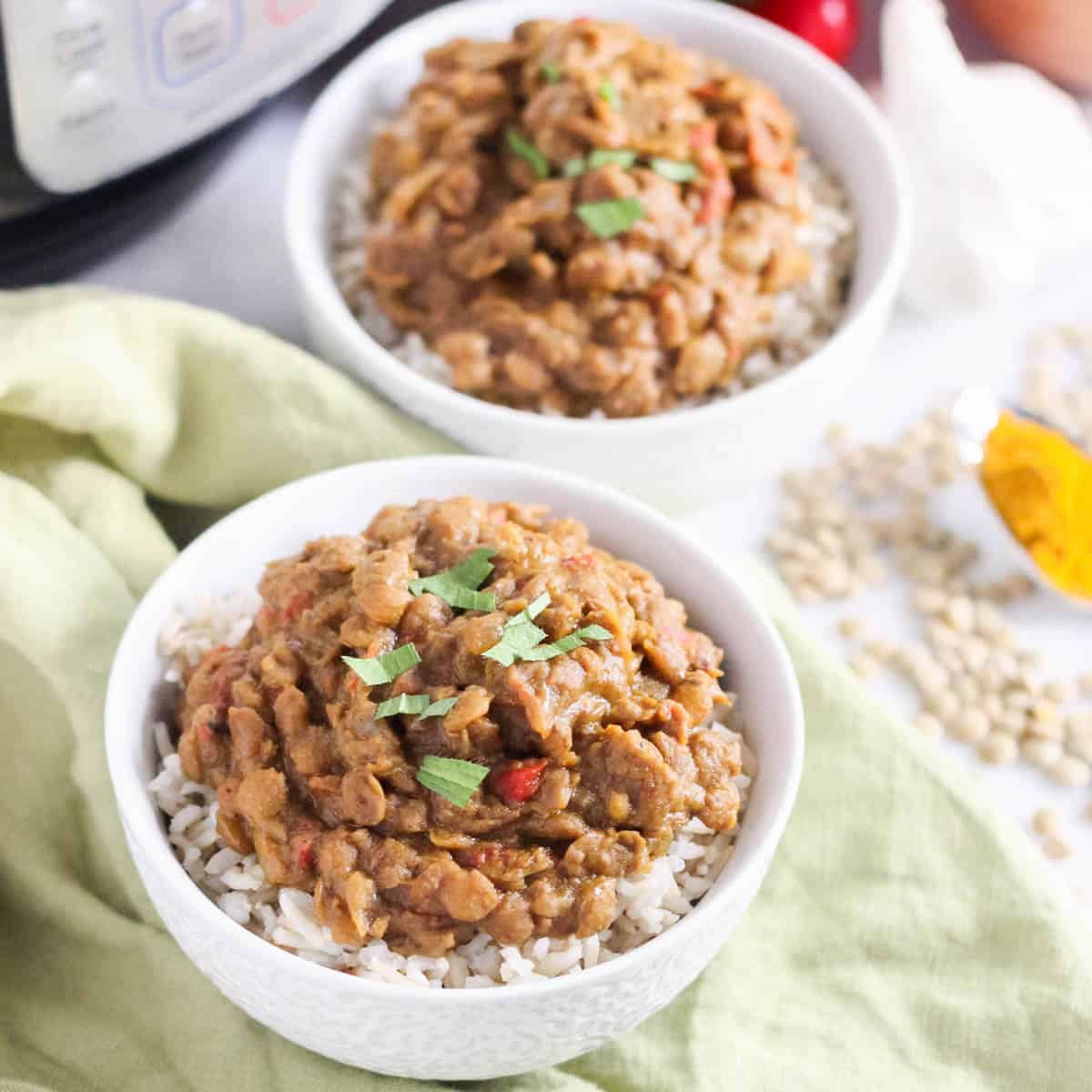 Nutrition Benefits
Lentil vegetable curry is a delicious vegan, plant-based main meal. It's packed with fiber; one serving has 17g of fiber (which is 70% of the recommended amount of fiber to get in one day).
It's also high in iron with 33% of the RDA along with 72% RDA of Vitamin C to help your body absorb the iron in the curry. Additionally, it's an excellent source of Vitamin A (28% RDA) and potassium (25% RDA).
Lentils are incredibly nourishing; they are an excellent plant-based source of protein with almost as much fiber as protein.
One cup of cooked lentils is an excellent source of folate, copper, phosphorous, potassium, manganese, and thiamin (Vitamin B1). They are also rich in polyphenols that have anti-inflammatory and antioxidant effects.
Additionally, lentils have been shown to have heart-heath benefits as well. Studies show that lentils can help increase HDL (helpful) cholesterol while lowering LDL (harmful) cholesterol and triglycerides.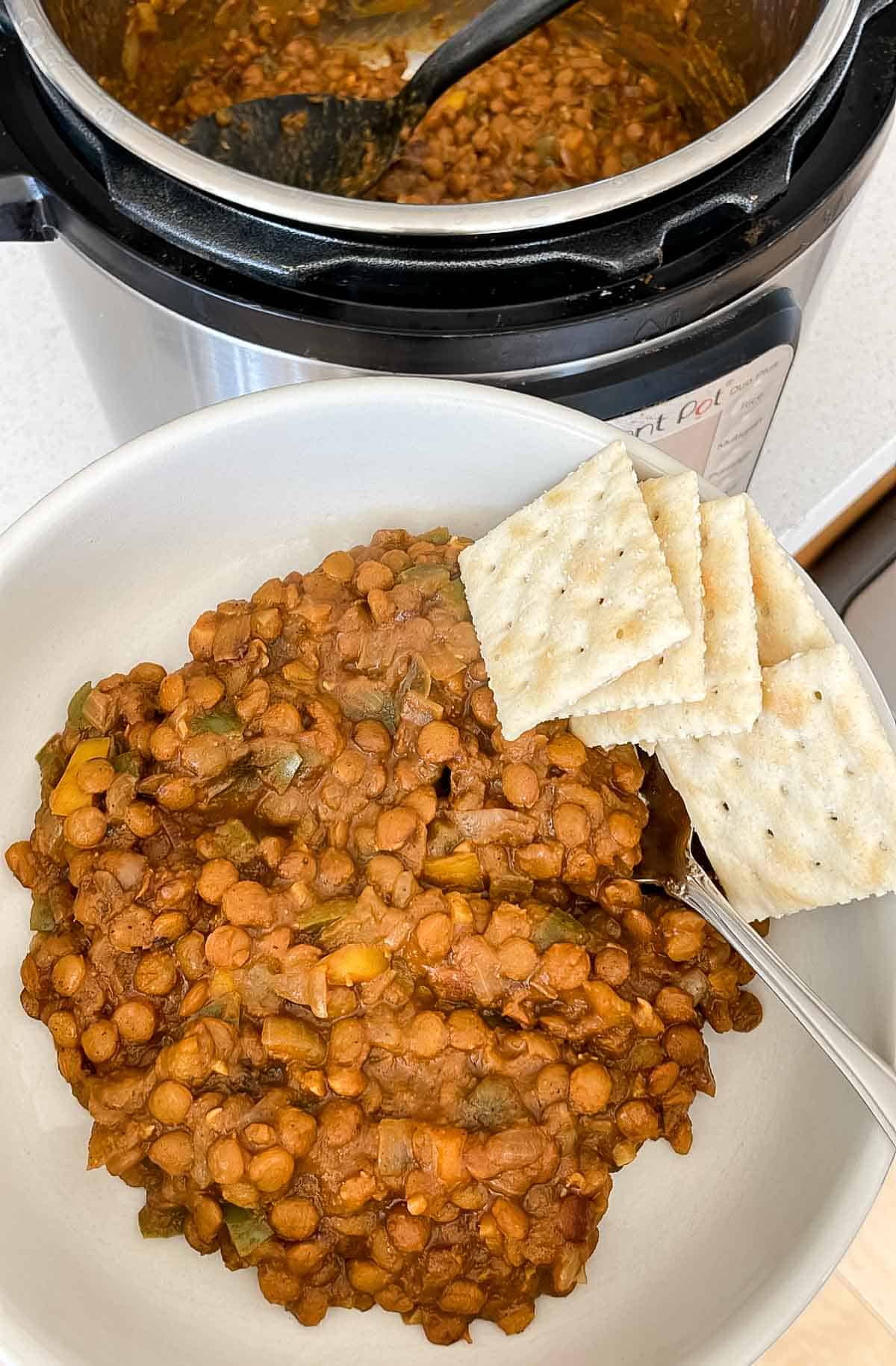 What to Serve with Instant Pot Lentil Curry
While this lentil vegetable curry is filling by itself, adding rice, naan, or crackers is nice to help sop up any extra sauce.
Final thoughts:
I keep going back to this vegan lentil curry recipe because it is so dang easy. Plus, I almost always have the ingredients for it in my kitchen since you can use fresh or frozen veggies. I also keep lentils and a can of coconut milk in the pantry at all times just in case the craving for this lentil curry strikes.
Don't let the long ingredients list deter you from making this simple recipe that will fill you up and make your taste buds happy!
MORE LENTIL RECIPES YOU'LL LOVE:
Instant Pot Lentil Curry
Easy, vegan Instant Pot Lentil Curry that takes less than an hour for a plant-based, high fiber, healthy meal everyone will enjoy
Print
Rate
Total Cost:
$8.75 or $1.46/serving
Ingredients
1

tablespoon

oil

avocado, olive, or coconut

2

large

onions

diced

2

medium

bell peppers

diced, any color

3

cloves

garlic

minced

1

tablespoon

curry powder

2

teaspoons

cumin

1 ¼

teaspoons

salt

1

teaspoon

garlic powder

¾

teaspoon

ground ginger

¼

teaspoon

black pepper

¼

teaspoon

ground coriander

¼

teaspoon

allspice

¼

teaspoon

turmeric

⅛

teaspoon

cardamom

⅛

teaspoon

cinnamon

⅛

teaspoon

ground cloves

⅛

teaspoon

nutmeg

3

tablespoons

tomato paste

1 ½

cups

green lentils

rinsed, about 10 ounces

15

ounce

can coconut milk

1 ½

cup

water

1 ½

teaspoons

granulated sugar
Instructions
Turn on the Sauté function of the Instant Pot, and add the oil.

Add the onions and bell peppers. Stir well.

Stir in curry powder, cumin, salt, garlic powder, ginger, black pepper, coriander, allspice, turmeric, cardamom, cinnamon, cloves, and nutmeg.

Add in tomato paste, and stir to coat.

Stir in lentils, coconut milk, water, and sugar. Scrape up any browned bits on the bottom of the pressure cooker.

Cover, making sure to turn the valve to sealing, and turn to High Pressure for 15 minutes.

Let rest for 10 minutes then release the steam, and enjoy! Great served alone or over cooked rice.
Notes
*Makes 6 cups
*To cook in a slow cooker, add all the ingredients into the slow cooker. Stir well, cover, and cook on LOW for 4-5 hours.
*Use green lentils in this recipe since they hold up better than red when cooked for long periods of time.
What to Use in This Recipe
Did you try this recipe?
Be sure to leave a comment & recipe rating below. Bonus points for tagging @memeinge & #livingwellkitchen on Instagram! THANK YOU! xo
Meme
This post was originally published on April 23, 2018. Text, recipe, and photos have been updated.
---
Instant Pot Lentil Curry Nutrition Facts
Nutrition Facts
Instant Pot Lentil Curry
Amount per Serving
% Daily Value*
* Percent Daily Values are based on a 2000 calorie diet.