This tasty "spaghetti" dinner made with ground turkey uses spaghetti squash instead of pasta noodles for an extra serving of vegetables. Serve with a big slice of French bread to soak up the sauce.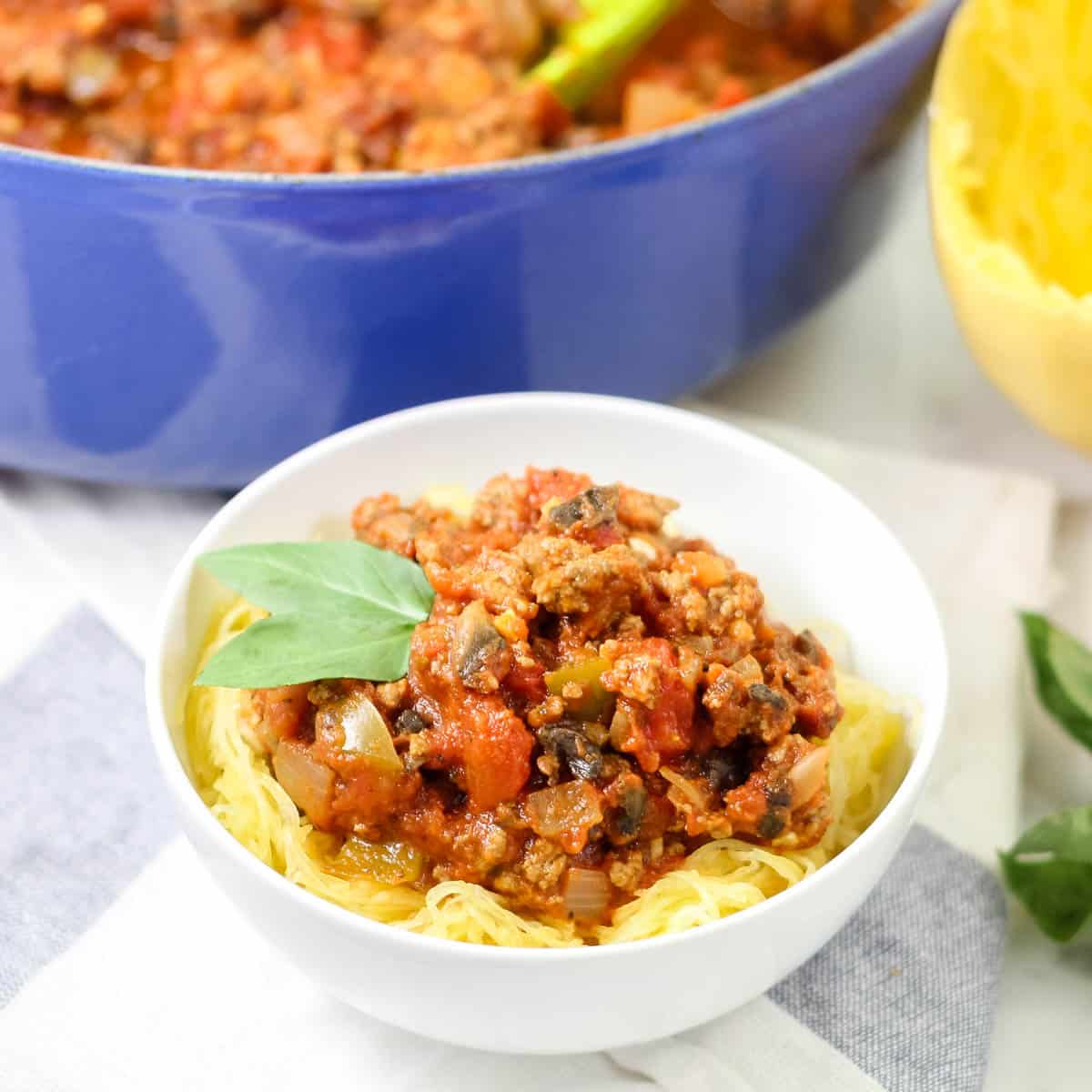 About Ground Turkey Spaghetti Squash
Extra veggies in meals are a lovely thing, and this dish is a great way to do it!
By serving turkey meat sauce over spaghetti squash, you get an additional cup of vegetables per serving.
Plus, this ground turkey spaghetti squash recipe is highly flexible.
You can use ground turkey or ground beef. Or even replace the meat with extra veggies.
And while this recipe calls for spaghetti squash instead of spaghetti noodles, you can certainly use pasta. Or you can use a combo of pasta and spaghetti squash.
Of course, spaghetti squash doesn't taste like pasta, but it does a nice job of soaking up the sauce & kinda looks like spaghetti (if you use your imagination a little).
It's up to you to pick your preference.
When I originally created this recipe in 2012, I labeled it "low carb" because using spaghetti squash instead of pasta reduces the carbohydrates greatly.
However, your body needs carbohydrates, and replacing carbs usually ends up backfiring by leading to binges later.
While there are still carbs in each serving thanks to the tomatoes and spaghetti squash, I recommend serving this dish with a big piece of garlic bread to soak up the sauce and keep you full & satisfied for longer.
This meal comes together in under an hour, with not too much hands-on cooking time. I like to make the meat sauce while the spaghetti squash is baking.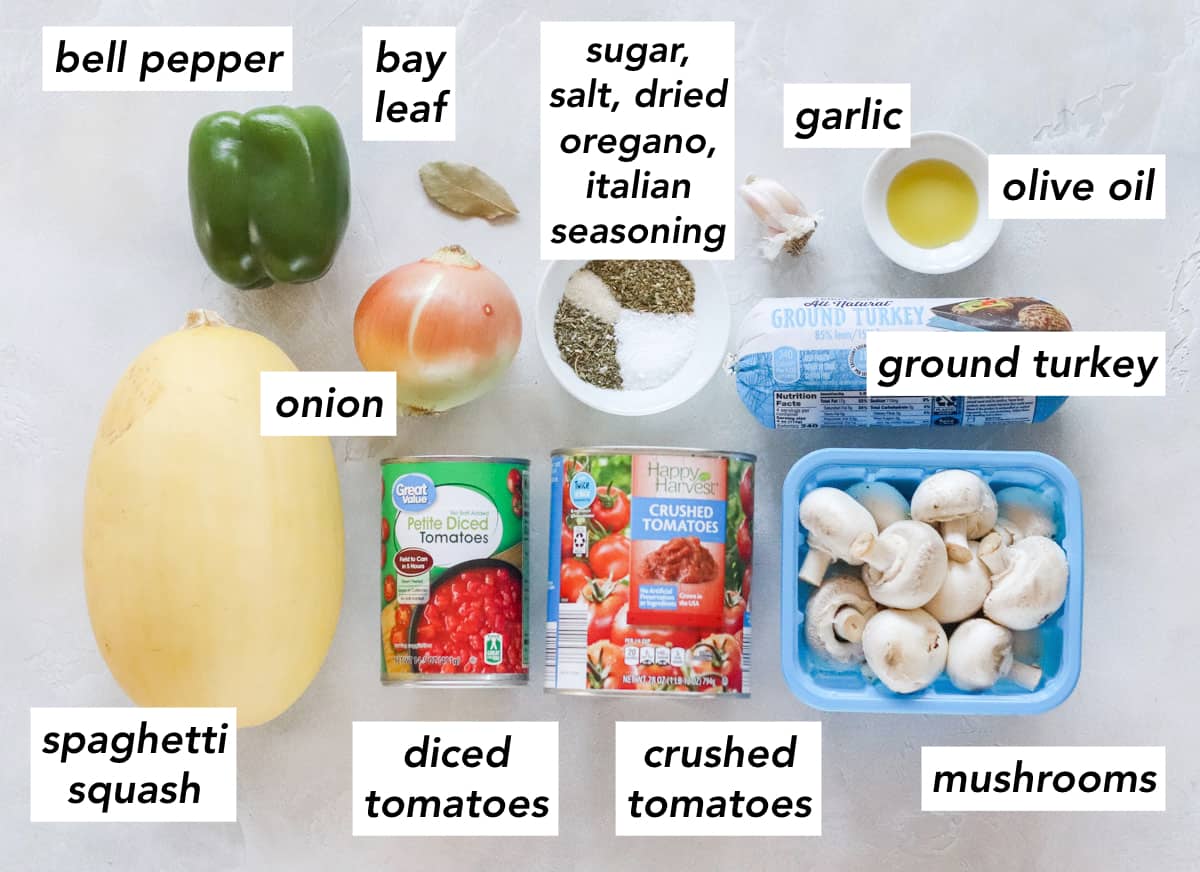 Ingredients
Spaghetti squash: Look for a medium spaghetti squash that is around 2.5 to 3 pounds. Bigger squash can sometimes be lacking in flavor and take a longer time to cook.
Oil: Olive oil or avocado oil is rubbed on the cut halves of the spaghetti squash to bake. This is technically optional but keeps it from sticking or drying out.
Ground turkey: Ground turkey that is 85/15 or 90/10 is recommended. Ground turkey breast will be dryer and lacking flavor. If you decide to use it, however, I suggest adding a few tablespoons of olive oil to the pot when cooking the turkey.
Onion: You'll use one medium to large onion. Yellow, white, Vidalia, or red onion will all work.
Bell pepper: Green bell pepper adds color to the dish, but red, yellow, or orange bell peppers are great alternatives.
Mushrooms: White button mushrooms and baby portabellas have been used for recipe testing. Simply use whatever mushroom you like best. Finely chop the mushrooms to help them blend into the sauce.
Garlic: Don't skimp on the garlic. Four cloves are recommended but adjust to your flavor preferences.
Tomatoes: If possible, look for the no-salt-added versions to keep the sodium lower. In the case of crushed tomatoes, you can replace them with whole tomatoes and crush them by hand.
Spices: To season the ground turkey spaghetti squash, you'll add dried oregano, salt-free Italian seasoning, and salt.
Sugar: Even though it's a small amount, it helps cut the acidity of the tomatoes to give you a more balanced sauce.
Cost of Recipe
spaghetti squash 3 pounds: $2.91
olive oil 1 teaspoon: $0.08
ground turkey 1 pound: $2.75
onion 1 medium: $0.50
green bell pepper 1 medium: $0.78
mushrooms 8 ounces: $2.28
garlic 4 cloves: $0.24
diced tomatoes 1 (14 ounce) can: $0.99
crushed tomatoes 1 (28 ounce) can: $1.45
dried oregano 1 teaspoon: $0.08
Italian seasoning 1 teaspoon: $0.18
salt ⅜ teaspoon: $0.01
sugar ¼ teaspoon: $0.01
bay leaf 1: $0.10
TOTAL COST: $12.36 or $2.06/serving (Based on San Diego grocery stores 2023)
Note that this is not the recipe; it's simply to show the cost breakdown of ingredients. Be sure to scroll down to the full recipe to see the specific ingredients and directions.
How to Make Spaghetti Squash with Turkey Meat Sauce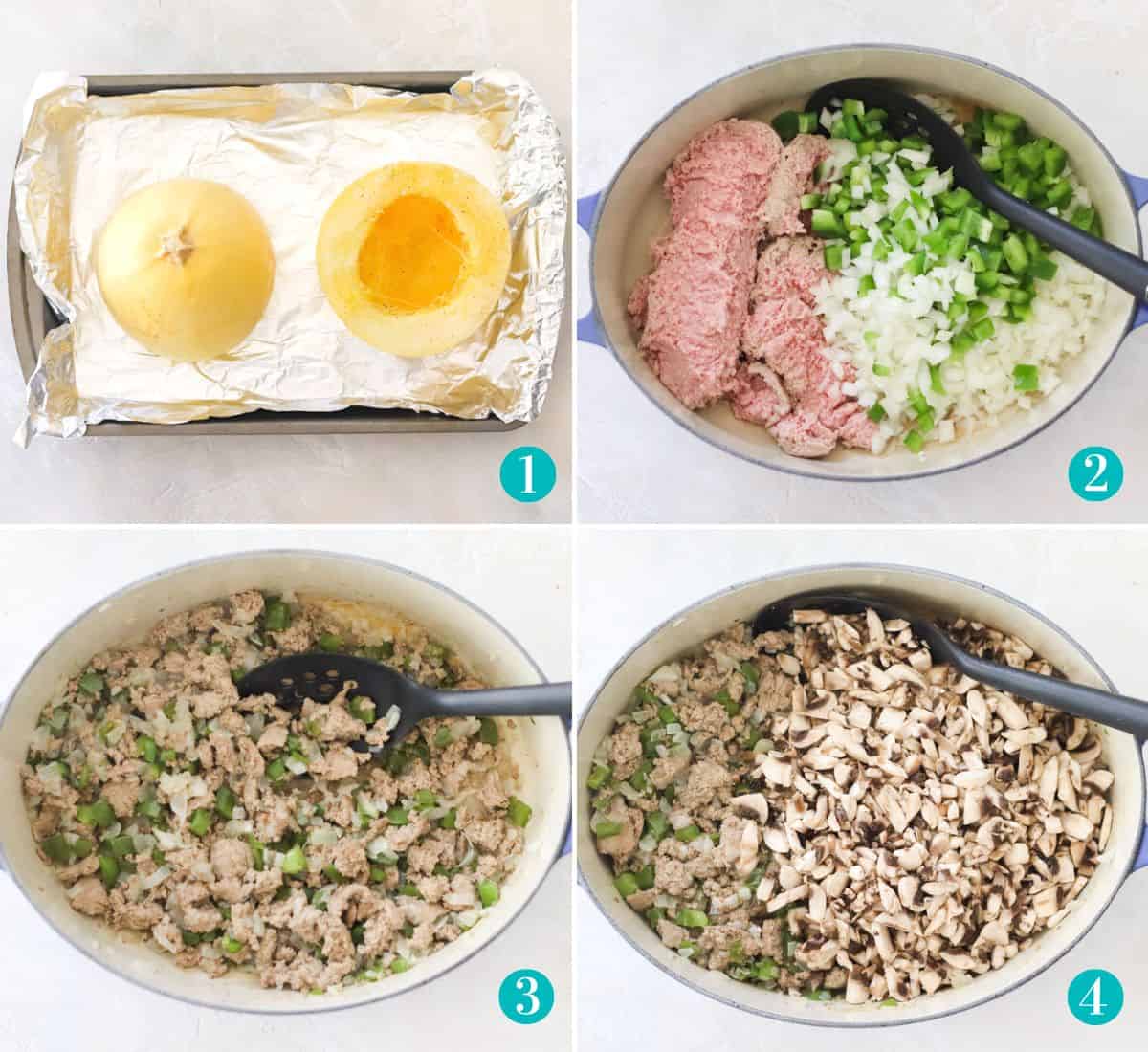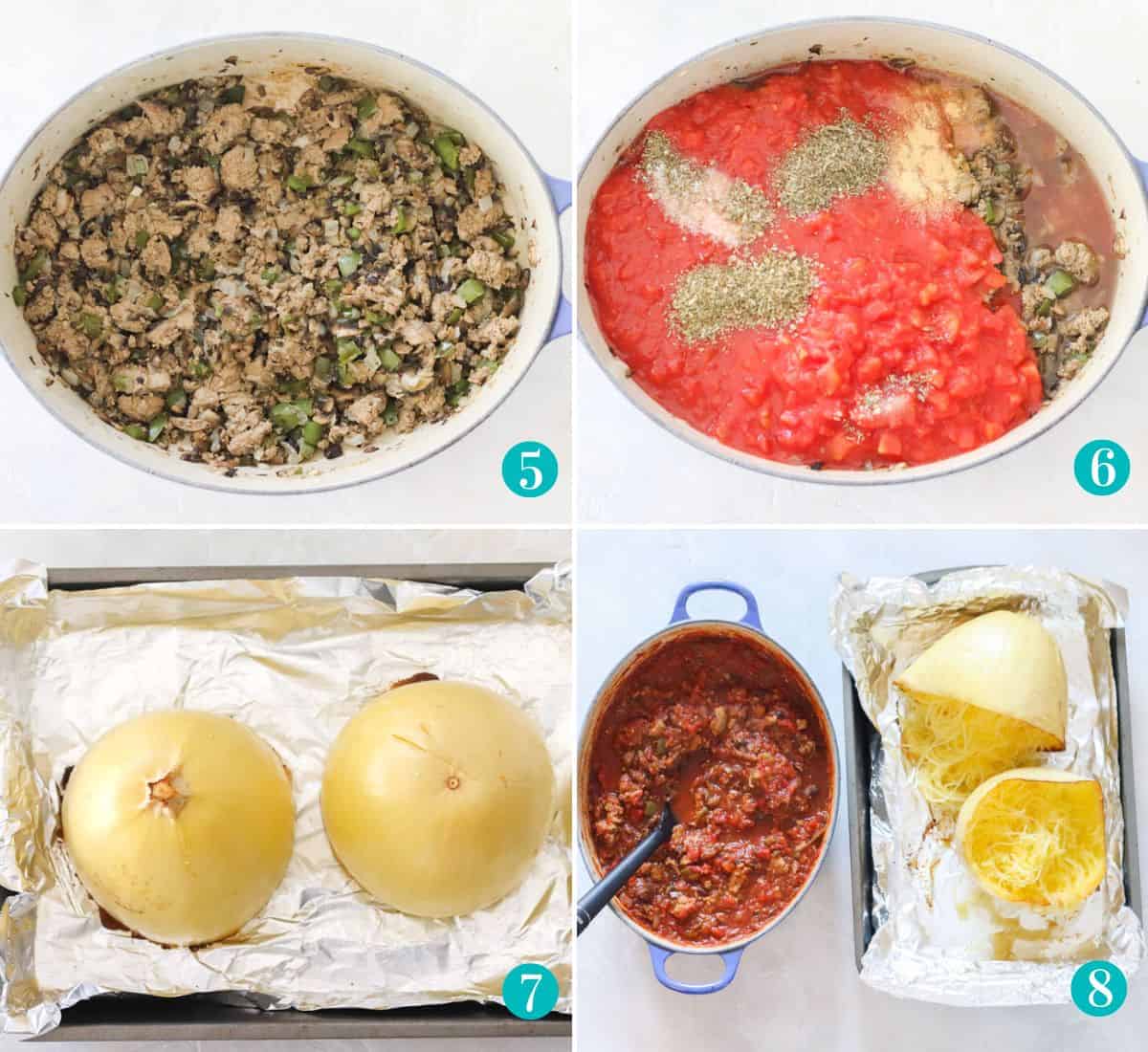 Time needed: 1 hour
This Spaghetti Squash with Turkey Meat Sauce is simple to make. Here's how:
Bake the spaghetti squash.

Rub with oil, season with a sprinkling of salt and pepper if desired, then place skin-side down on a baking sheet.

Cook ground meat, onions, and bell peppers in a pot.
Drain excess grease if needed.
Add mushrooms.
Cook until the mushrooms have release all their juices.
Stir in tomatoes, spices, salt, and sugar.

Add bay leaf.

Remove the spaghetti squash when a knife easily slices through the skin.

Let cool, and shred using a fork.

Enjoy!
Recipe Tips
Both the meat sauce and the spaghetti squash take about the same time to cook.
I recommend starting with the spaghetti squash so it has time to cool a little bit before scraping it out of the skin.
However, the longer you cook the meat sauce, the longer it has to develop the flavors. So, either option works well.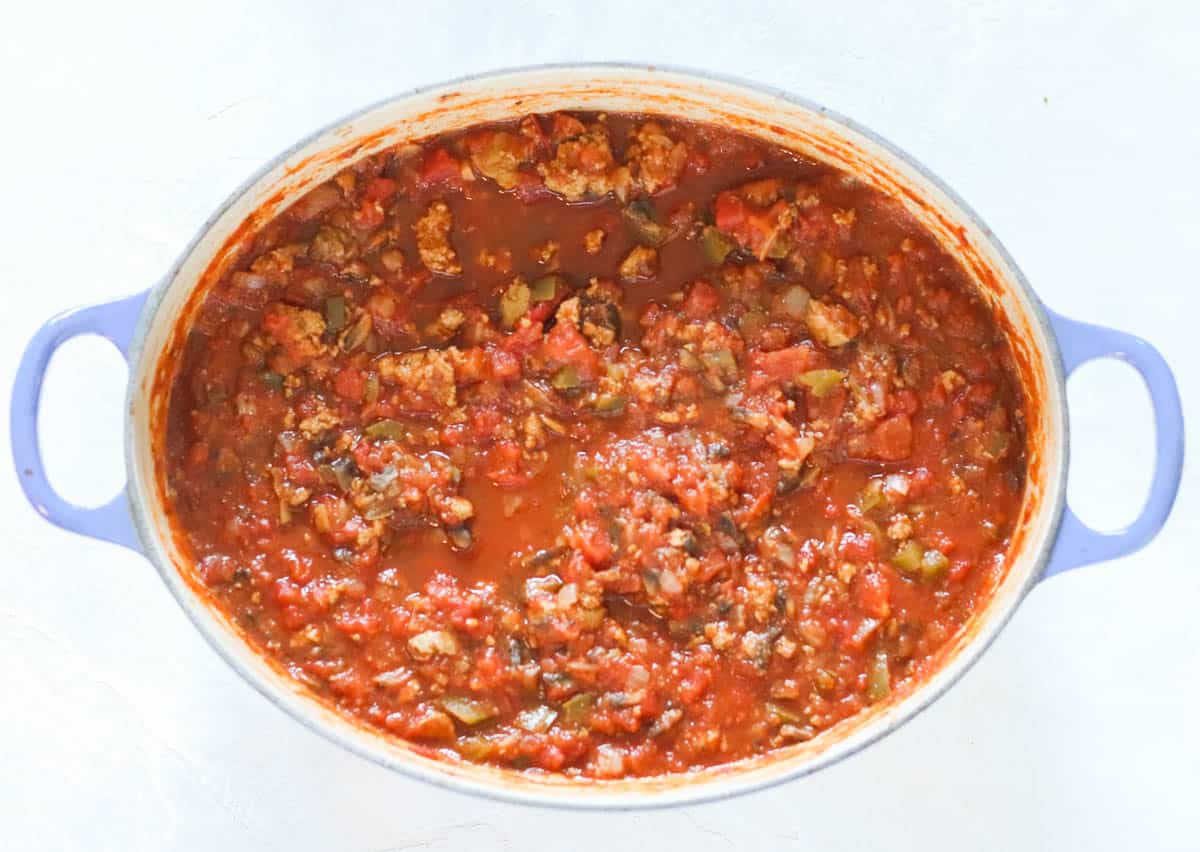 Variations
Ingredient Options
Ground turkey: You can easily use ground beef in place of the turkey in this recipe.
If you are using ground turkey breast, you might want to add a few teaspoons of oil to keep the turkey breast from sticking to the pot and/or getting too dry.
Onions or bell peppers: These can be used interchangeably. Add an extra onion in place of the bell pepper or vice versa.
Dried oregano: Two teaspoons of fresh oregano can used in place of dried.
Italian seasoning: You can add extra oregano in place of the Italian seasoning, or add extra Italian seasoning in place of the oregano if needed.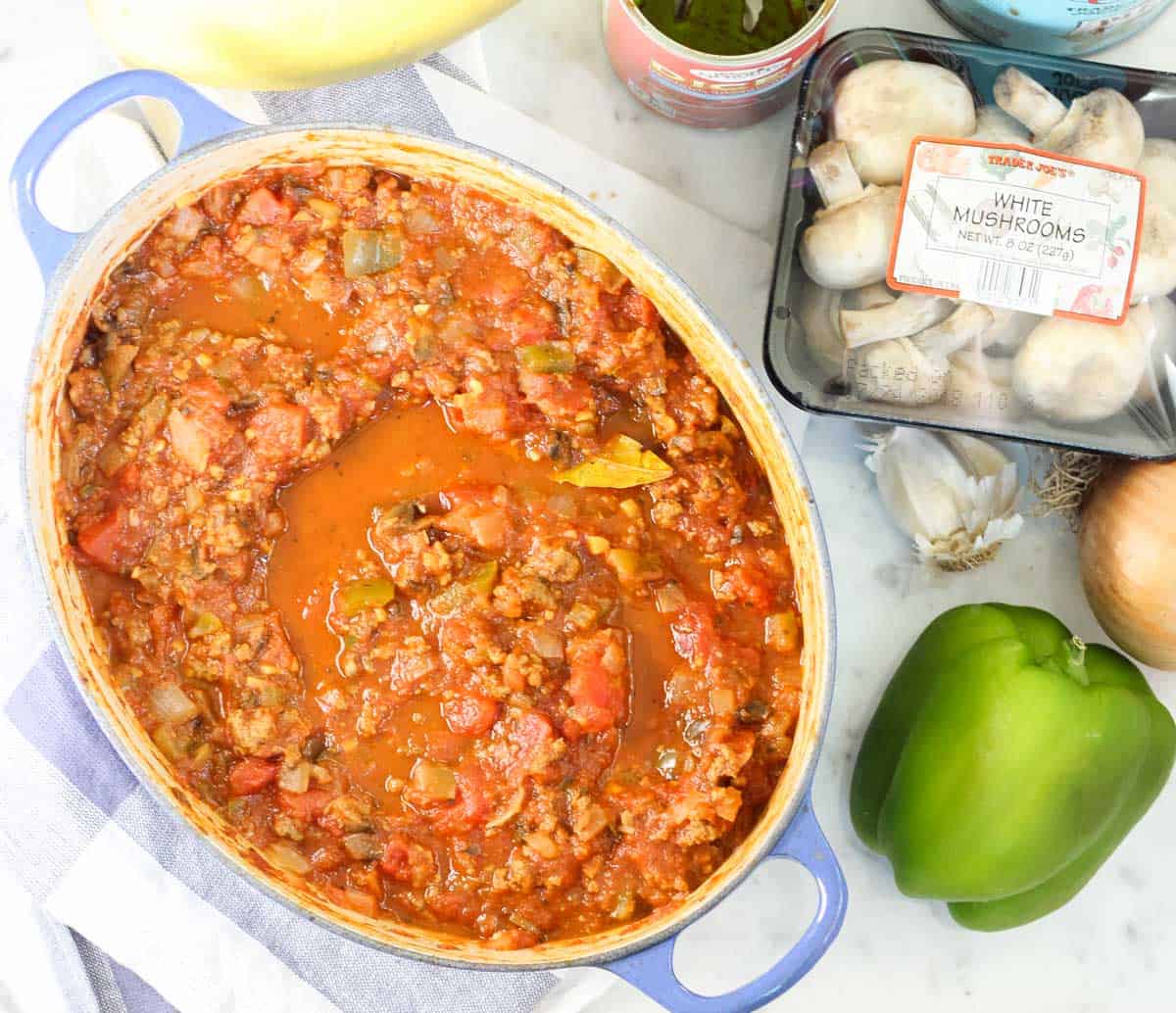 Alternative Prep & Cooking
The meat sauce would be great served over regular pasta.
You can also prepare your spaghetti squash however you like best. I love using the Instant Pot to prepare it!
How to Make Allergy-Friendly
Spaghetti Squash with Turkey Meat Sauce is already gluten-free, dairy-free, egg-free, nut-free, and soy-free. Because of ground turkey, this dish is not vegetarian.
To make it vegetarian, omit the ground turkey and add an extra onion plus 8 ounces of chopped mushrooms.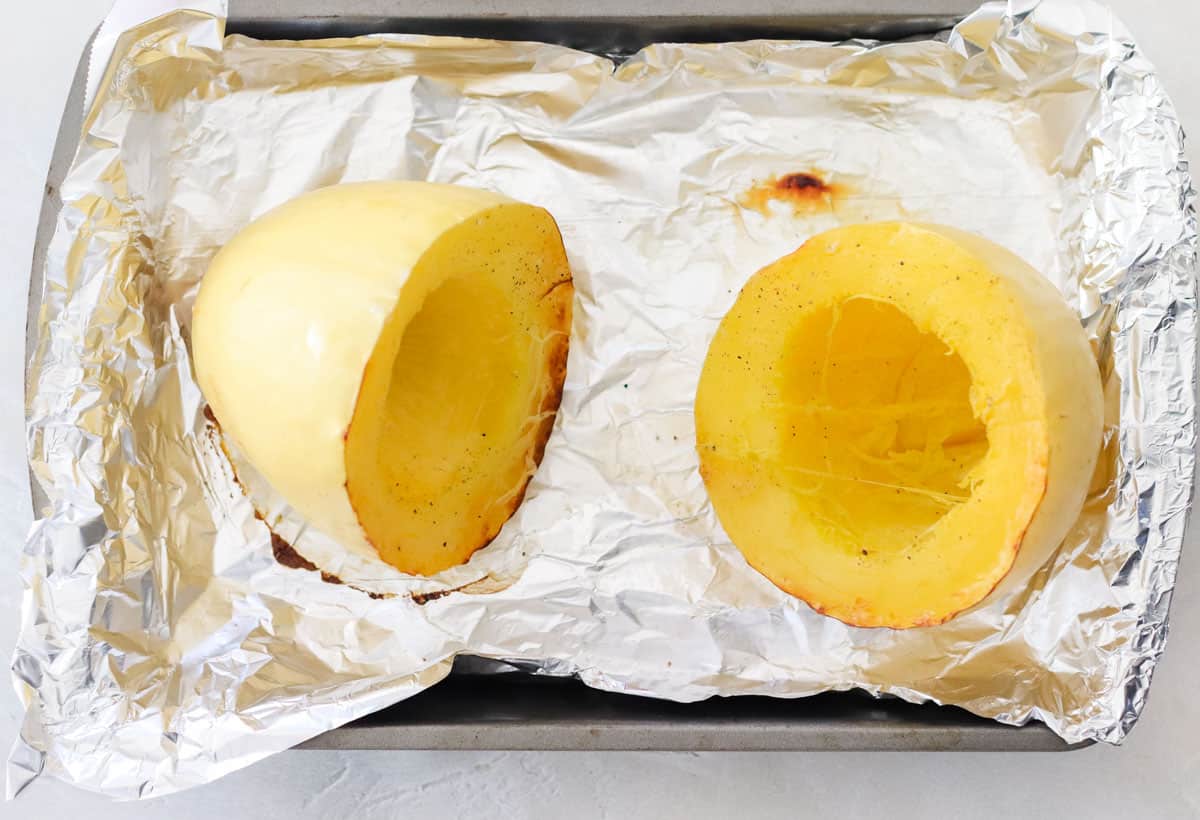 How to Fix a Mistake
Spaghetti squash isn't turning into strands: This likely means it's not done. Simply put back in the oven for another 10-15 minutes. You want to make sure the a knife slices very easily through the skin.
Lacking flavor: Add 1-2 tablespoons of red wine vinegar when adding the tomatoes or any time after. Let the sauce simmer for at least 5 minutes after adding. Balsamic vinegar or white wine vinegar would also work.
Make-Ahead Ideas
This is excellent to make ahead of time. You can meal prep this to serve for later by cooking the spaghetti squash and saving it in a container in the fridge. Same with the meat sauce.
The meat sauce also freezes well, so you can double the recipe and save some for leftovers at a later date.
Storage Suggestions
Store separately in airtight containers in the fridge for up to 5 days or the freezer for up to 6 weeks.
Defrost overnight in the fridge or using the defrost setting on your microwave.
What to Do with Leftovers
One of my favorite ways to enjoy leftover spaghetti sauce is by filling bell peppers halves with the sauce, sprinkling with cheese, and baking for about 15 minutes.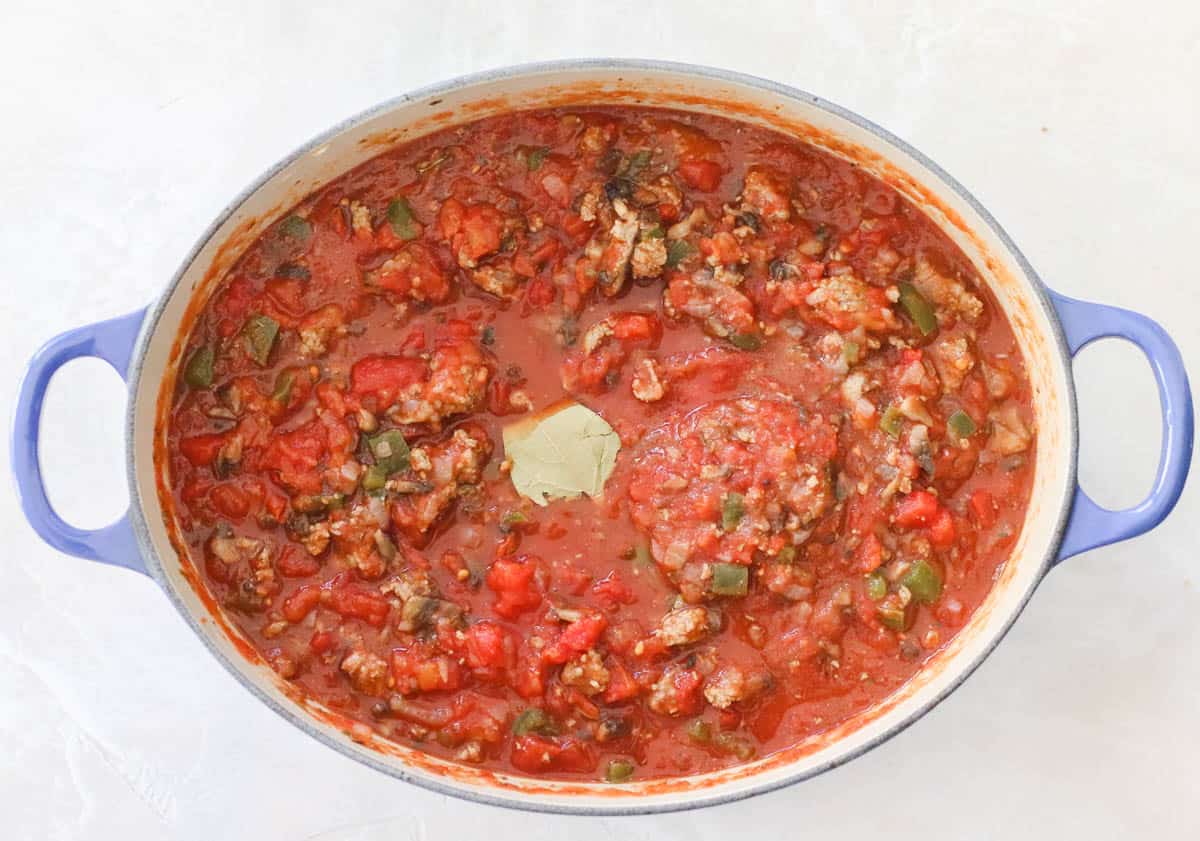 Frequently Asked Questions
Does ground turkey go well with spaghetti squash?
Yes! Ground turkey and spaghetti squash are great together. Cooked spaghetti squash is the perfect vehicle for enjoying turkey meat sauce.
Nutrition Benefits
Each serving of this ground turkey spaghetti squash dish has 6 grams of fiber, which is 25% of the recommended amount per day.
Plus, it has 48% Vitamin C, 30% of potassium, 21% iron, 12% Vitamin A, and 11% calcium.
Thanks to two kinds of canned tomatoes, and consumption of canned tomatoes has been shown to reduce the risk of prostate cancer.
Additionally, cooked tomatoes (as in the case for canned tomatoes) are higher in lycopene, an antioxidant that promotes positive heart health and possibly reduce the risk of certain cancers.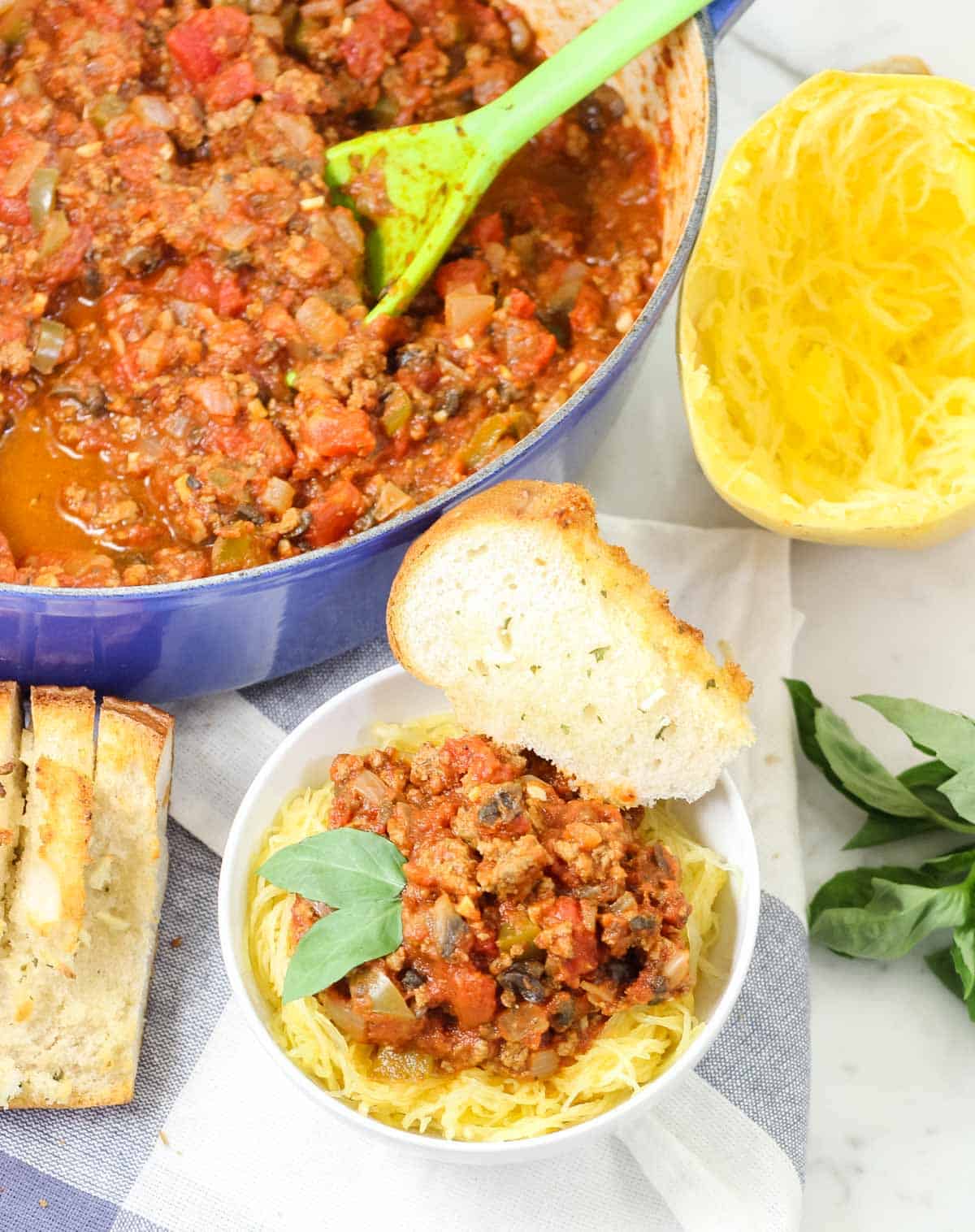 What to Serve with Spaghetti Squash with Turkey Meat Sauce
This dish is great served with a big piece of French bread to help soak up the extra sauce. You can also add a side salad for even more veggies.
Final thoughts:
Meat sauce made with tomatoes is always a go-to comfort food for me. I've never been a huge fan of pasta, so I love getting the extra veggies in by serving it with spaghetti squash. However, I always add a carb on the side like garlic bread.
I also appreciate that you can make this ahead of time and that leftovers keep well in the fridge and the freezer, so you can make extra and have some for later.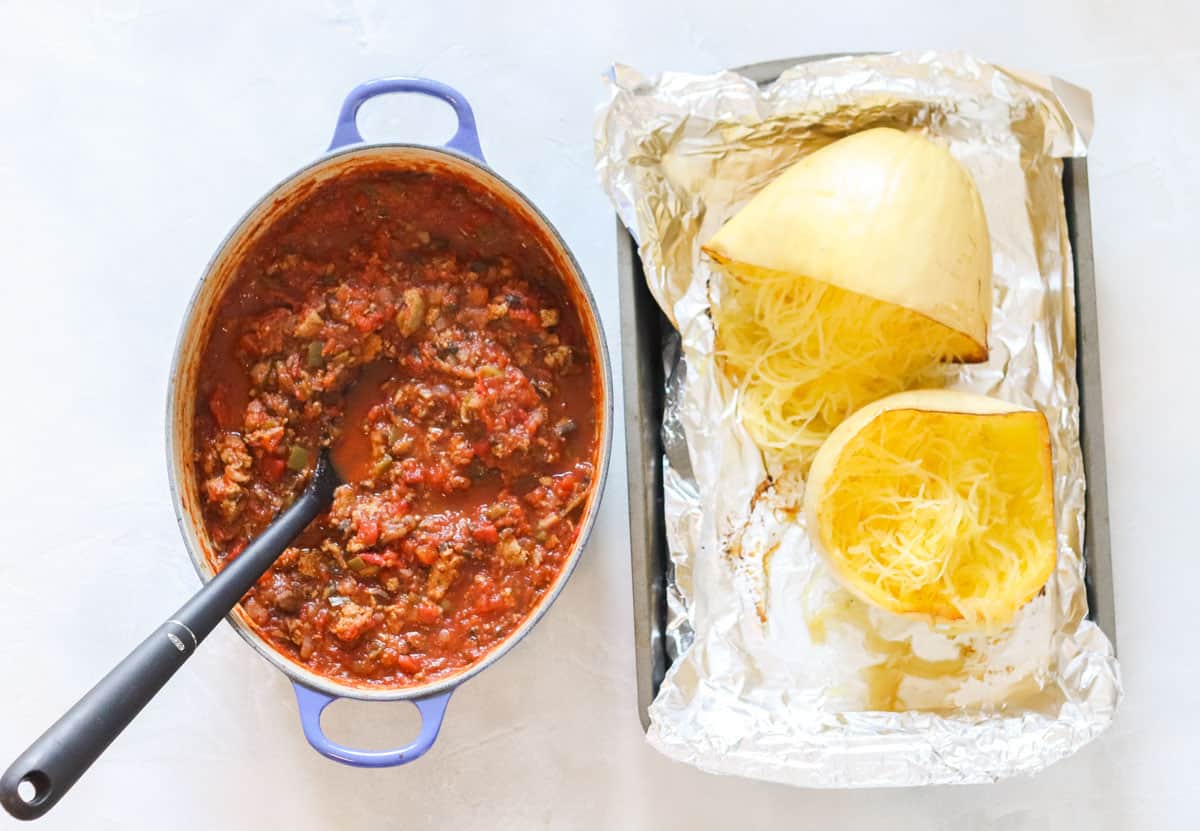 MORE SQUASH RECIPES YOU'LL LOVE: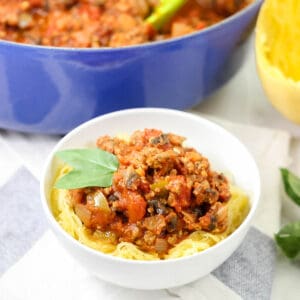 Turkey Meat Sauce with Spaghetti Squash
This tasty "spaghetti" dinner uses spaghetti squash instead of pasta noodles for an extra serving of veggies. Serve with a big slice of French bread to soak up the sauce.
Print
Rate
Total Cost:
$12.36 or $2.06/serving
Ingredients
1

medium

spaghetti squash

about 2.5-3 pounds

1

teaspoon

olive oil

1

pound

ground turkey

or ground beef

1

medium

onion

diced

1

medium

green bell pepper

diced

8

ounces

mushrooms

diced

4

cloves

garlic

minced

1

(14 ounce)

can diced tomatoes

1

(28 ounce)

can crushed tomatoes

1

teaspoon

dried oregano

1

teaspoon

salt-free Italian seasoning

⅜

teaspoon

salt

¼

teaspoon

sugar

1

bay leaf

optional

Parmesan cheese

optional, shredded
Instructions
Make the spaghetti squash
Cut the spaghetti squash in half lengthwise (vertically). Scoop out seeds.

Grease a baking dish with 1 teaspoon oil, and place squash halves cut side down.

Bake 35-45 minutes or until a knife easily goes through squash skin.

Once cool, scrape insides out into strands. Set aside.
Make the meat sauce
Add the ground turkey, onion and green bell pepper to a Dutch oven or medium-large pot. Cook over medium heat until done, about 10 minutes. Drain if needed.

Add mushrooms and cook until the mushrooms release their juices, about 7 minutes.

Stir in garlic, tomatoes (with their juices), oregano, Italian seasoning, salt, sugar, and bay leaf if using.

Bring to a boil, partially covered. Reduce to low, and simmer for 20 minutes.

Taste and add extra seasoning if needed. Remove bay leaf.

Serve over spaghetti squash, and sprinkle with Parmesan cheese if desired.
Notes
*To add extra flavor, add 1-2 tablespoons of red wine vinegar or balsamic vinegar when adding the tomatoes or any time after. Let the sauce simmer for at least 5 minutes after adding.
*Makes 6-7 cups of turkey meat sauce.
*One (3-pound) spaghetti squash yields about 5-6 cups of squash.
What to Use in This Recipe
Did you try this recipe?
Be sure to leave a comment & recipe rating below. Bonus points for tagging @memeinge & #livingwellkitchen on Instagram! THANK YOU! xo
Meme
This post was originally published on August 2, 2012. Text, recipe, and photos have been updated.
---
Spaghetti Squash with Turkey Meat Sauce Nutrition Facts (for about 1 cup of spaghetti squash and 1 cup of sauce)
Nutrition Facts
Turkey Meat Sauce with Spaghetti Squash
Amount per Serving
% Daily Value*
* Percent Daily Values are based on a 2000 calorie diet.