All about onions including shopping & storage tips, conversions, nutrition information, health benefits, fun facts, and recipe ideas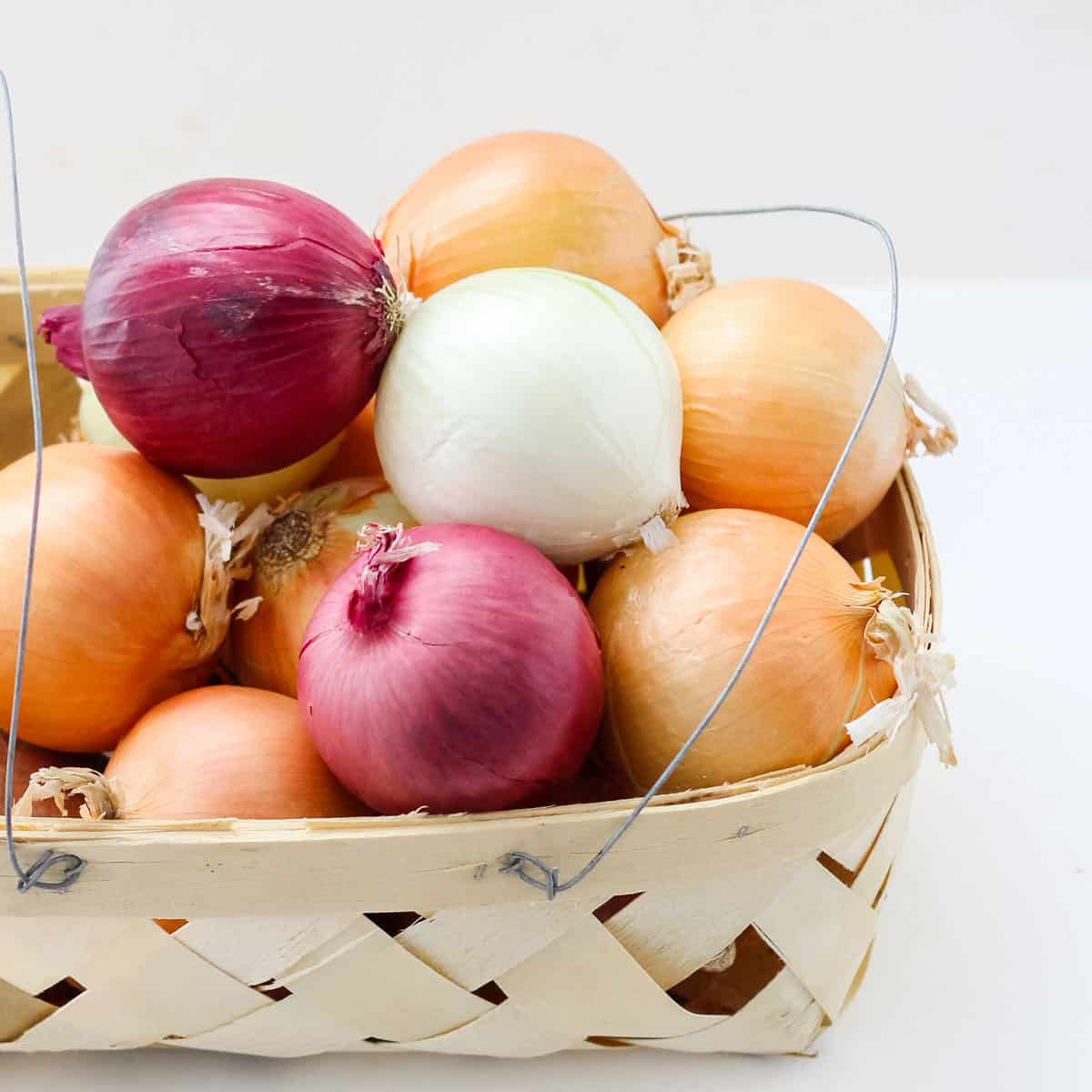 About Onions
Onions are a member of the allium species, which also includes garlic, scallions, leeks, and chives.
Allium vegetables have been used for thousands of years in traditional medical practices to treat or lower the risk of diseases like cardiovascular disease.
As one of the most common veggies, onions are found in most cuisines.
While they might be a humble, beige veggie found in many savory recipes, they still pack in the flavor.
Despite lacking color, this tasty veggie is packed with nutrients.
Onion Types
Three of the most common onions are white onion, yellow onion, and red onion.
White Onion
Yellow Onion
Red Onion
Health Benefits
*Onions are full of beneficial compounds like quercetin, apigenin, and selenium.
*Compounds in onions have been shown to have a variety of health benefits, including anticancer, antiviral, anti-inflammatory, antiasthmatic, and antibiotic effects.
More specifically, greater consumption of onions has been shown to reduce the risk of gastric cancer, breast cancer, and esophageal cancer.
*Cooking the onion increases the availability of the polyphenols (like quercetin).
Nutrition Information
*1 cup chopped onion has 64 calories, 0g fat (0g saturated fat), 14.9g carbohydrates, 2.7g fiber, 2g protein, 20%DV Vitamin C, 10% Vitamin B6, 10% Manganese
Amounts
*If buying a 3-pound bag of onions with about 6 onions that are the size of a baseball, they will be 8 ounces each.
*From a 3-pound bag of potatoes, a medium onion weight is around 6 to 8 ounces.
*One baseball-sized onion weighs about 220 grams (8 ounces), is about 3.5 inches, and yields around 1.5 cups of chopped onion.
*One medium (2.5 inches) onion yields about 1 cup chopped.
*Often, an onion bought individually is larger and yields about 2 to 2.5 cups of chopped onion.
*When a recipe calls for 1 medium onion chopped, you can use a heaping 1 cup of pre-chopped onion. Fresh or frozen can be used as long as you are cooking the onion.
Substitutions
*Shallots can be used as a substitute for onions. Use 4 to 6 shallots for one onion.
*Onion flakes or powder can be used to add onion flavor but wouldn't be a great substitute when a whole onion is needed. But for the flavor, 2 teaspoons of onion powder can be used in place of one onion.
*For recipes that use onion as extra bulk (like Instant Pot Salsa Chicken) or soups, you can substitute bell pepper for the onion.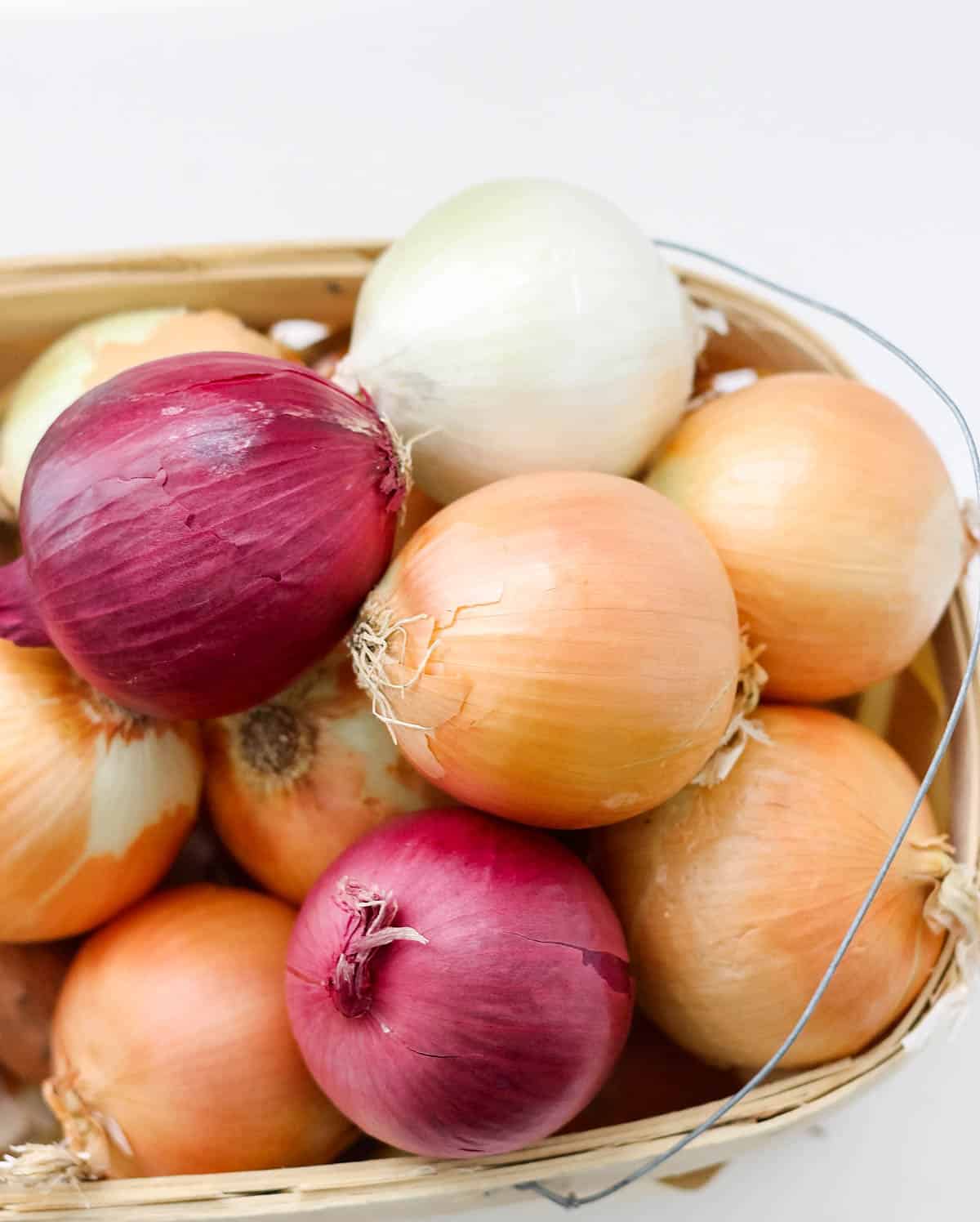 Shopping and Storage Tips
*When shopping for onions, buy firm onions without cuts, bruises, or dark spots.
*Avoid onions that have visible mold or sprouting.
*Store your onions in a dark, cool, well-ventilated area.
*Be sure not to store your potatoes next to the onions. Onions emit gases that cause potatoes to sprout, so keep the potatoes and onions away from each other when storing.
*Don't store them in a plastic bag because the onions need to breathe. Also, keep them out of the fridge unless they are peeled and/or chopped.
*If stored properly, onions can keep for a few months, making them an ideal veggie to always have on hand.
*To save time or keep for longer, chop or dice onions and store them in freezer bags or containers in the freezer for up to 2 months.
Budget-Friendly Suggestions
*Onions are already a pretty economical choice for vegetables.
*To save a little money, buy them in bulk. I recommend a 3-pound bag which will give you about 6-8 onions and is easy to find. Bulk stores like Costco will sometimes have 10-pound bags, which will give you about 18-24 onions depending on the size.
*However, you can always chop, slice, or dice and freeze them for later.
Fun Facts
*California is the largest producer of onions in the United States.
*Among fresh veggies, onions are second to tomatoes as the most cultivated vegetable in the European Union.
*The reason you cry when you cut onions: when you slice into the onion skin, you release sulfur compounds naturally found in the onions. These sulfur compounds and onion enzymes react to turn into a gas. The gas reaches your eyes causing them to produce tears as a protective mechanism.
Cooking deactivates the enzymes that help form the gas, so your eyes shouldn't be bothered by cooking onions.
*Luckily, you can lessen the effects of watery eyes by refrigerating the onion for about 30 minutes before chopping.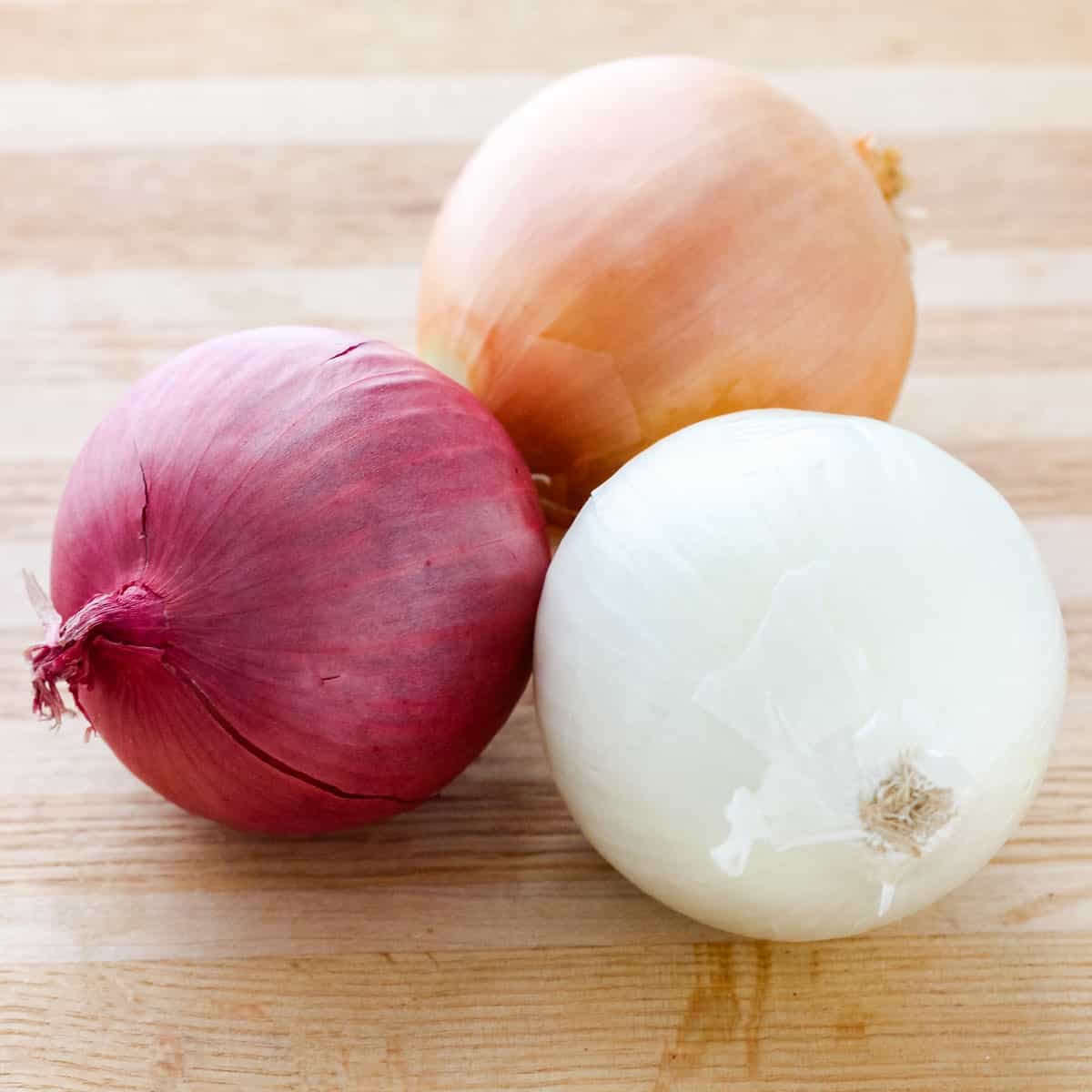 Onion FAQ
How much does an onion weigh?
The average onion weight is around 6 to 8 ounces.
Are onions good for you?
Yes, onions are full of nutrients and beneficial compounds like the polyphenol quercetin which has been shown to decrease the risk of certain cancers and more.
How do you stop onions from making you cry?
Put in the freezer for 15 minutes or in the fridge for 30 minutes before chopping.
Should you eat onions every day?
If you want to eat onions daily, you certainly can. Onions are nutritious and add flavor to your meals.
Who shouldn't eat onions?
If you are sensitive or allergic to onions, avoid them.

Additionally, onions are high in fructan which is an oligosaccharide that some people have trouble digesting. If you are following a low FODMAP diet, you will likely want to avoid eating them.
Are onions vegetables?
Yes, onions are vegetables. They are a member of the allium veggies
Can dogs eat onions?
No! Dogs cannot have any part of the onion.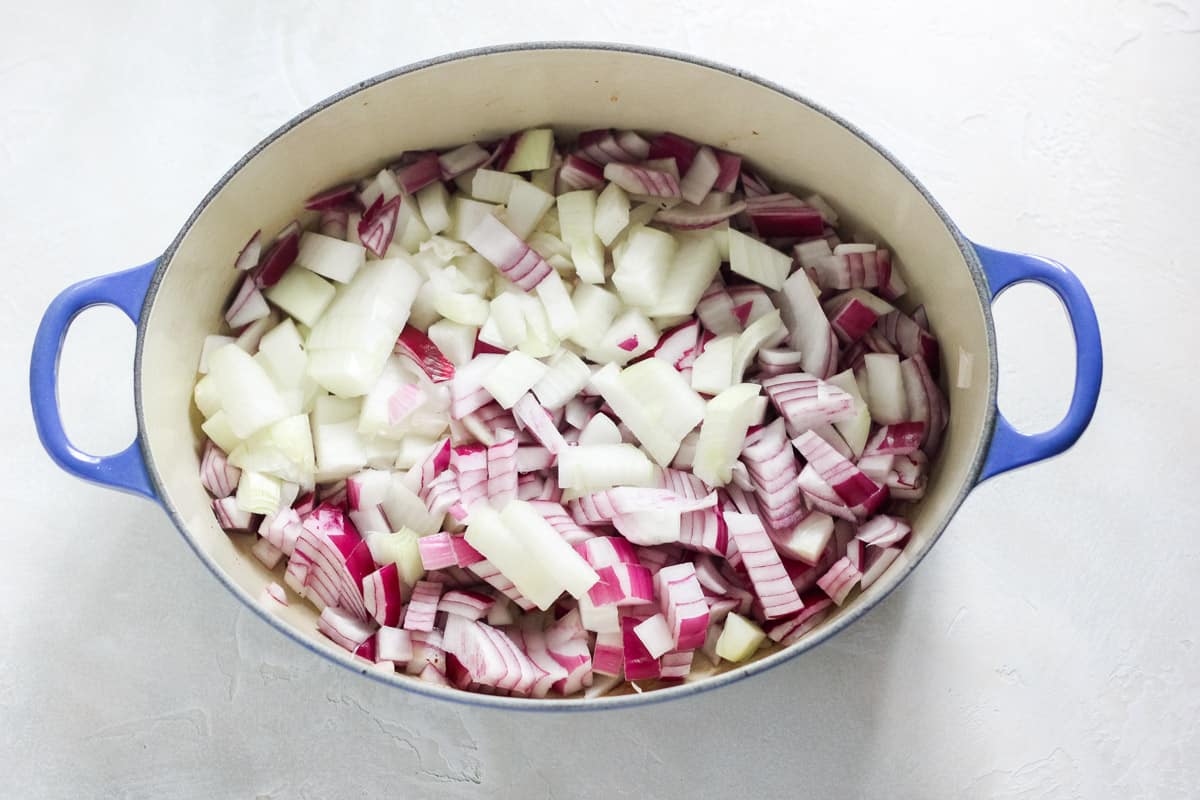 Cooking Tips
*Yellow onion, white onion, and red onion can often be used interchangeably in recipes.
*If you want to decrease some of the intensity that fresh onion has without cooking it, add the diced/chopped onion to a cup of hot water. Let sit for about 10-15 minutes, drain, and add to the dish - like in this Black Bean Mango Salsa.
*To save time, dice extra onion and freeze for later. You can use frozen onion in place of fresh as long as you are cooking the onion.
*Save your onion peels and freeze. Add other scraps like garlic skin, carrot peels, and celery leaves. Once the bag is full, make vegetable broth in the slow cooker. You can also add chicken bones and make chicken broth.
*Additionally, diced onions can easily be added to recipes to boost the flavor and nutritional value. They are great for adding to soups, crockpot meals, and casseroles.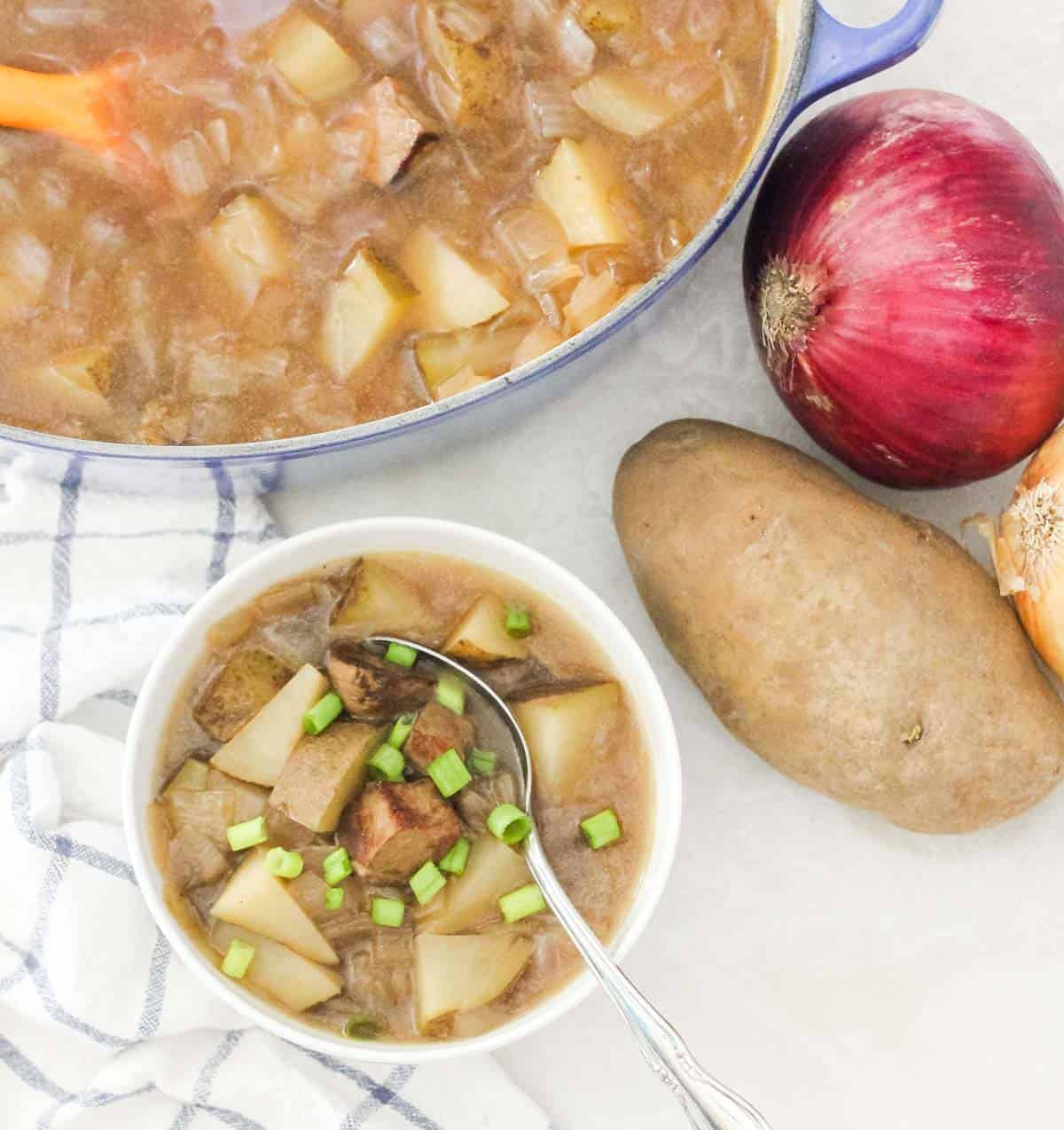 Best Onion Recipes
Most savory recipes on this blog have onions, and here are a few where onion has a starring role:
Blue Cheese, Caramelized Onion, Arugula Burger
Garlicky Caramelized Onion Pasta
Slow Cooker Maple Mustard Pork Chops and Onions
Pork Chops, Apples, and Onions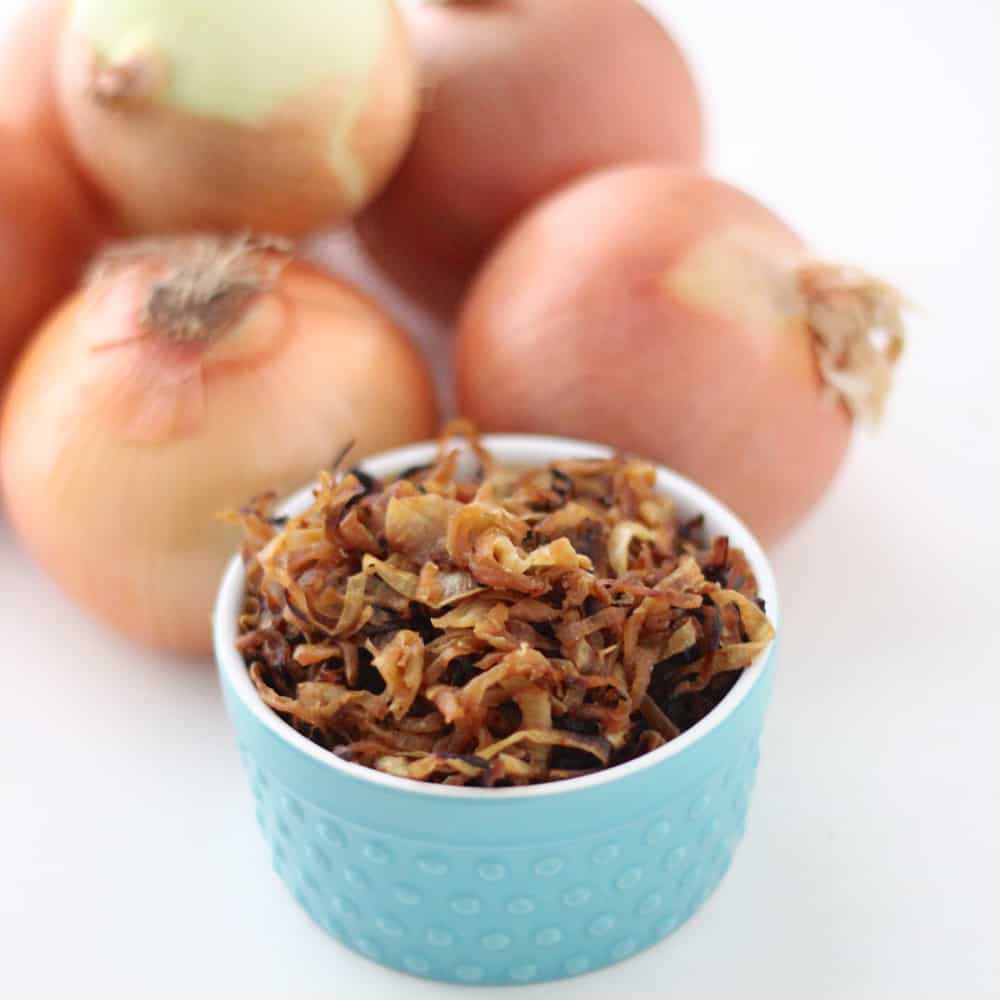 Meme
---
Citations:
Suleria HA, Butt MS, Anjum FM, Saeed F, Khalid N. Onion: nature protection against physiological threats. Crit Rev Food Sci Nutr. 2015;55(1):50-66. doi:10.1080/10408398.2011.646364
Thota SM, Balan V, Sivaramakrishnan V. Natural products as home-based prophylactic and symptom management agents in the setting of COVID-19. Phytother Res. 2020;34(12):3148-3167. doi:10.1002/ptr.6794
Williamson G. The role of polyphenols in modern nutrition. Nutr Bull. 2017;42(3):226-235. doi:10.1111/nbu.12278
Sengupta A, Ghosh S, Bhattacharjee S. Allium vegetables in cancer prevention: an overview. Asian Pac J Cancer Prev. 2004;5(3):237-245.
Nutrition Data for nutrition facts