You need three ingredients and less than three minutes to make these refreshingly scrumptious smoothies thanks to the Wyman's Melon Berry Pineapple with Cucumber smoothie blend.
Disclosure: This post was sponsored by Wyman's of Maine. All thoughts and opinions are my own. These partnerships help make Living Well Kitchen a reality, and I appreciate your support of the brands I love!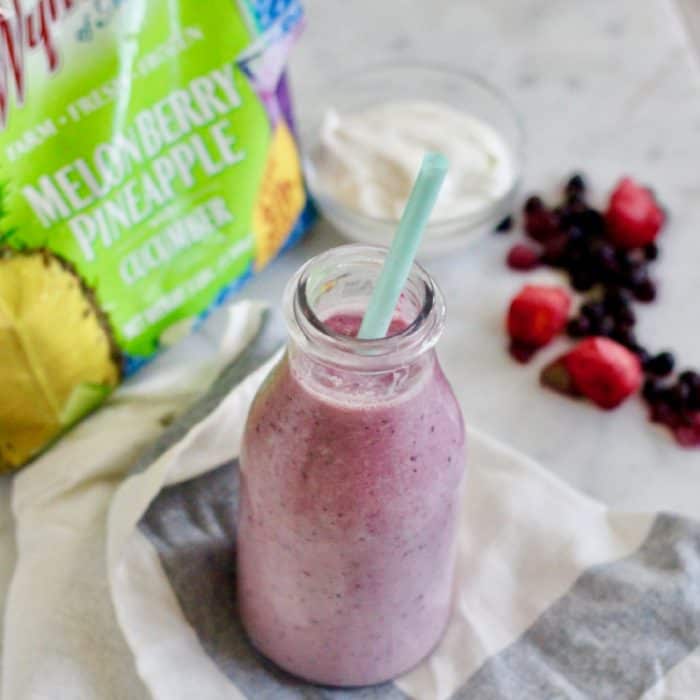 Smoothies are my absolute favorite post-workout snack/drink/meal.
Depending on the intensity and duration of my workout, I'll add more or less of ingredients to make it just the right size for my hunger level.
However, I have to admit that recently I've been slacking on my smoothies. The idea of cutting and freezing and preparing the fruits and veggies was getting to be a chore.
NOTE: These fruit & veggie blends might not be available in your store, but something similar to this refreshing smoothie can still be made using any of their other fruit blends. And you can also toss a chopped cucumber into the blender to give it even more of that refreshing cucumber kick.
Why you should make this delicious smoothie
Thankfully, Wyman's approached me to share their new smoothie blends. And I couldn't be more excited!!
All of the work is done for you, and they make life so easy!
This is especially important when I come home from a workout with no energy to prepare or think about anything. Or the times that I am hangry and need something to eat ASAP. Or the mornings that I am rushing out the door and need a nourishing & filling breakfast on the go.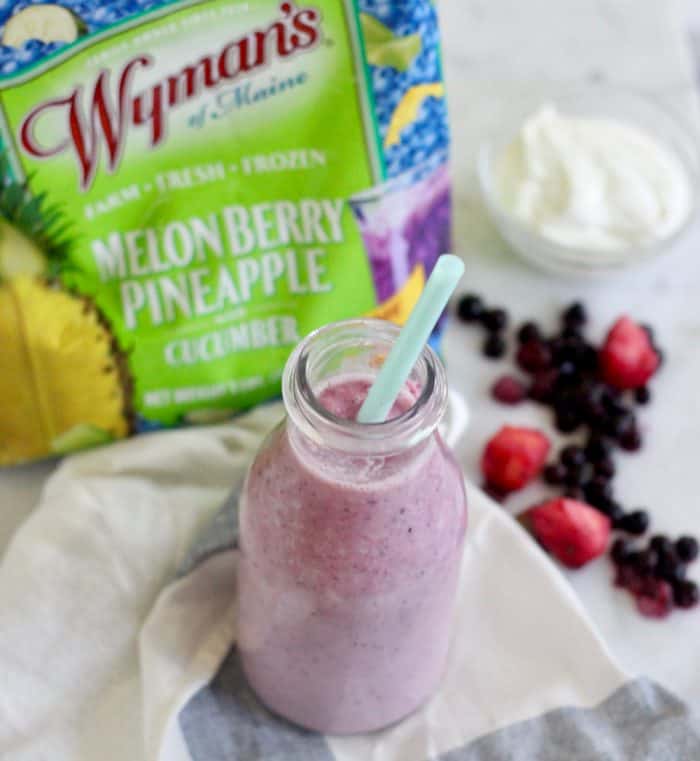 How to Make a Berry Pineapple Smoothie
What's nice about the Wyman's Melon Berry Pineapple with Cucumber smoothie blend is that it is a mixture of fruits and veggies, and all you have to do is add liquid and/or protein to make the perfect smoothie then blend.
And you don't even need a blender... Even if you can't find a blender and have to use a food processor or an immersion blender, you can make this smoothie happen!
But my favorite part is how delicious it is! It's seriously the most refreshing smoothie I've had in a really long time, and it didn't require me chopped & peeling a cucumber or having 4 different bags of frozen fruit in the freezer.
Just one bag for a flavorful, energizing smoothie.
And that one bag has (like the name implies) frozen pineapple, honeydew melon, cucumber, and wild blueberries!
I am a huge fan of all fruit, but wild blueberries hold a special place in my heart after visiting the wild blueberry barons in Maine August 2017. In fact, I visited the Wyman's wild blueberry fields on my trip and even got to take a behind the scenes tour of their processing facility where they flash freeze the freshly picked fruit locking in all the beneficial nutrients.
We even walked through the freezer! Ok, so maybe I walked in and turned around about halfway through... it was too cold to keep going!! 😉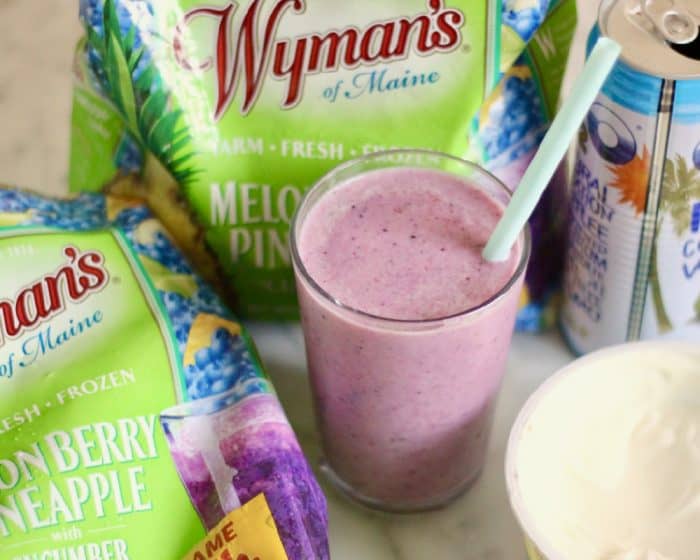 What is so great about wild blueberries?
Why do I love wild blueberries so much?
Well, those little guys are packed -- and I mean packed -- with goodness like phytochemicals, antioxidants, and fiber. Plus, they are great for brain and gut health. If that doesn't persuade you to eat more wild blueberries, I don't know what will!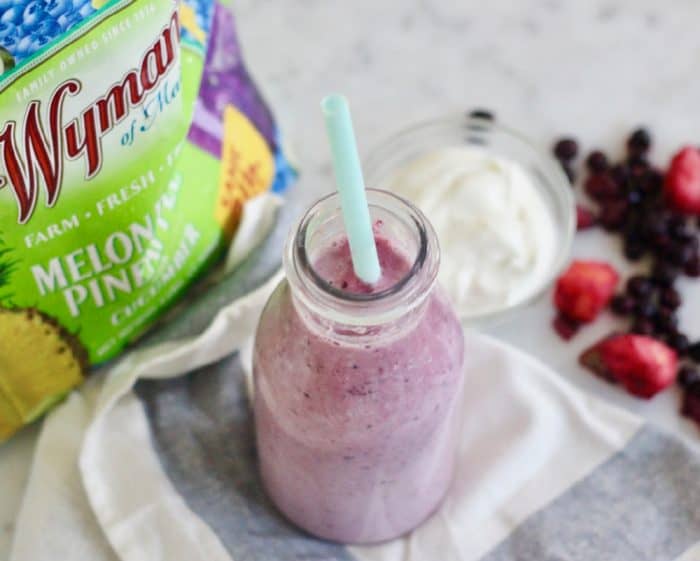 Tips for Making this refreshing smoothie
Make Ahead Tips
There's no need to make this ahead of time. Everything is already done for you. No peeling, no chopping, nothing!
Just toss the ingredients into a blender and enjoy immediately.
What to serve with this dish
This is a complete snack on its own, but you could add something like a hardboiled egg and/or piece of peanut butter toast to add a little extra protein and fiber for staying power. I've definitely done a hardboiled egg and this smoothie for breakfast, and that kept me full until lunchtime.
Final thoughts:
Since I am always conscious of my food budget, these frozen food blends are very budget friendly. You get 10 servings of smoothies in this antioxidant-packed fruit & veggie blend. That means you only buy one bag for ten smoothies. Less trips to the grocery store is always a win in my book.
Whether you are looking for a tasty way to start your day with minimal effort or something to cool you off after a workout, you really can't go wrong with these Wyman's Melon Berry Pineapple with Cucumber smoothie blends.
---
MORE WILD BLUEBERRY POSTS YOU'LL LOVE:
---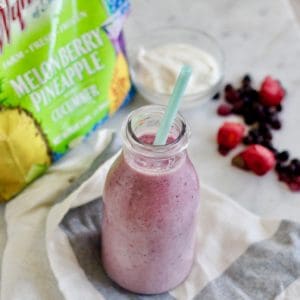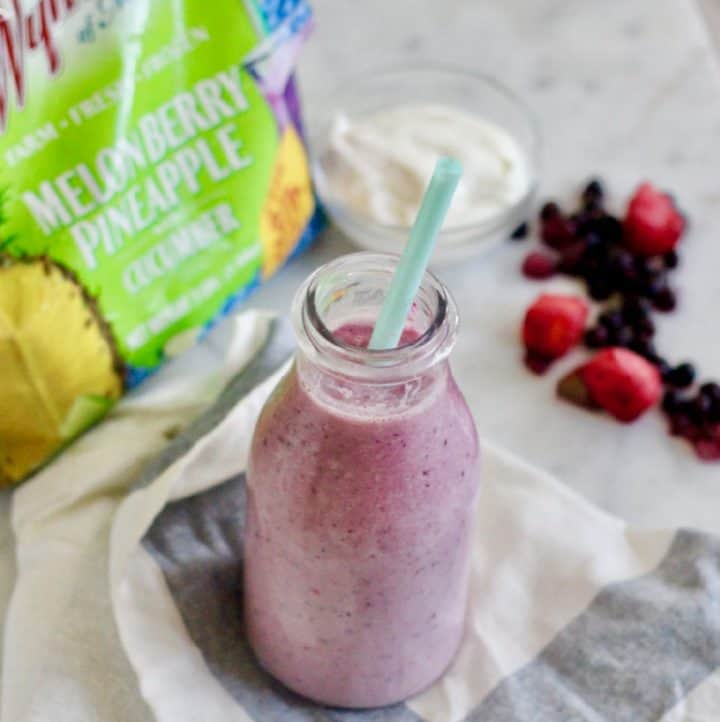 Melon Berry Pineapple Smoothie
You need three ingredients and less than three minutes to make these refreshingly scrumptious smoothies thanks to the Wyman's Melon Berry Pineapple with Cucumber smoothie blend.
Print
Rate
Ingredients
½

cup

plain Greek yogurt

½

cup

coconut water

or water or 100% juice
Instructions
Add all of the ingredients to a blender, and blend until smooth. Add more yogurt and/or coconut water to reach your desired consistency.
Did you try this recipe?
Be sure to leave a comment & recipe rating below. Bonus points for tagging @memeinge & #livingwellkitchen on Instagram! THANK YOU! xo
P.S. Find a bag by using *Wyman's store locator*
[showhide type="post" more_text="Click here for Nutrition Facts" less_text="Clear Nutrition Facts"]
*
Nutrition Facts
Melon Berry Pineapple Smoothie
Amount per Serving
% Daily Value*
* Percent Daily Values are based on a 2000 calorie diet.
*
[/showhide]
---
Meme
Doesn't this recipe look good?! You should probably pin it for later: