This Mushroom & Sausage Hash is sure to please anyone, whether you're looking for a hearty, tasty meal or a nutritious meal full of veggies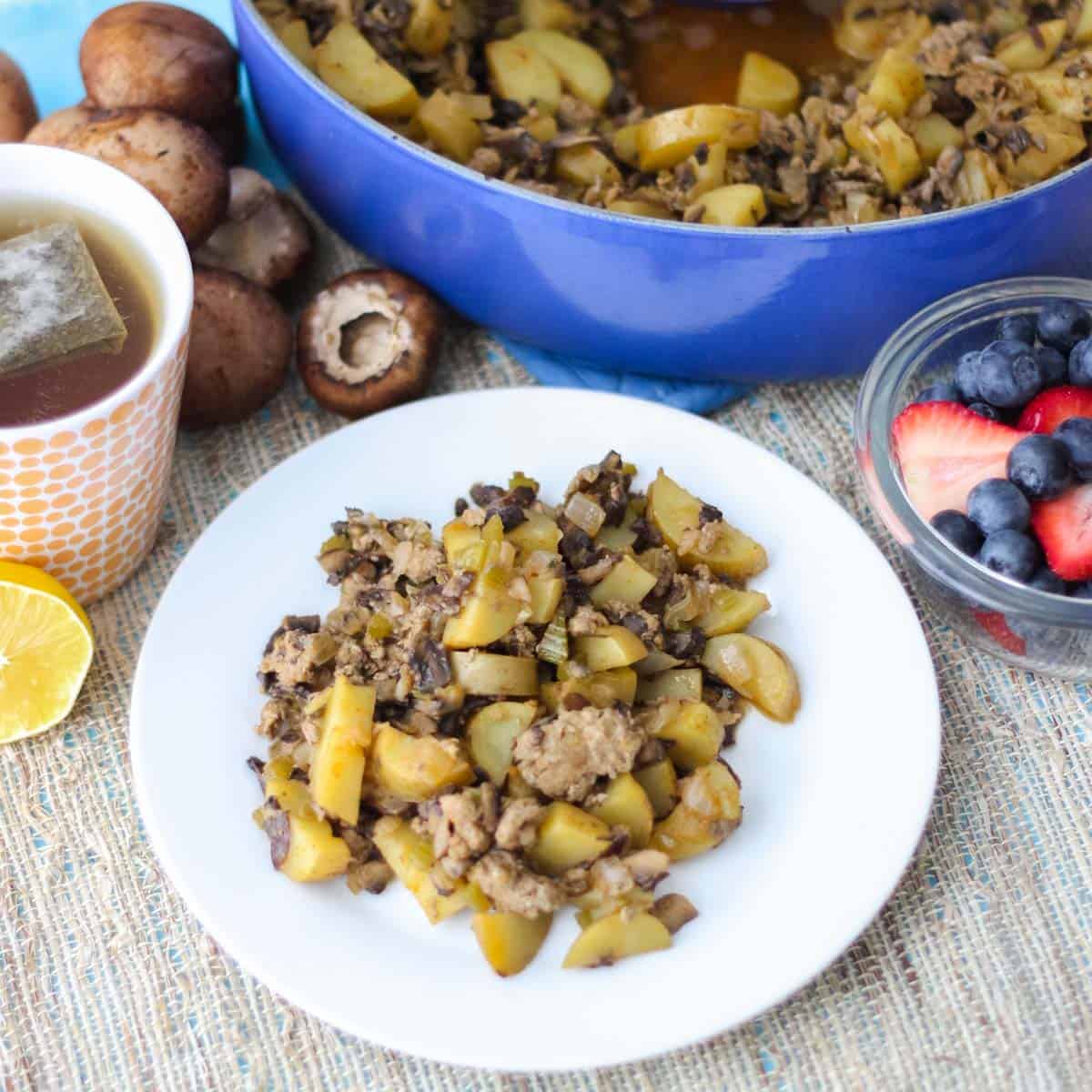 About Sausage Mushroom Hash
Hash is a delicious and flexible recipe to get a balanced meal suitable any time of day as well as for using up leftovers.
My grandmother Nan loves to make hash and it's everyone's favorite breakfast at her house.
This sausage hash recipe is made with a ton of mushrooms as well as ground turkey or pork. Adding spices gives it that spicy, savory, sausage-like flavor.
Of course, you can also use pre-made sausage. Or use mushrooms or a vegetarian sausage in place of the ground meat for a vegetarian version.
Above all, this hash recipe is quite forgiving. Variation options are elaborated on below in the variation section.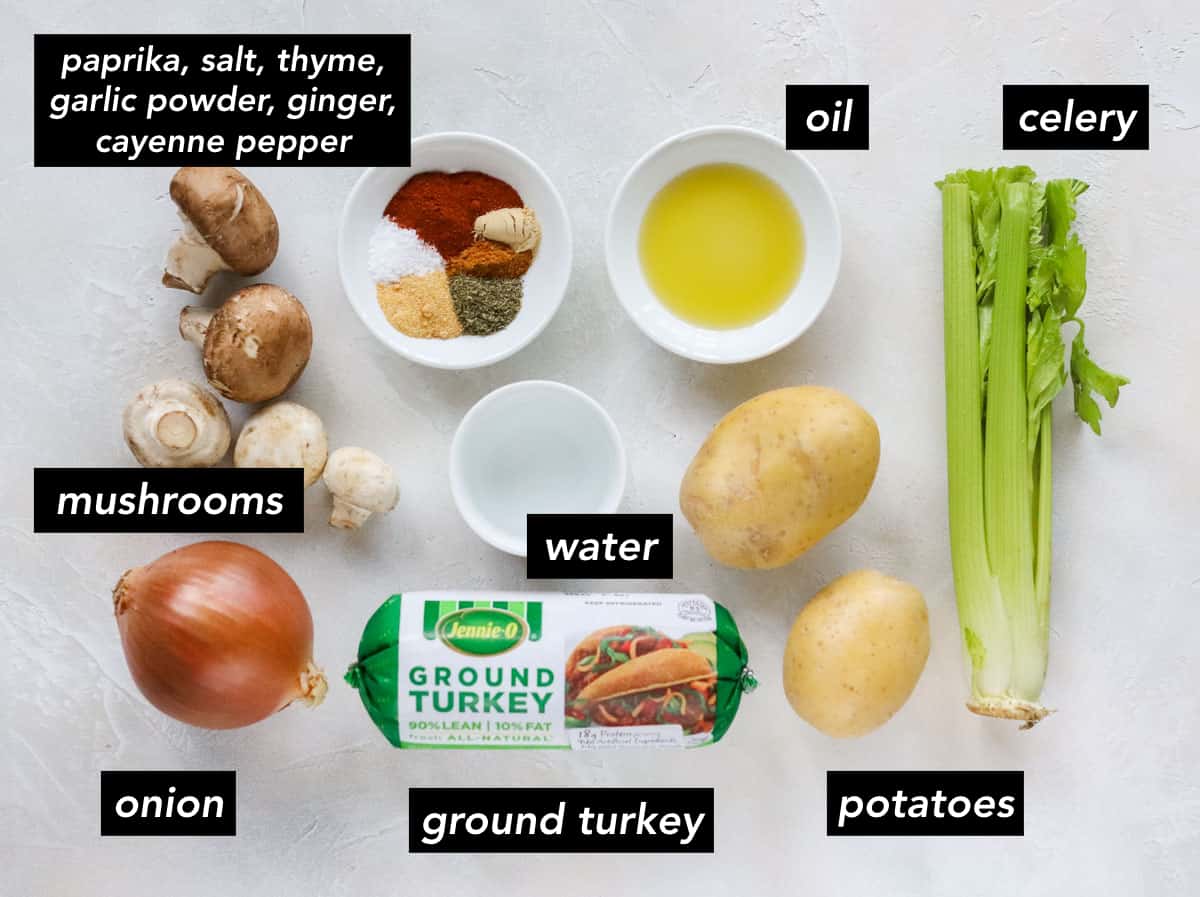 Ingredients
Potatoes: All potatoes will work in this sausage hash. The recipe has been tested using russet potatoes, yellow potatoes, and white potatoes. Russet potatoes will break down more into the sauce, while yellow will retain more of their shape. White potatoes will hold their shape the most.
Oil: Most types of oil, butter, or bacon grease can be used for cooking this mushroom hash. I don't recommend using coconut oil because it will give a coconut flavor to the hash, but olive oil, avocado oil, canola oil, vegetable oil, and peanut oil will all work well.
Onion: To increase the amount of hash you get as well as nutrients and flavor, a medium to large onion is added. Yellow, white, and red onions are all great options.
Celery: Similar to onion, adding celery adds flavor and nutrients. You can omit or replace the celery with two diced carrots.
Ground turkey: This recipe was tested using 90/10 ground turkey as well as 85/15 ground turkey with very similar results. If you use lean ground turkey breast, you might need to add a little more oil to give it flavor. Also, you can use ground pork, ground sausage, leftover cooked turkey, vegetarian sausage, or an additional 16 ounces of diced mushrooms.
Mushrooms: Any type of mushrooms will work. The mushroom hash recipe has one pound of mushrooms and has been tested using button mushrooms, baby portabella, and portabella.
Spices: The combo of spices in this sausage mushroom and potato recipe are paprika, garlic powder, salt, ground thyme, cayenne pepper, and ginger. Feel free to play around with the amounts and adjust them to your taste preferences.
Water: The recipe was tested using water as well as broth. Admittedly, this is better when made with chicken or vegetable broth to give the potatoes and the hash more flavor. However, it is still tasty when made with water.
Cost of Recipe
potatoes 1.25 pounds: $0.75
broth 3 cups: $1.71
olive oil 1 tablespoon: $0.24
onion 1 medium: $0.50
celery 4 stalks: $0.56
ground turkey 12 ounces: $2.86
mushrooms 16 ounces: $3.74
paprika 1 teaspoon: $0.15
garlic powder 1 teaspoon: $0.08
salt 1 teaspoon: $0.01
ground thyme ¾ teaspoon: $0.06
cayenne pepper ½ teaspoon: $0.03
ginger ¼ teaspoon: $0.03
TOTAL COST: $10.72 or $2.68/serving (Based on San Diego grocery stores 2023)
Save almost $2 by using water or homemade chicken broth or vegetable broth instead of store-bought broth.
Note that this is not the recipe; it's simply to show the cost breakdown of ingredients. Be sure to scroll down to the full recipe to see the specific ingredients and directions.
How to Make Sausage Mushroom Hash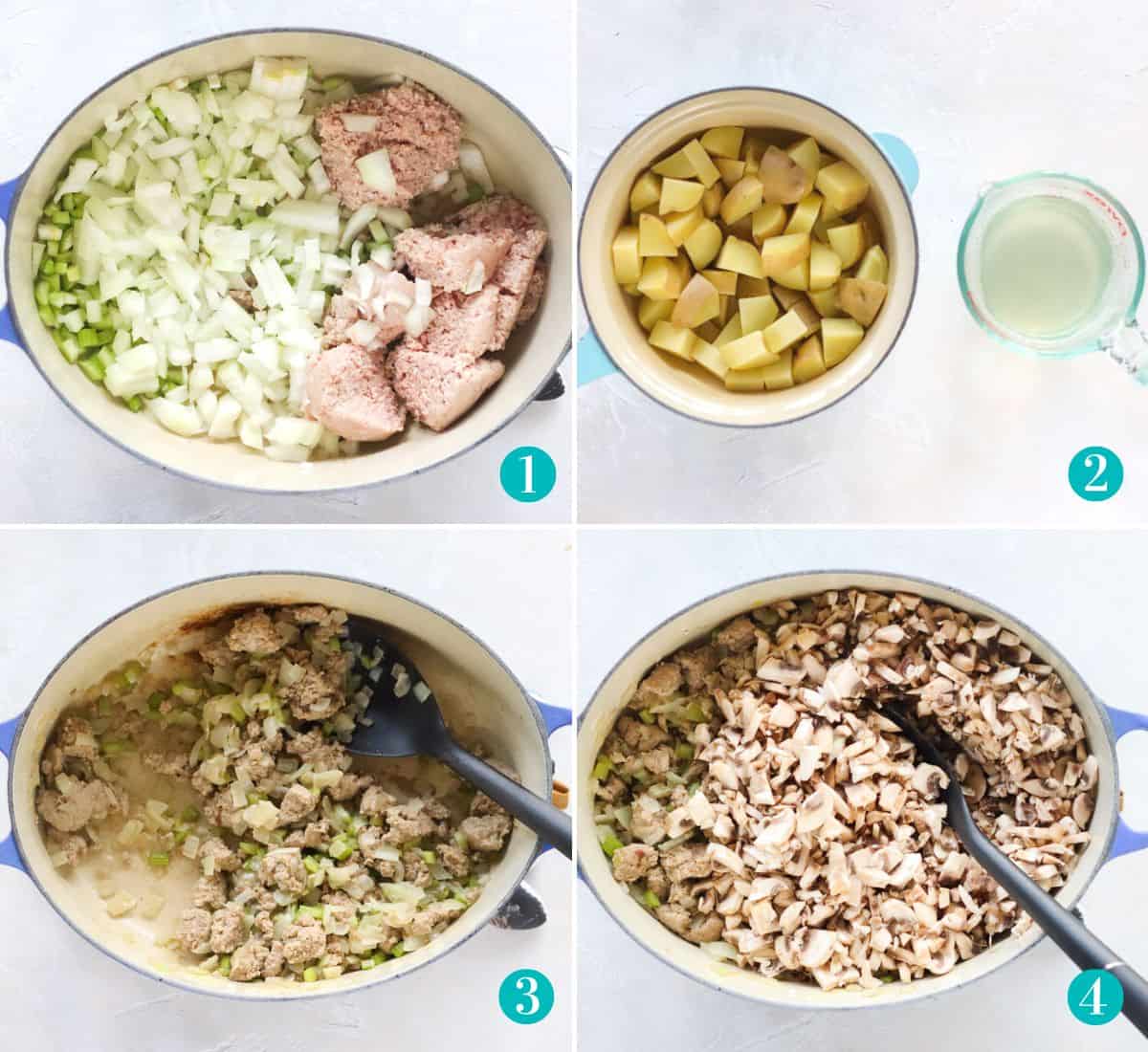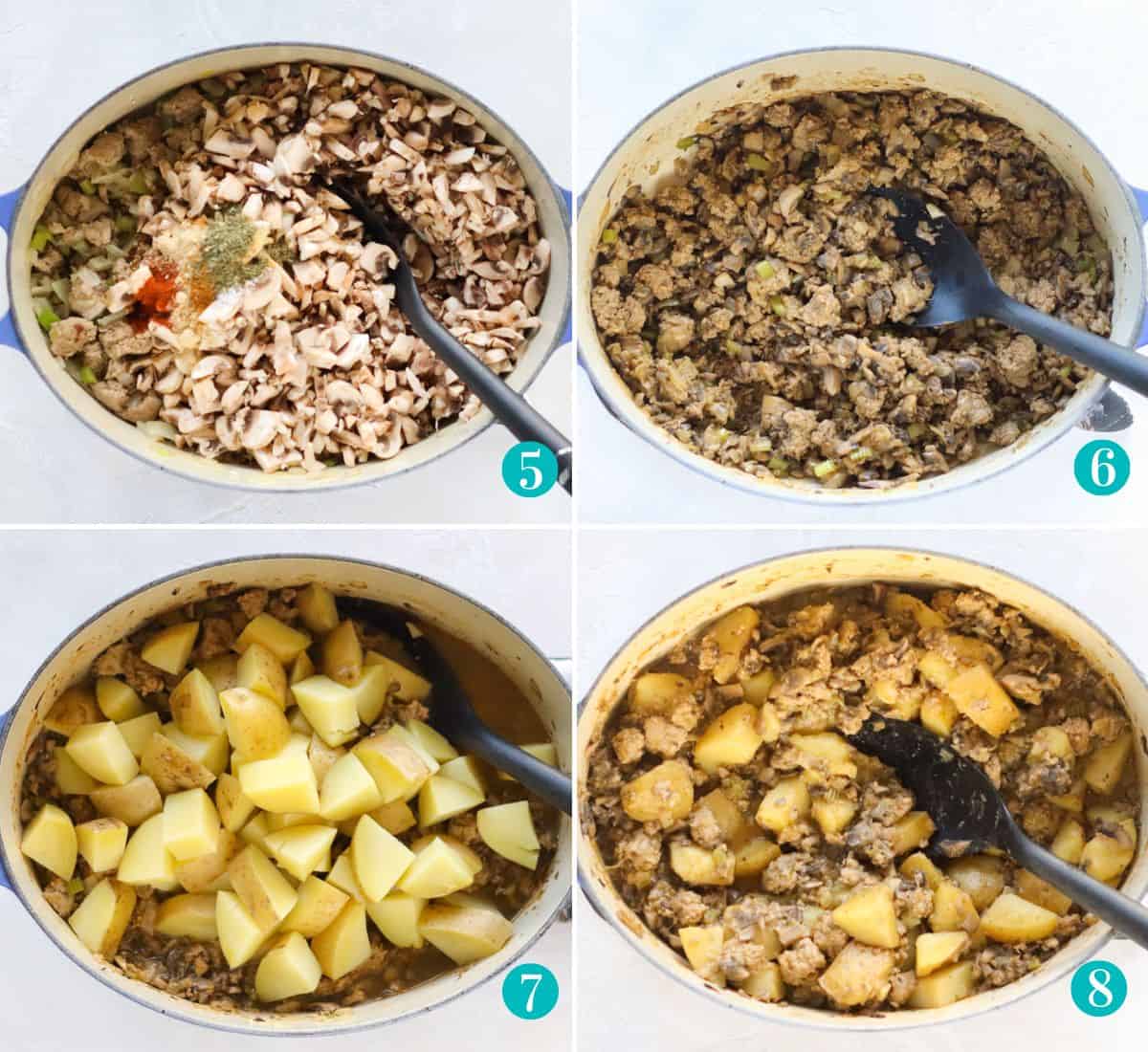 Time needed: 1 hour and 10 minutes.
Hearty hash recipe with sausage, mushroom, and potatoes.
Cook ground turkey, onions, and celery in a pot.
Meanwhile, boil potatoes.

Drain, saving the cooking water.

Cook the turkey and veggies until the turkey is done.
Add mushrooms.
Season with spices.

Stir well.

Cook until the mushrooms have released their juices.
Add reserved potatoes and potato-cooking water.
Simmer until it reaches your desired consistency.

Enjoy!
Recipe Tips
Variations
There are a few main options for variations.
*Make this vegetarian/vegan by using an extra 16 ounces of mushrooms in place of the ground turkey.
*Cook the potatoes in broth instead of water. The recipe cost is calculated using broth, but the recipe has been tested with water and with broth.
Sausage hash that is served immediately after you've cooked the dish has more flavor if you use broth. However, if you make this in advance and reheat it, the difference between using water and broth is less noticeable.
Likely, this is because the spices in the hash have time to combine and really season the sausage mushroom and potato recipe.
*Add cream cheese to give this extra richness. Also, cream cheese cuts a little bit of the spiciness in case it's too spicy for you.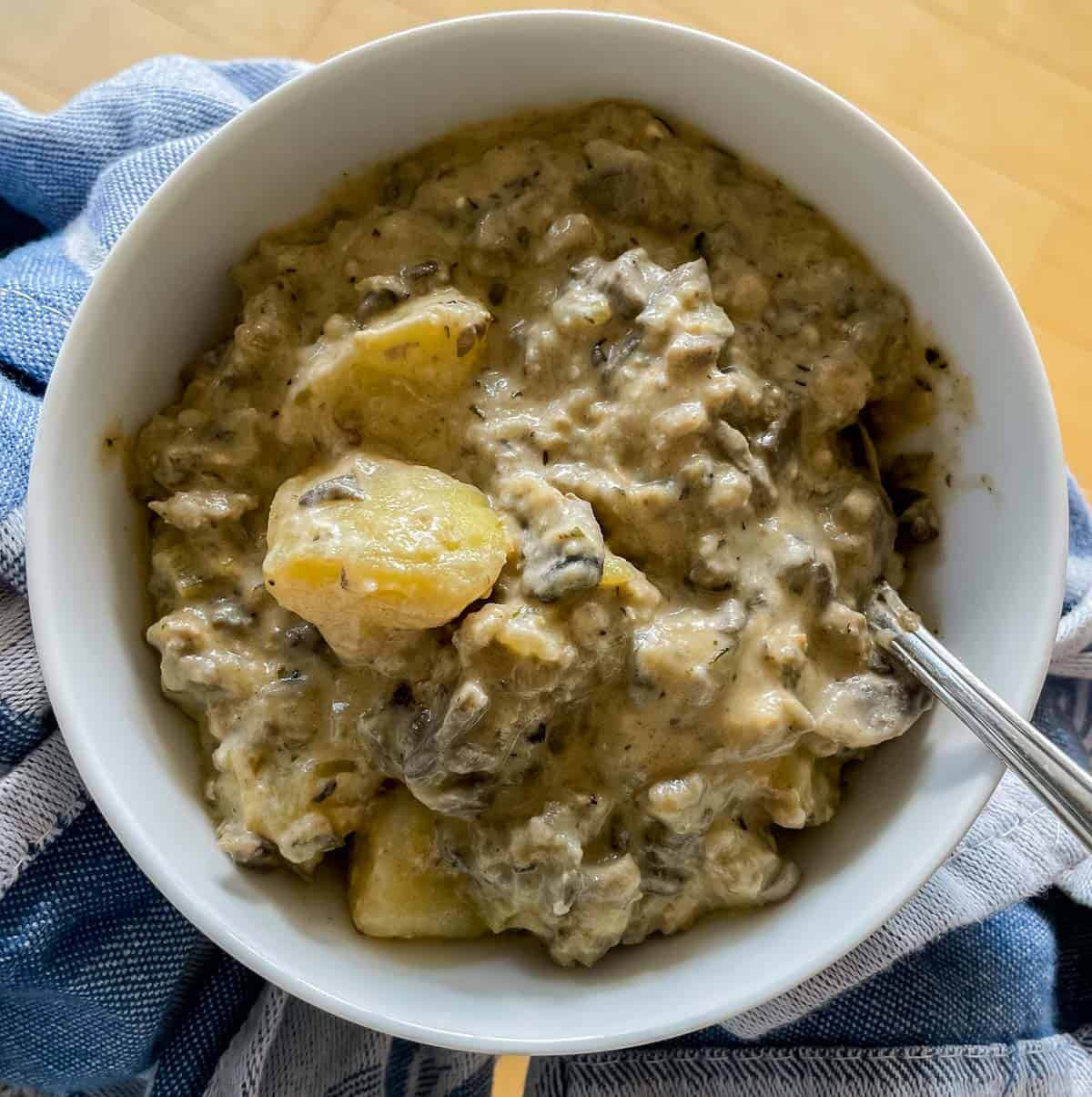 Ingredient Options
Celery: Replace the celery with a small onion or 2 carrots, diced.
Garlic powder: In place of garlic powder, use 4 cloves of fresh garlic or add 1.25 teaspoons of garlic salt (omit the 1 teaspoon of salt).
Cayenne pepper: Equal parts red pepper flakes, otherwise known as crushed red pepper, can be used in place of the cayenne pepper.
Dried thyme: If you aren't a fan of thyme or don't have it, use an equal amount of dried rosemary.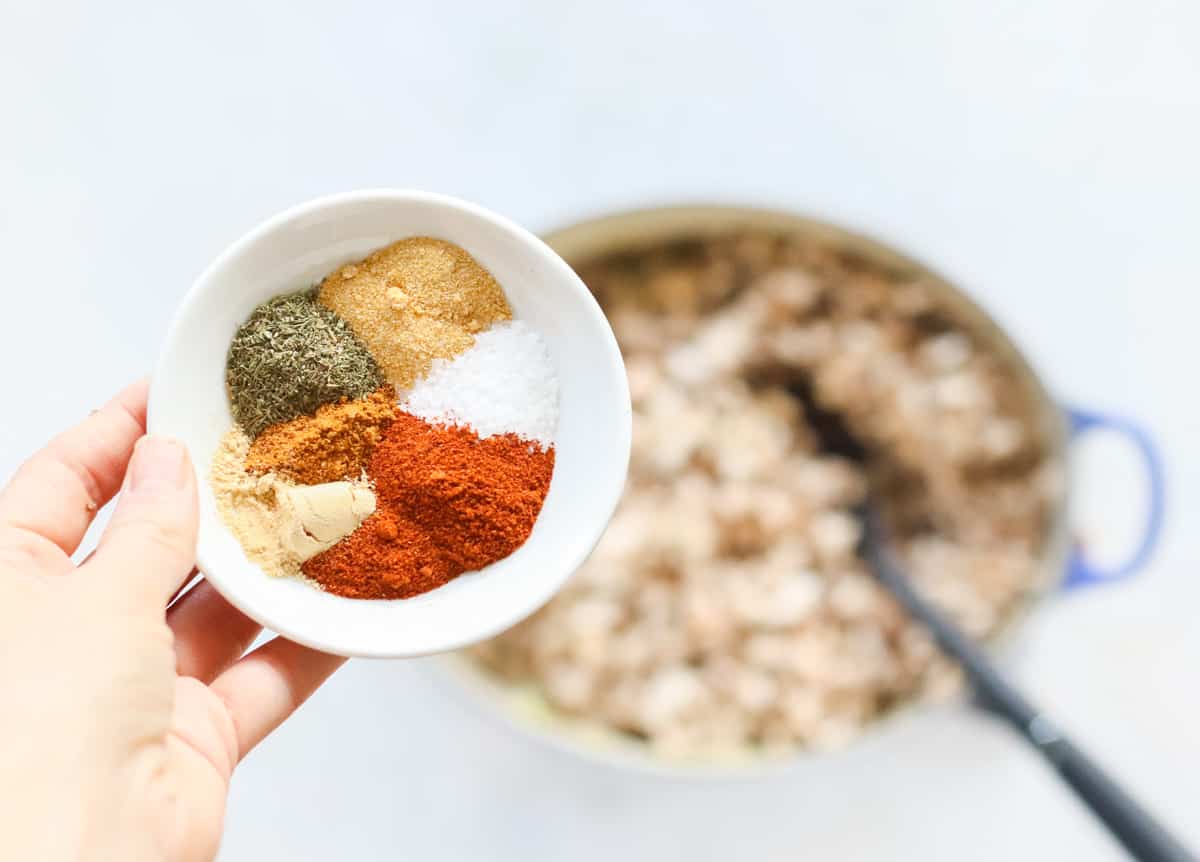 Flavor Substitutions
Want a creamy, richer version of mushroom sausage hash? Add cream cheese.
Use 4 ounces of cream cheese, and stir it in before adding the potatoes.
Alternative Prep & Cooking
If you don't want to use two pots to make this sausage mushroom and potato recipe, cook the potatoes and remove them from the pot (along with the broth). Set them aside until you're ready to add them back into the hash mixture.
How to Make Allergy-Friendly
This mushroom sausage hash recipe is already gluten-free, dairy-free, egg-free, soy-free, and nut-free. Because it is made with ground turkey, it is not vegan or vegetarian.
If you want it to be vegetarian or vegan, use 12 ounces of vegetarian sausage in place of the ground turkey. Cut the spice amounts in half, and add more if needed after cooking.
However, be sure to check that the sausage is made with ingredients you can enjoy. Obviously, if you need it to be free of ingredients like soy then you'll want to avoid it in replacement ingredients.
Another option is to use an additional 16 ounces of mushrooms in place of the ground turkey. This will change the amount that is made, texture, nutrition facts, as well as the need for certain spices. So if you try this, be open to playing around with amounts of ingredients.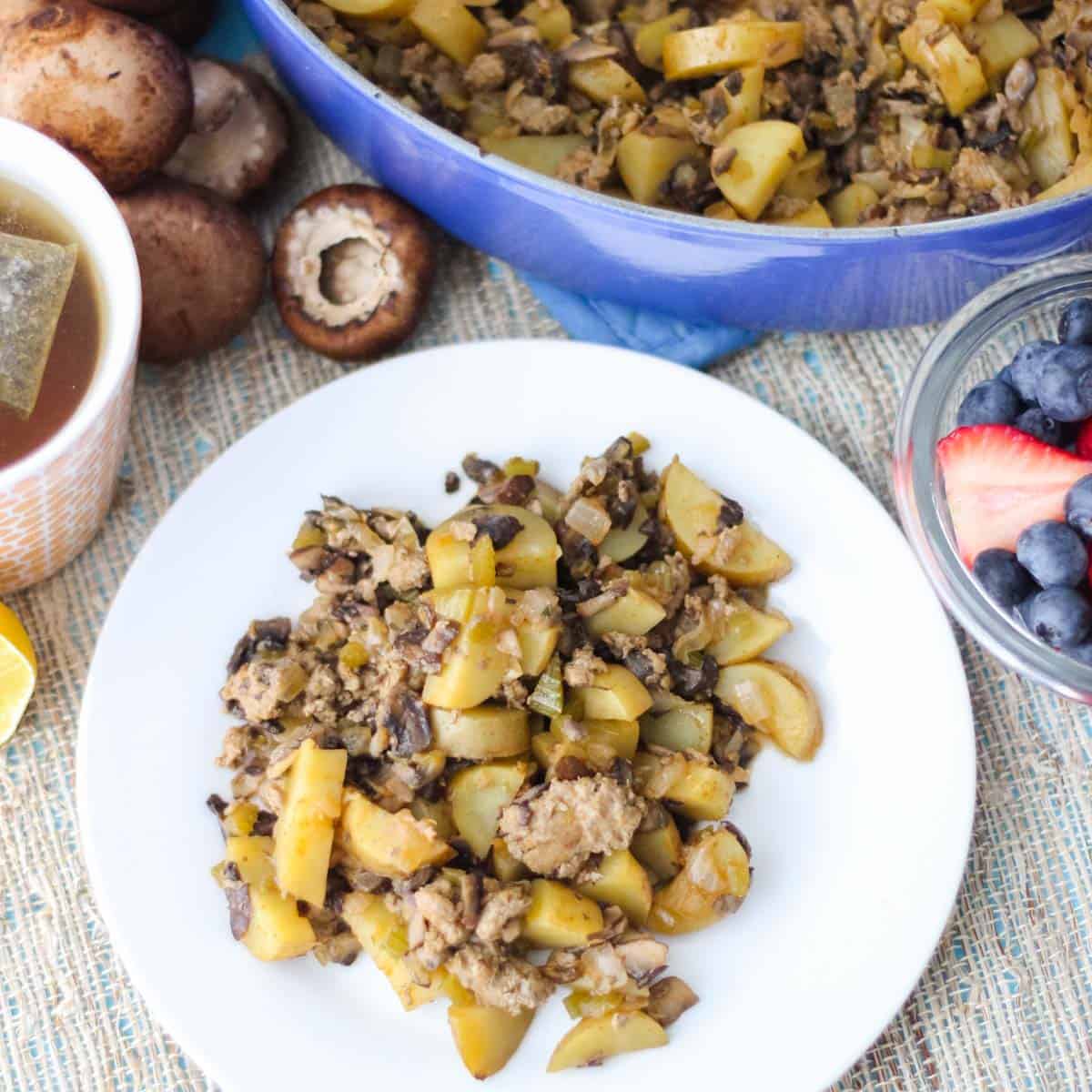 How to Fix a Mistake
Too thick: Add ½ cup broth or water. Stir and add in ½ cup increments. Simmer for about 5 minutes to combine, then enjoy.
Too thin: Let simmer for a little longer with the top off of the pot to allow the steam to evaporate.
Lacking flavor: Allowing the hash to cook for a little longer will increase the flavor since the spices will have time to combine. Another option is to season it with a touch of garlic salt. Adding cream cheese also enhances this mushroom hash.
Make-Ahead Ideas
Prepare this as directed and store it in airtight containers. Then reheat either on the stove on medium-low heat, adding a splash or two of water to the pot and stirring every minute or two.
Or you can reheat this hash in a small bowl in the microwave at 30-second intervals, stirring between each.
Storage Suggestions
Store in an airtight container in the fridge for up to 5 days or in the freezer for up to 6 weeks.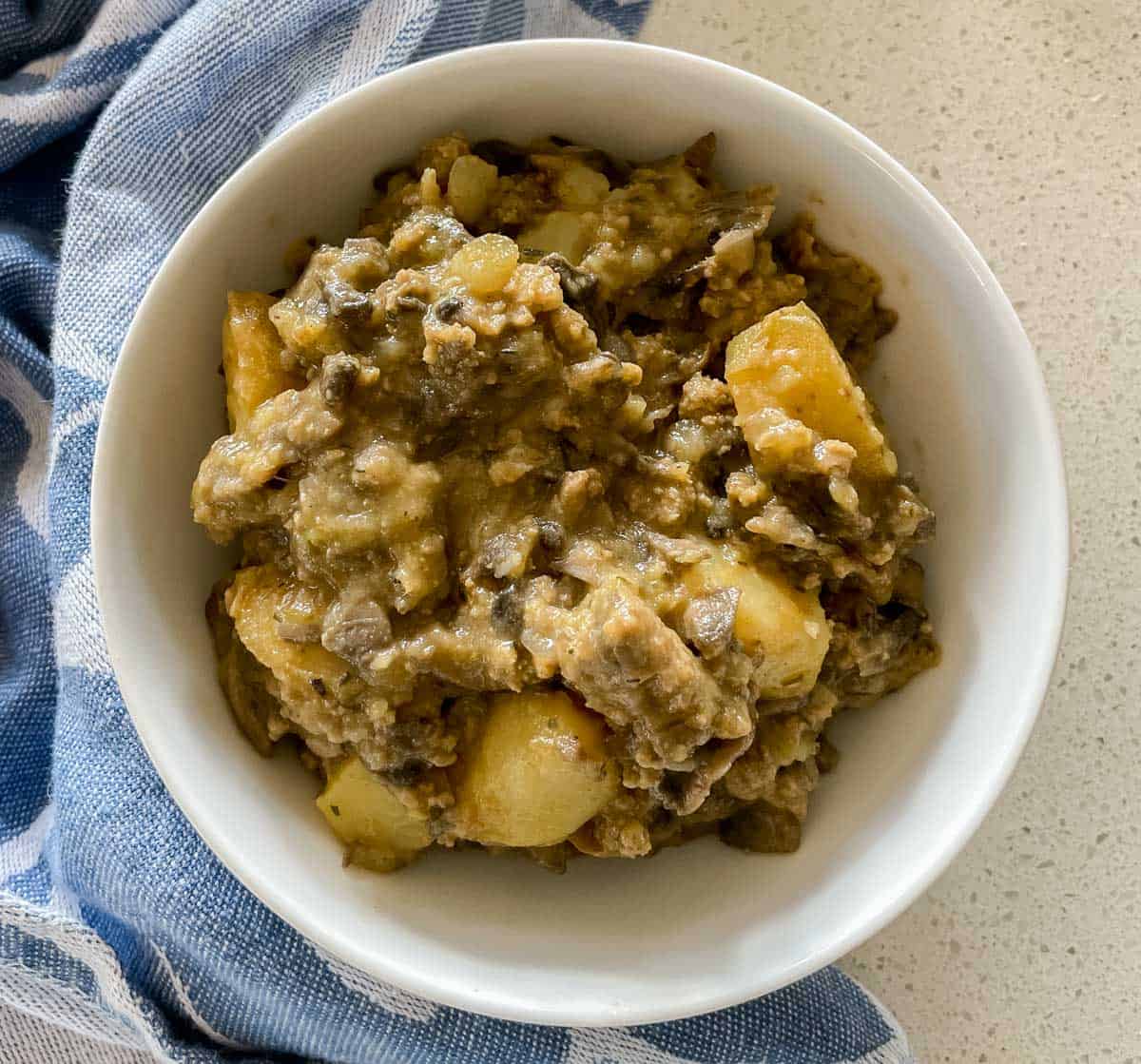 Frequently Asked Questions
Which potatoes are best for hash?
Yellow potatoes are great for hash. They hold their shape a little more than a russet potato, and they also break down slightly to give the dish a creaminess.
That being said, pretty much any potato will work in a hash.
Nutrition Benefits
Excellent source of fiber, Vitamin C, potassium, and protein. Good source of Vitamin A and iron.
This recipe provides long-lasting energy thanks to the balance of carbohydrates, protein, and vegetables.
Each serving has 2 full servings of veggies.
What to Serve with Mushroom Sausage Hash
If you are eating this for breakfast, serve it with fruit.
When eating for dinner, you might want to add something to make it more substantial like grits, rice, or garlic bread. Or simply serve a larger portion.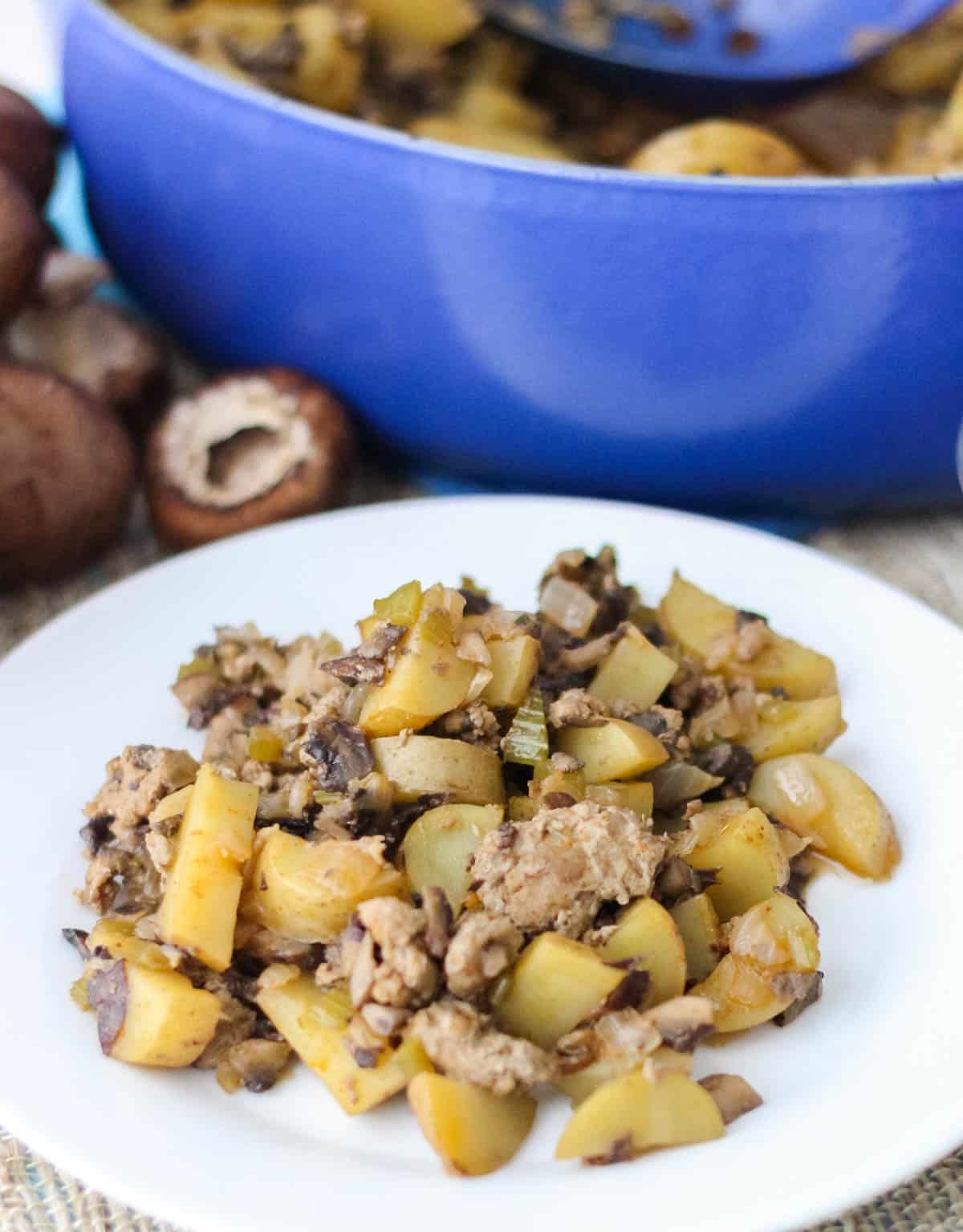 Final thoughts:
You'll love this sausage mushroom and potato recipe because it can be enjoyed any time of day. Of course, you can eat anything at any time. But this is hearty enough for dinner as well as a satisfying breakfast.
MORE POTATO BREAKFAST RECIPES YOU'LL LOVE: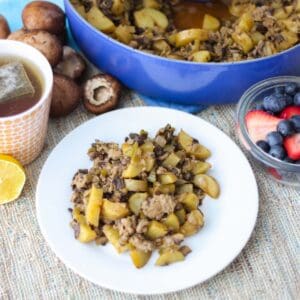 Mushroom and Sausage Hash
This Mushroom & Sausage Hash is sure to please anyone, whether you're looking for a hearty, tasty meal or a nutritious meal full of veggies
Print
Rate
Total Cost:
$11.30 or $2.83/serving
Ingredients
1.25

pounds

potatoes

chopped

3

cups

chicken broth

or water

1

tablespoon

oil

1

medium

onion

diced

4

stalks

celery

diced

12

ounces

ground turkey

or ground pork

16

ounces

mushrooms

diced

1

teaspoon

paprika

1

teaspoon

garlic powder

1

teaspoon

salt

¾

teaspoon

ground thyme

½

teaspoon

cayenne pepper

¼

teaspoon

ginger
Instructions
In a pot, bring the potatoes and broth to a boil. Boil for 10 minutes. Transfer to a bowl, reserving the cooking liquid.

Meanwhile, heat oil over medium-high heat in a large French or Dutch oven. Add onion, celery, and ground turkey. Cook until the turkey is done, about 8 minutes.

Add mushrooms and cook until their juices have evaporated about 10 minutes.

Stir in paprika, garlic powder, salt, ground thyme, cayenne, and ginger. Cook for 5 minutes.

Add cooked potatoes along with 2 cups of the reserved cooking water. Partially cover and let simmer for 15-25 minutes, stirring occasionally, until the liquid has thickened and made a sauce. Add more liquid if needed. Taste and season as needed.

Great served alone or over grits!
Notes
*Makes about 5-6 cups.
*For extra creamy hash, stir in 4 ounces of cream cheese just before serving.
What to Use in This Recipe
Did you try this recipe?
Be sure to leave a comment & recipe rating below. Bonus points for tagging @memeinge & #livingwellkitchen on Instagram! THANK YOU! xo
Meme
This post was originally published on June 15, 2014. Text, recipe, and photos have been updated.
---
Sausage Mushroom Hash Nutrition Facts
Nutrition Facts
Mushroom and Sausage Hash
Amount per Serving
% Daily Value*
* Percent Daily Values are based on a 2000 calorie diet.