All about potatoes including shopping & storage tips, conversions, nutrition facts, health benefits, fun facts, and recipe ideas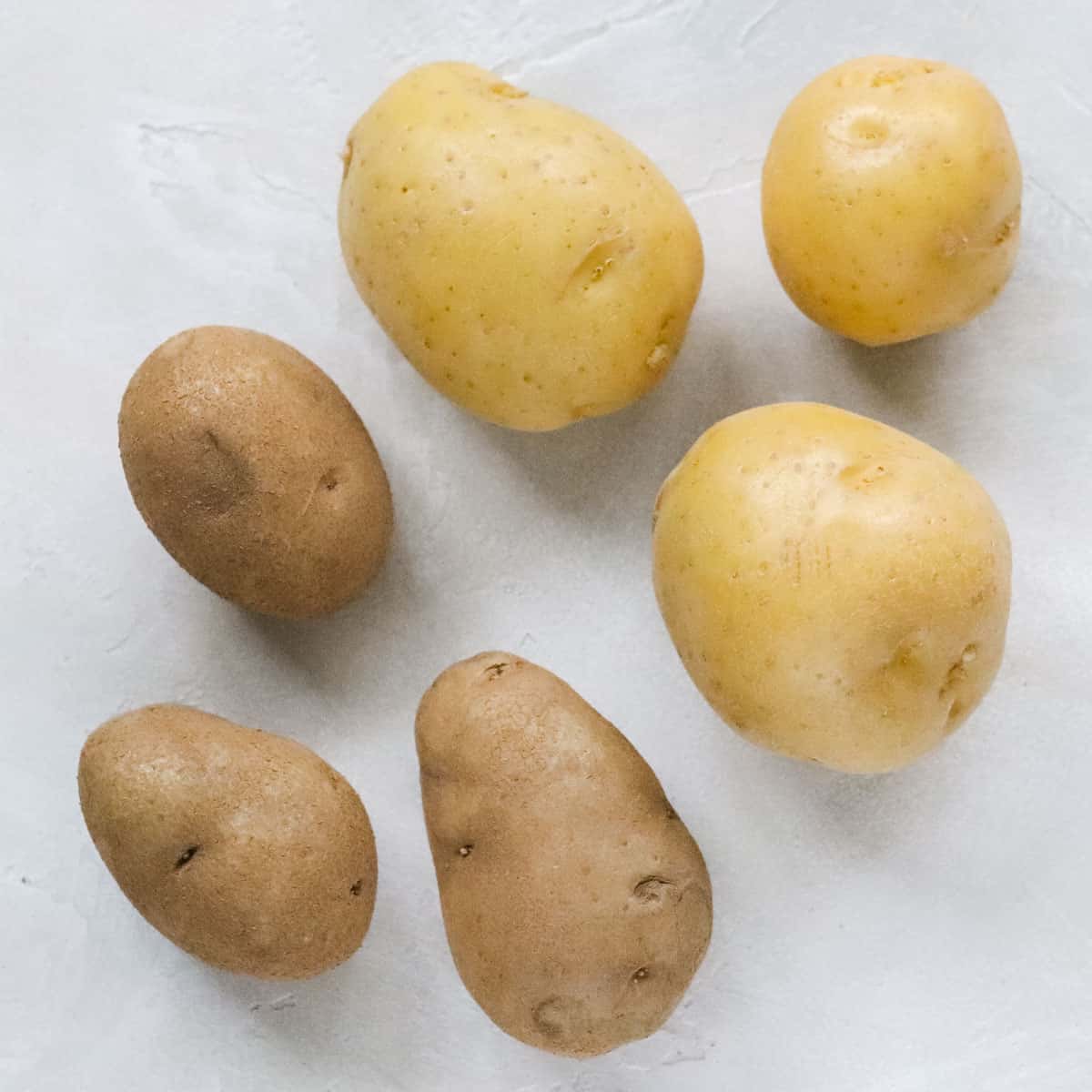 About Potatoes
Quite possibly the most versatile ingredient out there. Bake, roast, mash, boil, fry, grill, steam... turn it into vodka! Is there anything a potato can't do?
Despite the hate from the nutrition world (especially from low-carb diets), potatoes are nutrient-dense. They're an excellent source of Vitamin C, Vitamin B6, and potassium. Plus, they're a good source of niacin, folate, iron, magnesium, manganese, phosphorous, and copper.
There is so much to learn about potatoes beyond just fries, mashed potatoes, and baked potatoes.
Not only are they incredibly adaptable, but they also provide your body with energy and a plethora of nutrients.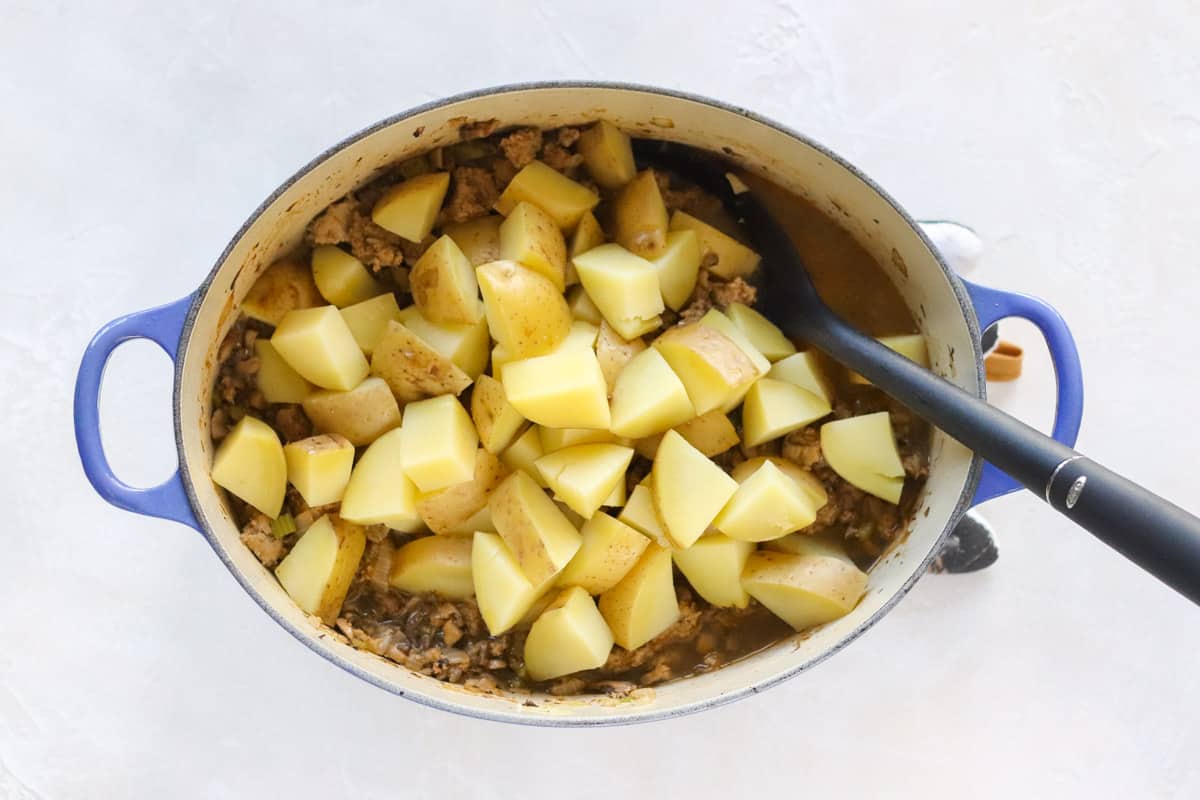 Types of Potatoes
This is not an exhaustive list of potatoes but includes many of the basic varieties you find in the grocery store:
Russet Potatoes
Russet potatoes are white potatoes that have a light and fluffy center with thick skin.
Best for baking, roasting, pan-frying, sauteing, mashing, and frying. Russet potatoes are great for recipes like Perfect Baked Fries, Twice Baked Potatoes, and Crockpot Smashed Potatoes.
They do not hold their shape as well when boiled so aren't recommended for dishes like potato salad. However, they can be great for thickening soups like Instant Pot Vegetable Beef Soup or Loaded Potato Soup.
White Potatoes
White potatoes have a nutty flavor and thin skin. They hold their shape well when cooking.
Best for pan-frying, sauteing, frying, and steaming, as well as in soups, stews, or salads. White potatoes are great for recipes like High-Protein Potato Salad or Miso Potato Salad.
Yellow Potatoes
Yellow potatoes have a creamy texture and buttery flavor. They aren't as sturdy as white or red potatoes when cooked, but they still retain most of their texture.
Best for baking, roasting, mashing, and grilling as well as in soups, stews, or salads. Yellow potatoes are great for recipes like Mushroom Sausage Hash or Corned Beef and Cabbage Hash. They're my favorite potato for hash since they slightly retain their texture as well as break down a little to give the dish a creaminess and heartiness.
Red Potatoes
Red potatoes have thin skins and hold their shape throughout cooking.
Best for baking, roasting, grilling, and steaming as well as in soups, stews, or salads. Red potatoes are great for recipes like Smashed Potatoes and Slow Cooker Pot Roast.
Fingerlings Potatoes
With their interesting shape, fingerling potatoes are great potatoes for entertaining or increasing the visual appeal of your recipe.
They have a firm texture with a buttery and nutty flavor. Best for baking, roasting, pan-frying, sauteing, steaming, and microwaving.
Petite Potatoes
While petite potatoes taste similar to normal-sized potatoes, they have a more concentrated flavor. Best for baking, roasting, pan-frying, sauteing, steaming, and microwaving.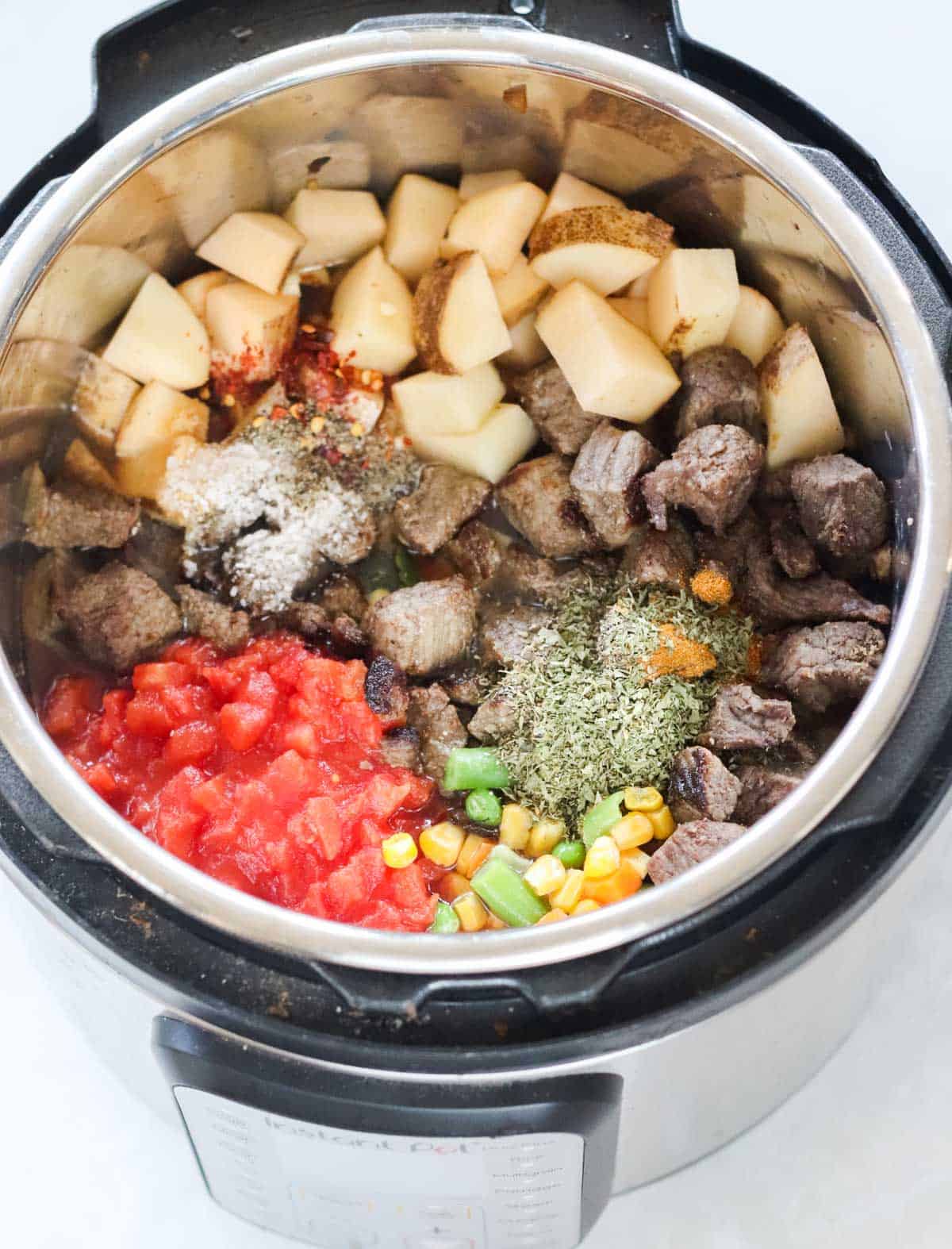 Health Benefits
*The nutrients are varied throughout the potato. The skin contains 55% of total iron, 34% of calcium, and 17% of zinc in the potato. And the flesh of the potato has most of the Vitamin C and potassium.
*Compounds in potatoes have antioxidant, cholesterol-lowering, antihypertensive, anti-inflammatory, anticancer, and (possible) antidiabetic effects.
*Potatoes have resistant starch which can possibly improve insulin sensitivity, lower blood glucose, and lower cholesterol.
*Resistant starch is not broken down by stomach acid. It is later converted into butyrate in the large intestine. Butyrate can enhance immune regulation, fight inflammation and oxidative stress in the body, and improve intestinal motility.
*Baked potatoes have more resistant starch than boiled potatoes, and cooling the potatoes increases the resistant starch.
Nutrition Information
The nutrition facts for 1 medium potato (about 6 ounces/170 grams):
161 calories
0.2g fat (0.1g saturated fat)
36.6g carbohydrates
3.8g fiber
4.3g protein
28% Vitamin C
12% Niacin
27% Vitamin B6
12% Folate
26% Potassium
10% Iron
12% Magnesium
12% Phosphorous
19% Manganese
10% Copper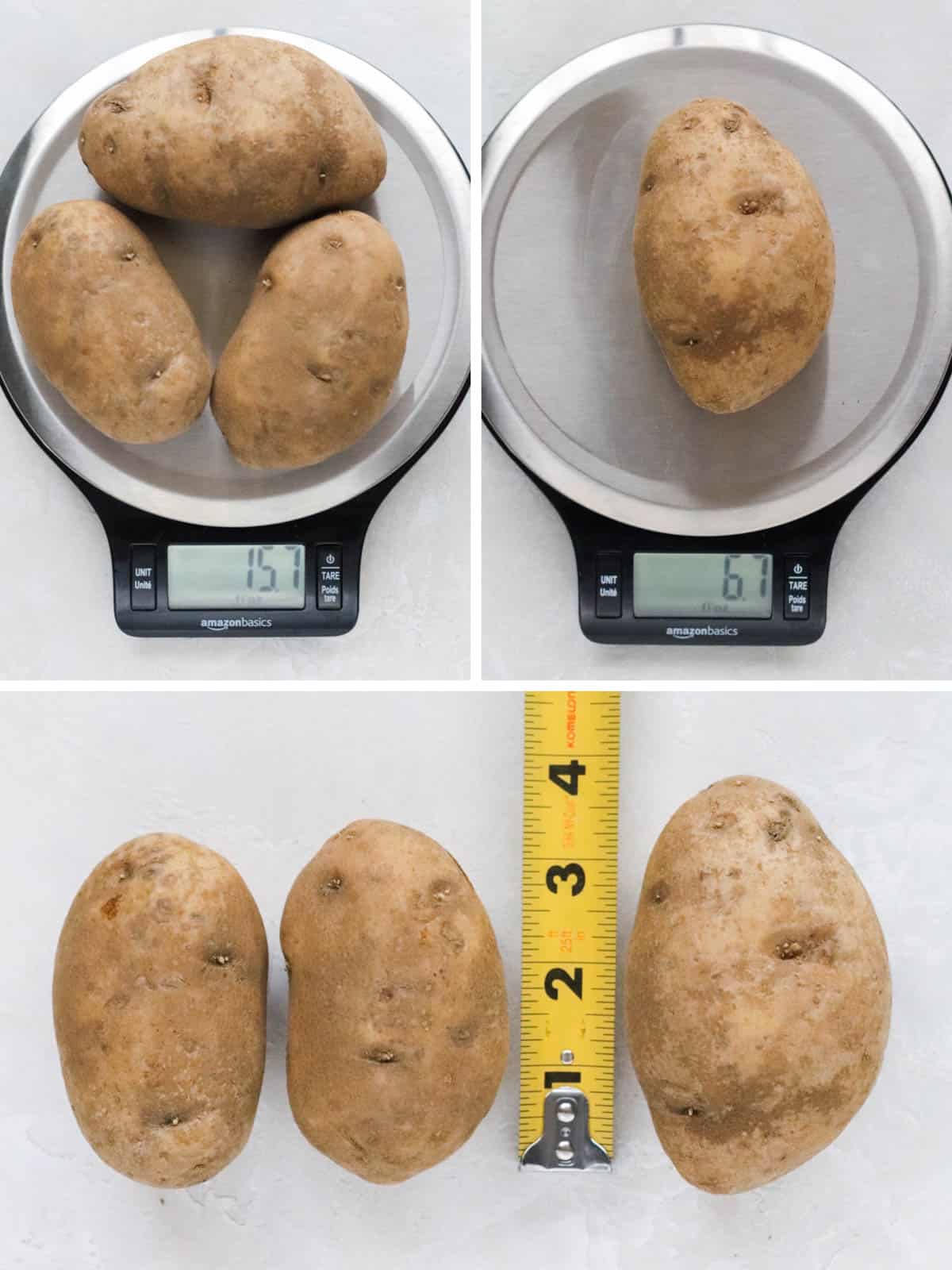 Amounts
*1 medium russet potato is around 6 ounces or 170 grams and 4 inches in length. Yellow potatoes are similar in size.
*1 pound of potatoes is about 3 medium potatoes.
*1 medium potato is about 1 cup chopped.
*A 10-pound bag of russet potatoes usually has around 25 potatoes.
*A 5-pound bag of yellow potatoes usually has around 12-15 potatoes.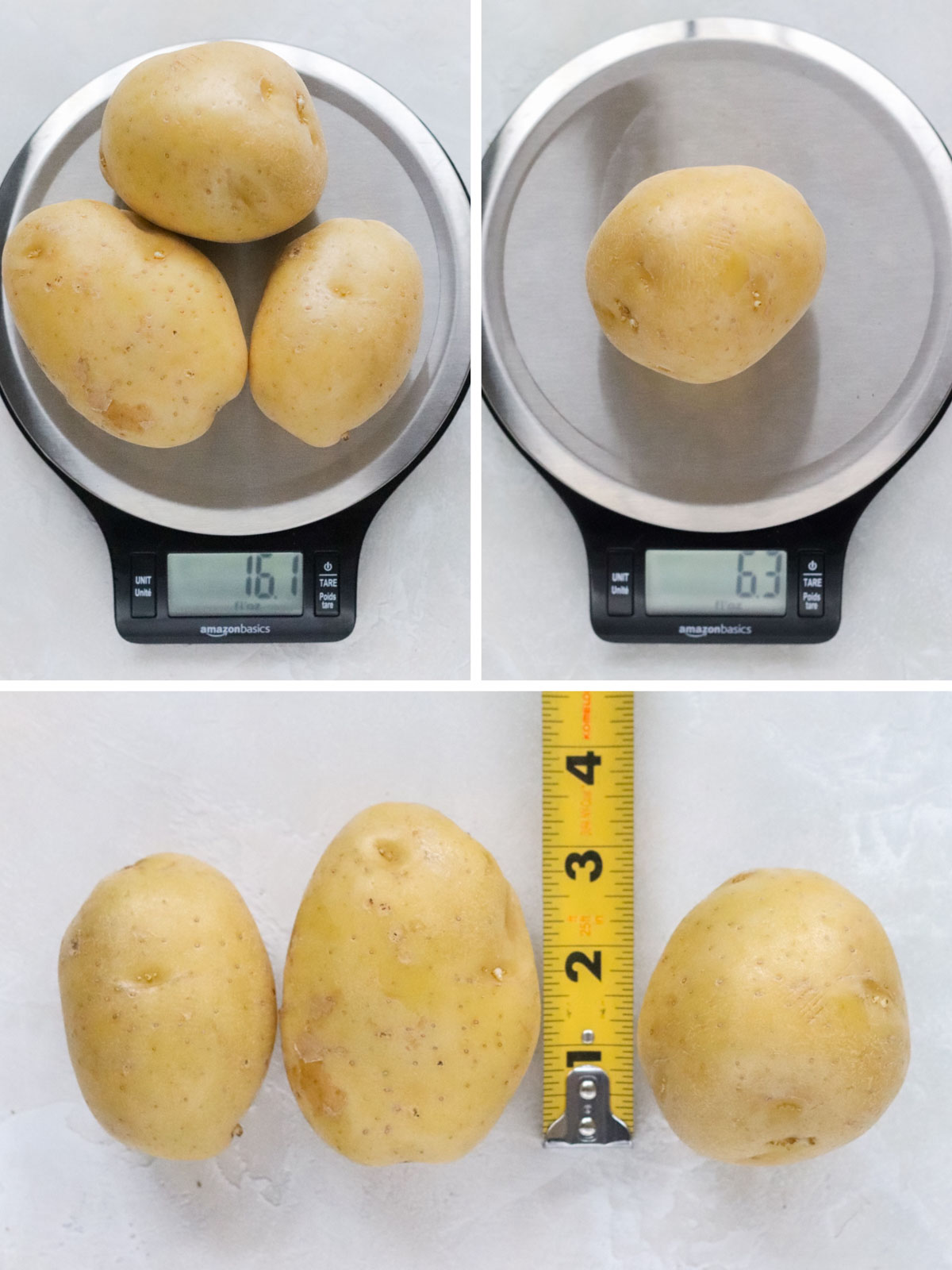 Substitutions
*Cauliflower is often labeled as a substitute for potatoes in recipes; however, the texture and taste are quite different.
Cauliflower can be added as an addition to increase the amount you get like in these Instant Pot Mashed Potatoes, but it's not recommended to replace it completely if you want the taste and texture to be the same.
*There really isn't a substitute for potatoes, but many potatoes can be used interchangeably.
Shopping and Storage Tips
*Look for potatoes without sprouts or blemishes. This often means they are older, going bad, or rotten on the inside.
*To find smaller and medium potatoes, it can be helpful to buy 5 or 10-pound bags of potatoes. Often, potatoes sold separately end up being larger.
*Store away from onions or apples since they both emit gases that can cause the potatoes to ripen (and spoil) faster.
*Wait to wash until just before using.
*Store in a well-ventilated area at room temperature.
*Do not store potatoes in the fridge. They should not be stored under 43°F.
Keeping the potatoes in the refrigerator causes the starches to turn into sugars. This makes the potatoes sweeter and darker as well as leads to more acrylamide when cooked.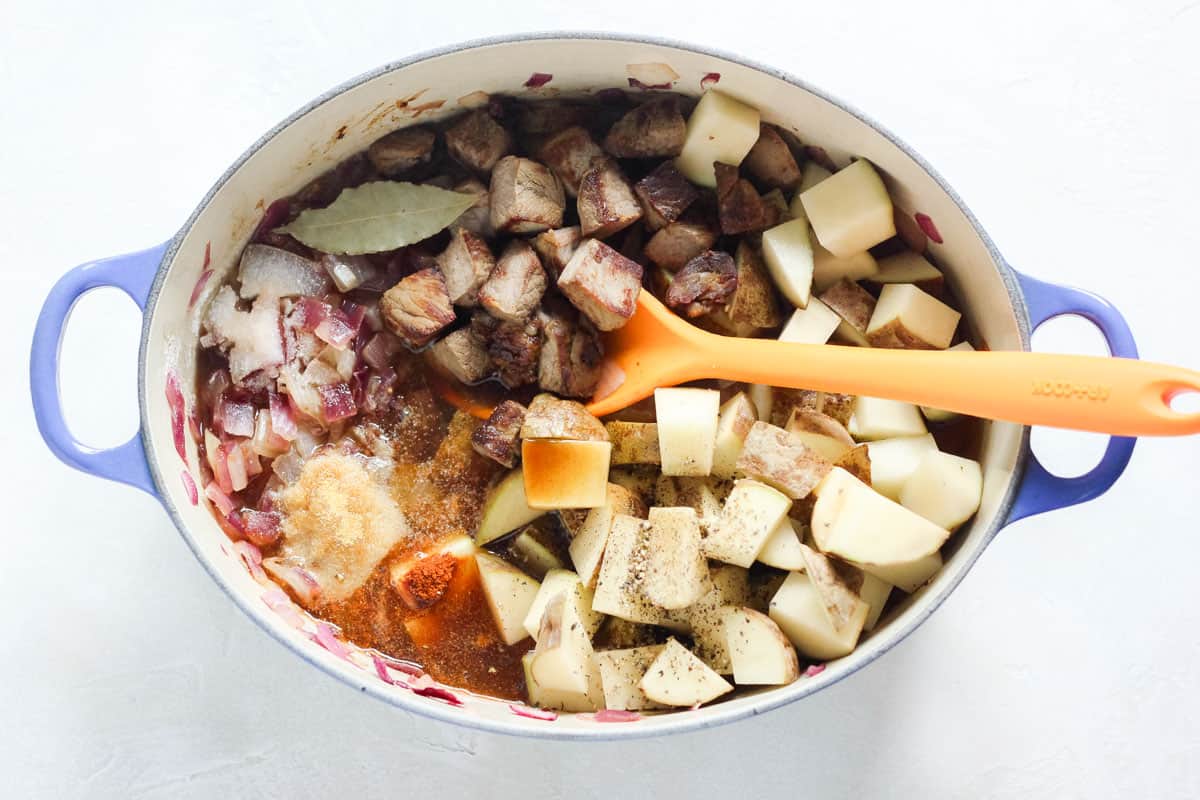 Budget-Friendly Suggestions
*Potatoes are a very economical choice for veggies, and you can save money by buying larger bulk bags.
*A 10-pound bag of russet potatoes usually costs around $7 at Walmart in San Diego, meaning one potato is around 25 to 30 cents.
Potato Fun Facts
*In the United States, Idaho grows the most potatoes.
*Idaho potatoes are russet potatoes but they can only be called Idaho potatoes if they are grown in Idaho.
*The United States is 5th behind China, India, Russia, and Ukraine.
*Potatoes are naturally gluten-free.
*Potatoes have twice the potassium of a banana.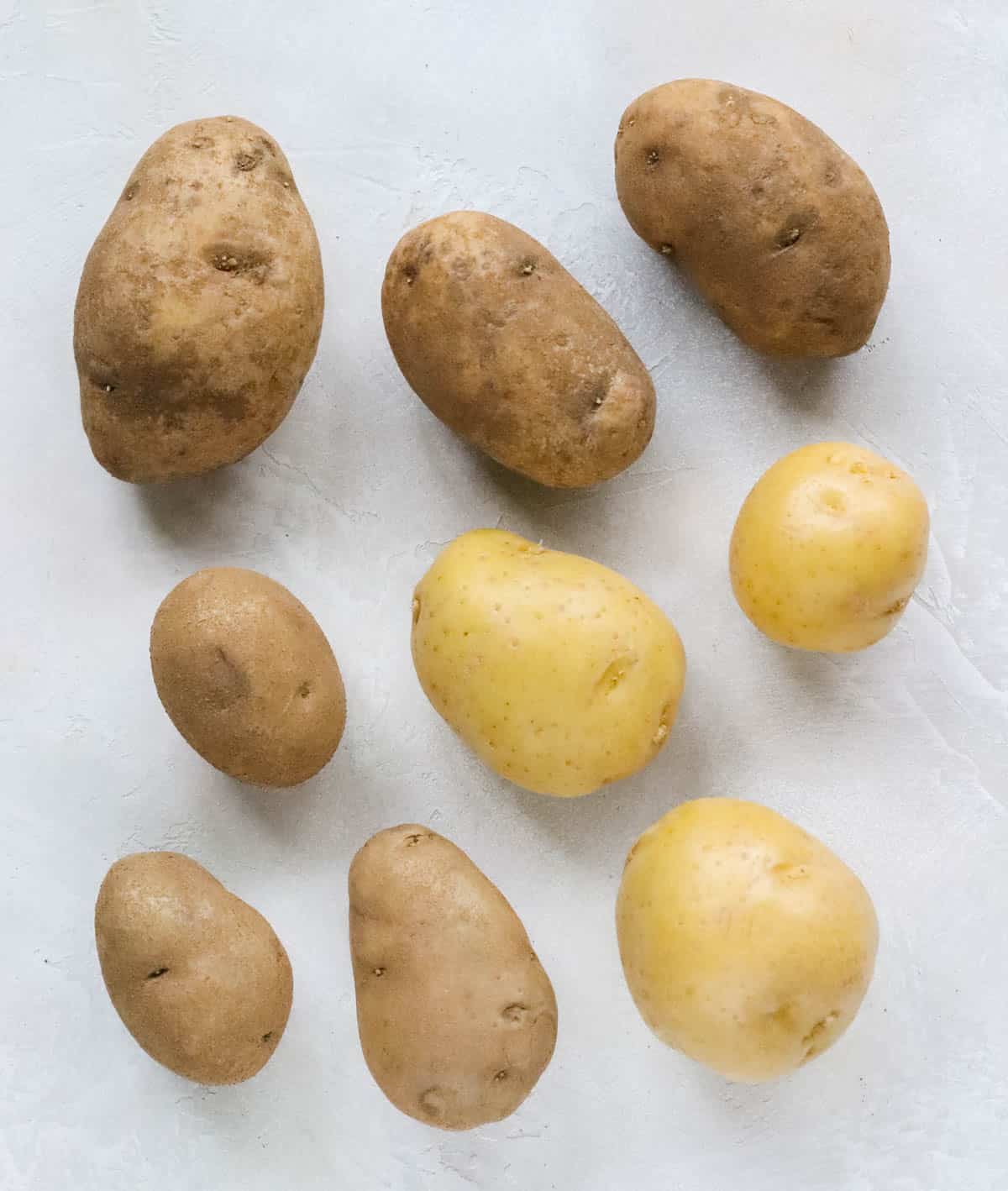 FAQ
Where did the potato originate?
Potatoes originated in the Andes of South America.
Is it healthy to eat a potato every day?
Yes, it is fine to eat potatoes every day. Eating a variety of foods is best to give your body an array of nutrients, but potatoes are a good source of energy, carbohydrates, plus vitamins & minerals.
Are potatoes a superfood?
Superfood is a wellness buzzword that doesn't have a clear definition. However, potatoes are full of nutrients and provide your body with valuable nutrients and energy.
Is eating the skin of a potato good for you?
Yes, it's good to eat the skin of a potato. In fact, the potato skin is where most of the nutrients are concentrated.
Are potatoes good for your heart?
Yes, potatoes are good for your heart. They are an excellent source of potassium and high in fiber, both of which can promote positive heart health. Potatoes are often full of other vitamins, minerals, and antioxidants that support your heart.
Can you keep potatoes in the fridge?
Do not store potatoes in the fridge. It causes the starch in the potato to turn to sugar, so it will be sweeter and darker when cooked. Also, it can cause more acrylamide (a possible human carcinogen) to be formed when frying, roasting, or baking.
Cooking Tips
*While there are some potatoes better suited to specific preparation methods, generally speaking, potatoes can be used interchangeably.
*Before preparing, wash well to remove dirt. Then remove any sprouts or blemishes.
*Don't wrap your potatoes in foil when baking. It doesn't decrease the baking time and can result in a soggy potato.
However, you can wrap the potato after removing it from the oven to keep it warm if there isn't an alternative like a warming drawer or low-temperature oven.
*When making mashed potatoes, rinsing can help remove some of the starch that could make your mashed potatoes gummy.
Acrylamide in Potatoes
Acrylamide, a chemical that forms when cooking some plant-based foods, has been shown to have adverse health effects in large quantities in animals.
It's found in fried potatoes (highest), roasted potatoes, and baked potatoes (lowest).
Cooking at higher temperatures for longer periods of time increases the acrylamide.
Boiling, steaming, and microwaving potatoes do not produce acrylamide.
While acrylamide has been labeled a human carcinogen based on animal studies, it's not helpful to freak out about every bite you take.
The stress from the pressure to eat perfectly and eat without "toxins" is going to be highly detrimental to your health.
It's helpful to gain the knowledge so you are informed. However, remember not to let it scare you or make you fear foods.
How to Lower Acrylamide
That being said, there are a few steps that you can take to help lower the potential acrylamide production in potatoes:
*Do not store potatoes in the fridge. They should not be stored under 43°F.
If stored in the fridge, the starch in potatoes can turn to sugar which produces more acrylamide.
*Use lower-sugar potatoes like russet potatoes when frying.
*Peel the potatoes. Then...
Soak for at least 30 minutes, preferably 90 minutes.
Blanch potatoes for at least 15 minutes, preferably 70 minutes.
Soak potatoes in a solution of 1 part vinegar to 3 parts water for at least 30 minutes.
*Be sure to rinse and dry very well to reduce splattering while frying.
*Studies show that blanching the potatoes prior to frying at 120°F for around 70 minutes greatly decreases (over 70% less) acrylamide.
*Make sure not to overcook the fries as this produces more acrylamide. Oil should be between 300-330°F. A higher oil temperature will increase acrylamide. Increasing oil temperature greatly increases acrylamide.
*New potato varieties are being tested that are specifically made for frying to decrease acrylamide.
*Frying produces the most acrylamide. Roasting leads to less and baking even less.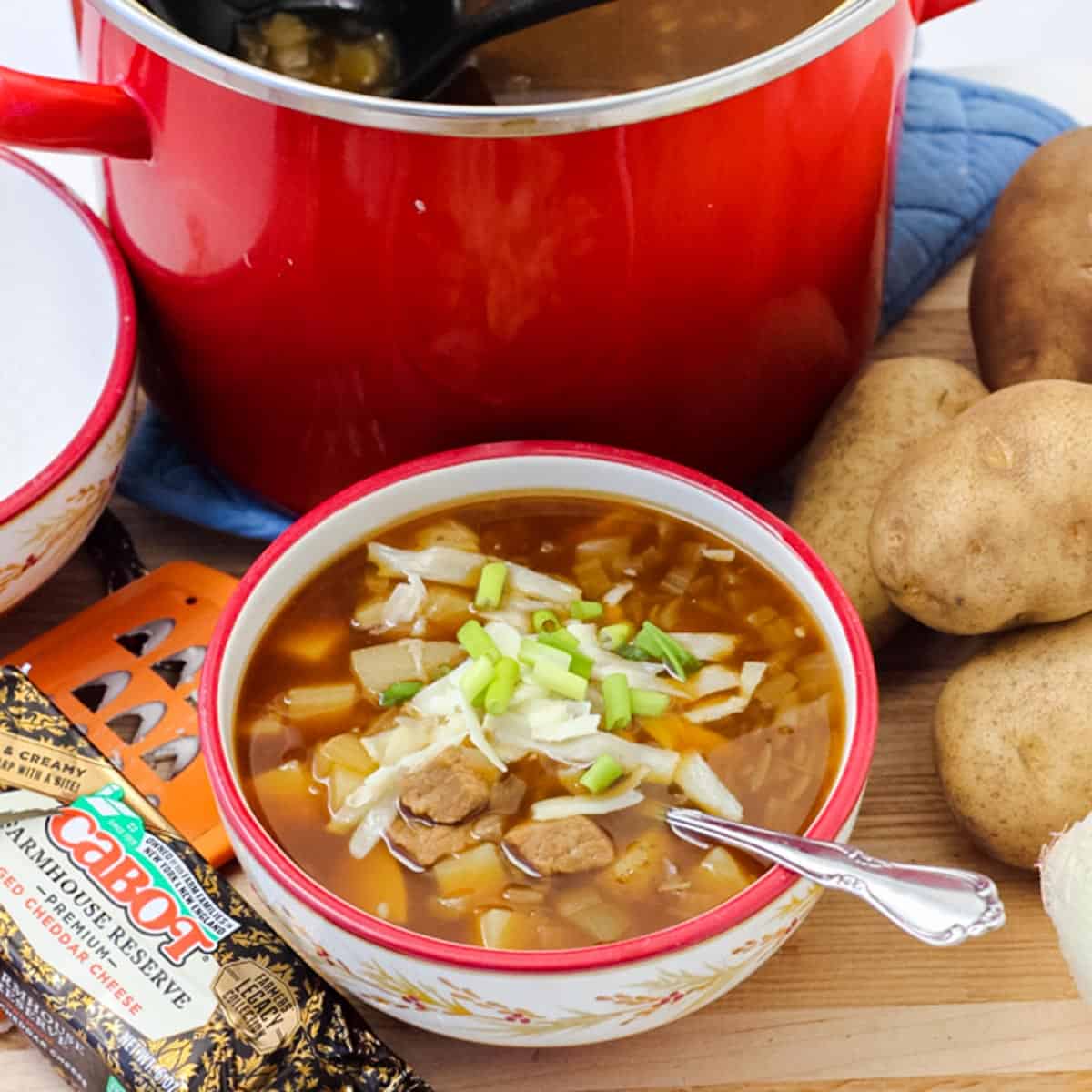 Potato Recipes
Meme
---
Citations:
Potatoes USA https://potatogoodness.com/
Subramanian NK, White PJ, Broadley MR, Ramsay G. The three-dimensional distribution of minerals in potato tubers. Ann Bot. 2011;107(4):681-691. doi:10.1093/aob/mcr009
Visvanathan R, Jayathilake C, Chaminda Jayawardana B, Liyanage R. Health-beneficial properties of potato and compounds of interest. J Sci Food Agric. 2016;96(15):4850-4860. doi:10.1002/jsfa.7848
Flint HJ, Scott KP, Duncan SH, Louis P, Forano E. Microbial degradation of complex carbohydrates in the gut. Gut Microbes. 2012;3(4):289-306. doi:10.4161/gmic.19897
Canani RB, Costanzo MD, Leone L, Pedata M, Meli R, Calignano A. Potential beneficial effects of butyrate in intestinal and extraintestinal diseases. World J Gastroenterol. 2011;17(12):1519-1528. doi:10.3748/wjg.v17.i12.1519
Raatz SK, Idso L, Johnson LK, Jackson MI, Combs GF Jr. Resistant starch analysis of commonly consumed potatoes: Content varies by cooking method and service temperature but not by variety. Food Chem. 2016;208:297-300. doi:10.1016/j.foodchem.2016.03.120
Ohara-Takada A, Matsuura-Endo C, Chuda Y, et al. Change in content of sugars and free amino acids in potato tubers under short-term storage at low temperature and the effect on acrylamide level after frying. Biosci Biotechnol Biochem. 2005;69(7):1232-1238. doi:10.1271/bbb.69.1232
Israilides C, Varzakas T. Strategies to Reduce the Formation of Acrylamide in Potato Chips. A Market and Consumer's Prospective. Curr Res Nutr Food Sci 2015;3(1). doi : http://dx.doi.org/10.12944/CRNFSJ.3.1.03
Pedreschi, F., Kaack, K., & Granby, K. (2004). Reduction of acrylamide formation in potato slices during frying. LWT – Food Science and Technology, 37(6), 679–685. https://doi.org/10.1016/j.lwt.2004.03.001
FDA Acrylamide and Diet, Food Storage, and Food Preparation
Idaho Potato Commission https://idahopotato.com/
Nutrition Data for nutrition facts