Turn your leftover corned beef and cabbage into an easy and delicious hash that's a hearty meal for any time of day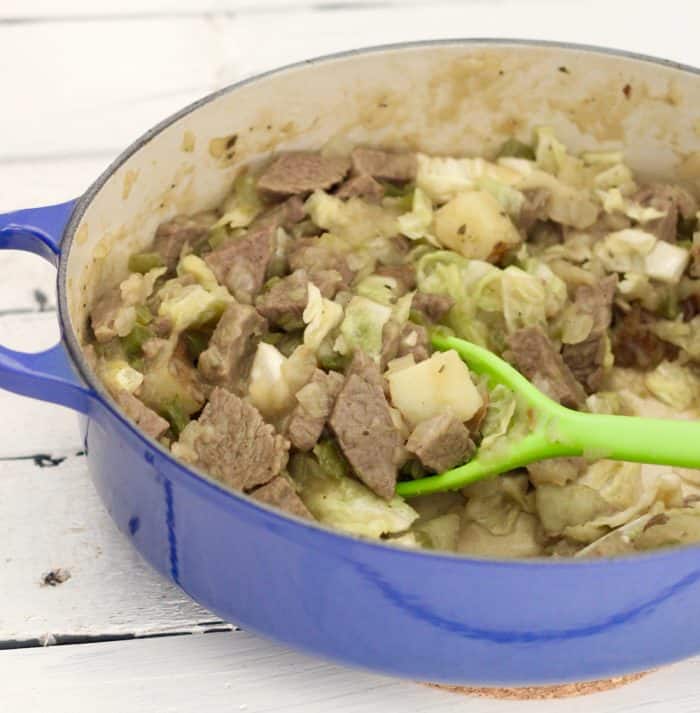 Using more than one dish to cook a meal is generally not acceptable in a recipe for me. I have no interest in spending more time cleaning my kitchen than I do eating, thankyouverymuch.
But in certain situations, I reserve the right to edit that policy.
This Corned Beef and Cabbage Hash earns the right to be a use-two-dishes kind of meal, and I know you will agree. Cleaning that second saucepan won't be upsetting; you'll be glad you used it.
Plus, my grandmother, Nan, said we needed to use two dishes to cook this hash, and Nan knows hash, y'all.
Hash is one of the recipes that Nan is known for, so when I realized I had almost a pound of corned beef leftover from these tasty lettuce wraps, I knew who to call.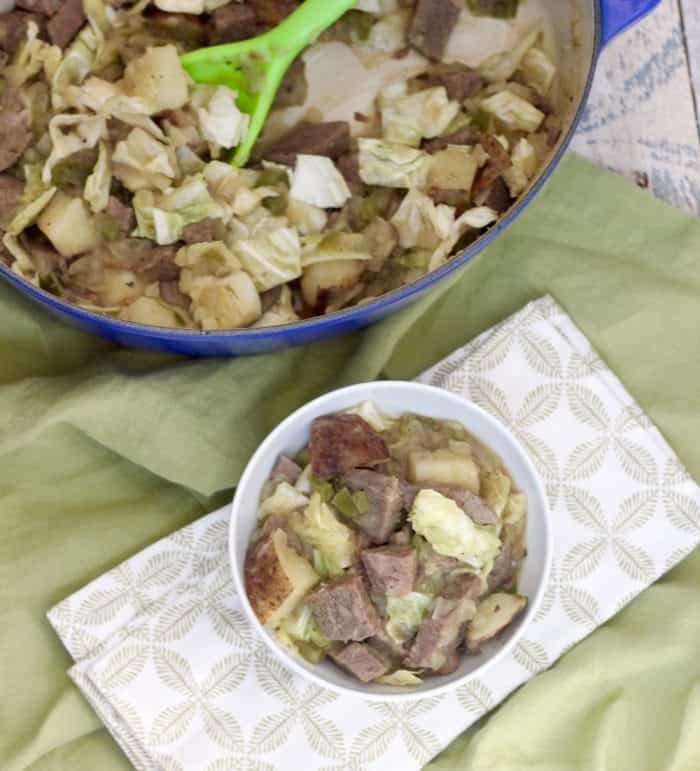 Nan walked me through her process for making the hash.
One thing to know about Nan: she does not worry about how many dishes she uses.
Nan is the queen of making a kitchen dirty. Obviously, I learned from the best (even when I try to only use one dish, my kitchen always looks like it exploded after I cook. No matter what)
So as Nan was walking me through her process and mentioned that I'd be using a saucepan to boil the potatoes first then another dish to cook the hash, I had some serious reservations about making this.
But, I rationalized with myself, I'd only be boiling potatoes and it would take seconds to clean that pot.
Plus (and this is the best part), boiling your potatoes in broth not only makes your potatoes the bomb, but it also gives you all that starchiness from the potatoes that helps thicken your hash when you transfer the potatoes and broth cooking liquid to the hash.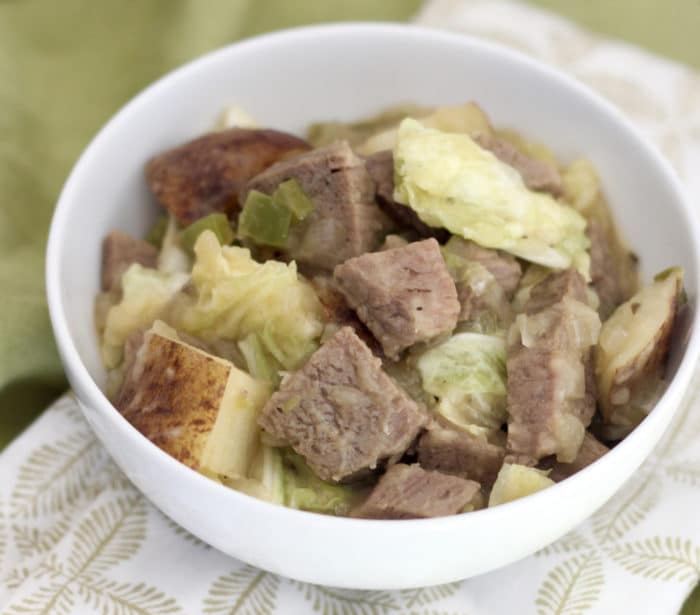 I'm so glad I followed her instructions because this stuff is heavenly. I ate it for brunch. Then I ate it for dinner. Then I ate it again for breakfast the next day, and I may or may not be planning on having it for lunch again.
I honestly would make a corned beef just to make this hash, but really you should make the lettuce wraps, then make this hash with the leftover corned beef.
Who cares that you have to clean an extra pot?!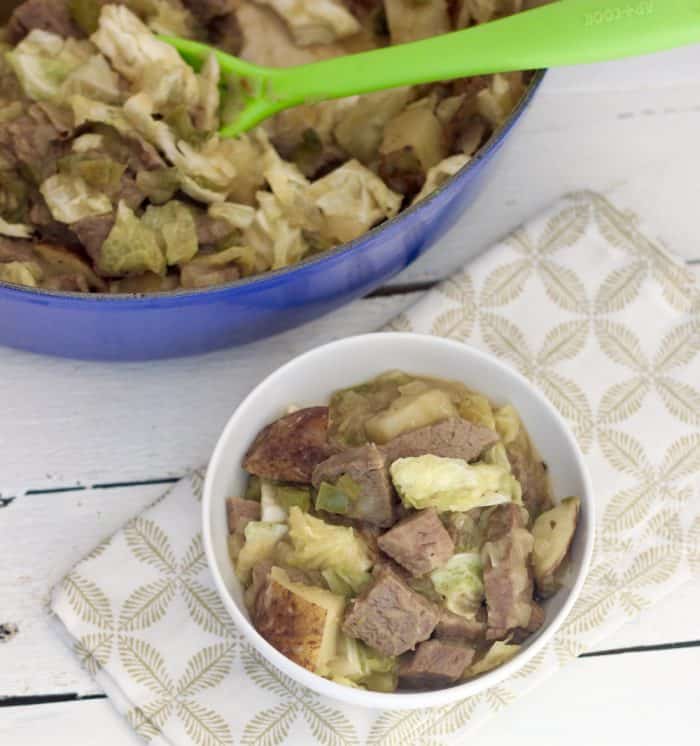 MORE HASH RECIPES YOU'LL LOVE:
---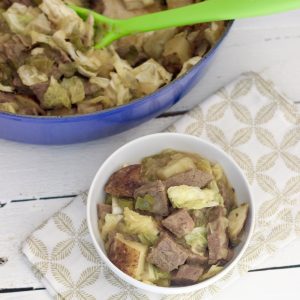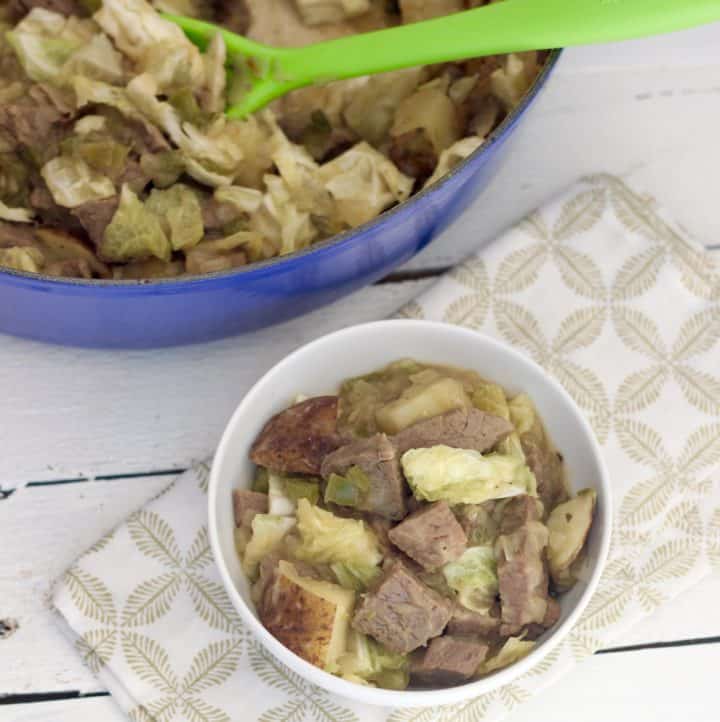 Corned Beef and Cabbage Hash
Turn your leftover corned beef and cabbage into an easy and delicious hash that's a hearty meal for anytime of day
Print
Rate
Ingredients
12

ounce

potato

cubed

2

cups

beef broth

1

tablespoon

olive oil

1

large

onion

diced

1

green bell pepper

diced

12

ounces

cooked corned beef

chopped

1

bay leaf

⅛

teaspoon

garlic powder

⅛

teaspoon

black pepper

1

teaspoon

cornstarch

2

teaspoon

water

2

cups

cabbage

shredded
Instructions
In a medium saucepan, add the potatoes and broth. Bring to a boil and cook for

5-10 minutes

until potatoes are fork tender.

Meanwhile, add the oil to a french oven or large skillet with sides. Add the diced onions and bell pepper, and saute for

10 minutes

over medium/medium-high heat.

Add the cooked potatoes and the broth to the onions and bell pepper. Stir in the corned beef, bay leaf, garlic powder, and black pepper.

Simmer over medium/medium-high heat for

20 minutes

In a small bowl, stir together cornstarch and cold water (until no lumps remain). Reduce the heat to medium-low, and add cornstarch mixture to the dish. Stir well.

Remove the bay leaf and discard. Stir in the cabbage, and let cook for about

5 minutes

until the cabbage is slightly wilted. Enjoy!
Did you try this recipe?
Be sure to leave a comment & recipe rating below. Bonus points for tagging @memeinge & #livingwellkitchen on Instagram! THANK YOU! xo
[showhide type="post" more_text="Click here for Corned Beef and Cabbage Hash Nutrition Facts" less_text="Clear Nutrition Facts"]
*
Nutrition Facts
Corned Beef and Cabbage Hash
Amount per Serving
% Daily Value*
* Percent Daily Values are based on a 2000 calorie diet.
*
[/showhide]
Meme
Doesn't this recipe look good?! You should probably share it: