You need only 5 ingredients for this tangy, sweet, healthy Strawberry Salad Dressing made with fresh strawberries and white balsamic vinegar.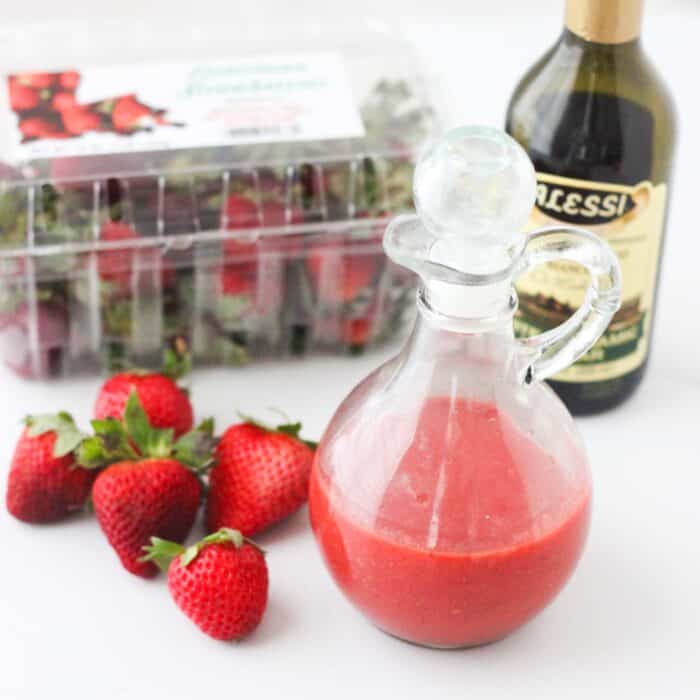 🍓About Strawberry Dressing
When strawberries start popping up in the stores (I'm talking about the local, delicious strawberries -- not overpriced, out of season strawberries), I get super excited.
K, I'm pretty sure you didn't come here to learn about my favorite fruit. You probably saw strawberry dressing and either thought "weird. no." or "yummy! Strawberries in dressing sounds glorious!"
I'd recommend the second opinion because this stuff is addicting. I had to buy extra lettuce because I craved a salad like 8 days in a row because of this strawberry salad dressing.
But it's strawberry season, so they're sweet, juicy, and perfect to balance out the tangy balsamic vinegar and the richness of the olive oil.
I prefer to use white balsamic vinegar because the regular balsamic vinegar could potentially make the salad dressing not as vibrantly red and beautiful, but it's totally up to you.
This takes all of three minutes to make. All you have to do is toss the ingredients in a food processor and blend for less than a minute.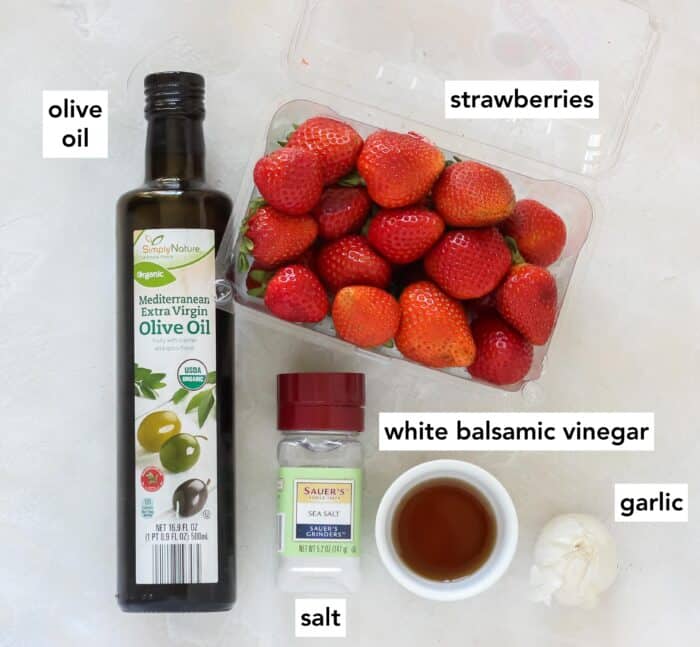 Ingredients
Strawberries: Fresh strawberries are best for this dressing. The texture will be a little off if you use frozen strawberries. Conventional or organic are both good options. After a lot of scientific research, I feel confident eating either conventional and organic fruit.
Garlic: Again, fresh is best here. In a pinch, you can use garlic powder.
Balsamic Vinegar: Regular balsamic vinegar and white balsamic vinegar both work in this strawberry dressing. The white balsamic vinegar is a little sweeter and less tangy, so it is my preferred option. However, regular balsamic vinegar tastes great in here. Note that the color might be a little muted since regular balsamic vinegar has a dark color.
Salt: Don't skip the salt. It really balances out the tangy-sweetness of the strawberry dressing.
Olive oil: When making dressing, I prefer extra virgin olive oil, but quite honestly, it's not a huge deal if you use regular olive oil. I don't recommend substituting with coconut oil as it will have too strong of a flavor. Avocado oil or canola oil could work, but I haven't tested them in this dressing.
Cost of Recipe
strawberries 1 cup: $0.50
garlic 1 clove: $0.06
balsamic vinegar 3 tablespoons: $0.79
salt ⅛ teaspoon: $0.01
olive oil 1 tablespoon: $0.24
TOTAL COST: $1.60 (Based on San Diego Sprouts 2020) or $0.27/serving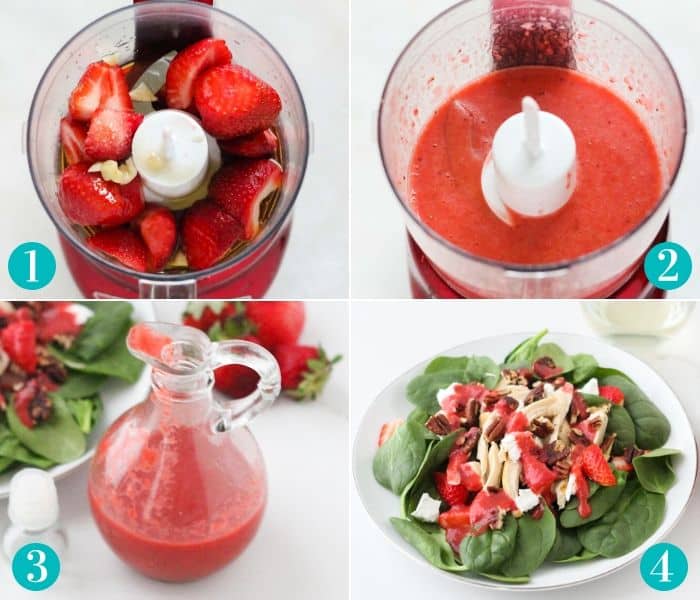 How to Make Strawberry Salad Dressing
Making your own salad dressing at home is incredibly simple. For this strawberry dressing, you simply add the ingredients to a food processor or blender, and combine.
Add all of the ingredients to a mini food processor.
Blend.
Pour into a container
Enjoy!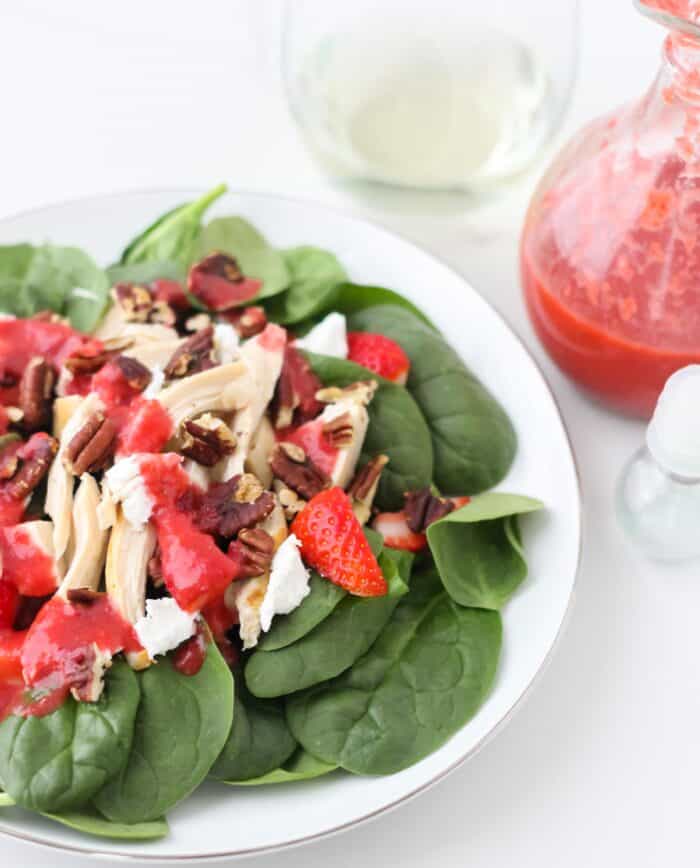 Recipe Tips
Variations
Ingredient Options
White balsamic vinegar: This recipe uses white balsamic vinegar which has a more mild flavor and a lighter color. Regular balsamic vinegar will work in place of the white balsamic vinegar but the dressing will be a darker color and have a little more tanginess. You can add a pinch of sugar if you'd like a sweeter dressing.
How to Make Allergy Friendly
This Strawberry Salad Dressing recipe is already gluten free, dairy free, egg free, soy free, nut free and vegan/vegetarian. Be sure to read ingredient labels to ensure that there are no allergens you need to avoid in the ingredients you are using.
Flavor Substitutions
Vinegar: For a tangier dressing, use regular balsamic vinegar or white wine vinegar. If using white wine vinegar, I recommend adding a pinch of sugar to help bring out the sweetness in the strawberries.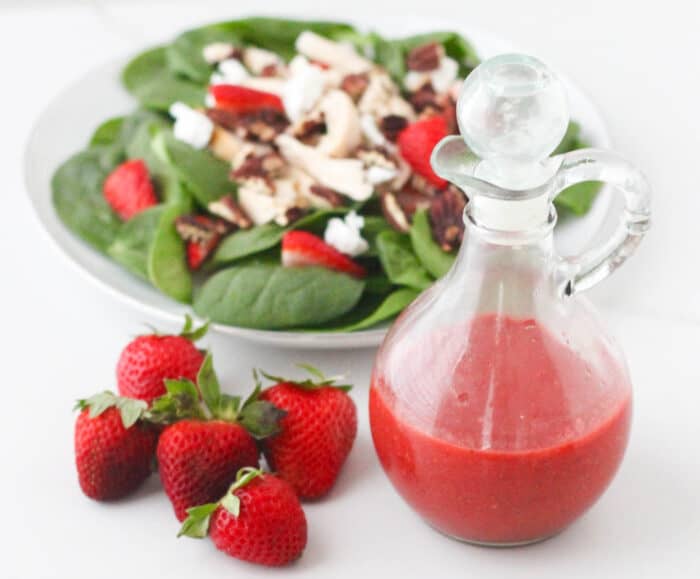 Make Ahead Ideas
Pretty much all salad dressings are excellent for making ahead of time, especially since you can keep them in the fridge for 5-7 days. Also, making in advance allows the flavor to meld together. Highly recommend making this dressing ahead of time if possible.
Storage Suggestions
Keep this strawberry salad dressing in an airtight container for up to 7 days. I don't recommend freezing.
Frequently Asked Questions
Can you do anything else with this strawberry salad dressing?
Yes, you can! You can use it to marinate chicken breasts to grill or pan fry. Simply pour the dressing into a resealable glass container or plastic bag, and toss to coat. Refrigerate for at least 30 minutes or up to 4 hours. Remove from strawberry dressing, discard any remaining dressing, and cook the chicken however you desire.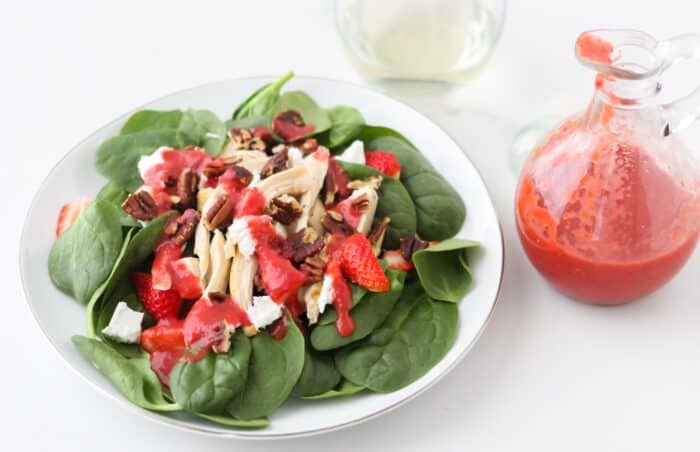 Nutrition Benefits
Strawberries are as delicious as they are nutritious, full of Vitamin C, fiber, and antioxidants & phytonutrients. As a whole, this strawberry vinaigrette is full of antioxidants but also helps you absorb the nutrients in your salad thanks to the olive oil in the dressing.
What to Serve with Strawberry Vinaigrette
Honestly, I would serve this on almost any salad. I personally love a combo of spinach, pecans, and goat cheese or feta cheese with this strawberry salad dressing. Add some chicken and a side of bread for a complete meal. It's also great on any kind of mixed green, butter lettuce or romaine lettuce.
Final thoughts
This is quite possibly my favorite salad dressing in the entire world. It's tangy, sweet, salty, and slightly rich, and it works well on many types of salads. I highly recommend making it if you have fresh strawberries. Plus, like many other salad dressings, you can use it to marinate chicken.
MORE STRAWBERRY RECIPES YOU'LL LOVE:
---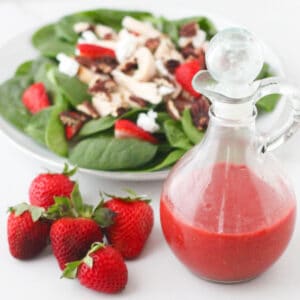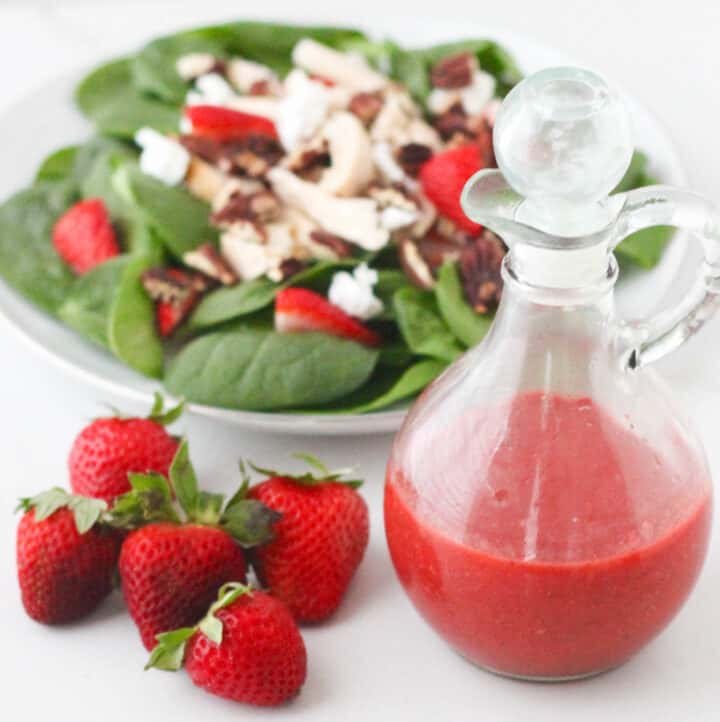 Strawberry Salad Dressing
You need only 5 ingredients for this sweet, tangy, rich dressing made with fresh strawberries. It'll have you looking forward to salads everyday!
Print
Rate
Ingredients
1

cup

chopped strawberries

about 8-10 strawberries

½

teaspoon

minced garlic

1 small garlic clove

3

tablespoon

white balsamic vinegar

⅛

teaspoon

salt

1

tablespoon

olive oil
Instructions
Add strawberries, garlic, vinegar, and salt to a food processor. Blend until smooth.

Pour in olive oil and process until combined.

Store in an airtight container in the refrigerator for up to one week.
Notes
*You can substitute regular balsamic vinegar but it will have a darker color and a slightly more pronounced balsamic vinegar taste
*Makes ¾ cup
What to Use in This Recipe
Did you try this recipe?
Be sure to leave a comment & recipe rating below. Bonus points for tagging @memeinge & #livingwellkitchen on Instagram! THANK YOU! xo
[showhide type="post" more_text="Click here for Strawberry Salad Dressing Nutrition Facts" less_text="Clear Nutrition Facts"]
*
Nutrition Facts
Strawberry Salad Dressing
Serving Size
2 tablespoons
Amount per Serving
% Daily Value*
* Percent Daily Values are based on a 2000 calorie diet.
*
[/showhide]
Meme
This post was originally published May 4, 2016. Text, recipe, and photos have been updated.
Doesn't this recipe look good?! You should probably share it: