Red White and Blue Sangria is a festive and fun drink great for celebrating Memorial Day or the Fourth of July! Super simple, vegan, and can be made without sugar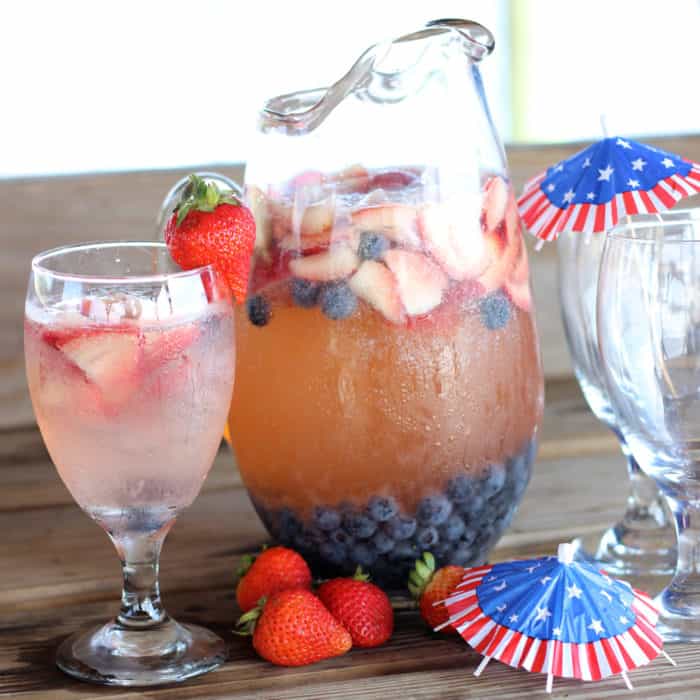 About Red White and Blue Sangria
Red strawberries, white wine, and blueberries make this festive cocktail look like Independence Day in a pitcher, and it's just a pitcher of fun. It's also super easy, very tasty, and can even be made without added sugar. Yet, there's no need to save this recipe for only Memorial Day and 4th of July; you can enjoy it all summer.
I love that it's not super sweet like most sangria is. And like my other sangria recipes (for Berry Peach Sangria and Strawberry Kombucha Sangria), it's a white wine sangria which is great for the summer.
Because it makes a large batch of drinks, this Red White and Blue Sangria is excellent for entertaining. Bonus is that it helps stretch one bottle of wine to serve more people, so it's nice on your budget as well.
Oh and my favorite part is drunk fruit, so definitely enjoy the fruit in your sangria. Yay for extra nutrients and fiber. Speaking of drunk fruit, you must try these Festive Drunk Strawberries. Perfect for the 4th!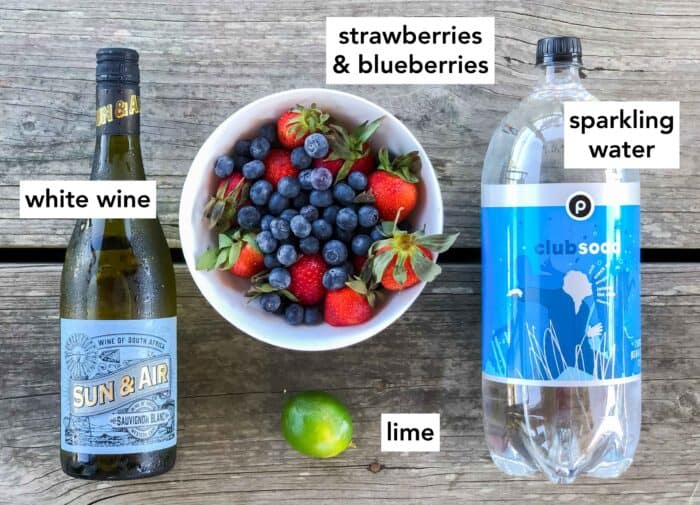 Ingredients
Strawberries: Fresh strawberries are best to give your sangria that classic red, white and blue color. Frozen sliced strawberries could work in a pinch, but defrosted strawberries typically lose their structure and color when thawed, so the sangria might not be as visually appealing. If you decide to use frozen, be sure to use sliced with no added sugar or syrup or your sangria will be too sweet.
Blueberries: The blueberries give the blue color to your sangria, and I prefer fresh. I have never tried with frozen but I supposed it would work. However, your sangria will likely have a redded more purple color with the blueberries thawing in the white wine.
Lime: The lime juice gives the sangria a little depth of flavor than just sliced fruit and wine. Fresh lime is best, but bottled or powdered lime juice will work in a pinch. I would start with less than the recommended amount and increase slowly as desired.
White Wine: A lighter, fruitier, young wine is best for sangria to complement the fruit in the drink.
Sparkling Water: Club soda or any basic sparkling water will work. You can also add a lime-flavored sparkling water, but I don't think I'd use any other flavor in case it overpowered the fruit and wine.
Sugar: Sugar is optional, but it doesn't bring out the sweetness in the fruit. I like to add sugar personally because it's a small amount at only one teaspoon. But feel free to omit it; your sangria will still be good, just not as sweet.
Orange Liqueur: Another optional ingredient but adds a little extra flavor to your 4th of July Sangria. Any orange liqueur will work like Cointreau, Triple Sec, or Grand Marnier.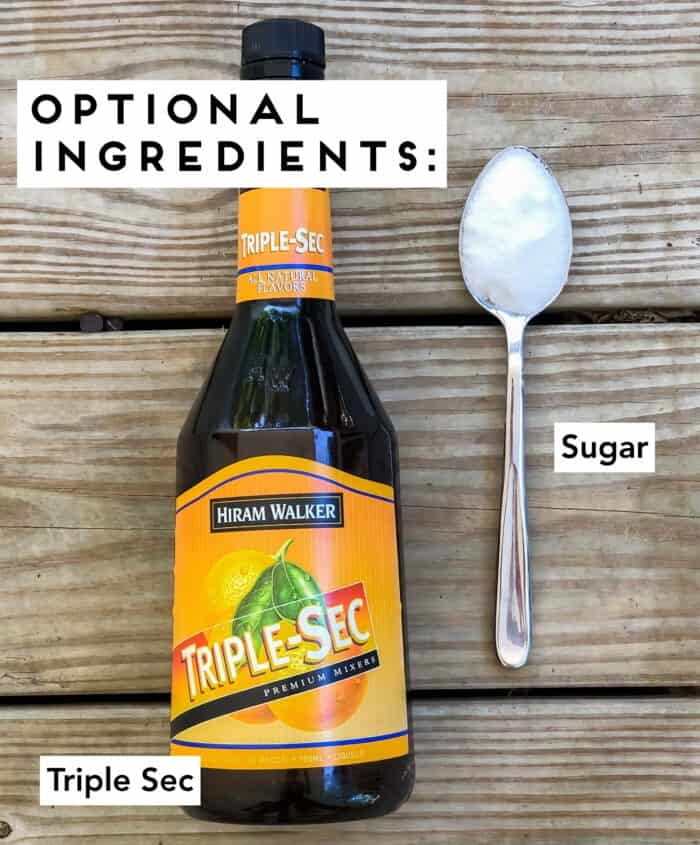 Cost of Recipe
Strawberries 16 ounces: $2
Blueberries 12 ounces: $5
White wine 1 bottle: $9.99
Lime 1: $0.33
Sparkling water 1 liter: $0.99
TOTAL COST: $18.31 (Based on San Diego Sprouts 2020) or $2.29/serving
How to Make Red White and Blue Sangria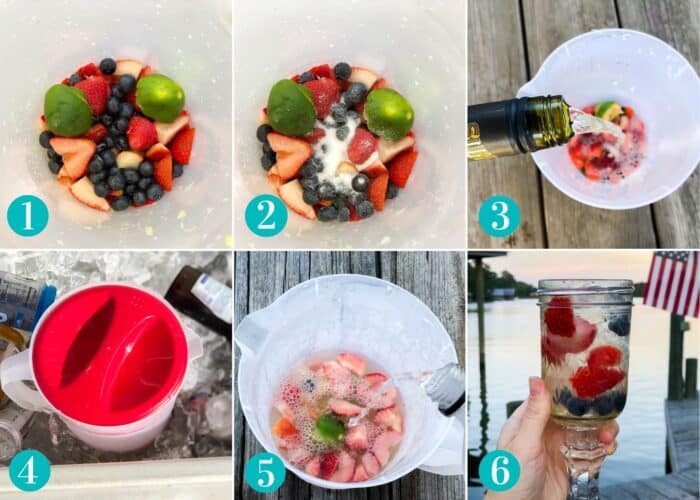 First you start by slicing a pint of strawberries. Add the sliced strawberries to a pitcher along with blueberries. Squeeze in a lime, and you can also toss it in the pitcher.
Sprinkle with a teaspoon of sugar, and let sit to allow the juices to release from the fruit.
Pour in wine and orange liqueur if you are using it. Stir well.
Cover and let sit in the fridge (or a cold place like an ice chest) for at least 4 hours and up to 24 hours. This is great to make in the morning and then have it for an afternoon drink.
Right before serving, pour in the sparkling water, seltzer water or club soda.
Pour into a glass to enjoy. It's up to you whether or not you serve it with ice, but do be sure to serve it chilled.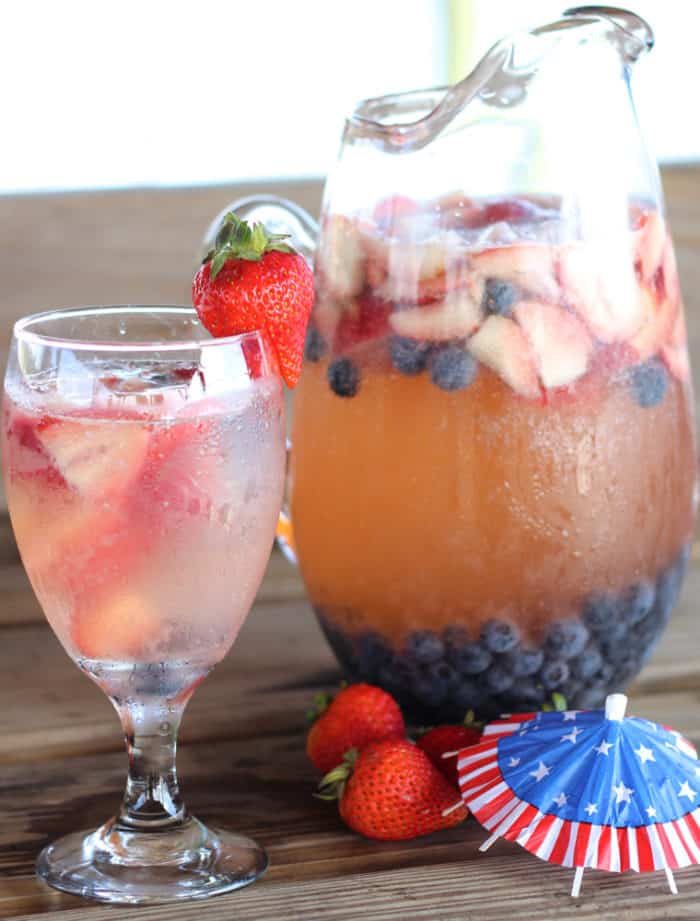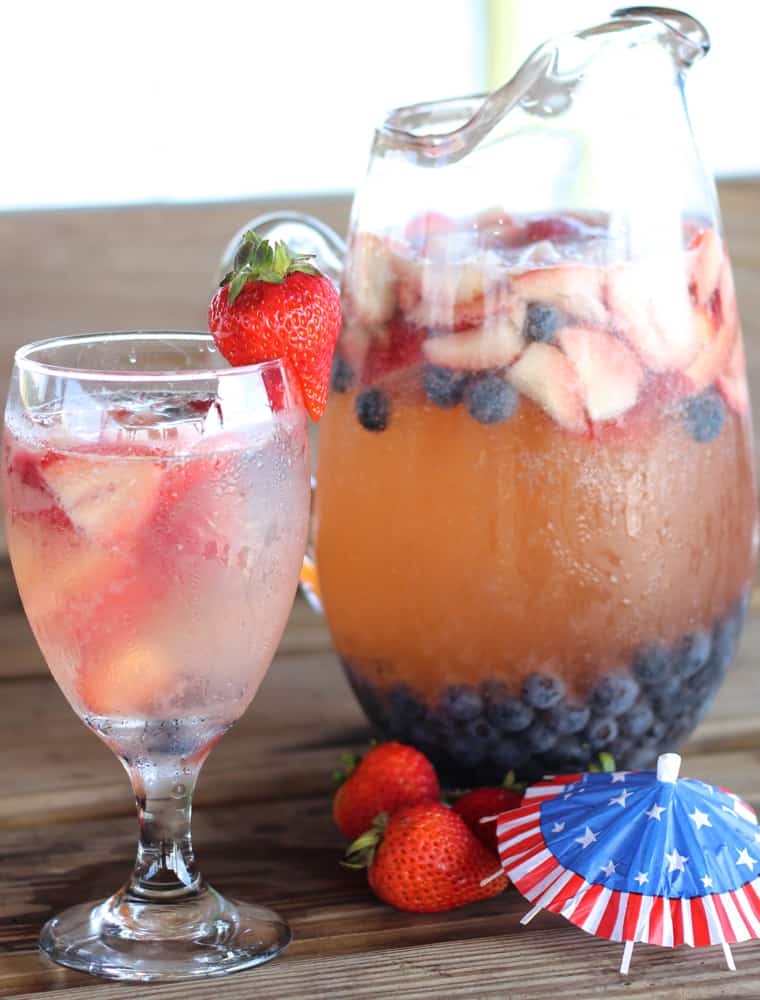 Recipe Tips
Variations
Ingredient Options
Strawberries or Blueberries: Feel free to change up the fruit. If you want to keep this a Red White and Blue Sangria, just make sure to use a fruit that is similar in color. Raspberries and blackberries would both work well.
Lime: You can use a lemon or orange in this sangria. Use 1 small lemon or half of an orange. Another alternative is to grate some of the zest into the sangria. Be sure not to let any of the white pith get into your sangria or it'll be bitter.
How to Make Allergy Friendly
Red White and Blue Sangria is already gluten free, dairy free, soy free, nut free, egg free, and vegan. Double check your ingredients list to make sure any ingredients you do not want are not in there. Otherwise, it very allergy friendly for the over-21 group.
How to Fix a Mistake
There isn't much to mess up here, and that's coming from someone who makes a mistake 99.9% of the time I prepare anything. If you want to change the ratios a little you can. However, feel free to add extra fruit, wine or sparkling water based on whether or not you added too much of something else.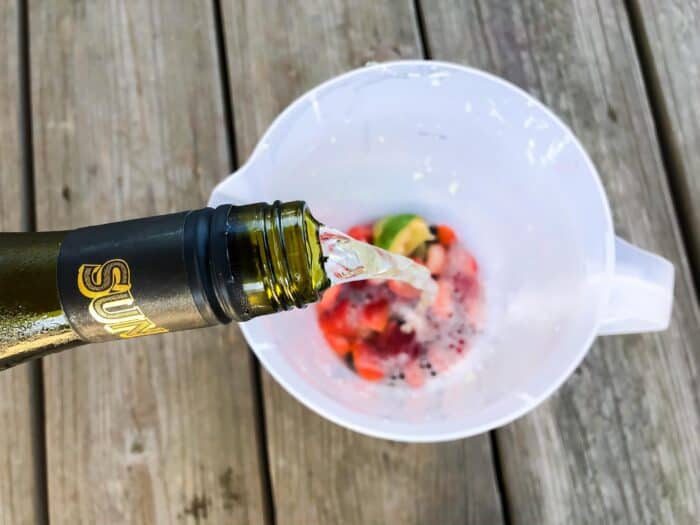 Make Ahead Ideas
Sangria must be made in advance, so be sure to prepare this at least 4 hours before you're ready to drink. Wait until just before serving to add the sparkling water.
Storage Suggestions
Store in the refrigerator in a pitcher with a top, so the sangria doesn't absorb any smells from the fridge. I find it best to enjoy this within the first 24 hours that you make it. Otherwise, the fruit starts to soften a little too much.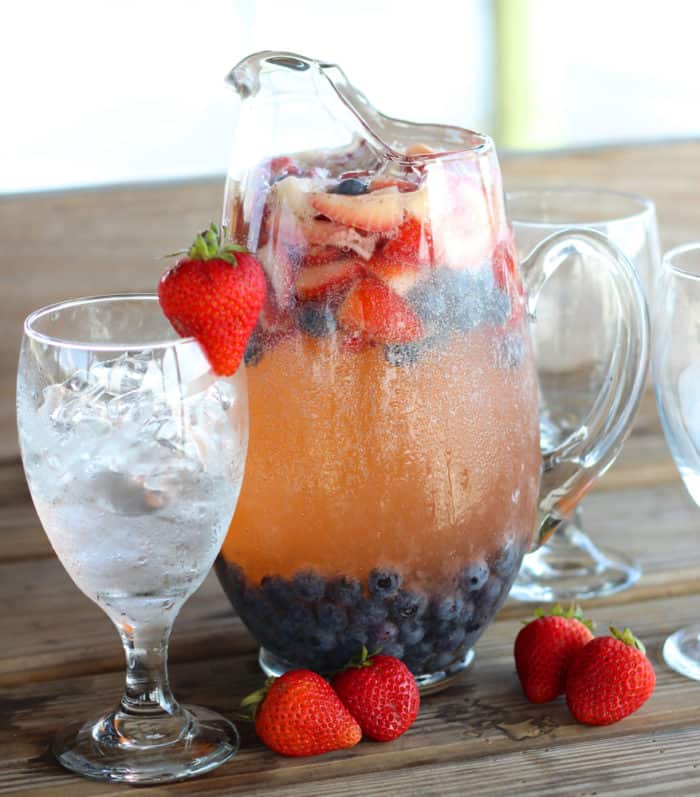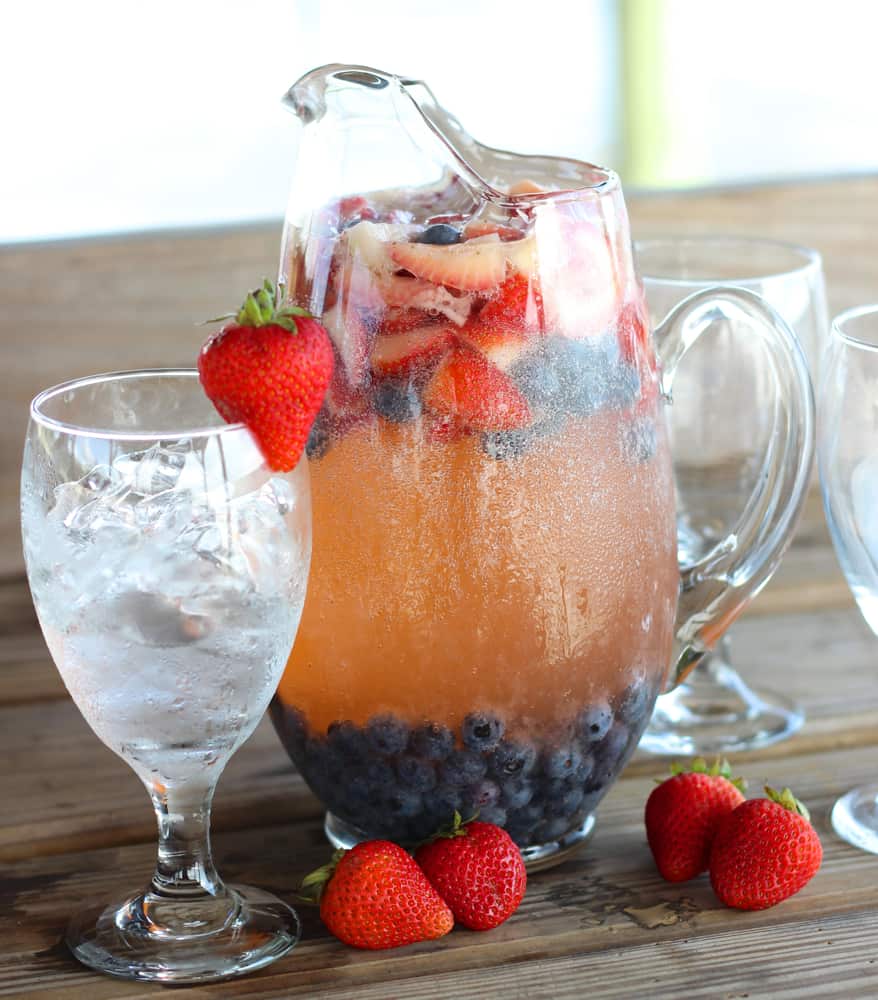 Frequently Asked Questions
Nutrition Benefits
Like every other alcoholic beverage, there aren't tons of health benefits. However, we don't select our food and drink choices based solely on nutrition. And this fun and festive cocktail does have some added fruit with very little added sugar.
What to Serve with 4th of July Sangria
Be sure to serve you Red White and Blue Sangria with food to help you absorb the alcohol. Some of my personal favorites are Hummus Chicken Salad, Easy Summer Appetizer, Homemade Salsa, Cobb Salad Wraps, or Roasted Vegetable Lentil Salad. Don't forget to add dessert with some Coconut Peach Cobbler.
Final thoughts:
You can't go wrong with a pitcher of sangria, especially when it's festive, colorful, easy, and simple. I don't save this Red White and Blue Sangria only for Memorial Day or 4th of July and make it all summer. It's a fun addition to an Independence Day spread.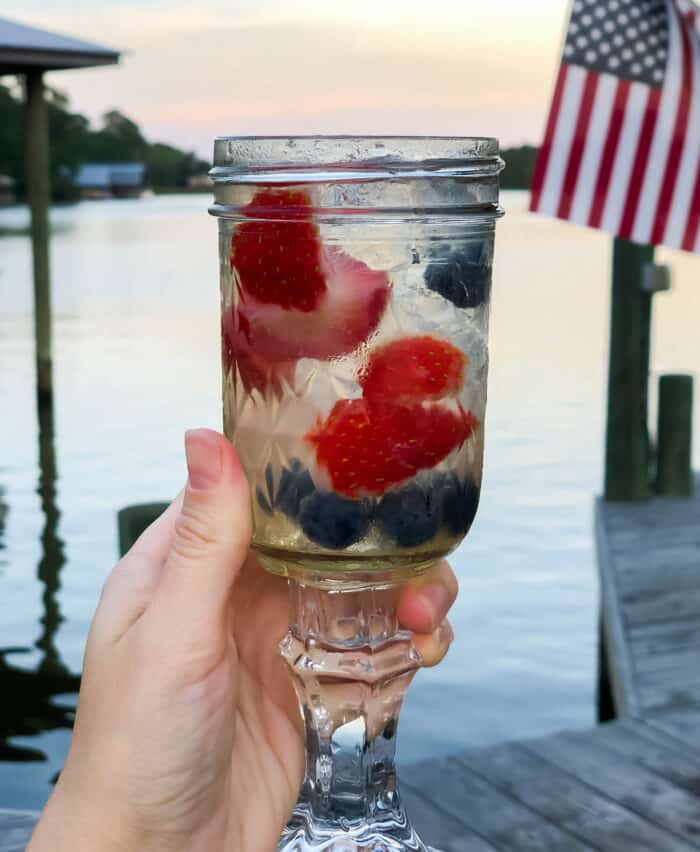 MORE 4TH of JULY RECIPES YOU'LL LOVE:
---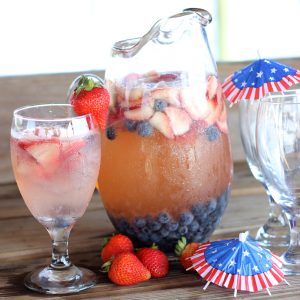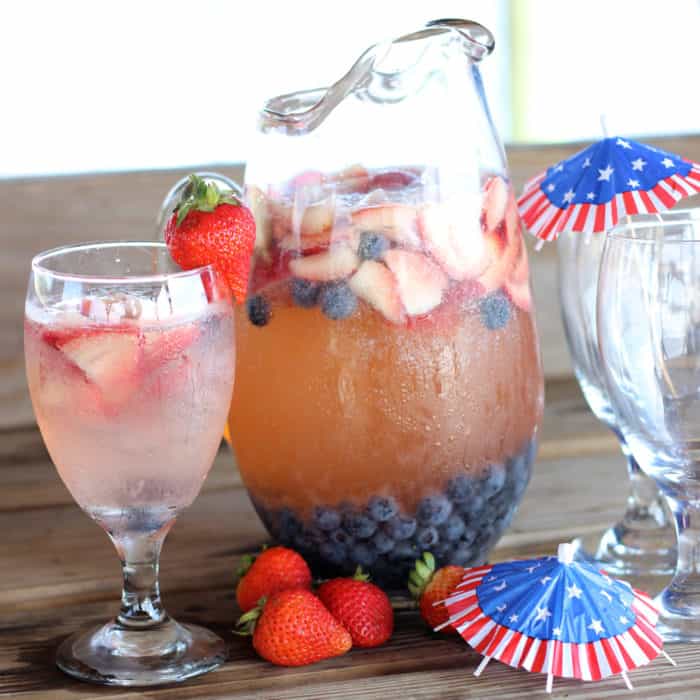 Independence Day Sangria
Festive and fun Red White and Blue Sangria perfect for celebrating Independence Day! Super simple, vegan, and can be made without added sugar
Print
Rate
Total Cost:
$18.31 or $2.29/serving
Ingredients
16

ounces

strawberries

12

ounces

blueberries

1

lime

juiced

1

teaspoon

sugar

optional

750

mL

white wine

like Sauvignon Blanc or Pinot Grigio

1

L

sparkling water

or club soda, chilled

¼

cup

orange liqueur

optional
Instructions
Slice strawberries and add to a large pitcher. Add blueberries and lime juice.

Sprinkle with sugar if using. Let sit for about 10 minutes so the strawberries release their juices.

Stir in wine and triple sec if using. Cover and refrigerate for at least 4 hours or up to 24 hours.

When ready to serve, stir in chilled sparkling water or club soda. Serve chilled and/or over ice. Enjoy!
Notes
*If you don't have a large enough pitcher, you can fill your serving glass with half sangria and half sparkling water. (This is also a good idea if you won't be drinking all of the sangria within a few hours after pouring in the sparkling water)
*A lighter, fruitier, young wine is best for sangria to complement the fruit in the drink.
Did you try this recipe?
Be sure to leave a comment & recipe rating below. Bonus points for tagging @memeinge & #livingwellkitchen on Instagram! THANK YOU! xo
[showhide type="post" more_text="Click here for Nutrition Facts" less_text="Clear Nutrition Facts"]
*
Nutrition Facts
Independence Day Sangria
Amount per Serving
% Daily Value*
* Percent Daily Values are based on a 2000 calorie diet.
*
[/showhide]
Meme
This post was originally published June 30, 2014. Text, recipe, and photos have been updated.
Doesn't this recipe look good?! You should probably share it: