Light and refreshing Pineapple Cucumber Gazpacho that is spicy, sweet, and delicious. This easy cold soup that's dairy-free, gluten-free, and vegan will become your new favorite summer recipe.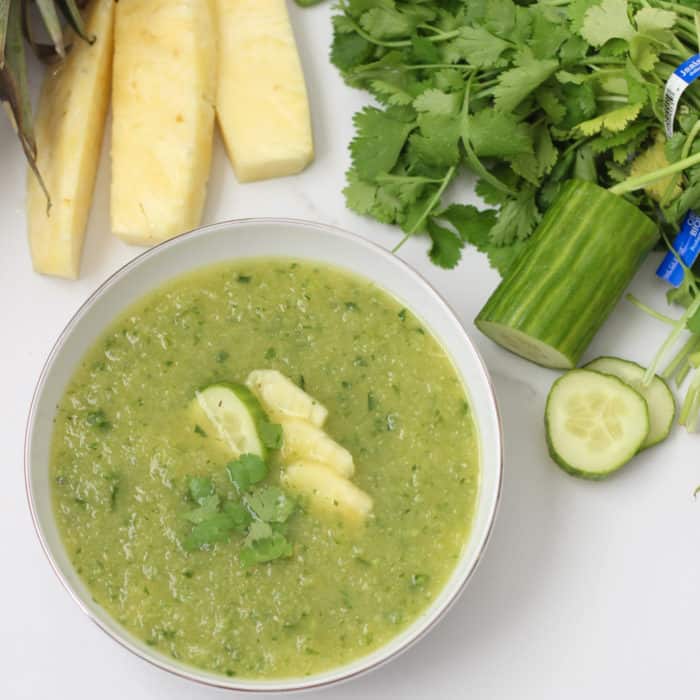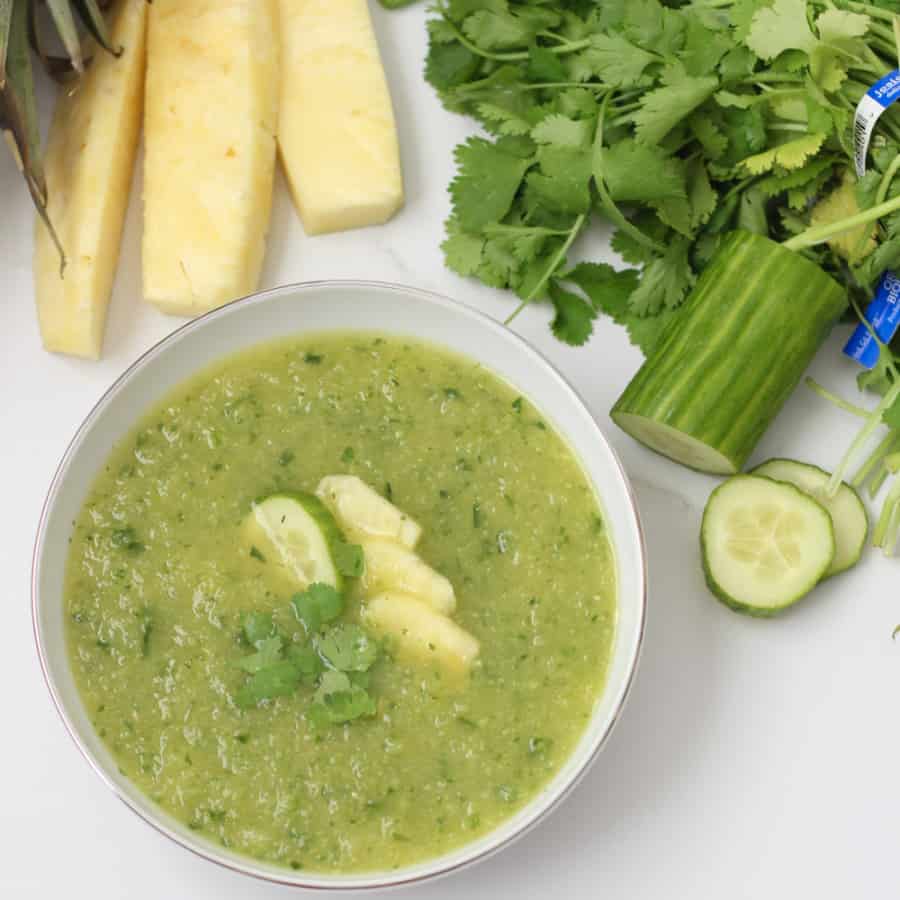 About Pineapple Gazpacho
If it's hot outside, you absolutely positively NEED this gazpacho. It is so good I can't even begin to put it into words.
Throw all the ingredients into a blender, and you get a refreshing
A trip to Whole Foods in the summer (when I couldn't imagine cooking) inspired this gazpacho recipe, which led to about 15 subsequent trips just to get this gazpacho. Then I realized I was spending a little too much money on a bowl of blended fruits & veggies that I wanted to slurp with a straw all day long!
Naturally, I decided I could make it myself since all I needed was a pineapple, pineapple juice, cucumbers, jalapeño, cilantro, and salt.
Not to brag or anything, but I totally nailed this!
What is Pineapple Cucumber Gazpacho
Pineapple Cucumber Gazpacho is a chilled soup made with fresh pineapples and cucumbers -- quite possibly the best summer soup to quench your hunger and thirst in one bowl.
The gazpacho is spicy from the jalapeño, sweet from the pineapple, and the cucumber lightens it up. The salt brings out the sweetness of the pineapple and helps release some of the juices in the cucumber. It's just so good!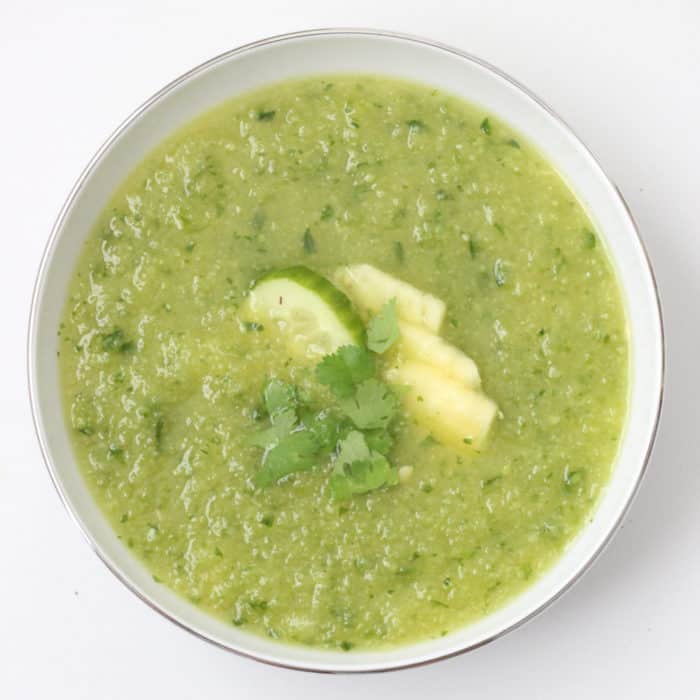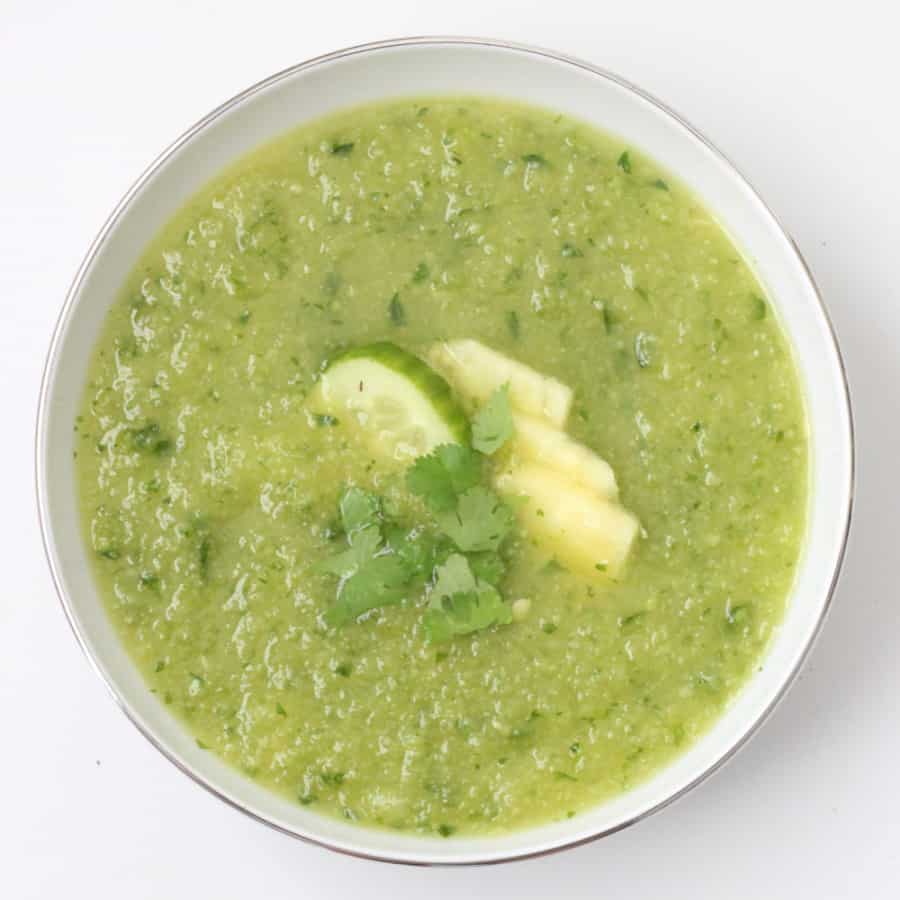 Ingredients
Pineapple: For this gazpacho, fresh pineapple is best. I tried it with frozen pineapple and the texture was a little off. However, it was still pretty tasty; the texture just was more like a smoothie than it was a gazpacho.
Cucumber: Use English cucumbers (or hothouse cucumbers). Regular cucumbers have larger seeds and more of them; plus, the skin is thicker and bitter than the English cucumber.
Pineapple juice: I highly recommend 100% juice, so you're not adding unnecessary sugar to the gazpacho. The recipe was tested using the juice from a can of pineapple.
Jalapeño: Depending on how spicy you like things, you might want to use more or less of the jalapeño.
Green onions: The green onions add a little depth to the gazpacho and keep it from tasting like pineapple-cucumber juice. In a pinch, you can add a tablespoon of diced sweet onion or red onion.
Cilantro: Cilantro gives a little extra something to the gazpacho; however, feel free to use parsley in its place.
Salt: The salt helps bring out the sweetness of the pineapple and release some of the juices in the cucumber. Be sure not to skip it.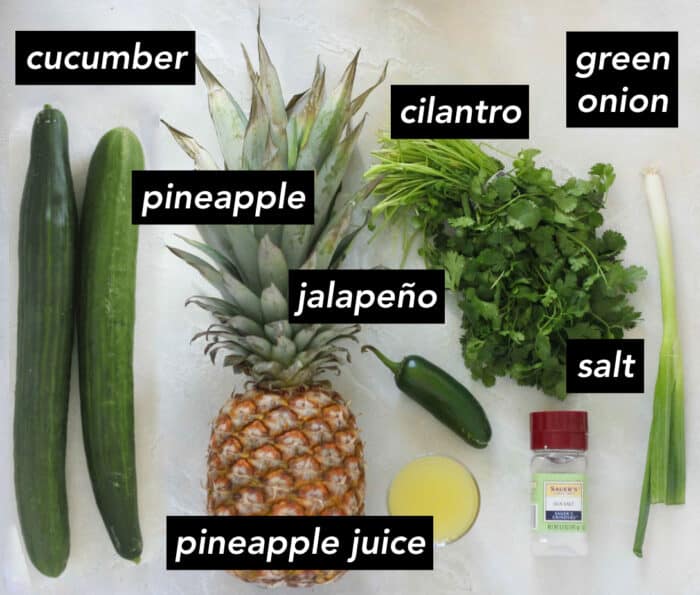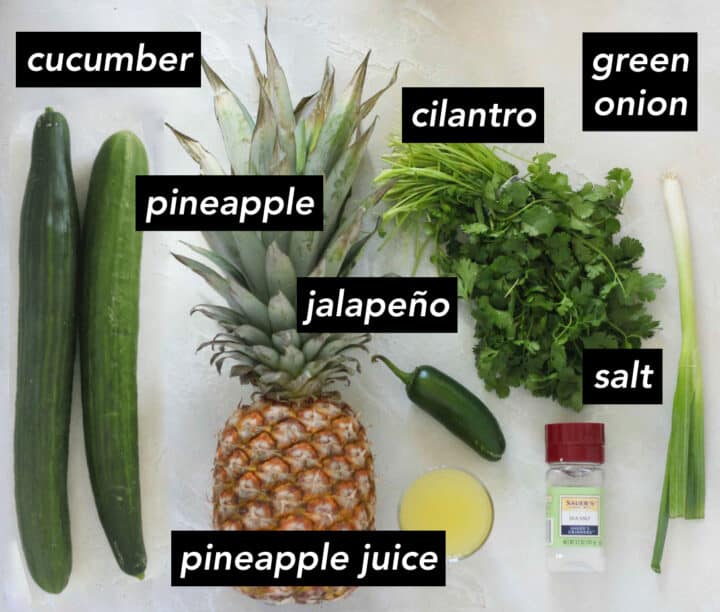 Cost
1 fresh Pineapple: $1.88
2 English (or hothouse) Cucumbers: $3.00
1 jalapeño: $0.14
12 ounces Pineapple Juice: $0.84
2 green onions: $0.50
bunch of cilantro: $0.88
salt: $0.01
TOTAL COST: $7.25 or $0.90/serving (from San Diego grocery store 2021)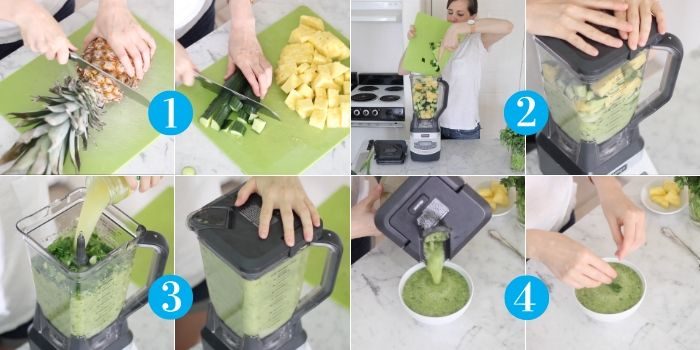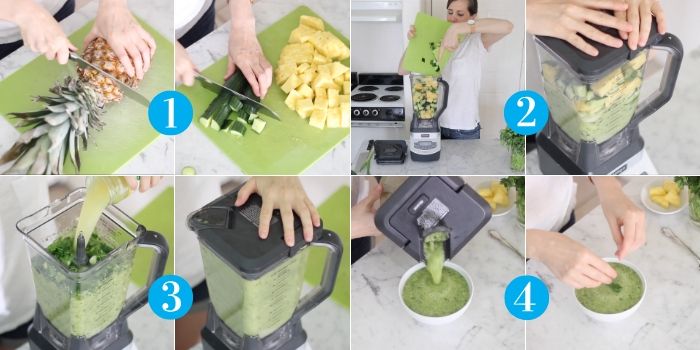 How to Make Pineapple Cucumber Gazpacho
Time needed: 15 minutes
Very little effort is required in this recipe. Chop the veggies, blend them together, chill, and enjoy. Here are the specific details:
Chop the pineapple and cucumbers.

No need to perfectly chop these because they are going to be blended.

Toss the cucumbers and pineapple into the blend, and blend.
Add chopped green onions, jalapeños, and cilantro with pineapple juice and salt.

Blend that together with the pineapple and cucumbers. Chill.

Pour into a bowl, top with cilantro, chopped pineapple, and/or cucumber.

Enjoy!
Recipe Tips
It's very important to chill the gazpacho before serving and to chill in a plastic or glass container. Chilling the gazpacho gives the flavors a chance to blend together. And enzymes in the pineapple can negatively react with metal containers, so you want to store the gazpacho in a non-reactive container.
Variations
Ingredient Options
Cilantro: If you are not a fan of cilantro, you can use parsley in its place.
Green onions: Substitute the green onions with ¼ cup chopped sweet onion or red onion.
Flavor Substitutions
If you do not like spicy foods, decrease or omit the jalapeño. If you want extra spicy, increase the amount of minced jalapeño.
How to Make Allergy Friendly
This is naturally gluten-free, dairy-free, egg-free, nut-free, and vegan. Unless you have an allergy to one of the six ingredients, this is safe for everyone to enjoy.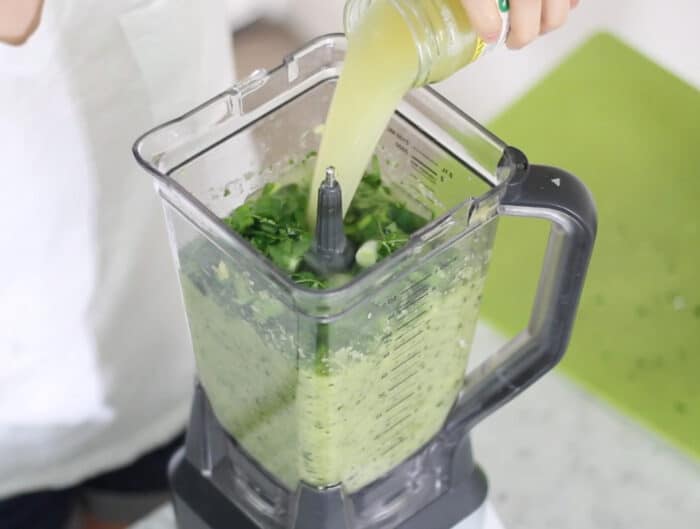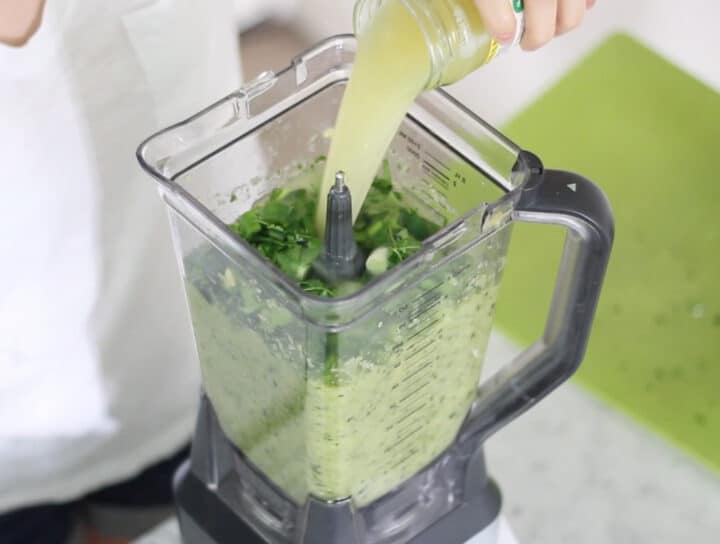 How to Fix a Mistake
You can easily play around with the ingredient amounts as needed. To decrease the spiciness, add more pineapple, cucumber, and/or pineapple juice. For a thinner soup, add more pineapple juice. For more flavor, add green onion, jalapeño, and/or cilantro.
Make Ahead Ideas
This is great to make in advance because it really gives the flavors a chance to combine. Plus, it's excellent to keep in the fridge to satisfy your hunger and quench your thirst at the same time.
Storage Suggestions
Store in the fridge in a non-reactive (glass or plastic) covered container for 4-5 days.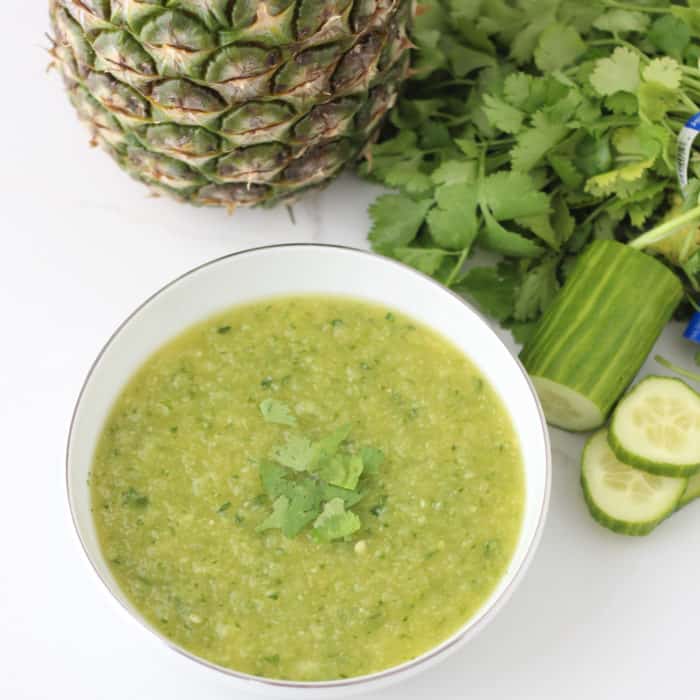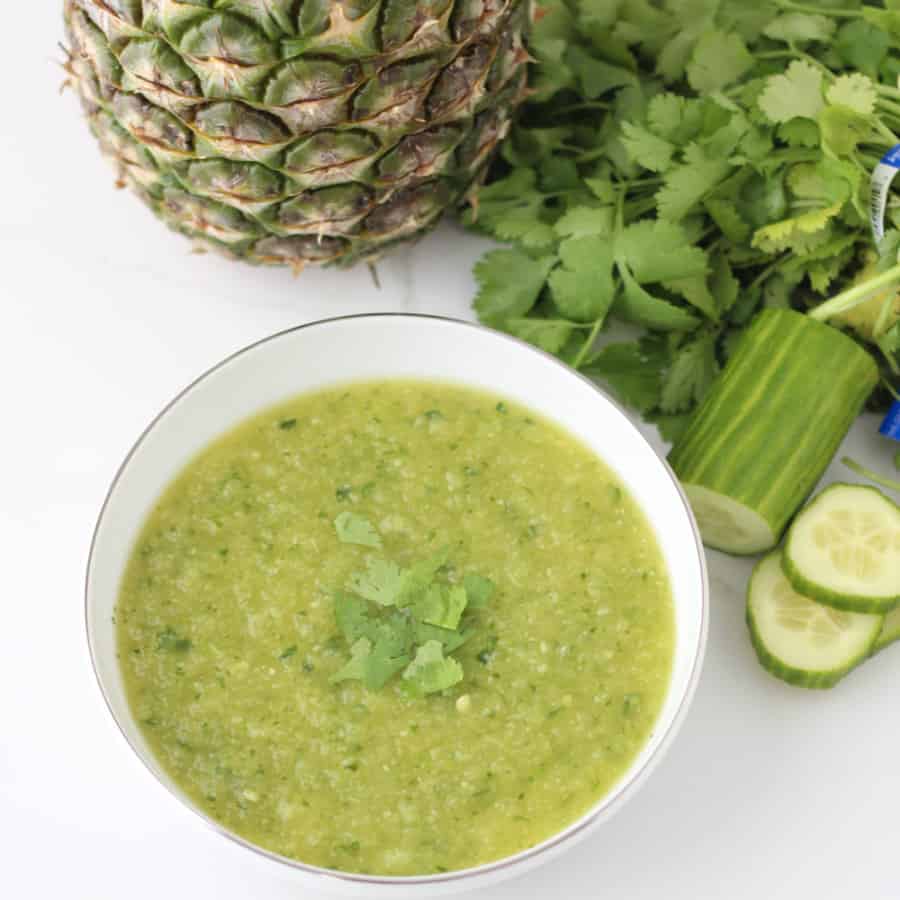 Frequently Asked Questions
What does Pineapple Cucumber Gazpacho taste like?
It's a combo of spicy, sweet, and refreshing. This is totally different than your typical, tomato-based gazpacho. So if you think you don't like gazpacho because you've only had tomato gazpacho, you should really try this one! It'll totally change your mind!
Is gazpacho healthy?
Made up of primarily fruits and vegetables, this pineapple cucumber gazpacho is very nourishing. Fruits and veggies are packed with phytochemicals and antioxidants, so they promote skin, heart, and brain health, fight cancer, aid the immune system, and more.
Nutrition Benefits
Cucumbers promote hydration since over 90% of them are water, and they are high in Vitamin K which is important for bone health.
Pineapples are very high in Vitamin C, and they are filled with antioxidants. Similar to cucumbers, pineapples help you stay hydrated because they are over 85% water.
Capsaicin in the jalapeños has been shown to help fight cancer, act like an antibiotic, and lower LDL cholesterol levels.
What to Serve with Pineapple Cucumber Gazpacho
While this is full of fruits and veggies, it has no protein or fat, leaving you feeling unsatisfied and hungry quickly after enjoying it. This would be excellent as a side with Bacon Wrapped Chicken. Or for a tasty snack, add some hummus deviled eggs.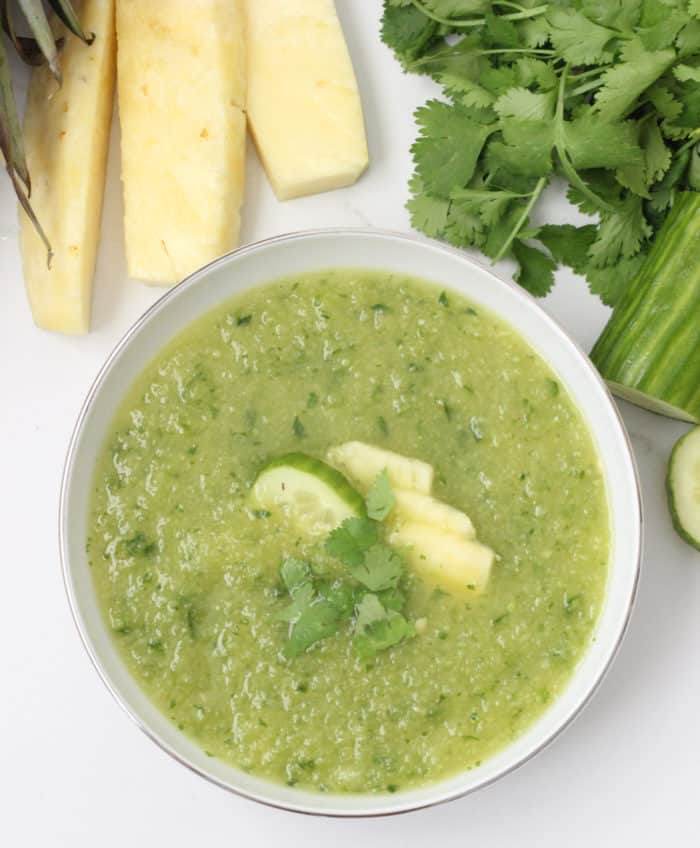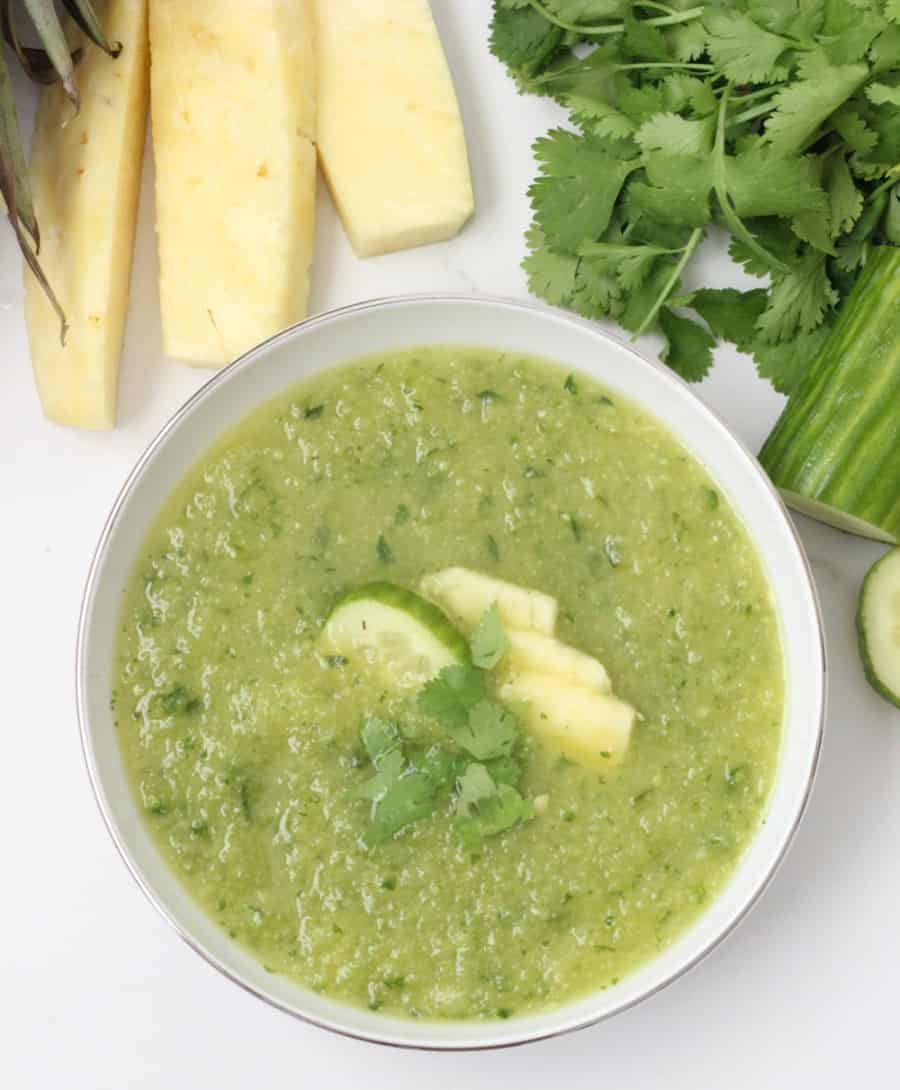 Final thoughts:
Not to sound dramatic, but I think about this gazpacho at least once a month. I look forward to making it at least every other week in the summer, and when I am cold & curled up with a bowl of warm soup, I can't wait for the warm months when this soup hits the spot.
---
MORE NO-COOK RECIPES YOU'LL LOVE: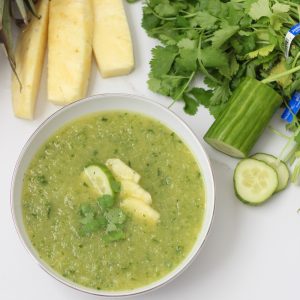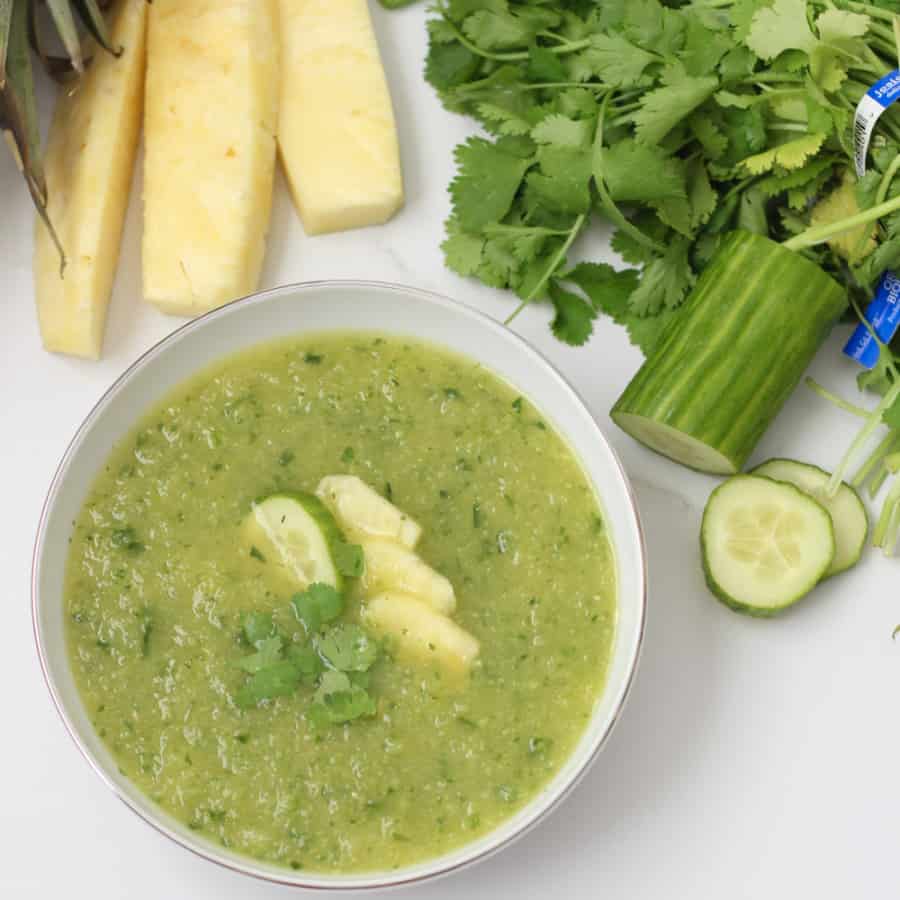 Pineapple Cucumber Gazpacho
Light and refreshing Pineapple Cucumber Gazpacho is spicy, sweet and delicious. This easy cold soup will become your new favorite gazpacho recipe
Print
Rate
Total Cost:
$7.25 or $0.90/serving
Ingredients
4

cups

chopped pineapple

1 pineapple

6

cups

English cucumber

unpeeled, 2 cucumbers

1 ½

cups

100% pineapple juice

4

tablespoon

minced jalapeño

1 jalapeño

4

tablespoon

chopped green onion

2 green onions

½

cup

cilantro

small handful

¼

teaspoon

sea salt
Instructions
Add the pineapple and cucumber to a blender or food processor. Blend for 30 seconds.

Add remaining ingredients. Taste and add additional pineapple juice, cilantro, and/or salt if desired.

Refrigerate for at least 30 minutes to allow flavors to combine. Serve cold. Enjoy!
Notes
*Leave the cucumber peel on to make the soup have a greener color. Plus, it adds fiber and nutrients. I recommend washing your cucumbers really well.
*Makes 8 cups.
*You might want to start with half of the jalapeño depending on how spicy your jalapeño is.
*If you are not a fan of cilantro, you can use parsley in its place.
*If you do not have green onions, you can substitute with ¼ cup chopped sweet onion or red onion.
*Store in the fridge for 3-5 days.
What to Use in This Recipe
Did you try this recipe?
Be sure to leave a comment & recipe rating below. Bonus points for tagging @memeinge & #livingwellkitchen on Instagram! THANK YOU! xo
[showhide type="post" more_text="Click here for Nutrition Facts" less_text="Clear Nutrition Facts"]
*
Nutrition Facts
Pineapple Cucumber Gazpacho
Amount per Serving
% Daily Value*
* Percent Daily Values are based on a 2000 calorie diet.
*
[/showhide]
Meme
This post was originally published on July 22, 2015. Text, recipe, and photos have been updated.
Doesn't this recipe look good?! You should probably share it: