Spinach Avocado Hummus is a smooth & creamy hummus made with spinach and avocado to give it a bright green color. Makes a great dip, sandwich spread, or topping.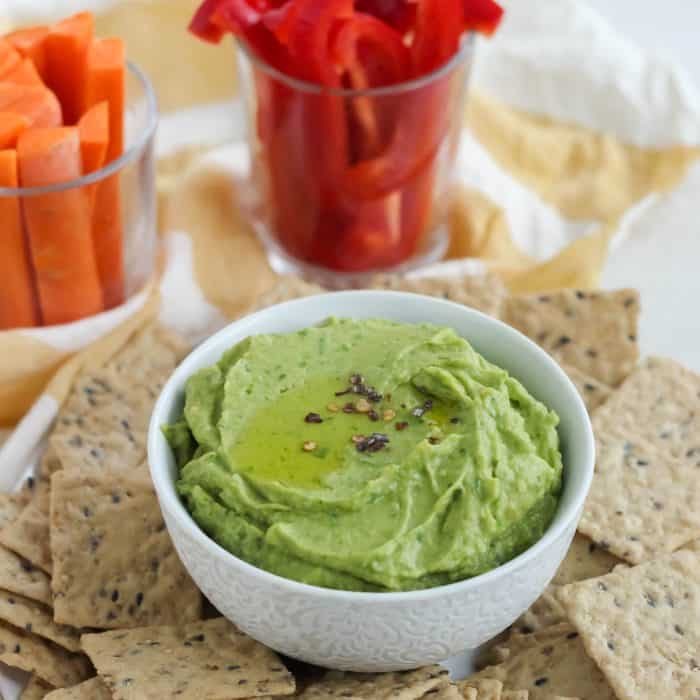 About Spinach Avocado Hummus
Making hummus at home is so simple and more budget-friendly. Plus, you get to decide what flavor you want to add to make this your own. And I'm a big fan of adding extra veggies in my hummus to make it even more filling and nutritious.
Avocado Spinach Hummus is not only delicious as a dip for an appetizer or snack, but it's also great as a spread for sandwiches or wraps to make an avocado hummus sandwich. And I've even added some to a can of drained tuna for a quick and tasty tuna salad.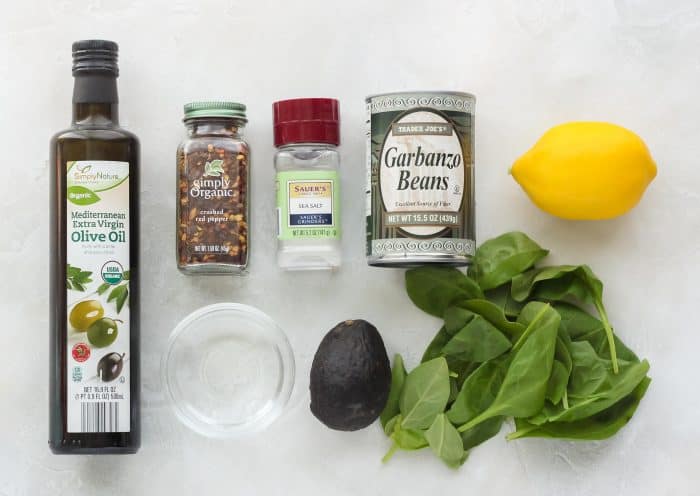 Ingredients
Chickpeas: I prefer no salt added canned chickpeas for my hummus, so the hummus isn't too salty or high in sodium. However, you can always rinse the chickpeas for a little longer to help remove some of the added salt. Another option is to soak and cook the chickpeas from dried. You'll use 1.75 cups of cooked chickpeas.
Avocado: Use a medium, ripe avocado in the hummus. You need about 1 cup of avocado which is what you'll get from 1 medium avocado.
Lemon juice: The fresh lemon juice really brightens the hummus; plus, it helps keep it from turning brown immediately after making.
Olive oil: Extra virgin olive oil is best in the Spinach Avocado Hummus to make it more flavorful but any olive oil is ok.
Water: You need liquid to help the hummus come together. You can also use extra lemon juice or the liquid from the canned chickpeas, otherwise known as aquafaba. Olive oil is another alternative for an extra rich hummus but I find it to be too much.
Spinach: Fresh baby spinach or regular spinach will both work in this spinach hummus. When blended into the chickpeas and avocado, you cannot taste the difference between the two. In fact, you don't get much spinach flavor since fresh spinach isn't very flavorful.
Spices: The salt and red pepper flakes add a bit of flavor to the hummus. If you are using regular chickpeas, you might want to use half the amount of salt recommended and add more if needed. You can also use cayenne pepper in place of the red pepper flakes or omit completely for a more mild spinach avocado dip.
Cost
Chickpeas 15 ounce can: $0.99
Avocado 1 medium: $1
Lemon juice 3 tablespoons: $0.50
Olive oil 1 tablespoon: $0.24
Water 2-4 tablespoons: $0
Spinach 3 cups: $0.44
Salt ¼ teaspoon: $0.01
Red pepper flakes ¼ teaspoon: $0.04
TOTAL COST: $3.22 (Based on San Diego Sprouts 2019) or $0.40/serving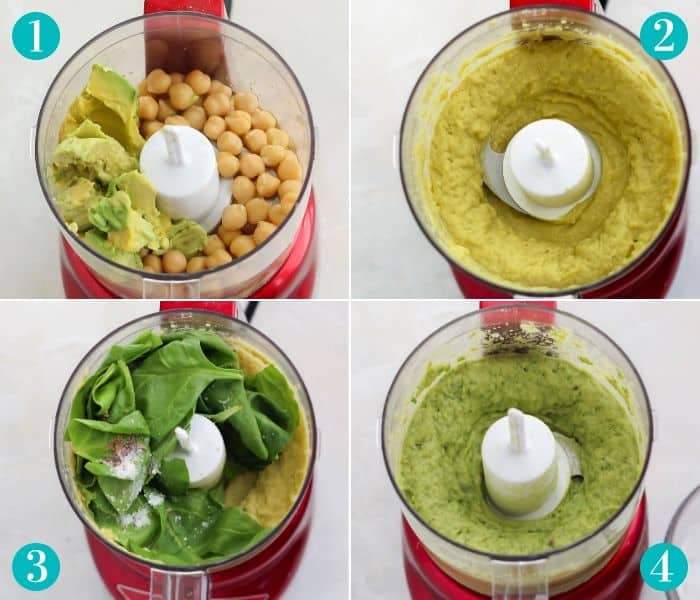 How to Make Spinach Hummus
Time needed: 15 minutes
Making hummus is incredibly easy. Here is the step by step instructions on how to make spinach hummus:
Add the chickpeas, avocado, lemon juice, olive oil, and some of the water to a food processor.
Blend until pretty smooth.
Add spinach, salt, and red pepper flakes, and blend.

If needed, add a little more water to help blend together.

Blend until smooth. Enjoy!

Stir in any additional lemon juice, salt, red pepper flakes, or other seasonings as desired.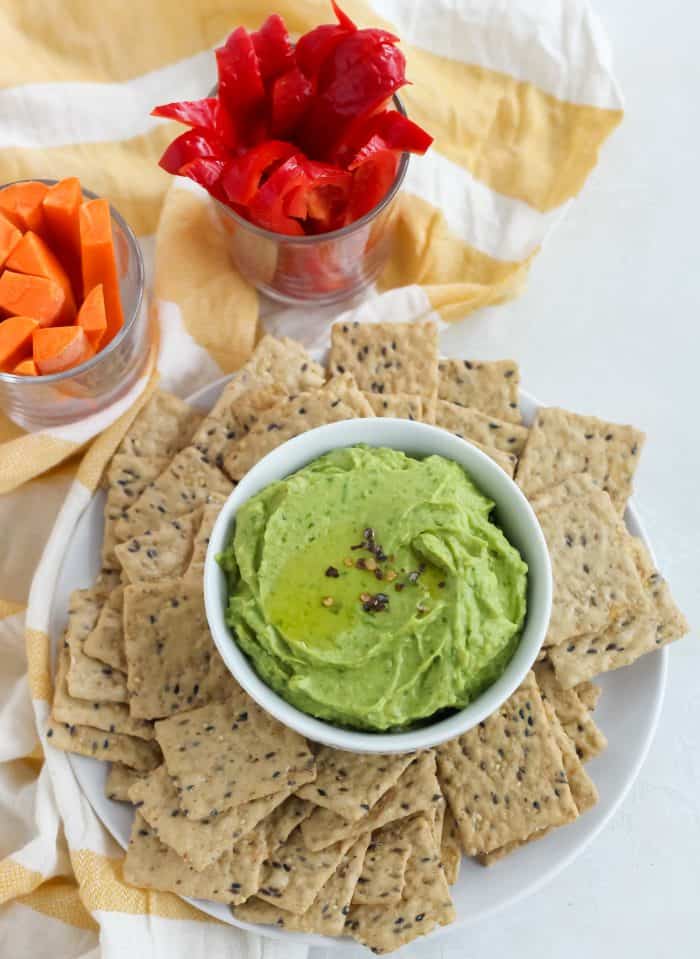 Tips for Making Spinach Hummus
Variations
Ingredient Options
Chickpeas: White beans can be used in place of the chickpeas. The white beans blend a little easier than chickpeas, so use a little less water and add more as needed.
Spinach: Kale (preferably lacinato kale) is a nice alternative to the spinach. The lacinato kale has a lighter flavor so it won't be too much. And your hummus will be similar to this kale-amole.
Spices: Some options for spices are black pepper, cayenne pepper, or white pepper in place or in addition to the red pepper flakes. I'd start with less and add more as needed. Also, garlic powder or a minced clove of fresh garlic would be delicious in this hummus.
How to Make Allergy Friendly
This Avocado Spinach Hummus is already gluten-free, dairy-free, nut-free, soy-free, and egg-free. It's also vegan, so it's acceptable for most dietary preferences and restrictions. Be sure to check the ingredients list if needed.
How to Fix a Mistake
Too thin: if you add too much liquid, you can add an additional ¼ cup chickpeas or white beans or avocado. If it's too thin to salvage, you can also turn this into a hummus dressing by adding extra lemon juice and water.
Too thick: add water, oil, or lemon juice in 1-2 tablespoon increments. Blend then add more if needed.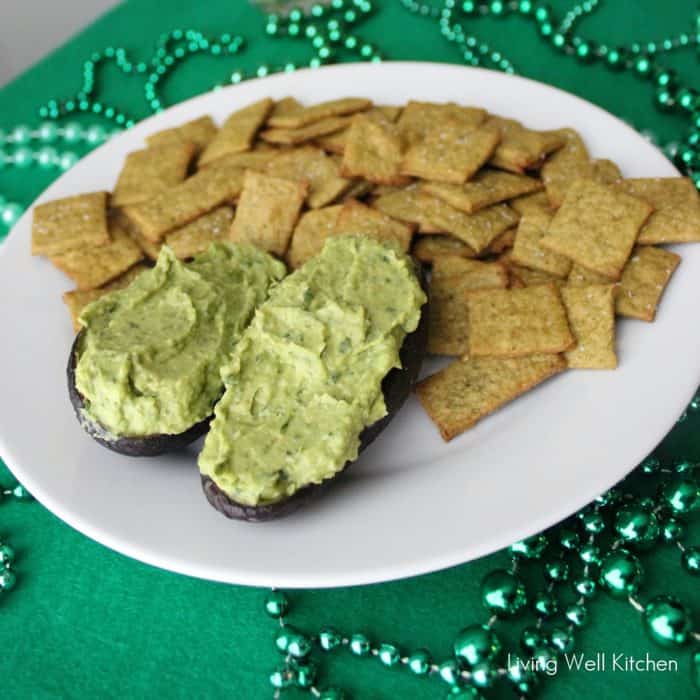 Make Ahead Ideas
Hummus is an excellent thing to make in advance. Since there is very little prep work, simply throw everything into the food processor and blend. Keep in the fridge in an airtight container until ready to enjoy. Because it'll turn a little brown from the avocado, simply stir before serving to brighten the color again.
Storage Suggestions
Store in an airtight container in the fridge for up to 4 days. The color will darken a bit because of the avocado but simply stir before serving. I do not recommend freezing this avocado hummus as it'll change texture when defrosted.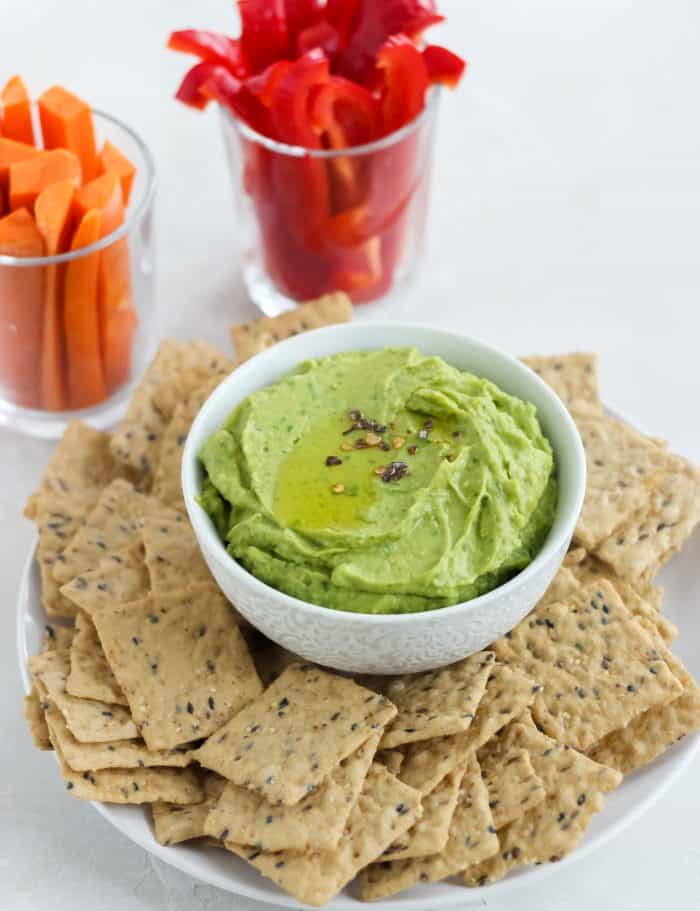 Frequently Asked Questions
Nutrition benefits of this Spinach Hummus recipe
The base of most hummuses is chickpeas, and chickpeas are a good source of plant-based protein and fiber. Plus, they give the hummus substance that keeps you full and satisfied.
To boost the nutritional value of this spinach hummus, you get a double dose of green with spinach and avocado. Spinach is an excellent source of Vitamin K and Vitamin A, and it's a good source of Vitamin C, Folate, and Manganese. Like many fruits and vegetables, spinach is anti-inflammatory and high in antioxidants.
Avocado gives the hummus a rich and creamy texture thanks to the heart-health-promoting fat. This fat helps your body absorb the vitamins in the hummus. Additionally, avocados are high in fiber, Vitamin K, Folate, and Potassium.
What to serve with Avocado Spinach Hummus
When served as an appetizer or as a spinach avocado dip, this is great with crackers and sliced raw veggies like carrots, celery, or bell peppers. It's also great as a topping for tacos, scrambled eggs, or omelets, and leftovers can easily be turned into salad dressing or deviled eggs.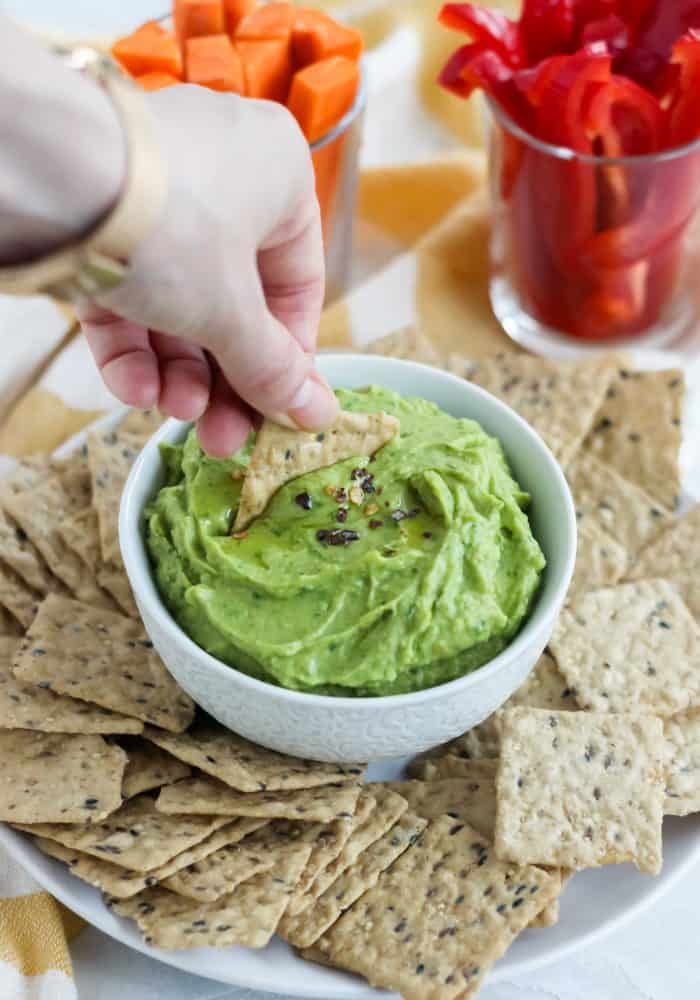 Final thoughts:
Making hummus at home is so easy and so tasty. And this is one of my all-time favorite homemade versions. Because it's vegan and allergy-friendly, it's nice to serve when entertaining or bring to parties for everyone to enjoy. Plus, when life gets busy, you'll be thankful to have this spinach avocado hummus in the fridge ready to satisfy your hunger.
MORE HUMMUS RECIPES YOU'LL LOVE: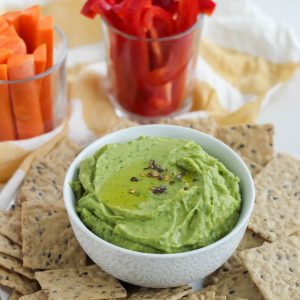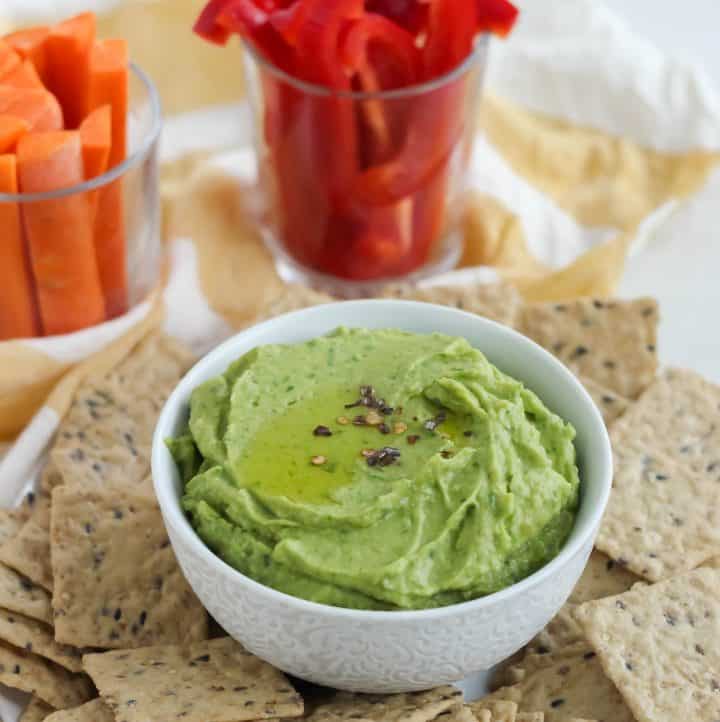 Spinach Avocado Hummus
Spinach Avocado Hummus is a smooth & creamy hummus made with spinach and avocado to give it a bright green color. Makes a great dip, sandwich spread, or topping.
Print
Rate
Ingredients
15

ounce

can chickpeas

rinsed & drained

1

medium

avocado

pitted & peeled

3

tablespoon

fresh lemon juice

1

tablespoon

olive oil

2-4

tablespoon

water

3

cups

fresh spinach

baby or regular

¼

teaspoon

salt

¼

teaspoon

red pepper flakes
Instructions
Add chickpeas, avocado, lemon juice, olive oil, and 2 tablespoon water to food processor. Process until smooth.

Add in remaining ingredients and process until it is smooth. Add more water if needed.

Keep in an airtight container in the refrigerator for up to 5 days.
Notes
*Makes 2 cups.
*Buy no salt added chickpeas if possible. Otherwise, be sure to rinse the chickpeas well so the hummus isn't too salty.
Did you try this recipe?
Be sure to leave a comment & recipe rating below. Bonus points for tagging @memeinge & #livingwellkitchen on Instagram! THANK YOU! xo
Meme
This post was originally published on March 14, 2013. Text, recipe, and photos have been updated.
---
Avocado Spinach Hummus Nutrition Facts
Nutrition Facts
Spinach Avocado Hummus
Amount per Serving
% Daily Value*
* Percent Daily Values are based on a 2000 calorie diet.
Doesn't this recipe look good?! You should probably share it: