This Vegan Cheezy Broccoli Salad is a raw broccoli salad covered in a cashew cheese sauce. Nutritional yeast, bell peppers, and lemon juice give this creamy dressing its irresistible flavor that pairs well with the cruciferous vegetable.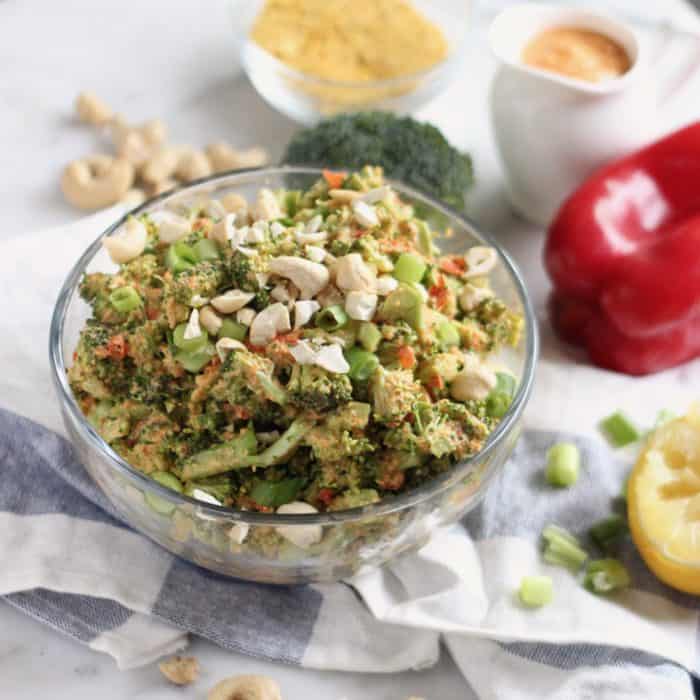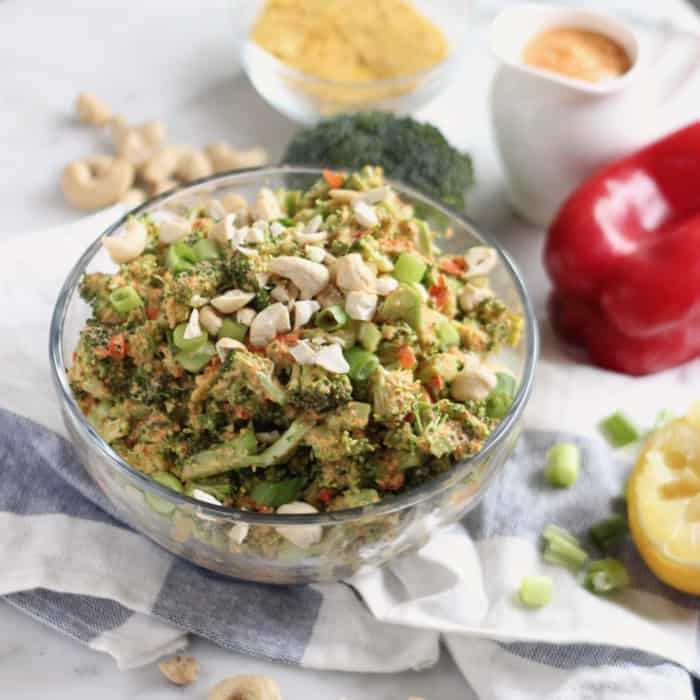 Disclosure: I might make a commission for purchases made through links in this post at no extra cost to you.
Remember when everyone was raving about kale chips? Did you ever try making them?
I did, and they made the house smell horrible and tasted worse. So I did a search for making kale chips that weren't gross, and I found a recipe for a cashew cheese sauce that you use to coat the kale before dehydrating.
Then I ate kale chips by the gallon because that sauce made them better than anything I could imagine, especially after my first attempt at making kale chips.
Why is this relevant? Well, I still think about that sauce. And since kale is similar to broccoli in that it's a cruciferous vegetable, I decided that it would make a great sauce for broccoli.
Similar to this train of thought, I realized that I hadn't made a veggie side dish in a while and thought a broccoli salad would be a great thing to add to a summer menu.
However, I don't love mayo so the idea of making a mayo-based broccoli salad is not my favorite. Plus, I always find mayo-based salads difficult in the hot summer when it can't sit outside for more than an hour without tasting kinda gross.
Anywho, I decided that I could use that cashew cheese sauce I made many moons ago to use as the binder for a raw broccoli salad. And as you can guess since I'm writing about it... it was fantabulous!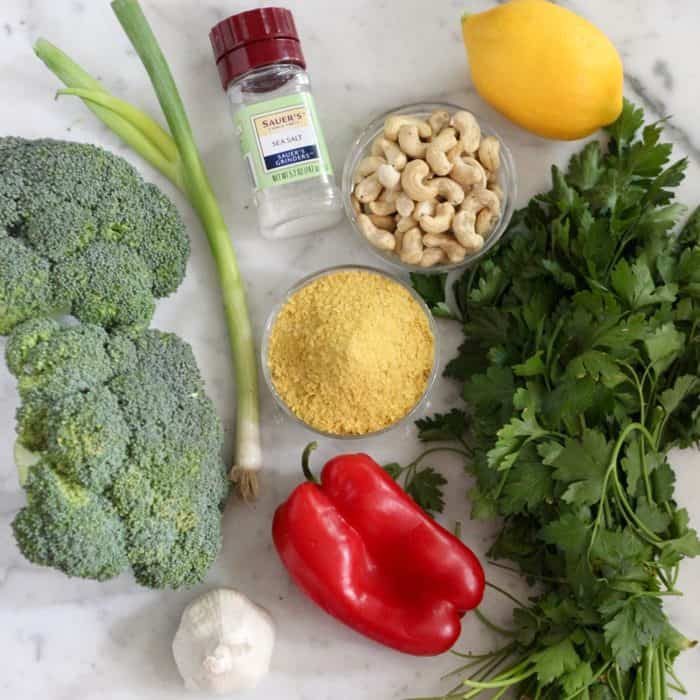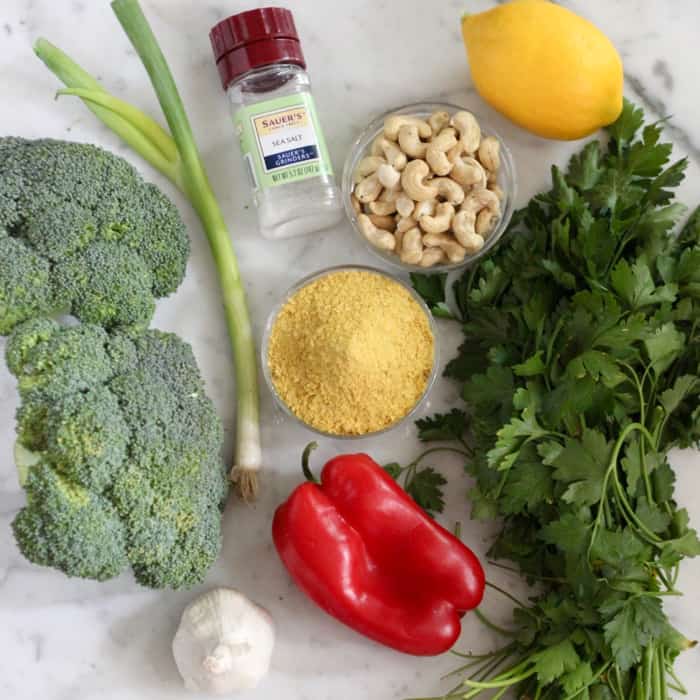 What is Vegan Cheezy Broccoli Salad
Vegan Cheezy Broccoli Salad is a raw broccoli salad covered in a cheezy sauce made with cashews, nutritional yeast, red bell pepper, lemon juice, garlic, and salt.
It's a different version than your average mayo covered broccoli salad in the best possible way. There's no mayo-going-bad to worry about, and it tastes great room temperature or cold.
The nutritional yeast gives this salad a cheesy flavor without adding cheese, so it's a great option for those following a vegan diet or unable to eat dairy. Plus, it adds extra nutrients to your dish.
[click_to_tweet tweet="This #Vegan Cheezy Broccoli Salad is a raw broccoli salad covered in a cashew cheese sauce made with nutritional yeast, bell peppers, and lemon juice" quote="This #Vegan Cheezy Broccoli Salad is a raw broccoli salad covered in a cashew cheese sauce made with nutritional yeast, bell peppers, and lemon juice"]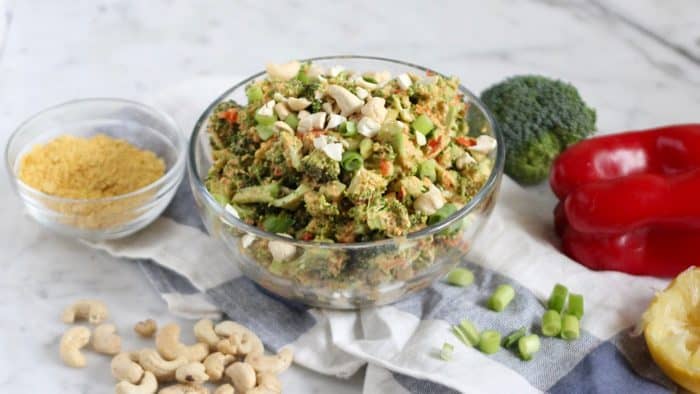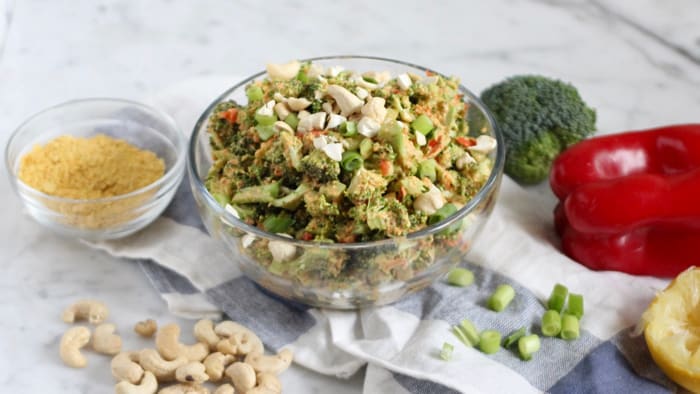 What is Nutritional Yeast?
Nutritional yeast is not like regular yeast that you use to make bread or cinnamon rolls. It is an inactive form of yeast that is typically grown on sugarcane or molasses then dried & heated into flakes.
It is often fortified with Vitamin B12 -- typically found in animal sources -- which is responsible for aiding many functions in the body like red blood cell formation (energy levels) and cognitive function (brain health). It also has other B Vitamins and all 9 essential amino acids which your body needs to produce protein. Plus, it has fiber and protein, but the amounts vary depending on the brand you are using.
Nutritional yeast comes in flake or powder form. The common type you'll see at the grocery store looks like fish food flakes, but I promise it is delicious and absolutely worth keeping in your pantry for adding extra flavor to your dishes.
Other recipes with nutritional yeast on the blog are Vegan Creamed Spinach, Cheezy Taco Popcorn, Vegan Greek Tofu Salad, and Creamy Vegan Broccoli Soup.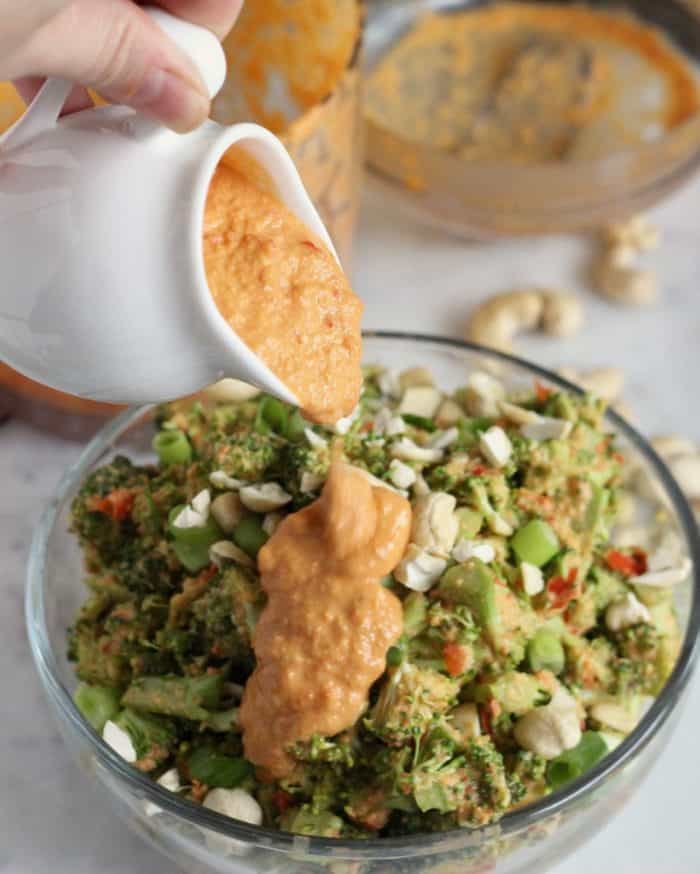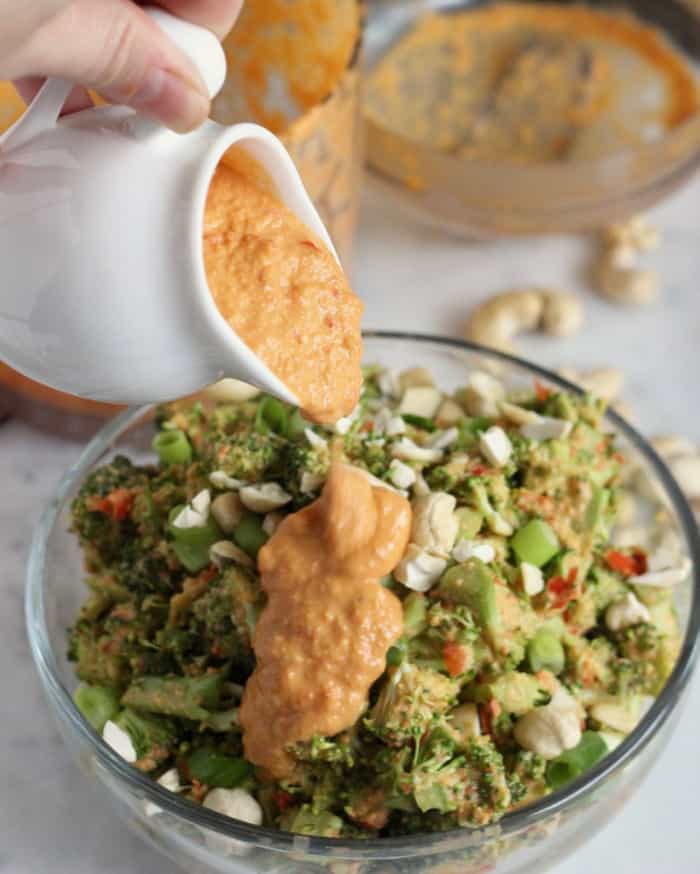 How to Make Vegan Broccoli Salad with Cashew Cheese Sauce
Start by making the cashew cheese sauce, and to do this, you need to soften the cashews a little bit. All you have to do is pour hot water over the cashews for about 15-20 minutes, and drain.
Then add those to a food processor or blender along with the red bell pepper, garlic, lemon juice, salt, nutritional yeast, and water, and blend until smooth. Pour this over your chopped broccoli, and you're ready to enjoy!
Tips for Making Vegan Broccoli Salad
Make Ahead Tips
You can make the sauce multiple days in advance. However, you might want to double the recipe because it's so delicious that you might run out before you can actually make the broccoli salad.
Also, this prepared broccoli salad keeps well in the fridge for a few days. I prefer to hold off on adding the chopped cashews until just before serving, so they stay crunchy. However, it still tastes good if the cashews aren't extra crunchy.
Variations & Substitutions
I haven't tried it yet, but I think that a jarred roasted red bell pepper would be delicious in this sauce. Make sure to really dry the pepper before adding it to the sauce, or decrease the amount of liquid you add into the sauce when blending.
This could also be prepared with pre-chopped broccoli from your grocery store's produce section. You need 5 cups of chopped broccoli. And I think that riced broccoli would also work well. Make sure it is fresh and raw though. Oh and you could probably do this with cauliflower in place of the broccoli or a combo of cauliflower and broccoli.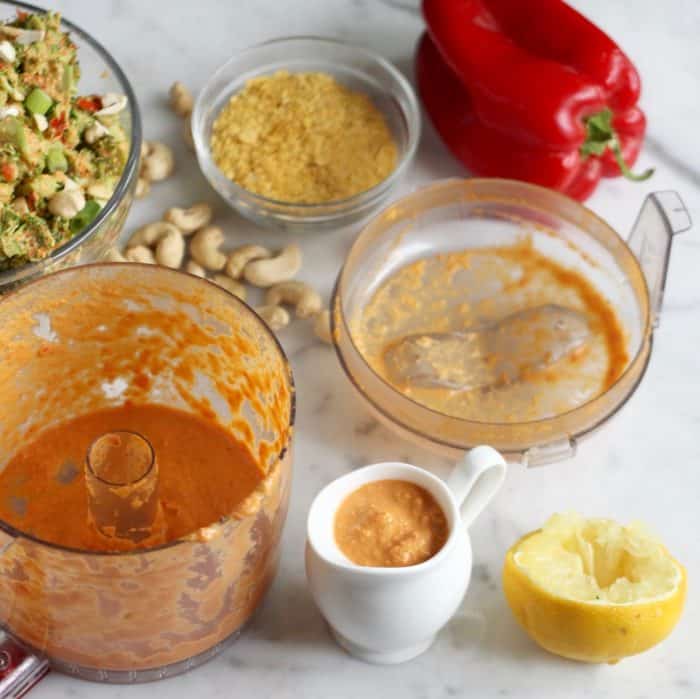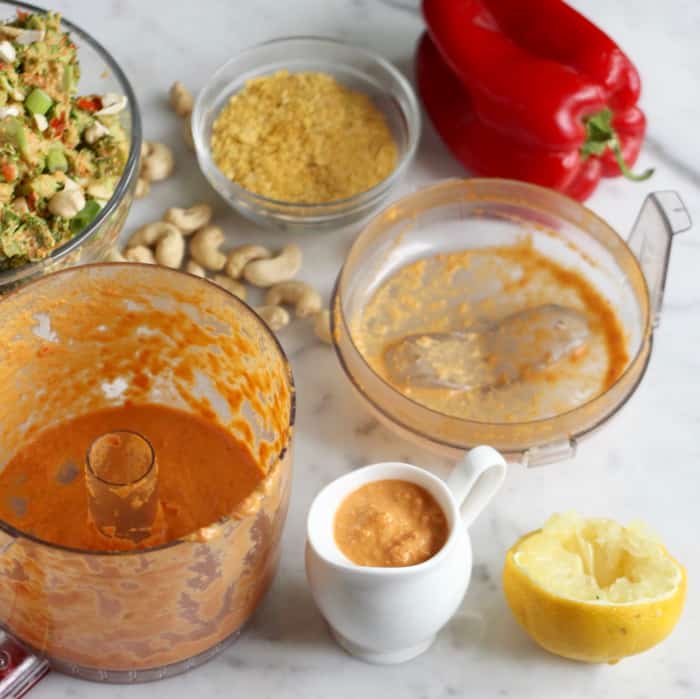 More about the Vegan Cashew Cheese Sauce
Like I mentioned multiple times, this sauce is heavenly. I highly recommend doubling the recipe for the sauce. It's great over pasta, used as a sandwich spread, or as a topping for veggies, eggs, or chicken.
The sauce also freezes well. I recommend freezing in single serving container like small jars or ice cube trays, so you can defrost the exact amount you need. When ready to enjoy the sauce you've frozen, let thaw for about 1 hour in the fridge or about 15-30 minutes at room temperature, depending on the size of the container the sauce is frozen in.
What to serve with this dish
This veggie side goes well with lots of different picnic dishes like a burger and side salads. I'm a big fan of lots of options for a buffet, so some that I'd put on my table would be Ranch Burgers, Avocado Salmon Burgers, Cobb Salad Wraps, Caprese Lentil Salad, Potato Salad, Roasted Vegetable Salad, Watermelon Feta Salad.
I served it with fried chicken and potato chips, and as much as I love those two things, this broccoli salad was definitely a favorite part of my plate.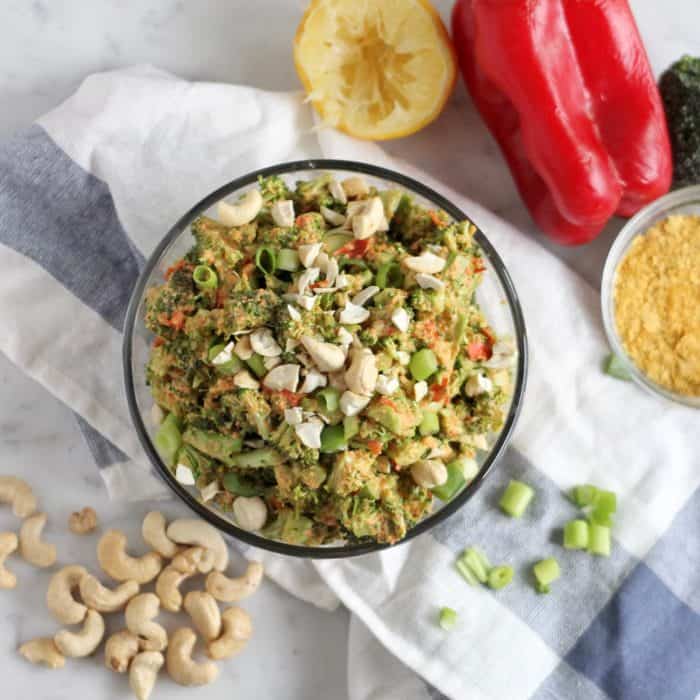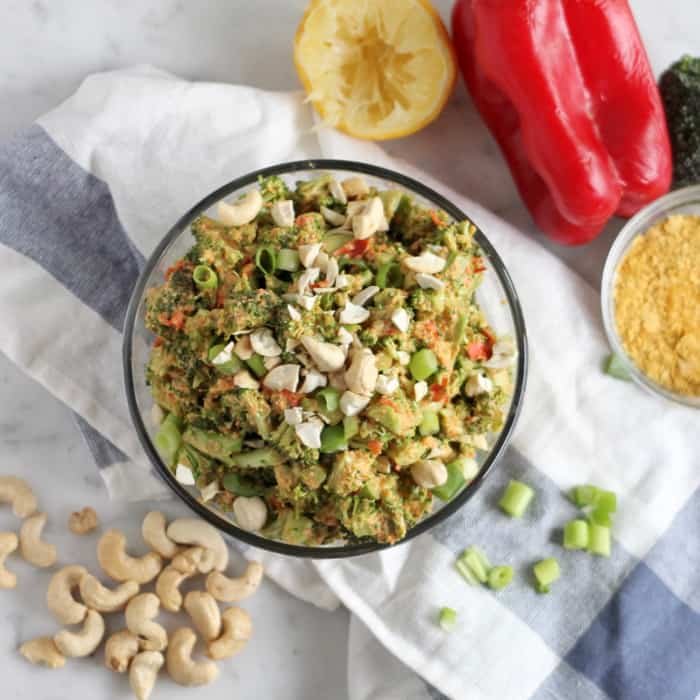 Final thoughts:
I can't remember where I put my keys or my cell phone multiple times a day, so the fact that I can remember a sauce I made a few times almost 10 years ago should speak for itself. In case it doesn't... this sauce is GOOD!
And it turns plain raw broccoli into a tasty side dish, so you can happily serve extra veggies at your next meal whether it's outside or not.
---
MORE VEGAN SIDE DISH RECIPES YOU'LL LOVE: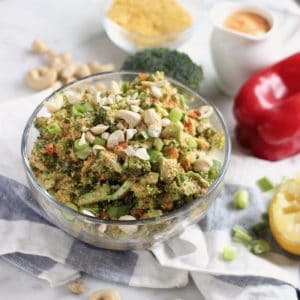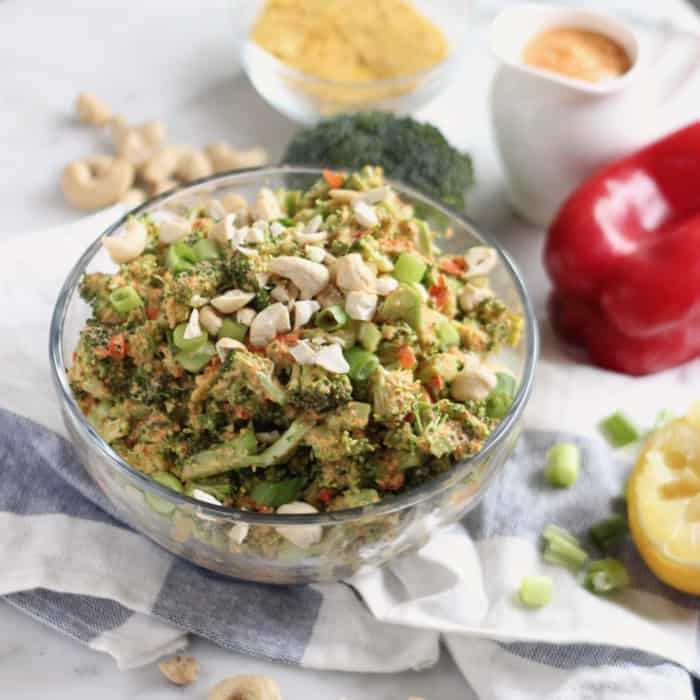 Vegan Cheezy Broccoli Salad
This Vegan Cheezy Broccoli Salad is a raw broccoli salad covered in a cashew cheese sauce made with nutritional yeast, bell peppers, and lemon juice
Print
Rate
Ingredients
For the cashew cheese sauce:
1

cup

cashews

2

tablespoons

water

1

medium

red bell pepper

chopped

1

clove

garlic

chopped

¼

cup

lemon juice

½

cup

nutritional yeast

¼

teaspoon

salt
For the salad:
1

pound

broccoli

diced, about 5 cups

⅛

teaspoon

salt

1

tablespoon

cashews

chopped

1

green onion

chopped, optional

2

tablespoons

parsley

chopped, optional
Instructions
For the sauce:
Add the cashews and water to a food processor or blender. Blend for 30 seconds.

Add the red bell pepper, garlic, and lemon juice. Blend for 30 seconds. Add nutritional yeast and salt. Blend until completely smooth.
For the salad:
Add the broccoli to a large bowl. Pour about 1 cup of sauce over the broccoli and sprinkle with the salt, and toss to coat. Add more sauce and/or salt if needed.

When ready to serve, sprinkle with chopped cashews and/or green onions. Enjoy!
Notes
*Makes 3 cups of broccoli salad
*The sauce recipe makes 1.5 cups sauce.
*Nutrition facts are calculated using about 1.2 cups of sauce
Did you try this recipe?
Be sure to leave a comment & recipe rating below. Bonus points for tagging @memeinge & #livingwellkitchen on Instagram! THANK YOU! xo
[showhide type="post" more_text="Click here for Nutrition Facts" less_text="Clear Nutrition Facts"]
*
Nutrition Facts
Vegan Cheezy Broccoli Salad
Amount per Serving
% Daily Value*
* Percent Daily Values are based on a 2000 calorie diet.
*
[/showhide]
---
---
Meme
Pin this recipe: