This grain-free Zucchini Lasagna uses zucchini slices in place of pasta but is still satisfying and full of lasagna flavor. It's a fresh take on a comfort food classic!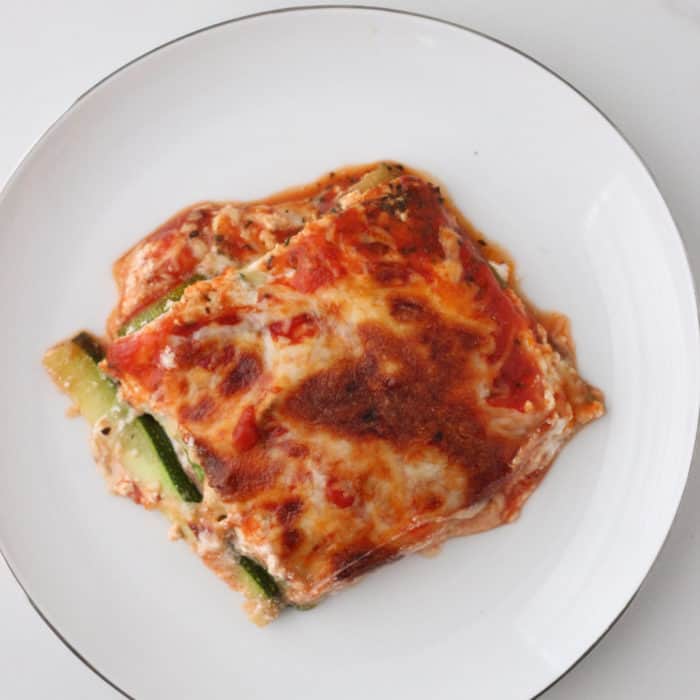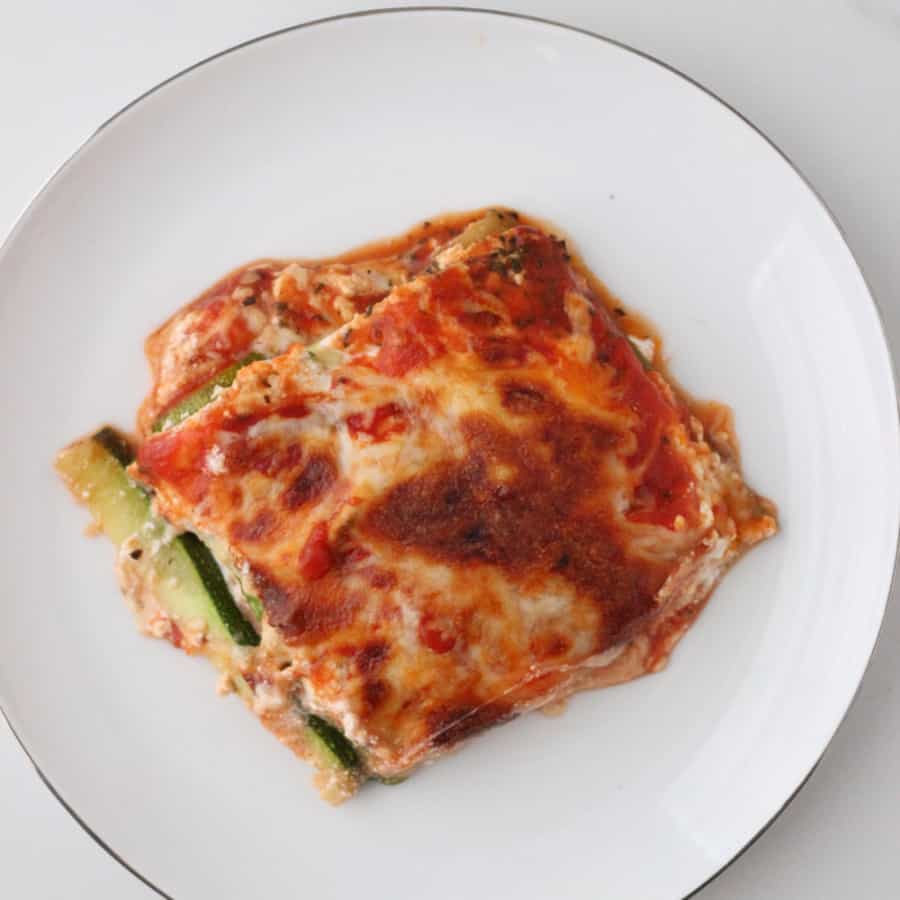 About Zucchini Lasagna
First and foremost, this zucchini lasagna is downright delicious! And if you have a ton of zucchini to use up, this lasagna recipe is a great way to do that.
You use sliced zucchini instead of noodles, so this Zucchini Lasagna has all the flavors of your beloved comfort food but is allergy friendly (gluten free) and heavy on the veggies -- whoop whoop!
I know everyone's all crazy over spiralizing their zucchini, but the thought of having another gadget in my kitchen that I'll inevitably have a hard time finding makes my cabinets cry a little bit. For this zucchini lasagna, you simply need a knife.
Another benefit of this recipe: it is very budget friendly. I make this vegetarian zucchini lasagna in the summer months when zucchini is at its best, which means it's also less expensive when it's in season.
Like most vegetarian recipes, you're saving money because meat is typically the pricier part of the meal. And eating more vegetables makes me feel more energized and satisfied.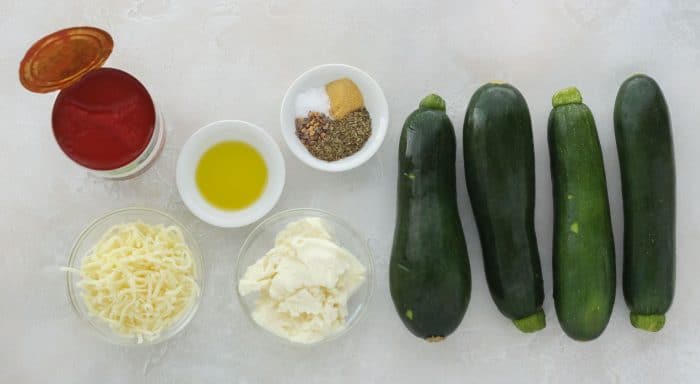 Ingredients
Zucchini: Small vs. large zucchini ~ Honestly, either size will work. You just want to make sure you have about 1.5 pounds of zucchini which is about 4 small zucchini or 2 large zucchini.
Ricotta: Part skim vs. whole milk ricotta ~ I prefer using part skim over full fat (or whole milk) ricotta because I find that the full fat ricotta is usually a little more watery. However, whole milk will work ok. You can also strain the whole milk ricotta through a cheese cloth to reduce the amount of liquid it has.
Cheese: Mozzarella vs. Parmesan ~ I usually use mozzarella cheese in this zucchini lasagna recipe because it is less expensive. However, I think a combination of the two or all parmesan would be great and take this basic recipe up a notch.
Italian seasoning: For the Italian seasoning, use a salt free seasoning blend. It is typically made of dried parsley, basil and oregano. If you do not have Italian seasoning, you can substitute it with an equal amount of oregano or half oregano/half parsley.
Garlic powder: Garlic adds a classic flavor to the lasagna and garlic powder is easier to use than fresh garlic. However, you can substitute 1-2 cloves minced garlic in place of the garlic powder.
Red pepper flakes: The red pepper flakes add a little spicy kick to the sauce in the lasagna, but they are optional. You can also use less; however, I do not find that this is very spicy at all. Feel free to double the amount if you want a spicier lasagna.
Oil: The small amount of oil is used to grease the baking dish for the lasagna. You can use olive oil or avocado oil. Also, if you are not using parchment or a baking mat liner when roasting the zucchini, you will need to rub each baking sheet with 1 teaspoon of oil to keep the zucchini from sticking to the baking sheet.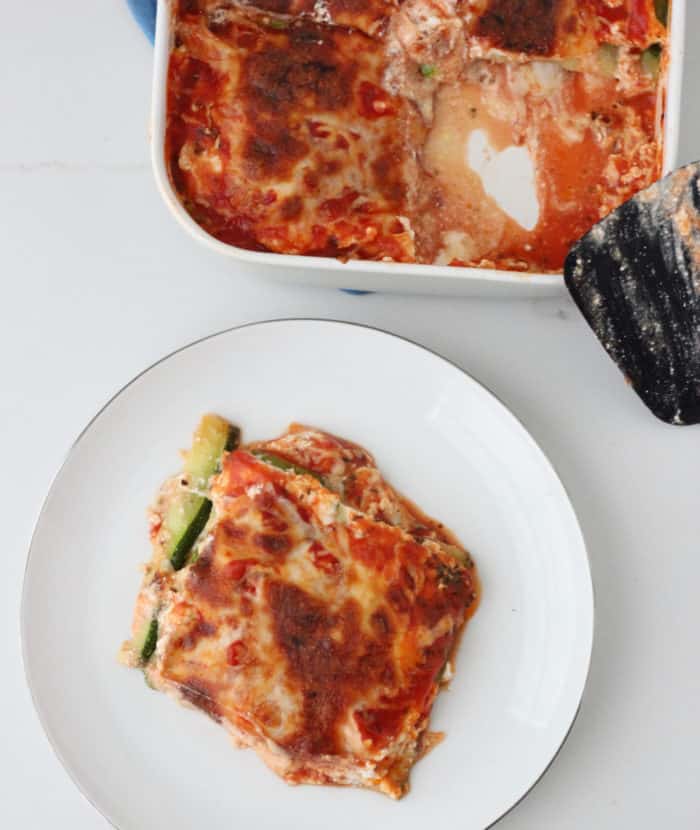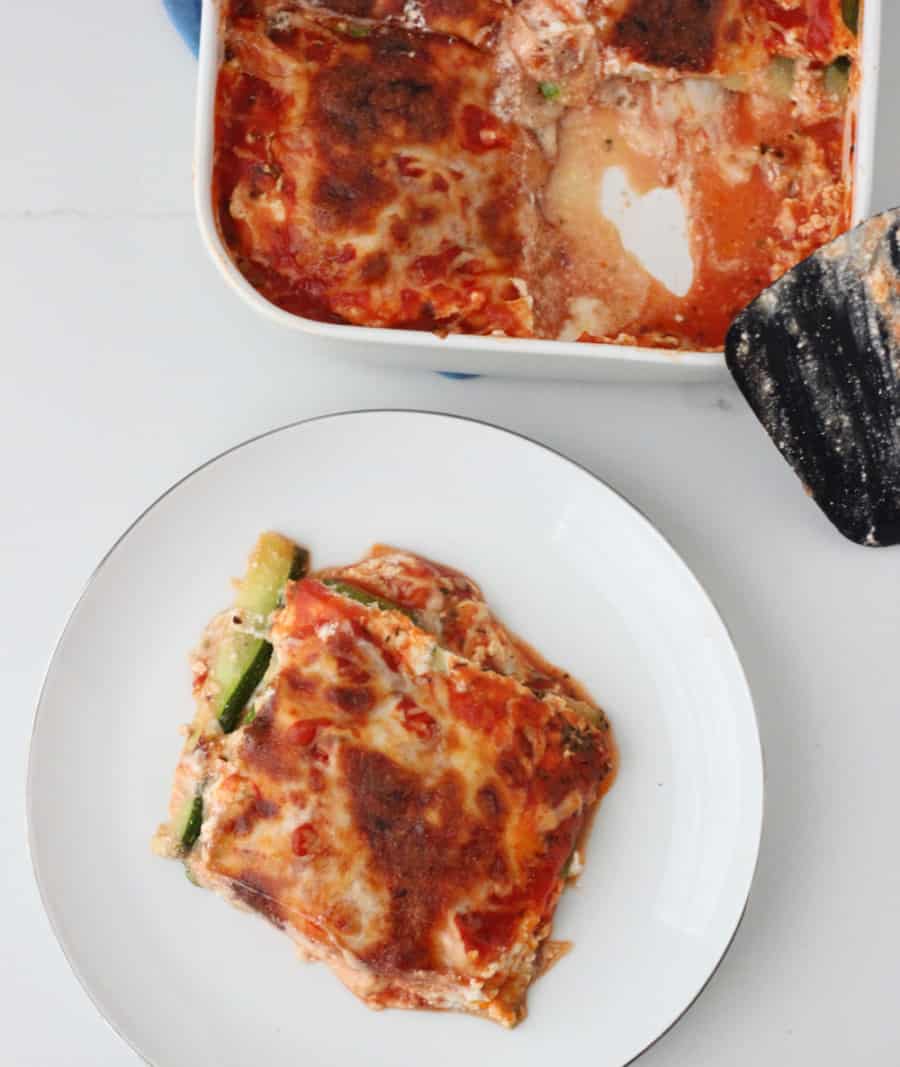 Cost of Recipe
zucchini 1.5 pounds: $1.47
salt ⅜ tsp: $0.01
ricotta cheese 1 cup: $2.48
Italian seasoning 1 tsp: $0.18
garlic powder ½ tsp: $0.04
red pepper flakes ¼ tsp: $0.05
olive oil ½ tsp: $0.04
tomato sauce 1 cup: $0.69
mozzarella ¾ cup: $0.50
TOTAL COST: $5.46 (Based on San Diego Sprouts 2019) or $1.37/serving
How to Make Zucchini Lasagna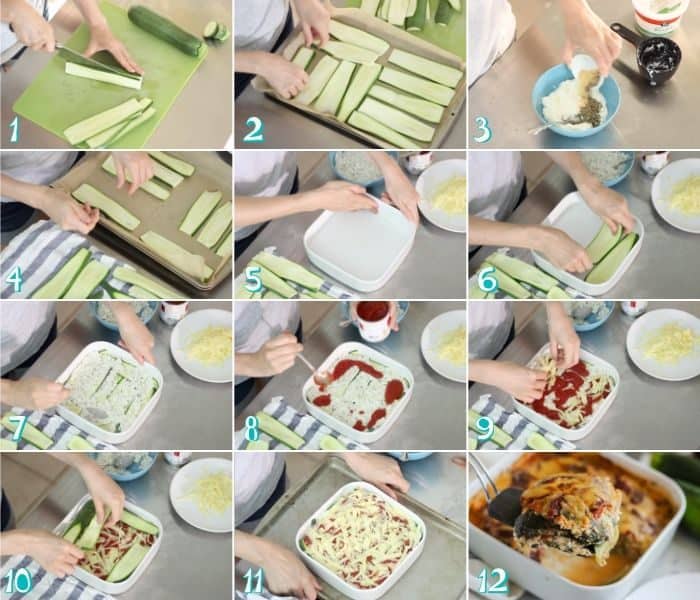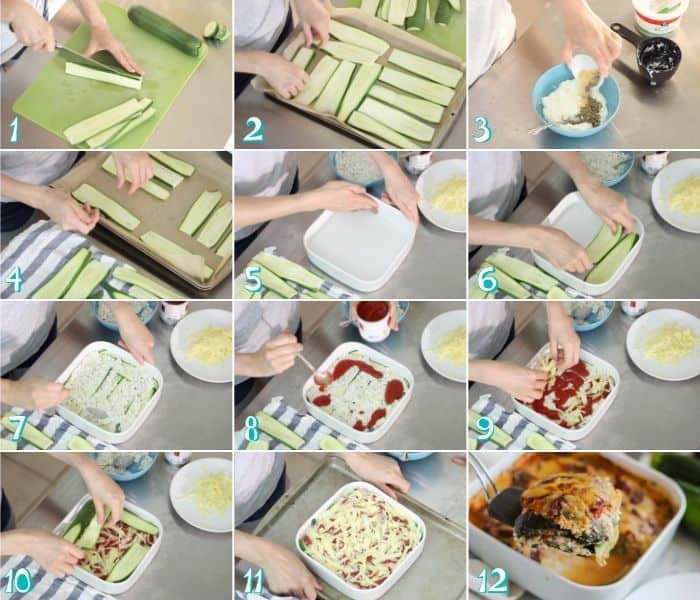 Time needed: 55 minutes.
Here's how to make zucchini lasagna. For this zucchini lasagna recipe, all you need is a knife.
Start by slicing two large or four small zucchinis into thin slices lengthwise.
Place the sliced zucchini on a baking sheet, sprinkle with salt, and roast.

This helps to soften them a bit and helps to release some of their juices.

Meanwhile, stir together the ricotta and seasoning.

Set aside.

Remove zucchini from oven and transfer to towels to dry.
Grease baking dish lightly with oil.

Use avocado or olive oil.

When you're ready to prepare the lasagna, place half of the zucchini slices on the bottom of the casserole dish in a layer.
Top with half of the seasoned ricotta, and spread over zucchini.
Pour on half of the tomato sauce, and spread.
Sprinkle with some mozzarella.

I like to use a little less (about ¼ cup) mozzarella in the middle of the lasagna, so there is more cheese to top the casserole.

Repeat the layers of remaining zucchini, ricotta mixture, tomato sauce, and cheese.
Bake and give it a quick broil to make the cheese all browned and bubbly.

Note to self: quick is the key word. Only broil for a few minutes, so you do not burn the lasagna.

Let rest for about 5 minutes. Then slice zucchini lasagna into three or four pieces, and serve.

Helpful tip: Use a knife to slice the lasagna before serving, and use a spatula to transfer to your plate.
Tips for Making
The most important thing for this recipe is that you get the zucchini to release as much of their natural moisture as possible. Cooking and patting dry the zucchini before layering into the lasagna will take care of this.
I cannot stress this enough though because when you do not allow the zucchini to release some of its natural juices before layering into the lasagna, you will undoubtably end up with a soupy, soggy mess. And it's not good. I mean, it'll still taste good because the flavor is great. However, it'll have a strange consistency, and I doubt you want that.
But no worries. Simply follow the directions in the recipe, and you'll have a tasty, non soupy zucchini lasagna!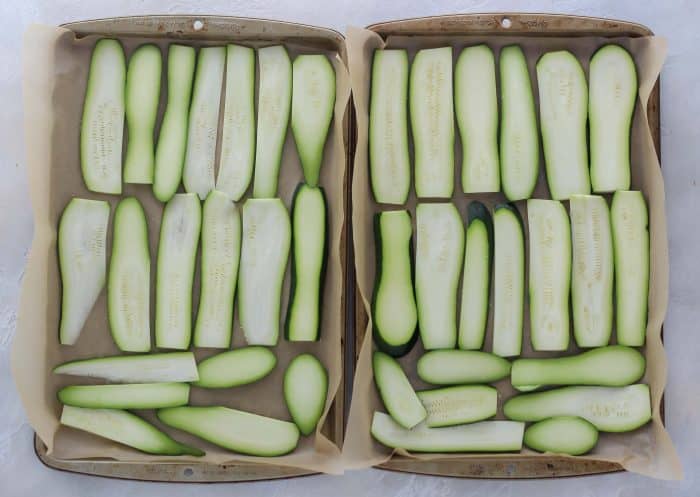 Make Ahead Ideas
There a few things you can do to make this zucchini lasagna ahead of time:
Roast & dry the zucchini up to 24 hours before. Keep in an airtight container in the fridge until ready to assemble the casserole.
Stir together the spices and ricotta up to 48 hours before assembling. Keep in an airtight container in the fridge.
Assemble the casserole up to 12 hours before serving and keep in the fridge.

Be sure to remove the casserole dish from the fridge at least 30 minutes before you preheat the oven to keep the casserole dish from cracking in the hot oven. You can also use a disposable or metal baking dish to prevent this.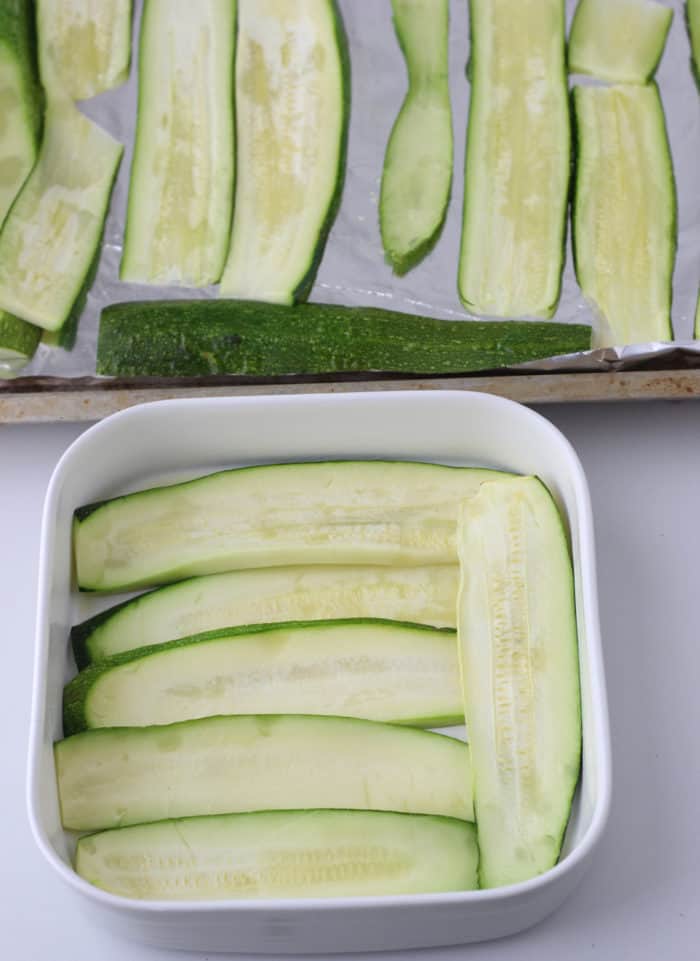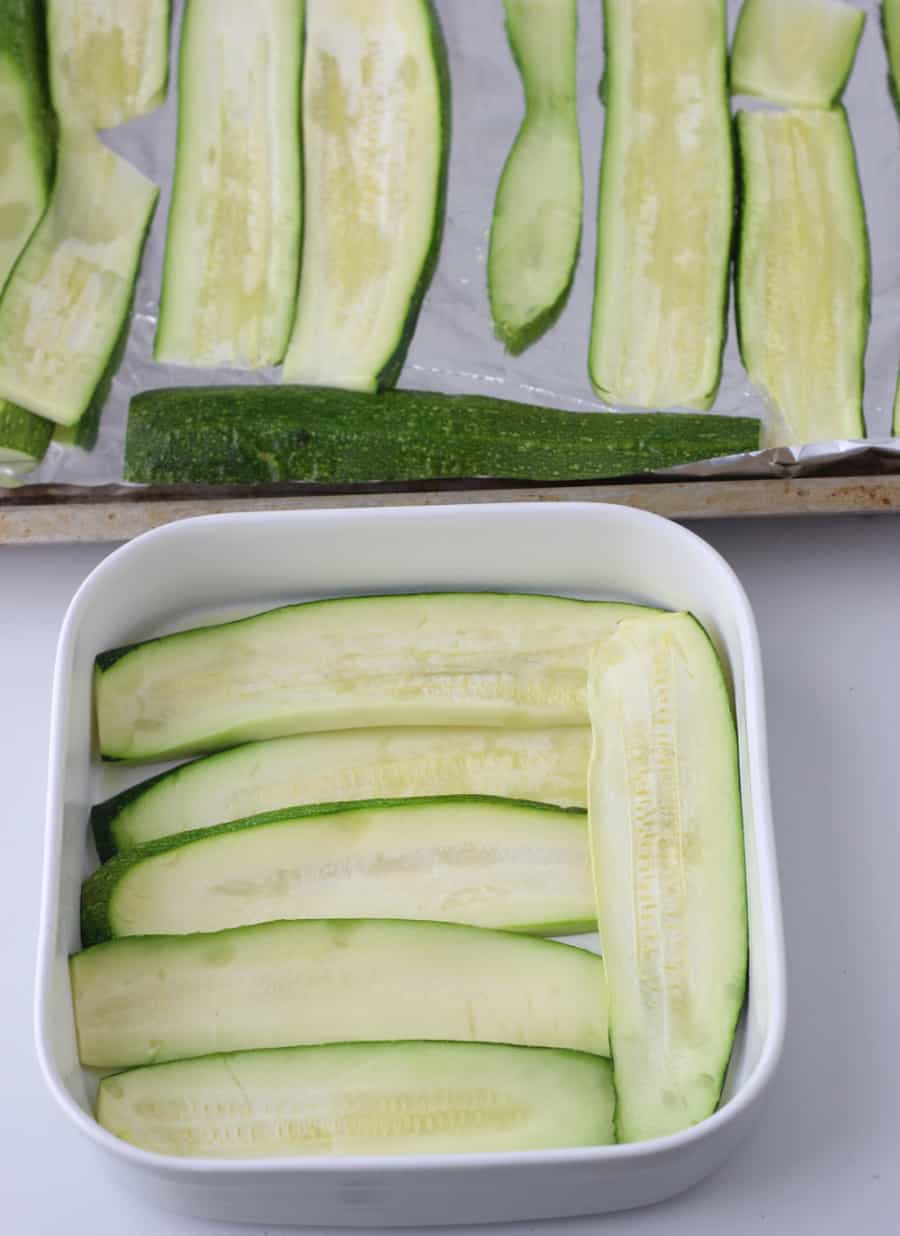 Variations
Substitutions
Cheese: As mentioned above, you can use parmesan cheese in place of the mozzarella (or half parmesan-half mozzarella). I also think that cottage cheese could work in place of the ricotta; however, I have not tried that yet so I cannot say with absolute certainty that it would.
Tomato Sauce: If you do not have tomato sauce, you can use an equal amount of pasta sauce, pizza sauce, or any marinara sauce would work in place of the basic tomato sauce. Another option is to use a 6 ounce can of tomato paste + water:
To use tomato paste in place of tomato sauce, transfer the tomato paste to an 8 ounce liquid measuring cup or glass. Add enough warm water to make 1 cup (or 8 ounces) and whisk together until completely incorporated. Use this exactly like you would the tomato sauce.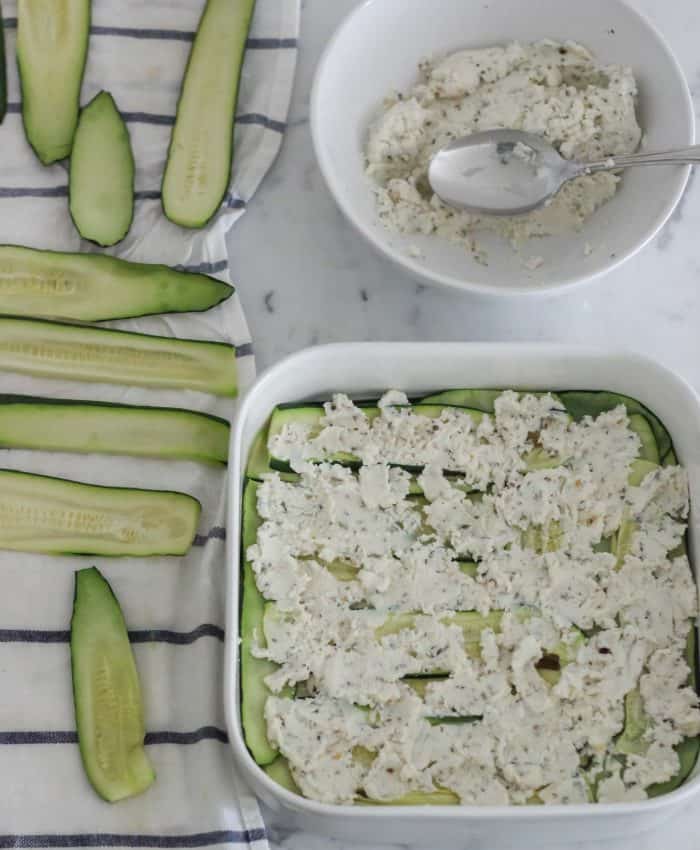 Alternative fillings
You can add 8 ounces of cooked ground turkey or beef to make this lasagna a little heartier. All you need to do is sprinkle it on top of the sauce layer when you are layering the lasagna.
Another option is to add cooked grains like quinoa in the layers to add some extra carbohydrates to this dish. To do this, add about ½ cup after the ricotta in each layer.
How to Make Allergy friendly
This zucchini lasagna is already gluten free, egg free, soy free, and nut free. But there is obviously a lot of dairy in it. If you can find dairy free substitutes for mozzarella and ricotta, then you can try making it. However, I haven't tried using dairy-free cheeses in this lasagna, so I don't actually know how it would turn out.
Storage Suggestions
I like to transfer leftovers to an airtight container to keep in the fridge for up to 4 days. To freeze, I prefer to freeze in single sized servings to make it easier to defrost. It will keep in an airtight container in the freezer for up to 1 month.
When reheating, you might find that some of the natural juices release a little bit. Soaking up the juices with a paper towel after reheating takes care of this.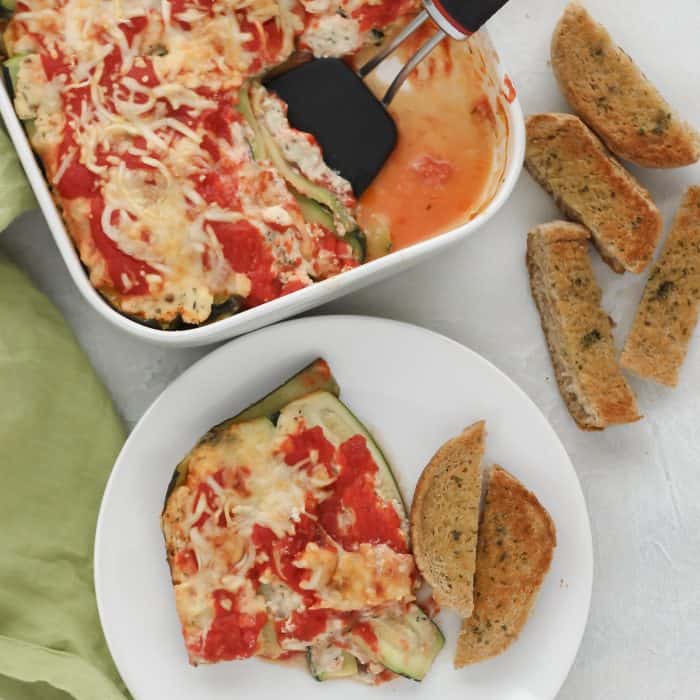 Frequently Asked Questions
Can zucchini lasagna be frozen?
Yes, you can freeze zucchini lasagna. I find that cooking it before freezing works best. It helps to release some of the juices. I recommend using a metal or disposable casserole dish because a cold glass or ceramic baking dish could crack in the oven.
When baking to reheat, you can sprinkle a little more cheese on top to give it a little extra cheesiness and to ensure that the texture is nice.
I personally prefer to cook in advance and freeze in single sized servings, so I can reheat in the microwave and enjoy one serving at a time.
To reheat one serving in the microwave, cook on defrost for 1-2 minutes then stir and cook on full power for 30-90 seconds, checking halfway through reheating.
How to make zucchini lasagna not watery?
There are a few things you can do to keep your lasagna from being a soupy mess.
Be sure to pat your zucchini slices very dry before layering into lasagna.

The whole point of salting and roasting before making into the casserole is to help release some of the moisture.
Do not skip this step, and take extra care to blot the zucchini slices before adding them to the casserole dish.
I like using dish towels to really soak up all the moisture.

Part skim ricotta is best because it is typically less watery than full fat.
Make sure the sauce you are using isn't super watery or it could affect the lasagna. I use the plain no salt added tomato sauce from the 8 ounce can, and it works well.
Leave the lasagna uncovered while cooking to allow some liquid to evaporate.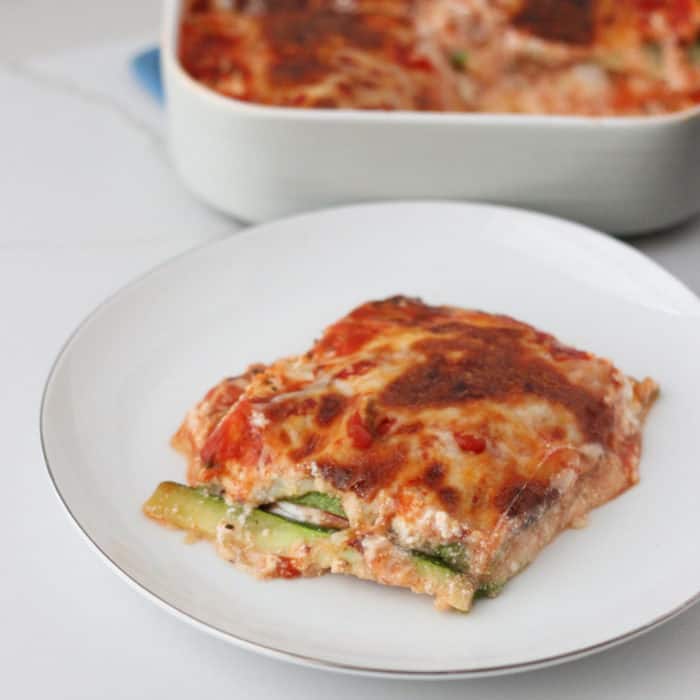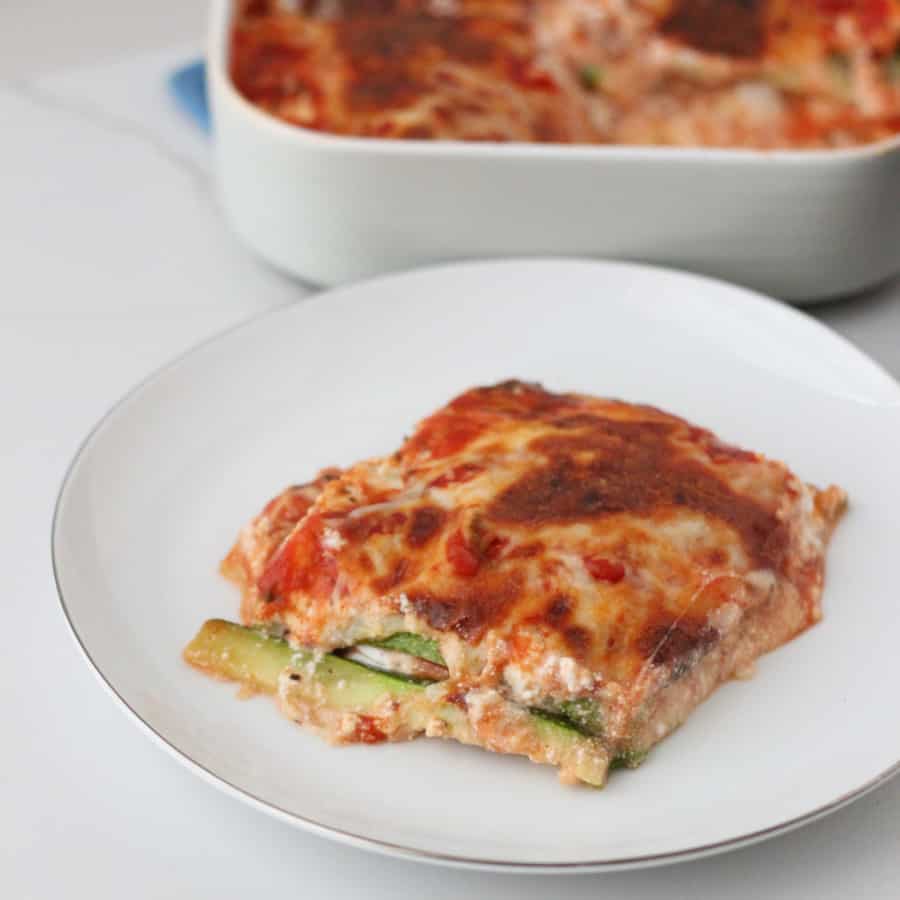 Nutrition benefits
Zucchini: All veggies are good veggies, and zucchini is full of goodness. Zucchinis are high in Vitamin C & B6, Riboflavin, and Manganese as well as antioxidants. And like most fruits & veggies, most of their antioxidants are found in the skin which is why you keep the skin on in this recipe. It's also good for digestion since it has soluble fiber which helps lower LDL cholesterol levels.
Cheese: Any type of cheese is good cheese in my opinion. It gives so much flavor to your food, plus, it has protein and along with vitamins and minerals that vary between types of cheese. Both mozzarella and ricotta cheese contain Vitamin B12, Selenium, Phosphorous and Riboflavin.
Tomato sauce: Canned tomato sauce is an excellent, budget friendly way to nourish your body with Vitamins A, C, E, and K as well as the antioxidant lycopene. Lycopene can help with heart health, cancer prevention, and even sun protection.
Is Zucchini Lasagna healthy?
Zucchini Lasagna is a delicious and healthy casserole. Each serving has almost ½ pound of zucchini! That's a lot of nutrients. Plus, you get almost ⅓ of the daily recommended amount of calcium in one serving. And don't forget the tomato sauce as well as dried oregano that boosts the antioxidants in this tasty dish.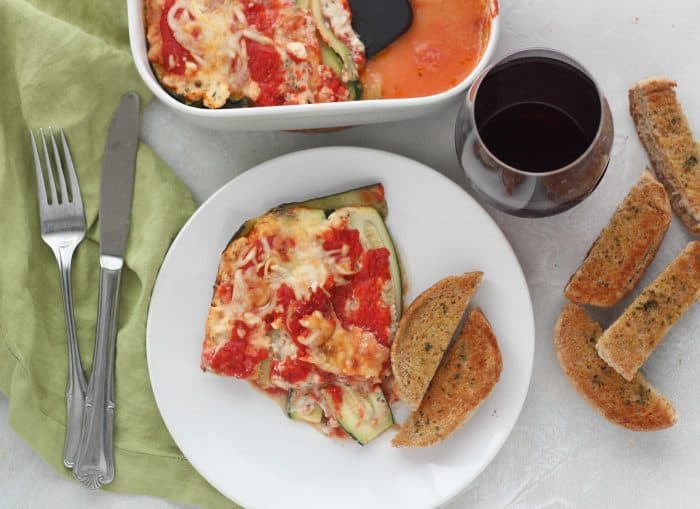 What to serve with this dish
Since this vegetarian lasagna is low carb, I like to round out this meal by adding a big slice of garlic bread. You could also toss in some leftover cooked grains (like quinoa or rice) into the layers for extra staying power.
Quick note: I'm not a huge fan of replacing carbohydrates like pasta with vegetables because our bodies need carbohydrates to function properly. Carbs are our brain's preferred energy source, and depriving yourself of carbohydrates can cause preoccupation with food and lead to overeating.
That's why I like to serve this zucchini lasagna recipe with a side of garlic bread or some other carbohydrate to help keep me full 🙂
Final thoughts:
This isn't the most photogenic recipe, but boy oh boy is it good! I have made it countless times and my love for it still grows. It's an excellent way to add more veggies into your meals without losing that tasty lasagna flavor.
MORE ZUCCHINI RECIPES YOU'LL LOVE: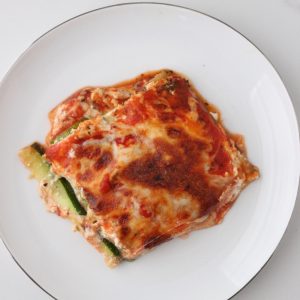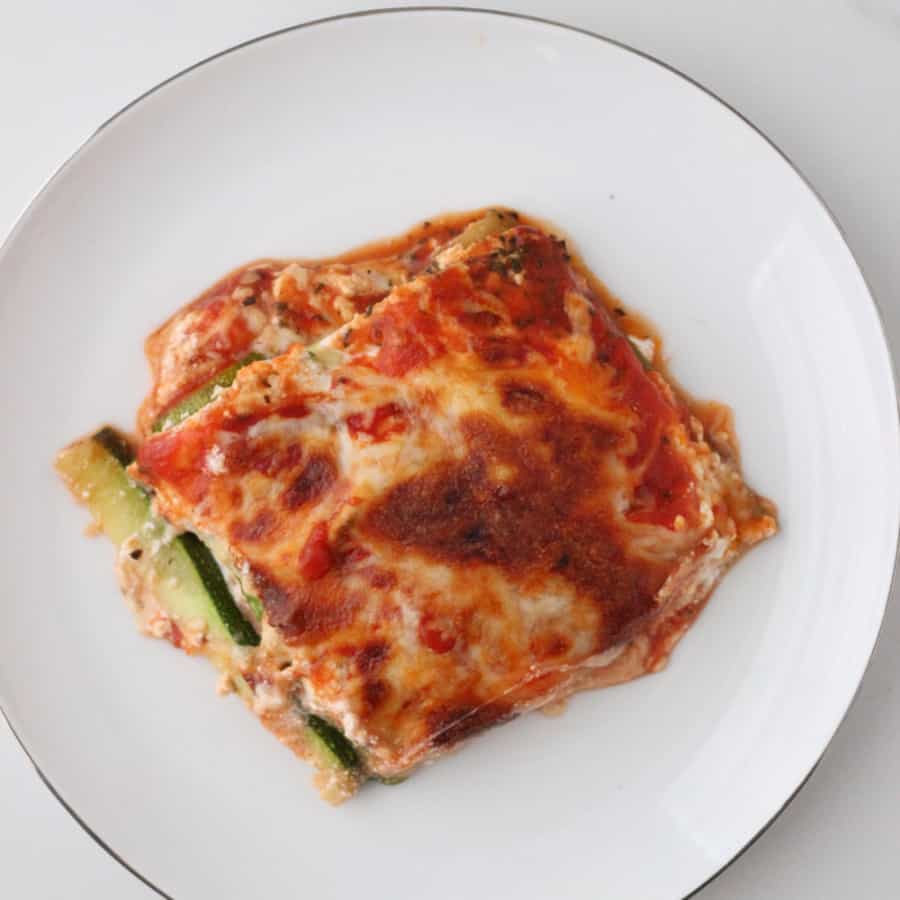 Zucchini Lasagna
This grain-free lasagna uses zucchini slices in place of pasta but is still full of lasagna flavor and satisfying. It's a fresh take on a comfort food classic!
Print
Rate
Total Cost:
$5.46 || $1.37
Ingredients
1.5

pounds

zucchini

about 4 small or 2 large zucchini

⅜

teaspoon

salt

divided

1

cup

ricotta cheese

part skim

1

teaspoon

Italian seasoning

or dried oregano

½

teaspoon

garlic powder

¼

teaspoon

red pepper flakes

½

teaspoon

olive oil

1

cup

tomato sauce

no salt added

¾

cup

shredded mozzarella cheese
Instructions
Preheat the oven to 400*F. Line a baking sheet with parchment paper or foil (for easier clean up). Otherwise, rub with about 1 teaspoon of oil to keep the zucchini from sticking.

Slice the zucchini lengthwise into thin slices about ⅛ inch thick. Place the zucchini slices on the baking sheet in one layer. Sprinkle with ⅛ teaspoon salt.

Roast for 20 minutes until softened (some will be lightly browned but you do not want them to be completely browned).

Remove and pat dry with towels -- this step is really important to keep your lasagna from being watery.

Meanwhile, stir together ricotta, Italian seasoning, garlic powder, red pepper flakes, and remaining ¼ teaspoon salt in a small bowl; set aside.

Grease an 8 inch square baking dish with the oil.

When ready to assemble, place half of the zucchini slices on the bottom of the 8 inch square baking dish. Spread half of the ricotta mixture over the zucchini. Top with half of the tomato sauce. Sprinkle with ¼ cup cheese.

Repeat with remaining ingredients: zucchini then ricotta then tomato sauce then mozzarella.

Bake uncovered for 20 minutes. Turn the oven to broil and broil for 2-3 minutes until cheese is golden brown and bubbly. Let sit for a few minutes before serving. Enjoy!

Notes
*Cooking and patting dry the zucchini before layering into the lasagna will help the zucchini release as much of their natural moisture as possible.
*Part skim ricotta is best because it is typically less watery than full fat. This will keep your lasagna from being too watery.
*You can add 8 ounces cooked ground beef or turkey in the layers for a heartier casserole.
What to Use in This Recipe
Did you try this recipe?
Be sure to leave a comment & recipe rating below. Bonus points for tagging @memeinge & #livingwellkitchen on Instagram! THANK YOU! xo
[showhide type="post" more_text="Click here for Zucchini Lasagna Nutrition Facts" less_text="Clear Nutrition Facts"] *
Nutrition Facts
Zucchini Lasagna
Serving Size
0.25 casserole
Amount per Serving
% Daily Value*
* Percent Daily Values are based on a 2000 calorie diet.
* [/showhide]
Meme
This post was originally published August 13, 2015. Text, recipe, and photos have been updated.